The increasing usage of electronic gadgets and rising gap between power demand and supply will drive global portable generators market in the upcoming years. Reportedly, the total number of IoT connected devices worldwide is anticipated to reach 75.44 billion by the year 2025. This is a five-time amplification over the last 10 years. The increase in the number of connected devices and rising power requirements for operating these gadgets will fuel portable generators market share.
U.S. Portable Generators Market Size, By Fuel, 2018 & 2025 (USD Million)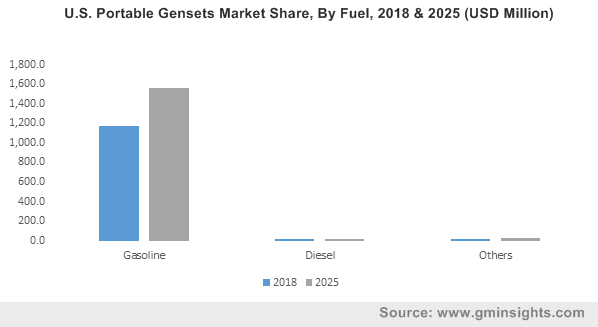 Burgeoning electricity demand in consort with uncontrolled population expansion, most notably in emerging nations will bolster portable generators market growth. Several South African countries experience power outages, lasting for hours, on a daily basis, owing to the federal government's failure to generate enough electricity to meet the region's power needs. In February, close to 4000 MW capacity – that can power up to 3 Million households, was shut-off from the national grid to save it from collapsing.
South Africa is transitioning to alternative energy sources due to rising power outages. This trend will drive the regional portable generators industry size. Global Market Insights, Inc., projects Nigeria portable gensets market size to exceed USD 40 million by the year 2025. However, increasing adoption of battery power storage systems and strict emission regulations concerning diesel generators may hamper portable gensets market growth.
Get a Sample Copy of this Report:@ https://www.gminsights.com/request-sample/detail/3384
APAC portable generators market size will expand considerably in the coming years. Large-scale power consumption and rapid economic growth in nations like China and India is further expanding Asia Pacific portable generators market. According to the U.S. Energy Information Administration, the industrial sector in China consumed 71 quadrillion Btu (British Thermal Units) in 2015, while by the year 2040, this value is projected to reach over 80 quadrillion Btu. This will impel APAC portable genset market further.
The establishment of new industrial facilities and technological enhancements in the APAC along with the regional expansion of waste heat to power market will augment the regional portable gensets industry share.
Construction activities such as drilling, lifting, and cutting rely heavily on seamless power supply. Rapid industrialization and expansion of the construction industry will drive North America portable generator industry size. The introduction of rebates, incentives, and tax credits, from the federal governments of the U.S. and Canada has encouraged architects and infrastructure development firms to indulge in energy efficient construction practices. This trend will augment the regional energy efficient construction market and consequently North America portable gensets market share.
The increasing trend of live events, such as trade, promotional, cultural, sports, entertainment, and political events, has increased dependency on readily available power sources, such as portable generators. This dependency will augment Europe portable generators market that is driven by the surging occurrences of large scale crowd-intensive events taking place in leading nations like Russia, Germany, France, Spain, UK, Austria, etc.
Leading events such as The Carnival of Venice, La Tomatina Festival, St. Patrick's Day, Carnava, Maslenitsa, Oktoberfest, Cannes Film Festival, The Carnival of Ivrea, and Klapa Music Festival, organized in Europe, the cultural powerhouse of the Western world, will drive the regional portable gensets market share. Event organizers establish temporary power centers to ensure an optimum supply of power throughout the event, thereby offering countless growth prospects to portable generator manufacturers.
Africa, Asia-Pacific, North America, and Europe would remain consistent regional contributors to portable generators industry in the coming years. Africa, which faces maximum blackouts globally, holds a significant fragment of the worldwide portable genset market share.
Global Market Insights, Inc., claims portable generators market size is set to exceed USD 4 Billion by the year 2025.
Author Name : Nikita Chaurasia