Profound application in the commercial and healthcare sectors will drive human centric lighting market size. Human centric lightings (HCL) are designed to offer illumination solutions that physiologically and psychologically benefit human-beings. They are intended to promote improved concentration, efficiency and enhanced safety at offices and other work environments. HCL also supports healing processes and prevention of chronic diseases among people with irregular work routines.
Germany human centric lighting market, by application, 2018 & 2025 (USD Million)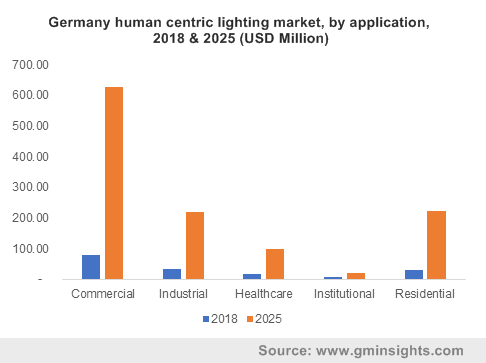 Increasing advancements in lighting technologies along with rapid adoption of Internet of Things (IoT) will support human centric lighting market growth globally. Using IoT, lighting systems can effectively be controlled and customized in real-time. IoT sensors can detect changes in environmental parameters, further directing and improving HCL capabilities.
With emergence of smart LED bulbs that offer a wide spectrum of colors and intensities along with advanced controller hardware, human centric lighting market will witness new growth opportunities over the coming years.
Human centric lighting market is anticipated to garner significant proceeds in the commercial sector. Renovation of enterprise infrastructure and installation of smart building and lighting products to develop comfortable workspaces will foster business growth. HCL solutions allow improved productivity and boost concentration in commercial work areas. In fact, research results suggest that the systems can increase work performance, reduce fatigue and significantly increase concentration and work satisfaction.
According to Lighting Society Europe, human centric lighting can significantly enhance employee performance to the point of improving productivity by 4.5%, reducing errors by 2% and further slashing rate of work absenteeism. HCL can also significantly improve visibility, thereby reducing the risk of tripping, falling and potential injuries. With employees spending more time in offices and other workplaces, HCL systems will become an essential lighting solution in the commercial sector, fostering HCL industry size.
Get a Sample Copy of this Report @ https://www.gminsights.com/request-sample/detail/3637
Increasing traction in the healthcare sector will augment human centric lighting market share. In hospitals and old age homes, HCL is well suited to implement lighting cycles comprising sunrise, sunset and daylight simulations. The system offers patients with enhanced benefits like higher activity levels during day, better sleep during night, reduced recovery time and lowered intake of anti-depressants.
In fact artificial lighting can compensate for biologically active effects of insufficient daylight exposure, thereby stabilizing the sleep-wake rhythm. It can also lead to more restorative sleep, thus ultimately improving the mental and physical wellbeing of hospitalized patients.
In old-age homes, HCL systems can offer high color temperatures, higher illuminance, and dynamically adjusted light distribution levels, further improving the quality of life of the elderly people. Additionally, in the healthcare sector, the systems can significantly reduce surplus cost of electricity bills.
For instance, according to a A.T. Kearney study, the annual efficiency gains achieved from human centric lighting in a hospital with 1,000 beds and 1,500 employees amounted to over €300,000. Instances such as these implicate growth opportunities in the healthcare sector, furthering human centric lighting industry outlook.
Europe human centric lighting market is expected to witness increased traction in commercial, residential and healthcare sectors. Infrastructure refurbishment in Europe currently focus on developing well-illuminated building environments.
The region naturally observes less exposure to sunlight which eventually creates an impact on human health, thereby creating the need for human centric lighting market solutions. With presence of leading market players along with rising investments, Europe human centric lighting market will witness rapid technological growth in the upcoming years.
Global human centric lighting market is being propelled on account of increasing application in healthcare and commercial sector. The industry is witnessing rising investments in R&D from leading players, government organizations, and lighting associations. Increasing consumer awareness and focus on the implementing energy-efficient work environments are anticipated to expand human centric lighting industry size in the future.
Author Name : Mateen Dalal