Increase in manufacturing activities and rising adoption of more efficient materials has provided polyaryletherketone market with considerable growth opportunities across automotive, aerospace, energy and healthcare segments. Polyaryletherketone (PAEK) is considered among the more temperature-stable thermoplastics with high mechanical strength. Subsequently, these are suitable for applications where dimensional accuracy and reliability is required over a wide range of temperatures. Consistent demand for high performance seals, washers, rotor arms and other auto parts will boost consumption for PAEK industry substantially.
U.S. Polyaryletherketone (PAEK) Market Size, By End-Use Sector, 2014 – 2025 (USD Million)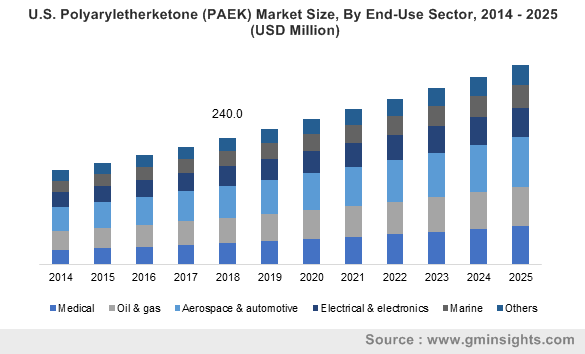 Automobile and component manufacturers are constantly looking to build lighter yet stronger parts for improving the efficiency of vehicles, as well as by lowering the weight of in-engine components. Several parts which were traditionally made form metals are increasingly being made from thermoplastics like polyetheretherketone (PEEK), one of the high performance PAEK resins. Existing emission laws worldwide and upcoming carbon-reduction targets will coerce automakers to adopt innovative materials for reducing weight and enhancing fuel efficiency, strengthening global PAEK market outlook.
PEEK enables the development of novel and cost-effective medical parts that have remarkable heat, electrical, chemical and wear resistance properties. The material is widely deployed in the production of important tools such as dialyzers, dental instruments and endoscopes, in addition to medical implant parts. Global healthcare expenditure was recorded at around US$7.7 trillion in 2017 and is expected to rise notably over the next few years, indicating the tremendous prospects for medical tools and equipment. Undoubtedly, polyaryletherketone market is poised to amass substantial revenues from medical applications in the coming years.
Emerging production technologies like 3D printing are gradually transforming the manufacturing segment, with significant advantages for the automotive, aerospace and healthcare sectors. Innovations in the field have primarily resulted from the development of additives based on materials like PEEK. The material is ideal for 3D printing in low volumes where specialized design makes it difficult to create parts using conventional methods and metals. As additive manufacturing is increasingly deployed to build customer medical implants, PAEK industry could witness augmented demand for advanced PEEK-based materials.
Get a Sample Copy of this Report @ https://www.gminsights.com/request-sample/detail/250
German 3D printing company Apium Additive Technologies had recently made an achievement in processing a PEEK filament for use in healthcare. The company's Medical PEEK 3D Printing fulfilled biocompatibility criteria for making medical devices and implants for hand and skull. In November 2018, Evonik had confirmed the development of the first implant-grade quality PEEK filament for 3D printing in the world, suited for applications like sports medicine, spinal implants as well as maxillofacial surgeries. As evident from these milestones, polyaryletherketone market would certainly gain significant momentum from 3D printed medical implants over the forecast period.
U.S. is among the most development countries in the world and also entails a large amount of spending on health services and surgical procedures. The nation is home to several leading technology companies, healthcare systems and chemical manufacturers, providing a reliable source of PAEK materials. Rising prevalence of various disorders has elevated medical concerns immensely over the past few decades, with more patients requiring the use of medical devices. In fact, expenditure on medical devices and in-vitro diagnostics in U.S. had reached US$173.1 billion in 2016, suggesting a potentially large scope for polyaryletherketone industry.
Growing geriatric population poses numerous healthcare challenges in terms of treatments provided and cost of medical services. Health costs usually rise every year and it is necessary to ensure low-cost and reliable medical devices are made available to patients for keeping their expenditure as low as possible. The U.S. Census Bureau has estimated that there would be over 78 million people aged 65 years or more in the country by 2035. With a surge in older population the need for efficient medical devices will also increase, bringing in considerable remunerations for PAEK market.
Owing to continuous evolution of the medical devices segment and increased preference towards PEEK materials for 3D manufacturing of parts, PAEK industry will experience accelerated growth in the imminent future. Key players leading the competitive landscape include Akro Plastic, Toray Advanced Composites, Evonik, Victrex, Arkema and Mitsubishi Chemical Advanced Materials. Reports have projected that global polyaryletherketone market will surpass a valuation of US$1.5 billion by 2025.
Author Name : Pankaj Singh