Transparent ceramics market share is estimated to attain immense momentum over the coming years, owing to increasing demand for glass-like materials in optoelectronics, military, healthcare equipment, aerospace, and aviation. The product possesses high optical properties, high strength, and great resistance to chemicals.
U.S. Transparent Ceramics Market, By Application, 2014 – 2025 (USD Million)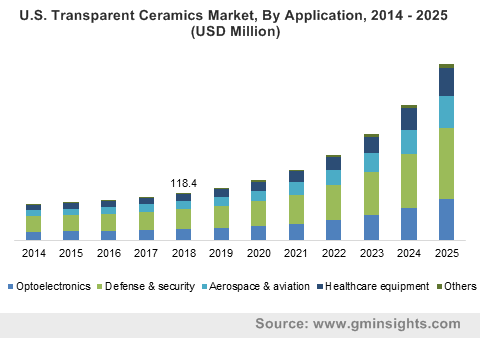 High acceptance of transparent ceramic properties in the global optoelectronics market is likely to be one of the primary drivers supporting industry size expansion. The burgeoning sale of optoelectronic devices such as photodiode, solar cells, light emitting diodes, optical fiber, and laser diodes will boost the demand for glass ceramics over the coming years. Institute of Optoelectronics at the Military University of Technology is apparently aiming to support research and development in several areas including optoelectronics in applications including defense, metrology, security, and medicine. Such efforts would positively impact the demand for glass ceramics, thereby enhancing transparent ceramics market size.
LEDs are witnessing high demand owing to the demand for cost-efficient and energy-efficient light solutions across numerous industries. Furthermore, increasing adoption of smart devices and technological advancement in the business sphere will proliferate LED demand. For instance, India's Orient Electric has reportedly expanded its LED portfolio with the launch of a new product line called Eyeluv series LED Lights. Introduction and adoption of new LED products will significantly impact transparent ceramics market trends in the future.
Night vision devices often incorporate transparent ceramics properties to provide multi-spectral imaging, eye tracking optical directing, and other services. These devices find extensive use across defense, security, and automotive application. Rising conflicts demanding the intervention of armed forces across various regions paired with high demand for continuous technological innovation for the fighting force are primary factors driving the demand for night vision devices in the defense sector. Apart from this, night vision devices are used for camping, rescue missions, search, and home security purposes, which will also contribute to augmenting transparent ceramics market outlook between 2019-2025.
Get a Sample Copy of this Report:@ https://www.gminsights.com/request-sample/detail/3638
Increasing efforts to counter terrorism will support growth in transparent ceramics market. With the rising cases of terrorist attacks, trespassing, and counteractions, the armed forces will be required to operate at nighttime, resulting in an increased demand for night vision devices like binoculars, goggles, and cameras, which will positively influence the demand for transparent ceramics over the forecast years.
Besides its uses in defense applications, transparent ceramics also find applications in the healthcare sector. Transparent ceramics industry share from healthcare equipment applications is slated to amass considerable growth in the foreseeable years owing to the growing prevalence of numerous diseases including cardiovascular disorders, cancer, and dental disorders among others. Increasing preference for minimally invasive treatment for dental and aesthetic treatment will primarily drive the demand for laser therapy devices, which are a leading consumer of glass ceramics.
Moreover, the increasing pervasiveness of chronic ailments like cardiac diseases and arthritis is slated to fuel medical imaging devices market size over the ensuing years. Other demand driving factors include rising geriatric population worldwide and technological advancements in this field. Recently, researchers from the University of North Carolina Lineberger Comprehensive Cancer Center discovered an innovative method for creating tracers for medical imaging. Such accomplishments will further support the demand for medical imaging devices, which will eventually impel transparent ceramics market growth.
Transparent ceramics properties have evolved over the years, accompanied by a slew of innovations, which has helped the material successfully replace glass across several applications. Its mechanically strong and scratch resistant properties effectively support the possibility of durable and multifunctional optics. Owing to these benefits the material is estimated to continue experiencing steady growth throughout its varied applications. According to a research report by Global Market Insights, Inc., transparent ceramics market is estimated to be worth more than $1 billion by 2025.
Author Name : Krithika Krishnan