Intensifying demand for glass, cement, steel etc. in regions like APAC and MEA is anticipated to expand refractories market size over 2019-2025. The amplifying development of infrastructure is credited for expansive demand of such materials and is contributing towards increase in refractories market share.
Increasing public and private expenditure in developing countries in APAC region for development of infrastructure has created a massive scope for transforming refractories market outlook due to the indispensable usage of iron and steel furnace in numerous infrastructure projects. Currently, developing economies in the APAC region annually invest an estimated $881 billion in infrastructure.
U.S. Refractories Market Size, by end-user, 2014-2025 (USD Million)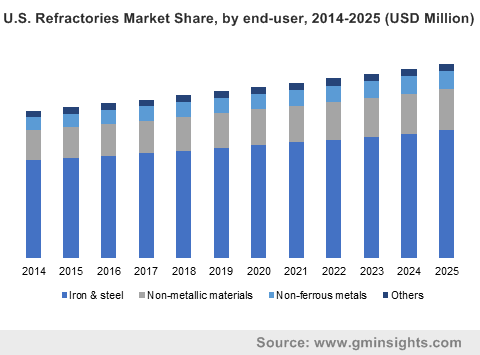 Multilateral development banks such as Asian Development Bank have a crucial role to play in private and public sector infrastructure financing. ADB will apparently be scaling up its operations by 50% to over $20 billion in 2020. Approximately 70% of the total amount will be utilized for sovereign and non-sovereign infrastructure investment.
Three of the five countries with the greatest infrastructure need are in Asia (China, Japan and India). These countries account for 39% of global infrastructure investment requirements. China alone has been predicted to need $28 trillion in infrastructure investment, which is more than half of Asia's total needs and 30% of global needs. Infrastructure growth will also boost global demand for steel. In 2016, steel demand in China accounted for around 45% of global steel demand. China refractories market trends are expected to depict substantial transformation owing to the growing need of steel.
Increasing rate of infrastructure development will drive the demand for cement which will add impetus to refractories industry outlook. Initial evaluations suggest that cement production reached 4.1 gigatons globally in 2018. The largest producer of cement, China, has accounted for nearly 60% of global production, followed by India at 7%.
Among the various types of refractories for iron, steel and glass, monolithic refractories offer an advantage of reduced installation time because they can be applied while a furnace is hot. Monolithic refractories industry is expected to witness gains of 3.9% over 2019-2025. Monolithic refractory products are less price sensitive than commodity-type refractories because they tend to be application-specific and more influenced by technical considerations. Owing to the several advantages offered by monolithic refractories, the revenue share of the refractories market is going to witness a rise over the forecast period.
Get a Sample Copy of this Report:@ https://www.gminsights.com/request-sample/detail/3663
Increased glass production will positively influence monolithic refractories industry as they find considerable application in cement, glass and ceramic sectors. Apart from construction, wine consumption has greatly contributed to the demand for glass. In the U.S., wine bottles sold had amounted to over $4.3 billion in value, in 2018 and sales are forecast to increase by 14% by the year 2022. In this context, North America refractories market will show exponential growth due to increasing consumption of wine and production of glass bottles.
Glass manufacturers worldwide are toiling to expand their footprint and increase production adding stimulus to refractories market share. Recently, glass and mirror manufacturer Saint-Gobain has launched its latest flat glass production line (float) in Sriperumbudur, near Chennai, India, with an investment of €115 million. It also complements industrial glass facilities of Saint-Gobain in India, which include a float in Bhiwadi (Rajasthan) and another in Jhagadia (Gujarat).
With successful global operations, Saint-Gobain has reportedly performed well in Middle East region as well and plans to expand its business there. This was depicted by the company when in it extended its partnership with KIMMCO, a regional leader in the insulation sector. KIMMCO has a glass wool manufacturing plant in Shuaiba-Kuwait. The joint venture had reported total sales of 24 million Kuwaiti dinars (around €70 million) in the year 2016, selling in Kuwait and in the Middle East.
Refractories companies expanding their businesses in Middle East are likely to drive the revenue share of refractories industry in the region. Middle East and Africa refractories market is estimated to grow by 3.6% over 2019-2025. Strengthening political stability along with enormous infrastructure spending in MEA are going to play constructive roles in the growth of refractories industry in the region.
Escalating infrastructure development has been noted to be pivotal for refractories market size expansion. Growing production and demand of glass, cement and steel will substantially help the refractories industry to thrive. According to a research report by Global Market Insights Inc., refractories market is forecast to surpass $41 billion by 2025.
Author Name : Anchal Solanki