Solid state battery market is poised to experience remarkable changes in the years to come, owing to a wide application base and growing environmental concerns which have triggered the demand for electric vehicles. Solid state batteries provide better safety, longer life cycle and entail lower cost compared to the Li-ion batteries, which have helped foster their demand. Several government initiatives for the development of more efficient energy solutions will heavily influence solid state battery industry trends.
UK Solid State Battery Market Size, By Product, 2018 & 2025 (USD Million)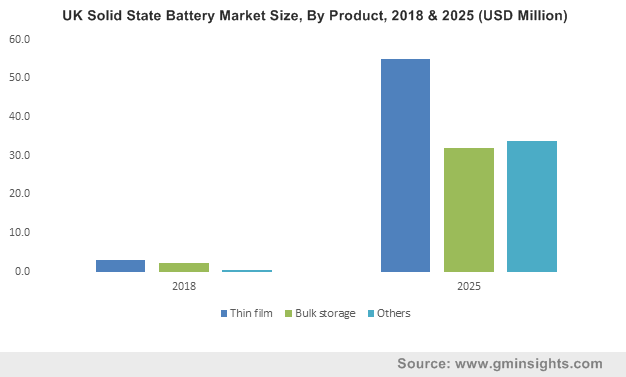 Technological advancements have attracted several customers towards the consumption of smart devices, which will stir the adoption of solid state batteries that are more reliable than most other alternatives. In fact, the consumer electronics segment in solid state battery market is slated to witness a CAGR of more than 30% by the year 2025. The ability to provide enhanced storage capacity and short recharging time will strengthen the industry prospects. These batteries have solid electrolyte present in them that ensures enhanced safety when in use, emerging as a key driver for the use of the products in digital cameras and smartphones.
Private investments for research and development of energy storage solutions as well as corporate initiatives will help develop innovative and long-lasting products. For instance, Ricardo, a global engineering and environmental consultancy firm had begun a project in 2018, supposed to last for 30 months, under a collaboration with numerous battery technology experts in the U.K. for the development of solid state battery for electric vehicles (EVs). Similar efforts across the region will certainly lead to swift expansion of Europe solid state battery market size.
Get a Sample Copy of this Report:@ https://www.gminsights.com/request-sample/detail/3885
The German government had recently announced that it will be investing about USD 1.2 billion in order to support the future production activities for next gen solid state batteries in Europe. Apparently, the battery consumption from electric vehicles is slated to reach unprecedented levels in the next few years. The strategy of the Berlin government is part of the Battery Alliance initiative of European Union that has a goal to boost the share of EU's EV battery manufacturing capacity, raising it to 30% by the year 2030.
Numerous projects through the Faraday Battery Challenge in U.K. had secured a total of GBP 23 million from the UK government in the third round of funding. It is supposedly a part of the total GBP 274 million set aside for investing in different projects targeting development of EV technologies. This massive initiative represents a notable research and development thrust that will ensure innovative technologies are provided to EV makers and will positively impact Europe solid state industry outlook.
The U.S. Department of Energy says that if and when EV battery costs may fall below $125 per kWh, it will become cheaper for people to own and operate electric cars, as compared to petrol-driven options. Economic viability could substantially increase the demand for solid state batteries, particularly since global battery EV market is estimated to reach USD 425 billion valuation by 2025.
The competitive landscape of solid state battery industry is outlined by mergers and collaborations to accelerate technology development. Automotive giant Toyota and tech giant Panasonic have agreed to collaborate on developing various battery technologies, which also includes solid state batteries. The Japanese automaker plans to introduce the resulting solid state batteries by the year 2020 with a goal to sell 5.5 million electrified vehicles deployed with those batteries by 2025.
Volkswagen has informed that it plans to spend about USD 56 billion for buying battery cells with suppliers like LG Chem, Northvolt, Samsung SDI, China's CATL and SKI of South Korea as its strategic partner. The company said it aims to reach battery manufacturing capacity of 150 gigawatt capacity in Europe and another 150 in Asia in the next few years and the figure will be doubled by 2030. Tesla recently acquired Maxwell, a battery company based in San Diego in order to surge its battery production capabilities. Such huge investments by automotive giants will help people solid state battery market revenues in the forecast period.
Consumer electronics and automotive products require affordable and efficient energy storage solutions and the increasing consumption from these sectors will expand solid state battery industry share. High demand for the product owing to better safety while handling and higher energy-efficient systems will stimulate the product demand. Reports estimate that global solid state battery market will amass more than USD 2 billion in annual remunerations by 2025.
Author Name : Riya Yadav