Global space robotics market is estimated to procure commendable returns in the ensuing years, primarily owing to the increasing investments and efforts dedicated toward space research and exploration in countries such as the United States, India, and Russia. Space robotics is significant in the development of machines that are capable of expanding the human capacities in space by facilitating abilities beyond human limitations in extreme space environments.
China space robotics market, by application, 2019 & 2025 (USD Million)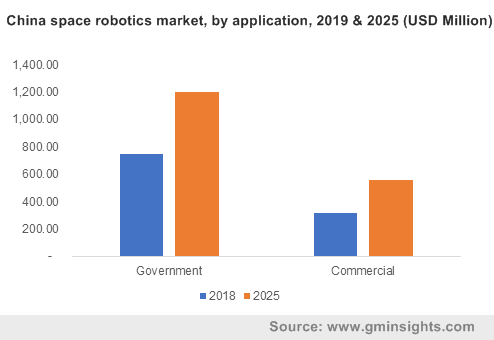 Space explorations have always attracted the interests of several private companies. Case in point, Boeing has built the Saturn V rocket, the 363-foot booster rocket capable of lifting the entire apparatus to the edge of space. In the last few years, the space exploration arena has witnessed the emergence of multiple competitors such as Blue Origin, SpaceX, Virgin Galactic, and more. The introduction of new technologies by key players, would positively influence space robotics industry trends over the forecast period.
A perfect example is the partnership between Tokyo's ispace and Elon Musk's SpaceX to send a series of robots to the moon. The Lunar Lander will orbit the moon in this mission that's scheduled in mid-2020. A rise in the integration of robotics technology for future space missions will substantially drive space robotics market outlook in the future.
Although government funding to organizations like NASA is facing a slump, the space industry is slowly moving to the private sector, with Elon Musk's SpaceX and Jeff Bezos' Blue Origin signing more contracts. SpaceX is reportedly gearing up to launch its eighteenth contracted CRS mission to the International Space Station through its Cargo Dragon spacecraft. The mission will also use the Space Station's robotic arm Canadarm 2 to extract IDA-3 from the Dragon's trunk. Increasing collaborations between established space stations and emerging private firms will present space robotics companies with major growth prospects in the ensuing years.
Get a Sample Copy of this Report:@ https://www.gminsights.com/request-sample/detail/3219
Increasing investments in space programs will also have significance in driving demand for space robots in the coming years. Recently, SpaceX was awarded a $50.3 million contract by NASA to launch its X-Ray Polarimetry Explorer mission. Major funding toward potential space missions will provide a huge scope for space robotics engineering, thereby augmenting space robotics industry share in the future.
A farfetched but plausible idea that has begun surfacing the international space industry is the possibility of space travel for recreational purposes. With numerous firms embarking on a quest to launch spaceflights for civilians, space travel is starting to seem less like a dream. Possibilities of recreational space travel could present a major opportunity for space robotics companies, thus augmenting the space robotics market share in the future.
In terms of segmental growth, the robotic arms segment is slated to witness immense demand over the coming years. Robotic arms have proved to be one of the most reliable machines in space missions. Recently, NASA's Jet Propulsion Laboratory finished installing a 2.1-meter-long robot arm on the Mars 2020 rover. The new arm has been designed to perform much more complex activities. Increasing penetration of robotic arms for advanced space mission will result in segmental growth for the global space robotics industry.
The North America space robotics market is currently a highly profitable growth ground owing to the presence of substantially funded organizations like NASA and the Canadian Space Agency. The region is also witnessing several ongoing and upcoming space missions that are anticipated to generate considerable demand for space robots, further strengthening the region's space robotics industry size.
The Asia Pacific market is also likely to emerge as a strong contender due to increasing implementation of major space projects. For example, the Indian Space Research Organization's second moon mission Chandrayaan 2 is the nation's first attempt at robotic space explorations. Increasing adoption of space robotics engineering for upcoming space programs and explorations would primarily contribute to expanding Asia Pacific space robotics market size.
The numerous benefits depicted by these technologies will accelerate the adoption of space robots in the coming years. Products like space probes are capable of exploring areas that are beyond human accessibility. Moreover, space robots can also withstand extreme temperatures and perform programmed tasks for longer durations. These advantages will play a major role in further accelerating the adoption of space robotics.
According to a research report by Global Market Insights, Inc., space robotics market is estimated to surpass $3.5 billion by 2025.
Author Name : Krithika Krishnan