Growing population and a subsequent rise in the demand for food & beverage products globally will propel fermentation defoamer market size over the forecast timeframe. Fermentation defoamers are widely used in the production of dairy items such as cheese, yogurt and sour cream, as well as alcoholic beverages including wine, beer, whiskey, and others. The product also finds application in making products such as coffee, bread, tofu, soy sauce, among numerous others. Consistent expansion of the food & beverage segment worldwide, outlined by evolving consumer preferences, is expected to augment fermentation defoamer industry share in the coming years.
North America Fermentation Defoamer Market Size, By Product, 2014 – 2025 (USD Million)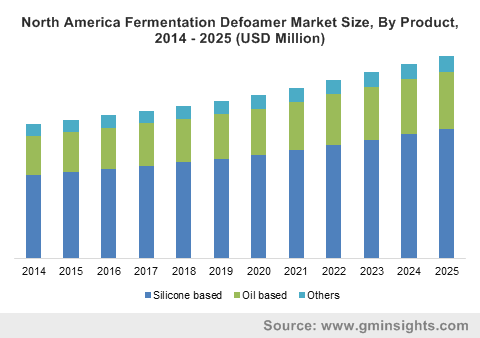 Asia Pacific (APAC) processed food & beverage industry has witnessed stellar growth in the past decades owing to increasing household income levels, rapid urbanization, growing population, changing lifestyle as well as the entry of multinational food companies, specifically in India and China. Apparently, China is currently one of the leading beer producing countries around the globe. Both India and China are two of the largest producers of milk and dairy offerings, which require the use of defoamers to ensure suitable quality of the end product. All these factors will play a considerable role in fostering APAC fermentation defoamer industry scope over the projected timeline.
Rise in the demand for biofuels to address carbon dioxide emission concerns is anticipated to promote fermentation defoamer market size over coming years. Fermentation defoamers are extensively used in industrial fermentation processes to manufacture biofuels like ethanol and biogas, biodiesel, butanol and biohydrogen. Biofuels are expected to substitute conventional fossil fuels in the future owing to their eco-friendly properties. Increased consumption of biofuels all over the world will certainly bring new opportunities for businesses providing required materials and chemicals used in their production. However stringent regulations and strict guidelines regarding product usage in various segments could impede the industry growth to some extent.
Get a Sample Copy of this Report:@ https://www.gminsights.com/request-sample/detail/3735
Alcohol has historically played, and continues to play an important role on social occasions for bonding and engagement. A recent study conducted by a team of researchers for Addiction and Mental Health, in Canada and Germany, reports that at the global level, consumption of alcohol per year had surged by 70% between 1990 and 2017, which can be attributed to the growing popularity of alcoholic drinks among the younger generations. Defoamers are used in the production of alcoholic beverages to stop the formation of foams, representing a crucial application segment reinforcing fermentation defoamer market trends.
Increased consumption of cheese globally owing to shift in eating trends is another key factor that will surge the demand for defoamers. According to reports, an average American consumes approximately 23 pounds of cheese in a year. Over the years, processed food segment has grown rapidly owing to advancements in food processing technology. Apparently, most processed foods use some form of cheese for preparation. Global yogurt sales have experienced a tremendous increase owing to nutritional benefits and preference of health conscious consumers, suggesting substantial opportunities for fermentation defoamer industry growth from various dairy food products.
Consumption of coffee and its variants in North America has surged rapidly due to the lifestyle of people. The U.S. remains one of the leading consumers of coffee in the world and statistics suggest that coffee drinkers in the country consume an average of roughly 3.1 cups per day. In the U.K., bread remains the most favored choice of food, with nearly 99% households purchasing bread daily. Both bread and coffee make up an integral part of people's day-to-day lives, and an increased consumption of these items will bolster fermentation defoamer market outlook.
Fermentation defoamers are proficient in minimizing the amount of foam produced during industrial fermentation process, which makes them an integral part of fermentation-based industrial applications. Climbing demand for antibiotics and the rising consumption of alcoholic beverages will prove to be crucial elements aiding the industry development. Global fermentation defoamer market size is estimated to exceed USD 2 billion annually by 2025.
Author Name : Hrishikesh Kadam