Glutathione market outlook is expected to majorly transform over 2019-2025 due to rising demands for skincare products as well as growing health concerns due to the prevalence of lung and heart problems caused by unhealthy lifestyle and deteriorating air quality.
U.S. Reduced Glutathione Market Size, By Application, 2018 & 2025, (Kilo tons)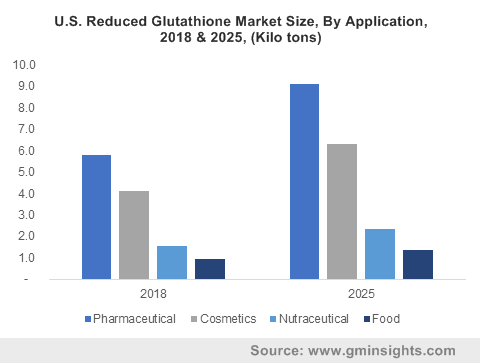 Glutathione is extensively used for producing supplements and rising trend of supplement intake across the globe will proliferate glutathione market share. Due to detoxifying and oxidative stress reducing properties these supplements have been found to be effective in treating health and skin issues and enable the human body to withstand foreign bodies.
Glutathione is a powerful antioxidant found in every cell in the body and is made up of amino acids. Amino acids combine in different patterns to constitute proteins in the body. Glutathione is unique because it is produced in the liver unlike other antioxidants. It helps to synthesize chemicals and proteins in the human body, which further boosts immunity and cure diseases.
Glutathione has various functions, including DNA production, sperm cell formation, breaking down free radicals, regenerating vitamin E and C, assisting apoptosis (normal cell death), transporting mercury out of the brain, supporting immune function etc. Deficiency of glutathione or decreased glutathione levels in the human body can lead to serious health issues. Oral glutathione supplements and injections can help maintain glutathione levels. Due to the essential nature of the product, glutathione market trends are slated to majorly proliferate over the forecast period.
Get a Sample Copy of this Report:@ https://www.gminsights.com/request-sample/detail/4147
In a study conducted by the Baylor School of Medicine to measure impact of glutathione on insulin resistance in aging and mitochondrial fat burning, it was determined that correcting a glutinous deficiency can improve impaired mitochondrial fat burning and insulin resistance in aging patients.
With respect to cancer, glutathione metabolism plays both protective and pathogenic roles. It is important in the removal and detoxification of carcinogens. Any alterations in this pathway can have a significant effect on cell survival. Nevertheless, by aiding resistance to a few chemotherapeutic drugs, increased levels of glutathione in tumor cells are able to protect such cells in breast, larynx, colon, bone marrow and lung cancers.
Due to wide ranging pharmaceutical application, the U.S. glutathione market value is estimated to exceed $20 million by the end of the forecast timeline. Increasing R&D activities in the country to utilize the product more efficiently in drug formulation is expected to propel the regional glutathione industry growth.
The rise in demand of glutathione in cosmetics is anticipated to boost glutathione market growth. Glutathione is an effective antioxidant and plays an important role in DNA synthesis and repair, amino acid transport, enzyme activation and protein synthesis. Moreover, glutathione products are now massively used for skin whitening purposes, that are largely marketed via social media. Internet penetration and demand for skin whitening as well as anti-aging products are expected to augment glutathione market size.
The discovery of glutathione's anti-melanogenic properties has led to its promotion as a skin-lightening agent. It is widely used for this indication among some ethnic populations. Skin fairness products include skin-lightening and whitening creams, face washes and lotions. This sector is one of the fastest growing segments of the global beauty industry, particularly in Asia and Africa, and is estimated to surpass more than $30 billion by 2024.
India has one of the fastest growing glutathione markets as the country witnesses an annual spending of $450 million on skin fairness products. Glutathione market in India is estimated to record considerable gains amounting to over 5.5% over 2019-2025 from cosmetics application. The product, due to wrinkle reducing and skin lightening characteristics, is used for manufacturing soaps and creams in personal care industry. Mounting demand for creams owing to increasing expenditure on personal appearance will fortify glutathione industry growth.
However, there is a dichotomy between evidence to support its efficacy and safety. The hype around its de-pigmentary properties may be a marketing trick of pharma-cosmeceutical companies.
Glutathione is available in topical, parenteral and oral forms. Even though the use of intravenous glutathione injections is prevalent, its efficacy has not yet been proven. Moreover, the side-effects triggered by intravenous glutathione have led the FDA of Philippines to issue a public warning, reproving the use for unapproved medications such as skin lightening. These factors may hamper product demand. However, the extensive utilization of glutathione products in healthcare sector for curing numerous diseases is anticipated to expand glutathione market size in the years to come.
Author Name : Aakriti Kakkar