The rapid transformation in consumer buying habits and surge in disposable income will drive personal care appliances market size in the forecast years. In recent times, rise in online shopping and social media trends have changed the way consumers discover and buy personal care products. Rise in the usage of the Internet and massive growth rate of smartphones have led to an increase in the number of distribution channels for manufacturers, which in turn, is augmenting personal care appliances industry outlook.
India personal care appliances market, by product, 2018 & 2025 (USD Million)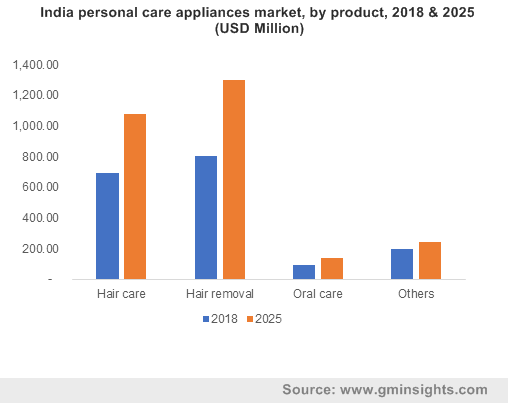 The major beauty brands nowadays are massively investing in high-tech overhauls – right from product development to innovative marketing and merchandising for providing great customer experience.  Leading manufacturers are leveraging the expertise of technologies such as augmented reality and the cloud which has led to the evolution of technology-backed cosmetics brands.
Get a Sample Copy of this Report:@ https://www.gminsights.com/request-sample/detail/4159
In recent years, personal care and pharmaceutical companies have also majorly focused on bringing forth pivotal tech-based innovations in male personal care products such as electronic trimmers, shavers, and many other electric male grooming products. In essence, manufacturers are targeting the male populace as a pivotal consumer base which has been helping personal care appliances market forge new growth avenues.
Customers are lately shifting their preferences toward personalized beauty products on a more frequent basis which will further stimulate personal care appliances industry size over the ensuing years. Players in personal care appliances market are making concerted efforts towards developing, upgrading, and refining their product portfolio in order to launch innovative styling products that are battery-powered and can be used in the portable or plugged in modes.
Recently in July 2019, Dyson, a British technology company that engages in the development of vacuum cleaners has now moved towards beauty products. The company has launched Dyson Supersonic Hair Dryer and Dyson Airwrap Styler and seeking to develop more innovative brands to capture modern day shoppers.
The global personal care appliances market thus, in the years to come, will be characterized by strategic collaborations, mergers and acquisitions that would improve the profitability of the companies and expand their customer base.
The advent of social media has had a major impact on personal care appliances market trends. Leading personal care appliance manufacturers are increasingly shifting to promoting their products on social media platforms like Facebook and Instagram, given their expansive consumer reach. Quite often, influencers are found collaborating with leading appliance makers in order to expand the product popularity across a wider consumer base.
In terms of geographical landscape, in 2018, Asia Pacific personal care electrical appliances market had registered around USD 7 billion and is registering substantial growth owing to the increasing popularity of efficient grooming and hair care products. Emerging economies like India, China are becoming the major revenue grounds for international cosmetic companies due to implementation of powerful technologies like AI and chatbots that not only transform the process of consumer engagement but also aid in analyzing the consumers' skin type and their preferences. These innovative developments will considerably contribute to augmenting personal care appliances market trends and are expected to favor regional growth.
The latest trend emerging in the personal care appliances industry is of imminent players keenly engaging in novel developments, customized products, and creating more options in beauty and grooming products. The technical advancements in hair care and hair removal products are providing long-term results to consumers, thereby, augmenting the demand for these appliances.
Some of the key players in personal care appliances industry include Panasonic Corporation, Procter & Gamble Company, Dyson, Koninklijke Philips N.V., Conair Corporation, Havells India Limited, and Spectrum Brands. Reports from Global Market Insights, Inc., state that personal care appliances market size would surpass USD 30 billion by 2025.
Author Name : Deeksha Pant