Demand for high performance, strength and environment friendly packaging is anticipated to help expand the containerboard market share. Containerboards are made out of recycled fiber which means that they have reduced carbon footprint. Using recycled fiber with virgin fiber for production reduces water use and effluent flow in mills.
U.S. Containerboard Market, By FMCG Application, 2018 & 2025, (Kilo Tons)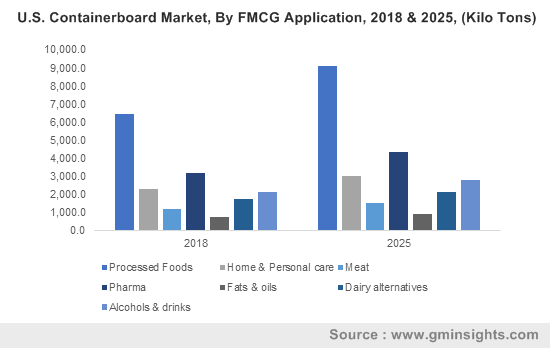 Besides being ecofriendly, containerboards are feather light which reduces shipping costs for ecommerce companies. Containerboards are used for their robustness, lightweight and mechanical stability, factors attracting attention from ecommerce industry. Increasing demand of ecofriendly, light and strong packaging material is expected to assist the transformation of the global containerboard market outlook. Estimates claim containerboard industry size to surpass USD 250 billion by 2025.
Ecofriendly characteristic of containerboards is anticipated to fuel containerboard market trends. Many countries are taking significant to reduce carbon footprint by promoting the use of ecofriendly materials. Countries like China are striving to maintain environmental balance by increasing the use of containerboards mainly made up of recycled fiber.
In the year 2017, Chinese containerboard production reached 45 million tons, almost all of which was made out of recycled fiber. Nearly 15 million tons of old corrugated containerboard was imported which accounted for one-third of the 45 million tons of final production.
Get a Sample Copy of this Report:@ https://www.gminsights.com/request-sample/detail/3326
Between 2019 and 2021, China plans to build a new capacity of approximately 10 million tons, all intending to use recycled fiber as furnish. Furthermore, there are projects which may exceed capacity of 8 million tons. These projects are planned but not confirmed yet. One supposition is that China, if all projects are accomplished, strives to largely remain self-sufficient in the supply of containerboard. Like China, the U.S., India, Vietnam and many other countries are also focusing on ideal materials for packaging and will contribute to increase growth rate of containerboard industry.
Seemingly, there is a significant cooperation from the Chinese companies to achieve aforesaid targets and expand their market share. For instance, a Chinese containerboard manufacturing company Nine Dragon Paper Holdings Limited has signed a MoU with the Indian state of Maharashtra to provide around $630 million to establish a paper- and board-producing mill in the state.
This is an initial step by the company to expand its footprint in India. Nine Dragon will reportedly invest up to INR 45 billion ($634 million) to build the facility. India containerboard market is indicating expansion in market share and is projected to reach 3 billion square meters from agricultural application as containers for vegetable and fruit packaging require anti-bacterial qualities.
Nine Dragon currently has more than 15 million metric tons of paper- and board-making capacity focusing on containerboard and other packaging grade. The strategic expansions of containerboard companies will help to drive the growth graph of containerboard industry.
Worldwide containerboard demand is expected to surge continuously as a result of economic expansion and e-commerce trade growth. Apart from China, Vietnam is yet another APAC country that will help boost the containerboard market growth.
The demand of containerboard in Vietnam is increasing at a steady pace and surpasses that of Indonesia, Thailand and other countries. It is further anticipated that in the first half of the 2020, Vietnam will be the leading ASEAN countries in terms of containerboard utilization propelling steady growth of the containerboard market over the forecast period.
A Japanese company recently announced the establishment of a containerboard manufacturing and packaging material sales business in Vietnam. The company has gained overseas containerboard market knowledge from its businesses in Japan and now has plans to expand its footprint in rapidly growing market of Vietnam. It will support industrial development in Vietnam by manufacturing containerboard with resource saving operations and energy saving technology acquired in Japan.
Companies toiling to expand their businesses overseas is one of the major reasons that will significantly impact containerboard market growth globally. A huge range of applications of containerboards in FMCG, pharmaceuticals, ecommerce, industries, agriculture, etc., is attracting containerboard industry players to invest consistently in new product development. Government mandates for environmental conservation will also act as a major driver propelling the expansion of containerboard market size over 2019-2025.
Author Name : Anchal Solanki