Aerospace and Defense
Technological advancements such as AI and AR/VR are expected to bolster power by the hour market share during the assessment period of 2019-2025. Dynamic growth witnessed in power by the hour market is mainly credited to unprecedented demand for passenger traffic and cargo movement from APAC countries, along with sublime aircraft deliveries across the globe.
Soaring demand for fuel-efficient aircraft engines is set to augur well for power by the hour market size expansion. Leading companies are increasingly focusing on offering long-term engine maintenance contracts to airlines. For instance, JetSMART inked a 12-year contract with Pratt and Whitney meant for the proper maintenance of GTF engines for the 85-firm order of AirbusA320neo aircraft family. The company is set to offer services under the EngineWise program that will offer a flexible maintenance option to the airline.
Power by the hour market size is expected to surpass US$ 30 bn by 2025, according to the latest research report by Global Market Insights, Inc.
With notable rise in the number of passengers for long-haul routes, government initiatives have witnessed a notable uptick. Further, facets such as development of megacities, burgeoning urbanization and soaring passenger traffic stemming from non-traditional market are anticipated to spur power by the hour market share.
Modification of existing aircraft fleet and robust demand for upgrades by leading airlines have been indispensable in the development of heavy maintenance. The advent of state-of-the-art aircraft engines and marked demand for lightweight components have further contributed to the growth of heavy maintenance.
Get a Sample Copy of this Report:@ https://www.gminsights.com/request-sample/detail/4404
Escalating demand for next-generation wide body aircraft by North American and European airlines is set to underpin power by the hour market outlook. For instance, AirAsia X bolstered its contract with AFI KLM E&M in June 2019 to propel the new A330neo aircraft.
Rising call for fuel-efficient wide body aircraft is slated to undergird power by the hour market share. In a bid to propel power by the hour market share, prominent companies are vying to offer more tailor-made and flexible maintenance program to aircraft operators.
The emergence of MRO services and IoT sensors has streamlined aircraft maintenance given the sensors keep an eye on aircraft systems and offer invaluable data. Further, AI has helped aircraft maintenance prophesize the system or component failure in advance and propel the operational efficiency of an aircraft, negating the chance for unscheduled maintenance.
Meanwhile, high manufacturing cost and dearth of trained MRO maintenance professional may mar the growth of power by the hour market. With soaring demand for on-time performance, airlines are heavily focusing to offer on-time services. Moreover, shortage of trained aircraft technicians is expected to derail the growth of power by the hour market. As such, leading companies are increasingly investing in on-time services and low-cost carriers (LCC) are inclined toward outsourcing MRO activities.
Prominent companies are focusing on novel technology, including wearables, MRO services and big data analytics to gain competitive advantage.  Some of the leading companies eyeing to expand power by the hour market size are AAR, Collins Aerospace, Rolls-Royce, Lufthansa Technik, among others.
Author Name : Sunil Jha
Global flight inspection market is expected to witness high growth on account of the stringent government regulations which support regular flight inspection to ensure passenger safety. Additionally, the increase in utilization of advanced flight inspection systems to replace the traditional techniques has helped to cut down the airport operational cost, thus supporting the positive flight inspection market forecast over 2019-2025. Furthermore, the ever-expanding number of airports and ongoing construction activities to promote modernization of aged out airport facilities will augment flight inspection industry size the over the forecast period.
U.S. Flight Inspection Market, By Solution, 2018 & 2025, (USD Million)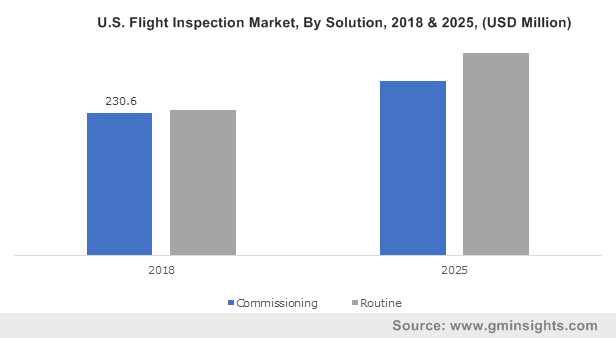 The growing airport construction activities across the globe is anticipated to support the expansion of flight inspection industry share. Currently, Asia Pacific leads in the number of airport construction activities owing to high investments from the countries comprising China and India to develop air travel in the region. In order to support expansion of air traffic in the continent, a number of construction projects related to new and existing airports are in the pipeline, which will accelerate the demand for flight inspection systems. For instance, China government has been developing the third international airport, Beijing Daxing International Airport in the capital city of Beijing that will open for service before September 30, 2019.
Along with the growing airport infrastructure, the technological advancements of flight inspection systems have been positively supporting flight inspection industry outlook. The industry may witness growing penetration of drones for the purpose of flight inspection. These compact drones integrated with multiple sensors and high-quality cameras can provide real time data for defect assessment. For instance, Airbus recently revealed an automated drone-based aircraft inspection system that can significantly reduce the time taken for visual inspections of the aircraft.
Get a Sample Copy of this Report:@ https://www.gminsights.com/request-sample/detail/2312
Recently developed advanced inspection drones are intended for use within a hangar. After being programmed with a predefined inspection path, the drone automatically flies around the aircraft structure gathering all critical data in the form of high resolution images. These images are then transferred to a technician who compares them with the aircraft's 3D structural model to locate any surface damages. The system will not only reduce the overall inspection time but also will help to maintain utmost quality during the flight inspections. Less time consumed means less aircraft downtime, and apparently more chances of revenue regeneration for the airline industry, thus augmenting growth trends for commercial flight inspection market share.
Significant growth in the global defense expenditure complemented by the need to integrate advanced radars and other navigational aids to support airfield operations will further accelerate product demand. Additionally, the rising number of defense air bases owing to heightened tensions between some major countries will create large-scale opportunities to foster combat flight inspection industry share.
For instance, the U.S. Defense Department is consistently expanding its presence in Europe due to the growing Russian aggression in the region. Reportedly, the Trump administration wants to spend $828 million in 2019 to build up military infrastructure in Europe, half of which would go toward U.S. Air Force projects.
Furthermore, stringent government regulations to mandate routine flight inspections to ensure passenger safety will also propel service demand during the forecast period. The Federal Aviation Administration (FAA) has introduced U.S. Standard Flight Inspection Manual (USSFIM) which adheres to flight inspection rules for air navigation services. It includes inspection of all airborne and ground-based instrument flight procedures and the airborne validation of electronic signals transmitted from ground navigation systems.
Flight inspection market is majorly driven by the technological advancements in inspection techniques to reduce the flight down time. Similarly, routine inspection forced by government regulations to enforce the need for testing and inspection of flight status after a certain flight cycle will also foster flight inspection system demand. As per report by Global Market Insights, Inc, Flight inspection market size is estimated to exceed USD 1.8 billion by 2025.
Author Name : Amol Kothekar
With the growing number of air passengers and increasing aircraft demand, aerospace and defense ducting market size has been estimated to grow significantly over 2019-2025. Maintaining aircraft cabin temperature and pressure are very important as the passenger aircrafts cruise at high altitudes. Due to lower pressure and temperature at higher altitudes, air-conditioning system installation in aircrafts play an important role in both human health and comfort. Companies toiling to enhance customer experience and airlines lowering their fares to serve a wider consumer base will add impetus to aerospace and defense ducting market trends in the forecast years.
U.S. Aerospace & Defense Ducting Market, By Application, 2018 & 2025, (USD Million)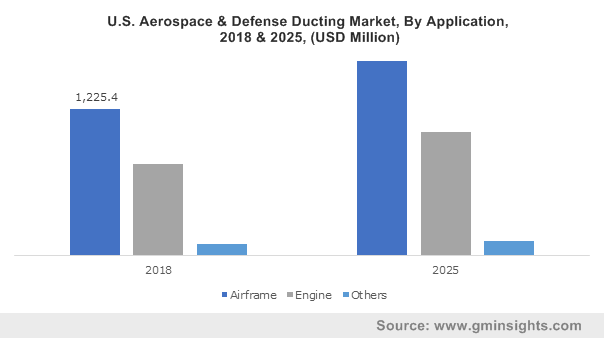 Dropping air fares have been playing a crucial role in positive growth of aerospace and defense ducting market size. Low air fares will increase the number of passengers and consequently demand for improved customer experience. Recently it has been reported that air fares in Australia have fallen by 10 per cent since July 2018. The index of business class fares fell by 0.2 per cent in July and by 11.6 per cent from the peak recorded in June 2011. More affordable rates will predictably raise number of air travelers. As comfort and convenience of customers become paramount, efforts by airlines in these areas are helping to expand aerospace and defense ducting market share.
Lowering air fares has been raising the number of passengers wanting to travel by air which in turn will augment aerospace and defense ducting industry outlook. The International Air Transport Association (IATA) has disclosed that current trends in air transport predict passenger numbers can double to 8.2 billion in the year 2037. China will displace the United States as the world's largest aviation market in the mid of the year 2020. China rebalancing its economy towards consumption will reinforce strong passenger demand over the long term. The number of air passengers have been predicted to increase with rapidly expanding aviation sector which will push the growth graph of aerospace and defense ducting industry forward.
Get a Sample Copy of this Report:@ https://www.gminsights.com/request-sample/detail/3080
Increased air travel has naturally created a demand for aircrafts which has encouraged aircraft manufacturers to increase production. To address the huge demand, Boeing has reportedly delivered 69 737 airplanes in December 2018 and set a new annual record of 806 deliveries in 2018. The company has surpassed its previous record of 763 deliveries in 2017.  Rapidly growing demand and production of aircrafts equipped with various features has been improving customer experience. Aerospace and defense ducting market size will also expand considerably over the forecast duration owing to augmented aircraft production.
Besides commercial aircrafts, demand of military aircrafts is also on the rise to enhance national security. According to the prominent sources, the U.S. air force must inflate its operational squadrons by nearly 25% in the years to come. The requirement has been recommended to deal with the growing military might of Russia and China and to protect the U.S. against violent extremist forces. Sources also cited that the number of squadrons, bombers and tankers, a mix of fighters and drones, should be raised from 312 at present to 386 by the year 2030. The Air Force needs light weight aircrafts with greater efficiency and competence to deal with high pressure and temperature. Intensifying demand of such aircrafts in the Air Force is one of the crucial factors that will augment revenue share of aerospace and defense ducting market.
In order to strengthen their stance in aerospace and defense ducting industry, several companies are following different growth strategies. For instance, Meggitt PLC, a leading international company specializing in high performance components and sub-systems for aerospace, defense and selected energy markets, has been awarded a fixed price contract by General Dynamics Land Systems (GDLS) to develop an Advanced Cooling System for the next generation ground combat platforms. Meggitt has manufactured more than 2,480 hydraulically powered Thermal Management Systems (TMS) for GDLS with additional 450 in process.
Businesses are also working on their current joint ventures as a part of the plan to increase their aerospace and defense ducting market share. Recently, the joint venture of Eaton with Shanghai Aircraft Manufacturing Co. (SAMC) secured approval by the authorities to offer maintenance, repair and overhaul (MRO) services on tubes and ducting to clients in the APAC region. With the approval, the current facility of Eaton-SAMC joint venture in Shanghai will immediately start serving as a ducting, tube and hose repair station. Such expansions and joint ventures will help to enhance the aerospace and defense ducting industry landscape in APAC region.
Growth of aerospace and defense ducting market will be helped by the companies toiling to expand their footprint globally with big contracts and regional expansions. The need for strengthening national security is also gaining paramount importance which will supplement aerospace and defense ducting industry growth significantly. According to a latest research report compiled by Global Market Insights, aerospace and defense ducting market size is forecast to surpass $7 billion by 2025.
Author Name : Anchal Solanki
Escalating demand for passenger and military helicopters, along with rising defense spending worldwide is anticipated to drive helicopter blades market outlook. Rotor blades are vital parts for any helicopter as they can significantly impact crucial flight parameters like cruise speed, climb rate, and payload capacity. Well-designed, high-performance rotor blades can offer improved controllability, especially during operations like rescue missions, air medical services, executive endeavors and more.
U.S. Helicopter Blades Market, By Blade Location, 2018 & 2025, (USD Million)
Rising production of short-range passenger helicopters coupled with growing demand for air taxi services worldwide will propel helicopter blades industry share. For instance, in 2019, the Airbus-backed on-demand helicopter service Voom announced plans to add more locations to its app-based air taxi service.
Moreover, increasing deployment of helicopter hailing services will offer commendable growth proceeds to the helicopter maintenance & repair sector. In 2019, leading military, corporate and regional aircraft maintenance firm, First Aviation Services Inc. announced acquisition of renowned helicopter rotor blade repair company Aviation Blade Services, Inc. to expand its market reach. Driven by such initiatives, helicopter blades market is slated to garner significant revenues over the forecast period.
Based on material, carbon fiber reinforced plastic (CFRP) segment is estimated to account for a considerable share in helicopter blades market in the future. Demands for CFRP can be attributed to its key characteristics like lower weight, higher stiffness, and superior strength to weight ratio. Manufacturers are also increasingly developing carbon-fiber blades to minimize production cost and improve operational margins.
Get a Sample Copy of this Report:@ https://www.gminsights.com/request-sample/detail/3046
For instance, in 2018, rotor-blade maker Van Horn Aviation exhibited its FAA-certified composite main and tail rotor blades, made from carbon-fiber skins & spars, foam cores, and replaceable abrasion strips for the Bell 206L Long Ranger helicopter, claiming service life of the composite blades to be two to four times more than their metal counterparts.
Rising technological advancements in the blade manufacturing industry and growing adoption of carbon-fiber reinforced plastic will further bolster helicopter blades industry size. In 2019, a joint venture program between Thermwood and Bell developed the world's largest 3D printed autoclave tool for helicopters which are estimated to produce helicopter blade molds that meet Bell's tooling requirements.
Helicopter blades market may to accrue significant returns from the military sector. Increase in defense spending and rising military budget worldwide will positively influence industry trends. Rise in number of advanced combat helicopters orders is expected to supplement market share. According to credible reports, around 500 helicopters are expected to be delivered to eastern European countries by 2030, creating opportunities for U.S. manufacturers. While, in 2019, the German government released its tender for military helicopter which includes procurement of 45-60 choppers by 2023 and beyond.
The Russian Federation has also motivated many nations to increase military spending on defense helicopters. In 2019, the Russian defense ministry awarded 46 contracts worth over $16 billion to local industry, included orders for 98 Mil Mi-28NM attack helicopters that are anticipated to be completed in 2021. Investments such as these in the military sector will in turn augment helicopter blade market size over 2019-2025.
North America helicopter blade market is anticipated to add impetus to the global revenue share, primarily due to the presence of key helicopter manufacturers like Boeing Rotorcraft Systems, Lockheed Martin and more. Increasing prominence of app-based, on-demand helicopter hailing services will supplement regional market growth.
Rising defense budget across the region will positively influence industry share. For instance, the Pentagon FY 2020 budget proposes allocation of $790 million for R&D in Future Vertical Lift (FVL) military helicopters. The budget also includes nearly $1.7 billion for 73 U.S. Army UH-60M Black Hawk helicopters by Sikorsky.
Development of advanced manufacturing processes along with rising helicopter production worldwide will drive helicopter blades market growth. Use of FAA certified helicopter blades will ensure enhanced safety and reliability to operators. The development of 3D printed blade technologies will also enhance the market outlook.
Moreover, long-term contracts with helicopter manufacturers and increasing investment in R&D to develop advanced combat helicopters will improve industry share. According to Global Market Insights, Inc., helicopter blades market size is estimated to surpass US $685 million by 2025.
Author Name : Mateen Dalal
Global aircraft seating market size has witnessed considerable expansion in the recent decades on account of increased air travel, innovation in seating design and ambitious expansion goals of airlines. Airlines have also been increasing the demand for aircrafts where seats are narrower and closer together so that more passengers can be accommodated on each flight.
Recently, a lawsuit was raised against the Federal Aviation Administration about the closeness of seats and the risk this poses to passenger safety in case of an emergency evacuation. But the agency found that evacuation risk is caused by the width of the exit rather than closeness of seats and therefore no regulations have been imposed on the tightening width or proximity of seats on airplanes. Airlines have registered record levels of profitability in recent years due to more seats per plane and also due to greater percentage of seats being occupied, which has substantially raised aircraft seating market share.
U.S. Aircraft Seating Market, By Class, 2018 & 2025, (USD Million)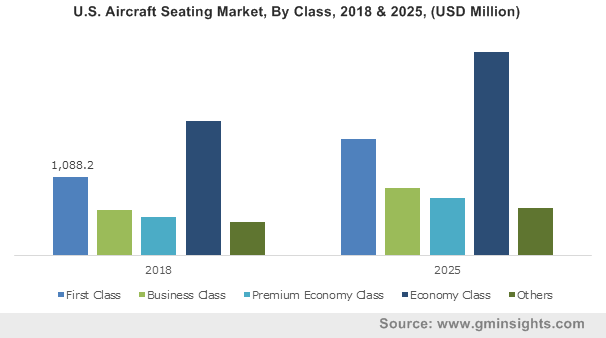 As air travel becomes more affordable and convenient, with a burgeoning number of travelers choosing to fly instead of availing other modes of transportation, commercial airlines are seeking ways to increase their revenue. Services which were previously included with the air fare are therefore now being charged separately and aircraft seating capacity is being increased to accommodate more passengers per flight.
The global aircraft seating market trends is highly influenced by the rising passenger traffic and aircraft seating manufacturers are coming up with new designs that will have a substantial impact on the industry revenue. For instance, the Italian aircraft seat manufacturer Aviointeriors recently designed and demonstrated its saddle seats named SkyRider 2.0 with high backs and narrow seats. The seats are so designed to help increase airline seat numbers and achieve ultra-high density.
The new types of airline seats offer many benefits to airlines. Not only do they increase profits for airline companies by 20% but they are made to be 50% lighter than standard economy class seats thus enabling minimization of maintenance costs. The seats are being designed for short haul flights so as not to be too inconvenient to passengers who are becoming increasingly apprehensive with the trend of narrow seats and less leg room. However, the aircraft seating industry is also catering to the increased demand for luxury with a lie-flat seat.
Lie-flat seats had been available in premium cabins of many long-haul flights and on some Airbus A330 aircrafts. Airbus and French aircraft seat manufacturer Zodiac Aerospace have taken that idea further and are trying to introduce lie-flat berths in the A330 cargo compartment. Airbus and Zodiac are partnering to develop lower-deck modules that will be equipped with passenger sleeping berths fitted inside the aircraft's cargo compartments. The modules will be beneficial to passengers on long haul flights such as from U.S. and Europe to Australian destinations.
Get a Sample Copy of this Report:@ https://www.gminsights.com/request-sample/detail/3225
Of late, the demand for narrow body fixed wing segment has been depicting a commendable rise. This can be attributed to the rising requirement of low-cost air carriers worldwide. Not to mention, the excellent fuel economy in tandem with higher operational efficiency alongside robust enhancements in high wing load capacities will further impel narrow body fixed wing aircraft seating market share. As per estimates, narrow body fixed wing aircraft seating market size will depict the witness highest CAGR over the forecast timeline.
Aircraft seat manufacturers are aiming to design more seats that combine comfort with light weight so that not only the airlines, but the passengers are benefitted as well. For instance, at a recent Aircraft Interiors Expo, Recaro, the aircraft seat manufacturing giant presented new seat designs for economy class as well as concept seats for business class that amalgamate comfort with light weight. The seats are deigned to improve sleeping comfort on board and come up with features to improve body posture, reduce pressure points and allow changing of sleeping positions.
Increased drive for innovation in the aircraft industry will strengthen the case for revolutionizing seats in aircrafts in the years to come. As per estimates, aircraft seating industry size is anticipated to cross USD 18 billion by 2025.
Author Name : Paroma Bhattacharya
Increasing production of aircrafts with durable and reliable window frames will increase aircraft window frame market share in the coming years. Regional governments are also considerably backing their air defense budgets to improve national security. Growing use of advanced materials in aircraft window frames and surging commercial fleets to be used for mobility services in the coming years will significantly supplement aircraft window frame market size.
U.S. Aircraft Window Frame Market, By Aircraft, 2018 & 2025, (Units)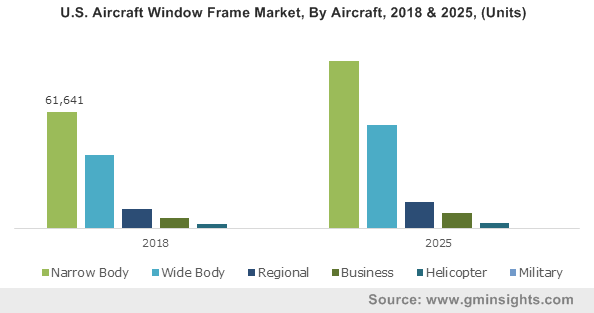 Mobility as a Service (MaaS) is reshaping the world of transport in ways that were previously presumed insurmountable. After analyzing the success of mobility service on roads, companies are now planning to introduce air mobility services. Indeed, air mobility companies have been working toward launching commercial helicopters that may have the potential to revolutionize aviation applications – from air ambulances and emergency services to cargo delivery.
The innovation of such commercial aircrafts is just an inception that will further translate to the production of many such airplanes, expanding the air mobility service portfolio. Increasing production of commercial helicopters will directly influence aircraft window frame market size. Revolutionary, cutting-edge innovations by aircraft manufacturers are also likely to increase revenue share of aircraft window frame industry.
The expansion of aircraft window frame market will be influenced by the demand of airliners in the military. Lately, the U.S. Air Force was reported to conceptualize plans to buy 80 units of F-15X over the next five years. The deadly fighter jet is equipped with strengthened airframes for increased maneuverability and airframe life span of around 20,000 hours, giving the advanced fighter plane enhanced dogfighting capability.
In 2018, the U.S. defense budget was recorded at around $640 billion and is likely to register growth in upcoming years. The rising defense budget of the nation will also contribute to augment North America aircraft window frame market share, the growth of which will be driven by the presence of multiple aircraft manufacturers, suppliers and distributors in the region.
Get a Sample Copy of this Report:@ https://www.gminsights.com/request-sample/detail/3096
The contribution of numerous industry players and concerns about national security will increase the demand for advanced and lightweight components which will influence North America aircraft window frame market outlook. As per estimates, North America will dominate aircraft window frame industry size over 2019-2025.
In the times to come, an increase in the defense budget will be observed not only in North America, but most of the developed and developing economies of the globe. This will lead to an upsurge in the demand for tested aircraft components in the armed forces that will propel aircraft window frame market size.
With the demand of reliable and innovative aircraft window frame material in military and commercial aircrafts, organizations are coming up with the use of several advanced constituents to be used in airplanes. The need of high strength and lightweight automotive window frame material with outstanding corrosion resistance is providing a push to the use of titanium sponge in aircrafts. Titanium also possesses good weldability, owing to which it is often used for airframes.
According to the International Titanium Association (ITA), the aerospace industry is expected to be the largest market for titanium mill products. Growth in the aerospace industry along with the higher use of carbon fiber composites, which are compatible with titanium, are likely to increase the remuneration share of global titanium sponge market, thereby indirectly supporting the growth of aircraft window frame industry share.
Speaking about the cost-effective innovations in aircraft window frame market, Boeing has been reportedly using a new approach to design 787-8 airplane which will have 30 percent lower airframe maintenance costs than any comparable product. The Boeing 787 makes better use of composite materials in its airframes and primary structures than any previous Boeing airliner. The use of the composite materials used for manufacturing aircraft window frames contributes considerably towards improving corrosion resistance, lowering overall weight, and enhancing durability.
Prominent aircraft window frame market players, such as ACE Advanced Composite Engineering GmbH, Otto Fuchs KG, LMI Aerospace, PPG Industries Inc., GKN Aerospace etc., are also using composite materials to enhance certain properties of aircraft window frames.
Aircraft window frame industry is likely to witness extensive growth with the support of government funding for military aircrafts, innovations and future air mobility. The demand of advanced aircraft window frame material to be used in airframes will also contribute to increase the growth of aircraft window frame market. According to a research report by Global Market Insights Inc., aircraft window frame industry share is estimated to exceed $180 million by the year 2025.
Author Name : Anchal Solanki