Automotive & Transportation
The growth of the autonomous cars market can be aptly credited to the exponentially growing automotive sector across the globe. Having sold around 24 million units in 2017, autonomous cars industry has been consolidating its stance significantly in the automotive space, the future of which has been touted to be transformed owing to the rising popularity of connected cars that have lately been revolutionizing the mobility sector.
Europe Autonomous Cars Market, By Type, 2017 & 2024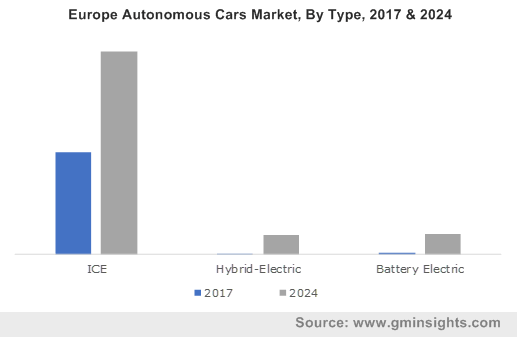 Autonomous cars, which can be operated with minimal or no driving input in any capacity from a human, indeed, are rapidly becoming a reality because of the rising number of research & development (R&D) programs carried out by renowned automobile manufacturers and technology companies. The R&D efforts are mainly fueled by the lucrative opportunities offered by the sector, which has been largely unevolved – in the way the automobiles are operated – since its inception.
The intensive R&D efforts by industry leaders along with the support received from regional governments due to the added road-safety feature of the technology, would be responsible for the expansion of the global automotive market. Moreover, the environment-friendly feature of these vehicles would also contribute toward increased sales numbers in coming years.
Get a Sample Copy of this Report:@ https://www.gminsights.com/request-sample/detail/1224
Unveiling autonomous car market trends in terms of the vehicle landscape:
Level-1 autonomous cars:
Known as the first generation of autonomous vehicles – level-1 autonomous cars are the ones that incorporate an advanced driving assistance system (ADAS). The system acts as an extension of the driver and helps the vehicle operator operate the car safely. According to a 2018 report by the Victoria Transport Policy Institute (VTPI), many of the level-1 autonomous vehicles incorporate technologies like hazard warning, cruise control, collision avoidance as well as automated parallel parking that take over some of the driver's responsibilities.
The level-1 based autonomous cars market is primarily driven by the rising road-safety concerns around the world as more and more vehicles are added to the roads each year. The increasing road-safety concerns have prompted governments across the world to introduce programs that mandate the incorporation of ADAS inside vehicles to ensure passenger safety. Programs such as the National Highway Traffic Safety Administration (NHTSA) in the U.S and the New Car Assessment Program (NCAP) in the European Union have impelled vehicle manufacturers to deploy vehicles that include a built-in level-1 semi-autonomous system. Amidst this scenario, it comes as no surprise that level-1 autonomous vehicles account for over 90% of the autonomous cars market share.
Level-4 autonomous cars:
The level-4 autonomous vehicles – currently under the research phase – are expected to be commercially made available in the market by 2022. The rapidly increasing number of research & development efforts by industry leaders in the automated driving domain would be responsible for the growth of level-4 based autonomous cars market in the years to come. According to a 2018 report by Bloomberg, Waymo – an autonomous car initiative by Google's parent company – Alphabet Inc., is a leading contender that is much ahead of its nearest competitor in the race to deploy an autonomous level-4 vehicle to the market. To bring this accomplishment to fruition, the firm has entered into an agreement with Chrysler to acquire thousands of Chrysler Pacifica minivans that the company intends to modify by retrofitting autonomous driving systems that use LiDAR sensors to drive the cars.
However, other industry players are rapidly closing the gap by making significant inroads in this vertical. For instance, automobile manufacturer General Motors Co. has made considerable investments in the sector with the intention of rolling-out a fully-autonomous ride-hailing service that uses a modified version of the company's Chevrolet Bolt – a car that does not incorporate a steering wheel or control pedals – by the final quarter of 2019. To attain this goal, GM has received a significant investment worth $2.25 billion from the SoftBank Vision Fund. Moreover, companies are also working towards acquiring licenses from concerned authorities to carry out road-tests to test their respective self-driving vehicles.
Attributing to such advancements, the autonomous cars market is projected to continue garnering exponential growth in the forthcoming years. According to a report by Global Market Insights, Inc., driven by the massively growing demand for these vehicles, autonomous cars market size is expected to surpass 60 million units by 2024.
Author Name : Akshay Kedari
The global automotive communication technology market has lately been emerging as a highly pivotal vertical of the overall automotive space, primarily owing to the robust innovations pertaining to automotive electronics. Incidentally, post the introduction of electronic control units (ECUs) in the automotive industry, vehicles had begun to come equipped with numerous wires, circuits with enormous dedicated wiring, which led to complex, bulky and expensive wiring equipment. However, with the deployment of noteworthy advancements, the technologies used in automobiles have transformed drastically, paving the way for the expansion of automotive communication technology industry.
Latin America Automotive Communication Technology Market Revenue, By Bus Module, 2017 & 2024 (USD Billion)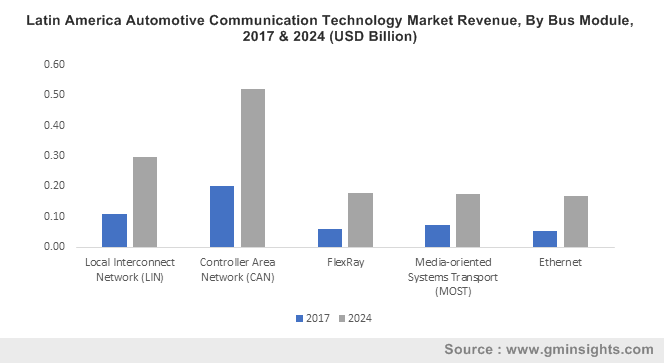 Some of the recent tech-based inventions in the auto space include anti-lock brakes, telematics, infotainment capabilities and automatic transmission, that are revolutionizing the automotive industry, further encouraging automotive communication technology market players. One of the most important factors that will drive the automotive communication technology market growth is the stringent regulatory landscape established by regional governments regarding safety standards. Automotive systems aligned with these regulations include blind spot detection, lane chase assist and adaptive cruise control, that are being incorporated by manufacturers in order to adhere to regulatory standards, that would further serve to impel automotive communication technology industry. A gist of the contribution of prominent vendors has been enumerated below:
Qualcomm Technologies
According to statistics, about 95% of automobile fatalities are caused by driver distractions. If all the cars could communicate their status with each other, automotive systems would ideally be able to alert the driver and respond on its own preventing any kind of collision. Having considered the plausibility, the California based chip maker Qualcomm Technologies had announced 9150 C-V2X cellular vehicle-to-everything (V2X) chip last year. This chip was able to send and receive information directly from the cars nearby about sudden braking, slippery roads, speed, signal and more.
Get a Sample Copy of this Report:@ https://www.gminsights.com/request-sample/detail/3008
The vehicle-to-everything (V2X) communicates directly with nearby cars, which includes vehicle-to-infrastructure (V2I), vehicle-to-pedestrian (V2P) and vehicle-to-vehicle (V2V). Qualcomm's product launch bears testimony to the fact that vehicles integrated with advanced technologies are likely to reduce automobile fatalities, which would further encourage automotive communication technology market players to work on their existing product portfolios.
Infineon Technologies
It is rather overt that advancements in automotive technology, such as ECUs sharing information and cars equipped with the ability of communicating with each other and the cloud, would raise the possibility of car-hacking. The threat of hackers invading any vehicle via a single ECU, and then taking control over the vehicle or stealing personal information is expected to be a crucial issue in the years to come. To tackle such issues, the second-largest Germany-based manufacturer of automotive chips, Infineon Technologies, introduced its trusted platform module (TPM) which is targeted at automotive ECUs. The Optiga TPM microcontroller would assist manufacturers in detecting manipulated software or faulty components running inside the vehicle.
Such efforts taken for increasing safety of the automotive systems would further drive their adoption paving way for the expansion of the automotive communication technology market. As of now, the circuit manufacturers are trying to make the infotainment systems more flexible to transport packet, stream and control content. Implementations that already exist are either complicated and costly, or quite limited in bandwidth with packet data capabilities for supporting internetworking requirements and system updates.
Microchip Technology Inc.
Owing to the aforementioned glitch, the leading provider of microcontrollers and circuits, Microchip Technology Inc., has recently launched an efficient automotive infotainment networking technology called 'Intelligent Network Interface Controller networking (INICnet) technology'. It is a scalable, synchronous solution which largely simplifies building audio and infotainment systems. Utilization of such features in the vehicles enhances the infotainment systems and their features as well as increases its demand.
To tap into this segment, a subsidiary company of NXP Semiconductors has surged its production of automotive and specialty chips in its Singapore facility, with an investment of S$300 million. The chipsets produced in this facility are used by the automotive manufacturers in car infotainment, vehicle to infrastructure communications and more.
With such efforts undertaken by key industry players, it is evident that automotive communication technology market would depict a notable growth rate in the upcoming years. Comprising prominent companies such as Intel, Vector Informatik, Rohm Semiconductor, Broadcom, Toshiba, Texas Instruments, Robert Bosch and more, the competitive spectrum of automotive communication technology market is quite diverse. For the record, Global Market Insights, Inc., anticipates this industry to exceed a valuation of $18 billion by 2024.
Author Name : Saurav Kumar
Recreational vehicles, owing to their comfort & connectivity, are massively adopted by tourists of late, stimulating recreational vehicles market. That said, in order to promote the regional tourism industry, several countries have been investing in the deployment of recreational vehicles. These vehicles are priced higher when compared to the conventional vehicles owing to which, numerous travelers have been giving preference to rental services. In this regard, rental service industries have also been looking forward to attracting more consumers by providing high-quality product ranges with sufficient insurance and low-cost maintenance facilities. The increasing popularity of high-end luxury and fuel-efficient recreational vehicles is thus slated to boost recreational vehicles market over the years ahead.
U.S. Recreational Vehicles Market, By Fuel, 2017 & 2024, (Units)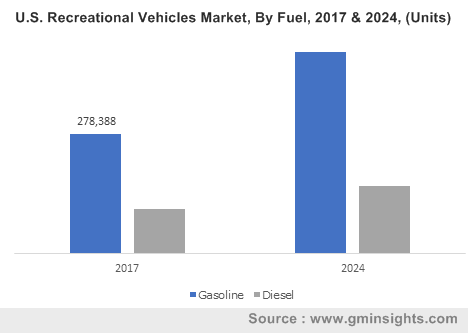 In the last few years, the demand for motorhomes has increased tremendously, encouraging vehicle manufacturers to design newer models of the same. As of now, most of the automakers have increased their production capabilities to fulfil the rising vehicle demand. Recently, the German motorhome and campervan manufacturer, Hymer has officially declared the launch of new variants of its motorhome product that is expected to be mainstream by 2019. In its newly designed vehicles, it has integrated the Mercedes-Benz Sprinter to enhance the vehicle profile. It has also improvised the interior of the vehicle and reduced its overall weight by using glass reinforced plastics for manufacturing various vehicle components such as water tanks, double floor, plumbing, and heating systems. In addition, this motorhome manufacturer has also entered the UK recreational vehicles market with the launch of three new A-class models.
Get a Sample Copy of this Report:@ https://www.gminsights.com/request-sample/detail/2967
The increasing popularity of moving restaurants has also had a considerable impact on the recreational vehicles industry size. Rather than constructing a new building for hotels, there has been a surging preference of late, for on-vehicle hotels that resolves the issues of food, shelter, and income on a single platform. In fact, space utilization for hospitality and residential purposes was a major concern that prompted Protec to launch a new Q18 motorhome. With extensive research and development, Protec has configured new motorhome that is equipped with a dry bathroom, dining room, full kitchen, sink, fridge with freezer, and an additional pull-out worktop. The deployment of luxurious amenities in the vehicle will further fuel the product demand that will ultimately boost the recreational vehicles market outlook.
Though the luxury motorhome has become more popular, its higher cost has been restricting buyers to invest in its production. Taking into account the future business opportunities in class-A motorhomes, renowned recreational vehicle manufacturers have been working together to develop an affordable package of the recreational vehicle. For instance, in January 2018, the American recreational vehicle manufacturer, Jayco Inc., collaborated with the specialty chassis and vehicle design leader, Spartan Specialty Vehicles to introduce a luxury class A diesel motorhome. While designing this new vehicle, they have considered all the luxury aspects for making it accessible for the younger crowd of enthusiastic buyers. They also have taken into consideration the preferences of customers who are looking for smaller coach sizes for better serviceability. This customer-centric view of vehicle manufacturers will considerably stimulate the demand for motorhomes which procured 50% of recreational vehicles industry share in 2017.
It is noteworthy to mention that the shifting trends toward the development of emission-free vehicles for controlling the pollution level in the environment have generated a new business avenue for vehicle manufacturers. In fact, some companies have been establishing electric vehicle platforms as well, in order to stay ahead of competition. The development of fuel-efficient and luxurious vehicles is poised to have a positive impact on the recreational vehicles industry size, which reportedly, over 2018-2024, will register a CAGR of 6%.
Author Name : Sunil Hebbalkar
Rapidly increasing air traffic resulting from worldwide expansion of the aviation sector has propelled the
aerospace floor panels market
with key manufactures speeding up the production of commercial aircrafts. Constituting a major portion of any aircraft's weight, floor panels need to be light for reducing the overall mass and also should be durable to tolerate the brunt of thousands of passengers or tons of cargo load over a period of time. The introduction of efficient materials and designs to manufacture lightweight panels and structures has supplemented cost savings for airlines along with meeting stringent norms mandated by aviation authorities.  As such, the aerospace floor panels market has hugely transformed due to consistent focus on enhancing the quality of panels, which form an integral component of the all-round safety within the aircraft.
U.S. Aerospace Floor Panels Market, By Aircrafts, 2017 & 2024, (Units)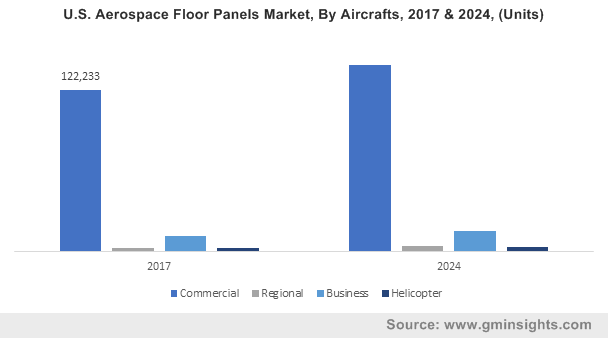 Speaking of efficient panels, a prominent design that has critically altered the aerospace floor panels industry is the honeycomb sandwich assembly, which has allowed the production of lighter and highly durable floor paneling. Applicable in a variety of segments such as railways, marine, construction and energy, the honeycomb sandwich design offers exceptional strength-to-weight ratio and panels can be modified according to the type of use. In terms of improving interior aesthetics of an aircraft, the surfaces of these panels can be customized depending on the face sheet material. With the use of high-quality honeycomb sandwich panels to ensure a strong floor base, the global aerospace floor panels market surpassed a revenue of USD 174 million in 2017. Aluminium honeycomb panels, in particular, are increasingly being utilized in aircraft production and demand for these panels is expected to rise steadily over the next few years.
Get a Sample Copy of this Report:@ https://www.gminsights.com/request-sample/detail/2716
In terms of feasibility, Aluminium offers remarkable strength-to-weight properties to floor panel designers along with flexibility and considerably low processing cost, as compared to other robust materials like Titanium. Other notable features of Aluminium are corrosion resistance, easy to machine and cut as per required specifications and the ability to enhance the durability of structural components. Since the alloy is also described as being almost 90% recyclable, Aluminium honeycomb sandwich panels are expected to become immensely popular in the aerospace floor panels market. Major aircraft manufacturers are already treading in the direction of adopting aluminium honeycomb cores in flooring to reduce the structural weight and cost of production. Interesting predictions regarding growth of the aircraft segment has evidently spurred the development of the aerospace floor panels industry.
Recently, the American multinational airplane maker Boeing released a statement in which it mentioned that the aircraft industry has been witnessing a prolific growth trend over the past eight years. The company also revealed certain estimates, according to which the global demand for new passenger jets will reach approx. 42,730 by 2037. The total value of these new planes is projected to be around USD 6.3 trillion, indicating the massive earning potential of the aerospace floor panels market from new aircraft production. Boeing attributes the growing demand to the continuous economic growth worldwide and the rising consumer spending, especially by the working middle class population. Expansion of the tourism sector has additionally boosted air traffic in emerging economies, strengthening the aerospace floor panels industry stance.
Besides the passenger segment, use of cargo planes for transporting heavy commercial or military equipment and to undertake product delivery between multiple countries has grown tremendously due to progressive pricing trends. As a result, not only new cargo-carrying aircrafts are being made but old and new commercial jet builds are also being converted to freight planes, signifying a lucrative emerging avenue for the aerospace floor panels market. For instance, Dresden-based Elbe Flugzeugwerke (EFW), a joint venture between Airbus and Singapore Technologies (ST) Engineering's Aerospace arm, is involved with converting passenger jet to freight aircrafts. In August 2018, EFW delivered an Airbus A330-200 Passenger-to-Freighter converted plane to EgyptAir Cargo, while reports indicate that EFW has further contracts in the pipeline to convert ten A321-200s for lessor Vallair.
As cargo freighters need to be light for traversing large distances with heavy loads, sturdy flooring and lighter frame is essential for guaranteeing safe transportation and better fuel-efficiency. With projects like EFW, production of floor panels suitable for commercial logistics will see tremendous increase and substantially bolster the aerospace floor panels industry. Anticipated to register a 4% CAGR from 2018 to 2024, the aerospace floor panels market is spearheaded by companies like EFW, The Gill Corp., Rockwell Collins, Zodiac Aerospace, Nordam Group, Euro Composites and Avcorp Corporation.
Author Name : Pankaj Singh
Automotive human-machine interface (HMI) market has lately emerged as one of the massive revenue generating spheres in the automotive sector with the shifting trends toward the adoption of smart vehicles. Traditionally, pertaining to the lack of advanced infotainment and digitalized internal car design, drivers had been unable to operate the vehicle efficiently. However, with the advent of new technology trends, the overall design structure of automobiles has changed considerably, paving the way for integrated human-machine interface in vehicles. The development of connected cars for decreasing the chances of accidents and enhancing the operability of vehicles has also helped propel automotive human machine interface industry share.
Europe Automotive HMI Market Size, By Product, 2017 & 2024 (USD Million)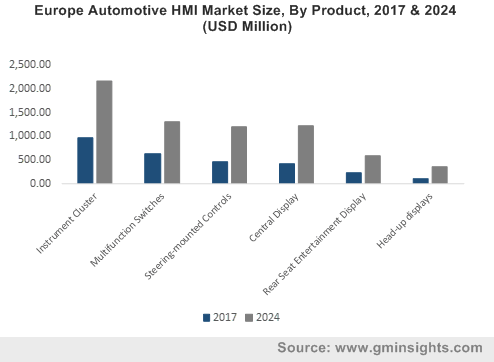 One of the most pivotal driving forces of automotive human-machine interface market is the emergence of smartphones, artificial intelligence, IoT (Internet of Things), and machine learning technologies that have substantially encouraged automakers to carry out product development activities for transforming the existing infotainment system of the vehicle. Validating the aforementioned fact, recently, the American automotive electronics supplier Visteon Corporation developed a next-generation cockpit controller, SmartCore that has been deployed in Daimler's upcoming Mercedes-Benz A-Class vehicles. These will be the world's first vehicles integrated with intelligent cockpit controllers with multiple central processing units. The deployment of such features in the interior design enhances a vehicle's infotainment display and instrument cluster. Moreover, it also helps drivers personalize their experience by simply operating touchscreen and touchpad on the steering wheel.
Get a Sample Copy of this Report:@ https://www.gminsights.com/request-sample/detail/2918
Increasing awareness among the regulators and regional governments about the surging need for vehicle security and safety has been driving the requirement of the instrument clusters and digital infotainment systems. The policymakers claim that the implementation of a human-machine interface will help the driver collect accurate information about the surrounding environment. In order to comply with the stringent regulatory compliances, most of the automakers, technology companies, manufacturers, and designers have been striving to innovate advanced solutions for passenger vehicles and connected cars. Indeed, passenger vehicles are expected to account for nearly 80% share of automotive human machine interface market by the end of 2024.
Speaking beyond the conventional vehicular systems, the increasing popularity of autonomous vehicles will have a notable influence on the automotive HMI market trends over the years ahead. Focusing on the shifting trends toward the growing adoption of autonomous vehicles across the globe, companies involved in the development of human-machine interfaces have been developing innovative software packages. For instance, a few days before, leading supplier of advanced semiconductor solutions, Renesas Electronics Corporation has introduced a new microprocessor unit to accelerate and simplify the development of modernized HMI and camera-based applications. The newly developed software interface can be used for operating video surveillance systems, fingerprint access control, information communication technology applications that have been deployed in automobiles. The growing popularity of HMI for managing vehicular systems in a highly sophisticated way is poised to stimulate the future product demand.
As of now, motorcycle manufacturers have also been integrating HMI technology in the vehicle for improving performance, driving experience, and safety. Few weeks before, the British electric motorbike manufacturer had launched a fully electric motorcycle with human-machine interface. The evolution of e-bikes for promoting high performance and energy security is poised to have a considerable impact on the demand for HMI. In addition, considering the future energy benefits and depleting fossil fuel resources, most of the regional governments have been implementing a supportive regulatory framework to enhance the deployment of e-vehicles that also will fuel the product demand.
The surging use of digital technology in vehicles for achieving better performance and sustainability will transform the future of the automotive industry. The extensive utilization of software for enabling numerous operational packages comprising functional safety, cybersecurity, and infotainment system will also stimulate industry trends. For the record, by the of 2024, automotive human machine interface (HMI) market will surpass a revenue collection of USD 27 billion.
Author Name : Sunil Hebbalkar