Automotive & Transportation
With the surging yearly growth of air traffic and continual improvements in aircraft operating performance, aircraft soft goods market has seen a considerable progression over the past few years. Reportedly, the worldwide passenger demand for air travel has increased by more than 8% over 2016-2017. By the end of this year, the figure is projected to grow by another 7%. Estimates further indicates that global aviation industry is likely to peg a humongous valuation of more than USD 30 billion in terms of profit in 2018 – representing an escalation of nearly USD 25 billion from what it recorded in the year 2011.
U.S. Aircraft Soft Goods Market, By Aircraft, 2017 & 2024, (USD Million)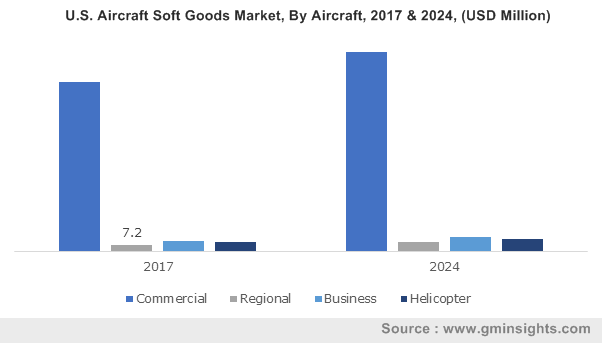 The aforementioned statistics clearly projects the considerable massive aircraft demand in the last half a decade, leading to more deployment of soft goods for seat covers, carpets, and curtains etc. In fact, as per a research report by Global Market Insights, Inc., global aircraft soft goods market share was estimated at over USD 440 million in 2017. Constant aviation refurbishment facilities and interior modifications have indeed acted as a catalyst in the expansion of aircraft soft goods market. Companies partaking in the business space have been vying with one another to bring forth a flare of novelty in their product portfolio.
Get a Sample Copy of this Report @ https://www.gminsights.com/request-sample/detail/2678
Tapis Corporation, one of the leading players in aircraft soft goods market, has recently made its way to the front page, featuring its absolutely state of the art fabric on New Emirates 777-300ER First Class Suites. Reportedly, the company's TapiSuede™ BHC-SS Flannel product has been chosen for these new suits, for the seat backshell. For the record, these premier suites were established by Emirates in collaboration with renowned seat manufacturer Rockwell Collions, industrial design firm Teague, airline manufacturer Boeing, and Jacques Pierre Jean. Tapis Corporation's advanced product line coherently validates the fierce competitive scenario in aircraft soft goods industry and the ongoing developments this particular vertical is characterized by. Some of the other potential contenders in the marketplace include Anker Company, Spectra Interior Products, Mohawk Group, RAMM Aerospace, Lantal Textile AG, and InTech Aerospace.
Regionally, North America exhibits a strong stance in the global aircraft soft goods market landscape with a recorded share of USD 250 million in 2017. The region, endorsed with presence of myriad top-notch aircraft manufacturing companies, is anticipated to surpass a revenue of USD 300 million by 2024.
Forecast to be another profitable belt in terms of investment, APAC aircraft soft goods market is slated to record a 4% CAGR over 2018-2024. Growth drivers, as stated by analysts include expanding aviation commercial market along with increasing refurbishment activities. As per reports, the air carrier demand across APAC turf increased by 9.4% over 2016-2017, subject to significant increase in travel route options and macro-economic conditions.
All in all, with the rising number of refurbishment projects aiming to upgrade the cabin interiors of economy as well as business classes, aircraft soft goods industry demand is certain to witness an uptick over the ensuing years. Manufacturers are adopting lightweight materials including blended fabric and synthetic products that offer improved surface texture at a reduced cost. Aircraft soft goods industry is certain to stand as a major beneficiary of these continuous upgradations in the modern airline vertical. In terms of commercialization portfolio, the overall business space is slated to cross USD 560 million by 2024.
Author Name : Satarupa De
In an age where information is power, the synthetic aperture radar (SAR) in space sector industry has permitted governments and organizations access to high resolution imagery for supporting advanced sensing and monitoring systems. With the ability to gather data efficiently even in the most challenging weathers, SAR is a significant tool for surveillance and remote detection especially in the tropical regions that are covered under clouds for most of the year. The growing adoption of SAR in environmental screening and military applications is particularly expected to bolster the global SAR in space sector market.
Synthetic Aperture Radar in Space Sector Market, By Frequency Band, 2017 & 2024 (USD Million)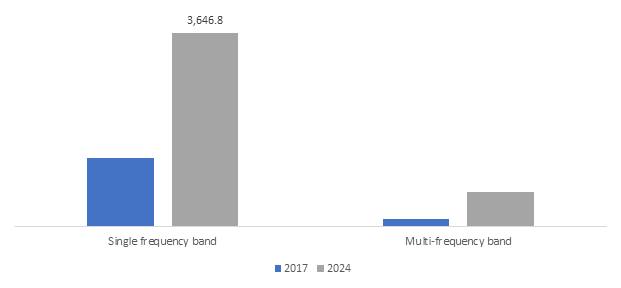 As per the United Nations Office for Outer Space Affairs (UNOOSA), around 357 objects were launched into space in 2017, indicating the progress of space tech worldwide. Advancements in satellite technology have opened avenues for the use of imaging tools to monitor tectonic movements, ocean currents, groundwater levels and forest conditions from outside the atmosphere. Touted as being a "cloudless" image sourcing technique, SAR has emerged as an ideal integration into satellites and in 2017 the SAR in space sector market earned more than USD 1.4 billion in remuneration globally.
In principle, synthetic aperture radars transmit microwave pulses through an antenna, which are directed toward the earth's surface. When the microwave energy is scattered back to the device, it is measured accordingly, and two or three-dimensional images are formed by using the time delay of the received signals. As microwave consists of electromagnetic radiations that have high cloud penetration, SAR satellites can provide images which, unlike conventional satellites, are not hindered by climatic conditions and also allow night-time operations. These advantages over optical imaging systems will deliver enormous growth to the SAR in space sector industry.
Get a Sample Copy of this Report @ https://www.gminsights.com/request-sample/detail/2670
Apart from the 24-hour data acquisition ability, other distinguished features of synthetic apertures which have propagated the SAR in space sector industry trends are high spatial resolution, unique data about surface roughness & physical structure and modern SAR satellites with exceptionally long operational life. Governments agencies are able to study deforestation patterns, tidal inundations, land-use in urban & rural areas and other landscape characteristics with continuous data availability for elongated periods.
As an active remote sensing device, SAR has displayed immense potential in gaining tactical high-ground over rival nations since it can supply high-quality reconnaissance data to the military. Allegedly, defense applications procured a major chunk of the global SAR in space sector market in 2017 and led the industry landscape.
However, the commercial significance of SAR in space sector is being increasingly realized, where exploration of natural resources and maritime navigation safety are examples of activities that can benefit by the deployment of SAR satellites.
Demonstrating the influence of SAR in space sector, China had launched its own first SAR satellite in August 2016, named Gaofen-3, having the highest number of imaging modes amongst all SAR satellites and boasted to have an accuracy to one meter in distance. It has a long lifespan and its data can allegedly be used in disaster prevention, ocean monitoring and maritime rights protection.
In another instance, Iceye, a space startup from Finland, launched its commercial satellite ICEYE-X1 in January this year, which was the world's first SAR satellite to be under 100kg. The information received from this microsatellite is deemed to be used for a wide range of activities that include maritime tracking, tracing oil spills, monitoring sea ice and other environmental issues. The company is also developing a constellation of SAR satellites to apply across the commercial zone, and already has an algorithm to extract data of marine vessels and their locations. These examples are indicative of the promising future prospects for the SAR in space sector industry, which is estimated to show 11.5% CAGR over 2018-2024.
The SAR in space sector market is constituted of space agencies, IT companies and start-ups working together to produce multi-satellite constellations, which utilize several SAR satellites flying together in a pattern to gather and transmit data. Such endeavors are becoming possible with spacecrafts and programs made for launching multiple satellites at a time, the most notable instance being the 2017 launch of 104 satellites by ISRO in single mission. Recently, the dynamics of the SAR in space sector industry has been impacted by the necessity to reduce the overall size of satellites in conjunction with improving the image resolutions and accuracy.
All in all, with the technology appetite increasing by the day, the overall industry has a slew of opportunities ahead in terms of profitability as well as innovations. Some of the renowned names comprising the competitive hierarchy of synthetic aperture radar (SAR) in space sector market include Harris Space and Intelligence Systems, Terra SAR-X, OptiSAR and startups like ICEYE and Capella Space.
Author Name : Pankaj Singh
Primarily driven by the improving global economy and rising disposable income levels, catamarans market has established a remarkable reputation for itself in the worldwide industry of water vessels. Technological innovations in agility & speed and the spotlight put on catamarans' sports in the 2013 America's Cup have expanded the appeal and popularity of this business sphere, in turn encouraging industry players and sailing enthusiasts to invest generously in this sector. In fact, water sports activities such as boat racing, cat racing, sailing, and motor sports have gained immense momentum in the recent years, thereby augmenting catamarans industry players to come up with latest technological advancements & innovations.
U.S. Catamarans Market, By Sailing, 2017 & 2024 (Units)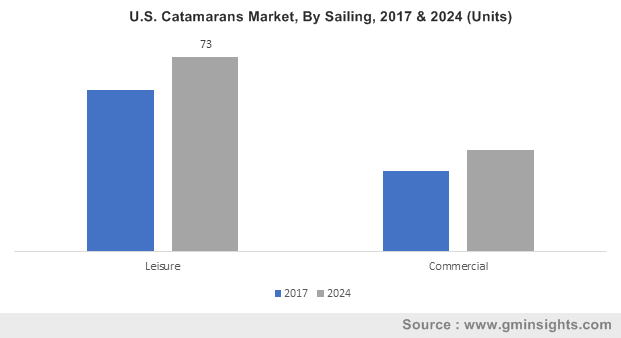 Citing a recent instance, Cape Dory Cruisers and Catamarans have collectively introduced a complete new range of power boats varying in size between 22-36 feet. The new vessels, according to the reports, are designed to provide efficiency with low structural weight and help lower fuel consumption. The firm plans to phase each model into the market in stages through a network of select dealers across North America and rest of the world. Cape Dory's introduction of range of water vessels, according to industry analysts, is one of the classic examples of the robust demand and the incredible growth the catamarans market is experiencing in recent years. The evolution of the modern catamaran from the simple double canoe to the most impressive multihulls across the globe has accelerated even more, with all the latest innovations in materials and structures – a factor that has further contributed to the unprecedented growth of the catamarans industry.
Get a Sample Copy of this Report @ https://www.gminsights.com/request-sample/detail/2642
A report by Global Market Insights, Inc., further sheds light on the robust growth of this industry by claiming the global catamarans market to have pegged USD 1.5 billion in the year 2017. The report states that rising urbanization, the growing fleet of upper-class end users spending on luxury and leisure, and the expansion of the travel & tourism industry have augured well for the growth of catamarans market in the past few years. In fact, if reports are to be believed, the travel & tourism industry has emerged as one of the fastest growing economic sectors registering a 4.6% growth in 2017 – a 50% faster rate than the global economic growth. With such strong prospects and continued momentum, catamarans market has been anticipated to grow in excess of 6.5% each year through 2018-2024.
U.S. to emerge as a lucrative investment hub over 2018-2024
Much of US's outbound growth may be attributed to the region's advanced infrastructure, strong economic growth, and higher leisure spending capacity. In fact, the region is registered among one of the highest income spenders on recreational activities in the boating sector. The propagation of stringent regulatory norms toward coastal security has also significantly changed the growth prospects of the U.S. catamarans market for the better.
According to an estimate released by the U.S. Coast Guard in 2015, the nation recorded 4158 accidents including 2613 injuries and 626 deaths that accounted for property damages surpassing USD 42 million. Catamarans however, are designed to have a balanced structure & provide better safety from such accidental cases. These factors are held in high regard in shaping the growth trends of U.S. catamarans industry, projected to surpass a volume of 567 units by 2024, with an estimated 3.4% CAGR over 2018-2024.
The governmental defense and regulatory contributions toward catamarans industry is not limited only to the U.S., even the Asia Pacific region with China at its foray has been investing heavily to enhance the continent's marine & defense infrastructure. It is prudent to mention that China has built over 80 different variety of Type 22 Houbei-Class – a catamaran designed with fast & sharp attack missile craft feature, to fasten its coastal safety & security.
The shifting focus of countries worldwide toward shipbuilding will have a lasting impact the profitability landscape of catamarans market, as is rather overt from the aforementioned regional trends. Aided by such as strong topographical landscape and product innovations in line catamarans market share is certain to upsurge in the ensuing years.
Author Name : Ojaswita Kutepatil
Airless tires market has indeed gained a commendable acclaim over the recent years, especially amidst the backdrop where disruptive tech driven trends are aptly reshaping the mobility sector.  Given that forces like diverse mobility, connectivity, autonomous driving, and electrification are already on the horizon, it is expected that airless tires industry would soon conveniently establish itself as the next lucrative investment avenue. This is apparently vivid from the estimates that claim the global airless tires market to have garnered a revenue of USD 120 million in 2016. The growth is chiefly driven by the increasing demand for these next generation tires in heavy off-load vehicles, widely used across the military sector. In fact, military vehicles procured a prominent chunk of the airless tires industry landscape in 2016 and is anticipated to record a CAGR of 9% over 2017-2024.
U.S. Airless Tires Market, By Product, 2016 & 2024, (Units)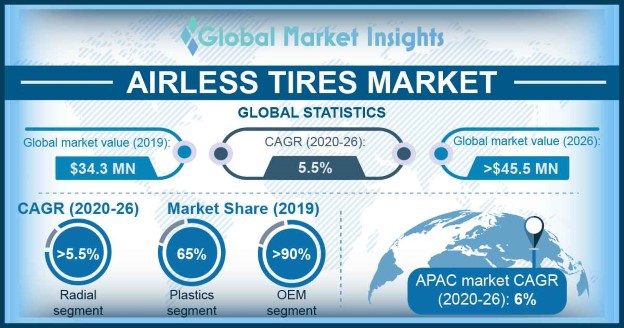 The concept of 3D printing is deemed to bring a disruption of sorts in the airless tires industry. Having recognized the immense potential of this technology, market players have been increasingly experimenting with 3D printing to unlock its credibility to the fullest. Quoting a recent case, Michelin, one of the leading airless tires market firms has recently made its way to the front page with the launch of its airless 3D printed tire. This breakthrough model is reportedly based on alveolar structure, similar to that of air sacs found on human lungs. That is to say that the interior of the tires are structurally solid while the outer layer is flexible, which prevent blowouts. What adds an extra feather to its hat is the product's environmental viability – it is printed from biodegradable, organic, and recyclable materials.
Elaborating further on the competitive landscape, product innovations and development are the two prominent parameters underlining the sustainability quotient for the market players. Below are two of the latest developments in the product landscape of airless tires market.
Get a Sample Copy of this Report@ https://www.gminsights.com/request-sample/detail/1390
Goodyear Tire & Rubber Company, one of predominant players in airless tires market, has recently released an airless or non-pneumatic turf tire solution for commercial mower applications. Reported to be exclusively available on Bad Boy Mowers' Outlaw XP model, this groundbreaking airless tire technology is particularly designed to eliminate air pressure checks, and flat tires. The move is claimed to be a revolution with regard to the launch of non-pneumatic technologies in the automotive sector and is deemed to remarkably strengthen Goodyear's position in the competitive landscape of airless tires industry.
World's first 3D printed airless bicycle tires have been recently tested on the streets of Berlin- the latest scoop that is grabbing the headlines in airless tires market. Reportedly, BigRep, the Berlin based tech giant has tested this new Pro Flex filament tire, which is claimed to be superior than other 3D printing filaments in terms of its unique flexibility, high resistance, and unmatched durability. With airless tires becoming a renowned trend in the transportation space, the move is certain to provide a remarkable competitive edge to BigRep.
It is vividly coherent that technological upgradations in product design and deployment are the top-notch parameters underlining the strategic landscape of this fraternity. The business space is set to garner an appreciable popularity across APAC belt, especially by the extensive growth of military and commercial vehicle sectors in China and India. APAC airless tires market is slated to hold more than 30% of the global landscape by 2024. All in all, with automotive OEMs increasingly exploiting the potential of these cutting-edge tires for overall weight reduction and performance enhancement of the vehicles, airless tires industry is likely to witness a slew of opportunities over the ensuing years. The global revenue share is projected to surpass USD 200 million by 2024.
Author Name : Satarupa De
Fuel cell electric vehicle market share is anticipated to display a marked ascent in the forthcoming years, owing to the fact that governments across a host of nations are undertaking various initiatives to bolster the utilization of zero-emission automobiles in a bid to lower greenhouse gas emissions and contain the ever-rising pollution levels. Moreover, it would be prudent to mention that the painstaking efforts being put in by automobile manufacturers in enhancing the existing fuel cell technology and revamping the current infrastructure of fuel cell EV platforms, has invariably created an unprecedented exuberance pertaining to the growth prospects of the global fuel cell electric vehicle industry.
U.S. Fuel Cell Electric Vehicle Market, By Vehicle, 2016 & 2024, (USD Million)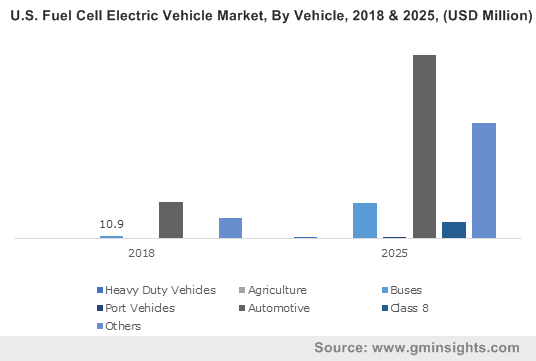 Citing an instance to highlight the same, one of the foremost fuel cell electric vehicle market player Ford Motor Company has recently announced that it would amplify its current investment in electric vehicle manufacturing by over two times, taking the figure to a staggering USD 11 billion. Moreover, a range of other dominant fuel cell electric vehicle industry giants including Toyota, General Motors, and Volkswagen have already carved out aggressive plans to manufacture more such vehicles in the next few years. Apparently, the aforementioned declarations undoubtedly showcase a favorable progression path of the worldwide fuel cell electric vehicle market, which garnered a total remuneration in excess of USD 728 million in the year 2016.
In the recent times, it has been observed that the leading fuel cell electric vehicle industry players are being benefitted immensely from the noteworthy increase in consumer preference for fuel cell-powered vehicles over battery-powered ones. Apparently, the major advantage of fuel cell-powered vehicles is that they can be charged in lesser time duration than the vehicles running on batteries. Furthermore, fuel cell electric vehicles are known to cover longer distance after a single charge, possess greater off-road mobility, better torque, and enhanced field configuration than the battery-powered vehicles. This goes on to explain the increased focus of a number of fuel cell electric vehicle industry giants on manufacturing fuel cell-powered long-distance trucks and SUVs. As a consequence, long distance traveling automobiles are set to apportion over USD 880 million of revenue share of the overall fuel cell electric vehicle industry by 2024.
Get a Sample Copy of this Report@ https://www.gminsights.com/request-sample/detail/2375
Speaking along similar lines, Toyota Motor North America, Inc, has recently released its concept truck heavy-duty truck equipped with advanced hydrogen fuel cell system that is expected to broaden the application of zero-emission fuel cell technology. Moreover, the fully functional truck, named as Project Portal, has an exceptional torque capability to seamlessly carry out port drayage operations and transport goods over short and long distances. Needless to mention, the launch of such innovative vehicles would provide a vigorous boost to the global fuel cell electric vehicle market size expansion over the estimated time frame.
Meanwhile, it would be prudent to take note of the major factors that are likely to hamper the fuel cell electric vehicle market size progression over the next few years. Establishing a robust network of fueling stations has always been a matter of contention across the globe as it requires a substantial amount of investments. Taking this shortcoming into consideration, the renowned fuel cell electric vehicle market player General Motors Company has recently unveiled a new fuel cell platform, christened as Silent Utility Rover Universal Superstructure (SURUS), which has reportedly been designed for variegated vehicle models. The latest platform is being described as a significant development considering the use of microgrids in military applications. Furthermore, the platform has been developed in such a manner that it would double up as a stationary power source to charge the electric vehicle. The US Army is expected to be the first to utilize SURUS on a wide scale, given that it is already experimenting with semi-autonomous convoys to strengthen its existing fleet of fuel cell electric vehicles that cover long distances.
As regional and international regulatory agencies are determined to reduce carbon emissions coupled with the extensive efforts being deployed by leading fuel cell electric vehicle participants, the popularity of fuel cell-powered vehicles is anticipated to soar over the next seven years. In addition to this, the robust growth being witnessed across global renewable energy sector would favorably influence the fuel cell electric vehicle market size that is estimated to surpass 300 thousand units by 2024 in terms of volume, with a remuneration portfolio of over USD 9 billion over the same time span.
Author Name : Saif Ali Bepari
The rising deployment of fleet services for transportation & military operations has been driving aerospace & defense fluid conveyance systems market considerably since the last few years. With increasing disposable incomes and subsequently changing lifestyles, air transportation has lately gained substantial momentum, fueling the need for commercial aircraft. In addition, in order to eliminate terrorist activities, which have been increasing rapidly since the last few decades, many countries have been deploying unmanned aerial vehicles and high-speed jets. Aided by changing military strategies and heavy investments in the defense sector, aerospace & defense fluid conveyance systems industry size is anticipated to witness a massive upsurge over 2018-2024.
U.S. Aerospace & Defense Fluid Conveyance Systems Market, By Fluid, 2017 & 2024, (USD Million)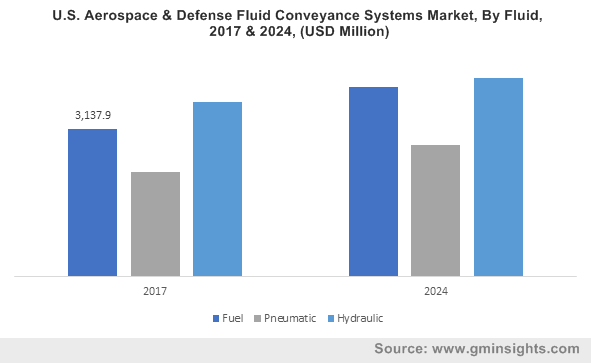 Taking into account the primary need of fluid conveyance systems in aircraft production, leading aircraft manufacturers have been establishing partnerships with fuel system manufacturers. An instance of the aforementioned is GKN Aerospace's contract signed with General Atomics Aeronautical Systems Inc., in 2017, for developing, designing, and manufacturing fuel conveyance systems. GKN Aerospace, through this development agreement, apparently looked forward to developing fuel systems for UAV (unmanned aerial vehicle) applications. The firm planned to manufacture fuel bladders through a vacuum forming process in conjunction with the latest polyurethane (PU) material that is durable and lightweight. Given that UAVs are prominently used in the defense sector for performing various surveillance and other military tasks, GKN is likely to strengthen its stance in aerospace & defense fluid conveyance systems market through this deal, in addition to encouraging its fellow adversaries to increase their investments in the development of military UAVs.
The surging deployment of aircraft for defense as well as commercial purposes has been creating lucrative opportunities not only for original equipment manufacturers but also for aftermarket product developers. In fact, in order to rake in maximum capital, aircraft companies are signing long-term deals with aftermarket product suppliers. The collaboration of airline companies with aftermarket product distributors is proving rather beneficial for this vertical, in terms of reduced maintenance cost and improved fleet reliability.
Get a Sample Copy of this Report@ https://www.gminsights.com/request-sample/detail/2518
Citing a recent instance justifying the aforementioned statement, in 2016, Emirates signed a 10-year aftermarket agreement with Unison Industries to upgrade the GE90 and GP7200 engine fleets. Emirates back then, could leverage Unison's expertise in the areas of upgrades, exchange programs, and repairs with mutual goals of the highest quality support. The deal testified that requirement of the aftermarket is vitally important for maintaining fleet services. Indeed, as per estimates, aerospace & defense fluid conveyance systems market size from the aftermarket distribution channel is slated to register a CAGR of 3.5% over 2018-2024.
Elaborating further on the growth strategy scenario in aerospace & defense fluid conveyance systems market, it is noteworthy to mention in 2015, Parker Aerospace signed a long-term deal with Emirates to provide a maintenance package to its Airbus A330/A340 and Boeing 777 engines and aircraft. As per the agreement, Parker will establish its repair facilities and network outstations across the globe to support Emirates, which will emerge to be advantageous for regional companies and local support teams to generate a sufficient inventory pool for fleet maintenance. This in consequence would have a remunerative impact on the overall aerospace & defense fluid conveyance systems industry outlook over the years ahead.
The mutual cooperation between aircraft companies and product suppliers is likely to be one of the major driving forces of aerospace & defense fluid conveyance systems industry. The surging deployment of UAVs for performing military operations will also have a remarkable impact on product demand over the years ahead. Driven by the escalating demand for fleet components and the robust competitive hierarchy, aerospace & defense fluid conveyance systems market share will increase at a CAGR of 3% over 2018-2024.
Author Name : Sunil Hebbalkar