Automotive & Transportation
The increasing awareness among car manufacturers and regulators about the need of vehicle safety systems has been fueling occupant classification system market. Increasing prevalence of road accidents and growing number of fatalities associated with them is one of the major factors accelerating industry trends. According to the World Health Organization (WHO), road accidents are the major cause of deaths across the globe accounting nearly 1.25 million mortalities per year.
U.S. occupant classification system market size, by product, 2018 & 2025 (USD Million)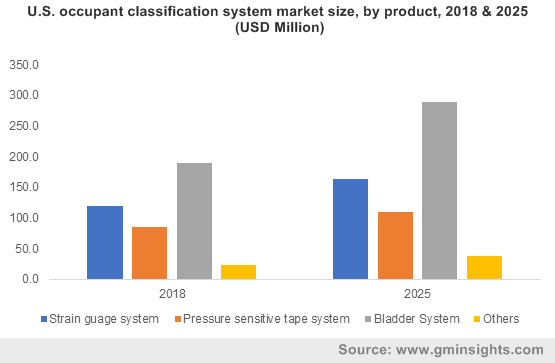 Though vehicle manufacturers have integrated air bags in vehicles for safety purpose, they do not provide total security. As per the National Highway Traffic Safety Administration, since 1990, around 300 people have lost their lives due to airbag impact, majorly due to the over sensitive airbag system. Most of the casualties were among children or people of short height who were found to be occupying the front seats. Occupant classification system (OCS) identifies people occupying the passenger seat and regulates airbags on/off switch.
Considering safety requirement, automakers have been equipping certain vehicles with innovative occupant classification systems. Growing development of sensor assisted OCS and its role to improve air bag system safety will help to expand the OCS market size over the years ahead. According to a research report by Global Market Insights, Inc., occupant classification system (OCS) market share is set to exceed USD 3 billion by 2025.
Ongoing advancements in sensor technology have been making the OCS highly accurate, fueling the future incorporation of OCS in the automobile sector. Growing research & development on other alternatives like 3D video cameras, optics-based system, and ultrasonic sensors is very likely to stimulate the occupant classification system market outlook over 2019-2025. For instance, a leading market player like ZF Friedrichshafen AG is working on developing the 3D interior observation system for occupant sensing.
Get a Sample Copy of this Report:@ https://www.gminsights.com/request-sample/detail/3254
The U.S. and Europe have emerged as leading regional revenue pockets transforming occupant classification system market outlook. The strict regulatory scenario across these regions mandating the use of OCS is one of the prominent factors fueling regional growth. For the record, in the U.S., the National Highway Traffic Safety Administration (NHTSA) had deployed vehicle safety standards to mandate safety requirements for occupant's protection. As a result, most of the automobile manufacturers like Ford, Chevrolet, Dodge, and Honda have started to integrate these systems in most of their mid-range & flagship models.
Speaking about Asian continent, the countries including India and China are poised to account for a significant business share, owing to the implementation of rules related to airbag safety. The deployment of such norms has promoted vehicle manufacturers to install OCS in economy class vehicles mainly across India. Improving standards of living in these countries will help fuel the regional car market and in turn will support the occupant classification system market landscape over the forecast period.
Though the OCS market is expected to register an appreciable growth rate, restraints comprising high price of OCS integrated vehicles and technological defects may hamper the market share. However, growing initiatives pertaining to new product development are slated to overcome the business restraints over the years ahead. In addition, the leading automakers like Honda and Hyundai have been adopting innovative installation technologies to curb the changes of airbag failure.
The consistently expanding automobile sector and the rising demand for passenger safety regulations across developing nations will drive the growth trends of occupant classification system industry. Growing emergence of collision repair services across the globe will further accelerate the product demand noticeably. Some of the market players in the occupant classification system (OCS) industry include Delphi Technologies, Aisin Seiki, Denso, Mayser, Flexpoint Sensor Systems, and Hyundai Mobis.
Author Name : Amol Kothekar
Automotive diagnostic scan tools market share is gaining immense traction owing to integration of modern electronic components and various innovative scanning devices being introduced for different purposes. With the advent of technological advancements and supportive policies to curb emissions, maintaining vehicle performance and ensuring maximum fuel efficiency has become more important than before. Car manufacturers, dealers, and suppliers are looking to add more electrical systems in vehicles to boost connectivity and ease performance adjustment, offering notable prospects for automotive diagnostic scan tools industry players.
Canada Automotive Diagnostic Scan Tools Market Revenue, By Vehicle Type, 2018 & 2025 (USD Million)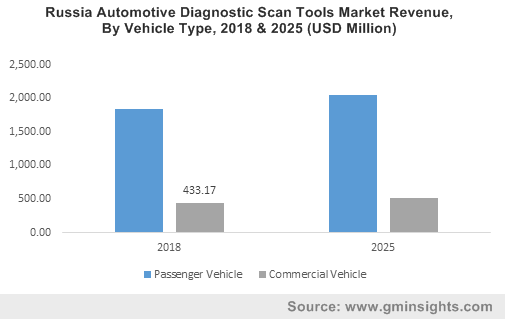 Major automakers have incorporated a vast amount of technologies into their products due to the shifting preferences of consumers from manual functions to hi-tech automated systems. Such transformations will ultimately advance automotive diagnostic methods for easily identifying problems and provide easy to operate interface to the consumers. More than 95.6 million vehicles had been produced in 2018 worldwide and the tremendous population of vehicles on road today will ensure consistent demand for automotive diagnostic scan tools industry over the years to come.
Today's automobiles represent the most sophisticated electronic control units that are responsible for functions like infotainment control, automatic gear shifts and fuel injection. ECUs are also enabling advanced driver assistance technologies that meet consumer needs for convenience, comfort, and safety as well as improve performance and energy efficiency. Adoption of these technologies makes diagnosis of system failures or malfunction more difficult. Addressing these challenges, OEMs as well as their hardware and software partners will consistently seek developments in ECU diagnosis solutions, propelling automotive diagnostic scan tools market size.
Get a Sample Copy of this Report:@ https://www.gminsights.com/request-sample/detail/3262
Over the past decade, the transportation sector has changed considerably owing to social trends, various converging market forces, and quick availability of auto and business finance. Apparently, the most transformative process which holds the potential to revamp the experiences for transport agencies and commuters is the inception of the Mobility-as-a-Service (MaaS). Automotive diagnostic scan tools will become a vital part of every-day operations of mobility providers as increasing penetration of MaaS is boosting the demand for commercial vehicles, which in turn will escalate diagnostic requirements.
Increasing potential for diagnostic tools can be understood from the fact that a developing country like India is anticipated to be a frontrunner in shared mobility by 2030. It projected that shared miles in the country will account for 35% of all the miles travelled in India and will further rise to 50% by 2040. Increase of shared mobility simultaneously gives rise to vehicle sales and strong customer demand for self-driving taxis in low-density locations. This network will open up a huge market for professional and DIY diagnostic scan tools, augmenting the regional industry trends.
Asia Pacific automotive diagnostic scan tools industry size is slated to witness a CAGR of around 8% over the projected period. The automotive manufacturing sector in the region is growing rapidly owing to an active push towards infrastructural development and growing industrialization, which has created plethora of opportunities for automobile OEMs. In addition, local OEMs are thriving with their in-depth understanding of regional consumers. Strategic advantages could certainly influence the ability of OEMs to place vital diagnostic solutions across dealerships, reinforcing automotive diagnostic scan tools market outlook over the forecast period.
The Bosch Group and Byton, an electric vehicle developer, had signed a strategic cooperation agreement in 2018 which was fully focused on driver assistance systems, braking systems, and powertrain technology. This partnership aimed to provide safe and steadfast electric mobility solutions to the consumers. Indeed, such collaborations will certainly benefit enterprises and represent the opportunities for automotive diagnostic scan tools industry from electric vehicle applications in the future.
Several prominent companies and manufacturers are augmenting the scope of their business by unveiling unique product portfolios equipped with the latest technologies. DG Technologies, Actia Group, Snap-on Incorporated, General Technologies Corp, Autel Intelligent Technology, BMW, Bosch Automotive Service Solutions, Delphi Automotive, Volkswagen and Volvo Group are some of the key players operating in the industry. Global Market Insights, Inc. has projected that automotive diagnostic scan tools market size will reach USD $49 billion by 2025.
Author Name : Deeksha Pant
With automakers looking to offer a wide range of vehicle models to cater to varying customer demands,  global automotive logistics market is projected to experience substantial business growth over the forthcoming years. Apparently, a single car series model from a premium German vehicle brand can be available in approximately 1,017 possible variations. The unprecedented level of complexity, driven by product variety and the immense pressure exerted on industry players due to tough international competition makes it considerably difficult for automakers to ensure efficient logistics operations.
U.S. Automotive Logistics Market, By Vehicle, 2018 & 2025, (USD Billion)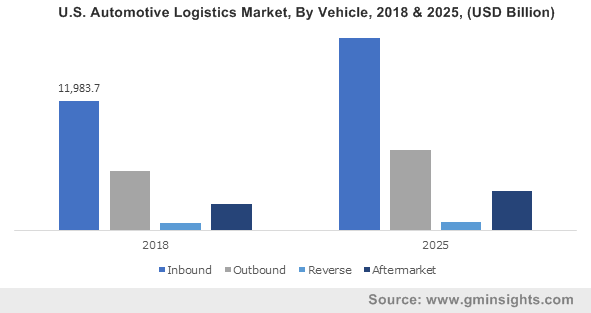 Supplying auto parts to global customers entail some of the prominent factors endorsing the importance of automotive logistics industry. It is also the reason why automobile manufacturers today maintain vehicle assembly plants across the world. Instead of manufacturing and shipping entire vehicles to regional markets overseas, automakers prefer to manufacture and ship vehicle components to local manufacturing facilities and then assemble the components into a vehicle. This practice delivers substantial savings on import duties, reinforcing global automotive logistics market share.
The benefits offered by automotive logistics service providers, while enabling automakers in creating an international footprint, also frees resources up to focus on any new opportunities and challenges. Subsequently, automotive logistics industry has become a major influence on domestic and international automotive sector, supporting the development of many small and medium enterprises.
Automobile and auto parts shipping services are typically hired by private owners, being a convenient means to transport customers' vehicle from one place to another. The entire process involves loading the vehicle on a dedicated truck and shipping it to its destination. In extreme cases vehicles can also be shipped on freight carriers or cargo planes, a prominent example being the UK's supercar season, annual phenomenon wherein wealthy individuals, especially from Gulf regions, ship their supercars to the UK for vacationing and exhibitions. Apart from licensing and custom fees, shipping a car using cargo planes costs approximately £20,000 per vehicle per trip.
Get a Sample Copy of this Report:@ https://www.gminsights.com/request-sample/detail/3286
Growing intensity of vehicle production would be further providing a sizable boost to the automotive logistics market. According to a 2019 report by Volkswagen, deliveries by VW Commercial Vehicles division in 2018 amounted to approximately 500,000 vehicles, an increase on the numbers from the preceding year. The positive growth which leading companies like VW are experiencing, even in a slowing market landscape, would be providing further growth opportunities to the automotive logistics industry players.
Asia Pacific is projected to emerge as one of the dominant customer base for auto parts, with the anticipated demand being credited to the domestic auto manufacturing sector and a strong presence of global automobile manufacturers. India, specifically, is estimated to contribute substantial revenues to automotive logistics market over the forecast timeframe. The Society of Indian Automobile Manufacturers stated that passenger vehicle sales increased by 2.70% over March-April 2019 in India. The nation's commercial vehicles segment also recorded a 17.55% growth in the quarter, as compared to the same period the previous year.
Japan will be a key market for domestic automotive logistics services and the country's contribution is being attributed to well-established automobile manufacturers such as Toyota, Nissan and Honda that call Japan their home. Toyota, for instance, has its parts and logistics division network spanning across 38 countries, with over 177 dedicated sites that are operated by more than 79 overseas business entities and subsidiaries. Such vast networks are exactly why Japanese automakers enjoy a strong presence in different countries and will drive the expansion of the regional automotive logistics industry.
Owing to a gradual increase in automobile production and the robust development of automotive sector in APAC, global automotive logistics industry is slated to record tremendous revenues in the imminent future. Key industry participants expected to lead the growth include DHL International, CEVA Logistics, SNCF Group, XPO Logistics and Imperial Logistics. Global Market Insights, Inc. has predicted that automotive logistics market size will exceed an annual valuation of $170 billion by 2025.
Author Name : Akshay Kedari
Owing to a rise in disposable incomes and the growing demand for convenient short distance travel solution at various institutions, golf cart market is gaining significant momentum worldwide. Golf carts are reliable, compact, versatile, user-friendly and warrant extremely low maintenance, enabling them to address a number of different job requirements. Versatility has been one of the prominent factors endorsing this vehicle category over the years and is expected to bring in substantial business growth to global golf cart industry.
U.S. Golf Cart Market, By Application, 2018 & 2025, (USD Million)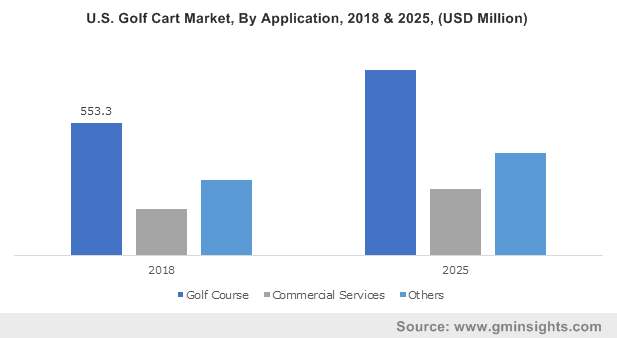 Relative affordability of a golf cart plays a key role in boosting the adoption of these vehicles, bringing in considerable remuneration from avenues that in no way are related to golfing, with applications ranging from farming and hunting to police work and community strolls. After being subject to suitable modifications, golf carts can also be deployed for off-road applications on rough roads, designed to perform like a UTV. Extensive use of these small automobiles for a slew of different purposes will drive golf cart market size substantially.
Electric golf cart adoption has seemingly been underestimated and underreported over the past few years. According to the Harvard Business Review, electric golf carts are often ignored by the mainstream media but are thriving in applications that do not require all features a conventional automobile offers. These also include areas where electric vehicles inherently perform better than their conventional fossil fuel powered counterparts. Electric golf cart market possesses a substantial amount of untapped potential, enough to effectively disrupt the overall electric vehicle (EV) segment.
Get a Sample Copy of this Report: @ https://www.gminsights.com/request-sample/detail/3285
It is estimated that golf carts would be showing notable growth in two EV categories, electric utility vehicles (EUV) and low-speed electric vehicles. The subsegment of low-speed EVs revolve around consumer vehicles that are built upon platforms derived predominantly from golf carts and ATVs. The EUV subsegment, meanwhile, encompasses a range of golf cart-derived vehicle designs ranging from light-duty platforms to heavy-duty trucks.
From a regional perspective, North America is among the world's biggest golf cart markets. The factors influencing the notable demand for golf carts in the region include its dominant golfing culture. North America, specifically the U.S., has apparently given rise to the notion of golf carts being used for a host of different applications besides the sport. In recent years, it has been observed that people across small American towns are ditching conventional automobiles in favor of golf carts, especially in areas dedicated for elderly people who need an easy means of transportation.
Reportedly, people in census-designated city called The Villages in Florida use golf carts as a central mode of transportation. There are approximately 50,000 golf carts in the city which has 90 miles of road infrastructure dedicated to golf carts. The city boasts of dedicated golf cart bridges and parking lots, while one third of the city's trips are taken through this convenient mode of transport. It is projected that this trend would grip other cities across the US over the coming years, giving substantial growth impetus to North America golf cart industry size.
Europe is slated to emerge as a promising golf cart market contender, supported immensely by the European Golf Course Owners Association's vision 2020, which aims to find answers to Europe's dwindling golfing culture and put efforts towards attract more participation to the sport. Ireland, which is home to some 400 golf courses, could stand out as a lucrative customer base. Reports suggest that consumer spending in the Republic of Ireland was approximately €379 million, while the entire island spending was around €540 million on the game back in 2017.
Asia Pacific is also expected to emerge as a prominent market player over the forecast timeframe, with growing purchasing power and popularity of the sport expected to foster industry growth. Apparently, out of over 100 new golf projects currently under several stages of design, construction and development, 30% are present in Asia. Considering the sport's rising acceptance in the region and the number of projects currently under development, APAC golf cart market share is slated to witness sizable demand.
The projected resurgence of golfing as a sport and golf cart's ability in addressing transport challenges in an array of other applications can be expected to expedite golf cart industry landscape. Competitive hierarchy of the industry is comprised of key players like Columbia Vehicles, Club Car, GDrive, Textron and Yamaha. Global Market Insights, Inc. has predicted that golf cart market size will surpass a valuation of $2 billion by 2025.
Author Name : Akshay Kedari