Automotive & Transportation
Marine turbocharger market is projected to witness exponential growth due to the introduction of strict government regulations that are focused on alleviating environmental concerns and tackling climate change. Additionally, numerous technological advancements in the field of propulsion technologies are also likely to foster industry outlook.
Moreover, increasing economic development and growing customer expenditure on recreational activities are positively influencing adoption of recreational boats that use the latest of propulsion technologies to get around.
In fact, with growing demand for faster speeds and higher power throughputs in recreational sports activities, the market is likely to witness a rise in product sales during the projected study period.
According to a recent research report by Global Market Insights, Inc., global marine turbocharger market is expected to surpass $780 million by 2026.
Rising seaborne trading as well as favorable trade regulations are fueling the demand for new commercial ships. This has influenced several shipping companies to increase the cargo carrying capacities. It has also impelled the increase in ship sizes to address increasing seaborne trade.
Additionally, there is an increasing demand for improved turbocharger and engine efficiencies from ship operators to meet the IMO regulations and EEDI targets. These demands are set to emerge as the key factors that would push the marine turbocharger market trends over the forecast timeframe.
Get a Sample Copy of this Report @ https://www.gminsights.com/request-sample/detail/4399
Meanwhile, several advancements in propulsion technologies would possibly drive the market share in the forthcoming years through product advancements. One such advancement, the CFD (Computational Fluid Dynamics) technique is used in turbine blades and compressor wheels to examine the secondary and primary flow structure across impeller blades.
Likewise, use of advanced tools such as ANSYS and FEA techniques results in adaptable development processes. Due to this flexibility, turbochargers can be modified at later stages. In the projected timeframe, techniques like CFD, ANSYS and FEA are likely to positively influence the turbocharger market.
Additionally, technological advancements have also innovated marine turbocharger diversification. Products can now be designed specific to different industry demands. Advanced marine turbochargers provide improved efficiency and higher pressure ratios which reduces their environmental impact. With these benefits product adoption is likely to witness a sizable shift in coming years.
The adjustable vanes turbochargers are anticipated to experience high growth due to their ability to contribute towards the alteration of the aspect rations. This further changes turbine's effective area.
Moreover, improvement in pressure ratios and reduced lag time are few of the benefits that enhance overall engine efficiency, it also allows flexible air management to optimize combustion. Such value-adding features would push product adoption in the industry.
With regards to the technological landscape, electric-assist turbocharger is anticipated to witness immense growth. The projected growth is being attributed to the numerous advantages it offers.
Incorporation of electric assist turbochargers offers lower level of specific fuel consumption at high speed and helps maintain variations of speed in low load conditions. Optimum fuel usage and maintenance of speed at low loads are the key factors which would positively impel the market outlook.
Companies are using methods and materials to develop lightweight structures and higher-pressure ratios. Citing an instance, in 2016, Kompressorenbau Bannewitz GmbH launched its ST27 turbocharger series. the new product is capable of delivering a pressure ratio of about 5:5:1.
Today, service providers play a crucial role in the upgradation and modernization of existing systems. These efforts are focusing on optimizing operational flexibility and reliability. With these efforts the marine turbocharger market is set to chalk out a lucrative outlook for industry expansion.
Author Name : Bhushan Tambe
Global outboard engines market forecast will be largely propelled by increased consumer participation in recreational, leisure boating and boat club activities. Outboard motors are extremely easy to handle and operate and offer superior engine acceleration characteristics. Moreover, outboard engines are generally compact in design which enables boat manufacturers to provide additional interior room and accommodate a greater number of people.Advancements in technology have resulted in the development of high-power energy-efficient outboard engines which are extensively used in large boats. Strong demand for these motors from boat manufacturers for deployment in large cruise boats will enhance the industry scope. Manufacturers are strategically upgrading their engine production lines to address this increasing demand which will present promising growth opportunities for outboard engines market.
Industry participants are making increasing R&D investments and efforts to meet the rising consumer expectations pertaining to performance, reliability and durability of these motors. Manufacturers focusing on launching innovative products using recycled materials to meet the ever-growing demand for outboard engines. This in turn will help manufacturers cut raw material procurement costs and facilitate significant minimization of environmental impact.
2-stroke outboards engines are prominently used in small watercrafts and fishing boats on account of several major advantages including higher operational output and simpler structure as opposed to the 4-stroke versions. In addition, 2-stroke outboard motors are lightweight and compact in design, making them best-suited for application in smaller boats. 2-stroke outboard engines industry size will hold over 40% of the global share in terms of revenue by 2025.
Mounting concerns pertaining to emission of hazardous gases and substances have consequently resulted in development of highly energy-efficient alternatives such as electric fuel type outboard motors. Low-power electric motors are gradually emerging as a potential substitute for gasoline-driven motors and engines. Electric fuel type outboard engines market share will register a healthy 8.5% CAGR over 2019-2025.
Get a Sample Copy of this Report:@ https://www.gminsights.com/request-sample/detail/4386
Electric ignition type engines are majorly employed in commercial boats owing to benefits such as easy and hassle-free ignition of motor even in adverse weather conditions. Manufacturers are increasingly incorporating electric ignition type engines in smaller watercrafts and fishing boats due to the aforementioned advantages, which will undeniably expand outboard engines industry scope in the next few years.
High-power outboard engines market is projected to generate revenues in excess of USD 9.5 billion over the projected timeframe. This growth can be mainly attributed to positive application outlook in larger boats and yachts which are facing robust demand worldwide. Manufacturers are aiming to expand and upgrade their existing motor production facilities and making investments to develop high-power motors to keep up with the global demand.
Military represents a key application segment driving global outboard engines industry trends. These engines find widespread use in rescue boats and inflatable boats. Surging demand for outboard motors by the U.S. Coast Guard will further fuel the product demand, bolstering outboard engines market outlook. North America outboard engines market size will witness unprecedented growth in the coming years mainly due to the presence of prominent boat manufacturers along with motor distributors.
An increasing number of people are undertaking recreation and leisure boating activities in the U.S. and Canada which will further propel the regional demand. Robust economic growth coupled with favorable government initiatives to upgrade the boating infrastructure will ensure lucrative opportunities for regional manufacturers.
Author Name : Hrishikesh Kadam
Automotive digital instrument cluster market size is projected to gain massive momentum in the decades to come owing to the shifting trends towards the adoption of smart vehicles. The accelerated rise of new technologies and the rising integration of digitalized components in vehicles have propelled the integration of digital instruments along with many technological components.New business models and digitalization have revolutionized the automotive sector by giving rise to emerging trends such as autonomous driving, connectivity, and electrification. With the increased complexity of vehicle electronics, there is a greater demand for more cost-effective, user friendly, and lucrative solutions to reinforce a wide range of features. Electronic clusters can be reconfigured by letting consumers customize the display contents and allowing better interactivity.
Cluster manufacturers are directing rigorous efforts to develop newer systems to combine infotainment with these panels and enabling the display of electronic information in a single panel by using a system on a chip platform. These chips are known for delivering high-quality displays in 3D and 2D graphics for mid-size cars. Smart vehicles are moving automakers towards information-rich graphical displays, driving automotive digital instrument cluster industry forecast.
12 inch display segment is anticipated to witness over 24% CAGR between 2019-2025. OLED is estimated to gain a high demand among new vehicle display panels as it is extensively used to produce flexible, slim and light displays. Manufacturers are widely utilizing these displays for several vehicle applications such as navigation, internal & external lightening, head-up display, and instrument cluster.
Due to advanced features, car manufacturers are widely adopting OLED as an advanced automotive lighting component which will further stimulate automotive digital instrument cluster market trends. In 2018, LG Display had collaborated with Cadillac, Mercedes, and Tesla for the development of FHD 12.3" curved plastic-based flexible OLEDs. OLED provides new possibilities in lamp and luminaire designs and as panel radiators, they are apt for use as taillight, signal light, or even interior lighting.
As the competitive pressure mounts in the automotive sector, there has been a reduction in electronics and digital system manufacturing costs for passenger vehicles, while bringing new advancements in instrument clusters. Moreover, instrument clusters are evolving rapidly with the addition of color displays and high-display solutions which provide an opportunity to develop greater display panels.
Get a Sample Copy of this Report:@ https://www.gminsights.com/request-sample/detail/4389
Many companies and business incubators are looking forward to commencing the installation of several algorithms in the e-cockpit like fisheye detection, around-view mirror (360-degree AVM) rearview monitoring, and Driver Monitoring System (DMS) creating the need for big instrument clusters. In May 2019, Visteon Corporation had announced the introduction of a SmartCore cockpit domain controller in India.
This system formed a key part of the digital & hybrid instrument cluster and infotainment system in TATA Harrier SUVs. Similar moves by manufacturers and companies to adopt the automotive digital instrument cluster could highlight the trend in automotive sector. It is estimated that global automotive digital instrument cluster industry size may be pegged at USD 7 billion by 2025.
Asia Pacific automotive digital instrument cluster industry size is increasing rapidly due to the strong vehicle and component manufacturing sector in emerging economies like Japan, China, and South Korea. Most of the regional governments have been instigating a supportive regulatory framework to enhance the deployment of the digital instrument cluster in automobiles that will fuel the product demand in coming years.
Other Asian countries including South Korea, Japan, and India are also witnessing a robust expansion of the automobile sector due to the low manufacturing costs, consumption of passenger vehicles, and increased export activities in the region. The rising use of digital technology in vehicles for achieving sustainability and better performance will certainly bolster automotive digital instrument cluster market outlook.
Author Name : Deeksha Pant
Growing demand for construction vehicles will drive off-road tires market growth. Ever-increasing construction activities across the globe will necessitate deployment of heavy duty rock trucks and excavators further fueling product demand. Significantly rising investments toward residential and commercials buildings will support the industry trends throughout the forecast timeframe.
According to a research report by Global Market Insights, Inc.,
Off-road Tires Market
size is likely to hit USD 705 billion by 2025
.Off-road tires are also used for the ATVs and UTVs, which were previously considered for off-road sports or leisure travels only. But presently, these vehicles have started showing up just as commonly as regular vehicles owing to easy maneuverability, light weight structure, high fuel efficiency and low cost of ownership. Moreover, they offer unmatched driving performance over multiple terrains, leading toward growing adoption of ATVs and UTVs.
Ongoing technological advancements in product manufacturing will stimulate off-road tires market trends. New generation tires will boast of enhanced tread patterns and performance attributes and will provide higher durability and heat resistance over the predecessor. Consistently expanding distributor & dealership network across the globe will also foster product penetration over the study timeline.
Furthermore, growing innovations to develop advanced product portfolio featuring self-sealing tires, and Self-Supporting Runflat (SSR) tire systems will positively influence business growth. The implementation of SSR system improves the safety of vehicle as it prevents the damage to side walls of tires in crunch situations. Rising adoption of advanced tire manufacturing techniques among the prominent Industry players including Michelin, Continental AG, and Pirelli will help expanding the consumer base for these specialty tires.
However, consistently changing regional trade policies and fluctuating raw material prices may negatively affect the product demand over the forecast timeframe. Some countries levy high import tariffs on rubber raw materials which should increase the product price, restricting the industry expansion. For instance, in 2018, China increased the import duties on synthetic rubber coming from the U.S., Singapore, and the European Union. Though the current scenario of global trade war may restrain off-road tires market demand, the expansion of production facilities across the globe will help countering this negativity.
Based on raw materials, synthetic rubber segment is projected to substantially grow over 7.5% CAGR through 2025. The growth is attributed to superior heat and abrasion resistance provided by the material during vehicle operations. Moreover, the tires built from synthetic rubber exhibits longer lifecycle owing to lesser wear and tear. The way these products withstand variable temperatures and permit strong hold over slippery surfaces, it will support the segment penetration over the forecast timeframe.
Get a Sample Copy of this Report:@ https://www.gminsights.com/request-sample/detail/4367
Considering the tire height, above 45 inches segment is likely to register significant gains due to the increased demand from bigger vehicles such as tractors, harvesters, rock trucks, dozers and excavators. The expansion of construction activities along with the proliferating agriculture sector will drive the segmental demand. Tire manufacturers are consistently involved in new product launches for OTR (off-the-road) applications which should foster revenue generation over the forecast period. For instance, in April 2018, Alliance Tire Group launched new galaxy brand radial tires for OTR vehicles.
The product is utilized for several off road vehicle types such as SUV, UTV, 4WD, HDT, Dirt Bikes & Quad and OTR. Pertaining to rising recreational activities and dirt bike events hosted across the globe, the Dirt Bikes & Quad segment is presumed to witness substantial gains in the off-road tires market. The increasing development of recreational parks and tracks for ATV will escalate the product demand.
Increasing investment to enhance the product attributes will positively impact the market growth. For instance, in April 2016, Speedways Rubber Co. revealed that it will invest around USD 68 million to manufacture tires for quads.
Author Name : Amol Kothekar
Electronic stability control system market trends are poised to gain immense momentum over the forecast years, owing to rise in fatal car crashes and serious vehicle accidents causing large-scale damage to the masses. Since the last few decades, the automotive industry has shifted its focus towards implementation of more active safety features like traction control system and antilock braking system which reduce the chances of crashes to a large extent during acceleration and in harsh driving conditions. This increasing demand to improve transport efficiency has undeniably impelled the expansion of the electronic stability control system market size.
India electronic stability control system market size, by vehicle type, 2018 & 2025 (USD Million)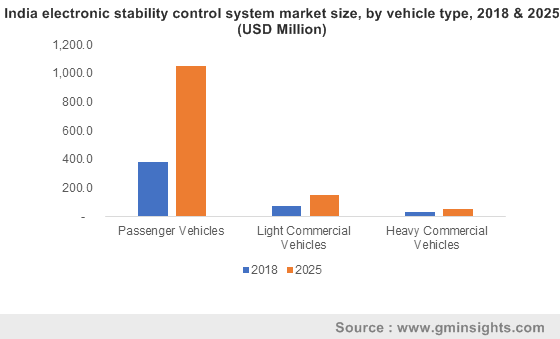 Commercial vehicles are consistently becoming the leading mode of road transportation in the Asia Pacific region. As compared with other transportation vehicles, commercial vehicles exhibit greater safety risks and several performance limitations because of their features including unstable roll motion at higher speeds and poor maneuverability at low speeds. With the advent of the electronic stability control in cars, next-gen driver assistance concepts have taken root, and have played a significant role in contributing towards increasing safety on the roads.
A 2018 report by the U.S. National Highway Traffic Safety Administration (NHTSA) suggests that with the introduction of electronic stability control (ESC) systems, there has been a considerable reduction in passenger vehicle crashes by 34% and SUV crashes by 59%. ESC systems also substantially reduce rollover accidents. Nowadays, commercial vehicles are already incorporated with ESC systems and these vehicles are specifically designed to mitigate understeer and oversteer conditions as well as reduce untripped crashes.
The Asia Pacific market is likely to emerge as a strong contender due to increasing implementation of road safety gears and the design and development of vehicles equipped with safety features. According to International Organization of Motor Vehicle Manufacturers, in 2018, India had witnessed 8% growth in automobile production. China is also a prominent automotive market, the expansion of which will augment APAC ESC market outlook in the forecast years.
Get a Sample Copy of this Report:@ https://www.gminsights.com/request-sample/detail/3410
Of late, India-based multinational automotive manufacturing companies have been working to launch medium and heavy commercial vehicles with electronic stability control with an aim to make Indian roads safer and more secure. The growing adoption of ESC systems and increasing number of safety innovations in several vehicles will further strengthen the regional ESC industry size.
The robust implementation of the intelligent vehicle systems in the automotive sector has enhanced safety protocols while driving and has created an efficient transportation system for vehicle users. From high-tech sensors to vehicle roll rate sensors – everything is being implemented by the manufacturers in the latest vehicles to maintain the stability of the vehicles and reduce any kind of mishap in the future.
In order to fortify their stance in ESC industry, several companies are adopting different growth strategies to move ahead of their rivals. In June 2019, ZF Friedrichshafen, a German car parts manufacturer and partner 2GetThere had launched autonomous shuttles in the Middle East and Europe. The main aim of the company is to improve vehicle handling, reduce motion sickness and deliver safe, clean transportation options that are competitive and comfortable as well. Innovative launches such as the aforementioned will create a positive influence on the product demand and augment the Europe industry share.
The massive deployment of technological advancements across the automotive industry will have a favorable influence on the ESC market. Moreover, the involvement of prominent companies in designing vehicles with advanced safety features are likely to fuel the industry growth in the ensuing years.
The enforcement of favorable government policies are likely to impact the industry outlook. In 2018, the Ministry of Road Transport & Highways of India had announced that by 2023 all Indian vehicles should be compulsorily equipped with safety breaking features like autonomous braking and ESC.  This will further generate lucrative opportunities for automotive players in the ESC industry.
Major companies that have captured a prominent proportion of electronic stability control system market share include ZF Friedrichshafen, General Motors (StabiliTrak), Johnson Electric, Robert Bosch GmbH, Autoliv, IAV Engineering, Denso Corporation and Johnson Electric. Global Market Insights, Inc., estimates electronic stability control system market size to reach US $ 45 billion by 2025.
Author Name : Deeksha Pant
Expanding world trade and the rising need to reduce carbon dioxide emissions will foster port equipment market size over the forecast period. There has been an increasing demand for stronger and better port handling equipment, such as hybrid cranes with lower emissions, owing to a surge in the volume of goods being transported. Ongoing as well as new trade partnerships and agreements between enterprise across different nations will drive global port equipment market trends, in addition to upcoming international policies.
U.S. Port Equipment Market, By Application, 2018 & 2025, (USD Million)

Continuous evolution of the maritime transport sector has a major impact on transport cost, trade volume and economic competitiveness, where adhering to the latest regulatory mandates represent a big challenge. Around 80% of international trade is done through ports, due to which they play an important role in connecting several developing countries which are gradually witnessing a growth in port communities and global import-export exposure. Industrialization in emerging economies will certainly create a substantial demand for modern port equipment to handle rising trade volumes.
Report by the Indian Ports Association says that 12 major ports in India had recorded 2.90 percent growth in handling of the cargo, poised at 699.04 million tons, during the 2018-19 fiscal year. The handling of fertilizers, containers and coal have driven the expansion of these ports, in turn requiring the installation of new equipment to handle them. Major ports in India handle nearly 60% of the total cargo traffic in the country, depicting a tremendous need for these equipment. Augmented import of fertilizers, POL (Petroleum, Oil and Lubricant) and coal have favorably impacted Asia Pacific port equipment market share.
With excellent load handling capacity and availability of numerous suitable options, cranes are expected to contribute substantially towards optimizing the management of port operations. Apparently, the first capital outlay for container crane is USD 5 million, having an assumed life of 20 years. Owing to reduced operational cost, that includes consumables and labors, the demand for high-performance cranes will increase significantly. Port equipment industry will experience a notable shift in the direction of full-electric cranes, as they have a lower environmental impact and can recapture 75-80% of energy released.
Get a Sample Copy of this Report:@ https://www.gminsights.com/request-sample/detail/3288
Rising investments across various industries and the subsequent expansion of ports will help boost the adoption of crane and forklifts. For instance, the Port of Virginia has confirmed that its Virginia International Gateway facility in Portsmouth has recently completed an expansion worth $320 million. The terminal will feature the largest of ship-to-shore cranes in the area, standing 170-foot- tall. It will also add 26 rail-mounted gantry cranes which help create more room to sort and stack shipping containers. The Port of Virginia reportedly handled 3 million TEUs of cargo in the year 2019 and is growing year to year.
Container handling segment in port equipment market will grow significantly in the forthcoming years owing to multipurpose utility of containers that can carry all sorts of goods as they are moved from one port to another. Imported grains like corn, wheat and rice are being shifted to containerized cargo due to convenience and cost efficiency. Container shipping can be cheaper owing to two-way functioning system and has made several of Asia's food importers shift to containerization. Containers can be more adaptable, and elastic compared to the bulk facilities.
There has been a surge in the adoption of automated equipment that could reduce operating expenses by 25-55% and could raise productivity by 10-35%, steadily transforming port equipment industry outlook. Trelleborg and Cavotec are going to install automated mooring systems at Old City Harbor in Estonia, which would be used starting 2020. The technological advancement will majorly contribute to the growth of maritime sector in the region and improve mooring processes of ships, while reducing needed labor-hours and reinforcing environmental sustainability.
Europe has been witnessing rising sea and cargo transportation activities which will allow the region to become a key revenue pocket for port equipment market. Constant expansion and development in the port infrastructure has been providing greater opportunities for the penetration of advanced hybrid and electric products. Manufacturers are coming up with scores of innovative solutions, introducing  automatic port equipment options to meet the increasing requirement of more efficient products with lower carbon footprint.
Market players like Liebherr, Konecranes, Shanghai Zhenhua Heavy industries and American Crane & Equipment industries are consistently updating their products and offering novel solutions to port customers. Surging frequency of maritime trade will substantially fuel global port equipment market size, which is slated to exceed USD 9 billion by 2025.
Author Name : Riya Yadav
Shifting consumer preference towards safer vehicles is driving automotive airbags market size in the last few years, with numerous prominent automakers adopting new crash avoidance measures and tools. Increasing passenger vehicle production along with rising disposable income across developed and emerging nations has accelerated the product demand.
U.S. Automotive Airbags Market, By Position, 2018 & 2025, (USD Million)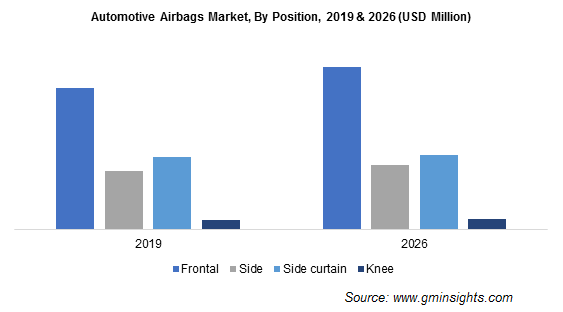 Regulatory organizations such as National Automobile Dealers Association are launching safety awareness campaigns, particularly regarding the live-saving capabilities of airbags. With respect to the deployment types, the frontal segment of the worldwide automotive airbags market is registering a robust growth rate over the past few years and is expected to sustain the momentum in the forecast years.
As driver and front seat passengers are more vulnerable in case of any crash or accident, the frontal airbags are deployed as a standard feature in majority of the vehicles. Moreover, the development of innovative products with electronic control unit (ECU) to improve the efficiency of these airbags is proving beneficial for automotive airbags industry share.
Get a Sample Copy of this Report:@ https://www.gminsights.com/request-sample/detail/3283
In terms of geographical expansion, the Asia Pacific region is emerging as a major growth avenue for the prominent players operating in automotive airbags industry. Over the past few years, emerging economies such as India and China are rolling out stringent regulations with respect to safety systems for vehicle occupants. These regulations apparently encompass a whole new set of safety norms which would drastically improve the existing measures to reduce the number of road fatalities.
Speaking in the similar context, it is prudent to mention that the Indian Road Transport Ministry has recently mandated the installation of airbags in all types of cars from July 1, 2019. Although a directive instructing the vehicle manufacturers to incorporate frontal airbags is in place since 2017, the new regulation makes the installation mandatory. Moreover, various other mandatory fitments are being prescribed to address the issue of over speeding and the consequences of the same. Needless to mention, all these developments are benefiting the in India industry trends as the new safety norms and regulations come into effective in the times to come.
Even though the growth prospects of automotive airbags industry appear highly promising, there exist a few major challenges that may hinder the pace of product penetration across some prominent geographies. It is quite a well-known fact that faulty airbags can cause grave injuries to the driver and the passengers sitting close to the airbags before it deploys.
This has been a serious concern with the first generation of frontal airbags, which get deployed with greater amount of force. In fact, the recent instance of the recall of Takata airbags by leading automotive firms affirms the need to revamp the way new-age airbags are manufactured as they would then be able to provide optimal level of protection in an event of a crash.
Elaborating further on the defective Takata airbags, it is being estimated that around 41.6 million vehicles equipped with 56 million faulty airbags are under recall since 2015. Recently, two of the foremost automakers, BMW and Ford, have recalled around 360,000 and 149,650 vehicles respectively on a global scale to replace the Takata airbags. Moreover, in addition to these recalls, there have been instances where the deployment of counterfeit airbags in vehicles has led to fatal accidents – a factor that has dampened the overall automotive airbags market outlook.
However, despite the challenges posed by counterfeit and defective products, the companies which are globally known as the top airbag manufacturers are being provided with a robust regulatory framework across various nations. These guidelines would certainly assist the automotive airbags market players to eliminate the shortcomings in the manufacturing procedures, which would help in increasing the pace of the product demand in the times to come. In fact, as per report estimates, the overall commercialization portfolio of the automotive airbags industry is slated to surpass USD 85 billion by 2025.
Author Name : Saif Ali Bepari
The escalating efforts to promote passenger safety owing to rising number of road accidents will drive automotive seat belts market trends. For decades, seat belts have been one of the most effective safety precautions used in the automotive industry. In fact, a National Highway Traffic Safety Administration (NHTSA) study claims that, between 1960 and 2012, seat belts have helped save more than 329,715 lives compared to all other vehicle safety technologies including airbags, electronic stability control and energy-absorbing steering.
U.S. Automotive Seat Belts Market, By Type, 2018 & 2025, (USD Million)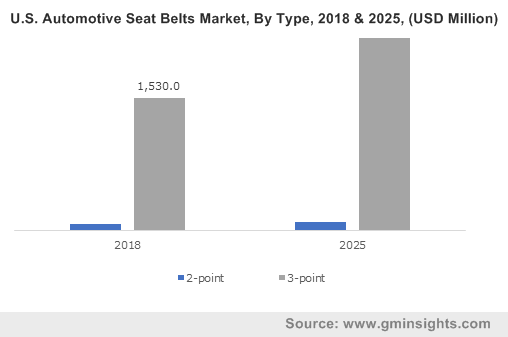 However, despite potential benefits, passengers are still seen avoiding the use of seat belts which has indirectly led to increasing trends in road accidents. For instance, in 2009, road crashes were reported to kill over 33,000 people and injure another 2.2 million, in which about 53% of drivers and passengers were seen not wearing seat belts. Fatalities caused by drowsy driving have also increased dramatically in the past couple of years.
Meanwhile, unbuckled passengers are reported to be more likely of being ejected through the front, rear or side windows, resulting in fatal repercussion. Factors such as these have underlined the sheer importance of seat belts in the current automotive industry and indirectly added impetus to automotive seat belts industry outlook.
Reportedly, to avoid such accidents in the first place, automakers are implementing enhanced seat belt reminder systems in their vehicles that continuously alert drivers and passengers to use seat belts following vehicle startup. Studies also suggest that lap/shoulder seat belts could significantly reduce the risk of fatal injury to front-seat occupants by 45% and the risk of moderate-to-critical injury by 50%.
Get a Sample Copy of this Report:@ https://www.gminsights.com/request-sample/detail/1944
Additionally, primary seat belt enforcement laws and heavy penalties for seat belt law violation are also likely to supplement automotive seat belts market growth. For instance, based on reliable reports, penalty amounts have increased on an average from $39 to $70 in the U.S. while seat belt use has increased by an average of about 9.1% in the country. In addition to stern fines, in 2019, officials in New York have also pushed a bill mandating the use of seat belt in rear passenger seats, cite news reports.
Advancements in seat belt technology coupled with growing investments by OEMs to develop advanced sensor-based seat belts will drive automotive seat belts market growth. Technologies like seat belt tensioners and load limiters have significantly helped improve the seat belt effectiveness whilst lowering impact on travelling passengers. Seat belt reminder (SBR) systems that come with audiovisual aids have also proven to be extremely effective in increasing product traction. In fact, a declining trend in unbelted driving has been recorded while unbelted drivers have reduced by 80% in vehicles with advanced SBR systems.
Meanwhile, automakers are seen promoting the use of seat belts by means of new safety features in last couple of years. For instance, U.S. automaker Chevrolet has recently introduced its 'Buckle to Drive' feature, anticipated to come as standard on all 2020 Chevy Traverse, Malibu, and Colorado vehicles, that will actively help prevent teens from driving until they fasten their seat belts. Initiatives such as these are anticipated to foster product use, in turn boosting the automotive seat belts industry size.
Rising cases of road fatalities and surging passenger vehicle sales are expected to foster APAC automotive seat belts market growth. According to reliable reports, in India, a whopping 75% of passenger vehicle drivers do not use seat belts, causing around 15 deaths per day. While the Ministry of Road Transport and Highway report cite that, in 2016, a total of 5,638 people died on road due to non-usage of seat belts. With stringent government regulation and introduction of advanced seat belt reminding technologies, the regional automotive seat belts industry is slated to record significant growth over the forecast period.
Meanwhile, surging passenger vehicle sales in the country will raise the automotive seat belts market growth to new levels. For instance, according to the Society of Indian Automobile Manufacturers (SIAM), the sale of passenger vehicles (PV) rose by 2.70% in April-March 2019 whereas PV sales are projected to grow by 3-5% in FY20. Furthermore, introduction of new vehicle segments equipped with advanced safety features will boost product penetration.
The demand for automotive seat belts is gaining momentum due to rising awareness regarding passenger safety along with new government regulations to minimize road fatalities. The development of advanced seat belt reminding technologies will propel market share. Reports from Global Market Insights, Inc., suggest that the automotive seat belts market size might surpass USD 10 billion by 2025.
Author Name : Mateen Dalal