Automotive & Transportation
The commercialization matrix of Europe inland waterways vessel market has upscaled tremendously over the past few years, in sync with the increasing propagation of energy exploitation and efficiency across the continent. While inland waterway transport on European corridors has always been a viable alternative to rail and road mode, the business space has gained an appreciable popularity in recent years in consequence to the sustainability march led by the regional government. In fact, the European Commission has been striving hard to improvise the legislations, with an aim to integrate inland waterway transport more profoundly in the intermodal logistics chain. In this regard, the Netherland Presidency, in the year before last, has signed an informal agreement with the European Parliament, dealing with the revision of regulatory standards regarding the technical requirements of inland waterway vessels operating in the region. Needless to mention, these kind of regulatory improvisations and standardizations speak volume and has remarkably contributed toward Europe inland waterways vessel market trends. Validating the efficacy of the aforementioned declaration, Global Market Insights Inc., claims that the overall business space has crossed USD 55 billion frontier in 2016.
France Inland Waterways Vessel Market, By Vessel, 2016 & 2024, (USD Million)

While elaborating further of the commercialization potential of Europe inland waterways vessel industry, it is prudent to mention some of the latest initiatives undertaken by the regional players to quicken the pace of the proliferations of the business space.
Making a headway in Europe inland waterways vessel industry, the Swedish Orient Line, apparently, is investigating new ways of utilizing Europe's inland transport, with the introduction of an environmentally viable container shuttle between Kristinehamn and Gothenburg. Reportedly, it is the first inland waterway based solution for Sweden transport and logistics market.
Citing another distinctive instance, Port-Liner, one of the formidable players in Europe inland waterways vessel market, is on its way to introduce world's first fully electric emission free barges in Europe inland waterway, challenging the existing road and rail transport solutions in the continent. Sources claim- the battery powered ships would have the capacity to encompass 280 containers, with an expectation to remove almost 23,000 trucks from roads annually. Reportedly, Amsterdam, Rotterdam, and Antwerp ports would be hosting the new vessels.
Get a Sample Copy of this Report:@ https://www.gminsights.com/request-sample/detail/2304
Statistics depict- total volume of good transported via inland waterways in Europe was approximately 554 million tonnes in 2016, allegedly, an increment of almost 0.9% than what was recorded in 2015. Experts deemed this to be positive indicator for Europe inland waterways vessel market growth especially from non-passenger vessels. In fact, non-passenger vessel accounted for almost 60% of the overall Europe inland waterways vessel industry share in 2016.  Primarily on account of its competitive advantage over others with regards to energy efficiency and consumption, experts believe, non-passenger inland waterways vessel market in Europe to witness immense growth over 2017-2024.
Speaking of the competitive spectrum, Europe inland waterways vessel market space is ablaze with renowned biggies including the likes of Mediterranean Shipping Company S A, European Cruise Service, Viking Line, KG, Bayliner, and Meyer Werft GmbH & Co. These giants, in accordance with the regionally changing sustainability trends have been working relentlessly to come up with innovative energy efficient, environment friendly range of products.  In tandem, the currently harmonized regulatory framework (Directive 2006/87) regarding the technical certifications of inland vessels would further stimulate Europe inland waterways vessel market, slated to exceed USD 115 billion by 2024.
Author Name : Satarupa De
In recent times, automobiles have emerged from a mode of transport to being a status symbol, on the grounds of which automotive decorative exterior trim market has been witnessing tremendous expansion on a global scale. Right from the color of the car to its bumper type, everything about the automobile not only creates a distinct impression about the vehicle but also determines its present and future value. With shifting consumer preferences, there has been a massive rise in the sales of luxury cars, which has emerged as one of pivotal driving forces of automotive decorative exterior trim industry size. Furthermore, the easy availability of products and rising awareness about the role that trimming plays in protecting a vehicle's exterior have also emerged as key factors pushing automotive decorative exterior trim market.
U.S. Automotive Decorative Exterior Trim Market, By Vehicle, 2016 & 2024, (Kilo Tons)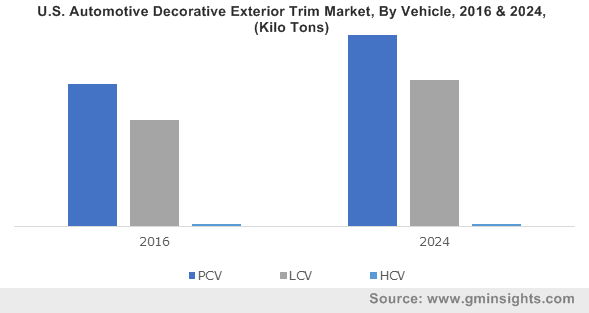 A significant amount of research and development is undertaken while designing a vehicle's interior and exterior, bearing in mind the interest of the consumer. Considerable efforts are undertaken to determine not only what the consumer wants currently, but also what he/she might want in the coming years, since an outdated design can majorly depreciate a vehicle's market value. In this regard, vehicle accessory manufacturers have been robustly driving automotive decorative exterior trim market trends, since they now have the luxury to choose from a variety of materials and styles to manufacture the exterior of the automobile. Consequently, customers are inclined towards adding more personality to their vehicle with decorative exterior trim like pinstripes, bumpers and protective add-ons. Automobile owners have a wider variety to choose from even in the aftermarket, which would no doubt, have a commendable impact on the sales graph of automotive decorative exterior trim market.
Get a Sample Copy of this Report:@  https://www.gminsights.com/request-sample/detail/2298
Vehicle colors have been gaining widespread attention from the consumer pool, since it is the most eye-catching feature of cars. On these grounds, vehicle owners often look to add an extra touch of sophistication or sportiness to their vehicle with an attractive color. Of late, with consumers favoring pearlized paint trims that make the vehicle appear divergently colored as per the different angles of light, automotive decorative exterior trim market players seem to have obtained novel opportunities for improvising on product design and development. Apart from pearlized paint, protective addons are also being deployed, thereby impelling automotive decorative exterior trim industry. Protective rub strips are the most common protective addons that are often used on a vehicle right from the front wheel to the back wheel, given that they serve as a primary protection against careless scratches.
Chrome trimmings are also being popularized in automotive decorative exterior trim market, since the distinct shine of chrome can add a lot of class to a vehicle. Chrome trimming can be easily installed and is compatible with all types of vehicles. Further on, plastic bumpers are also a popular decorative exterior trim, however, since the plain black plastic bumpers often have a less than sophisticated look, consumers are increasingly inclining on adding chrome finish to plastic bumpers.
The rise in the demand for decorative exterior trim has provided a rather lucrative opportunity for automotive decorative exterior trim market players in terms of product differentiation and production. In this regard, it is prudent to mention that OEMS are expected to generate 70% of the automotive decorative exterior trim market revenue in the forecast period. Exterior trim designed and installed by OEMs offer insurance and warranty and are made of comparatively higher quality materials than the exterior trims available in the aftermarket. However, automotive decorative exterior trim industry size from aftermarket sales are also expected to surge over 2017-2024, driven by the cost-effective nature of these trims and their easy availability.
The competitive landscape of automotive decorative exterior trim industry is inclusive of reputed biggies such as Magna International, Altuglass International, Takata, CIE Automotive, MVC, Trinseo, Dura Automotive systems and others, continually vying with each other to capture maximum industry share. With intensified innovations in design and manufacturing techniques and cumulative consumer demand, automotive decorative exterior trim market size is expected to surpass USD 27 billion in terms of revenue, with a target estimation of exceeding 500 kilo tons in terms of volume, by 2024.
Author Name : Paroma Bhattacharya
As automation pervades lucrative verticals, the agriculture domain, not to be obliterated, has also joined the list. Autonomous farm equipment market, in this regard, may be considered as one of the many pivotal sub-spheres of the tech-based agriculture sector, that has been gaining mass momentum in recent times. With the influx of highly advanced tech discoveries and the shifting trends toward the deployment of robotics owing to labor shortage, the utilization of self-operating agro-based components is on a rise, thereby impelling autonomous farm equipment market share.One of the most noteworthy trends of autonomous farm equipment industry in recent times is the rapid entry of start-ups in this business vertical, posing quite an interesting competitive scenario for prominent players. With the profound growth in the arena of robotics, entrants in autonomous farm equipment market have been attempting to actively tap every lucrative opportunity to come up with unique product ranges. For instance, a robotic engineer from Harper Adams University, England recently came up with an idea that it may be possible to produce crops without having to actually climb onto a tractor. In this case, through high-end technology, a SimTech drill had been attached to the tractor, that undertook the seeding operations, while an automated Sampo Rosenlew 130 harvested the crop. In the years to come, it has been forecast that farmers may cease performing actual farming tasks, delegating them to automated devices, while they keep themselves free for other tasks. In the event that automated tractors such as the aforementioned prove successful in tests conducted on 100-hectare fields, the concept is likely to brew a revolution in autonomous farm equipment market.
U.S. Autonomous Farm Equipment Market, By Product, 2016 & 2024, (Units)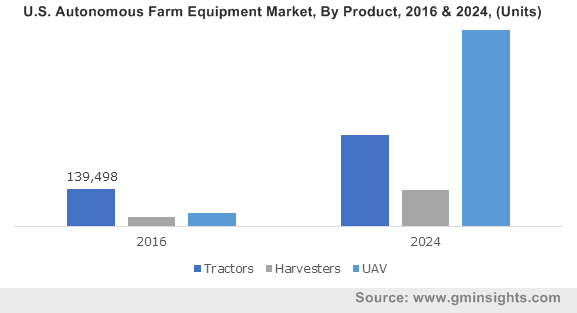 An outline of India autonomous farm equipment industry
Having documented a long-standing history of being an agro-based economy, India is touted to emerge as one of the pivotal regional autonomous farm equipment markets. Even as on 2017, more than 50% of the Indian populace is inherently dependent on agriculture and related activities for sustenance. However, more than 80% of Indian farmers own farmland lesser than two hectares, and have a rather small, bifurcated sense of ownership in India's huge agriculture sector. Amidst this massive fragmentation, it goes without saying that the country's farming activities stay put, owing to the lack of high yielding fertilizers and seeds and the inadequacy of modern production and processing methodologies. This in consequence, has led to India evolving as a rather lucrative ground for the development of autonomous farm equipment market.
Get a Sample Copy of this Report:@ https://www.gminsights.com/request-sample/detail/2230
India is thus undergoing a paradigm shift, what has been dubbed as 'Farming 3.0' – the third farming revolution. In accordance, the nation seems to be actively drifting toward innovative farming, which would prove to be rather advantageous for the growth of autonomous farm equipment industry in India. The nation has been, since the last few years, welcoming investors and start-ups to establish their base in India and diligently pursue advanced technology to come up with a range of highly innovative products such as partially and fully automated tractors and harvesters. Another popular technology that is being harnessed of late is that of UAVs (unmanned aerial vehicles) or drones. Owing to their superlative benefits ranging from undertaking geological surveys for evaluating fields and reducing response time to improving crop health and water efficiency in the fields, these beauties are being deployed in agriculture on a larger scale than anticipated, which has provided quite a profitable boost to the overall autonomous farm equipment market. This is quite evident from the robust growth of the agricultural drones industry as well – the business size reportedly stood at USD 300 million in 2016. UAVs are also being utilized in India, though the concept is yet to gain mass prominence. However, analysts seem to be positive regarding the popularity of agricultural drones in the nation, the massive deployment of which would eventually stimulate India autonomous farm equipment market share.
With automated devices garnering momentum in India, it has also been projected that the region would be a major revenue contributor toward APAC autonomous farm equipment industry. Given that the continent in itself is a hub of major agro-based emerging economies, it remains quite unarguable that Asia Pacific would be one of the key regional autonomous farm equipment markets in the years to come. Led by India, Japan, China, Australia, and South Korea, APAC autonomous farm equipment industry share has been projected to register a CAGR of 25% over 2017-2024.
While the notion of self-operating equipment seems quite attractive in theory, there remains no shred of doubt that practically implementing the concept on a large scale is enormously expensive. Product development and implementation costs thus, in particular, are likely to emerge as key restraints for autonomous equipment market in the future. In consequence, companies have been attempting to devise newer strategies to brainstorm cost-effective solutions in order to increase product penetration, which would eventually have an impact on the revenue graph of autonomous farm equipment industry. The successful application of GPS systems in agriculture and the deployment of IoT in the farming sector notwithstanding, autonomous farm equipment market trends are expected to escalate in the forthcoming years. As per estimates, autonomous farm equipment industry size is expected to exceed 7.8 million units by 2024, in terms of volume.
Author Name : Saipriya Iyer
Electrical steering column lock market has been witnessing a profitable growth rate since the last few years, pertaining to the growing popularity of the electric power steering (EPS). The EPS technology is lately being preferred in automobiles for its ease of use and the fuel efficiency. Also, there has been a paradigm shift in the deployment of automotive components from mechanical to electronic solutions, which has led to electrical steering column lock (ESCL) market carving out a positive growth trajectory. By 2024 ESCL market size is predicted to surpass a valuation of USD 31 billion, driven by innovations in the automotive sector and the existence of a favorable regulatory landscape that mandates the adoption of EPS in new automobiles. As electrical steering column locks make vehicles much more resistant to thefts, there has been an increase in consumer demand for purchasing cars embedded with these products, thereby augmenting ESCL industry share.
U.S. Electrical Steering Column Lock Market, By Vehicle, 2016 & 2024, (USD Million)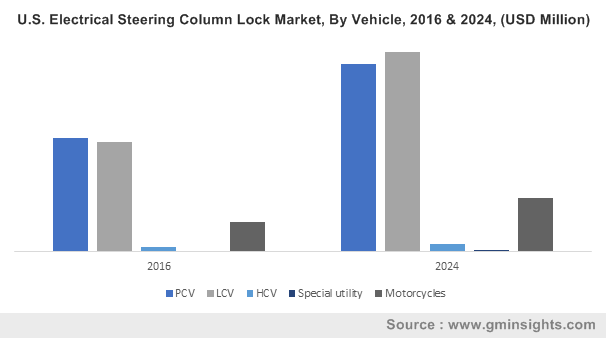 With the emergence of new economies and the rising affordability of vehicles, global automobile manufacturing and sales are expected to soar higher in the years to come. This in consequence, would lead to a robust rise in the sales of automobile integrated with security features, which in turn would impel ESCL market. With security being one of the consumers' principal concerns, cars incorporated with anti-theft features will make them highly viable choice, which will boost the overall electrical steering column lock market size.
A shift of conveyance preference has also been noted with the rise of connectivity and online shopping alternatives. Many consumers nowadays prefer to have goods and services delivered at home – a trend that has provided an impetus to the commercial vehicle industry. In order to make these vehicles more fuel-efficient, the deployment of electric power steering has been made mandatory, which inevitably indicates the implementation of electrical steering column locks in these vehicles to ensure security. In consequence, the commercial vehicle sector would prove to be a lucrative avenue for ESCL market. As per estimates, LCV-based ESCL industry size alone is expected to register a CAGR of 6% over 2017-2024. Significant growth will also be registered in the special utility vehicle segment as customers are leaning towards tailored solutions for specific purposes. Electrical steering column lock market share, as per statistics, is estimated to record a 4.5% CAGR over the next seven years from the special utility vehicle sector.
Get a Sample Copy of this Report:@ https://www.gminsights.com/request-sample/detail/2178
Original equipment manufacturers (OEMs) and traditional automotive players, in recent times, are under continuous pressure to bring about advanced technologies in vehicles that will improve fuel efficiency, reduce emissions and be more capital-efficient. OEMs stand to gain the most advantage with the growth of electrical steering column lock industry, as customers prefer relying on OEMs for their process expertise and reliability. On the other hand, aging vehicles will impact electrical steering column lock market size from the aftermarket domain, as these vehicles are the ones that did not have an installed lock at the time of manufacture, but would now be forced to have one installed or security purposes.
Due to the robust progress of the automotive sector in countries such as China, India and Indonesia, APAC electrical steering column lock market is expected to witness a substantial growth rate over 2017-2024. China alone, in 2016, accounted for 48% of the global SUV shares. In fact, estimates claim Asia Pacific to dominate the overall electrical steering column lock industry by 2024, with a revenue projection of USD 13 billion.
Government directives for better vehicle security has been the driving force for the growth of North America electrical steering column lock market. The National Highway Traffic Safety Administration (NHTSA), for instance, a traffic regulatory body of U.S. has mandated the use of electrical steering column locks in all vehicles. Uniform provision for performance and layout of all vehicle systems as authorized by the European directives will also ensure the implementation of these security products in all vehicles, giving Europe electrical steering column lock market a commendable boost over 2017-2024.
One of the key threats that electrical steering column lock industry will face in the ensuing years is the introduction of fully autonomous vehicles which come essentially without a steering wheel, a fact that will make the electrical steering column locks redundant. However, security risks, lack of consumer understanding and slow rate of market penetration of autonomous vehicles will not make them commercially viable before 2030, which would prove to be an advantage for ESCL industry. For now, OEMs and other major ESCL market players are focusing on making the electrical steering column lock systems in vehicles much better, ensuring not only security but also attracting a wider customer base with better and innovative safety technologies.
Author Name : Paroma Bhattacharya
Tesla's latest Class 8 marvel is indeed a classic phenomenon that has posed several challenges for heavy-duty trucks market players. The automotive giant has unveiled the 'Tesla Semi' – its all-electric semi-truck that boasts of superior charging capacity and has been designed to travel from 0 to 60 mph in merely a 5-second span. In fact, towing a load of close to 80,000 lbs alongside, this truck can travel from 0 to 60 mph in just 20 seconds, setting quite a remarkable precedence for companies partaking in heavy-duty trucks industry share. What's precisely noteworthy though, is not the Semi's speed range or its aesthetic appearance, but the fact that it offers a transmission which requires no gear shifting with regenerative braking – essentially, a provision that delivers infinitesimal brake life for the vehicle. Endowed with such an amazing intrinsic design such as this, the Tesla Semi is certain to cause a stir in heavy-duty trucks market, the revenue of which stood at USD 110.5 billion in 2016.
U.S. Heavy-Duty Trucks Market, By Fuel, 2016 & 2024, (Thousand Units)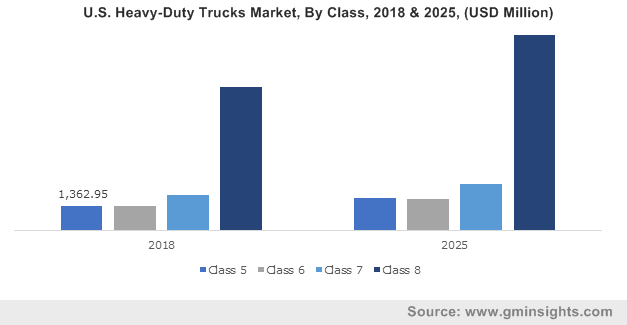 It is prudent to state that the Tesla Semi being a Class 8 wonder is an indicator of the fact that class 8 vehicles are indeed being pursued with renewed gusto by heavy-duty trucks industry players. In fact, a report by Global Market Insights, Inc., claims class 8 vehicles to accumulate the maximum revenue in heavy-duty trucks market over 2017-2024, pertaining to their enviable ability to sustain heavy loads. Generally deployed for high-power applications such as construction and mining, class 8 vehicles are diesel-powered and have a gross weight vehicle rating of more than 33,000 lbs. Subject to the extensive demand for these beauties, companies have been sparing no expense in R&D activities, to bring forth newer class 8 vehicles endowed with superior features, that would ultimately help augment the sales graph of the overall heavy-duty trucks industry.
Not so long ago, Daimler, one of the most prominent players of heavy-duty trucks market, had unveiled a prototype of its much-awaited vehicle at the Tokyo Motor Show. Daimler's truck unit, Mitsubishi FUSO, claimed that its heavy duty truck, called the E-FUSO Vision One, weighs more than 51,000 lbs and is capable of driving up to 220 miles on a single charge. Though the company has not yet given a deadline regarding the date when the E-FUSO Vision One would be available for sale, experts predict that this product is likely to pose a cut-throat competition to Tesla's Semi, leading to some level of consolidation in heavy-duty trucks industry. In consequence, it is undeniable that products endowed with superior properties and high-caliber innovations would prevail in this business space, thereby increasing the sales figures and the overall revenue of heavy-duty trucks market, which is anticipated to surpass USD 160 billion by 2024.
Get a Sample Copy of this Report:@ https://www.gminsights.com/request-sample/detail/2015
Unquestionably, renowned biggies have not been programmed to remain the underdog in heavy-duty trucks industry. In this regard, Volvo Trucks, the Sweden-based truck manufacturer, recently launched LNG and biogas powered, Euro 6-compliant heavy duty trucks, that apparently possess the same driving ability, fuel consumption, and performance level as that of Volvo's diesel-powered vehicles. However, the proportion of carbon emissions from the all-new Volvo FM LNG and Volvo FH LNG is 20% to 100% lower than the diesel vehicles, based on which fuel is specifically chosen. Furthermore, these trucks are also available for heavy long-haul operations, with 420 hp to 460 hp, that may make them one of most sought-after vehicles in heavy-duty trucks market.
Most companies spanning across the competitive spectrum of heavy-duty trucks industry have lately been concentrating on cost-reduction methodologies. This paradigm shift, it has been observed, is being carried out through the introduction of novel remanufacturing business models that ultimately help to reduce the production expense. One of the pivotal factors responsible for the expansion of heavy-duty trucks market is the robust growth of the automotive domain, especially across the emerging economies.  In fact, heavy-duty trucks market players such as Toyota, Daimler, Ford Motor Company, Tata Motors, Volvo, and General Motors have strongly established bases across the developing geographies, owing to the convenient availability of resources coupled with a supportive regulatory frame of reference, which has proved to be rather lucrative for the overall business sphere.
It is imperative to mention that in the last half a decade or so, the prevalence of high-grade technological advancements, say for instance, such as telematics services and self-driving has increased to a rather commendable extent. As on today, these technologies are considered to be some of the key drivers that help expand the consumer pool for heavy-duty trucks industry players. With tech-savvy clients willing to wield the convenience and flexibility of contemporary technologies, companies have been rapidly exploiting the latest tech-oriented mechanisms in product manufacturing, leading to increased vehicle sales and by extension, an escalated revenue collection for heavy-duty trucks market. With state-of-the-art technologies in action, in conjunction with the widespread penetration of truck fleets in several end-use domains, heavy-duty trucks market size is likely to depict a massive surge by the year 2024.
Author Name : Saipriya Iyer
Magnesium wheel market players, in the recent past, have been chiefly concentrating on forging strong and long-lasting alliances with the top-notch premium car manufacturers. The dynamic collaborations of such kind have emerged as the principal driving force to spur the robust growth of magnesium wheel market. To note a few remarkable collaborations, the Italy-based prominent Magnesium wheel market player, the O.Z. Group has renovated its partnership with the sports car manufacturer, Ferrari, till 2019 as the company has rebalanced its product positioning to cater the sports car industry. The O.Z. Group has further teamed up with other leading Original Equipment Manufacturers (OEMs) including Mercedes Benz and Volkswagen. Furthermore, the Germany-based leading high-performance magnesium wheel manufacturer, BBS, has focused on supplying its products to the sports cars participating in the Formula One racing events. The aforementioned alliances between magnesium wheel makers and premium car manufacturers will assist in broadening and diversifying the customer base and to bring in latest technological innovations in producing high-end wheels required by the thriving magnesium wheel market. Reportedly, magnesium wheel industry size was valued at over $22 billion in 2016 with premium/sports car segment accounting for over 95% of the total share.
U.S. Magnesium Wheel Market, By Manufacturing, 2013 – 2024 (Thousand Units)

According to the U.S. based trade group, International Magnesium Association, Magnesium weighs 75% lighter than steel and 33% lighter than aluminum. The paradigm shifts in automotive trends including the increased demand for reduced weight cars, enhanced fuel economy, vehicle customization, green mobility, optimum precision, improved functionality and stronger grip on the road have proven to be of immense help to massively drive the magnesium wheel market size in terms of revenue growth and expanding its customer base.
Meanwhile, the recent Volkswagen diesel emissions scandal in the U.S alerted the regulatory agencies across the developed and developing economies to prescribe harsh regulatory emissions standards in the countries. The stringent regulatory emissions standards are being strictly implemented across nations which are forcing the premium car manufacturers to produce lightweight vehicles which are, in turn, accentuating the demand for magnesium wheel industry.
Get a Sample Copy of this Report:@ https://www.gminsights.com/request-sample/detail/2129
Speaking of the magnesium wheel market by its end use, the OEM market is anticipated to demonstrate itself as the chief industry driver. The increasing product innovations complimented with enormous R&D investments by major magnesium wheel makers will propel the industry-specific demand. The competitive wheel design contests organized by the magnesium wheel makers, like the "BBS Wheel Design 2017" arranged by the leading wheel maker, BBS, are exploring the creativity of university students to tap breath-taking designs and pioneering wheel concepts. Such refreshing initiatives are bound to make the magnesium wheel industry more combative in the ensuing years.
The distribution in the magnesium wheel market share has seen a sea change as the motorbikes segment is emerging as a bright spot. The rising population and construction have led to road congestion in all the major cities of the world. Add to it, the altering income trends and increasing preference for bikes has enhanced the demand for magnesium wheel. Coupled with the rising demand for enhanced acceleration and quick braking in the premium and luxury cars, North American and European markets are witnessing rather a humongous product demand.
Speaking along same lines, Europe has been the leader in the magnesium wheel market share owing to the presence of reputable automotive brands including BMW, Audi, Porsche, Lamborghini, and Ferrari. In 2016, Europe constituted over 40% of the magnesium wheel market share.
Asia Pacific region is also expected to grow strongly due to increasing disposable income and favorable socio-economic condition for setting up manufacturing facilities. Especially, the initiatives taken up by Japanese automotive associations will assist the market to register decent growth in the region.
Apparently, magnesium wheel market is regarded as a moderately consolidated business space as the presence of the multinational players is comparatively less. Some of the renowned industry names include MKW Alloy, O.Z. Group, BBS, SMW Engineering, Enkei Corporation and PVM Brakes Manheim. According to a research report compiled by Global Market Insights, Inc., magnesium wheel market is estimated to exceed $27 billion by 2024.
Author Name : Saif Ali Bepari