Automotive & Transportation
The escalating development of global automotive sector will generate lucrative growth avenues for automotive wheel market. Automobile producers have been adopting new manufacturing techniques to comply with emission control regulatory norms. Researchers have also been implementing novel product designs and improvised concepts to increase the fuel efficiency of vehicles, which in turn, will boost automotive wheel industry size. Rising spending capabilities of consumers across the globe is also fueling the product demand. Of late, consumers have been prioritizing comfort, durability, and product design, which will provide a significant impetus to global automotive wheel industry. In fact, estimates claim automotive wheel market to collect a revenue of USD 91.6 billion in terms of revenue and 600 million units in terms of volume, by 2024, having held a valuation of USD 82.2 billion in 2016.
Europe Automotive Wheel Market Size, By Vehicle, 2016 & 2024 (USD Million)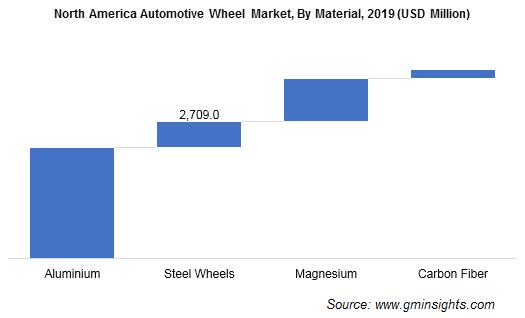 Major automotive manufacturers across North America and Europe are treading towards the production of lightweight vehicles, owing to the increasing concerns over environmental pollution. Aluminum is one of many materials that is used to construct these light weight vehicles, and has also been gaining popularity pertaining to the benefits it provides such as low weight, improved design, and excellent performance. As per estimates, aluminum-based automotive wheel market will surpass a revenue collection of USD 55 billion by 2024. The implementation of strict regulatory norms to reduce carbon emissions mainly across Europe and U.S. will propel automotive wheel industry growth.
U.S. automotive wheel industry will generate a revenue of more than USD 14 billion by the end of 2024. The country is renowned for the excessive deployment of vehicle safety policies, which will influence the product demand noticeably. In addition, the nation has been experiencing a rising need for efficient braking systems, which will eventually stimulate U.S. automotive wheel market. The industry giants across this region are also investing heavily in technological advancements and R&D activities to enhance manufacturing operations and product designs. Speaking of which, the key participants in automotive wheel market are Alcoa, maxion wheels, mefro wheels GmbH, Ronal Group, Borbet, UniGroup, magnetto wheels, Fondmetals, Enkei Wheels, and Trelleborg.
Get a Sample Copy of this Report@ https://www.gminsights.com/request-sample/detail/1706
Surging innovations in product design has generated lucrative opportunities for various OEMs to penetrate automotive wheel market. In fact, automotive wheel market size from OEMs was valued at USD 67 billion in 2016 and will exhibit considerable annual growth rate over the coming timeframe. Emergence of the V2V technology and significant changes in the IC engine will stimulate market size positively. OEMs have also benefitted from supportive manufacturing policies implemented by numerous Asian countries. On that note, Asia Pacific automotive wheel industry will collect a significant revenue by 2024 with a CAGR of more than 5% over the coming seven years.
Rapid urbanization trends across the globe have changed the consumer standards of living, on account of which people across the globe have been giving preferences to personal cars. As per research, in 2016, passenger cars dominated the vehicle segment of automotive wheel industry by accounting more than 80% of the revenue share and will generate notable valuation by the end of 2024.  China is one of the major producers of passenger cars production, which is evident from the statistics – the nation manufactured more than 24 million units of passenger cars in 2016.
Apart from passenger cars, LCVs (light weight commercial vehicles) have also been gaining prominence among consumers. Research states that automotive wheel market from LCVs will register an annual growth rate of more than 4% over 2017 to 2024, owing to the growing urbanization and goods transportation. The EU has deployed emission norms such as Euro 6/VI and 6 for heavy duty and light duty vehicles respectively, which will subsequently influence this segment. Spain, Germany, Belgium, Austria, Netherlands, and Finland are the major contributors of the Europe regional automotive wheel industry growth.
OEMs, in recent times, have been making strategic agreements with suppliers to expand the business space. Innovations in product design and manufacturing processes will create numerous growth opportunities for industry players in automotive wheel market. Mergers & acquisitions and joint ventures will continue to remain the key growth strategies that major companies will adopt, in order to stay ahead of their rivals in automotive wheel market.
Author Name : Sunil Hebbalkar
Aircraft Ground Handling System Market is expected to witness a notable surge over the years to come, driven by the launch of new technologies to reduce operational delays at airports along with improved infrastructural facilities. Intensified requirement for handling cargos, aircraft, and passengers as a result of a massive rise in the number of passengers travelling via aircraft are predicted to further boost the business landscape. As per IATA (International Air Transport Association), nearly 3.7 billion passengers had travelled via aircraft in 2016, recording an increase of 6.7% in the number of air travelers as compared to the estimates of 2015. Efficient handling methods coined by airlines and service providers to provide low-cost & safe packaging for consumable goods of the passenger, will further boost aircraft ground handling system market trends. According to Global Market Insights, Inc., "Aircraft ground handling system industry size, worth USD 110 billion in 2016, is set to hit a targeted revenue of USD 185 billion by 2024."
U.S. Aircraft Ground Handling System Market, By Product, 2016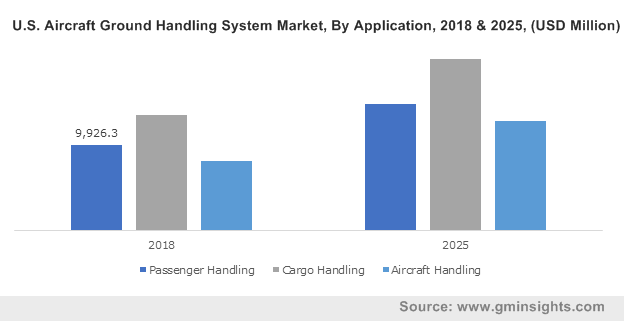 The incorporation of IoT in aircraft ground handling systems for supporting the ground functions along with the ability of new software programs to fulfill the specific requirements of the ground handling systems are expected to enlarge the business scope. Optimum use of green energy technology to power ground handling devices is also expected to contribute significantly toward aircraft ground handling system industry development.
Taking into consideration the geographical trends, Latin America aircraft ground handling system market share is expected to witness a lucrative surge over the years to come, subject to the fact that LATAM air traffic increased by 7.4% in 2016. Brazil aircraft ground handling system market is likely to boost the regional revenue.
Get a Sample Copy of this Report @ https://www.gminsights.com/request-sample/detail/106
Asia Pacific aircraft ground handling system industry, which contributed more than 25% of the overall industry share in 2016, is projected to experience a significant growth over the coming timeline. Escalating population, an increase in the air travel frequency, and growing urbanization are some of the factors forecast to favorably influence the development trends.
MEA aircraft ground handling system market is anticipated to experience a striking expansion over the years ahead, driven by globalization resulting in the large-scale development of airline business along with strict legislations supporting the use of safe & effective ground handling devices.
Europe aircraft ground handling system industry is projected to experience an accelerating growth over the coming seven years, subject to an increase in the number of new aircrafts resulting in the allocation of more budgets for constructing high-grade airports & runways. France and Germany, which jointly accounted for nearly 40% of Europe aircraft ground handling system industry share in 2016, are expected to significantly influence the business space.
North America aircraft ground handling system market is forecast to retain its leading position over the next few years, owing to the increasing efforts made by the airport authorities to increase the operational efficiency and thus ensure passenger satisfaction.
Aircraft handling, passenger handling, and cargo handling are the major products of aircraft ground handling systems. Cargo handling systems, which dominated the product landscape in 2016, are expected to contribute a major chunk toward aircraft ground handling system industry share over the coming timeframe. Mounting need for swift transportation of materials is expected to elevate the product demand.
Market players are trying to gain a competitive advantage through strategic alliances, high R&D investments, and product portfolio expansion. For instance, in the first quarter of 2017, SATS Limited, a ground handling & in-flight catering service provider based in Singapore, formed a strategic alliance with Hong Kong Airlines for helping them effectively manage cargo and ramp services.  To cite another such example, in May 2017, Swissport International Limited, a Switzerland based aviation services firm, collaborated with TCS, an Indian multinational corporation providing IT services, to improve its airport IT infrastructure facility.
Dnata, Cargotec Oyj, RampSnake, Cavotec SA, JBT AeroTech, SATS Limited, PrimeFlight Aviation services, John Menzies plc, and Swissport International Limited are the key participants of aircraft ground handling system industry.
Author Name : Dhananjay Punekar
The world is witnessing a proliferation in seaborne trade, which is likely to stimulate marine diesel engines market over the years ahead. The cost of the fuel is a major factor that is influencing the trade profitability. Recent fluctuations in the fuel price which is currently on a higher end, is turning out to be favorable for the industry players. According to a report by UNCTAD (United Nations Conference on Trade and Development) in 2015, sea borne trade expanded over 4% from 2012 to 2014, subject to the significant increase in dry bulk trade. Alongside, easy availability of spare parts, trained repairing personal, and repair networks have also catalyzed the adoption of these diesel engines. As per a report by Global Market Insights, Inc., "Marine Diesel Engines Market is slated to exceed a revenue of USD 7 billion by the end of 2024, with a CAGR projection of 5% over 2016-2024."
Europe Marine Diesel Engines Market Size, By Application, 2016 & 2024 ($Mn)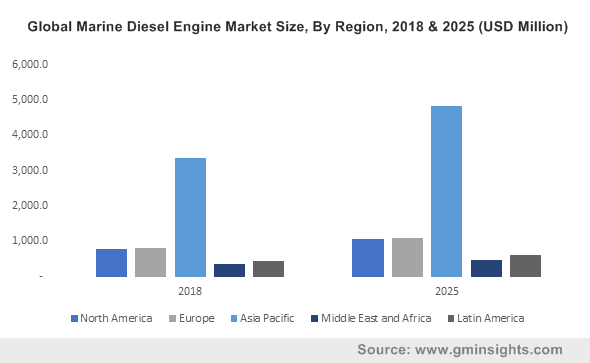 Increasing demand for economically viable engines that are best fit to fulfill reliability, durability, and fuel optimization is further complementing marine diesel engines market penetration. Over the past few years, the shipping industry has been largely emphasizing on developing advanced engines that improve the fuel efficiency and reduce carbon dioxide emission. Marine diesel engines operate at an average efficiency of 40% to 50% depending upon the age of the engine, deadweight tonnage, and vessel size.  Phasing out of traditional steam engines from various utility sectors is further providing a significant push to marine diesel engines market.
Get a Sample Copy of this Report @ https://www.gminsights.com/request-sample/detail/158
Regionally, China has established strong grounds enhancing the market dynamics. The country, counted as one of the most developing nations across the world, is significantly increasing its investment in strengthening the naval force. In 2014, Chinese Government had issued a financial stimulus package that facilitated the money stock. The escalating growth of the regional market can be majorly credited to the rigorous number of business activities that have significantly uplifted the marine diesel engines market outlook. In 2015, for instance, MAN Diesel & Turbo had signed a 10-year agreement with CISC and CSSC to manufacture low speed diesel engines in China. Statistics depict that China accounted for one-fourth of the APAC marine diesel engines market in 2016. Such examples of promising initiatives by the government along with growing import of marine diesel engines in the country which almost accounted for USD 1.05 billion in 2015, is projecting a lucrative growth prospect for China marine diesel engines market in the years ahead. Germany, on the other hand, represented 20% of the Europe market in 2016. With increasing government spending on military and specialized ships, Germany is aiming to amplify its revenue share toward the regional marine diesel engines market in the coming years.
Considering the technical designing, the overall marine diesel engines industry is predominantly segmented into low speed, medium speed, and high-speed systems. High speed systems accounted for more than 20% of the global share in 2016. With the significant improvement in the living standards of the consumers, the demand for cruise and ferries is accelerating, which in turn is driving this high-speed marine diesel engines market. Medium speed diesel engines which are mainly deployed in cargo ships, passenger ships, fast ferries are also witnessing a heavy adoption. This category based diesel engines market is expected to hit a revenue of more than USD 3 billion by the end of 2024. Low speed marine diesel engines market will also grow substantially at an annual rate of 4% over the coming seven years.
Merchant vessels are one of the prominent application domains that is prominently contributing toward the global industry size. Growing inclination toward LNG along with a significant rise in the sea borne trade have resulted in an increasing deployment of marine diesel engines in merchant vessels, thereby contributing to the industry share. As per estimates, marine diesel engines market from merchant vessels application is expected to chart a profitable road map at a CAGR of 5% over 2016-2024.
Despite the fact that the marine diesel engines are environmentally not so viable owing to the harmful carbon emissions from these, increasing research investments by the market players in the development of fuel efficient engines is likely to leave a positive impact on the marine diesel engines industry expansion in the years ahead. Some of the prominent companies engaged in marine diesel engines market include Rolls Royce, Caterpillar Inc., Cummins Engines, GM Powertrain and Wartsila Corporation.
Author Name : Satarupa De
The deployment of technological innovations such as integration of valve operation systemss & drive systemss will spur GDI systems market. This incorporation will bring about optimized fuel efficiency and increased fuel economy, which is the need of the hour, especially for price-sensitive consumers. Strict norms mandated by regulatory bodies to reduce the base lines of the fuel efficiency and carbon dioxide emissions will stimulate the growth of Gasoline Direct Injection (GDI) Systems Market.
Germany GDI system market size, by application, 2012-2024 (USD Million)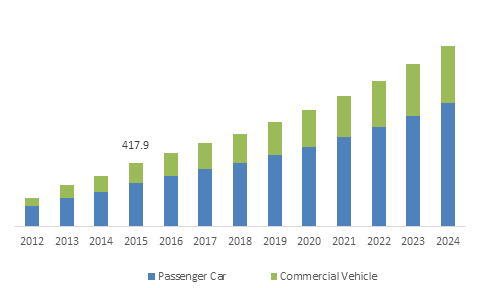 GDI systemss contribute to the reduction of pollutant emissions via turbocharging and are estimated to reduce around 15% of carbon emissions and fuel consumption. These benefits coupled with the rising vehicle demand and the introduction of next gen fuel saving technologies will push gasoline direct injection systems industry, slated to cross USD 10 billion by 2024, with a CAGR estimation of 12% over 2016-2024.
Leading corporations have been trying to diversify their product offering by means of incorporating advanced technologies in order to gain an edge over their competitors. For instance, Denso, in 2014, declared that it planned to invest around USD 10 million at DIAM (DENSO International America) with an aim to develop GDI systems components for improving the overall product performance. These initiatives will subsequently lead to an increased consumer base, thereby propelling gasoline direct injection systems market.
Get a Sample Copy of this Report @ https://www.gminsights.com/request-sample/detail/219
Industry players fiercely compete with each other on the grounds of product quality, deployed technologies, and product costs, to sustain their business position. Gasoline direct injection systems market is quite consolidated with the presence of selected companies such as Continental, MSR-Jebsen Technologies, Mitsubishi Electric Corp., Magneti Marelli, Bosch, Denso, Bajaj Auto Ltd., Stanadyne, Eaton Corporation, Delphi, and Hitachi. These companies have been making efforts to manufacture high quality and high performance exhibiting GDI systems components at lower prices to deal with their rivals.
GDI systemss incorporate four major components, namely fuel injectors, sensors, electronic control units, and fuel pumps. Electronic control units accounted for the largest share in gasoline direct injection systems market in 2015, subject to the high product demand for regulated equipment control. Fuel pumps and injectors are also expected to propel GDI systems industry, owing to their extensive application across the automotive sector.
APAC has been predicted to emerge as one of most lucrative growth avenues for gasoline direct injection systems market, pertaining to the extensive expansion of the automotive sector and surging demand for fuel efficient vehicles in the region. Countries such as India, Indonesia, and China are slated to be the major revenue pocket, subject to the increasing awareness regarding GHG emissions in the region.
The rapid increase in the spending capabilities of consumers has led to a significant increase in the sales of automobiles across the globe. As per estimates, the United States and China are the top two nations that have the largest customer pool of passenger vehicles, which is likely to drive GDI systems industry from this application segment.
Commercial vehicles accounted for more than 30% of the gasoline direct injection systems market share in the year 2015 and is estimated to grow at a CAGR of 12% over 2016-2024. This growth can be credited to the increasing demand for commercial vehicles across myriad sectors such as logistics and transportation.
Europe held more than 40% of the global gasoline direct injection systems industry share in the year 2015 and is anticipated to register significant growth in the years ahead. The enforcement of Euro 5, one of the many vehicle emission standards by the European Union coupled with other stringent regulations mandates related to vehicular emissions will impel Europe GDI systems market. Automobile companies have been striving to manufacture products that comply with GHG emission standards and the Federal norms related to fuel efficiency, thereby driving gasoline direct injection systems industry.
Companies have also been integrating innovative technologies in GDI systems components to improve the operational efficiency, reliability, network capability, and the overall vehicular efficiency. High initial equipment costs are likely to pose a constraint to GDI systems market over the next few years. Besides, as reported by automotive servicing personnel, the equipment depicts an increase in the carbon content, leading to blockage in fuel systemss, which will eventually increase the maintenance costs. To combat these restraints, GDI component manufacturers have been adopting laser-drilled holes that will help reduce emissions, achieve efficient fuel combustion, and eliminate unnecessary costs. Laser-based manufacturing technology apparently helps to save around 20% of the fuel consumption. The deployment of this technology will undeniably drive gasoline direct injection systems industry.
The increasing rate of automobile repair and maintenance will also fuel GDI systems market over the next few years. In addition, the characteristics such as optimized fuel consumption, light weight, high efficiency, and compactness in vehicles will lead to an expanding consumer base across the globe, driving worldwide gasoline direct injection systems market.
Author Name :Saipriya Iyer