Automotive & Transportation
Electronic stability control system market trends are poised to gain immense momentum over the forecast years, owing to rise in fatal car crashes and serious vehicle accidents causing large-scale damage to the masses. Since the last few decades, the automotive industry has shifted its focus towards implementation of more active safety features like traction control system and antilock braking system which reduce the chances of crashes to a large extent during acceleration and in harsh driving conditions. This increasing demand to improve transport efficiency has undeniably impelled the expansion of the electronic stability control system market size.
India electronic stability control system market size, by vehicle type, 2018 & 2025 (USD Million)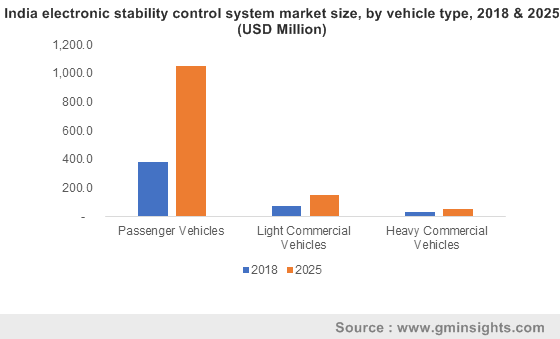 Commercial vehicles are consistently becoming the leading mode of road transportation in the Asia Pacific region. As compared with other transportation vehicles, commercial vehicles exhibit greater safety risks and several performance limitations because of their features including unstable roll motion at higher speeds and poor maneuverability at low speeds. With the advent of the electronic stability control in cars, next-gen driver assistance concepts have taken root, and have played a significant role in contributing towards increasing safety on the roads.
A 2018 report by the U.S. National Highway Traffic Safety Administration (NHTSA) suggests that with the introduction of electronic stability control (ESC) systems, there has been a considerable reduction in passenger vehicle crashes by 34% and SUV crashes by 59%. ESC systems also substantially reduce rollover accidents. Nowadays, commercial vehicles are already incorporated with ESC systems and these vehicles are specifically designed to mitigate understeer and oversteer conditions as well as reduce untripped crashes.
The Asia Pacific market is likely to emerge as a strong contender due to increasing implementation of road safety gears and the design and development of vehicles equipped with safety features. According to International Organization of Motor Vehicle Manufacturers, in 2018, India had witnessed 8% growth in automobile production. China is also a prominent automotive market, the expansion of which will augment APAC ESC market outlook in the forecast years.
Get a Sample Copy of this Report:@ https://www.gminsights.com/request-sample/detail/3410
Of late, India-based multinational automotive manufacturing companies have been working to launch medium and heavy commercial vehicles with electronic stability control with an aim to make Indian roads safer and more secure. The growing adoption of ESC systems and increasing number of safety innovations in several vehicles will further strengthen the regional ESC industry size.
The robust implementation of the intelligent vehicle systems in the automotive sector has enhanced safety protocols while driving and has created an efficient transportation system for vehicle users. From high-tech sensors to vehicle roll rate sensors – everything is being implemented by the manufacturers in the latest vehicles to maintain the stability of the vehicles and reduce any kind of mishap in the future.
In order to fortify their stance in ESC industry, several companies are adopting different growth strategies to move ahead of their rivals. In June 2019, ZF Friedrichshafen, a German car parts manufacturer and partner 2GetThere had launched autonomous shuttles in the Middle East and Europe. The main aim of the company is to improve vehicle handling, reduce motion sickness and deliver safe, clean transportation options that are competitive and comfortable as well. Innovative launches such as the aforementioned will create a positive influence on the product demand and augment the Europe industry share.
The massive deployment of technological advancements across the automotive industry will have a favorable influence on the ESC market. Moreover, the involvement of prominent companies in designing vehicles with advanced safety features are likely to fuel the industry growth in the ensuing years.
The enforcement of favorable government policies are likely to impact the industry outlook. In 2018, the Ministry of Road Transport & Highways of India had announced that by 2023 all Indian vehicles should be compulsorily equipped with safety breaking features like autonomous braking and ESC.  This will further generate lucrative opportunities for automotive players in the ESC industry.
Major companies that have captured a prominent proportion of electronic stability control system market share include ZF Friedrichshafen, General Motors (StabiliTrak), Johnson Electric, Robert Bosch GmbH, Autoliv, IAV Engineering, Denso Corporation and Johnson Electric. Global Market Insights, Inc., estimates electronic stability control system market size to reach US $ 45 billion by 2025.
Author Name : Deeksha Pant
Expanding world trade and the rising need to reduce carbon dioxide emissions will foster port equipment market size over the forecast period. There has been an increasing demand for stronger and better port handling equipment, such as hybrid cranes with lower emissions, owing to a surge in the volume of goods being transported. Ongoing as well as new trade partnerships and agreements between enterprise across different nations will drive global port equipment market trends, in addition to upcoming international policies.
U.S. Port Equipment Market, By Application, 2018 & 2025, (USD Million)

Continuous evolution of the maritime transport sector has a major impact on transport cost, trade volume and economic competitiveness, where adhering to the latest regulatory mandates represent a big challenge. Around 80% of international trade is done through ports, due to which they play an important role in connecting several developing countries which are gradually witnessing a growth in port communities and global import-export exposure. Industrialization in emerging economies will certainly create a substantial demand for modern port equipment to handle rising trade volumes.
Report by the Indian Ports Association says that 12 major ports in India had recorded 2.90 percent growth in handling of the cargo, poised at 699.04 million tons, during the 2018-19 fiscal year. The handling of fertilizers, containers and coal have driven the expansion of these ports, in turn requiring the installation of new equipment to handle them. Major ports in India handle nearly 60% of the total cargo traffic in the country, depicting a tremendous need for these equipment. Augmented import of fertilizers, POL (Petroleum, Oil and Lubricant) and coal have favorably impacted Asia Pacific port equipment market share.
With excellent load handling capacity and availability of numerous suitable options, cranes are expected to contribute substantially towards optimizing the management of port operations. Apparently, the first capital outlay for container crane is USD 5 million, having an assumed life of 20 years. Owing to reduced operational cost, that includes consumables and labors, the demand for high-performance cranes will increase significantly. Port equipment industry will experience a notable shift in the direction of full-electric cranes, as they have a lower environmental impact and can recapture 75-80% of energy released.
Get a Sample Copy of this Report:@ https://www.gminsights.com/request-sample/detail/3288
Rising investments across various industries and the subsequent expansion of ports will help boost the adoption of crane and forklifts. For instance, the Port of Virginia has confirmed that its Virginia International Gateway facility in Portsmouth has recently completed an expansion worth $320 million. The terminal will feature the largest of ship-to-shore cranes in the area, standing 170-foot- tall. It will also add 26 rail-mounted gantry cranes which help create more room to sort and stack shipping containers. The Port of Virginia reportedly handled 3 million TEUs of cargo in the year 2019 and is growing year to year.
Container handling segment in port equipment market will grow significantly in the forthcoming years owing to multipurpose utility of containers that can carry all sorts of goods as they are moved from one port to another. Imported grains like corn, wheat and rice are being shifted to containerized cargo due to convenience and cost efficiency. Container shipping can be cheaper owing to two-way functioning system and has made several of Asia's food importers shift to containerization. Containers can be more adaptable, and elastic compared to the bulk facilities.
There has been a surge in the adoption of automated equipment that could reduce operating expenses by 25-55% and could raise productivity by 10-35%, steadily transforming port equipment industry outlook. Trelleborg and Cavotec are going to install automated mooring systems at Old City Harbor in Estonia, which would be used starting 2020. The technological advancement will majorly contribute to the growth of maritime sector in the region and improve mooring processes of ships, while reducing needed labor-hours and reinforcing environmental sustainability.
Europe has been witnessing rising sea and cargo transportation activities which will allow the region to become a key revenue pocket for port equipment market. Constant expansion and development in the port infrastructure has been providing greater opportunities for the penetration of advanced hybrid and electric products. Manufacturers are coming up with scores of innovative solutions, introducing  automatic port equipment options to meet the increasing requirement of more efficient products with lower carbon footprint.
Market players like Liebherr, Konecranes, Shanghai Zhenhua Heavy industries and American Crane & Equipment industries are consistently updating their products and offering novel solutions to port customers. Surging frequency of maritime trade will substantially fuel global port equipment market size, which is slated to exceed USD 9 billion by 2025.
Author Name : Riya Yadav
Shifting consumer preference towards safer vehicles is driving automotive airbags market size in the last few years, with numerous prominent automakers adopting new crash avoidance measures and tools. Increasing passenger vehicle production along with rising disposable income across developed and emerging nations has accelerated the product demand.
U.S. Automotive Airbags Market, By Position, 2018 & 2025, (USD Million)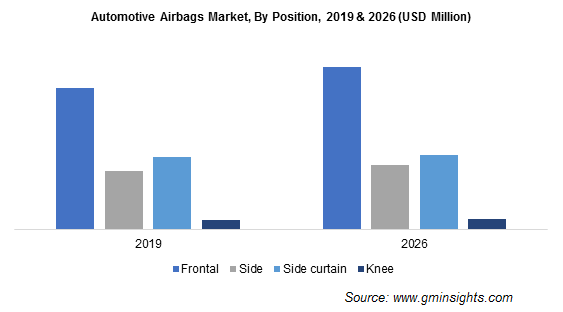 Regulatory organizations such as National Automobile Dealers Association are launching safety awareness campaigns, particularly regarding the live-saving capabilities of airbags. With respect to the deployment types, the frontal segment of the worldwide automotive airbags market is registering a robust growth rate over the past few years and is expected to sustain the momentum in the forecast years.
As driver and front seat passengers are more vulnerable in case of any crash or accident, the frontal airbags are deployed as a standard feature in majority of the vehicles. Moreover, the development of innovative products with electronic control unit (ECU) to improve the efficiency of these airbags is proving beneficial for automotive airbags industry share.
Get a Sample Copy of this Report:@ https://www.gminsights.com/request-sample/detail/3283
In terms of geographical expansion, the Asia Pacific region is emerging as a major growth avenue for the prominent players operating in automotive airbags industry. Over the past few years, emerging economies such as India and China are rolling out stringent regulations with respect to safety systems for vehicle occupants. These regulations apparently encompass a whole new set of safety norms which would drastically improve the existing measures to reduce the number of road fatalities.
Speaking in the similar context, it is prudent to mention that the Indian Road Transport Ministry has recently mandated the installation of airbags in all types of cars from July 1, 2019. Although a directive instructing the vehicle manufacturers to incorporate frontal airbags is in place since 2017, the new regulation makes the installation mandatory. Moreover, various other mandatory fitments are being prescribed to address the issue of over speeding and the consequences of the same. Needless to mention, all these developments are benefiting the in India industry trends as the new safety norms and regulations come into effective in the times to come.
Even though the growth prospects of automotive airbags industry appear highly promising, there exist a few major challenges that may hinder the pace of product penetration across some prominent geographies. It is quite a well-known fact that faulty airbags can cause grave injuries to the driver and the passengers sitting close to the airbags before it deploys.
This has been a serious concern with the first generation of frontal airbags, which get deployed with greater amount of force. In fact, the recent instance of the recall of Takata airbags by leading automotive firms affirms the need to revamp the way new-age airbags are manufactured as they would then be able to provide optimal level of protection in an event of a crash.
Elaborating further on the defective Takata airbags, it is being estimated that around 41.6 million vehicles equipped with 56 million faulty airbags are under recall since 2015. Recently, two of the foremost automakers, BMW and Ford, have recalled around 360,000 and 149,650 vehicles respectively on a global scale to replace the Takata airbags. Moreover, in addition to these recalls, there have been instances where the deployment of counterfeit airbags in vehicles has led to fatal accidents – a factor that has dampened the overall automotive airbags market outlook.
However, despite the challenges posed by counterfeit and defective products, the companies which are globally known as the top airbag manufacturers are being provided with a robust regulatory framework across various nations. These guidelines would certainly assist the automotive airbags market players to eliminate the shortcomings in the manufacturing procedures, which would help in increasing the pace of the product demand in the times to come. In fact, as per report estimates, the overall commercialization portfolio of the automotive airbags industry is slated to surpass USD 85 billion by 2025.
Author Name : Saif Ali Bepari
The escalating efforts to promote passenger safety owing to rising number of road accidents will drive automotive seat belts market trends. For decades, seat belts have been one of the most effective safety precautions used in the automotive industry. In fact, a National Highway Traffic Safety Administration (NHTSA) study claims that, between 1960 and 2012, seat belts have helped save more than 329,715 lives compared to all other vehicle safety technologies including airbags, electronic stability control and energy-absorbing steering.
U.S. Automotive Seat Belts Market, By Type, 2018 & 2025, (USD Million)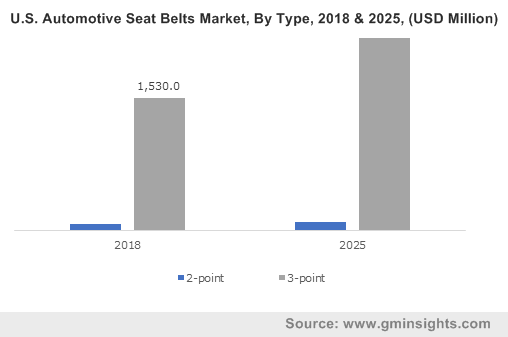 However, despite potential benefits, passengers are still seen avoiding the use of seat belts which has indirectly led to increasing trends in road accidents. For instance, in 2009, road crashes were reported to kill over 33,000 people and injure another 2.2 million, in which about 53% of drivers and passengers were seen not wearing seat belts. Fatalities caused by drowsy driving have also increased dramatically in the past couple of years.
Meanwhile, unbuckled passengers are reported to be more likely of being ejected through the front, rear or side windows, resulting in fatal repercussion. Factors such as these have underlined the sheer importance of seat belts in the current automotive industry and indirectly added impetus to automotive seat belts industry outlook.
Reportedly, to avoid such accidents in the first place, automakers are implementing enhanced seat belt reminder systems in their vehicles that continuously alert drivers and passengers to use seat belts following vehicle startup. Studies also suggest that lap/shoulder seat belts could significantly reduce the risk of fatal injury to front-seat occupants by 45% and the risk of moderate-to-critical injury by 50%.
Get a Sample Copy of this Report:@ https://www.gminsights.com/request-sample/detail/1944
Additionally, primary seat belt enforcement laws and heavy penalties for seat belt law violation are also likely to supplement automotive seat belts market growth. For instance, based on reliable reports, penalty amounts have increased on an average from $39 to $70 in the U.S. while seat belt use has increased by an average of about 9.1% in the country. In addition to stern fines, in 2019, officials in New York have also pushed a bill mandating the use of seat belt in rear passenger seats, cite news reports.
Advancements in seat belt technology coupled with growing investments by OEMs to develop advanced sensor-based seat belts will drive automotive seat belts market growth. Technologies like seat belt tensioners and load limiters have significantly helped improve the seat belt effectiveness whilst lowering impact on travelling passengers. Seat belt reminder (SBR) systems that come with audiovisual aids have also proven to be extremely effective in increasing product traction. In fact, a declining trend in unbelted driving has been recorded while unbelted drivers have reduced by 80% in vehicles with advanced SBR systems.
Meanwhile, automakers are seen promoting the use of seat belts by means of new safety features in last couple of years. For instance, U.S. automaker Chevrolet has recently introduced its 'Buckle to Drive' feature, anticipated to come as standard on all 2020 Chevy Traverse, Malibu, and Colorado vehicles, that will actively help prevent teens from driving until they fasten their seat belts. Initiatives such as these are anticipated to foster product use, in turn boosting the automotive seat belts industry size.
Rising cases of road fatalities and surging passenger vehicle sales are expected to foster APAC automotive seat belts market growth. According to reliable reports, in India, a whopping 75% of passenger vehicle drivers do not use seat belts, causing around 15 deaths per day. While the Ministry of Road Transport and Highway report cite that, in 2016, a total of 5,638 people died on road due to non-usage of seat belts. With stringent government regulation and introduction of advanced seat belt reminding technologies, the regional automotive seat belts industry is slated to record significant growth over the forecast period.
Meanwhile, surging passenger vehicle sales in the country will raise the automotive seat belts market growth to new levels. For instance, according to the Society of Indian Automobile Manufacturers (SIAM), the sale of passenger vehicles (PV) rose by 2.70% in April-March 2019 whereas PV sales are projected to grow by 3-5% in FY20. Furthermore, introduction of new vehicle segments equipped with advanced safety features will boost product penetration.
The demand for automotive seat belts is gaining momentum due to rising awareness regarding passenger safety along with new government regulations to minimize road fatalities. The development of advanced seat belt reminding technologies will propel market share. Reports from Global Market Insights, Inc., suggest that the automotive seat belts market size might surpass USD 10 billion by 2025.
Author Name : Mateen Dalal
The increasing awareness among car manufacturers and regulators about the need of vehicle safety systems has been fueling occupant classification system market. Increasing prevalence of road accidents and growing number of fatalities associated with them is one of the major factors accelerating industry trends. According to the World Health Organization (WHO), road accidents are the major cause of deaths across the globe accounting nearly 1.25 million mortalities per year.
U.S. occupant classification system market size, by product, 2018 & 2025 (USD Million)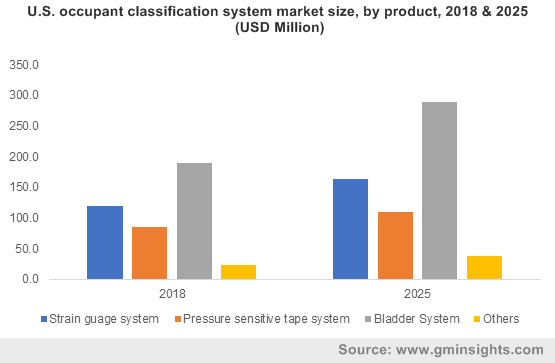 Though vehicle manufacturers have integrated air bags in vehicles for safety purpose, they do not provide total security. As per the National Highway Traffic Safety Administration, since 1990, around 300 people have lost their lives due to airbag impact, majorly due to the over sensitive airbag system. Most of the casualties were among children or people of short height who were found to be occupying the front seats. Occupant classification system (OCS) identifies people occupying the passenger seat and regulates airbags on/off switch.
Considering safety requirement, automakers have been equipping certain vehicles with innovative occupant classification systems. Growing development of sensor assisted OCS and its role to improve air bag system safety will help to expand the OCS market size over the years ahead. According to a research report by Global Market Insights, Inc., occupant classification system (OCS) market share is set to exceed USD 3 billion by 2025.
Ongoing advancements in sensor technology have been making the OCS highly accurate, fueling the future incorporation of OCS in the automobile sector. Growing research & development on other alternatives like 3D video cameras, optics-based system, and ultrasonic sensors is very likely to stimulate the occupant classification system market outlook over 2019-2025. For instance, a leading market player like ZF Friedrichshafen AG is working on developing the 3D interior observation system for occupant sensing.
Get a Sample Copy of this Report:@ https://www.gminsights.com/request-sample/detail/3254
The U.S. and Europe have emerged as leading regional revenue pockets transforming occupant classification system market outlook. The strict regulatory scenario across these regions mandating the use of OCS is one of the prominent factors fueling regional growth. For the record, in the U.S., the National Highway Traffic Safety Administration (NHTSA) had deployed vehicle safety standards to mandate safety requirements for occupant's protection. As a result, most of the automobile manufacturers like Ford, Chevrolet, Dodge, and Honda have started to integrate these systems in most of their mid-range & flagship models.
Speaking about Asian continent, the countries including India and China are poised to account for a significant business share, owing to the implementation of rules related to airbag safety. The deployment of such norms has promoted vehicle manufacturers to install OCS in economy class vehicles mainly across India. Improving standards of living in these countries will help fuel the regional car market and in turn will support the occupant classification system market landscape over the forecast period.
Though the OCS market is expected to register an appreciable growth rate, restraints comprising high price of OCS integrated vehicles and technological defects may hamper the market share. However, growing initiatives pertaining to new product development are slated to overcome the business restraints over the years ahead. In addition, the leading automakers like Honda and Hyundai have been adopting innovative installation technologies to curb the changes of airbag failure.
The consistently expanding automobile sector and the rising demand for passenger safety regulations across developing nations will drive the growth trends of occupant classification system industry. Growing emergence of collision repair services across the globe will further accelerate the product demand noticeably. Some of the market players in the occupant classification system (OCS) industry include Delphi Technologies, Aisin Seiki, Denso, Mayser, Flexpoint Sensor Systems, and Hyundai Mobis.
Author Name : Amol Kothekar
Automotive diagnostic scan tools market share is gaining immense traction owing to integration of modern electronic components and various innovative scanning devices being introduced for different purposes. With the advent of technological advancements and supportive policies to curb emissions, maintaining vehicle performance and ensuring maximum fuel efficiency has become more important than before. Car manufacturers, dealers, and suppliers are looking to add more electrical systems in vehicles to boost connectivity and ease performance adjustment, offering notable prospects for automotive diagnostic scan tools industry players.
Canada Automotive Diagnostic Scan Tools Market Revenue, By Vehicle Type, 2018 & 2025 (USD Million)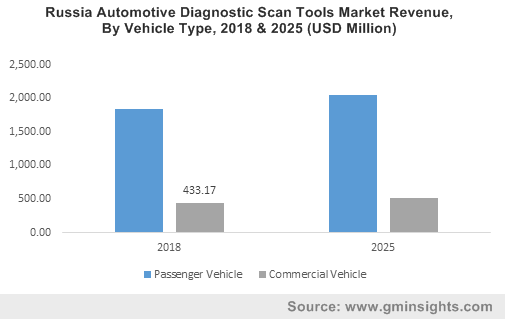 Major automakers have incorporated a vast amount of technologies into their products due to the shifting preferences of consumers from manual functions to hi-tech automated systems. Such transformations will ultimately advance automotive diagnostic methods for easily identifying problems and provide easy to operate interface to the consumers. More than 95.6 million vehicles had been produced in 2018 worldwide and the tremendous population of vehicles on road today will ensure consistent demand for automotive diagnostic scan tools industry over the years to come.
Today's automobiles represent the most sophisticated electronic control units that are responsible for functions like infotainment control, automatic gear shifts and fuel injection. ECUs are also enabling advanced driver assistance technologies that meet consumer needs for convenience, comfort, and safety as well as improve performance and energy efficiency. Adoption of these technologies makes diagnosis of system failures or malfunction more difficult. Addressing these challenges, OEMs as well as their hardware and software partners will consistently seek developments in ECU diagnosis solutions, propelling automotive diagnostic scan tools market size.
Get a Sample Copy of this Report:@ https://www.gminsights.com/request-sample/detail/3262
Over the past decade, the transportation sector has changed considerably owing to social trends, various converging market forces, and quick availability of auto and business finance. Apparently, the most transformative process which holds the potential to revamp the experiences for transport agencies and commuters is the inception of the Mobility-as-a-Service (MaaS). Automotive diagnostic scan tools will become a vital part of every-day operations of mobility providers as increasing penetration of MaaS is boosting the demand for commercial vehicles, which in turn will escalate diagnostic requirements.
Increasing potential for diagnostic tools can be understood from the fact that a developing country like India is anticipated to be a frontrunner in shared mobility by 2030. It projected that shared miles in the country will account for 35% of all the miles travelled in India and will further rise to 50% by 2040. Increase of shared mobility simultaneously gives rise to vehicle sales and strong customer demand for self-driving taxis in low-density locations. This network will open up a huge market for professional and DIY diagnostic scan tools, augmenting the regional industry trends.
Asia Pacific automotive diagnostic scan tools industry size is slated to witness a CAGR of around 8% over the projected period. The automotive manufacturing sector in the region is growing rapidly owing to an active push towards infrastructural development and growing industrialization, which has created plethora of opportunities for automobile OEMs. In addition, local OEMs are thriving with their in-depth understanding of regional consumers. Strategic advantages could certainly influence the ability of OEMs to place vital diagnostic solutions across dealerships, reinforcing automotive diagnostic scan tools market outlook over the forecast period.
The Bosch Group and Byton, an electric vehicle developer, had signed a strategic cooperation agreement in 2018 which was fully focused on driver assistance systems, braking systems, and powertrain technology. This partnership aimed to provide safe and steadfast electric mobility solutions to the consumers. Indeed, such collaborations will certainly benefit enterprises and represent the opportunities for automotive diagnostic scan tools industry from electric vehicle applications in the future.
Several prominent companies and manufacturers are augmenting the scope of their business by unveiling unique product portfolios equipped with the latest technologies. DG Technologies, Actia Group, Snap-on Incorporated, General Technologies Corp, Autel Intelligent Technology, BMW, Bosch Automotive Service Solutions, Delphi Automotive, Volkswagen and Volvo Group are some of the key players operating in the industry. Global Market Insights, Inc. has projected that automotive diagnostic scan tools market size will reach USD $49 billion by 2025.
Author Name : Deeksha Pant