Automotive & Transportation
The spectacular rise of mobile robotics software market has of late become a buzzing subject, with the extensive proliferation of automation in e-commerce and logistics application. The procedures with regard to logistics operation and inventory control have undergone a massive transformation over the recent years with mobile robotics standing as a major trend shaping the business landscape. The latest buzz grabbing all the light is the introduction of a fully automated mobile robot named The Swift brought forth by IAM Robotics, one of the leading giants in mobile robotics software market.  As claimed by the manufacturers, this robot offers a complete solution to all kind of warehouse logistic operations owing to its strong portfolio that include IAM flash, SwiftLink fleet management software, and a 3D item scanner. If experts are to be believed, this product is profoundly a breakthrough in the entire mobile robotics software industry space, given the fact that it can be integrated seamlessly into any warehouse operations without any changes in infrastructure.
U.S. Mobile Robotics Software Market Size, By Product, 2013 – 2024 (USD Million)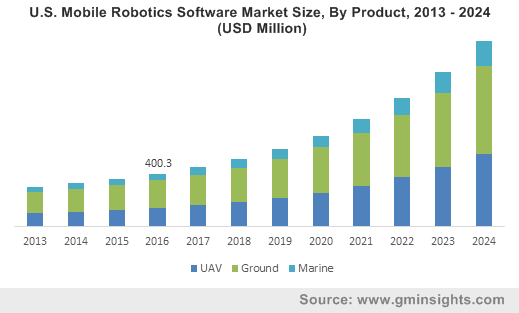 The escalating demand for efficient and swift delivery in e-commerce and online retail space has prompted robust advancements in autonomous drones and vehicles. In fact, Global Market Insights, Inc., forecasts that unmanned aerial vehicles market will witness a lucrative growth of 19% CAGR over 2016-2023. It is therefore, no surprise, that the growth of unmanned aerial vehicles market will leave a direct impact on mobile robotics software market share in the coming years.  In this regard, it is prudent to note that e-commerce giants like Amazon's and Walmart's effort for bringing floating warehouses into their business have certainly pushed the overall mobile robotics software market outlook, given the fact that these floating warehouses is claimed to operate both by human intervention and autonomously. In addition to this, the American government support with regards to UAV implementation for civilian purposes has further propelled the regional mobile robotics software industry size.
Get a Sample Copy of this Report@ https://www.gminsights.com/request-sample/detail/2030
Speaking along similar lines, with U.S. at the foray, North America mobile robotics software market is forecast to represent a significant portion of the overall industry, having contributed a lucrative revenue of USD 430 million in 2016. U.S. being one the strongest technology affluent nations, is anticipated to integrate robots in domestic arena even over the coming years, which by extension will impel the regional mobile robotics software market size. As per estimates, North America, down the line of seven years will prove to be a strong participant in global mobile robotics software industry, with an estimated market coverage of 36% of the overall revenue by 2024.
The competitive profiling of mobile robotics software market is rather consolidated with leading giants covering almost 50% of the overall business space. Some of the prominent names include Omron Adept Technologies, Inc., Brain Corp., Universal Robots, and iRobot Corporation. These participants are readily adopting mergers & acquisitions as a major growth strategy to sustain the competition. One such recent instance is the collaboration of Fetch robotics and renowned Robotics technology integrator & distributor, ONExia. With this alliance, both the giants collectively are reported to bring software hardware solutions and logistics expertise in Mid Atlantic belt. Sum and substance, growing investments in mobile warehouse robotics by renowned biggies is certain to provide a significant impetus to mobile robotics software industry size in the coming years, which is projected to exceed a valuation of USD 3.5 billion by 2024.
Author Name : Satarupa De
Having garnered the reputation of being highly technology-driven, automotive robotics industry thrives on the product innovations brought forth by leading business players. A recent instance citing the validity of the aforementioned declaration is Rimac's collaboration with Dassault Systèmes. Elaborating further, the September of 2017 saw Rimac Automobili, a key manufacturer of high performance electric vehicles, battery systems, and drivetrains, join forces with Dassault Systèmes, a software firm based in France, to acquire the product lifecycle management digital platform from the latter to scale up its business growth. The latter's 3D experience platform referred as electro mobility accelerator will help the former increase its production capacity and connect with its employees across 11 countries. This deal is an apt example that underscores the developments prevalent in automotive robotics industry. The continued trend of similar alliances are likely to encourage entrants explore newer markets – the autonomous car sharing market , for instance.
U.S. Automotive Robotics Market Size, By Product, 2013 – 2024 (USD Million)

Pertaining to the stiff competition prevalent in the automotive robotics market space, companies have been devising a number of business tactics to consolidate their position. In September 2017, for example, Avnet Incorporation, a major participant across information technology and services industry, acquired Dragon innovation, a major producer of consumer electronics products. The acquisition is expected to assist both the firms add to their existing product line and expand their presence in automotive robotics market.
The month of September has also witnessed Technion – an Israeli tech institute, Korean Advanced Institute of Science and Technology, and Hyundai Motor Group forming an alliance to jointly complete the projects on artificial intelligence, autonomous driving, and cyber security. The collaboration has been touted to help the emerging automotive firms and startups in Israel to launch their products with Hyundai's vehicle product line. Vice-versa, the initiative is expected to aid Hyundai Motors establish itself as a leader in automotive robotics market, having experimented with next generation of automotive technologies equipped with artificial intelligence and robotics. The alliance signifies a paradigm shift toward the fourth industrial revolution and new vehicle technology, thereby pushing automotive robotics industry trends.
Get a Sample Copy of this Report@ https://www.gminsights.com/request-sample/detail/210
Robotics has established itself as a principal technology across major end-use domains in the developed geographies such as UK, Germany, and Italy. The surging requirement to achieve time consistency and a higher level of production has led to escalating demand for robotic body assemblies in the country. The deployment of these assemblies to improve the proficiency of the supply chain activities across the automotive sector is likely to impel UK automotive robotics industry expansion.
Germany has a powerful base of automakers, on the grounds of which it has been forecast that robotic applications would be deployed heavily across the automotive sector in the region. Subject to the extensive implementation of robotics, Germany automotive robotics industry is likely to gain a strong ground in the ensuing years. The expansion of this business space across Germany, UK, and Italy is certain to boost Europe automotive robotics market, which contributed nearly 25% toward the overall industry share in 2016.
As per estimates, the demand for robots from vehicle component suppliers increased by 53% in 2016, and that from automotive original equipment manufacturers rose by 32% in the same year. This goes to prove that automotive robotics industry has bright prospects across North America. In fact, research reports claim that North America automotive robotics market is expected to witness a lucrative growth over the coming years, having held a valuation of USD 1 billion in 2016.
A currently compiled market study claims that automotive robotics industry revenue is anticipated to surpass USD 5.96 billion by 2024. Considering the notable contributions made by the automotive giants such as Rockwell Automation, Omron Corporation, The Yaskawa Electric Corporation, and ABB Group, it is no longer a supposition that automotive robotics market will indeed experience a commendable expansion in the years ahead.
Author Name : Dhananjay Punekar
The escalating development of global automotive sector will generate lucrative growth avenues for automotive wheel market. Automobile producers have been adopting new manufacturing techniques to comply with emission control regulatory norms. Researchers have also been implementing novel product designs and improvised concepts to increase the fuel efficiency of vehicles, which in turn, will boost automotive wheel industry size. Rising spending capabilities of consumers across the globe is also fueling the product demand. Of late, consumers have been prioritizing comfort, durability, and product design, which will provide a significant impetus to global automotive wheel industry. In fact, estimates claim automotive wheel market to surpass USD 100 billion in terms of revenue by the end of the year 2024.
U.S. Automotive Wheel Market, By Material, 2017 & 2024 (USD Million)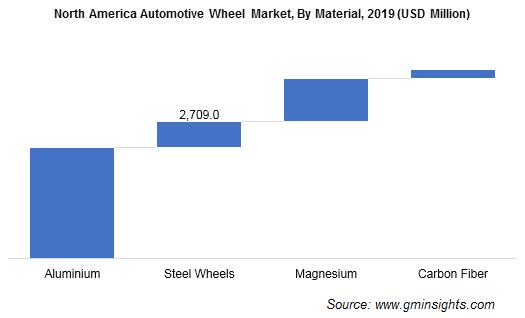 Major automotive manufacturers across North America and Europe are treading towards the production of lightweight vehicles, owing to the increasing concerns over environmental pollution. Aluminum is one of many materials that is used to construct these light weight vehicles, and has also been gaining popularity pertaining to the benefits it provides such as low weight, improved design, and excellent performance. The aluminum-based automotive wheel market will also experience commendable growth in the ensuing years pertaining to enhanced car handling and riding comfort, in tandem with the reduction of unsprung mass.
Surging innovations in product design has generated lucrative opportunities for various OEMs to penetrate automotive wheel market. In fact, OEMs dominated the automotive wheel market in 2017 and the segment is anticipated to retain its dominant position over 2018-2024 as well. The growth in the demand for OEMs in this industry can be appropriately credited to the extended durability, robust performance irrespective of weather, and reduced replacement rates.
Get a Sample Copy of this Report@ https://www.gminsights.com/request-sample/detail/1706
It is prudent to mention that OEMs have also benefitted from supportive manufacturing policies implemented by numerous Asian countries. The Asian zone, as a matter of fact, is anticipated to garner substantial returns in automotive wheel market, particularly on account of the expanding automotive industry in the region and the extensive automobile production across the economies of China and India. Indeed, APAC is known to have been a dominant regional contender and is expected to continue its leadership streak in the global automotive wheel market over 2018-2024. The regional growth can also be credited to the hefty demand for aluminum wheels in passenger cars in tandem with the requirement for aftermarket customization.
Rapid urbanization trends across the globe have changed the consumer standards of living, on account of which consumers across the globe have been giving preferences to passenger cars. Driven by rising passenger cars sales subject to increasing disposable income and high demand for mobility, automotive wheel industry size from passenger cars is likely to depict an incline in the years ahead. In 2018 alone, the European Automobile Manufacturers' Association (ACEA) observed registrations of about 12 million passenger cars, with a growth rate of 2.5% between January-September 2018. Even in China, in 2016, passenger car production was recorded at more than 24 million units. It is thus rather overt from these statistics that the commercialization scale of the global automotive wheel market will experience quite an upsurge from the worldwide demand and supply of passenger cars alone.
OEMs, in recent times, have been making strategic agreements with suppliers to expand the business space. Innovations in product design and manufacturing processes will create numerous growth opportunities for industry players in automotive wheel market. Mergers & acquisitions and joint ventures will continue to remain the key growth strategies that major companies will adopt, in order to stay ahead of their rivals in automotive wheel market.
Author Name : Saipriya Iyer
Driven by the rising focus on reducing air flight delays and improving airport operations and services, the aircraft ground handling system market growth is expected to accelerate at a remarkable pace ahead. In essence, aircraft ground handling systems effectively help airline carriers perform operations with minimum errors and further reduce unnecessary delays. The system handles several underwing operations such as cargo loading and unloading, passenger transportation, aircraft refueling & maintenance, facilities & supplies management and more.
U.S. Aircraft Ground Handling System Market, By Application, 2018 & 2025, (USD Million)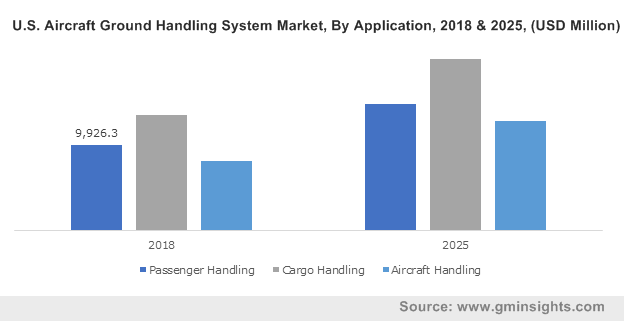 The growing reliance on air transportation will thus augment the aircraft ground handling system industry trends in the coming years. For instance, reports from IATA (International Air Transport Association) 2018 outlook estimate that the number of aviation passenger will double by 2035, while around 39,000 new aircraft, valued at $5.9 trillion, will be required in the same period, boosting the requirement of efficient ground handling systems in the years to come.
These systems have been forecast to find robust deployment in cargo handling applications in the years ahead, owing to increased air freight demand worldwide. According to IATA, air cargo represents over 35% of global trade by value. Moreover, the cargo business generates 9% of airline revenues on an average, from passenger and cargo airlines combined and represents over double the revenues from the first-class segment.
Technological advancements have also improved cargo handling operations in recent years. With the introduction of the smart baggage concept, airline operators and passengers can now track baggage location more easily. Furthermore, the integration of cloud computing technology in cargo handling systems has enabled ground operators to utilize insights to offer enhanced operational accuracy. Such advancements will certainly foster the aircraft ground handling systems market from cargo applications over the years to come. Indeed, estimates claim that cargo handling applications will dominate the aircraft ground handling system industry share over 2019-2025.
Get a Sample Copy of this Report @ https://www.gminsights.com/request-sample/detail/106
Frequently varying weather conditions and heavy snowfall in regions like Europe and North America are also known to significantly affect airport and aircraft operations. Indeed, frozen contaminants can generate rough and uneven surfaces on an aircraft, disrupting smooth air flow and greatly degrading the ability of the wing to generate lift. Large pieces of ice deposits also pose a threat, as it can be ingested in engines or hit propellers causing catastrophic failure or crash. Ice formation on runways also affects an aircraft's braking capability severely. In a bid to avoid such scenarios, most airports include de-icing trucks that spray chemical and fluids on airplane wings, tail and runways to remove as well as prevent the build-up of snow and ice for efficient airport operation and passenger safety.
Speaking on the geographical proliferation, North America is anticipated to emerge as a viable revenue ground for aircraft ground handling system market, primarily on account of the rising demand for airport infrastructure development. According to ACI-NA's (Airports Council International-North America) report, American airports currently require over $128 billion worth of investment in over the next five years for developing new infrastructure to improve travel experience for millions of passengers.
Additionally, air passenger traffic in the region is stimulating the renovation of existing airport infrastructure. For instance, in February 2019, it was announced that New York's John F. Kennedy International Airport's Terminal 8 will undergo a $344 million overhaul as part of a $13 billion redevelopment of the city's main international gateway. In February 2019, the government even gave the nod for a $1.1 billion investment for the remodeling of the Pittsburgh International Airport in order to ensure higher passenger traffic and quicker departures. Initiatives such as these would, in consequence, majorly impact the North America aircraft ground handling system market, which incidentally, is touted to lead the industry share over 2019-2025.
Aircraft ground handling systems command deployment across several services and operations spanning the aviation sector, such as baggage handling, passenger transportation, aircraft fueling and servicing, de-icing and more. Growing air traffic and the rising air travel proportion in the coming years is thus anticipated to foster market growth. Reports from Global Market Insights, Inc., further estimate that the aircraft ground handling systems market size will surpass $190 billion by 2025.
Author Name : Mateen Dalal
The world is witnessing a proliferation in seaborne trade, which is likely to stimulate marine diesel engines market over the years ahead. The cost of the fuel is a major factor that is influencing the trade profitability. Recent fluctuations in the fuel price which is currently on a higher end, is turning out to be favorable for the industry players. According to a report by UNCTAD (United Nations Conference on Trade and Development) in 2015, sea borne trade expanded over 4% from 2012 to 2014, subject to the significant increase in dry bulk trade. Alongside, easy availability of spare parts, trained repairing personal, and repair networks have also catalyzed the adoption of these diesel engines. As per a report by Global Market Insights, Inc., "Marine Diesel Engines Market is slated to exceed a revenue of USD 7 billion by the end of 2024, with a CAGR projection of 5% over 2016-2024."
Europe Marine Diesel Engines Market Size, By Application, 2016 & 2024 ($Mn)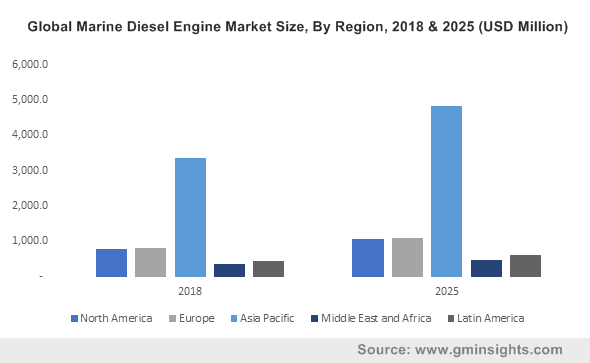 Increasing demand for economically viable engines that are best fit to fulfill reliability, durability, and fuel optimization is further complementing marine diesel engines market penetration. Over the past few years, the shipping industry has been largely emphasizing on developing advanced engines that improve the fuel efficiency and reduce carbon dioxide emission. Marine diesel engines operate at an average efficiency of 40% to 50% depending upon the age of the engine, deadweight tonnage, and vessel size.  Phasing out of traditional steam engines from various utility sectors is further providing a significant push to marine diesel engines market.
Get a Sample Copy of this Report @ https://www.gminsights.com/request-sample/detail/158
Regionally, China has established strong grounds enhancing the market dynamics. The country, counted as one of the most developing nations across the world, is significantly increasing its investment in strengthening the naval force. In 2014, Chinese Government had issued a financial stimulus package that facilitated the money stock. The escalating growth of the regional market can be majorly credited to the rigorous number of business activities that have significantly uplifted the marine diesel engines market outlook. In 2015, for instance, MAN Diesel & Turbo had signed a 10-year agreement with CISC and CSSC to manufacture low speed diesel engines in China. Statistics depict that China accounted for one-fourth of the APAC marine diesel engines market in 2016. Such examples of promising initiatives by the government along with growing import of marine diesel engines in the country which almost accounted for USD 1.05 billion in 2015, is projecting a lucrative growth prospect for China marine diesel engines market in the years ahead. Germany, on the other hand, represented 20% of the Europe market in 2016. With increasing government spending on military and specialized ships, Germany is aiming to amplify its revenue share toward the regional marine diesel engines market in the coming years.
Considering the technical designing, the overall marine diesel engines industry is predominantly segmented into low speed, medium speed, and high-speed systems. High speed systems accounted for more than 20% of the global share in 2016. With the significant improvement in the living standards of the consumers, the demand for cruise and ferries is accelerating, which in turn is driving this high-speed marine diesel engines market. Medium speed diesel engines which are mainly deployed in cargo ships, passenger ships, fast ferries are also witnessing a heavy adoption. This category based diesel engines market is expected to hit a revenue of more than USD 3 billion by the end of 2024. Low speed marine diesel engines market will also grow substantially at an annual rate of 4% over the coming seven years.
Merchant vessels are one of the prominent application domains that is prominently contributing toward the global industry size. Growing inclination toward LNG along with a significant rise in the sea borne trade have resulted in an increasing deployment of marine diesel engines in merchant vessels, thereby contributing to the industry share. As per estimates, marine diesel engines market from merchant vessels application is expected to chart a profitable road map at a CAGR of 5% over 2016-2024.
Despite the fact that the marine diesel engines are environmentally not so viable owing to the harmful carbon emissions from these, increasing research investments by the market players in the development of fuel efficient engines is likely to leave a positive impact on the marine diesel engines industry expansion in the years ahead. Some of the prominent companies engaged in marine diesel engines market include Rolls Royce, Caterpillar Inc., Cummins Engines, GM Powertrain and Wartsila Corporation.
Author Name : Satarupa De