Automotive & Transportation
The robustly increasing demand for automobiles across the globe has been favorably influencing automotive collision repair market, owing to the surging need to repair vehicles after accidents and other mishaps, that lead to severe damage on the vehicle body. Taking into account the escalating requirement of vehicle repair and maintenance, most of the OEM's have been making investments in paint shops and vehicle body centers, not to mention, even standard collision certification programs for local body shops. For instance, the Germany based automotive behemoth Mercedes Benz has recently opened a vehicle body and paint center in India in order to improve its after-sales outreach.
U.S. Automotive Collision Repair Market, By End Use, 2017 & 2024, (USD Billion)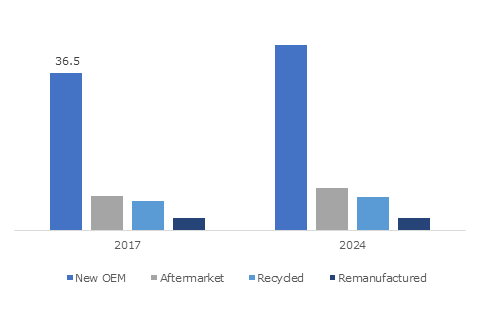 Facilities such as the aforementioned are technically specialized for maintenance and accidental repairs, which further help retain consumer faith in brands. The unprecedented involvement of automotive giants in the development of service offerings to expand their consumer pool is thus likely to augment automotive collision repair industry share.
In order to provide efficient repairing services to customers, automakers have implemented standardized certification programs for independent repair shops and dealerships. For instance, General Motors, one of the most prominent automotive behemoths, has recently announced that it intends to introduce a collision certification program for its dealerships and independent repair shops by 2018. This move was brought about by a plethora of factors, one of them being the surging use of lightweight materials for vehicles incorporated with electronic safety equipment leading to an increasing need to calibrate the vehicle body after accidents. Thus, in order to provide effective repair, GM has introduced a scanning tool to identify the defects in the vehicle's safety systems and powertrain.
Get a Sample Copy of this Report @ https://www.gminsights.com/request-sample/detail/108
Eventually, initiatives similar to those of GM are expected to increase automotive collision repair market share from the aftermarket. According to estimates in fact, automotive collision repair industry size from aftermarket is predicted to register the a commendable CAGR among any of the end-users of the market.
Considering the increasing number of independent repair shops, automotive collision repair market behemoths are focusing on manufacturing innovative products to generate more revenue. Recently, in the 2017 SEMA show, the automotive aftermarket division of 3M launched a rather unique vehicle painting process – a spray cup system that provides improved efficiency, advanced performance, and cleanliness while reworking. With this product, 3M further validates the fact that the rising innovation in paints and coatings technology is likely to boost automotive collision repair industry trends in the years ahead. For the record, automotive collision repair industry size from paints and coatings registered a CAGR of 2.5% over 2018-2024.
Speaking along similar lines, other companies partaking in automotive collision repair industry share such as Honeywell International Inc., Faurecia, Bosch, Continental Corporation, ZF Friedrichshafen AG, Denso Corporation, and Federal-Mogul Holdings Corporation have also been bringing about appreciative changes in their product range. In the long run, the combined efforts of these giants is likely to bring about a major change in the dynamics of automotive collision repair industry.
It is prudent to note than the growing trends of digitization and automation have also brought about a transformation in automotive collision repair market outlook. In order to sustain their presence across this business sphere, independent vehicle reworks have been inking partnerships with digital marketing services. For instance, a collision repair and auto body paint provider, City Auto Body has recently declared a partnership with a small business marketing and search engine optimization firm, BizIQ to strengthen its reputation across real-time and digital channels.
In order to adhere to the demands of customization and simplicity required in vehicle refurbishment, automotive collision repair market giants have been increasingly adopting high-end technological advancements. Recently, one of the leading giants in paints and coatings industry, AkzoNobel, has developed a real-time digital tool for repairing automotive bodies, which can save considerable time and money. The increasing number of innovations in repairing facilities is thus likely to stimulate automotive collision repair industry size, which will generate a revenue of more than USD 275 billion by the end of 2024.
Author Name : Saipriya Iyer
Rapid technological advancements along with supportive government regulations have significantly stimulated automotive filters market growth over the recent years. In addition to this, accumulation of dirt and debris in vehicles tend to consume more amount of fuel which will drive the necessity of filter installations, in turn favoring automotive filter industry trends. According to Global Market Insights, Inc., "Global automotive filters market share is expected to register a CAGR of 8.4% over the period of 2016-2023". Rising concern over pollution control of vehicles will further drive the automotive filter market revenue over the coming timeframe.With the expansion of the automotive industry, there has been a rapid surge in the environmental pollution. Therefore, the government worldwide is actively encouraging the use of automotive filters to curb the environmental hazards from the vehicles. Moreover, these filters prevent the vehicles from drivability issues by ensuring proper air flow to the engine, maintaining the air-fuel mixture, and facilitating the emission control systems. Huge adoption of the filters by the automobile manufacturers to ensure prolonged engine life of the vehicles will further enhance automotive filters industry growth over the coming years.
China Automotive Filters Market size, by product, 2012-2023 (USD Million)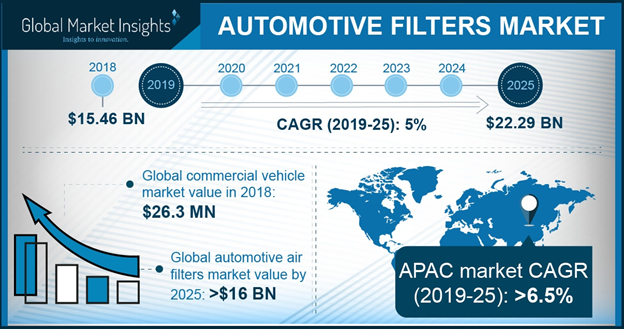 Automotive filters are being adopted heavily across the various automobile segments such as passenger cars, two-wheelers, and light and heavy commercial vehicles. In 2015, passenger cars dominated the automotive filters application landscape by accounting for over 50% of the overall market share. As per the study, automotive filters market size in passenger cars application is predicted to register a CAGR of 8.9% over the coming seven years. Expanding passenger cars industry due to high disposable income of the consumers along with rising health concerns due to automotive fuel emissions will boost the automotive filters industry size across passenger cars.
Get a Sample Copy of this Report:@ https://www.gminsights.com/request-sample/detail/497

Two-wheeler applications are another lucrative sector influencing the global automotive filters industry share. Heavy demand for two-wheelers, particularly from emerging countries such as India, China, etc. along with aftermarket for these vehicles in BRICS nations will augment the automotive filters market demand in two-wheelers. Automotive filters application in two-wheelers is anticipated to register a CAGR of 8.5% over 2016-2023.
Automotive filters product mainly comprises air, fuel, and oil filters. Automotive air filters market dominated the automotive filters product landscape and is forecast to exhibit an annual growth rate of 7.8% over the coming six years. Fuel filters market will witness a CAGR of 10.5% over 2016 to 2023, driven by its rising demand across two-wheeler and passenger cars applications. Oil filters market are poised to witness significant growth trends over the coming years, owing to its heavy adoption to ensure prolonged vehicle life.
Automotive filters market will also attain noticeable surge, driven by the revenue generated from end-use segments such as aftermarket and OEMs. Aftermarket automotive filters industry was worth USD 3.71 billion in 2015 and is predicted to contribute towards 70% of the global share by 2023. Growing trend of replacing the outdated filters will support the industry growth over the coming years.
Considering the global trends, Asia Pacific automotive filter market is projected to record a CAGR of 9% over the period of 2016-2023, having had 45% share in 2015. The growth can be credited to the rapid expansion of the automotive industry, mainly across India, China, and Japan.
Europe automotive filters industry share is predicted to surpass USD 2 billion by 2023, primarily driven by stringent government regulations and high demand for OEM products across the European region.
Over the coming years, key growth strategies adopted by the market participants will revolve around mergers & acquisitions and strategic alliances to strengthen their position in the automotive filters industry. Key industry players include Cummins, Mann+Hummel, Mahle GmbH, Denso, Lydall, Inc., and Ahlstrom. Few other prominent industry players include Parker Hannifin Corporation, Toyota Boshoku Corporation, and K&N Engineering.
Author Name : Sunil Hebbalkar
Increasing technology penetration in the automobile industry will dynamically impact Automotive Radar Market size over the coming years. Rising concerns over passenger and vehicle safety will build huge growth opportunities for the automotive radar industry. As per Association for Safety International Road Travel (ASIRT), on an annual basis approximately 1.3 million people die as a result of road accidents. To reduce these fatal accidents, cars are featured with collision prevention systems, which in turn will fuel global industry growth trends. According to Global Market Insights, Inc., "Automotive radar market size is anticipated to register an annual growth rate of 18.7% over the period of 2016-2024." As per the Insurance Institute for Highway Safety, one of the three fatal accidents can be dodged if collision avoidance systems are incorporated into the vehicles. This will in turn generate heavy surge in the automotive radar business space over the coming years.
Favorable government norms towards preventing fatal accidents will play a vital role in influencing the automotive radar industry trends. For example, the U.S. National Highway Traffic Safety Administration announced the deployment of Automatic Emergency Braking Systems (AEBS) in cars with model year 2018, to prevent road crashes. Moreover, shifting consumer preferences towards safer and technically sound vehicles has led the manufacturers to launch automobiles featured with safety equipment. In addition to this, the growing trend of IOT, which is poised to revolutionize the automotive space will further fuel the technology deployment in vehicles. Automotive electronics market will be another business space gaining heavy momentum over the coming years.
Germany Automotive Radar Market size, by application, 2013-2024 (USD Million)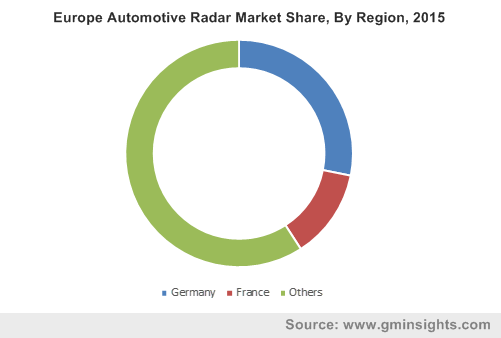 Automotive radar finds applications across a broad spectrum of automobile systems such as Adaptive Cruise Control (ACC), Lane Departure Warning System (LDWS), Blind Spot Detection (BSD), Forward Collision Warning System (FCWS), and Parking Assistance (PA) system. Automotive radar market size in adaptive cruise control (ACC) application is projected to grow at a CAGR of 17.7% over the forecast period, driven by its ability to monitor the specified gap between vehicles.
Get a Sample Copy of this Report:@ https://www.gminsights.com/request-sample/detail/768

Blind spot detection (BSD) is another lucrative application area of automotive radar market. Automotive radar industry share in BSD industry is anticipated to grow at a rate of 19.1% over the coming seven years, owing to the collision sensing capability of this system, in case some other vehicle enters the blind spot. Automotive radar market size is also witnessing a favorable growth in forward collision warning system (FCWS), owing to the rising norms pertaining to the vehicle safety.
Asia Pacific automotive radar industry will attain significant growth over the estimated period, driven by the rapid expansion of the automotive industry across this region. China is likely to be the major revenue pocket for APAC, having accounted for 45% of the overall revenue in 2015. Europe market share is anticipated to record a CAGR of 17.5% over the forecast timeframe.
The automotive radar industry will witness innovative technological developments and strategic collaborations & partnerships over the coming years. Market players will focus towards improving their product and solution portfolios with respect to the cost features, to sustain the competitive business scenario. Key automotive radar industry participants include Valeo, ZF TRW Automotive, Hella, Fujitsu, Delphi Automotive LLP, Texas Instruments, Robert Bosch GmbH.
Author Name : Ojaswita Kutepatil
Littelfuse's yesteryear acquisition of TE Connectivity's circuit protection business is an apt instance of automotive relay marketplace depicting signs of consolidation in the competitive landscape. Elaborating further on the aforementioned deal, the Chicago based automotive electronics manufacturer has reportedly closed a deal with TE Connectivity in an all cash transaction of USD 350 million in 2016, in a bid to strengthen its position in the automotive relay business space. TE's circuit protection business witnesses a strong portfolio in polymer based resettable circuit protection devices, which in consequence of the acquisition has come under the veil of the Littelfuse. If reports are to be believed, this deal has allowed Littelfuse to reinforce its core circuit protection business both in existing as well as emerging markets.
U.S. Automotive Relay Market Size, By Application, 2016 & 2024 (USD Million)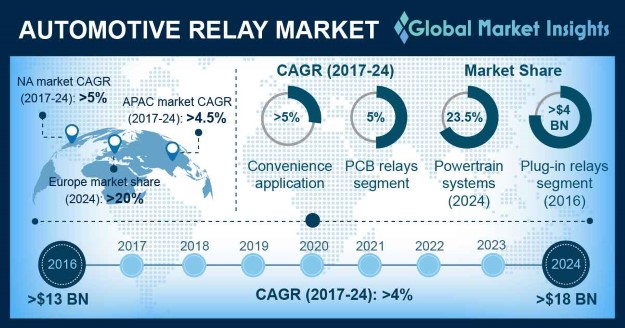 The profitability quotient of automotive relay industry is claimed to be heavily influenced by the changing trend of automotive electronics business space, the former being an integral vertical of the latter. Statistics affirming the declaration- global automotive electronics industry in the year 2016, was valued more than USD 206 billion, and is slated to exceed a commercialization of USD 395 billion by 2024. The humongous figure, itself, is proof enough to document that the growth prospect of automotive relay market in the coming years is positively high.
For the uninitiated, relays are mainly deployed in safety & security systems, convenience systems, powertrains, and body electronics and ADAS systems to enhance their efficiency. Convenience systems, in fact, are specifically expected to mark a footprint in automotive relay industry over the coming seven years. As per estimates, in 2016, convenience systems procured almost 34% of the overall automotive relay market in terms of shipments.  Driven by the surging demand for space saving, large switching capacity, electronic power steering, high level of compatibility, sunroof control, and infotainment, it has been forecast that convenience system would continue to be a major revenue pocket for automotive relay industry in the coming years.
Get a Sample Copy of this Report:@ https://www.gminsights.com/request-sample/detail/619
Speaking of the application portfolio, powertrain system is profoundly one of the prominent business spheres where automotive relay industry penetration has been incredible. Today, these systems have been increasingly deploying plug-in-relays, subject to some of its excellent beneficiary features such as susceptibility to voltage fluctuations, elevated temperatures, and to extreme vibratory conditions. Estimates claim that powertrain systems application would procure more than 23% of the overall automotive relay market by 2024.
With the emergence of smart tech, of late, it has been observed that automotive giants are increasingly concentrating on forging strong alliances to bring innovations in their vehicle model with regards to lightweight materials, power trains, active safety & assisted driving, and connectivity. Citing an instance, Magna International has recently teamed up with China based Huayu Automotive Systems, in a bid to strengthen its footprint in China market. Reportedly, the deal comes of the heels of their planning to produce electric drive powertrain systems for a renowned German automaker. Needless to say, with increasing automotive players' focus on integrating powertrain technology in the designing of the vehicle, automotive relay market from this particular vertical is sure to gain remarkable proceeds in the ensuing years.
The superfluity of prominent automotive market giants in APAC belt is expected to position the region as one of the most lucrative growth avenues for automotive relay market. This is on account of the fact, that these automakers have been increasingly focusing on bringing tailor made features in the vehicle designs that has substantially led to increased product demand. In addition, favorable initiatives undertaken by the regional government with regards to emission control and product improvement would also complement the business proliferation. Estimates claim, with China at the growth front, APAC automotive relay industry is slated to witness a CAGR 4.5% over 2017-2024.
Some of the prominent biggies involved in automotive relay industry include American Zettler Inc, Denso Corporation, ABB Ltd., Panasonic, NEC Corporation, Nippon Aleph corporation, and Eaton Corporation. Leading companies are focusing on honing their distribution channel to ensure a stronger presence in the strategic landscape. For instance, Microsemi Corporation has introduced a new distribution sales channel, Microsemi Direct, to provide highest level of sales support to North American customers. Moreover, M&A, strategic partnership, and product portfolio expansion will continue to be the focus areas of automotive relay market investors over the forthcoming years.
Author Name : Satarupa De
Growing demand for operationally consistent and fuel efficient ships is expected to increase global marine propulsion engine market size over the coming years. Increasing use of renewable sources of energy such as wind energy, solar energy etc., for enhancing efficiency and reducing carbon emissions is projected to promote industry growth in near future. According to Global Market Insights, Inc., "Marine Propulsion Engine market size worth USD 9 billion in 2015, is anticipated to reach USD 13.3 billion by 2024, registering a CAGR of 4.3% over 2016-2024." High emphasis on improving diesel engine capacity of the ships with large cargo carrying capability is predicted to boost the industry trends over the next few years. Today, shipping industry is largely focusing on developing new type of electric motors which will improve fuel efficiency and reduce environmental pollution.
Europe Marine Propulsion Engine Market size, by product, 2013-2024 (USD Million)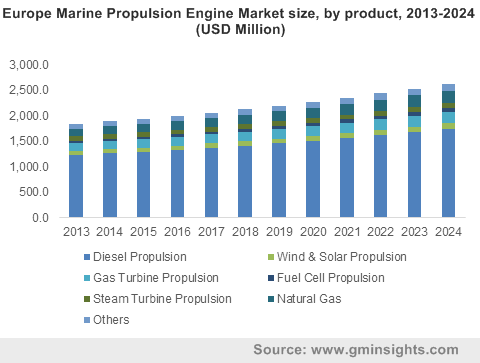 Major marine propulsion engine products include natural gas, diesel, fuel cell, steam turbine, wind & solar, and gas turbine engines. Wind & solar marine propulsion engine market, which contributed over 3.5 % of the overall revenue in 2015, is expected to grow at a rate of 5.9% over 2016-2024. The growth can be credited to favorable government policies supporting the product applications in shipping industry due to its eco-friendly nature. Diesel propulsion engine market price worth USD 6 billion in 2015, is expected to register a CAGR of 4.2% over the coming eight years.
The growth can be attributed to rapid advancements in various technologies such as fuel injection technology, firing pressures, brake mean effective pressure, and turbo charging efficiency. Gas turbine propulsion market share worth USD 900 million in 2015, is anticipated to witness a high surge over 2016-2024 due to accelerated sprint operation mode provided by these turbines. They also find extensive applications in naval and defense sectors.  Fuel cell propulsion market is predicted to witness a substantial growth over the coming years as the product offers high growth potential for ship impulsion and can boost the performance of low-powered auxiliary impulsion machinery. Furthermore, high demand for electric transmission is predicted to increase the use of fuel cells over the next few years.
Get a Sample Copy of this Report:@ https://www.gminsights.com/request-sample/detail/791
Asia Pacific marine propulsion market size worth USD 4.5 billion in 2015, is predicted to record substantial gains of 4.8% over 2016-2024 owing to heavy investments by private players as well as the government.  South Korea and China are predicted to make significant contributions to the regional share over the coming years.
North America market is expected to witness a significant growth over the coming eight years owing to the large use of LNG as a marine or ship fuel. U.S. is predicted to be a key revenue contributor of the region.
Rapid innovation in the market is expected to lead to the development of more strong and energy efficient products. Leading market players are constantly spending on R& D activities to increase their product portfolio and enhance ship capacity & handling needs. They will try to enhance their reputation and brand visibility by developing eco-friendly, sustainable, cost-effective, efficient, and viable solutions. Key industry participants include Yamaha Motor Company, Rolls-Royce, Exxon Mobil Corporation, Wärtsilä, Cummins Corporation, Shell Global, Idemitsu Kosan Company, MAN Diesel & Turbo, Mitsubishi Motors, Volvo Penta Company, Hydraulic Marine Systems Inc, Caterpillar Inc., Sinopec Company, and Hydrosta BV Company.
Author Name : Dhananjay Punekar
The robust proliferation of the Internet of things, big data, analytics, and mobile technology has positively impacted the growth of ITS market since the last half a decade or so. The automotive industry in particular, which is expanding at an unprecedented pace, has come up to be a technologically revolutionized industry sphere. With the growing number of vehicles, there has been an immense demand for road safety and traffic management to enhance user travel experience. This rising demand to improve transport efficiency has undeniably influenced the expansion of the global
intelligent transport system market
.
Asia Pacific Intelligent Transportation System (ITS) Market Revenue, By Country, 2018 & 2025 (USD Billion)

Traffic management has been a major challenge due to the growing number of vehicles and multimodal transport. The demand for safety, operational performance and transport efficiency is thus majorly driving the demand for ITS market. Moreover, rising environmental concerns as a result of pollutant emission and depleting fuel resources is also fueling the growth of ITS market to enable congestion free transport.
The system improves the transport efficiency by offering features like traffic prediction, traveler information, advisory services, analytics and decision support, ticketing and fare collection, roadside sensors, global positioning systems, and radio frequency tags. ITS services enable vehicles to share positions and data with each other as well as with the network and road infrastructures. On these grounds, ITS is being adopted worldwide to build improved transport strategies, thereby marching towards 'smart transportation'.
Get a Sample Copy of this Report @ https://www.gminsights.com/request-sample/detail/178
Developed economies North America and Europe have apparently made it compulsory for the vehicles to use ESC (Electronic Stability Control) in public as well as private transport. Indeed, the extensive traffic movement on roadways has led to a spurt in the demand for innovative traffic management methodologies.
Another major factor propelling the adoption of ITS is the extensive rise in the number of road accidents globally. As per the 2017 Road Safety Annual Report of the International Transport Forum, road fatalities in the U.S. surged by 6.3% between 2010-2016, that has been a matter of concern for the regional government agencies. The U.S. DOT (Department of Transport) as a matter of fact, has started a Federal ITS program that supports the manufacturing of intelligent vehicles and endorses the implementation of intelligent infrastructure. The growing adoption of ITS and the presence of favorable government norms and promotional activities will thus drive the growth of the U.S. ITS market over the coming years.
Speaking of the regional terrain though, it comes as no surprise that the Asia Pacific is one of the leading markets for the expansion of the ITS industry, given the widespread scope of the automotive sector in the region. According to Global Market Insights, Inc., APAC is anticipated to account for the second largest share of the overall ITS market by 2025, driven by the fact that the pivotal regional economies such as India, Japan, and China have been making hefty investments in megacities and have also been modernizing their transportation networks for facilitating enhanced trade exchanges.
The APAC is also remnant of major government initiatives that are being undertaken for to combat the rising air pollution levels, which would further add momentum to the growth of the APAC ITS market.
The robust implementation of the intelligent transport system in the automotive as well as other transportation sectors such as airways, railways, and maritime, will positively impact the commercialization graph of the overall ITS industry. The system is not just a software solution, but is indeed a much wider concept. The data collected by the deployment of ITS can be a major asset for the transportation industry, enabling manufacturers to get a detailed insight about their vehicle performance in various environments. Armed with a vision that targets 'smart transport', ITS market is all set to experience a remarkable rise in the coming years.
Author Name :Saipriya Iyer