Automotive & Transportation
Automotive human-machine interface (HMI) market has lately emerged as one of the massive revenue generating spheres in the automotive sector with the shifting trends toward the adoption of smart vehicles. Traditionally, pertaining to the lack of advanced infotainment and digitalized internal car design, drivers had been unable to operate the vehicle efficiently. However, with the advent of new technology trends, the overall design structure of automobiles has changed considerably, paving the way for integrated human-machine interface in vehicles. The development of connected cars for decreasing the chances of accidents and enhancing the operability of vehicles has also helped propel automotive human machine interface industry share.
Europe Automotive HMI Market Size, By Product, 2017 & 2024 (USD Million)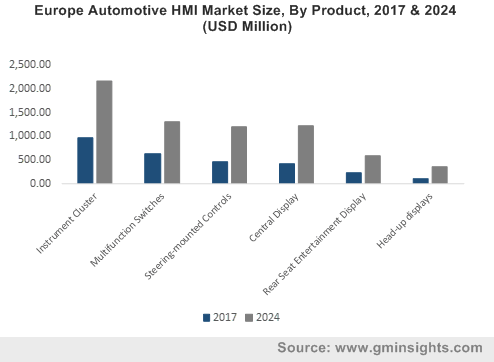 One of the most pivotal driving forces of automotive human-machine interface market is the emergence of smartphones, artificial intelligence, IoT (Internet of Things), and machine learning technologies that have substantially encouraged automakers to carry out product development activities for transforming the existing infotainment system of the vehicle. Validating the aforementioned fact, recently, the American automotive electronics supplier Visteon Corporation developed a next-generation cockpit controller, SmartCore that has been deployed in Daimler's upcoming Mercedes-Benz A-Class vehicles. These will be the world's first vehicles integrated with intelligent cockpit controllers with multiple central processing units. The deployment of such features in the interior design enhances a vehicle's infotainment display and instrument cluster. Moreover, it also helps drivers personalize their experience by simply operating touchscreen and touchpad on the steering wheel.
Get a Sample Copy of this Report:@ https://www.gminsights.com/request-sample/detail/2918
Increasing awareness among the regulators and regional governments about the surging need for vehicle security and safety has been driving the requirement of the instrument clusters and digital infotainment systems. The policymakers claim that the implementation of a human-machine interface will help the driver collect accurate information about the surrounding environment. In order to comply with the stringent regulatory compliances, most of the automakers, technology companies, manufacturers, and designers have been striving to innovate advanced solutions for passenger vehicles and connected cars. Indeed, passenger vehicles are expected to account for nearly 80% share of automotive human machine interface market by the end of 2024.
Speaking beyond the conventional vehicular systems, the increasing popularity of autonomous vehicles will have a notable influence on the automotive HMI market trends over the years ahead. Focusing on the shifting trends toward the growing adoption of autonomous vehicles across the globe, companies involved in the development of human-machine interfaces have been developing innovative software packages. For instance, a few days before, leading supplier of advanced semiconductor solutions, Renesas Electronics Corporation has introduced a new microprocessor unit to accelerate and simplify the development of modernized HMI and camera-based applications. The newly developed software interface can be used for operating video surveillance systems, fingerprint access control, information communication technology applications that have been deployed in automobiles. The growing popularity of HMI for managing vehicular systems in a highly sophisticated way is poised to stimulate the future product demand.
As of now, motorcycle manufacturers have also been integrating HMI technology in the vehicle for improving performance, driving experience, and safety. Few weeks before, the British electric motorbike manufacturer had launched a fully electric motorcycle with human-machine interface. The evolution of e-bikes for promoting high performance and energy security is poised to have a considerable impact on the demand for HMI. In addition, considering the future energy benefits and depleting fossil fuel resources, most of the regional governments have been implementing a supportive regulatory framework to enhance the deployment of e-vehicles that also will fuel the product demand.
The surging use of digital technology in vehicles for achieving better performance and sustainability will transform the future of the automotive industry. The extensive utilization of software for enabling numerous operational packages comprising functional safety, cybersecurity, and infotainment system will also stimulate industry trends. For the record, by the of 2024, automotive human machine interface (HMI) market will surpass a revenue collection of USD 27 billion.
Author Name : Sunil Hebbalkar
Owing to increasing preference toward off-roading events and the gradual uptick in recreational spending, the North America youth ATV & UTV market has garnered unprecedented traction in the past few years. Several private agencies, clubs, and organizations have been organizing recreation activities that consist of off-roading events across backcountry roads, trails and cross-country terrains. These events and competitions have led attracted youngsters toward adventure sports and motorsports which has, in turn, fueled the growth prospects of the North America youth ATV & UTV industry.
U.S. Youth ATV & UTV Market, By Product, 2017 & 2024, (Units)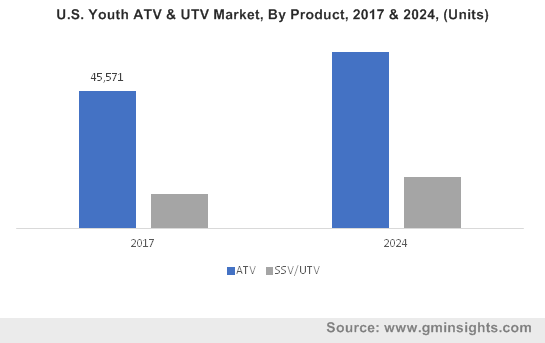 Even though the need to utilize off-road vehicles arose out of the challenges to tackle difficult geographical terrain and climatic conditions across various nations, the popularity of ATVs and UTVs has been on the rise in the recent times. These off-road vehicles have emerged as the most preferred vehicles for touring through national parks, beaches, and for racing purposes. North American nations like the U.S. and Canada have humongous national reserves and state parks where off-beat routes and trails have been built by the government.
Various state governments in the U.S. have been spending millions to construct and maintain off-road routes and trails in national parks – a factor that has invariably benefited the North America youth ATV & UTV industry. For instance, the policy board of the State Department of Natural Resources in Wisconsin approved a master plan in 2017 to add 200 miles of routes for ATVs in the Northern Highland-American Legion State Forest. Apart from commissioning new trails, the board has completed recreational opportunities analysis of a large parcel of natural area in northern Wisconsin and has further identified potential sites for ATV routes.
Needless to mention, the initiatives being undertaken by government authorities along with increasing budgetary allocations to build new off-road trails would be helpful for recreational enthusiasts and boost adventure sports in the region. That being said, numerous national parks in the states such as Wisconsin in the U.S. have emerged as major geographical terrains that assist North America youth ATV & UTV market participants to expand their commercialization scale in the recent times.
Get a Sample Copy of this Report:@ https://www.gminsights.com/request-sample/detail/2920
Subsequently, the companies operating in the North America youth ATV and UTV market have been proactive in incorporating advanced technologies in these vehicles, catering to the evolving requirements of enthusiasts participating in off-roading competitions. In this regard, it would be prudent to take note of the only single-seat youth off-road vehicle introduced last year by one of the chief industry magnates, Polaris.
Reportedly, ACE 150 EFI of Polaris is the only 150cc youth model with a protective cab frame and other safety features such as parking brake, whip flag, side nets, and daytime LED running lights. Such highly advanced ATVs armed with technologically superior safety features are being increasingly introduced by numerous companies in the U.S. over the recent years. Apart from launching high-grade off-road vehicles, the prominent North America youth ATV and UTV industry players have focused on enhancing the ergonomic design of these vehicles that undoubtedly allow easier handling for youth riders and enables seamless maneuverability over obstacles.
Although the profitability quotient of the North America youth ATV and UTV market appears highly promising, there are a few factors that might prove detrimental to the rapid product penetration in the years ahead. Rising number of accidents that are predominantly attributed to the ignorance of appropriate safety gear along with rash driving by youth could cast an adverse impact on the overall market share. According to an annual report published by the United States Consumer Product Safety Commission (CPSC), a total of 337 ATV-related fatalities were recorded across the nation in 2016. However, regulatory authorities including CPSC and other government bodies in various states of the U.S. and Canada are conducting various static and dynamic ATV-testing procedures to drastically improve the handling characteristics and identify methods to enhance the performance of these vehicles.
Owing to the launch of high-quality ATVs along with encouraging initiatives being rolled out by various governments across the continent, the North America youth ATV and UTV market is slated to register a commendable CAGR of more than 6.5 percent over the timespan of 2018 to 2024. In addition to this, the new testing guidelines and stringent regulatory overview would lead to the incorporation of more safety features in the forthcoming off-road vehicles, boosting the growth potential of the North America youth ATV and UTV industry.
Author Name : Saif Ali Bepari
The global automotive LiDAR market – a rapidly growing vertical of the automotive sector, has been strongly consolidating its stance in its parent industry since the last half a decade or so. This business space, valued at over $150 million in 2017, has been depicting commendable growth particularly on account of the fact that sensor technology has become the primary methodology for many automatic and semi-automatic vehicles to sense their surroundings. Back in the day, LiDAR was majorly used in aerospace, military, meteorological and robotics sectors, however, with the advent of artificial intelligence which has made assisted driving a reality, the commercialization scope of automotive LiDAR market has been on an incline.
U.S. Automotive LiDAR Market Share, By Vehicle, 2017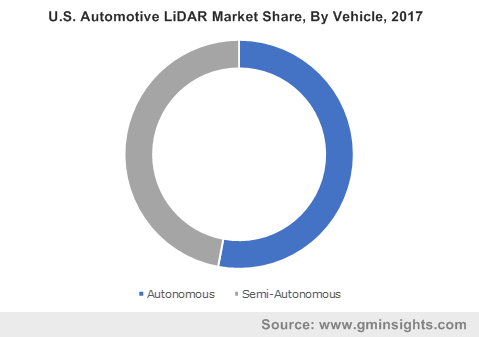 The expansion of the global automotive market is expected to further propel automotive LiDAR market growth as automakers across the world continue to invest in research and development activities to develop and incorporate semi-autonomous and autonomous vehicles in their respective product portfolios.
Unveiling automotive LiDAR market trends in terms of the vehicle landscape:
Autonomous Vehicles
Autonomous vehicles – which are capable of operating themselves without any help or interaction with humans, are rapidly becoming a reality. Unprecedented advancements are being witnessed herein – courtesy, renowned technology companies and automobile manufacturers racing to capitalize on the lucrative opportunities offered by autonomous technology. According to a 2018 report by Bloomberg, Waymo – a self-driving car initiative by Alphabet Inc., Google's parent company, is leading this race , leaving its nearest competitors in the lurch. The firm has already signed a deal with Chrysler to purchase thousands of their Pacifica minivans which would be retrofitted with Waymo's LiDAR sensors.
Automotive LiDAR market has also tastes success on account of the fact that other players such as General Motors Co. have been making inroads in this vertical. GM has been intending to deploy a ride-hailing service using an autonomous version of its Chevrolet Bolt – a version that won't have a steering wheel or pedals – by the end of 2019. To that end, GM has also received a $2.25 billion support form SoftBank Vision Fund. Driven by the significant efforts undertaken by automakers such as Alphabet and GM, the overall automotive LiDAR market size from autonomous vehicles is projected to grow at a CAGR of 35% over 2018-2024.
Get a Sample Copy of this Report:@ https://www.gminsights.com/request-sample/detail/2911
Semi-Autonomous Vehicles
Unlike the autonomous vehicle segment, which is currently in its infancy, semi-automated vehicles are relatively well established. Indeed, according  industry with the segment holding over 40% of stake in the automotive LiDAR market according to a 2017 estimate. A plethora of renowned automobile manufacturers have already incorporated driver-assist features in several of their vehicles. In case of these vehicles, LiDAR are deployed to enhance a driver's capabilities by constantly assisting in the vehicle operating activities. Vehicles that incorporate a LiDAR-based driver assist system also provide collision detection and avoidance capabilities. In addition, the integration of LiDAR helps drivers merge into the traffic and change or keep the vehicle in a lane. These features have become so commonplace that many vehicle manufacturers now provide it as an add-on option on their vehicles. Automakers are even developing their own software suits to allow drivers to interact with the driver-assist system.
Powered by the rising efforts undertaken by prominent automobile manufactures to exploit LiDAR in partially connected vehicles, semi-autonomous vehicles held close to 40% of the automotive LiDAR market share in 2017 and is expected to expand remarkably in the years to come.
It is prudent to mention that autonomous LiDAR market will continue to witness constant advancements in the sensor technologies as core companies work towards developing sharper and more robust sensors. Major vehicle manufacturers are even acquiring and incorporating newer LiDAR sensors to enhance the capabilities of their respective self-driving vehicles. According to a 2018 report, Volvo and Toyota both have already signed partnership deals with a LiDAR startup named Luminar to purchase their LiDAR units to help their cars "see" better.
Attributing to such advancements, the revenue graph of autonomous LiDAR market will continue to depict an exponential growth. The demand for LiDAR in myriad vehicles is projected to turn the global automotive LiDAR market into a $3-billion-dollar industry by 2024, claims a report by Global Market Insights, Inc.
Author Name : Akshay Kedari
Global automotive lighting market outlook has observed a plethora of changes in the last few years, driven by the shifting preference toward advanced efficient lighting as opposed to traditional lighting. Designed with highly innovative technologies, excellent aesthetics, and quality, automotive lighting systems, over the last few years, have undergone a sea of change pertaining to the advent of optics and laser technologies. In order to tap the popularity of advanced technologies, most of the automotive lighting market players are looking forward to focusing on product design alternations, acquisitions, and facility expansions. Driven by their efforts and the upcoming technology trends in electronic lighting, automotive lighting industry share is anticipated to observe commendable growth ahead.
China Automotive Lighting Market, By Technology, 2017 & 2024 (USD Million)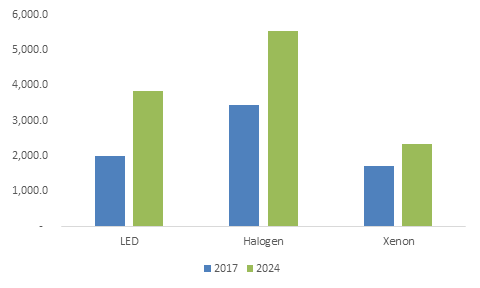 Digitalization of vehicle interiors and exteriors with LED lighting is one of the prominent technologies that has made its mark in modern vehicle lighting systems. The evaluation of highly functional, durable, and innovative products will have a significant impact on industry growth over the years ahead. For instance, recently, one of the world's largest manufacturers of semiconductors, Osram Opto Semiconductors has partnered with ISELED Alliance for developing advanced solutions for automotive LED lighting. The German semiconductor manufacturer and ISELED alliance through this collaboration are looking forward to integrating effective hardware and software system to optimize LEDs.
Over the last few years, with the increasing importance imparted to aesthetic and ergonomics of the vehicles' interior as well as exterior, the design approach of contributors in the automotive lighting industry has indeed changed. They are now giving preference for the advancement of infotainment systems that will turn out to be rather beneficial for them in terms of revenue generation. As of now, the extensive use of LEDs for deploying lighting systems in vehicles will further stimulate the automotive lighting market size. As per estimates, automotive lighting market size from LED technology will register a CAGR of more than 7% over 2018-2024.
Get a Sample Copy of this Report:@ https://www.gminsights.com/request-sample/detail/1444
The revolutionary development of high-performance light sources is also one of the approaches undertaken by companies to gain a competitive edge over their rivals in the automotive lighting market. The growing awareness among the product developers about energy efficient lighting systems has been encouraging them to adopt new business tactics focused around this parameter. Merely a few months before, LG Electronics acquired the well-known automotive lighting and headlight systems provider, ZKW Group. This strategic merger has allowed LG to extend its regional reach across U.S., China, Mexico, and several countries in Europe continent. The ZKW Group incidentally, is one of the leading providers of lighting systems to European automotive giants comprising Daimler, Porsche, Audi, and BMW which have already ditched the use of traditional lighting technologies. The new consortium of LG and ZKW is planning to develop intelligent lighting solutions which will provide high-resolution information collected from the sensors and automotive communication systems. Considerable investments poured in by technology companies in new product development with the intention to expand the product range is slated to propel the automotive lighting industry share.
In August 2018, the Canadian automotive product supplier, Magna acquired the headlight and lighting component provider, Olsa for expanding its automotive lighting business. With the acquisition of the Olsa, Magna has grown its lighting capabilities from designing and manufacturing of headlamps, tail lamps, and other lighting systems. Moreover, the acquisition of advanced technology will also help Magna better its portfolio in distinctive and featured lighting products. The rise in the integration of electronics in lighting systems and shifting focus of automakers toward styling will turn out to be rather fruitful for lighting product manufacturers.
All in all, it would be accurate enough to quote that the transformation in conventional lighting systems has enhanced automotive lighting market trends over the last few years. Tech companies have also been conducting continuous research and development activities to introduce optimized and cost-effective lighting systems. Powered by the surging utilization of modern lighting systems in next generation vehicles, automotive lighting market size will register a CAGR of 5% over 2018-2024.
Author Name : Sunil Hebbalkar
Boasting of a remuneration of over USD 19.5 billion in 2017, the global off-road vehicles (ORVs) market has gained massive traction over the past decade from sports events, recreational activities and crucial utility applications. The increase in the use of UTVs and SSVs for agricultural and hauling use owing to their size has promoted their advantages throughout the world, while growing attraction of extreme sports and motorsports among the youth has boosted the sales of ATVs and off-road motorbikes.
U.S. Off-Road Vehicles Market, By Vehicle, 2017 & 2024, (USD Million)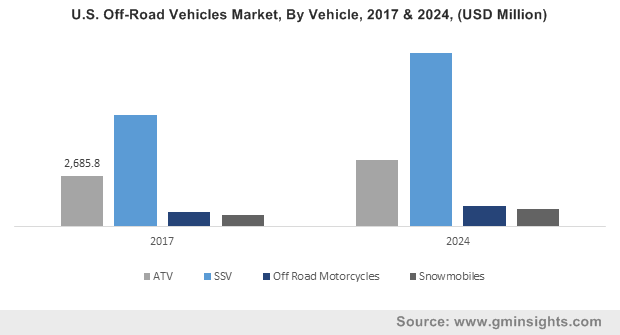 The utilization of ATVs for recreational and tourist activities has majorly outlined the off-road vehicles industry dynamics, garnering support from governments and the general public alike. Rising economic status of the working class population and the advent of successful entrepreneurs have created an emerging customer base for recreational events and the off-road vehicles market.
Although the introduction of ORVs arose out of particular needs in different conditions, the extensive benefits in other areas helped the popularity of ATVs to grow in applications like racing, beach use, military use and touring through national parks. Countries like Canada, U.S., South Africa and Australia have enormous state parks and natural reserves that are open to visitors and tourists, deploying a fleet of ORVs for traversing along predetermined as well as off-beat tracks. Subsequently, the off-road vehicles industry has been able to supply need-based products to the state agencies and private touring firms for catering to increasing recreational enthusiasts. The state of Wisconsin in the U.S. had announced plans in October of 2017 that it intends to add over 200 miles of access for ORVs in the Northern Highland-American Legion State Forest.
Get a Sample Copy of this Report:@ https://www.gminsights.com/request-sample/detail/2321
Reportedly, the state government there has already spent millions of dollars for ATV trail development, though the Northern Highland-American Legion State Forest was yet to have ATV access, indicating a positive step towards growth of the off-road vehicles market in the region. The Wisconsin ATV-UTV Association had disclosed numbers showing that at the start of 2015, there were around 92,654 ATVS and 8,789 UTVs registered in the state. The region has been experiencing increased popularity of recreational family trips and tourist attraction, even during the winter season, which in many parts of the world represents tremendous earning potential for the off-road vehicles market, from the demand of snowmobiles.
The Yellowstone National Park in Wyoming, U.S., is an example of a such national park where the use of over-snow vehicles has been propagated for decades and consistent improvement in the vehicles has helped to overcome several issues regarding noise and pollution. Snowmobiles not only offer a convenient way for visitors to enjoy the park in winter conditions, but also allow the park personnel to do their challenging jobs and maintain the park utilities. In many places along the northern region of the earth, parks and forest trails where ATVs are used during rest of the year can still provide recreational activities in winter using snowmobiles. As such, the off-road vehicles market for recreational purposes can benefit from vast application scope in most of the northern countries.
According to statistics, about 46 million square kilometers of Earth's surface is covered with snow every year, with 98% of the planet's snow cover situated in the Northern Hemisphere. The Europe and North America has therefore, significantly contributed to the development and adoption of snowmobiles for short distance travelling, remote area goods transportation and for enabling recreational uses of lakes, parks and specially built trails. The sale of snowmobiles in the U.S., records indicate, had almost 58,300 units in 2015, which was a 20% rise over a two year period and demonstrated the existing prospects for the off-road vehicles industry.
Canada-based Bombardier Recreational Products (BRP) had also informed in 2017 that the company had profited from a robust demand for its recreational vehicles, with revenues from its season products, including snowmobiles, climbing 37.2% for the quarter ending January 31. BRP, operating in 100 plus countries, has proven that huge opportunities exist for recreational snowmobiles in the North America off-road vehicles market. Concerns regarding emissions and fuel efficiency have inspired many innovations in the manufacturing of ORVs. For instance, Taiga Motors in Montreal are developing an all-electric snowmobile that would help to counter stringent regulations at many national parks and forest in Europe and North America arising from environmental issues.
Owing to such efforts aimed at providing enhanced recreational vehicles and the escalated requirement for ATVs and snowmobiles across the Northern region, the recreation segment is estimated to hold approx. 25% of the off-road vehicles market share till 2024. Polaris Industries Inc., Wildcat, Bombardier Recreational Products, Caterpillar, Yamaha Motor Co., Ltd., KTM and Kawasaki Motors Corp, are major players spearheading the global off-road vehicles market share.
Author Name : Pankaj Singh