Automotive & Transportation
The fast-paced growth of the automotive sector across the globe has emerged as one of the major factors that have driven the automotive display market trends over the recent years. Although ride sharing is increasingly gaining popularity as a viable mobility option, the demand for conventional vehicles has not only remained consistent but has grown exponentially. In fact, as per reliable estimates, the global sales of passenger cars and trucks surpassed the figure of an overwhelming 90 million units for the very first time in the year 2017. These numbers apparently explain the rapidly expanding automotive display market share, which is projected to surpass a remuneration portfolio of USD 30 billion by 2025.
Germany automotive display market size, by product, 2018 & 2025 (USD Million)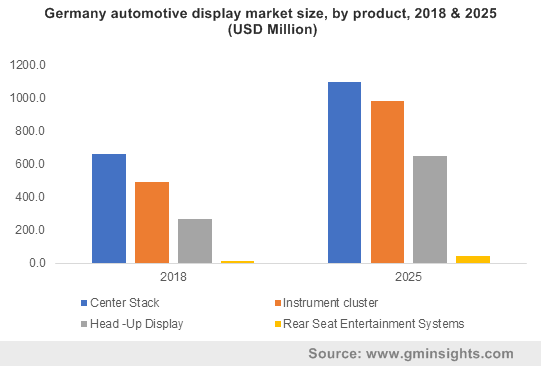 A brief overview of how enhancements in OLED display technology are shaping up the automotive display market trends
Primarily, the usage of various display technologies in the automobiles is experiencing evolutionary changes as new functionalities and designs are being created and integrated within the car systems by major automakers. The need to have high-performance interactive displays – equipped with seamless response to touch and visual stimulus – has become a crucial characteristic for all the automakers operating at an international scale. Apparently, buttons are gradually disappearing in favor of multi-functional touchscreens. Notably, the incorporation of OLED display technology has helped automakers to develop virtual dashboards with curved screens.
Elaborating further on the evolution of OLED display technology and its current form, it would be prudent to mention the fact that OLED displays are now termed as the most preferred display panels among prominent automotive firms such as Mercedes-Benz, Volkswagen, Toyota, Audi, and General Motors. Following are a few instances which underscore the growing prominence of the OLED displays in the auto industry and the way it is affecting the overall automotive display technology landscape:
Audi, in 2018, introduced its new passenger car model the E-Tron Quattro that has its rear-view cameras connected with 7-inch OLED screens. This technology offers different views and angles which are displayed on the OLED screens in the car. Interestingly, it is being said that these new cameras would replace the conventional side mirrors in other Audi vehicles.
Get a Sample Copy of this Report:@ https://www.gminsights.com/request-sample/detail/3192
Although vehicles with OLED displays are being introduced at various exhibition events, it has only been recently that Mercedes Benz became the very first automotive major to incorporate OLEDs into its consumer models. Reportedly, Mercedes Benz would launch its new cars with OLED panels of LG Displays in dashboards and rear-seat screens from the year 2020.
China-based BOE Display recently rolled out a new flexible automotive OLED at SID 2019. The new OLED has a 12.3-inch display for the main instrument panel and deploys a new pixel compensation circuit technology which improves the brightness uniformity of the display.
The consistent improvement in OLED display technology is quite evident from the aforementioned product launches and offers a glimpse into the rapidly expanding automotive display market share. Additionally, better picture quality, visibility, and sharpness than the TFT LCD monitors have been the USPs of OLED display panels owing to which the automotive display market is rapidly expanding its consumer base across various business verticals.
Owing to the presence of numerous luxury automobile manufacturers along the likes of Jaguar Land Rover, BMW, Porsche, Audi, and Mercedes-Benz, the Europe automotive display industry has been a significant hub for developing and refining the existing automotive display technology. Most of these luxury automotive brands are offering large rear seat entertainment systems and integrated displays to enhance the driving experience. Moreover, the increasing demand for expensive ADAS systems to ensure more comfort, safety, and convenience has been instrumental in uptake of automotive displays in the European countries.
Considering the progress being made in developing advanced OLED display technology and the incorporation of newer technologies in the automotive display market, it can certainly be stated that the cars of the future would be equipped with highly-customized display systems which would fulfill the requirements of efficient navigation, entertainment, and safety.
Author Name : Saif Ali Bepari
The rising concerns pertaining to vehicular emissions are expected to boost the global battery electric vehicle market over the forthcoming years. In 2018, carbon emissions were at an all-time high, with the automotive industry being a major contributor. Emissions from cars and trucks using fossil fuels continue to grow at an alarming rate in all parts of the world. A common factor among both developed and developing economies on these grounds has been the continuous rise in the use of oil in the transport sector.
Brazil Battery Electric Vehicles Market, By Vehicle, 2018 & 2025, (USD Million)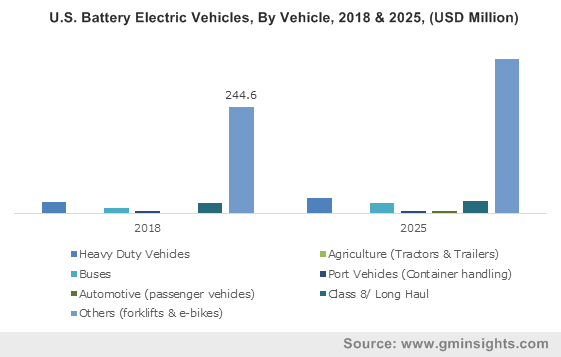 According to the latest forecasts, the level of CO2 in the atmosphere is projected to witness an average rise of 2.75 parts per million over 2019. If the world needs to meet the temperature goals of the Paris agreement, global emissions need to plummet by 2020. Unlike conventional vehicles though, battery powered vehicles don't require fuels and hence don't release much CO2. The growing number of issues related to vehicular emissions paired with the increasing need to reduce the effects of greenhouse gases will thus propel battery electric vehicles industry share in the future.
Over the last few years, electric vehicles have nearly gone mainstream, at least in the key global markets. Now having accomplished a small but significant share of the passenger-car market, the EV industry has been eying the public transit sector. Companies are now manufacturing battery-electric buses and selling them to cities interested in reducing their carbon footprint. Major manufacturers active in the electric-bus business comprise Canada-based New Flyer, China's BYD and the US-based startup Proterra.
Recently, Austin became the fifth Texas city to invest in the Proterra battery-electric buses. A complete all-electric fleet is the main goal of the city's transit agency Capital Metro, that purchased 40 buses along with 4 Proterra-charging systems of 60 kilowatts. Through no tailpipe emission, battery electric buses can help the agency meet its sustainability goals efficiently. The increasing adoption of such vehicles for public transportation will further proliferate the global battery electric vehicle market.
Get a Sample Copy of this Report @ https://www.gminsights.com/request-sample/detail/3181
Recently, Daimler Trucks North America claimed that battery electric vehicles will pave the way for zero-emission commercial transportation. According to the European Federation for Transport and Environment, emissions from heavy-duty vehicles such as trucks and busses grew by 36% between 1990 and 2010 and has continued to grow ever since. By the year 2030, trucks and buses will release around 15% of overall effort sharing or non-ETS emissions. Unless additional measures are taken, heavy-duty vehicle emissions could rise to contributing 40% of overall road transport emission by 2030. This presents BEV industry contenders with a viable growth opportunity, to manufacture batteries for heavy duty vehicles.
Recently, Germany-based Daimler announced the production of Freightliners, the company's heavy-duty battery electric vehicles, from its manufacturing plant in Portland. According to Global Market Insights, the BEV market share from heavy-duty vehicles segment will exhibit a CAGR of 9% over 2019-2025. The adoption of battery electric heavy-duty vehicles in a bid to reduce emission from commercial transportation will thus propel the global BEV market in the coming years.
The adoption of battery-operated passenger cars, buses or trucks will be further supported by the imposition of stringent vehicular emission standards across the world. For instance, the European Parliament recently agreed to new CO2 emission standards for newly purchased cars and vans with an objective to witness 37.5% reduction in emission from new cars and 31% lower emissions from new vans by the end of 2030.
Such regulatory initiatives along with the increasing need to prevent the severity of global warming would accelerate the adoption of BEVs in the future. For the record, the global battery electric vehicle market is anticipated to surpass $425 billion by 2025, according to a research report by Global Market Insights, Inc.
Author Name : Krithika Krishnan
The global automotive EVAP systems market is estimated to register a commendable growth rate over the ensuing years, on account of the growing air pollution levels worldwide. Air quality is deteriorating day by day posing a huge risk to the environment, human health, and food security. Fuel evaporative emissions undeniably, are a significant contributor to global air pollution levels. The gasoline in the fuel tank gradually evaporates over time, contaminating the air with VOCs (Volatile Organic Compounds).
U.S. Automotive Evaporative Emission Control System Market, By Vehicle, 2018 & 2025, (USD Million)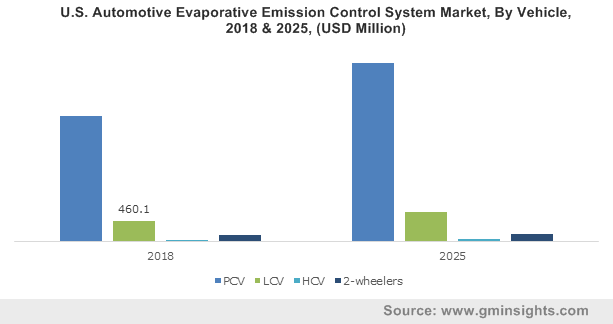 According to the Environmental Protection Agency, there are enough cases of such emissions to contribute to air pollution and pose a risk to environmental and human life. The fuel injected in a car consists of over 150 chemicals including toluene, benzenes and even lead, which can cause headaches, breathing issues, and in worst cases result in death. Hence, it is vital for carmakers to install EVAP systems in their models to control fuel evaporation, which would help expand the global automotive EVAP systems market size.
The need for manufacturers to equip their cars with EVAP systems is further encouraged by the imposition of stringent emission control mandates by governments throughout the world. For instance, Euro 5/6 regulations continue the Euro 4 limit of two grams of evaporative emissions each day. Regulation in the United States limits evaporative emissions to 0.5 grams each day over a three-day diurnal temperature profile.
Even though state regulations don't usually exceed federal regulations, the California Air Resources Board (CARB) permits the imposition of more stringent emission standards. Meanwhile, Japan has jointly developed emission standard by two ministries – The Ministry of Environment and The Ministry of Land, Infrastructure, and Transport. Emission limits in the country are almost similar to Euro 4 standards of two grams of emissions daily.
Get a Sample Copy of this Report @ https://www.gminsights.com/request-sample/detail/3222
It comes as no surprise therefore, that the global automotive EVAP systems industry is heavily governed by regulations. Indeed, according to Global Market Insights, Inc., OEMs presently dominate the global automotive EVAP systems market due to the rising product installations in an effort to conform to government regulations like CARB and Test Procedures to monitor vehicle performance.
One of the most significant reasons for driving the demand for EVAP systems around the world is the increasing rate of passenger vehicle production. In the year 2017, over 80 million passenger cars were produced worldwide, out of which Europe accounted for an appreciable share. Developing nations like India witnessed a significant rise in production from over 3.95 million units in 2017 to nearly 4 million units in 2018.
Recently, Mercedes-Benz Cars announced an investment of over $250 million euros in a passenger car plant in the Moscow region. Through the new plant, Daimler aims to meet the high demand for Mercedes-Benz E-Class SUVs and Sedans in the region. Owing to rising production, automotive EVAP systems market size is expected to witness an upsurge from passenger cars. Rising installation of EVAP systems in passenger cars to enhance fuel economy and reduce fuel losses will drive product demand.
In terms of regional growth, the Latin America market held considerable revenue share owing to rising concerns pertaining to fuel evaporation paired with the imposition of supportive international policies to control air pollution. According to an assessment released by UN Environment and the Climate and Clean Air Coalition, poor air quality and climate change are taking a toll on vulnerable population and environment within the Americas, leading to premature deaths, ecosystem damage, and crop yield losses.
Brazil, which is the fourth largest vehicle market in the world differs from larger economies in terms of policies to promote vehicle-efficiencies. However, the government in these nations and other key vehicle markets in Latin America are working to adopt international best practices regarding emission control to the local economic and policy context. Successful implementation of regulatory practices would further augment the Latin America automotive EVAP systems market share in the coming years.
Key factors such as increasing vehicular emissions, rising awareness regarding poor air quality along with a rise in vehicle manufacturing and supportive government regulations will continue to induce considerable possibilities for industry expansion in the coming years. For the record, the global market is also estimated to surpass a valuation of $65 billion by 2025, according to a research report by Global Market Insights, Inc.
Author Name : Krithika Krishnan
The exponential growth map of the global UTV market can be aptly credited to the rising preference for a UTV in numerous in utility activities. In an effort to diversify their product offering, major UTV manufacturers are lately focusing on developing vehicles that can address different requirements from a varied array of application segments, including agriculture, construction & forestry, which serve to further propel the UTV market growth over the forthcoming years. Moreover, to keep these vehicles relevant for a particular application, industry players are also introducing new accessories, machines & attachments, which makes these already popular vehicles a must-have tool, thereby ensuring sustained growth for the UTV market.
U.S. Utility Terrain Vehicles (UTV) Market, By Application, 2018 & 2025, (USD Million)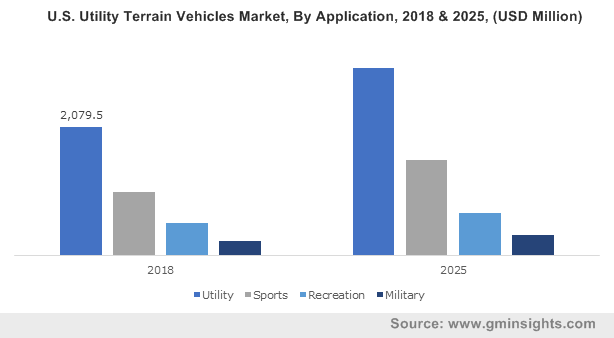 It is prudent to mention that the industry is also receiving momentum from the improving global economic conditions leading to increasing disposal incomes, that has resulted in the popularity of UTVs growing exponentially for recreational activities, such as fishing, hunting & off-roading.
Global UTV market | Impact of USA's expanding outdoor recreation market
The United States' outdoor recreation market is known to be one of the nation's largest economic sectors. The sector represents a sizable economic growth avenue that supports thousands of communities in America by facilitating millions of job opportunities for workers. The industry is largely supported by the nation's bountiful waters, inspiring landscapes and iconic natural beauty. Thus, investments in this sector on public waters & lands are capable of earning compounding returns, promoting healthier economies, communities & people. According to the Outdoor Industry Association, the U.S. outdoor recreation industry annually generates over $887 billion in consumer spending that supports more than 7.6 million jobs and rakes in over $124.5 billion in federal, state & local taxes, making it one of the nation's most lucrative investment ground.
It goes without saying that the UTV market accounts for a sizable chunk of this thriving industry. Unlike other off-road vehicles recreational UTVs are a unique blend of comfort & power, wherein the vehicle operator can perform any of the off-road activities with considerably more comfort. Moreover, UTVs also boast of larger cabin spaces that allow for greater number of passengers and also come with superior safety features such as roll-cages & bucket seats, giving these vehicles an edge over other off-roaders & further supporting market growth by eliminating the customer hesitancy factor in terms of vehicle safety.
Get a Sample Copy of this Report@ https://www.gminsights.com/request-sample/detail/3142
Global UTV market | Impact of increasing UTV adoption in agricultural activities
Traditionally ATVs were used to carry out a majority of agricultural activities, ranging from hauling fertilizer, wire & lumber, however, these practices were quite inefficient in terms of getting work done & lessening physical effort as the vehicle's small size limited its load bearing & hauling capacity and the lack of power steering made the task very strenuous for the vehicle operator, defeating the purpose of using the vehicle in the first place. These limitations have started to drive individual farmers & other agricultural corporations away from ATVs, and most of them now prefer to invest in well-equipped UTVs, further propelling UTV adoption across the utility landscape in recent years.
Apart from offering these benefits, the UTVs also comfortably sit between a basic quadbikes (ATV) and a fully-fledged tractors or pickup trucks, thus, providing the UTV market with ample growth opportunities from agriculture, without having to compete with others for the position. Moreover, unlike their bigger as well as smaller counterparts, the UTVs, owing to the diverse array of accessories & additional attachments available in the market, can perform different activities ranging from transporting supplies and mowing grass to managing livestock and plowing the fields, ensuring their dominance across the field of agriculture. Thus, powered by their deployment in agriculture and landscaping activities, UTV industry size from the utility sector is slated to depict a CAGR of 6% over 2019-2025.
As is evident from the aforementioned trends, the global UTV market has clearly positioned itself in an extremely lucrative spot and is bound to exhibit sustained growth in the ensuing years. The growth prediction is further supported by a research report from Global Market Insights, Inc., which estimates that the global UTV market size would be surpassing the $9 billion renumeration mark by 2025.
Author Name : Akshay Kedari
The U.S. off-road vehicles (ORVs) market size, in recent times, has been the recipient of sizable gains, owing to the proliferation of outdoor activities in conjunction with the improving economic condition. ORVs are becoming increasingly popular especially among the youth across the U.S., as is obvious from the rising sales of SUVs, off-road dirt bikes & motorcycles, all-terrain vehicles (ATVs) and snowmobiles.
Arizona Off-Road Vehicles Market, By Vehicle, 2017 & 2024, (USD Million)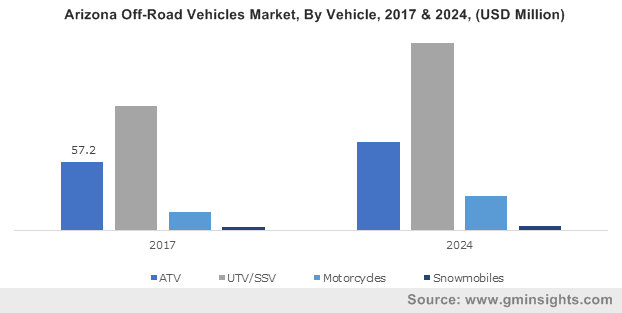 The mounting interest in off-road adventure activities is rather overt from the progress that the ATV industry has registered in the last few years. In 2017, the ATV Safety Institute (ASI) claimed that close to 35 million Americans use ATVs in the U.S., which would prove to majorly impel the U.S. off-road vehicles market size. ATV are bound to be used extensively in the agricultural sector for several tasks performed on farms and ranches such as general transportation, animal handling, weed control and fence mending.
The agricultural sector even now, remains one of the largest occupational arenas in the U.S. As per reliable estimates, 78% of ATVs are used for recreational purposes while 22% are used in occupational settings. In addition, the versatility of ATVs has also resulted in their use in small scale construction, manufacturing, search and rescue operations, police, utilities, mining and land management. The utility, affordability and ease of use associated with these vehicles has led to their massive adoption by the agricultural community, in turn facilitating the growth of U.S. off-road vehicles industry from ATVs.
It is vital to mention that the U.S. off-road vehicles industry has received massive support from the regional regulatory landscape. Organizations like the ATV Safety Institute have been training the youth and providing education regarding safety gears. The surging adoption of safety gears will also lead to the U.S. off-road vehicles market gaining substantial momentum in the years ahead. Even the Texas legal framework permits under-14s to drive ATVs under supervision. The enforcement of norms to enhance driver and passenger safety will boost the demand for ATVs, majorly propelling U.S. off-road vehicles market size from ATVs.
Get a Sample Copy of this Report @ https://www.gminsights.com/request-sample/detail/3074
Regionally speaking, California, Texas, and Arizona stand as the chief revenue pockets for the U.S. off-road vehicles industry. According to Global Market Insights, Inc., in 2017, California held around 10% of the U.S. off-road vehicles market share owing to the presence of several state parks and recreational areas for driving. Organizations such as California Department of Parks and Recreation's Off-Highway Motor Vehicle Recreation Division (OHMVR) are also introducing Grants & Cooperative Agreements Program to encourage OHV adoption.
Arizona is also anticipated to witness steady growth in the ensuing years, essentially on account of the favorable regulations enforced in the region that now permits the usage of California-registered vehicles in its state parks. Indeed, Arizona, boasting of 365 riding days per year, is likely to emerge as one of hotspots for the expansion of the U.S. off-road vehicles market. The state is home to some of most iconic road trails that attract tourists across the globe, namely, the Harquahala Mountain Byway, Backway to Crown King, Broken Arrow Trail, and Cinder Hills OHV Area, every one of which boasts of being a popular off-roading community. As the popularity of these trails in addition to the many hundreds of trails that the state houses, increases by the day, U.S. off-road vehicles market players are likely to target Arizona as their potential investment hub.
Capable of driving effectively on paved or gravel surfaces, off-road vehicles have increasingly become popular owing to their versatility. The use of such high traction, higher clearance vehicles enables users to access trails and forest roads that define a rough terrain. Aided by a supportive regulatory framework and the robust demand across a slew of end-use domains, U.S. off-road vehicles market will depict a commendable growth graph ahead.
Author Name : Mateen Dalal