BIOMASS, BIOENERGY AND RENEWABLE CHEMISTRY
Lactic Acid Market revenue is anticipated to observe a considerable growth over the coming seven years, driven by its extensive application in food & beverages, personal care, industrial, cosmetic, detergent, and pharmaceuticals sectors. Moreover, growing consumer preference for bio-based contents is expected to stimulate the market trends in the near future.  According to Global Market Insights, Inc., "Lactic acid industry size is expected to be worth USD 6.2 billion by 2024."
U.S. Polylactic Acid (PLA) Market size, by application, 2013-2024 (USD Million)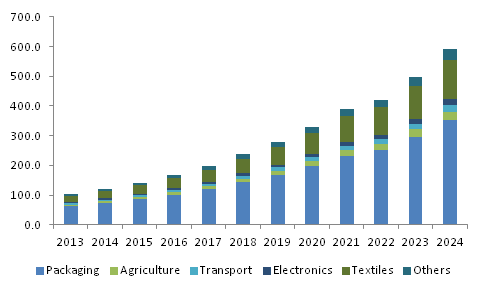 Polylactic Acid (PLA) market size is anticipated to witness a lucrative roadmap over the period of 2016-2024, owing to the rising consumer trend towards sustainable, recyclable, and green packaged products. Moreover, growing application of polylactic acid in the booming bioplastics industry along with government legislations favoring the use of bio-based products will further drive PLA industry size over the coming years. Furthermore, polylactic acid also finds wide applications in electronics, packaging, textiles, agriculture, and transport sectors. As per Global Market Insights, Inc., "Polylactic Acid (PLA) Industry size is projected to reach USD 4.3 billion by 2024."
Get a Sample Copy of this Report:@ https://www.gminsights.com/request-sample/detail/821
Taking into account the lactic acid application trends, lactic acid market size in the personal care sector is expected to grow at a significant rate over the timeframe, driven by its use in skin care, natural anti-aging, and anti-acne solutions. Its application in food & beverages sector will grow at a rate of 14% over the coming seven years. The growth can be credited to its emulsifying, antibacterial, acidulant, pH regulating, and flavoring characteristics.
As per the research study, PLA applications in the packaging sector, estimated at USD 300 million in 2015, are expected to grow noticeably over the coming seven years due to its use in jars, containers, bioplastic packaging, and food packaging. Furthermore, textile is yet another prominent application area, predicted to generate high growth opportunities for polylactic acid industry over the coming years. As per the research study, textile application is likely to grow at a rate of 19% over the timeframe, driven by the use of PLA in textile dyeing for biodegradable polymer production.
Geographically, Germany lactic acid industry is expected to generate high sales over the next few years, driven by the rise in number of manufacturing plants coupled with increasing emphasis on sustainability. Growing application of lactic acid to treat dry skin along with its use in metal formulations is expected to boost U.S. lactic acid industry growth in the pharmaceutical sector over the coming years. China personal care industry is expected to contribute significantly towards the market share over the coming timeframe. Lactic acid application as vital ingredient in the personal care products & antimicrobial cleaning along with growing consumer awareness towards the personal care item is expected to drive the regional growth.
France PLA market will experience a considerable surge over the period of 2016-2024, driven by favorable legislations coupled with penetration of bio-based products in the packaging sector. Increase in production capacity, abundant feedstock, and growing customer awareness is expected to drive Japan market revenue over the next few years. UK PLA market size in agriculture sector is expected to register significant gains at 15% over the coming seven years, owing to its ability to reduce soil compaction and improve moisture control.
Key industry players in lactic acid market include BioAmber Inc., DuPont, and Genomatica. Major market players in PLA industry include Pyramid Bioplastics, Danimer Scientific LLC, Synbra Technology BV, BASF, Futerro, Galactic, NatureWorks, and Musashino Chemical Laboratory.
Author Name : Dhananjay Punekar
Waste to energy is the process of producing energy in the form of electricity or it is known as the form or energy recovery. As per the Industry Analysis, Waste to Energy (WTE) Market in the year 2015 valued at USD $20 billion and is projected to grow at over 6% CAGR till the year 2023. The regional analysis market is led by European market with leading markets in France, UK and Germany. This market is anticipated to grow moderately and record revenue of USD $15.5 billion by year 2023. Asia Pacific market is growing led by Japan and China recording soaring gains at over 6.8% CAGR by the year 2023, developing energy through substitute resources like landfiling which is the MSW (municipal solid waste) disposal techniques; it is likely to become popular in the Asia Pacific market.
View a summary of the "Waste to Energy (WTE) Market Size, Industry Analysis Report" @ https://www.gminsights.com/industry-analysis/waste-to-energy-wte-market
The report features comprehensive analysis of the market with key market trends and key factors influencing the market listed in the report. Thermal waste to energy process dominated the segment and is predicted to exhibit moderate gains over the projected time frame. The alternative thermal processes are anticipated to foresee surge in demand. Biological waste to energy technology is poised to register high growth at over 6.5% during the forecast period. Anaerobic digestion penetration into developed composting plants is projected to further market growth.
As per the latest news published on 01st June'16 about the Waste to Energy in the USA, the 70 mass burn plants in the United States consume 13% of annual waste; this is 14.5% as compared to year 1990. Approximately, 2.1 billion tons of waste is generated by humans annually, which is then carried to landfills and it decomposes and is converted into energy. In the United States, around 245 million tons of waste is produced annually. As per the United States Environmental Protection Agencies inventory, the municipal solid waste released 1% of highly toxic contents in the year 2000 as compared to 13 years prior.
Get a Free Sample Copy of this Report @ https://www.gminsights.com/request-sample/detail/456
Furthermore, as per latest news published on 26th May'16 of International Journal of Epidemiology, it is reported that people living near landfills are exposed to health hazards. Humans who stay 5 kilometers near the landfill site have diagnosed diseases like lung cancer, respiratory diseases, hospitalizations and even deaths. The waste throws out hydrogen sulphide which is harmful for humans especially children.
Fairly competitive players run the waste to energy market share, like Hitachi Zosen, Covanta, Keppel Seghers and Wheelabrator Technologies are prominent. Some companies are part of the value chain that work on operate and built or only transfer basis, or some run the plant operation. Foster Wheeler, China Everbright International, Plasco Energy, Veolia Environment, Xcel Energy are some of them.
Author Name : Dhananjay Punekar