BIOMASS, BIOENERGY AND RENEWABLE CHEMISTRY
Growing environmental concerns have led to a drastic change in consumer and manufacturer preferences. On similar grounds,
biosurfactants market
is witnessing a major turnaround with shifting inclination from synthetic products to bio-based products. Rising concerns regarding synthetically derived surfactants and favorable norms set by renowned bodies such as REACH and EPA to promote eco-friendly products are set to significantly push the overall biosurfactants industry growth. Demand for naturally derived and sustainable products especially in Latin America and Asia Pacific have significantly impelled the growth of this industry.
Europe Biosurfactants Market size, by application, 2015 & 2023 (USD Million)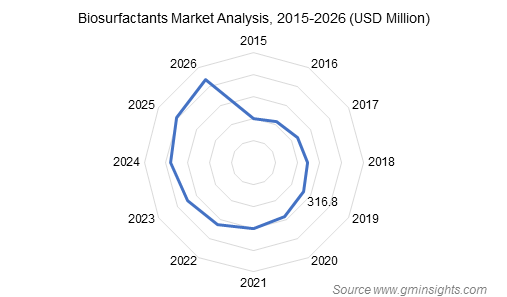 Sulfate free, sugar-based products, and neem extracts are the major bio-based products with biodegradable, low- toxicity and cost-effective properties. Driven by the escalating demand in detergents & personal care sectors owing to the product's high sustainability and longer shelf life, biosurfactants industry from these applications is projected to record substantial growth in the coming years. Biosurfactants market from household detergents collected revenue worth USD 785 million in 2015 and is likely to witness considerable demand in future.
Get a Sample Copy of this Report @ https://www.gminsights.com/request-sample/detail/484
Other application segments of biosurfactants industry include industrial cleaners, agricultural chemicals, textiles, food processing, oilfield chemicals, and personal care. These biosurfactants are derived from vegetable oils and fatty alcohols. In the food processing applications, biosurfactants are used as foams, emulsifiers, gels, and stabilizers. Biosurfactants market from food processing segment is anticipated to grow a rate of 4.5% over the period of 2016-2023. Industrial cleaner biosurfactants are widely used for oil surface cleaning and paint stripping and are estimated to register 4% CAGR from 2016-2023.
Based on the types of products, biosurfactants industry comprise rhamnolipids, methyl ethyl sulfonates (MES), sorbitan esters, sucrose esters, and alkyl polyglucosides (APG). The methyl ethyl sulfonates are biodegradable and are therefore primarily used in laundry detergent. Its high tolerance toward calcium ions also makes it preferable for laundry soaps. MES biosurfactants market collected a revenue of USD 580 million in 2015. Rhamnolipids is another prominent product in this industry, projected to witness highest CAGR of 7.5% over the period of 2016-2023. These are widely used in formulation of moisturizers and shampoos. Sophorolipids and monoglyceride have a strong application scope in personal care products as they possess intrinsic properties and biocompatibility with human skin. The Alkyl polyglucosides biosurfactants finds application in aluminum brighteners and metal cleaner detergents. Growing household based detergent demand is likely to boost APG biosurfactants market, which is set to record 4% annual growth rate over 2016-2023.
As per a report by Global Market Insights, Inc., the global biosurfactants market is expected to exceed 520 kilo tons in terms of volume and generate revenue over USD 2.6 billion by 2023. Consumer preference for bio-based ingredients in the U.S. have significantly influenced the regional biosurfactants industry. Growing regional demand coupled with increase in spending capacity is set to lead the U.S. biosurfactants market size to surpass 120 kilo tons by 2023. Furthermore, strong demand from personal care, textiles, chemicals and agricultural industries in the emerging economies of India and China has opened up huge growth prospects for the business expansion. China biosurfactants market is foreseen to grow at an annual rate of 4.5% over the period of 2016-2023.
Increasing investments in the research activities to develop 100% bio-based products along with robust technological developments will create huge opportunities for the market participants. The major challenge for these market players will be achieving cost effectiveness over the synthetic & petrochemical counterparts. Ecover, Saraya, BASF-Cognis, Urumqui, and MG Intobio Co. Ltd. are the key biosurfactants market players holding more than 65% of the overall business space. Other notable industry players include Mitsubishi Chemical, Lion Corporation, Croda International, Chemtura Corporation, Sun Products, and AkzoNobel.
Author Name :Ojaswita Kutepatil
Subject to the hazardous effects of synthetic coatings of late, biopolymer coatings market has been gaining renewed traction. Shifting focus toward the consumption of packaged food is expected to fulfill demand for this product over the next few years. Regulatory bodies across various parts of the globe have been enforcing stringent norms to promote the adoption of renewable and cost-effective products. Such initiatives are expected to significantly propel biopolymer coatings industry size. As per the report by Global Market Insights, Inc., "Biopolymer Coatings Market having had a revenue of USD 750 million in 2015, will record an annual growth rate of more than 6% over the period of 2016 to 2024."
U.S. Biopolymer Coatings Market Share, By Product, 2015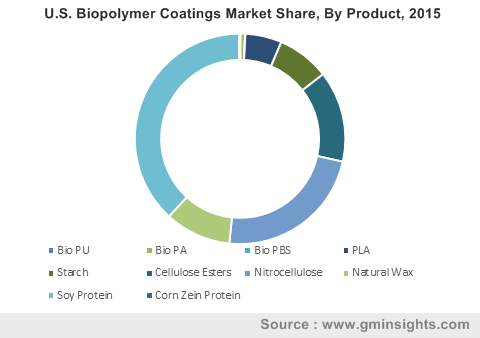 Europe biopolymer coatings industry will generate a significant revenue with a CAGR of more than 6% over the coming seven years. Surging usage of the product in the food & beverage sector owing to the deployment of supportive rules and regulations will drive the regional growth. Germany, UK, and France are forecast to be the major contributors of Europe biopolymer coatings market.
PLA based biopolymers are extensively used in the food & beverage sector for vegetables, water, fruits, nuts, beverages, and alcohol packaging, pertaining to which PLA based biopolymer coatings market will collect a revenue of more than USD 50 million by 2024.
Get a Sample Copy of this Report @ https://www.gminsights.com/request-sample/detail/333
Considering that the globe has been facing the environmental issues of landfill and degradation, consumers have been changing their focus from plastic to paper, mainly across the APAC belt. Asia Pacific accounted for more than 45% of the share in global paper production industry. The increasing usage of paper across the food & beverage sector will positively impact the packaging sector, which in turn will favor biopolymer coatings industry share. Bio PU based coatings are easily available, less harmful to the environment, biodegradable, and less expensive, subject to which bio PU based biopolymer coatings industry will register an annual growth rate of more than 6% over the period of 2016 to 2024. The growth can also be attributed to the escalating use of the product for automotive, furniture, textile, and architectural applications.
China biopolymer coatings market will exhibit an annual growth rate of more than 6.5% over the years ahead. Governmental initiations toward the usage of renewable packaging will favor industry growth. Additionally, growing industrialization across this region coupled with surging construction activities will fuel the requirement of the product for furniture, flooring, and decking, thereby propelling the regional biopolymer coatings market.
Germany natural wax based biopolymer coatings market will exhibit a CAGR of 3% over the coming timeframe, owing to the presence of a huge automotive manufacturing base. This product is primarily used to manufacture steering wheels, door seats, dashboards, and consoles, which leads to its extensive deployment across the automotive sector.
Bio polyamide coatings is extensively used across wire goods, construction, electrical, and automotive sector pertaining to the notable benefits of the product such as high chemical resistance, protection against fire, and electrical resistance, which will favorably influence biopolymer coatings market size. Soy protein based product segment will grow at an annual growth rate of 4% over the years ahead.
A global need for reduced raw material price trends has been identified, which is likely to generate attractive growth opportunities for the market players. In addition, prominent companies have been focusing on product differentiation and capacity expansion to expand their footprints across the globe. Extensive funding on research and development activities is also a key strategy adopted by these players. Major participants in biopolymer coatings market are AkzoNobel, Cargill, BASF, Roquette Group, EcoSynthetix, Corbion, and Novamont.
Author Name :Sunil Hebbalkar
Mandatory roll outs by governments of various developed economies have played the most influential role in escalating biobased polypropylene market demand over the recent years.  Two global regulatory bodies whose initiations regarding the curtailment of carbon footprints have enhanced the market outlook are EPA and EU, which undoubtedly translates a noticeable expansion and development of North America and Europe's biobased PP industry. Europe market dominated by Germany, UK, and France is projected to show a steep growth curve, at an annual rate of 6% in the next five years. In addition to this, increasing consumer demand for lightweight vehicles that allows lower fuel consumption is further fueling the market growth. Light weighted materials are also being widely deployed in medical space, pressure vehicles, wind vehicles and other alternative energy bases
.
A report by Global Market Insights, Inc., states that
Biobased Polypropylene Market
will surpass a revenue of USD 40 million by 2022, with a CAGR estimation of 4.5% over the period of 2016-2022.
Europe Biobased Pp Market Size, By Application, 2014 & 2022 (USD Million)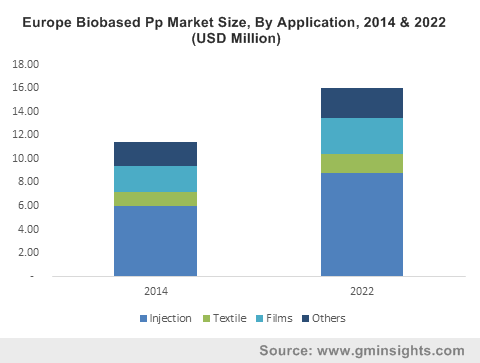 Injection applications represent a major share of biobased polypropylene industry and are expected to attain the highest gains in the coming five years. Growing demand for lightweight materials in myriad end use industries including automotive, construction, industrial as well as packaging is driving this application landscape. The influential impact of the advanced automobile sector has also played a crucial role in changing the market dynamics. Countries such as Malaysia, China, Thailand, and Mexico are encountering a heavy surge in the vehicle sales which is further creating a lucrative consumer base to biobased PP market. As per an estimation, the overall market from injection application is anticipated to record a revenue of more than USD 20 million by the end of 2022.
Positive outlook of some of the automotive manufacturing giants like Toyota Motor Corp., General Motors, and Ford flex in this regard also have had a persuasive impact on the overall biobased polypropylene market development. An announcement by Toyota Motor Corp. which states that 20% synthetic polymers will soon be replaced by biobased PP is expected to complement the overall market dynamics in the coming time frame.
Get a Sample Copy of this Report @ https://www.gminsights.com/request-sample/detail/175
Regionally, North America has established profound grounds enhancing biobased PP industry outlook. The trend of light weight vehicle in U.S. is acting as a prime factor catering the regional market growth. Concurrently, regulatory mandates supported by EPA to curb the greenhouse gas emission has further fueled the demand for biodegradable polymers. North America biobased polypropylene industry size is expected to expand massively in terms of volume coverage in coming five years by accounting for almost over 6 kilotons by 2022.
Textile is another niche application segment of global biobased polypropylene industry. Geotextiles which are gaining a global popularity owing to its rising scope of application in soil erosion and drainage activities is primarily favoring the overall market growth. Biobased PP market demand from textile applications is foreseen to rise high in the coming five years, with an estimated volume coverage of 1.5 kilotons by 2022. Biobased polypropylene films are being extensively implemented in green packaging especially for food and beverage and medical purposes owing to its strengthening properties and transparency. Biobased PP industry from this application is projected to show an upswing in its growth chart with a CAGR projection of 4.5% over the period of 2016-2022.
Considering the market analysis based on textile application, Asia Pacific has marked its footprints in the global landscape. With rapid industrialization of emerging economies of APAC belt such as Japan, China, India, biobased polypropylene industry is slated to register a signification growth at an annual rate of 5% over the coming five years.
Biobased PP industry is gaining a substantial traction with increasing number of market players focusing on enhancing the raw material portfolio to minimize the production cost. Some of the prominent industry participants working rigorously in this domain include Biobent Polymers, Global Bioenergies, Dow Chemicals, and Braskem.
Author Name :Satarupa De
Growing awareness to use eco-friendly products has brought about a change in consumer preferences, which will push Biopolymer Films Market growth exponentially. The government has also been promoting the usage of environment-friendly products to reduce pollution. Industry giants are expected to invest heavily in research & development to enhance their product portfolio. Another key factor that will influence biopolymer films industry size is the rapid expansion of the food and beverage business across the globe, which. As per the report by Global Market Insights, Inc., "Biopolymer Films market was worth USD 3 billion in 2015 and is projected to grow at an annual growth rate of 7% over the period of 2016 to 2024."
Bio-based material comprises a vast spectrum of raw material such as pectin, starch, cellulose, protein, and chitosan, that are extensively used for biopolymer film production. The ample availability of these materials will lead bio-based biopolymer films market to record an annual growth rate of 6% over the coming seven years. Bio-based materials are extensively used for food packaging industry, which led the end-user segment to account for more than 35% of the total revenue contribution in 2015. The food packaging sector is predicted to earn significant revenue over the coming timeframe. The factors positively affecting biopolymer films industry growth are growing awareness among the consumers regarding the usage of biodegradable products along with the implementation of strict regulations by FDA and EPA.
U.S biopolymer films market size, by end-user, 2013-2024 (USD Million)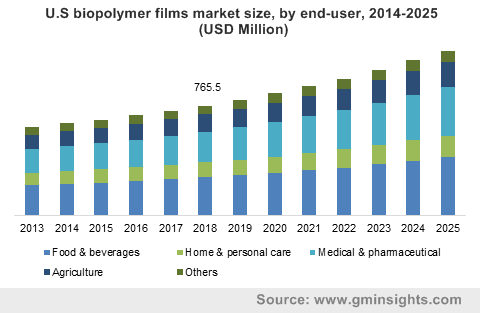 Agriculture end-user segment will exceed a CAGR of 5% over the years ahead, primarily driven by the surging product demand for greenhouse components, mulching, and irrigation purposes. In addition, biopolymer-based products are being used to reduce environmental hazards by replacing synthetic glass and plastics. This, in turn, will augment biopolymer films market size considerably. Medical & pharmaceutical and home & personal care are the other notable end-user segments, which will also garner significant revenue.
Get a Sample Copy of this Report @ https://www.gminsights.com/request-sample/detail/205
Taking into account the product trends, biopolymer films market is mainly divided into cellophane, polyamide, PHB, mulch, PVA, PLA, and PHA. PHB biopolymer films market is anticipated to register an annual growth rate of 5% over the period of 2016 to 2024. In addition to possessing the property of biodegradability, these products also offer the benefits of conventional petrochemical films. PLA biopolymer films market occupied about 25% of the overall share in 2015 and is predicted to collect noticeable revenue over the years ahead, primarily driven by the product's usage across the food packaging and agriculture sectors.
Based on the various technologies, atomic layer deposition will record a CAGR of 5.5% over the coming years of 2016 to 2024, owing to the extensive use of this technology in PHB and PLA films, pertaining to its capability to act as a water vapor barrier. Multilayer and sol-gel are the are other lucrative technology segments of biopolymer films industry.
Considering the regional landscape, Asia Pacific biopolymer films market will register maximum growth rate over the period of 2016 to 2024. The growth can be attributed to the growing product requirement for medical and food packaging applications. Shifting consumer trends along with growing expenditure on cosmetics and food items will also augment the regional industry growth.
The contribution of the U.S. toward the regional industry has indeed been noticeable, owing to which North America biopolymer films market share was USD 800 million in 2015. This region is expected to record a flourishing growth rate over the years ahead. The attributing factor toward biopolymer films industry growth across this geography is the surging demand for the product across the packaging sector. In addition, strict implementation of rules and regulations regarding food packaging by the FDA will favor the high product demand across the U.S.
Braskem, BASF, Avery Dennison, Plastic Union, Evonik Industries, Toray Industries, Mondi Group, Amcor, Innovia Films, Taghleef Industries Inc., Amcor, Industria Termoplastica Pavese, NatureWorks, Klöckner Pentaplast, BioBag International are the noteworthy participants in biopolymer films market.
Author Name :Sunil Hebbalkar
Lactic Acid Market revenue is anticipated to observe a considerable growth over the coming seven years, driven by its extensive application in food & beverages, personal care, industrial, cosmetic, detergent, and pharmaceuticals sectors. Moreover, growing consumer preference for bio-based contents is expected to stimulate the market trends in the near future.  According to Global Market Insights, Inc., "Lactic acid industry size is expected to be worth USD 6.2 billion by 2024."
U.S. Polylactic Acid (PLA) Market size, by application, 2013-2024 (USD Million)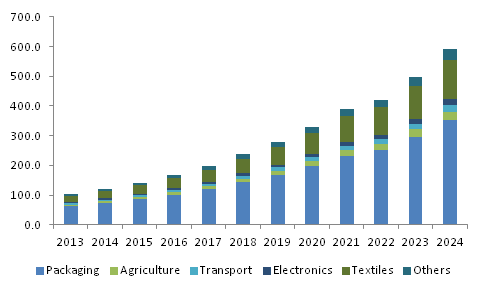 Polylactic Acid (PLA) market size is anticipated to witness a lucrative roadmap over the period of 2016-2024, owing to the rising consumer trend towards sustainable, recyclable, and green packaged products. Moreover, growing application of polylactic acid in the booming bioplastics industry along with government legislations favoring the use of bio-based products will further drive PLA industry size over the coming years. Furthermore, polylactic acid also finds wide applications in electronics, packaging, textiles, agriculture, and transport sectors. As per Global Market Insights, Inc., "Polylactic Acid (PLA) Industry size is projected to reach USD 4.3 billion by 2024."
Get a Sample Copy of this Report:@ https://www.gminsights.com/request-sample/detail/821
Taking into account the lactic acid application trends, lactic acid market size in the personal care sector is expected to grow at a significant rate over the timeframe, driven by its use in skin care, natural anti-aging, and anti-acne solutions. Its application in food & beverages sector will grow at a rate of 14% over the coming seven years. The growth can be credited to its emulsifying, antibacterial, acidulant, pH regulating, and flavoring characteristics.
As per the research study, PLA applications in the packaging sector, estimated at USD 300 million in 2015, are expected to grow noticeably over the coming seven years due to its use in jars, containers, bioplastic packaging, and food packaging. Furthermore, textile is yet another prominent application area, predicted to generate high growth opportunities for polylactic acid industry over the coming years. As per the research study, textile application is likely to grow at a rate of 19% over the timeframe, driven by the use of PLA in textile dyeing for biodegradable polymer production.
Geographically, Germany lactic acid industry is expected to generate high sales over the next few years, driven by the rise in number of manufacturing plants coupled with increasing emphasis on sustainability. Growing application of lactic acid to treat dry skin along with its use in metal formulations is expected to boost U.S. lactic acid industry growth in the pharmaceutical sector over the coming years. China personal care industry is expected to contribute significantly towards the market share over the coming timeframe. Lactic acid application as vital ingredient in the personal care products & antimicrobial cleaning along with growing consumer awareness towards the personal care item is expected to drive the regional growth.
France PLA market will experience a considerable surge over the period of 2016-2024, driven by favorable legislations coupled with penetration of bio-based products in the packaging sector. Increase in production capacity, abundant feedstock, and growing customer awareness is expected to drive Japan market revenue over the next few years. UK PLA market size in agriculture sector is expected to register significant gains at 15% over the coming seven years, owing to its ability to reduce soil compaction and improve moisture control.
Key industry players in lactic acid market include BioAmber Inc., DuPont, and Genomatica. Major market players in PLA industry include Pyramid Bioplastics, Danimer Scientific LLC, Synbra Technology BV, BASF, Futerro, Galactic, NatureWorks, and Musashino Chemical Laboratory.
Author Name : Dhananjay Punekar