BIOMASS, BIOENERGY AND RENEWABLE CHEMISTRY
Mandatory roll outs by governments of various developed economies have played the most influential role in escalating biobased polypropylene market demand over the recent years.  Two global regulatory bodies whose initiations regarding the curtailment of carbon footprints have enhanced the market outlook are EPA and EU, which undoubtedly translates a noticeable expansion and development of North America and Europe's biobased PP industry. Europe market dominated by Germany, UK, and France is projected to show a steep growth curve, at an annual rate of 6% in the next five years. In addition to this, increasing consumer demand for lightweight vehicles that allows lower fuel consumption is further fueling the market growth. Light weighted materials are also being widely deployed in medical space, pressure vehicles, wind vehicles and other alternative energy bases
.
A report by Global Market Insights, Inc., states that
Biobased Polypropylene Market
will surpass a revenue of USD 40 million by 2022, with a CAGR estimation of 4.5% over the period of 2016-2022.
Europe Biobased Pp Market Size, By Application, 2014 & 2022 (USD Million)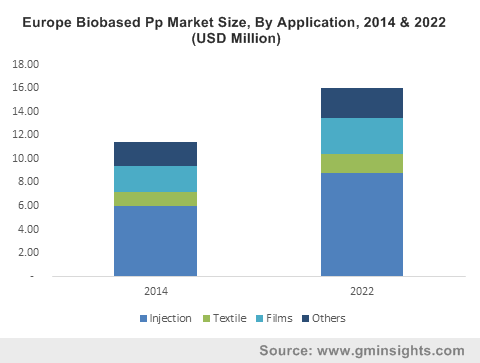 Injection applications represent a major share of biobased polypropylene industry and are expected to attain the highest gains in the coming five years. Growing demand for lightweight materials in myriad end use industries including automotive, construction, industrial as well as packaging is driving this application landscape. The influential impact of the advanced automobile sector has also played a crucial role in changing the market dynamics. Countries such as Malaysia, China, Thailand, and Mexico are encountering a heavy surge in the vehicle sales which is further creating a lucrative consumer base to biobased PP market. As per an estimation, the overall market from injection application is anticipated to record a revenue of more than USD 20 million by the end of 2022.
Positive outlook of some of the automotive manufacturing giants like Toyota Motor Corp., General Motors, and Ford flex in this regard also have had a persuasive impact on the overall biobased polypropylene market development. An announcement by Toyota Motor Corp. which states that 20% synthetic polymers will soon be replaced by biobased PP is expected to complement the overall market dynamics in the coming time frame.
Get a Sample Copy of this Report @ https://www.gminsights.com/request-sample/detail/175
Regionally, North America has established profound grounds enhancing biobased PP industry outlook. The trend of light weight vehicle in U.S. is acting as a prime factor catering the regional market growth. Concurrently, regulatory mandates supported by EPA to curb the greenhouse gas emission has further fueled the demand for biodegradable polymers. North America biobased polypropylene industry size is expected to expand massively in terms of volume coverage in coming five years by accounting for almost over 6 kilotons by 2022.
Textile is another niche application segment of global biobased polypropylene industry. Geotextiles which are gaining a global popularity owing to its rising scope of application in soil erosion and drainage activities is primarily favoring the overall market growth. Biobased PP market demand from textile applications is foreseen to rise high in the coming five years, with an estimated volume coverage of 1.5 kilotons by 2022. Biobased polypropylene films are being extensively implemented in green packaging especially for food and beverage and medical purposes owing to its strengthening properties and transparency. Biobased PP industry from this application is projected to show an upswing in its growth chart with a CAGR projection of 4.5% over the period of 2016-2022.
Considering the market analysis based on textile application, Asia Pacific has marked its footprints in the global landscape. With rapid industrialization of emerging economies of APAC belt such as Japan, China, India, biobased polypropylene industry is slated to register a signification growth at an annual rate of 5% over the coming five years.
Biobased PP industry is gaining a substantial traction with increasing number of market players focusing on enhancing the raw material portfolio to minimize the production cost. Some of the prominent industry participants working rigorously in this domain include Biobent Polymers, Global Bioenergies, Dow Chemicals, and Braskem.
Author Name :Satarupa De
Growing awareness to use eco-friendly products has brought about a change in consumer preferences, which will push Biopolymer Films Market growth exponentially. The government has also been promoting the usage of environment-friendly products to reduce pollution. Industry giants are expected to invest heavily in research & development to enhance their product portfolio. Another key factor that will influence biopolymer films industry size is the rapid expansion of the food and beverage business across the globe, which. As per the report by Global Market Insights, Inc., "Biopolymer Films market was worth USD 3 billion in 2015 and is projected to grow at an annual growth rate of 7% over the period of 2016 to 2024."
Bio-based material comprises a vast spectrum of raw material such as pectin, starch, cellulose, protein, and chitosan, that are extensively used for biopolymer film production. The ample availability of these materials will lead bio-based biopolymer films market to record an annual growth rate of 6% over the coming seven years. Bio-based materials are extensively used for food packaging industry, which led the end-user segment to account for more than 35% of the total revenue contribution in 2015. The food packaging sector is predicted to earn significant revenue over the coming timeframe. The factors positively affecting biopolymer films industry growth are growing awareness among the consumers regarding the usage of biodegradable products along with the implementation of strict regulations by FDA and EPA.
U.S biopolymer films market size, by end-user, 2013-2024 (USD Million)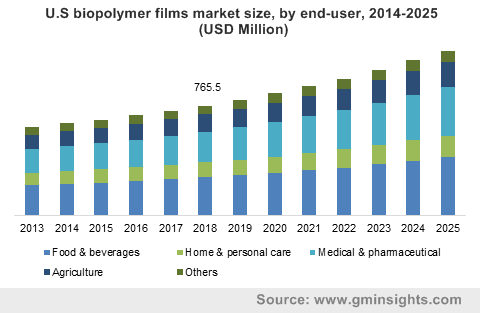 Agriculture end-user segment will exceed a CAGR of 5% over the years ahead, primarily driven by the surging product demand for greenhouse components, mulching, and irrigation purposes. In addition, biopolymer-based products are being used to reduce environmental hazards by replacing synthetic glass and plastics. This, in turn, will augment biopolymer films market size considerably. Medical & pharmaceutical and home & personal care are the other notable end-user segments, which will also garner significant revenue.
Get a Sample Copy of this Report @ https://www.gminsights.com/request-sample/detail/205
Taking into account the product trends, biopolymer films market is mainly divided into cellophane, polyamide, PHB, mulch, PVA, PLA, and PHA. PHB biopolymer films market is anticipated to register an annual growth rate of 5% over the period of 2016 to 2024. In addition to possessing the property of biodegradability, these products also offer the benefits of conventional petrochemical films. PLA biopolymer films market occupied about 25% of the overall share in 2015 and is predicted to collect noticeable revenue over the years ahead, primarily driven by the product's usage across the food packaging and agriculture sectors.
Based on the various technologies, atomic layer deposition will record a CAGR of 5.5% over the coming years of 2016 to 2024, owing to the extensive use of this technology in PHB and PLA films, pertaining to its capability to act as a water vapor barrier. Multilayer and sol-gel are the are other lucrative technology segments of biopolymer films industry.
Considering the regional landscape, Asia Pacific biopolymer films market will register maximum growth rate over the period of 2016 to 2024. The growth can be attributed to the growing product requirement for medical and food packaging applications. Shifting consumer trends along with growing expenditure on cosmetics and food items will also augment the regional industry growth.
The contribution of the U.S. toward the regional industry has indeed been noticeable, owing to which North America biopolymer films market share was USD 800 million in 2015. This region is expected to record a flourishing growth rate over the years ahead. The attributing factor toward biopolymer films industry growth across this geography is the surging demand for the product across the packaging sector. In addition, strict implementation of rules and regulations regarding food packaging by the FDA will favor the high product demand across the U.S.
Braskem, BASF, Avery Dennison, Plastic Union, Evonik Industries, Toray Industries, Mondi Group, Amcor, Innovia Films, Taghleef Industries Inc., Amcor, Industria Termoplastica Pavese, NatureWorks, Klöckner Pentaplast, BioBag International are the noteworthy participants in biopolymer films market.
Author Name :Sunil Hebbalkar
Lactic Acid Market revenue is anticipated to observe a considerable growth over the coming seven years, driven by its extensive application in food & beverages, personal care, industrial, cosmetic, detergent, and pharmaceuticals sectors. Moreover, growing consumer preference for bio-based contents is expected to stimulate the market trends in the near future.  According to Global Market Insights, Inc., "Lactic acid industry size is expected to be worth USD 6.2 billion by 2024."
U.S. Polylactic Acid (PLA) Market size, by application, 2013-2024 (USD Million)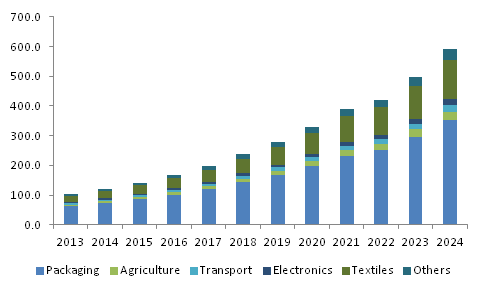 Polylactic Acid (PLA) market size is anticipated to witness a lucrative roadmap over the period of 2016-2024, owing to the rising consumer trend towards sustainable, recyclable, and green packaged products. Moreover, growing application of polylactic acid in the booming bioplastics industry along with government legislations favoring the use of bio-based products will further drive PLA industry size over the coming years. Furthermore, polylactic acid also finds wide applications in electronics, packaging, textiles, agriculture, and transport sectors. As per Global Market Insights, Inc., "Polylactic Acid (PLA) Industry size is projected to reach USD 4.3 billion by 2024."
Get a Sample Copy of this Report:@ https://www.gminsights.com/request-sample/detail/821
Taking into account the lactic acid application trends, lactic acid market size in the personal care sector is expected to grow at a significant rate over the timeframe, driven by its use in skin care, natural anti-aging, and anti-acne solutions. Its application in food & beverages sector will grow at a rate of 14% over the coming seven years. The growth can be credited to its emulsifying, antibacterial, acidulant, pH regulating, and flavoring characteristics.
As per the research study, PLA applications in the packaging sector, estimated at USD 300 million in 2015, are expected to grow noticeably over the coming seven years due to its use in jars, containers, bioplastic packaging, and food packaging. Furthermore, textile is yet another prominent application area, predicted to generate high growth opportunities for polylactic acid industry over the coming years. As per the research study, textile application is likely to grow at a rate of 19% over the timeframe, driven by the use of PLA in textile dyeing for biodegradable polymer production.
Geographically, Germany lactic acid industry is expected to generate high sales over the next few years, driven by the rise in number of manufacturing plants coupled with increasing emphasis on sustainability. Growing application of lactic acid to treat dry skin along with its use in metal formulations is expected to boost U.S. lactic acid industry growth in the pharmaceutical sector over the coming years. China personal care industry is expected to contribute significantly towards the market share over the coming timeframe. Lactic acid application as vital ingredient in the personal care products & antimicrobial cleaning along with growing consumer awareness towards the personal care item is expected to drive the regional growth.
France PLA market will experience a considerable surge over the period of 2016-2024, driven by favorable legislations coupled with penetration of bio-based products in the packaging sector. Increase in production capacity, abundant feedstock, and growing customer awareness is expected to drive Japan market revenue over the next few years. UK PLA market size in agriculture sector is expected to register significant gains at 15% over the coming seven years, owing to its ability to reduce soil compaction and improve moisture control.
Key industry players in lactic acid market include BioAmber Inc., DuPont, and Genomatica. Major market players in PLA industry include Pyramid Bioplastics, Danimer Scientific LLC, Synbra Technology BV, BASF, Futerro, Galactic, NatureWorks, and Musashino Chemical Laboratory.
Author Name : Dhananjay Punekar
Over the recent years, lignin market has been traversing along a lucrative growth path owing to the rapid technological progressions in bioenergy and biofuel domains. Moreover, the rising environmental concerns pertaining to the worldwide increase in air pollution has favorably influenced the revenue share of the overall lignin industry. Apparently, the potential environmental benefits from finding alternative uses of lignin are humongous. Lignin can be used to substitute fossil based raw materials over an extensive range of products, from carbon fibers to plastics and individual chemical products. Furthermore, the demand for value-added products has been on the rise lately – a factor that would provide an additional economic incentive to the global lignin market stakeholders.
U.S. Lignin Market Size, By Application, 2016 & 2024 (Kilo Tons)

Elaborating further, it would be prudent to mention that numerous research projects have been undertaken by various lignin industry participants and universities to explore the commercial potential of lignin. Citing an instance of the same, Nordic Innovation Centre, ScanBalt Campus Knowledge Network Environmental Biotechnology, and a host of universities of Sweden had initiated a joint industry-academy project, named as LigniMatch, to address environmental challenges and study the economic prospects of lignin.
The ambitious project aimed at finding a basis for efficient upgradation of the lignin fraction from paper and pulp industry into commercially viable products that can replace fossil-based alternatives. Apparently, the project identified a wide range of probable lignin-derived products such as activated carbon, binders, phenol, carbon fibers, sorbents, plastic materials, and motor fuel. Moreover, the project laid out a roadmap to guide lignin industry players on how to successfully incorporate the emerging technologies in order to develop advanced lignin-based products in the Nordic region.
Get a Sample Copy of this Report @ https://www.gminsights.com/request-sample/detail/181
Concurrently, the aforementioned instance goes on to demonstrate the significance of lignin, given that it could prove to be of immense help to conserve the ecological balance. Apparently, owing to the innumerable applications of lignin across various business domains, the global lignin market is bound to flourish in the ensuing years.
Speaking of the geographical growth outlook, lignin has found massive usage in European nations as a colorant in diverse industrial applications such as textile processing, printing inks, food processing, and wood stain. Moreover, the rising consumer awareness has led to an increased demand for bio-based products in this region which has subsequently boosted the overall Europe lignin market expansion in the recent times.
In addition to this, European Union has been proactive in enforcing strict regulations such as REACH (namely the registration, evaluation, authorization and restriction of chemicals) which aims to constrain the transportation of synthetically driven chemicals. Furthermore, it has been observed that dust collectors have gained prominence in this region, given that these systems lower the ill-effects of air pollutants.
Apparently, the presence of robust regulatory framework and the rising popularity of lignin derived products is certain to propel the fortunes of this business space. In fact, as per a report by Global Market Insights, Inc., the Europe lignin market, majorly driven by France, Italy, UK, and Poland, is anticipated to surpass an impressive remuneration portfolio of USD 350 million by 2024.
It is quite imperative to mention that crucial market participants including Domsjo Fabriker AB, Nippon Paper Industries, Ingevity, Domtar Corporation, Borregaard LignoTech, Burgo Group Spa, and Liquid Lignin Company have been focusing on developing new methodologies to ensure optimal production of lignin in terms of effectiveness and cost-efficiency. Add to it, the abundance of raw materials and rapid adoption of new technologies has favorably influenced the overall lignin industry share which is expected to exceed USD 960 million by 2024, as per reliable estimates.
Author Name : Saif Ali Bepari
Waste to energy is the process of producing energy in the form of electricity or it is known as the form or energy recovery. As per the Industry Analysis, Waste to Energy (WTE) Market in the year 2015 valued at USD $20 billion and is projected to grow at over 6% CAGR till the year 2023. The regional analysis market is led by European market with leading markets in France, UK and Germany. This market is anticipated to grow moderately and record revenue of USD $15.5 billion by year 2023. Asia Pacific market is growing led by Japan and China recording soaring gains at over 6.8% CAGR by the year 2023, developing energy through substitute resources like landfiling which is the MSW (municipal solid waste) disposal techniques; it is likely to become popular in the Asia Pacific market.
View a summary of the "Waste to Energy (WTE) Market Size, Industry Analysis Report" @ https://www.gminsights.com/industry-analysis/waste-to-energy-wte-market
The report features comprehensive analysis of the market with key market trends and key factors influencing the market listed in the report. Thermal waste to energy process dominated the segment and is predicted to exhibit moderate gains over the projected time frame. The alternative thermal processes are anticipated to foresee surge in demand. Biological waste to energy technology is poised to register high growth at over 6.5% during the forecast period. Anaerobic digestion penetration into developed composting plants is projected to further market growth.
As per the latest news published on 01st June'16 about the Waste to Energy in the USA, the 70 mass burn plants in the United States consume 13% of annual waste; this is 14.5% as compared to year 1990. Approximately, 2.1 billion tons of waste is generated by humans annually, which is then carried to landfills and it decomposes and is converted into energy. In the United States, around 245 million tons of waste is produced annually. As per the United States Environmental Protection Agencies inventory, the municipal solid waste released 1% of highly toxic contents in the year 2000 as compared to 13 years prior.
Get a Free Sample Copy of this Report @ https://www.gminsights.com/request-sample/detail/456
Furthermore, as per latest news published on 26th May'16 of International Journal of Epidemiology, it is reported that people living near landfills are exposed to health hazards. Humans who stay 5 kilometers near the landfill site have diagnosed diseases like lung cancer, respiratory diseases, hospitalizations and even deaths. The waste throws out hydrogen sulphide which is harmful for humans especially children.
Fairly competitive players run the waste to energy market share, like Hitachi Zosen, Covanta, Keppel Seghers and Wheelabrator Technologies are prominent. Some companies are part of the value chain that work on operate and built or only transfer basis, or some run the plant operation. Foster Wheeler, China Everbright International, Plasco Energy, Veolia Environment, Xcel Energy are some of them.
Author Name : Dhananjay Punekar
Global market Insights has announced release of new study based report on PMMA (Polymethyl Methacrylate). According to the report projected for period of 2015-2022, PMMA market size is forecast to surpass 3.1 million tons, at a growing CAGR of more than 6.3% by 2022. Growing expenditures in marketing and advertising campaigns is projected to fuel market growth during the expected time frame.
View a summary of the "Synthetic and Bio-based Polymethyl Methacrylate (PMMA) Market Size, Industry Analysis Report" @ https://www.gminsights.com/industry-analysis/synthetic-and-bio-based-pmma-polymethyl-methacrylate-market-size
The latest industry research report scrutinizes the PMMA market by different segments including regions, applications, companies, etc. over the projected time frame of seven years. This report provides a comprehensive overview of the PMMA industry comprising definitions, classifications, and market players in the industry chain structure. The qualitative and quantitative is offered for the market considering key development trends, competitive landscape, and crucial factors prevailing in the synthetic &Bio PMMA market.
The research report scrutinizes the global synthetic &Bio PMMA industry from 360 degree perception, taking manifold facets into consideration including segmentation, key developments, market overview, market growth and dynamics, market trends and future outlook, market opportunities, potential investment segment, competitive landscape etc.
Global bio PMMA market will witness higher growth rates and exceed 530 kilo tons by 2022 during the estimated time frame. PMMA market price trend is likely to prove a vital factor in market penetration for bio-based alternatives. Global advertising expenditure is anticipated to surpass USD 670 billion by 2022. Increasing demand for low emission, light-weight and fuel efficient vehicles is projected to boost growth.
Rising demand for LED flat panel display TVs, growth in sign and display segment, growing application scope in healthcare sectors are expected to impact the market growth positively. Fluctuating prices of raw materials are forecast to hamper PMMA market growth.
Get a Free Sample Copy of this Report @ https://www.gminsights.com/request-sample/detail/131
Strict government rules and regulations to limit GNG emissions and control dependence upon reducing fossil fuels are anticipated to support bio based PMMA market growth. Rising investments in order to develop this technology is poised to open new growth avenues. Construction was accounted as the major application segment is anticipated to experience moderate growth at over 6.2% in the near future.
Asia Pacific dominated the revenue generation segment and is expected to witness substantial growth and hit USD 1.35 billion, owing to low production cost, cheap labor wages and large consumer base in China and India. Europe market is projected to experience below average growth rates up to 2022 owing to recent Euro crisis.
Key market players in the industry include Arkema (Atluglas International), Mitsubishi Rayon, Chi Mei Corp  and Sumitomo Chemicals, LG MMA, Dow Chemical,  Asahi Kasei, Kuraray and Polycasa.
Author Name : Dhananjay Punekar