Bulk & Specialty Chemicals
The growing awareness worldwide regarding waste generation and the benefits of recycling has propelled the recycled glass market, which accumulated revenues of up to USD 2.4 billion in 2017. As numerous environmental issues are cropping up, governments and organizations are making efforts to discover improved methods of disposing waste as well as finding ways to reuse discarded products. The deterioration of underlying soil and air surrounding waste landfills has prompted the turnaround of the recycled glass industry. It is observed that more businesses are preferring to send glass bottles and packaging to recycle factories rather than throw them out with other refuse. Glass bottles and containers are known to be 100% recyclable since the quality of glass does not degrade after the processing. With the food & beverages industry booming alongside the growing population, recurring use of glass packaging will sustain the recycled glass market.
Germany recycled glass Market Size, by Type, 2014 – 2025 (USD Million)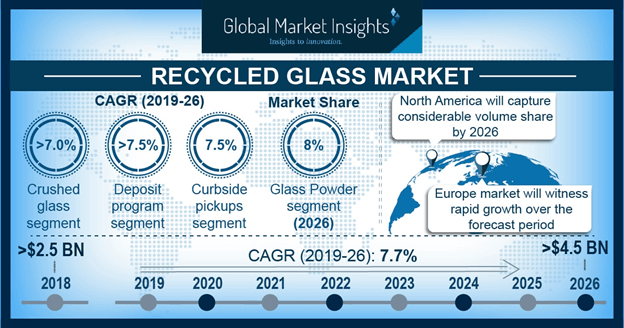 According to reliable estimates, more than 50 million metric tons of glass containers and bottles were manufactured globally in 2015, with most of the containers supplied to the soft drinks and alcohol industry. The production figures not only offer an indication as to the quantity of glass waste accrued but also vast amount of input available for the recycled glass industry, which in turn serves as a source of raw material for making new glass products.
Glass makers have realized the importance of infusing cullet, a form of broken recycled glass, into the manufacturing of new glass containers. The method saves money as other materials have to be sourced in lesser volumes, whereas energy consumption is reduced considerably, with lesser heat needed in furnaces due to the presence of cullet. It reduces the overall carbon footprint that results from glass making and subsequently, increasing number of glass manufacturers are using cullet, representing its dominance in the recycled glass market.
Boosting the significance of cullet is the construction of bigger and more efficient facilities across the globe. Recently, a major producer of glass containers for the food and beverages industry, Encirc Ltd opened a new furnace worth £40 million (USD 52.22 million) at its factory in Cheshire, U.K. It is supposedly the largest glass container furnace in the world having an area of 206 sq. meters and should increase the factory's melting capacity by approx. 100 tons per day. The upgraded facility is expected to strengthen the recycled glass market in U.K., as Encirc is believed to produce almost one third of Britain's total glass containers and uses up to 90% recycled cullet in glass manufacturing.
Different regions have started to enforce environmental mandates for curbing pollution and to practice waste recycling, for instance the 2008/98/EC Waste Framework Directive which has laid down steps for waste disposal in Europe. More than 75.9 billion units of glass containers were produced in Europe near the end of 2017 for the global food and beverage markets, inferring the substantial requirement of recycling. As per reports, the glass recycling rate across the region was nearly 74% in 2017, showcasing the high impact of the recycled glass industry in Europe. Having large recycling capacity, the region has witnessed incredible adoption of recycled glass in several industry verticals such as abrasive grit blasting, concrete aggregates and the escalated application in making glass beads used in reflective paint.
Production of glass beads is a significant component of the recycling industry and could bolster the recycled glass market earnings in Europe. Reports indicate that mostly all glass beads are manufactured from recycled glass derived from bottles, windshields among other disposed products. Tiny glass beads in millions of numbers are embedded in paint while marking roads and act as reflective spheres that shine under headlights, becoming more visible as compared to markings without any reflector glass. Besides improved safety and nighttime visibility, embedding glass beads reduce the time taken for the paint to dry and increases the paint life. Europe has around 8.3 million kms of motorways and highways which are consistently expanding and present lucrative opportunities for the recycled glass beads industry. Combined with the tremendous industrialization occurring in the region, Europe contributed almost half of the global recycled glass market share in 2017.
With the potential to lower environmental pollution from waste disposal and in efficient manufacturing of glass containers, the recycled glass market is poised for an anticipated 7.6% growth rate from 2018 to 2025. The dynamics of the recycled glass industry is characterized by key players including Strategic Materials, Berry Glass, Gallo Glass Company, Reiling Glass Recycling, Ardagh group, among others.
Author Name : Pankaj Singh
With unprecedented technological and chemical advancements in the last few decades, the iron phosphate market has captivated a slew of industry verticals including agriculture, manufacturing and consumer goods. Iron Phosphate (FePO4) is an extremely useful inorganic compound that can be functional in organic farming as a pesticide ingredient, in children's food as a nutrition fortifying component and as an additive in other food or beverage product. Extensive research and development activity instigated by pharmaceutical giants has shaped a critical customer base for the FePO4 compound, bolstering the global iron phosphate market. Earning an impressive USD 520 million in 2017, the remuneration contributed from applications in agricultural and health sectors can be ascribed to the rising population, which is certainly invigorating the iron phosphate industry.
Global Iron Phosphate Market, By Product, 2017 & 2024, (Kilotons)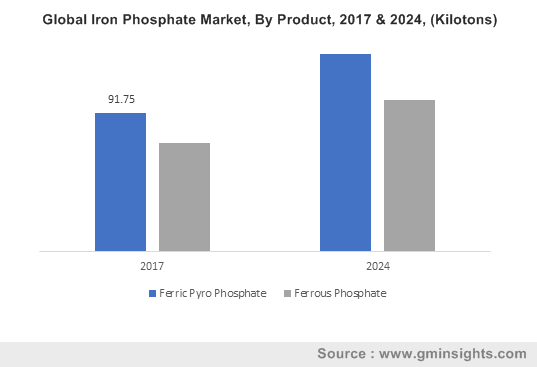 It is estimated that world population has surpassed 7.6 billion in 2018 and is straining the agro-based industries, which toil to meet the extraordinary demand for food and other consumables. The increasing need for boosting the agricultural produce has coerced efforts for the improvement of arable land and protecting fields against harmful organisms, imposing the necessity of the iron phosphate market in fertilizer and pesticide sectors. Further in the food segment, higher disposable income has led to a surge in expenditure on powdered drinks, dietary supplements and cereals which are enriched with the addition of FePO4. Fortification using FePO4 is quite beneficial for supplying nourishment to people suffering from iron loss or iron deficiency occurring from continuing external blood loss or when daily food intake does not satisfy the body requirements. Subsequently, progression of the iron phosphate industry can be observed due to augmented utilization of FePO4 in iron supplements given to anemia patients for preventing any further losses of red blood cells.
Get a Sample Copy of this Report @ https://www.gminsights.com/request-sample/detail/2697
As the healthcare industry is attempting to cope with increasing prevalence of diseases caused by nutritional deficiency as well as other chronic disorders, the iron phosphate market can be expected to undergo a tremendous transformation. Stating the evolution of the iron phosphate industry, a large number of pharmaceutical companies are coming up with ways to infuse FePO4 in treatments for lowering fibroblast growth factor 23 (FGF23), which is an important biomarker of chronic kidney disease. An oral iron-based phosphate binder, Ferric citrate was recently found to reduce FGF23 levels in non-dialysis dependent chronic kidney disease (NDD-CKD) patients and also in people suffering from iron deficiency anemia. A potent oral solution for iron deficiency anemia in patients suffering from NDD-CKD, which is also capable of lowering FGF23, will be vital in managing the disease and is indicative of the massive potential of the iron phosphate market.
In terms of manufacturing processes, pretreatment for coating and painting forms an integral part of iron phosphate industry's application gamut. FePO4 coating has been in practice for more than 50 years, as it provides a better paint adhesion and reduces the rusting of a metal. Generally, iron phosphate coating solutions have a low initial investment cost and are preferred in conversion coating of most indoor equipment that are not exposed to high risk of corrosion. They are also vastly utilized for base coating of a surface before painting in residences to improve the longevity of the paint. The use of FePO4 in crucial stages of iron and steel production and the rapid expansion of residential construction taking place across the world will further propel the iron phosphate market.
The future prospects of the iron phosphate industry cannot be completely described without the mention of its relevance in the electric automobile industry. An exceedingly trending area of product development is the lithium-ion battery, which are critical in the operations of an electric car and majority of consumer devices. Lately, lithium-iron phosphate (LiFePO4) batteries are being produced which show better characteristics than the those made with metal oxides. Soon they will be adopted commonly is electric vehicles and many companies in the iron phosphate market are scuttling to develop low-cost, long-lasting and highly efficient LiFePO4 batteries.
A report was released by UBS predicting that by 2025, the worldwide sales of electric vehicles will reach 16.5 million and approximately every sixth car sold will be an electric one, demonstrating a prolific revenue stream for the iron phosphate market. The lithium-iron phosphate batteries also have a wide range of benefits in grid stabilization, lasers, power tools also in aviation.
All in all, the iron phosphate market is collectively enhanced by a multitude of segments and is projected to witness a growth rate of more than 5% from 2018 to 2024. Exhibiting a fragmented and competitive nature, the industry is comprised of local and international suppliers like Merck, Jost Chemical Co., Imperial Chem Corporation, Crest Industrial Chemicals and Hefei Asialon Chemical Co. Ltd.
Author Name : Pankaj Singh
The East Africa flat glass market has received a surge of interest from the latest development in the automotive industry wherein Nissan Motor Co. Ltd. announced its plans to start a vehicle assembly initiative in Kenya. It is indeed a huge step in the Kenyan government's plans to develop a regional automotive manufacturing hub in the country which is the biggest economy of East Africa. Other noted automakers such as PSA Peugeot, Volkswagen AG and CNH Industrial NV have also seemingly announced plans to start an assembly line in Kenya. This will apparently not only cut vehicle costs for customers in the rapidly growing economies of the continent but also create a lucrative growth avenue for the East Africa flat glass market as the automotive industry is one of the biggest end users of flat glass.
Tanzania Flat Glass Market Size, By Product, 2017 & 2024, (Kilo Tons)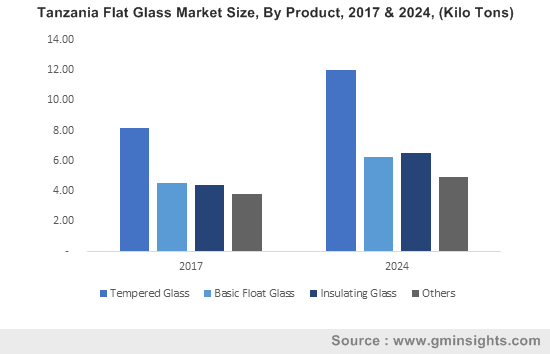 With lowered costs of vehicles, the scope for the automotive industry will also be widened in the African countries where ownership per thousand people is about a quarter of the global average. Increased affordability will further add to the growth rate of the East Africa flat glass market, the size of which was estimated to be $145 million in 2017.
East Africa has been a model region for economic development especially with the rise of the middle class. As far back as in 2011, a survey showed that 29.3 million people of East Africa can be classified as middle class, constituting 22.6% of the population. The middle-class population has fueled a need for variety, convenience, and competitive pricing which has been reflected in catalyzing the growth of the democratic space. Two of the countries in East Africa with the largest middle-class population, namely Egypt and Tunisia, therefore, aptly overturned the corrupt regimes that oppressed them and led the path for inexorable economic growth. By 2030, the continent's top 18 cities are expected to have a combined spending power of $1.3 trillion. This economic flourish has been reflected in every aspect of the region, specifically across the industrial arena, leading East Africa flat glass market on the path to success. The thriving construction and automotive industries in the area have been emerging as major end users of flat glass, further strengthening East Africa flat glass industry.
Get a Sample Copy of this Report @ https://www.gminsights.com/request-sample/detail/2671
According to estimates the East Africa flat glass market size from building and construction application during 2017 was valued at $115 million. Recently at East Africa BUILD, the East Africa International building materials, construction equipment, machinery and products Trade Exhibition, investors were urged to expand their presence and network in the region while Governments and Trade Associations were working towards luring international investors. With the number of construction projects having gone up by more than 60% between 2016 and 2017, the East Africa flat glass market is expected to register appreciable growth at it strives to fulfill the increased demand for doors, windows, floors, partitions, bathrooms and stairs.
The rise of income levels and emerging middle class in East Africa have contributed towards the growth of the automotive industry as well. Automakers are adopting a long-term vision in East Africa due to its positive economic outlook. In 2018, automotive manufacturing giant Volkswagen announced the set-up of a new vehicle assembly plant in Rwanda. Imported second hand cars make for a bulk of the automobiles used in East Africa and according to Volkswagen, the $20 million investment in the new plant will facilitate the offer of new cars and also help in launching a ride sharing service in a country where Uber has not yet set its mark. Therefore, the East Africa flat glass market will stand to gain heavily from the upcoming automotive industry in the region that creates an expansive demand for tempered glass and other safety glasses commonly used in automobiles.
The combination of a rapidly progressing economy, emergence of a middle class with more disposable income, and cooperation from governments and trade bodies have been noted in almost all of the countries that constitute East Africa. While on one hand this has attracted investors to focus and spend more on property and building construction for residential and commercial purposes, on the other hand, notable automakers liked Volkswagen have pledged to change Africa's image in the global automotive space. Driven by the extensive product demand in the region's automotive and construction sectors, East Africa flat glass market size is anticipated to surpass $235 million by 2024.
Author Name : Paroma Bhattacharya
In an era dominated by flexible packaging, four side flat pouch market is witnessing extraordinary gains, owing to the fact that the product is a highly cost-effective and qualitative packaging solution. In addition to cost-effectiveness, these pouches also provide more effective protection to the products including granules, powders, liquids, and creams. Taking into account the practical flexibility of four side flat pouches, many end-users such as pharmaceutical companies, F&B giants, and personal care product have been placing humongous demand for these pouches. In accordance, four side flat pouch industry behemoths have been making substantial investments in new product developments as well as innovation of advanced pouch making machines. The adoption of these strategies in all plausibility, would provide a lucrative push to four side flat pouch market trends over the years ahead.
U.S. Four Side Flat Pouch Market, By Application, 2017 & 2024, (Kilo Tons)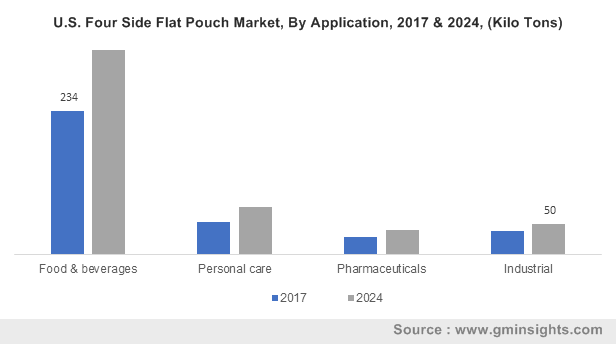 Of late, pertaining to the environmental concern raised due to growing usage of non-degradable packaging facilities, end-users have begun to demand eco-friendly packaging. In this regard, the players in four side flat pouch industry have also changed their perspective toward the manufacturing of sustainable products. With the production of green packaging solutions, the biggies are now looking forward to achieving higher returns than earlier.
Citing an instance validating the extent of innovation in packaging, the leading U.S. based sustainable flexible packaging solution provider, ProAmpac has recently extended its current portfolio with the launch of a fully recyclable pouch. As the customers and end-use companies prefer sustainable packaging option without any compromise on the quality of product, this superior packaging solution will certainly help ProAmpac march forward in sustainable flexible packaging market. With the launch of this green packaging solution, ProAmpac has set a commendable benchmark ahead for the contenders of four side flat pouch industry.
Get a Sample Copy of this Report @ https://www.gminsights.com/request-sample/detail/2666
Speaking more about the initiatives taken by the organizations in food service packaging, it would be imperative to mention that these firms have been promoting innovations related to packaging solutions that will prove to be a game-changer in the overall packaging verticals. For instance, recently, ConservaCube™ has received an award from Foodservice Packaging Association (FPA) for expanding its sustainable packaging, technical innovation, and packaging excellence. This company has developed polyethylene laminated rigid pouches, which could be mainly beneficial for the consumers and retailers who are looking for flexible packaging options for dry and free-flowing products. In 2017, ConservaCube™ also featured its pouch manufacturing facility with a laminated polyethylene structure for maintaining full recyclability of packages. Additionally, with the adoption of a new streamline manufacturing process to produce PE based pouches, ConservaCube™ has minimized cost, time and GHG emissions. Undoubtedly, the company has justified its suitability for the FPA award, strongly consolidating its stance in four side flat pouch industry.
Meanwhile, considering the growing demand for flexible pouch packaging, leading pouch converting machinery suppliers have been planning to massively extend their regional reach of late. The facility expansion strategy adopted by pouch machinery suppliers will help them to obtain substantive returns, specifically now that they will sell advanced machineries to giants in four side flat pouch industry. For instance, a few months before, leading converting machinery provider for flexible packaging and pouches, Karlville had opened a new office in Switzerland to expand its reach for its pouch converting machinery operations across European countries. Through this new facility expansion, the company aims to increase its sales and services for pouch machines, laminators, and slitters mainly across EMEA. In addition to this, Karlville had also collaborated with fabrication companies to expand the sales of the flat-bottom pouches.
Though new product developments and facility expansions are turning out to be beneficial strategies for the giants in four side flat pouch market, they are also focusing on mergers and acquisitions to utilize the full potential of the budding four side flat pouch industry. Validating the aforementioned fact, on May 2018, the UK based food packaging product manufacturer, Sirane acquired another flexible packaging manufacturer based in UK, B&G Products. With this strategic business acquisition, Sirane has expanded its customer base in UK and other countries. In addition, by acquiring the innovative product portfolio of B&G, Sirane has established its position rather securely in plastic-free food packaging pouch market. The incidence depicts that powered by such frequent mergers and acquisitions, four side flat pouch market contenders look forward to achieving considerable proceeds in the ensuing years.
With increasing awareness among the end-users and pouch manufactures about the benefits of recyclable pouch packaging, product demand is likely to witness an incline in future. The innovative approach of pouch manufacturers and the subsequent encouraging support of regulatory organizations will also play a major role in impelling four side flat pouch market. As per estimates, four side flat pouch industry size is anticipated to cross USD 8 billion by the end of 2024.
Author Name : Sunil Hebbalkar
Over the last few years, body worn insect repellent market has emerged as a lucrative yet challenging investment avenue, against the backdrop where bug-borne diseases has turned out to be a global concern. According to the World Health Organization, Malaria is prevalent across 91 countries worldwide, placing around 40% of the global population at risk. Reports indicate that nearly 500 million populace suffers from Malaria every year, leading to almost 2.7 million casualties annually. It is important to mention that of all the disease transmitting insects, mosquito is claimed to be one of the greatest menaces, spreading catastrophic Malaria, Dengue, Yellow Fever, etc. In fact, Dengue is deemed to be world's calamitous mosquito borne virus disease, with nearly 2500 million people at risk of infection globally. These statistics depict the increasing pressure on body worn insect repellent market players to come up with state- of-the-art solutions that would somewhat mitigate this afflictive situation.
U.S Body Worn Insect Repellent Oils & Creams Market, 2017 & 2024 (Kilo Tons)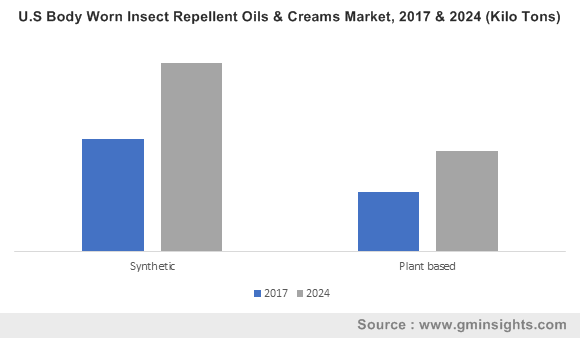 North America is a prominent regional share contender having held almost 30% of the global share in 2017, courtesy – the widespread American and Canadian populace vulnerable to flea borne diseases. According to a latest survey by Centers for Disease Control and Prevention, tick and mosquito borne diseases in U.S. had almost tripled over the period of 2004-2016. For the records, in the year 2004, the country witnessed 27,388 cases of vector borne diseases, while in 2016, the figure reportedly got upscaled to 96,075 cases. The astoundingly mammoth prevalence has undeniably generated a massive demand for advanced insect repellents, substantially impelling the U.S. body worn insect repellent market size.
Regional government has a big role to play in proliferating the industry trends. The U.S. Environmental Protection Agency, for instance, has taken significant initiatives to promote DEET utilization in manufacturing of bug repellent products, especially for those that are sold locally. This in consequence, has created an increased awareness among the Americans regarding insect borne diseases and also about the specific preventive measures that need to be taken to combat the issue. Considering these aforementioned aspects, it would not be incorrect to state that U.S. would continue its dominance in North America body worn insect repellent industry, given that the country boasts of an extensive product array as of now due to the presence of large distribution channel.
Get a Sample Copy of this Report@ https://www.gminsights.com/request-sample/detail/1807
Spreading vector borne diseases such as Dengue, West Nile, Chikungunya, and Malaria ironically are the prime factors fueling body worn insect repellent market demand.  A host of new body worn mosquito control repellants has been widely discussed, tested and put forth in the market over the recent years, however, whether these repellents prove to be fruitful in long term is yet to be determined. The extensive research activities that body worn insect repellent industry is presently characterized by mainly focusses on utilizing more of Lemon Eucalyptus and DEET in various bug repellents products. These days, sprays have become a universal choice among consumers, subject to its ease of application on skin as well as in apparels. Companies have been highly focusing on extending their product landscape along with distribution channel expansion, which in essence is impacting the overall body worn insect repellant industry share.
Grounding on numerous experimental studies, experts have apparently come down to a conclusion that repellent technology represent a fundamental aspect in mosquito borne disease transmission prohibition, which is why body worn insect repellent market is gaining a substantial traction in terms of revenue streams. However, some unhealthy instances such as breathing trouble, skin irritation, and unpleasant odor on its application, somehow act as a stumbling block in the industry growth. Nonetheless, driven by the continuous developments on product front in tandem with a highly supportive regulatory framework, body worn insect repellent industry is set to record a revenue of USD 1 billion by 2024.
Author Name : Satarupa De