Bulk & Specialty Chemicals
The popularity of the global polyphenylsulfone market has grown considerably in the past few years, with the proliferating application of the product in the medical, automotive and aerospace sectors. It would not be incorrect to state that polyphenylsulfone, owing to its resilience to high-temperature and corrosive chemicals holds commendable significance in the medical industry. An ideal material for clinical applications, polyphenylsulfone is highly resistant to hospital disinfectants. The increasing government expenditure to improve hygiene conditions in hospitals has propelled the demand for patient-centric, clean medical devices, in turn supplementing the polyphenylsulfone market growth.
U.S. Polyphenylsulfone (PPSU) Market Size, By Application, 2018 & 2025, (Kilo Tons)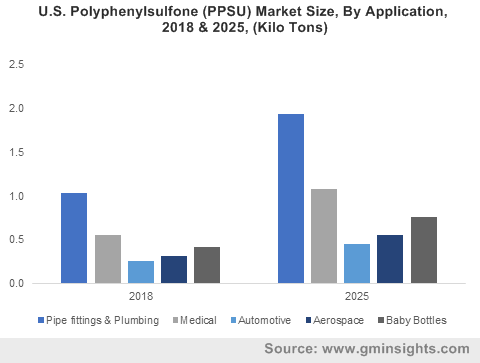 Technological advancements in diagnosis methods, imaging technology in orthopedic surgery and introduction of new products is also likely to boost the industry growth. The growing awareness regarding disease transmission through surgical devices along with government regulations mandated to ensure safety in surgical procedures and instruments are expected to surge the demand for PPSU from clinical device manufacturing companies.
Indeed, the material is widely used in the manufacturing of medical tool handles, forceps, scissors, and clamps for several surgical disciplines owing to its enhanced sterilization resistance. Complex surgical tools like endoscopic probe positioning ferrules are also made using PPSU rods, which may further augment the industry growth. Recent reports from Global Market Insights, Inc., cite that the rod-based PPSU market share exceeded around $95 million in 2018.
How will the aerospace sector prove to be a lucrative investment avenue for the global PPSU industry?
Nowadays, aerospace engineers and aircraft manufacturers are constantly focus on reducing aircraft weight to lower fuel consumption and match stringent emission standards. Being up to ten times lighter than metal, polymer and composite materials like PPSU effectively meet manufacturers' expectations whilst lowering cost by replacing expensive steel components.
In addition to weight reduction, PPSU also adds value for many aerospace applications due to its unique properties like superior corrosion & fatigue resistance, tensile strength, and durability which significantly helps outperform metal components. The material's high-performance thermoplastics property also helps meet stringent FST (flame, smoke, and toxicity), formulating its use in aircraft interiors while being in compliance with stern FAA regulations, further offering increased passenger safety. This would, in consequence, majorly impel PPSU industry trends from aerospace applications.
The global polyphenylsulfone market is also touted to procure substantial gains from the automotive sector, owing to surging fuel prices, rising environmental concerns pertaining to automobile CO2 emissions, and increasing demand for lightweight, fuel-efficient vehicles. Undeniably, PPSU offers high strength and lightweight properties and is resilient to high-temperature engine oils and vehicular impact, making its deployment vital to increase and match vehicle safety and performance standards. The material is increasingly used for making engine water pump impellers, electric circuit/component insulators, automotive lights and more, effectively replacing heavy metal components and further reducing vehicle weight. This would lead to improved fuel-efficiency, the core of what global automakers are intending to accomplish as on today, which would quite overtly augment the overall polyphenylsulfone industry share from automotive applications in the years ahead.
Get a Sample Copy of this Report @ https://www.gminsights.com/request-sample/detail/3126
The mention of Germany is undoubtedly discernible when speaking of automotive applications. The region boasts of the presence of globally renowned car manufacturers like Volkswagen, Mercedes-Benz, BMW, Audi and more and houses one of the world's leading automotive manufacturing infrastructure and highly qualified workforce. According to reports, the total number of passenger vehicles registered in Germany for road use was increased by 1.5% to around 46.5 million cars in 2018.
Moreover, stringent regulatory measures by the European Union regarding carbon emission from vehicles has further encouraged automakers to adopt metal replacing material like PPSU to reduce vehicle weight and emission. It is also anticipated that rising technological trends in the automotive sector for vehicles that offer increased fuel-efficiency may contribute towards regional industry growth.
Germany PPSU industry has also gained traction lately on account of the product's usage in medical applications. Indeed, Germany polyphenylsulfone market size from medical applications is expected to surpass close to USD 8 million by 2025, driven by the enforcement of strict norms by the European Union pertaining to medical devices.
A high-performance thermoplastic known for its high flexural, toughness, and tensile strength, excellent hydrolytic stability and resistance to heat and chemicals, polyphenylsulfone is touted to be the most ideal alternative for products that are inclusive of polycarbonate and polyamide. According to Global Market Insights, Inc, the polyphenylsulfone market size is set to exceed $500 million by 2025.
Author Name : Mateen Dalal
The global PMMA market for construction application has been experiencing significant growth lately, due to the increasing demand for shatterproof & weathering resistant materials as a viable replacement to glass. Numerous construction enterprises are continually looking for a suitable glass alternative to be utilized across a number of different applications that range from greenhouses, aquariums, worktops to facades and car ports, which would help augment PMMA market for construction application in the years ahead.
U.S. PMMA Market for Construction application, By Application, 2017 & 2024, (Kilo Tons)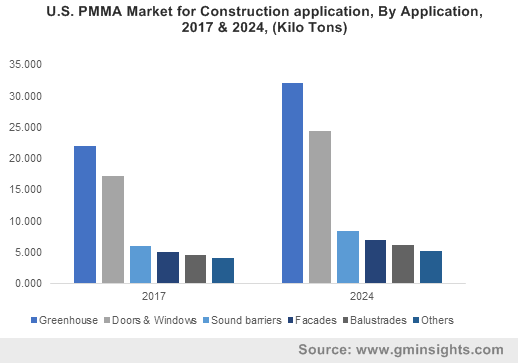 Apart from being shatterproof & weather resistant, PMMA also boasts of another considerable advantage over glass, which is the material's transparency; PMMA is significantly more transparent than glass, and as opposed to it, maintains this transparency even when the panels are made too thick. Moreover, the trend of increasingly promoting natural lighting in architectural designs – to the point that enterprises across the world when posting job perks also list out 'access to natural light' as an added advantage, would be ensuring sustained product demand. This is because the more a building design ensures natural light access, the more area there is for the installation of windows. Quite overtly, the global PMMA market for construction application would be significantly benefiting from this trend. A further elaboration of the same has been enlisted below:
PMMA market for construction application | Impact of the natural light trend that is gripping enterprises
According to the Harvard Business Review, a new survey conducted by Future Workplace revealed that even though enterprises boast of a number of employee perks, which include nap pods, treadmill desks, bring your own device, fitness centers and onsite cafeterias, a majority of employees crave something that is significantly more fundamental & essential to basic human needs as access to natural light. More than 1,614 employees who were surveyed claimed that access to natural light & an open view of the outdoors triumphs almost all of the employee perks the company gives them.
The survey also discovered that the lack of natural light & an open view of the outdoors has a sizable detrimental effect on employee experience. Over a third of the surveyed employees feel that they don't get enough exposure to natural light inside their workplace with 47% of the employees admitting to feeling moderately to acutely fatigued due to the lack of natural light in their respective offices. More than 43% claimed that they felt gloomy due to the absence of natural lighting.
With a growing importance being given to employee comfort and wellbeing in recent years, the global PMMA market for construction applications would be witnessing a surge in business demands on account of a number of enterprises attempting to improve the company's employee experience by constructing, renting or modifying existing work premises to incorporate more natural light into the building. The fact that this trend also helps enterprises save significant amounts on their electricity bills will further help propel the growth prospects of the PMMA market for construction application in the forthcoming years.
Get a Sample Copy of this Report @ https://www.gminsights.com/request-sample/detail/3150
PMMA market for construction applications | Impact of the increasing plastic usage in Europe's real estate industry
The modern European construction industry is increasingly adopting plastics in their practices to make construction activities and the building structures more affordable & energy efficient. The accelerated adoption of plastics and the incorporation of new plastic technologies are expected to majorly upscale the demand for PMMA in the continent's construction segment, which incidentally is one of the largest employers in the European Union.
According to PlasticsEurope, Europe's construction & building sector accounts for more than 19.7% of the approximately 49 million tons of plastics annually consumed across Europe, which is one in every five tons. With the demand for plastics on a continually escalating graph, Europe PMMA market for construction application is anticipated to record immeasurable growth in the ensuing years.
Among the regional grounds, Germany, especially, is slated to establish itself as a prominent marketplace for Europe owing to the extensive utilization of PMMA in the construction of carports. The material's shatterproof & durability properties make it an ideal raw material in the construction of the said carports, which are witnessing increasing demands owing to the growing vehicle sales across the country. This would consequently help augment the commercialization portfolio of the Germany PMMA industry for construction application, that is slated to cross $125 million by 2024.
It is rather vivid that owing to the emerging trends in the construction industry, the global PMMA market for construction application would be experiencing sizable growth over the forthcoming time period. In fact, a Global Market Insights, Inc., report projects that the overall PMMA market size for construction application is expected to surpass the $3 billion renumeration mark by 2024.
Author Name : Akshay Kedari
With the rising shift towards renewable power generation systems and growing adoption of zero-emission EVs, electrical steel market has garnered renewed momentum in recent years. Electrical steel is basically an iron alloy tailored to generate specific magnetic properties for various industrial and commercial applications. The product is particularly used for making power transformer and has found long-term application in the EV industry for making efficient, high-speed electric motors owing to its ability to reduce energy loss, improve efficiency, lower CO2 emissions and hysteresis loss. The rising demand for high-torque electric motors in the shipping and construction industry has further propelled the growth of the electrical steel industry.
U.S. Grain Oriented Electrical Steel Market Size, By, 2018 & 2025, (Million tons)

How will the energy sector turn out to be a revolutionary driving force for the global electrical steel market?
The ever-increasing global demand for reliable and environmentally friendly energy sources has pressurized the solar PV sector since the last few years. Solar PV panels basically convert sunlight into electricity, however, due to its output's DC nature and low current offering these power stations require efficient distribution or static converter transformers to step-up the electricity to drive high-voltage AC applications.
The rising focus on curbing global CO2 emission has also encouraged construction of zero-emission solar PV power stations. For instance, reports from Solar Energy Industries Association (SEIA) claim that around 10.6 GW of solar PV capacity was installed in the U.S. in 2018, reaching a 64.2 GW of total installed capacity, enough to power 12.3 million U.S. homes. Reports further suggest that the region's total installed solar PV capacity is expected to go over double by 2024. As the demand for renewable surges, the requirement of transformers at solar PV power stations and similar establishments is bound to increase, thereby propelling the electrical steel industry trends.
The extensive expansion of the global EV industry is likely to have an impact on the electrical steel market trends, given that the material is widely used in manufacturing high-speed, power-efficient motors, a primary component of any electric vehicle. Rapid technological developments in motor technology has also propelled the industry growth. It is thus certain that the rising investments in motor manufacturing will boost the electrical steel market share in the coming years.
Get a Sample Copy of this Report @ https://www.gminsights.com/request-sample/detail/3136
Citing an instance to back the aforesaid, in 2018, electric supercar maker Rimac Automobili announced its investment of around EUR 5 million (USD 6 million) for setting up a new manufacturing facility in Xiangyang, China to solely produce electric motors and batteries for its EV segment as to meet production capacity of 50,000 units/year. As is observed, major companies have been making extensive investments to up their EV manufacturing graph, that is bound to lead to an augmented growth depiction for the electrical steel market.
Unveiling China electrical steel market trends:
China is anticipated to emerge as a highly lucrative revenue pocket for the global electrical steel market. One of the primary reasons for the region to depict an incline in the growth potential is the extensive deployment of grain oriented electrical steel. Indeed, these products are known to convert energy into power voltages to be deployed across various power generation systems. In China specifically, these products are extensively used in household appliances and rural and urban networks, that has helped accelerate their demand in the nation. As a matter of fact, China grain oriented electrical steel market size from household appliances will be pegged at over USD 95M by 2025, driven by the spate of novel innovations in household appliance manufacturing.
The China electrical steel market is also expected to witness momentum from the rising standards of living and the increasing per capita income of consumers that has led to escalating power distribution network in the region. Moreover, the focus of several electric automakers to set up manufacturing facilities in the region owing to its vast technological know-how will accelerate the electrical steel market growth. For instance, global EV giant, Tesla, Inc. has started constructing its Gigafactory 3 in Shanghai which would make electric motors and battery packs for its current and upcoming segments by 2020, in turn supplementing the electrical steel market.
Primarily used to produce cores of transformers, motors and generators, electrical steel helps enhance permeability, magnetic flux density, and minimize energy loss, on the grounds of which it is extensively used in the energy, manufacturing and automotive industries. Reports from Global Market Insights, Inc., claim that the electrical steel market size is estimated to surpass $22.5 billion by 2025.
Author Name : Mateen Dalal
The global polycarbonate composites market is slated to emerge as one of the most lucrative investment avenues over the forthcoming years, given the product's deployment in numerous industrial sectors. An unfilled polycarbonate is an extremely durable and transparent engineering plastic with its properties ranging from immense impact strength to a significant modulus of elasticity. Moreover, the material is also extremely resistant to moisture, possesses a high heat-deflection temperature and high voltage & low frequency insulating characteristics, making them ideal to be used for making electrical & electronic components.
U.S. polycarbonate composites market, by end-user, 2014 – 2025 (USD Million)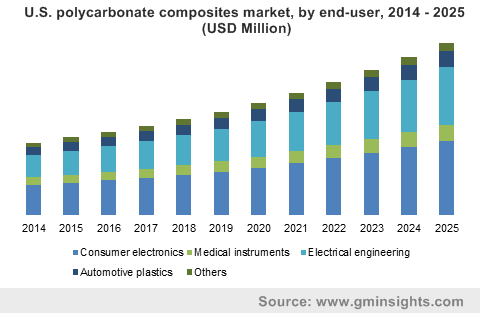 Meanwhile, its transparency, elasticity & high impact resistance also make it a prime material for numerous transparent structural applications. These properties ensure a sustained & significant demand for the material from several industrial domains, which would be responsible for fueling the polycarbonate composites market share in the coming years.
Polycarbonates are also highly versatile, in the sense that they can be mixed with other materials to accentuate certain properties. For instance, polycarbonates mixed with varying amounts of glass fibers results in a material that has an increased level of tensile & compressive strength as well as overall stiffness. These hybrid composites could be used anywhere between to make race car or fighter jet windshields. This versatility opens up a plethora of application avenues for the product, thereby fueling polycarbonate composites industry trends.
Get a Sample Copy of this Report @ https://www.gminsights.com/request-sample/detail/3154
Global polycarbonate composites market | Impact of the demand from automotive plastic manufacturers
It is a well-known fact that the level of fuel consumption in an automobile is directly linked to its weight. Higher the weight, higher the energy required to get the vehicle moving. In an effort to make vehicles more energy efficient, car designers across the world, while constantly seeking new ways to further enhance their vehicle's fuel efficiency, place a significant amount of emphasis on eliminating this weight while keeping the vehicle's structural integrity intact. This requirement has steered the global automotive industry to turn to polycarbonates as an extremely viable alternative for glass & metal.
Significantly lighter, yet just as strong, polycarbonates today play a crucial role in the automotive industry by improving fuel economy & reducing carbon emissions. Moreover, the lighter a vehicle gets the easier & quicker it can brake, which during an imminent collision leads to a significantly reduced collision impact. This promotes a safer & better driving experience, further positioning the polycarbonate composites demand graph in an exponential position in the automotive industry.
According to the European Polycarbonate Sheet Extruders, a typical automobile body incorporates over 10Kg of polycarbonates in numerous forms, with injection molded polycarbonate making up the displaced glass & headlights, an ABS & PBT polymers' blend used for under-the-bonnet components & vehicle interiors and PC/ABS polycarbonate blend facilitating advantages in scratch resistance, vehicle aesthetics & dimensional stability. These applications are further going to grow with improving economic conditions globally, ensuring a rise in automobile sales. As a matter of fact, polycarbonate composites market share from automotive plastics is projected to grow at a 6% CAGR over 2019-2025.
Global polycarbonate composites market | Impact of the expanding smartphone sales
According to the International Monetary Fund, the immense global smartphone demand has been the primary factor behind the generation of a new tech cycle around the globe. In fact, back in 2016, smartphone sales across the world reached the 1.5 billion unit mark – around one smartphone for every fifth individual in the world. This trend has engendered evolving & complex supply chains throughout the globe, especially Asia. The polycarbonate composites market has been estimated to be one such industry that is witnessing significant demands from the rising smartphone sales.
While, some smartphone manufacturers prefer to make the bodies of their smartphones completely out of metal or glass, a majority of them tend to lead more towards the lightweight yet durable plastics made out of polycarbonate composites. One factor that puts forth a strong case towards the use of polycarbonate is the issue of network reception; as metals & some formulations of glass constantly interfere with the mobile device's internal antenna, leading to frequent signal & call problems. This issue is virtually nonexistent inside handsets made out of polycarbonate exteriors.
According to the GSMA Intelligence, the total number of unique mobile users surpassed the 5 billion mark back in 2017. The mobile industry across the world is projected to accomplish a further milestone by 2025, wherein the unique mobile user numbers would be reaching the 5.9 billion mark, which is equivalent to approximately 71% of the world's population. This growth is expected to maintain a healthy demand for polycarbonate composites, further fueling the overall growth of the polycarbonate composites market from consumer electronics applications.
Owing to the massive product demand from some of the most expansive industry verticals, it is quite clear, that the global polycarbonate composites market would be experiencing significant growth prospects over the forthcoming tears. In fact, according to Global Market Insights, Inc., the overall polycarbonate composites market size is projected to surpass the $3.2 billion renumeration mark by 2025.
Author Name : Akshay Kedari
The rising focus on the adoption of lightweight material in the automotive & aerospace sectors has accelerated the long fiber thermoplastics market growth in recent years, given the need to attain high fuel efficiency. Long fiber thermoplastics (LFT) help in sustainable development of automotive structures and robust, lightweight aircraft components as well. Indeed, by adopting LFT, automakers and aircraft manufacturers have been able to lower manufacturing cost, reduce installation time, and deliver lightweight components that provide high level of productivity and recycling potential, supplementing LFT market growth.
U.S. Long Glass Fiber Thermoplastics Market Size, By Application, 2018 & 2025, (Kilo Tons)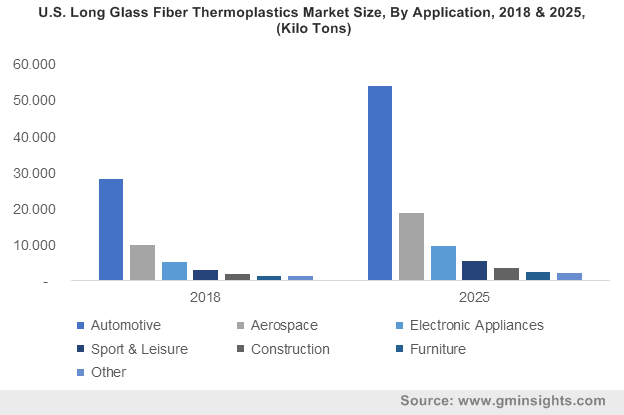 The automotive industry will majorly drive the long fiber thermoplastic market growth over the years to come. The material's high performance in terms of mechanical properties, low cost, processing advantages and low density has led to its application in the automotive industry for making front end modules, bumper beams, instrumental panel career, doors and underbody shields. The product has an edge over conventional materials like aluminum due to its high specific strength, simple manufacturing process, recyclability, good damping capacity, and corrosion resistance has encouraged manufacturers to implement it in their vehicle segments. Moreover, rising customer demand for fuel-efficient vehicles has also propelled the long fiber thermoplastic industry trends.
With increasing emission levels in urban areas along with increased cases of obesity, people are constantly shifting towards cycling to commute in the city, which may in turn increase long fiber thermoplastics market demand. LFT has found application in manufacturing bicycles as it offers frothy properties which ensure better durability, handling and rideability to users. Moreover, as car traffic and commute times at an all-time high, more people are considering cycling as a more efficient and sustainable means for transport. Bike-sharing companies like Lime Bike, Mobike and Jump have recently gained demand from city commuters, generating huge opportunities in the bike manufacturing sector, further augmenting LFT market growth.
Get a Sample Copy of this Report @ https://www.gminsights.com/request-sample/detail/1747
Long fiber thermoplastics market outlook from the expanding aerospace sector
LFT is rapidly being deployed in the aerospace, aviation and missile/defense applications. The material offers lightweight advantages, design flexibility, high specific modulus and strength, ease of installing, and recyclability. Aerospace components featuring LFT mainly comprise of complex-shaped baseplates for electronic housings, stowage doors, structural load-bearing member and more. These products are utilized for making aeronautic equipments that reduce the weight and bulkiness of an aircraft, eventually making air travel more fuel-efficient and safe.
Given the expansive usage of the material in the aerospace & automotive sectors, it is prudent to mention that the Asia Pacific long fiber thermoplastics market, led by South Korea, India, China, and Japan, will accumulate commendable returns in the years to come. China specifically, is predicted to emerge as one of the most lucrative avenues of the regional industry. Since LFT finds long-term applications in the automotive interior manufacturing sector and in the construction of waste treatment plants as well, given its chemical and thermal resistance, China will come up to be one of the most profitable regional grounds for the long fiber thermoplastic industry. As per estimates, China long fiber thermoplastics industry size is likely to record a CAGR of 10.5% over 2019-2025.
Another regional ground that is primed to be rather lucrative for the long fiber thermoplastics market is Europe, led by the countries of France, Italy, Germany and the U.K. The region's automobile industry has evolved rapidly as it comprises renowned auto giant's like Volkswagen, Mercedes-Benz, Audi and more that offer sales worldwide. The LFT market will also witness significant gains as carbon reinforced thermoplastics are used in the manufacturing of vehicles to reduce kerb weight which makes vehicles more fuel efficient.
These thermal & heat resistant components which are largely used in automotive, aerospace and electrical & electronic industries, are lately being amalgamated with carbon and glass fibers to form structures which increase the robustness of a product. This would indeed, give rise to a spate of new growth avenues in the years to come. According to Global Market Insights, Inc., the long fiber thermoplastics market size will surpass $3 billion by 2025.
Author Name : Mateen Dalal