Bulk & Specialty Chemicals
Global resin capsule market trends are poised to gain immense momentum over the forecast years, due to excessive demand from the mining and construction industry. These materials are primarily used as anchoring medium for cables and rock bolts to deliver roof and sidewall support during underground activities. An upsurge in construction and mining activities across the globe will primarily impact resin capsule market share.
U.S. Resin Capsule Market, By End-User, 2014 – 2025 (USD Million)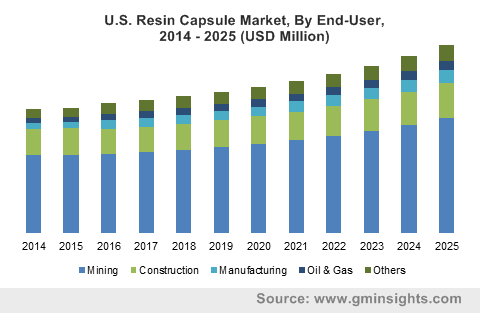 Mining is one of the primary end-user of resin capsules, thus, growth in the global mining and metal industry will proliferate the demand for resin capsule in mining. Resin capsule in mining enables easy installation of roof support and decreases the possibility of human errors. Implementation of strict safety standards in the mining industry is also likely to impel resin capsule demand over the coming years.
The government of Queensland has reportedly appointed inspectors and is set to implement safety reset across all mines and quarries in the state to prevent mine-related tragedies. Such practices will result in an increasing demand for resin capsules in mining, thereby augmenting global resin capsule market outlook.
Another key factor promoting the utilization of resin capsules in mining is the growing electricity demand across the world. As per the International Energy Agency, worldwide energy demand surged by 2.3% in 2018, owing to economic growth across several economies, and high heating and cooling needs in some regions. The agency also specified how coal use in power generation exceeded 10 Gt. Increasing demand for power generation is a substantial driver for the coal mining industry, which in turn will benefit resin capsule industry size.
Get a Sample Copy of this Report:@ https://www.gminsights.com/request-sample/detail/3781
In addition to mining, immense application of resin capsule in the construction industry is also slated to be a creditable driver over the succeeding years. Resin capsules find extensive use in heavy-duty fixing and favor high concrete loads. It is commonly used to construct dams and tunnels since it provides high strength, rigidity, and is easy to install and maintain. Increasing tunnel construction for metros, subways, and rail links will impact market growth in the future.
Finland and Estonia recently signed a memorandum of understanding to construct the 100km Tallinn tunnel underneath the Gulf of Finland. In another instance, Auckland's $4.4 billion worth City Rail Link project has reportedly signed the tunnel and station contract. Such developments could result in immense resin capsule production, thus augmenting resin capsule market share in the future.
Increasing population and urbanization across the globe will also fuel product demand over the coming years. Owing to urbanization, cities are growing very fast with maximum impact on the housing sector. Also, factors like migration and increasing population impact city structures, encountering new demand for larger buildings and raising the number of infrastructural projects in the urban region. This trend is expected to generate a huge requirement for construction activities, thereby fueling global resin capsule market.
Similar to the mining industry, worker safety regulations in the construction industry is also contributing to product demand. The Indian government recently bought out four labor codes concerning multiple factors including occupational safety and working conditions. Resins help with easy and proper installation during roof support, reducing the chances of a tragedy. Increasing stringency of safety laws will persuade contractors and engineers to prefer more rigid and strong material, which will help drive resin capsule market growth.
Based on geographical growth, the Asia Pacific market is the one of the most profitable grounds for global resin capsule industry. Substantial growth in the region's mining and construction industry, primarily owing to its growing population will boost market growth in the region. Developing nations like India and China are experiencing rapid urbanization, boosting the demand for housing and infrastructure, which is a key growth driver for the region. Moreover, this trend has also elevated energy demand, thereby impacting the region's mining sector, which could further expand the region's resin capsule market size.
As per a recent research report compiled by Global Market Insights, Inc., resin capsule market is projected to exceed 1.07 billion by the end of 2025.
Author Name : Krithika Krishnan
Increased product demand from pharmaceutical and textile industries will drive bleached linter cellulose market growth in the forecast years. Bleach linter cellulose is a high viscosity substance made primarily from cotton linters. Compared to wood cellulose, cotton linters offer significant advantages like higher purity, higher brightness, and a lower content of hemi-celluloses. These characteristics make purified linters cellulose an ideal raw material for manufacturing high-quality products like tissue, gazes, high-quality paper for bank notes, nitrocellulose and cellulose ethers.
U.S. Bleach Linter Cellulose Market size, By Application, 2014-2025 (USD Million)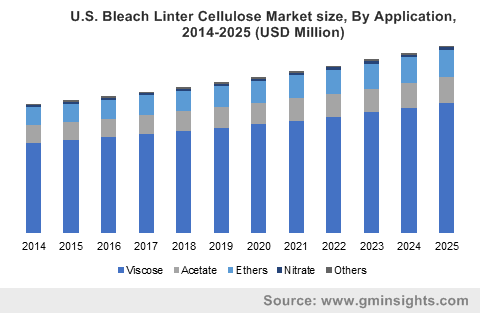 Increasing investments and rapid technological advancements are likely to expand bleached linter cellulose market size over the forecast period. For instance, in 2019, the GRETE project that aims to improve the existing wood-to-textile value chains by developing breakthroughs and increase production of man-made cellulose fibers in Europe was granted EUR 2.6 million by the Bio-based Industries Joint Undertaking (BBI JU). Swiftly growing food industry across developing nations is also anticipated to foster industry trends.
Based on application, it would be apt to state that cellulose ether will accrue a significant proportion od bleached linter cellulose market share over the coming years. Cellulose ethers are often used as viscosifiers, suspending agents, thickeners, binders, protective colloids, film formers, and stabilizers in industries like food, drilling, textile, building, ceramics, detergent, and cosmetics.
Increasing use of cellulose ethers like carboxymethylcellulose (CMC) and methylcellulose (MC) will drive industry outlook. For example, in the construction industry, CMC is used in cement and other building material compositions owing to its hydrophilic and stabilizing properties.
Get a Sample Copy of this Report:@ https://www.gminsights.com/request-sample/detail/3858
Supportive government strategies and investments in the construction sector will positively supplement cellulose ether segment in the coming years. For instance, according to European Construction Sector Observatory (ECSO) 2018, the UK government plans to deliver 400,000 affordable housing units by 2020-2021, financed through a new EUR 2.7 billion Housing Infrastructure Fund.
Growing demand for personal care and pharmaceutical products is likely to drive bleached linter cellulose market growth by 2025. In personal care industry, bleached linter cellulose is used to thicken and stabilize cosmetics and improve their moisturizing effects. Cellulose ether, pertaining to its characteristics like high glass transition temperatures, limited crystallinity, high chemical & photochemical stability, solubility, hydrogen bonding capability, and low toxicity is used widely in the pharmaceutical sector. Colored cellulose ether products can also be decolorized or bleached to attain an increased whiteness.
Growing use of cellulose ether in various medicinal drug formulations will accelerate product demand. For instance, methyl cellulose (MC) can be used for thickening, suspending, and achieving emulsion stability of liquid pharmaceuticals, and for film coating materials of low viscosity aqueous solution.
Ethyl cellulose (EC) can be used as the binder of tablets, as film coating material, or as the matrix material for developing various types of matrix sustained-release tablets. With growing application of cellulose ether and ethyl cellulose, bleached linter cellulose market will witness commendable proceeds from the personal care and pharmaceutical sector over the coming years.
Asia-Pacific bleached linter cellulose market is anticipated to record gains of over 3.5% in the forecast period. Availability of low cost raw materials in countries like India and China will supplement industry growth. In addition, surging demand from end-user industries like textile, food, pharmaceutical and personal care due to improving socio-economic trends will expand market size.
According to IBEF, India's pharmaceutical industry is expected to reach US $55 billion by 2020. Whereas the country's textiles industry is estimated to reach US$ 250 billion in 2019. With rapid proliferation in such key sectors, the Asia-Pacific bleached linter cellulose market is estimated to witness new growth opportunities over the forecast period.
Bleach linter cellulose is high viscosity cellulose made from cotton linters. Being non-toxic, odorless in nature and easy-absorbent, bleach linter cellulose can effectively be used in industries like food, ceramics, detergent, and cosmetics. Rising product penetration in the textile, personal care and pharmaceutical industries will majorly drive global bleached linter cellulose market growth. Global Market Insights, Inc., estimates bleached linter cellulose market size to reach US $1.3 billion by 2025.
Author Name : Mateen Dalal
Global electronic thermal management materials market is poised to amass commendable returns over the ensuing years owing to the increasing demand for consumer electronics as well as the growing reduction in electronic device size. Electronic thermal management materials are extensively used in electrical assemblies for heat dissipation. These materials aid in controlling the heat emitted within the electronic assembly as well as help with proper heat conduction.
U.S. electronic thermal management materials market size, by end-user, 2014 – 2025 (USD Million)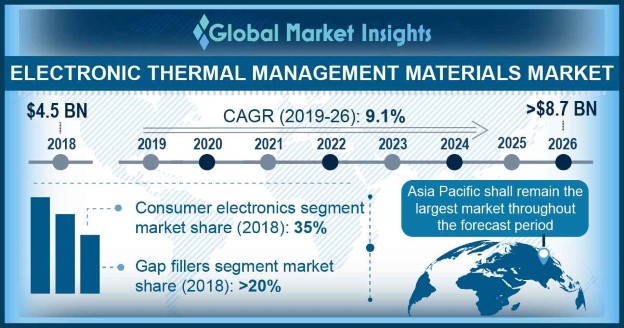 The emergence of nanotechnology has generated extensive demand for electronic thermal management techniques in the consumer electronics industry. Shrinking down devices is gaining popularity, as smaller devices tend to consume less power and are often reasonably priced and simpler to use. Owing to steady growth in consumer's disposable income, such devices are slated to witness higher consumption in the future, thereby influencing electronic thermal management materials industry trends over the forecast years.
The demand for consumer electronics has continued to grow, owing to the revolution of smart devices equipped with premium features. The demand for consumer electronics across the world is driven by major trends such as the rising demand for premium devices and reduction in prices. Due to an outburst in working women population, there has been a rise in dual-income within families. This trend has resulted in higher disposable income, which further stimulates the purchase of electronic products, thereby augmenting electronic thermal management materials market share.
Manufacturers of electronic thermal management products are bound to witness strong opportunities in the semi-urban and rural parts of developing nations in the coming years. The consumer electronics industry is observing considerable demand from the rural market, primarily due to the growing affordability of products as well as enhancements in the transmission network and electric supply. Construction companies are often awarded contracts to establish distribution networks comprising medium and low voltage distribution lines. Such developments will augment electricity access across rural and semi-urban regions, which is a positive sign for the increase in electronic thermal management materials industry share.
Get a Sample Copy of this Report:@ https://www.gminsights.com/request-sample/detail/3780
Rising affordability of digital connectivity has led to massive growth in eCommerce-penetration. Internet connectivity has helped in spreading product awareness and promotions, thereby surging consumer spending on electronics and home appliances, which would also favor electronic thermal management materials market size over the coming years.
In terms of product, thermal pastes are estimated to perform outstandingly over the coming years due to excessive use in CPUs and other electronic devices. For example, Intel recently announced that some of its Core i5-9400F series processors will feature thermal paste-based interface material, but CPUs with a KF suffix will continue to use soldered thermal interface material.
Additionally, the launch of new products will also result in segmental growth. For instance, Austrian firm Noctua recently launched a new thermal compound that depicted up to 2°C lower temperatures. Advancement in computer technology paired with an upsurge in digitization will foster growth in electronic thermal management materials market share over the coming years.
Based on regional growth, the Asia Pacific electronic thermal management materials market is poised to amass maximum returns in the future. This can be attributed to the region's rising population and its impact on the demand for consumer electronics. Moreover, developing nations within the region are witnessing increasing efforts to improve electrification in their rural and semi-urban parts, thereby boosting product demand in the consumer electronics application.
India is a leading driving region of the Asia Pacific market. The Indian government has been implementing numerous initiatives to achieve 100% electrification nationwide, which could positively influence electronics demand. According to the nation's 2019 budget, its consumer electronics industry is anticipated to experience double-digit growth rate if proposed tax exemptions on rural and middle-income consumers are successfully achieved. Increasing demand for white goods and digital electronics from India's changing rural setting will further contribute to growth in the Asia Pacific region.
Although the product has a wide scope in the consumer electronics application, electronic thermal management products also find excessive use in other end-use applications such as automotive, healthcare, telecom, and aerospace. Products like thermal greases are extensively used in automotive applications, and are anticipated to see immense growth due to the rise in disposable income and the worldwide push for the adoption of electric and hybrid cars. Meanwhile, increasing use of electronic thermal management products in digital and analog switches, routers, transmission switches, and controllers will strengthen market growth in the telecom sector.
According to a research report by Global Market Insights, Inc., electronic thermal management materials market is anticipated to exceed $3.1 billion by 2025.
Author Name : Krithika Krishnan
Intensifying demand for glass, cement, steel etc. in regions like APAC and MEA is anticipated to expand refractories market size over 2019-2025. The amplifying development of infrastructure is credited for expansive demand of such materials and is contributing towards increase in refractories market share.
Increasing public and private expenditure in developing countries in APAC region for development of infrastructure has created a massive scope for transforming refractories market outlook due to the indispensable usage of iron and steel furnace in numerous infrastructure projects. Currently, developing economies in the APAC region annually invest an estimated $881 billion in infrastructure.
U.S. Refractories Market Size, by end-user, 2014-2025 (USD Million)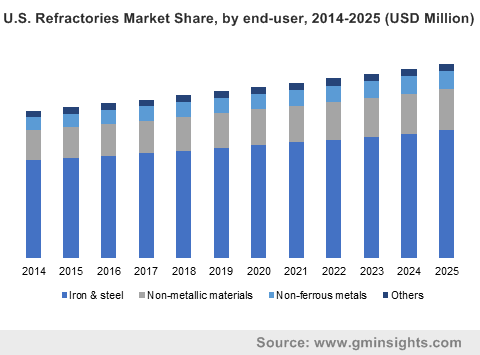 Multilateral development banks such as Asian Development Bank have a crucial role to play in private and public sector infrastructure financing. ADB will apparently be scaling up its operations by 50% to over $20 billion in 2020. Approximately 70% of the total amount will be utilized for sovereign and non-sovereign infrastructure investment.
Three of the five countries with the greatest infrastructure need are in Asia (China, Japan and India). These countries account for 39% of global infrastructure investment requirements. China alone has been predicted to need $28 trillion in infrastructure investment, which is more than half of Asia's total needs and 30% of global needs. Infrastructure growth will also boost global demand for steel. In 2016, steel demand in China accounted for around 45% of global steel demand. China refractories market trends are expected to depict substantial transformation owing to the growing need of steel.
Increasing rate of infrastructure development will drive the demand for cement which will add impetus to refractories industry outlook. Initial evaluations suggest that cement production reached 4.1 gigatons globally in 2018. The largest producer of cement, China, has accounted for nearly 60% of global production, followed by India at 7%.
Among the various types of refractories for iron, steel and glass, monolithic refractories offer an advantage of reduced installation time because they can be applied while a furnace is hot. Monolithic refractories industry is expected to witness gains of 3.9% over 2019-2025. Monolithic refractory products are less price sensitive than commodity-type refractories because they tend to be application-specific and more influenced by technical considerations. Owing to the several advantages offered by monolithic refractories, the revenue share of the refractories market is going to witness a rise over the forecast period.
Get a Sample Copy of this Report:@ https://www.gminsights.com/request-sample/detail/3663
Increased glass production will positively influence monolithic refractories industry as they find considerable application in cement, glass and ceramic sectors. Apart from construction, wine consumption has greatly contributed to the demand for glass. In the U.S., wine bottles sold had amounted to over $4.3 billion in value, in 2018 and sales are forecast to increase by 14% by the year 2022. In this context, North America refractories market will show exponential growth due to increasing consumption of wine and production of glass bottles.
Glass manufacturers worldwide are toiling to expand their footprint and increase production adding stimulus to refractories market share. Recently, glass and mirror manufacturer Saint-Gobain has launched its latest flat glass production line (float) in Sriperumbudur, near Chennai, India, with an investment of €115 million. It also complements industrial glass facilities of Saint-Gobain in India, which include a float in Bhiwadi (Rajasthan) and another in Jhagadia (Gujarat).
With successful global operations, Saint-Gobain has reportedly performed well in Middle East region as well and plans to expand its business there. This was depicted by the company when in it extended its partnership with KIMMCO, a regional leader in the insulation sector. KIMMCO has a glass wool manufacturing plant in Shuaiba-Kuwait. The joint venture had reported total sales of 24 million Kuwaiti dinars (around €70 million) in the year 2016, selling in Kuwait and in the Middle East.
Refractories companies expanding their businesses in Middle East are likely to drive the revenue share of refractories industry in the region. Middle East and Africa refractories market is estimated to grow by 3.6% over 2019-2025. Strengthening political stability along with enormous infrastructure spending in MEA are going to play constructive roles in the growth of refractories industry in the region.
Escalating infrastructure development has been noted to be pivotal for refractories market size expansion. Growing production and demand of glass, cement and steel will substantially help the refractories industry to thrive. According to a research report by Global Market Insights Inc., refractories market is forecast to surpass $41 billion by 2025.
Author Name : Anchal Solanki
Transparent ceramics market share is estimated to attain immense momentum over the coming years, owing to increasing demand for glass-like materials in optoelectronics, military, healthcare equipment, aerospace, and aviation. The product possesses high optical properties, high strength, and great resistance to chemicals.
U.S. Transparent Ceramics Market, By Application, 2014 – 2025 (USD Million)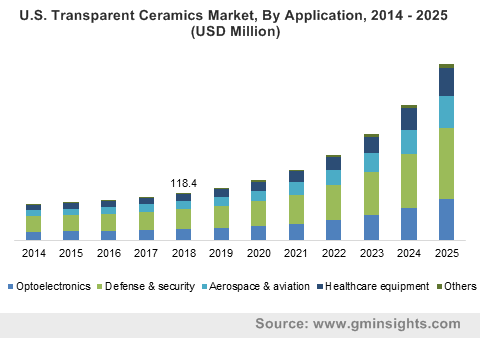 High acceptance of transparent ceramic properties in the global optoelectronics market is likely to be one of the primary drivers supporting industry size expansion. The burgeoning sale of optoelectronic devices such as photodiode, solar cells, light emitting diodes, optical fiber, and laser diodes will boost the demand for glass ceramics over the coming years. Institute of Optoelectronics at the Military University of Technology is apparently aiming to support research and development in several areas including optoelectronics in applications including defense, metrology, security, and medicine. Such efforts would positively impact the demand for glass ceramics, thereby enhancing transparent ceramics market size.
LEDs are witnessing high demand owing to the demand for cost-efficient and energy-efficient light solutions across numerous industries. Furthermore, increasing adoption of smart devices and technological advancement in the business sphere will proliferate LED demand. For instance, India's Orient Electric has reportedly expanded its LED portfolio with the launch of a new product line called Eyeluv series LED Lights. Introduction and adoption of new LED products will significantly impact transparent ceramics market trends in the future.
Night vision devices often incorporate transparent ceramics properties to provide multi-spectral imaging, eye tracking optical directing, and other services. These devices find extensive use across defense, security, and automotive application. Rising conflicts demanding the intervention of armed forces across various regions paired with high demand for continuous technological innovation for the fighting force are primary factors driving the demand for night vision devices in the defense sector. Apart from this, night vision devices are used for camping, rescue missions, search, and home security purposes, which will also contribute to augmenting transparent ceramics market outlook between 2019-2025.
Get a Sample Copy of this Report:@ https://www.gminsights.com/request-sample/detail/3638
Increasing efforts to counter terrorism will support growth in transparent ceramics market. With the rising cases of terrorist attacks, trespassing, and counteractions, the armed forces will be required to operate at nighttime, resulting in an increased demand for night vision devices like binoculars, goggles, and cameras, which will positively influence the demand for transparent ceramics over the forecast years.
Besides its uses in defense applications, transparent ceramics also find applications in the healthcare sector. Transparent ceramics industry share from healthcare equipment applications is slated to amass considerable growth in the foreseeable years owing to the growing prevalence of numerous diseases including cardiovascular disorders, cancer, and dental disorders among others. Increasing preference for minimally invasive treatment for dental and aesthetic treatment will primarily drive the demand for laser therapy devices, which are a leading consumer of glass ceramics.
Moreover, the increasing pervasiveness of chronic ailments like cardiac diseases and arthritis is slated to fuel medical imaging devices market size over the ensuing years. Other demand driving factors include rising geriatric population worldwide and technological advancements in this field. Recently, researchers from the University of North Carolina Lineberger Comprehensive Cancer Center discovered an innovative method for creating tracers for medical imaging. Such accomplishments will further support the demand for medical imaging devices, which will eventually impel transparent ceramics market growth.
Transparent ceramics properties have evolved over the years, accompanied by a slew of innovations, which has helped the material successfully replace glass across several applications. Its mechanically strong and scratch resistant properties effectively support the possibility of durable and multifunctional optics. Owing to these benefits the material is estimated to continue experiencing steady growth throughout its varied applications. According to a research report by Global Market Insights, Inc., transparent ceramics market is estimated to be worth more than $1 billion by 2025.
Author Name : Krithika Krishnan
Driven by escalating demands for synthetic antioxidants across global food and cosmetics sectors, the global butylated hydroxytoluene market is currently on the verge of witnessing an appreciable amount of growth in forthcoming years. Increasing investment in the food and personal care products manufacturing industry will impel the market trends.
U.S. Butylated Hydroxytoluene Market Size, By Application, 2018 & 2025, (Kilo Tons)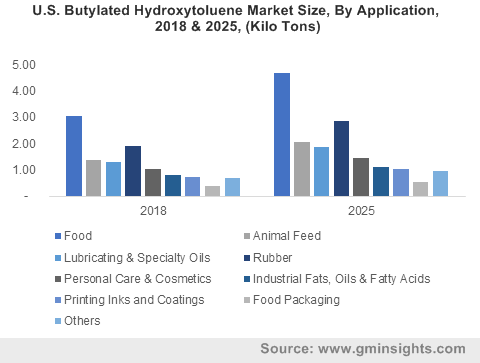 Butylated hydroxytoluene (BHT) is a compound that impedes autoxidation of any unsaturated organic compounds, furthering their shelf lives be a substantial margin. Owing to these properties BHT is commonly used as a preservative to prevent oxidation as well as free radical formation.
In U.S., Food and Drug Administration categorized BHT among Generally Recognized as Safe (GRAS) additives, which permits the compound its widescale adoption across the food processing industry. Attributing to the GRAS tag, today BHT is utilized as a preservative across a wide variety of foods, including preserved meat products, and chips. In this, regard, growing preference for BHT as additive and food preservative is slated to accelerate product demand across U.S.
Nowadays, owing to the hectic work schedules, people have been preferring packaged food. This trend, subsequently, is turning the working population towards processed food products as they are readily available across supermarkets and do not require cooking or any other preparations to be consumed. Such a growing trend is expected to become a major growth driving factor for the food-grade preservatives industry and by extension, butylated hydroxytoluene (BHT) market.
Get a Sample Copy of this Report:@ https://www.gminsights.com/request-sample/detail/3217
According to the Food and Agriculture Organization of the United Nations, the antioxidant properties of BHT also give it an entry into the global animal feed industry. BHT, among others, is commonly used across the animal feed sector to prevent oxidation of feeds as well as feedstuffs.
BHT prevents the rancidity of fats contained in the feedstocks while also inhibiting the destruction of amino acids, vitamin E, D, and A; ensuring that animal feeds maintain their nutritional value. These capabilities have allowed BHT to draw in revenues from the commercial fish food sector over the last two decades.
Moreover, BHT is currently considered as the most efficacious antioxidant utilized across the animal feed industry, which would enable the BHT market to bring in further revenue growth from the animal feeds segment over the forecast timeframe.
In addition to food industry, rising BHT usage in the cosmetic industry has also strengthened butylated hydroxytoluene industry outlook. BHT boasts of a widescale adoption across the global cosmetics industry as an antioxidant and preservative that allows cosmetic products significantly longer shelf lives. Escalating demand for skincare products is projected to majorly drive adoption of BHT in the cosmetics industry.
According to the 2018 L'Oréal annual report, the skincare segment has consistently showcased distinguished growth as compared to other beauty products, frequently outperforming them by a sizable margin. For instance, the L'Oréal annual report highlighted that the skincare segment grew by approximately 9% in 2018 with North American (20%) and Asia Pacific (55%) accounting for a majority of the industry's share.
Changing climate conditions brought on by global warming is factored in as a prominent growth provider for skin care products. The rapid expansion of upper middle classes across the world, specifically Asia, are some other factors fostering cosmetics industry expansion and the BHT industry share in turn.
All in all, attributing to the integral role it plays across the aforementioned high-revenue industries, BHT is expected to witness further demand as a preservative and an antioxidant. In fact, according to a Global Market Insights, Inc., research report, the butylated hydroxytoluene market size is slated to surpass an overall valuation of $380 million by 2025.
Author Name : Akshay Kedari