Bulk & Specialty Chemicals
Global PET film coated steel coil market forecast will be largely propelled by robust demand for home appliances. Laminated steel sheets are widely used in manufacturing electrical and electronics home electronics. Evolving living standards coupled with growing demand for comfort while performing household chores and activities will augment the business growth.
Coated steel coils offer excellent advantages such as high strength, robust durability and superior corrosion resistance which makes it suitable for the production of various home appliances. The product is ecofriendly in nature and eliminates the paint baking process during appliance manufacturing. Emergence of small local as well as presence of prominent home appliance manufacturers will propel PET film coated steel coil industry outlook in the coming years.
Refrigerators and freezers segment held 36% of total PET film coated steel coil industry share from home appliances during 2018. Growing depletion of fossil fuels along with rising pollution has resulted in increased environmental concerns. This has led an increasing number of consumers to opt for single door refrigerators, thereby fostering the adoption of PET film coated coils.
Uncertainty in the trade environment such as the ongoing US-China trade war are rendering negative impact on the industry growth. Unpredictable fluctuations in financial markets are impacting the overall supply chain dynamics worldwide. However, the adoption of latest and advanced technologies for product manufacturing will offer ample opportunities for manufacturers, fostering PET film coated steel coil market trends over the forecast timeline.
Strict regulations and guidelines set forth by regulatory bodies related with respect to the release of harmful gases into the environment is expected to hamper the business growth up to certain extent. For instance, the U.S. government has enforced national emission standards over release of harmful gases and air pollutants used for metal surface coating into the atmosphere.
Rapidly shifting consumer needs and preferences towards adoption of smart home appliances are significantly driving the product innovations. Advanced technologies such as microstructure control are being used to achieve additional strength, magnetic shielding and formability required by electrical and electronic home appliances.
Busy and evolving consumer lifestyles have subsequently fueled the demand for convenience and ready-to-eat foods. This in turn has accelerated the demand for highly energy-efficient refrigerators which offer a safe, easy and convenient option for food preservation. Advancements in technology such as pairing of smartphones with refrigerators through IoT and installation of cold-water taps on the door will expand the product scope in smart kitchen applications.
Asia Pacific PET film coated steel coil industry size is estimated to record a prominent CAGR of over 7.5% over 2019-2025. This growth will be prominently led by India which is one of the largest markets for electrical and electronics home appliances. Favorable initiatives by the Indian government such as "Start-up India" and "Make in India" coupled with rising affordability and easy availability of credits will complement the regional industrial outlook.
In addition, 100% FDI for electrical and electronics hardware manufacturing in India will drive manufacturing sector. Presence of prominent manufacturers in regions including Japan, China and South Korea is anticipated to boost the demand for laminated steel sheets and coated steel coils.
China consumes over 48% of the total finished steel products. Emergence of smart and efficient online distribution channel and increasing number of logistics startups will accelerate the business growth across the region.
Author Name : Hrishikesh Kadam
Global microporous insulation market forecast will pe primarily driven by positive application outlook in automotive, transportation and aerospace industries. Microporous insulation materials are majorly employed in a range of different automotive and aerospace components such as voyage data recorders (VDR), auxiliary power units, exhaust systems and black boxes.
The world population has witnessed a rapid upsurge in the past few decades which has consequently fueled the global power demand. Excellent characteristics of microporous insulation materials such as superior resistance to thermal shocks, low shrinkage and low thermal conductivity makes them suitable for a range of applications in nuclear power stations, consolidated solar plants, conventional thermal plants and fuel cells.
High operational and manufacturing costs associated with microporous insulation products might impede the business growth up to certain extent. However, growing product demand for use in the manufacture of glass, domestic ovens and storage heating applications will positively contribute towards microporous insulation industry growth.
Microporous insulation materials are extremely lightweight and can significantly increase the load-carrying capacity in vehicles, making them best-suited for application in the transportation sector. Rapid urbanization and growing industrialization activities in regions such as Asia Pacific and Latin America will further propel microporous insulation market forecast in the coming years.
Based on material, global microporous insulation market share is classified into alumina silica and calcium magnesium silicate. Alumina silicate-based microporous insulation products can withstand temperatures of 1000°C and above which makes them suitable for application in various end-use sectors. Alumina silica microporous insulation industry size is projected to register a robust 11% CAGR over 2019-2025.
Global microporous insulation market share can be segmented into rigid boards & panels, flexible boards, and others in terms of products. Rigid microporous insulation panels and boards are largely used in energy & power and metal works industries. Rigid boards & panels product segment in microporous insulation industry was valued at around USD 130 million in terms of revenue during 2018.
Based on end-user, global microporous market share is segmented into oil & gas, energy & power, transportation, metal works, and others. Robust demand from automotive, transportation and aerospace industries will favor the industry growth over the coming years. Oil & gas end-use segment in microporous insulation industry is estimated to generate revenues in excess of USD 250 million by the end of the forecast timeframe.
Growing number of developing regions around the world are undertaking oil & gas exploration activities in order to address the burgeoning demand. For instance, China has planned to invest more than USD 280 billion in Iran's oil & gas and petrochemical sectors. The country also plans to invest close to USD 120 billion to upgrade its existing transportation and manufacturing infrastructure, presenting favorable opportunities for small as well as prominent microporous insulation manufacturers in the region.
North America microporous insulation industry size is projected to surpass USD 400 million by 2025. This can be mainly attributed to proliferation of automotive, aerospace and transportation sectors in the region. Growing implementation of emerging and advanced technologies in these end-use industries is driving the regional demand. In addition, surging demand for energy-efficient power supply will further complement the business outlook.
Author Name : Hrishikesh Kadam
​
Escalating demand of coatings in construction and expansive growth of the construction industry are anticipated to boost glycidyl methacrylate market size over 2019-2025. Efforts by the glycidyl methacrylate industry players to expand business and revenue share will support market growth. Manufacturing units and printing sectors that extensively use the chemical compound for its excellent properties are also expected to contribute in the expansion of glycidyl methacrylate market.
Some of the top trends which will influence the glycidyl methacrylate market by 2025 are mentioned below:
Printing sector is likely to offer impetus to the glycidyl methacrylate market outlook over the forecast period:
Global printing ink application market size from the <97% purity segment exceeded $2.15 million in the year 2018. The expansion of glycidyl methacrylate market can be credited to significant population growth and growing glycidyl methacrylate uses from packaging and paper media. Glycidyl methacrylate is extensively used as a latex binder and adhesive in printing ink production. In times to come, the printing sector is expected to prove itself a strong end user for glycidyl methacrylate adding significant growth impetus to glycidyl methacrylate market.
For instance, in India, paper printing has been noted to be one of the fastest growing sectors. It has been claimed that since 1989 the growth of printing coupled with packaging printing sector is more than 14%. India has 49,000 publications from which annual revenues totals to around $1.1 billion.
The Indian printing sector, growing at a rate of 12% per annum, comprises more than 250,000 printing companies. The current annual turnover of printing industry in India is over $11 billion. Incidentally, India is the country with largest number of printing presses in the world.
In recent years, the printing sector in India has witnessed record levels of growth, due to globalization, progress in automation, and liberalized regimes. The segment has grown by leaps and bounds due to the introduction of latest machinery and technology, production capacities, and quality standards. Also, the Indian government has been encouraging foreign direct investment into the printing sector. A number of global companies have been investing in the printing sector due to favorable working conditions.
Get a Sample Copy of this Report:@ https://www.gminsights.com/request-sample/detail/4293
According to the prominent studies, publishing printing, commercial and marketing printing, and print packaging, are some of the supporting domains which account for a majority of the worldwide printing market. With the contribution of all these domains, printing industry has been projected to expand from $389 billion in 2017 to $421 billion in 2020, increasing 2.7% on average per year, a growth which is projected to reflect on revenue share of glycidyl methacrylate market as well.
Auto production will influence glycidyl methacrylate market growth in future:
Global manufacturing unit glycidyl methacrylate market share from >=97% purity segment will surpass $95 million by 2025 owing to the thriving automotive, electrical & electronics, food & beverage, metals, and chemicals sector. Wide usage of glycidyl methacrylate in automotive sector is going to significantly promote the growth of glycidyl methacrylate industry by 2025 as the automotive industry continues to expand.
For instance in America, automobile production of 20.8 million units in 2018 represents a 21% share of the global production. In Mexico and the United States, production remains high owing to demand for light duty trucks (+4%). In South America, Brazil has represented significant contribution towards automotive industry with 5% growth.
Also, Asia-Oceania still represents more than half of the global production with auto production of 52.5 million units. The African continent shows a marked growth of 12%, to 1.8 million in 2018 with the substantial contribution of Algeria (+17%), South Africa (+4%), and Morocco (+18%).
The U.S. glycidyl methacrylate market share from <97% purity segment is expected to register a CAGR of 9.5% over 2019-2025. The growth of the regional glycidyl methacrylate industry can be accounted to adhesive applications pertaining to rising demand for composite joints from automotive, aerospace and consumer packaging segments.
Glycidyl methacrylate market players are working to expand their footprints:
With considerable efforts of glycidyl methacrylate industry majors to expand their market share worldwide, the business has been experiencing significant progress. Companies have been planning various strategies like, acquisitions, launching new products and plants, market flotations etc. to spread their business globally.
For instance, in 2018, Dow Chemical Company announced the launch of its coating materials plant in western China. The new facility, situated in the Cheng Mei Petrochemical Zone, around 50 kilometers from Chengdu, would be producing additives and acrylic emulsion to answer the growing demand of architectural, constructional and industrial coating segments.
Expanding printing sector owing to not only publication but growth of ecommerce, growing automobile production and increasing application of glycidyl methacrylate in these segments is among the factors affecting glycidyl methacrylate industry. According to a latest research report by Global Market Insights Inc., glycidyl methacrylate market share is set to exceed $250 million by 2025.
Author Name : Anchal Solanki
​
​
Growing application across the construction and transportation industries is driving spray adhesives market size. The key benefit of spray adhesives is the convenience of application which speeds up the jobs and thereby improves the overall efficiency. Each type of spray adhesive has its own set of distinct characteristics which ensures high quality despite the task variations.The increasing demand from the furniture industry owing to the property of spray adhesives to bind a wide number of substrates will also propel market demand. Spray adhesives market outlook is currently driven by a number of significant trends, mainly pertaining to the robust application landscape that this industry boasts of.
Robust urbanization trends to augment spray adhesives market size from construction sector:
The rapid growth of construction industry is attributed to the improving standard of living and increased migrations from rural to urban areas. As the construction industry continues to expand, innovative technologies like heavy duty construction adhesives will come into play. Spray adhesives find several applications across the construction industry across insulation, flooring, walls, roofs, doors & windows, etc.
High strength spray adhesives can hold extreme temperatures and are used to replace nails and machinal fasteners spray which simplify the workflow with very little or no training required for the laborers. Newly developed spray adhesives not only improve the sustainability of the construction products but also optimize the processes by the faster curing times.
For instance, Sika has come up with a new innovative spray-applied insulation adhesive which reduces the installation times by up to 20 per cent.  The high foaming adhesive is suitable for both refurbishment and new build projects which strongly binds the insulation boards and the substrate, within a very less time enabling rapid project completion.
In this context, it is also pivotal to mention that the Asia Pacific region is expected to hold a substantial proportion of the market share due to rapid urbanization and industrial development. The growing construction activities across countries including China and India will also positively impact market growth.
Expansion of transportation sector to add impetus to spray adhesives industry outlook:
Considerable growth in global transportation sector will be a primary driver for spray adhesives industry size expansion. The transportation industry serves as the backbone for a country's economy – seamless transportation functioning can be credited majorly for a nation's rising economic growth. accounts for a majority of the transportation systems. For instance, the U.S transportation industry represents over 8% GDP in the country's economy.
Get a Sample Copy of this Report:@ https://www.gminsights.com/request-sample/detail/4311
Spray adhesives are majorly used for various manufacturing and maintenance activities of aircrafts, automobiles, rails, etc. Their characteristics like durable bond strength which resists vibrations and provides chemical & thermal resistance will foster the product demand.  Automotive adhesives are now widely used for replacing the conventional methods of joining parts, such as welding, riveting, or screwing, which speeds up the assembly line.
Besides the curing time, the bond strength is a central constraint for any robust adhesive. The ongoing R&Ds in line with the technological advancements in adhesive science will lead to the manufacturing of enhanced adhesive products in the years to come.
For instance, Delo, a manufacturer of industrial adhesives just broke the world record for the heaviest lift using an adhesive material. A crane lifted a 17.5-ton truck on a bonded aluminum cylinder creating world record, beating the previous of 16.3 tons. Such achievements by leading market contenders will augment the spray adhesives industry outlook.
The increase in number of car ownerships due to rise in per capita income is also expected to fuel product demand from the transportation end-user segment. As the transportation infrastructure undergoes a massive overhaul, global spray adhesives market will achieve significant gains in the years ahead.
Rising demand for aesthetic furniture to drive the industry trends over the forecast period:
The booming furniture industry is going through a transition currently owing to changing consumer preferences which creates a necessity of advanced adhesives. Polyurethane spray adhesives are highly preferred for manufacturing diverse furniture products. The improvement in consumer lifestyle has propelled intense demand for modular and attractive furniture which includes wide range of materials such as wood, laminates, iron, leather, and many other upholstery materials.
Appealing furniture designs enhance the aesthetics of an office or a house, and consequently, the rise in sales of commercial and residential properties will in turn fuel demand for new furniture. The furniture sector in UK specially witnessed an annual growth rate of +8% in 2018, which represents a positive future for the industry. According to the Furniture Industry Research Association, total consumer spending on furniture increased by +24% between 2012 and 2016.
Leveraging the widespread application spectrum, spray adhesives market size is driven by the growing product demand across the globe. A sudden surge in the construction and automotive industries will also positively impact the market share. According to a research report by Global Market Insights, Inc., spray adhesives market size is anticipated to exceed USD 9 billion by 2025.
Author Name : Amol Kothekar
​
​Innovations in food packaging sector has been proved to be a great driving force for oxygen scavenger masterbatch market for food packaging. To ensure food safety and edibility of perishable products, several new technological advancements have been made in oxygen scavenger masterbatch industry for food packaging. New packaging materials and techniques preserving quality of food products are also offering impetus to the industry.
Some of the key trends and factors which are expected to propel oxygen scavenger masterbatch market for food packaging by 2025 are as follows:
Increasing consumption of dairy products will foster oxygen scavenger masterbatch market size for food packaging:
Growing concerns over the deterioration of dairy items due to reaction with oxygen has generated the need for the specialty masterbatches in the food packaging sector. Rising demand and consumption of fresh dairy products is likely to offer a push to the oxygen scavenger masterbatch market for food packaging.
Between 2019 and 2030, the global demand growth for milk and milk products is anticipated to be three times the level of current U.S. milk production. Currently, about 876 million tons of milk are produced globally with EU, India, and Oceania among the top producers. Cheese consumption in the U.S. is expected to continue to increase between 2017 and 2022. By 2030, milk production and demand is forecasted to increase in total by 35%, simultaneously expanding oxygen scavenger masterbatch market size for food packaging.
Growing inclination towards meat consumption to lift the share of oxygen scavenger masterbatch market for food packaging:
Besides increasing demand of dairy items, meat consumption and demand is also rising and offering driving impetus to the growth of oxygen scavenger masterbatch industry for food packaging. Global meat consumption increased by 58% over the past 20 years to reach 360 million tons in 2018. Population expansion has been accredited for 54% of this increase.
In the 20 years leading up to 2018, developing countries are credited for approximately 85% of the rise in global meat consumption. Between 1998 and 2018, Chinese consumption of meat increased by almost 72%. In the United States and Australia, meat consumption increased over the same time period because of higher poultry consumption.
Get a Sample Copy of this Report:@ https://www.gminsights.com/request-sample/detail/4288
When meat is exposed to oxygen, the meat appears bright red which is identified to be fresh by consumers. However exposure to too much oxygen leads to meat turning brown which is not readily bought by consumers. Therefore oxygen scavenger masterbatch has become an essential part of meat packaging.
Rising adoption of intelligent packaging to expand oxygen scavenger masterbatch market landscape for food packaging:
Due to changes in lifestyle trends and consumer demands in commercialization, packaging has played a key role in preserving fast moving consumer goods. Globally active and intelligent packaging was assessed to amount to more than $4.5 billion in 2018 and is likely to grow at a considerable rate in the times to come. Escalating adoption of active and intelligent packaging will set the oxygen scavenger masterbatch market growth for food packaging in greater motion.
For instance, packaging that can transmit real-time information about the ripeness of fruits packed inside was lately launched at Italian trade fair Macfrut held in Rimini. The latest technology called Smart Ripe has been fostered by Italian company Ilip in collaboration with the University of Turin's Department of Agricultural, Forest and Food Sciences, a spin-off of the University of Rome Tor Vergata, and Radio6ense.
Ilip has stated that the system leverages a highly sensitive radio-frequency identification (RFID) tag implanted inside the packaging. The tag can sense certain dielectric variations in the fruit pulp related to ripeness, such as acidity, water and sugar content, and turgidity. The technology has the potential to bring new value to fresh produce by ensuring that the consumers get desired shelf-life and product quality.
Flexible packaging to influence revenue share of oxygen scavenger masterbatch market for food packaging:
The key user segments of flexible packaging are beverages, snacks and confectionaries, fresh and frozen foods, dairy products etc. The growth of flexible packaging sector will directly influence the expansion of oxygen scavenger masterbatch market for food packaging. The size of the Indian flexible food packaging sector has been estimated to be $900 million, growing at around 20 percent annually. Replacement of conventional packaging materials like glass, tin, paper, jute etc. with flexible materials in several applications added impetus to the flexible packaging segment. The segment is growing at around 104 percent annually in India and is expected to grow to $482 billion by 2020.
Various packaging needs varying with the type of food item and packaging requirements are going to contribute in the growth of oxygen scavenger masterbatch industry for food packaging. Several technological advancements and innovations are being made by the companies like Ilip that are setting examples for the market players like Clariant, Albis Plastic, Gabriel Chemie etc. to put extra efforts in the direction of development. Increasing demand of meat and dairy products is also a key factor contributing to value of oxygen scavenger masterbatch market for food packaging which is estimated to be over $25 million by 2025.
Author Name : Anchal Solanki
​
Growing demand for decorative flooring and aesthetically appealing wall tiles and other glass based applications will propel ceramic inks market over 2019-2025. Expansive construction activities in emerging economies will therefore positively impact the ceramic inks industry. Moreover, as the demand for residential places swells in rapidly urbanized regions of the world, greater scope will be created for ceramic inks industry.
U.S. Ceramic Inks Market Size, by End-use, 2014 – 2025 (USD Million)
Ceramic inks are made up of finely ground glass particles and metal oxide pigments that completely fuse with the surface of the glass or ceramic when exposed to the high-temperature curing process, which requires ovens that are capable of raising the surface temperature of the glass to over 1,000°F. This energy-intensive process results in a printed image that is nearly as durable as the glass itself. However, as manufacturers improve the adhesion of UV-curable organic ink, demand for these environmentally friendly ink alternatives will get much stronger.
The introduction of ceramic inks has resulted in a shift in commercial glass decoration methods.
Increased utilization of decorated glass in interior designing is also resulting in growth of the ceramic inks industry, worldwide.
Given below are a list of factors that will positively impact ceramic inks market over 2019-2025:
Growing investment in construction industry to influence ceramic inks market
Rise in investment in the construction industry will boost the global ceramic inks market over the coming years. Ceramic inks has witnessed a rising appeal from the construction industry due to their high resistance to weather, water and various other liquids. These interesting properties of ceramic ink makes it the perfect choice for printing design on decorative glass as well as ceramic products like ceramic tiles and tableware.
Increasing investments by private & government sectors in the construction industry of the APAC region is generating demand for ceramic tiles, thereby fueling the growth of the ceramic inks market. Moreover, China, India, and the U.S. together are expected to account for 60% of all global construction growth, propelling ceramic inks market with growing construction projects in the countries.
Get a Sample Copy of this Report:@ https://www.gminsights.com/request-sample/detail/3553
Growing application of ceramic inks in the automotive sector
Ceramic inks provide long-lasting UV resistance, which makes them ideal for all types of automotive glass, aerospace glass, marine glass, and many other types of transportation glass that are exposed to the elements.
Anti-stick ceramic inks market is also gaining traction as digital printing on automotive glass is becoming more common. Anti-stick ceramic inks are being designed to fit the automotive industry standards that demand weathering resistance, scratch resistance, acid resistance, stain resistance and high durability. Anti-stick ceramic inks that are designed to be applied in a way that the glass could to be bent during the thermal process.
The automotive industry had taken a hit during the crisis years of 2008-2009 but has been recovering rapidly in recent years. In 2018 automotive production has been estimated to be back to pre-2008 levels, not only due to the demand from developed nations where the economy is rapidly recovering but also due to exponential demand recoded in the emerging economies of Asia.
In 2018 an estimated 70.5 million passenger cars had been produced by the international automotive industry and this figures is anticipated to surpass 80 million units in 2019. With the rising vehicle production rate, it is predicable that ceramic inks market will garner greater profits due to increasing utilization of the product in automotive glass.
Extensive usage of ceramic inks in glass printing in cosmetics industry
One sector that ceramic inks have witnessed extensive application is glass printing. An instance to demonstrate the increasing demand of glass as well as ceramic inks that perform well on glass can be sited through the continually expanding cosmetics industry and its usage of glass packaging.
Spending on cosmetics has been on the rise every year. According to L'Oréal, the cosmetics giant, in 2016, global transactions of cosmetic goods was 4% higher than in 2015, amounting to an estimated €205 billion. However in the cosmetic industry, product packaging plays a significant role not only in maintaining the delicate composition of cosmetics but also in increasing their appeal to consumers and keeping the products competitive.
Brand design is of considerable importance in the highly competitive cosmetics market and special finishes that turn simple packaging into a real brand experience are in high demand. In perfumery & personal care markets therefore there is a healthy demand for ceramic printing inks.
Ceramic prints on glass containers have the advantage of being abrasion resistant. By substance, glass printing nearly accounts for half of the ceramic inks market size and is likely to grow significantly in coming years. The increased use of glass containers in also a notable trend in the cosmetics industry that will ass impetus to ceramic inks market as cosmetics industry is facing greater consumer demand to shift away from the use of plastic packaging and use more ecofriendly options.
Increasing disposable income and spending power of consumers for decorative flooring, wall tiles infrastructures along with extensive application in automotive, packaging, printing and other sectors, is estimated to fuel the ceramic inks market. As per Global Market Insights estimates, global ceramic inks market size would worth around $2.8 billion by 2025.
Author Name : Aakriti Kakkar
Rapidly evolving trends in urbanization along with rising preference towards better-quality infrastructure will boost bitumen membranes market share over the analysis timeframe. These materials have experienced increased demand from the building & construction segment owing to various advantages including superior rust proofing and water resistance. Bitumen membranes are also widely used as sheets to make concrete structures resistant to moisture. Upsurge in construction activities, especially in the Asia-Pacific (APAC) belt, will bolster bitumen membranes industry expansion.
U.S. Bitumen Membranes Market Size, By Application, 2014 – 2025 (USD Billion)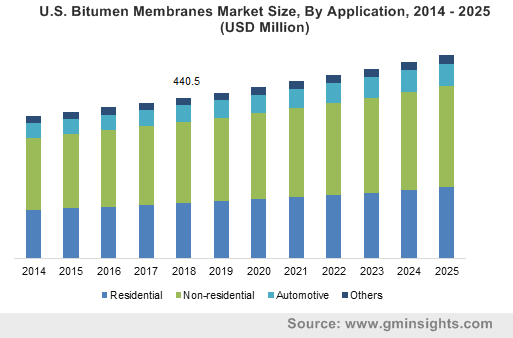 Globalization has had a deep impact on societies and communities across the world and has remarkably promoted sustainable development in emerging economies. Continuous developments and R&D efforts  have brought about considerable enhancements to existing technologies by creating innovative products, which is anticipated to increase product engagement.
Countries face different weather conditions all year round and have to tackle unpredictable climate change patterns. Subsequently, bitumen membrane, with its benefits including better resistance to water and moisture, is set to witness a jump in consumption over the coming years.
Consumer inclination towards EVs will witness an upsurge due to the need for eco-friendly transport options as well as low repair and maintenance costs. Advancements in automotive technology have led to advent of cost-effective high endurance batteries, further propelling growth of the sector.
Get a Sample Copy of this Report:@ https://www.gminsights.com/request-sample/detail/3924
The International Energy Agency (IEA) reported in 2018 that over 750,000 EVs were sold during the year and nearly 2 million electric cars were running on streets all over the globe. Consistent production of vehicles worldwide and gradual proliferation of EVs can be expected over the coming years. Extensive product use in the automobile sector will substantially complement bitumen membranes market outlook over the forecast duration.
More than half the world population now lives in urban areas which can be attributed to a rapid surge in global urbanization, escalating swiftly over the last 4 decades. UNESCO reported the current rate of urban population expansion to be 60 million individuals annually and the number of cities with 10 million or more residents is accelerating quickly. Estimates suggest that the global urban population will exceed 6 billion people by the end of 2050. Rising global population worldwide will boost the growth of construction sector, fueling bitumen membranes industry size.
Europe bitumen membranes market accounted for a notable share of the total growth in 2018. Construction segment climbed due to increased consumer spending on remodeling and renovation activities on account of rapid urbanization. In the U.S. the increasing number of housing starts will fuel the demand for bitumen membranes, with builders opting for the product due to economical rates and additional benefits.
Moreover, rise in disposable incomes and added investments on residential building construction and will favor the industry prospects. Residential re-roofing sector across the region will experience rapid product utilization as people will opt to replace older worn out roofs with latest materials.
Bitumen membranes are anticipated to witness remarkable consumption owing to rise in manufacturing activities across Asia Pacific. APAC accounts for the largest share in the global construction industry, led by India, Japan and China. Growing population, low cost labor, favorable government initiatives and urbanization is expected to drive infrastructure development, reinforcing bitumen membranes market growth across the region.
Developing countries worldwide will create soaring demand for the product through modifications of a range of industrial properties such as factories, warehouses and logistic houses, in turn driving market trends.
Emergence of small regional players in countries such as India and China has heated up market competition. In order to gain a competitive edge in the industry, some of the players are adopting merger & acquisition strategies. BTM, Johns Manville, BMI Group, Firestone Building Products Company LLC, IKO Group, and Ardex are some of the key players comprising global bitumen membranes market share, which is projected to reach annual valuations of over USD 3.5 billion by 2025.
Author Name : Hrishikesh Kadam
Driven by the expansion of food & beverages sector and the lucrative nature of the cosmetics industry, the North America insulated packaging market size is expected to increase commendably in the forthcoming years.
U.S. Insulated Packaging Market Size, By Material, 2018 & 2025, (Kilo Tons)
Designed to prevent damage to temperature-sensitive products like pharmaceuticals, foods, and cosmetics, insulated packaging commands a noticeable presence in several high-growth industries. The packaging materials' ability to maintain an ideal storage environment for shipping or containing a variety of goods would be driving North America insulating packaging industry outlook in coming years.
According to the Packaging Machinery Manufacturers Institute (PMMI), the U.S. food packaging sector is forecast to witness a steady pace of growth over the forthcoming years. The country's food-contact packaging sector is highly regulated by the Food and Drug Administration (FDA). With food being one of the most sensitive products to transfer and store, the regulations are expected to promote adoption of insulated packaging such as insulated food bags considerably.
PMMI anticipates that meat, meat-related products, processed snack foods, pet food, and food & vegetables would be the most innovative food & beverages industry segments in coming years. Among the aforementioned segments, snack foods, meat, and meat related products are anticipated to outperform others. This growth is being attributed to increasing consumer demand with respect to convenience options and portion control. In industry segments where food products need to be effectively packaged over long periods, these growing demands would open up new opportunities for North America insulated packaging industry players.
Get a Sample Copy of this Report:@ https://www.gminsights.com/request-sample/detail/4068
Owing to environmental concerns, pet food and snack foods segments, which use conventional plastic packaging, are seeking new packaging solutions that are biodegradable and recyclable. The necessity for a recyclable, biodegradable, printable, and food-safe material could lead these segments to flexible insulated packaging for a solution, boosting insulated packaging market share further.
Meanwhile, North America insulated packaging market outlook is expected to become more favorable owing to the growth of the cosmetics industry. According to Forbes, today consumers, particularly women, are actively exploring and adopting new beauty trends. This is a part of a bigger generational transformation; wherein younger consumers are more willing to change their preferences.
Changing preferences are giving rise to the adoption of locally-produced, organic, natural or artisanal products, transforming product segments such as skincare. To keep up with this shift, popular beauty and skincare products no longer depend on synthetic ingredients.
In the category of clean, natural, and even food-standard beauty & skincare products, industry players are seeking out alternate means to extend the shelf-life of their products. The insulated packaging industry is expected to leverage its capabilities to address these cosmetics industry demands.
According to the L'Oréal 2018 annual report, skincare accounts for 39% of the cosmetics market in terms of product category. The global cosmetics industry recorded estimated sales of approximately €200 billion in 2018 with North America accounting for 25% of the industry by geographic zone.
North America's integral contribution towards the growth of the cosmetics industry presents a lucrative growth opportunity to the insulated packaging industry. With cosmetics industry demands projected to grow steadily through non-synthetic products, the North America insulated packaging market share is slated record remarkable growth over forecast timeframe.
Overall, attributing to changing packaging demands in the food & beverages industry along with  shifting consumer preferences toward cosmetics products, insulated packaging adoption is slated to experience a sizable boost in coming years. A research report by Global Market Insights, Inc., estimates that the North America insulated packaging market valuation would surpass a valuation of $3 billion by 2025.
Author Name : Akshay Kedari