Bulk & Specialty Chemicals
The global polycarbonate composites market is slated to emerge as one of the most lucrative investment avenues over the forthcoming years, given the product's deployment in numerous industrial sectors. An unfilled polycarbonate is an extremely durable and transparent engineering plastic with its properties ranging from immense impact strength to a significant modulus of elasticity. Moreover, the material is also extremely resistant to moisture, possesses a high heat-deflection temperature and high voltage & low frequency insulating characteristics, making them ideal to be used for making electrical & electronic components.
U.S. polycarbonate composites market, by end-user, 2014 – 2025 (USD Million)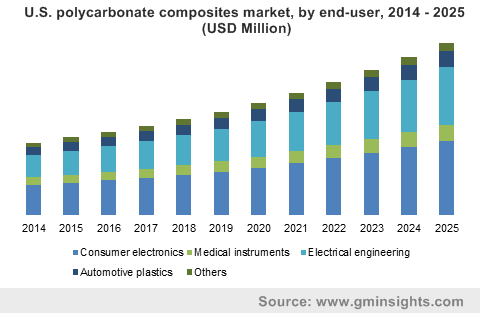 Meanwhile, its transparency, elasticity & high impact resistance also make it a prime material for numerous transparent structural applications. These properties ensure a sustained & significant demand for the material from several industrial domains, which would be responsible for fueling the polycarbonate composites market share in the coming years.
Polycarbonates are also highly versatile, in the sense that they can be mixed with other materials to accentuate certain properties. For instance, polycarbonates mixed with varying amounts of glass fibers results in a material that has an increased level of tensile & compressive strength as well as overall stiffness. These hybrid composites could be used anywhere between to make race car or fighter jet windshields. This versatility opens up a plethora of application avenues for the product, thereby fueling polycarbonate composites industry trends.
Get a Sample Copy of this Report @ https://www.gminsights.com/request-sample/detail/3154
Global polycarbonate composites market | Impact of the demand from automotive plastic manufacturers
It is a well-known fact that the level of fuel consumption in an automobile is directly linked to its weight. Higher the weight, higher the energy required to get the vehicle moving. In an effort to make vehicles more energy efficient, car designers across the world, while constantly seeking new ways to further enhance their vehicle's fuel efficiency, place a significant amount of emphasis on eliminating this weight while keeping the vehicle's structural integrity intact. This requirement has steered the global automotive industry to turn to polycarbonates as an extremely viable alternative for glass & metal.
Significantly lighter, yet just as strong, polycarbonates today play a crucial role in the automotive industry by improving fuel economy & reducing carbon emissions. Moreover, the lighter a vehicle gets the easier & quicker it can brake, which during an imminent collision leads to a significantly reduced collision impact. This promotes a safer & better driving experience, further positioning the polycarbonate composites demand graph in an exponential position in the automotive industry.
According to the European Polycarbonate Sheet Extruders, a typical automobile body incorporates over 10Kg of polycarbonates in numerous forms, with injection molded polycarbonate making up the displaced glass & headlights, an ABS & PBT polymers' blend used for under-the-bonnet components & vehicle interiors and PC/ABS polycarbonate blend facilitating advantages in scratch resistance, vehicle aesthetics & dimensional stability. These applications are further going to grow with improving economic conditions globally, ensuring a rise in automobile sales. As a matter of fact, polycarbonate composites market share from automotive plastics is projected to grow at a 6% CAGR over 2019-2025.
Global polycarbonate composites market | Impact of the expanding smartphone sales
According to the International Monetary Fund, the immense global smartphone demand has been the primary factor behind the generation of a new tech cycle around the globe. In fact, back in 2016, smartphone sales across the world reached the 1.5 billion unit mark – around one smartphone for every fifth individual in the world. This trend has engendered evolving & complex supply chains throughout the globe, especially Asia. The polycarbonate composites market has been estimated to be one such industry that is witnessing significant demands from the rising smartphone sales.
While, some smartphone manufacturers prefer to make the bodies of their smartphones completely out of metal or glass, a majority of them tend to lead more towards the lightweight yet durable plastics made out of polycarbonate composites. One factor that puts forth a strong case towards the use of polycarbonate is the issue of network reception; as metals & some formulations of glass constantly interfere with the mobile device's internal antenna, leading to frequent signal & call problems. This issue is virtually nonexistent inside handsets made out of polycarbonate exteriors.
According to the GSMA Intelligence, the total number of unique mobile users surpassed the 5 billion mark back in 2017. The mobile industry across the world is projected to accomplish a further milestone by 2025, wherein the unique mobile user numbers would be reaching the 5.9 billion mark, which is equivalent to approximately 71% of the world's population. This growth is expected to maintain a healthy demand for polycarbonate composites, further fueling the overall growth of the polycarbonate composites market from consumer electronics applications.
Owing to the massive product demand from some of the most expansive industry verticals, it is quite clear, that the global polycarbonate composites market would be experiencing significant growth prospects over the forthcoming tears. In fact, according to Global Market Insights, Inc., the overall polycarbonate composites market size is projected to surpass the $3.2 billion renumeration mark by 2025.
Author Name : Akshay Kedari
The rising focus on the adoption of lightweight material in the automotive & aerospace sectors has accelerated the long fiber thermoplastics market growth in recent years, given the need to attain high fuel efficiency. Long fiber thermoplastics (LFT) help in sustainable development of automotive structures and robust, lightweight aircraft components as well. Indeed, by adopting LFT, automakers and aircraft manufacturers have been able to lower manufacturing cost, reduce installation time, and deliver lightweight components that provide high level of productivity and recycling potential, supplementing LFT market growth.
U.S. Long Glass Fiber Thermoplastics Market Size, By Application, 2018 & 2025, (Kilo Tons)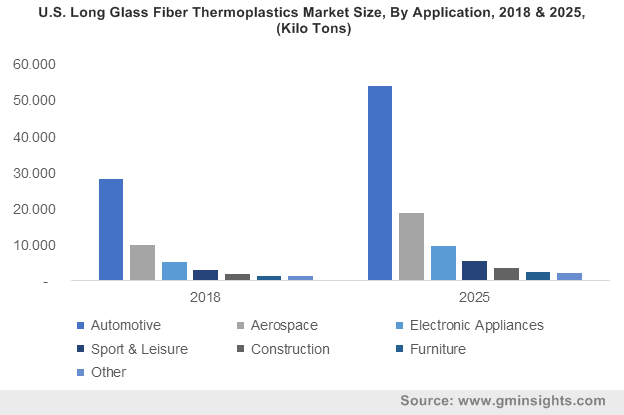 The automotive industry will majorly drive the long fiber thermoplastic market growth over the years to come. The material's high performance in terms of mechanical properties, low cost, processing advantages and low density has led to its application in the automotive industry for making front end modules, bumper beams, instrumental panel career, doors and underbody shields. The product has an edge over conventional materials like aluminum due to its high specific strength, simple manufacturing process, recyclability, good damping capacity, and corrosion resistance has encouraged manufacturers to implement it in their vehicle segments. Moreover, rising customer demand for fuel-efficient vehicles has also propelled the long fiber thermoplastic industry trends.
With increasing emission levels in urban areas along with increased cases of obesity, people are constantly shifting towards cycling to commute in the city, which may in turn increase long fiber thermoplastics market demand. LFT has found application in manufacturing bicycles as it offers frothy properties which ensure better durability, handling and rideability to users. Moreover, as car traffic and commute times at an all-time high, more people are considering cycling as a more efficient and sustainable means for transport. Bike-sharing companies like Lime Bike, Mobike and Jump have recently gained demand from city commuters, generating huge opportunities in the bike manufacturing sector, further augmenting LFT market growth.
Get a Sample Copy of this Report @ https://www.gminsights.com/request-sample/detail/1747
Long fiber thermoplastics market outlook from the expanding aerospace sector
LFT is rapidly being deployed in the aerospace, aviation and missile/defense applications. The material offers lightweight advantages, design flexibility, high specific modulus and strength, ease of installing, and recyclability. Aerospace components featuring LFT mainly comprise of complex-shaped baseplates for electronic housings, stowage doors, structural load-bearing member and more. These products are utilized for making aeronautic equipments that reduce the weight and bulkiness of an aircraft, eventually making air travel more fuel-efficient and safe.
Given the expansive usage of the material in the aerospace & automotive sectors, it is prudent to mention that the Asia Pacific long fiber thermoplastics market, led by South Korea, India, China, and Japan, will accumulate commendable returns in the years to come. China specifically, is predicted to emerge as one of the most lucrative avenues of the regional industry. Since LFT finds long-term applications in the automotive interior manufacturing sector and in the construction of waste treatment plants as well, given its chemical and thermal resistance, China will come up to be one of the most profitable regional grounds for the long fiber thermoplastic industry. As per estimates, China long fiber thermoplastics industry size is likely to record a CAGR of 10.5% over 2019-2025.
Another regional ground that is primed to be rather lucrative for the long fiber thermoplastics market is Europe, led by the countries of France, Italy, Germany and the U.K. The region's automobile industry has evolved rapidly as it comprises renowned auto giant's like Volkswagen, Mercedes-Benz, Audi and more that offer sales worldwide. The LFT market will also witness significant gains as carbon reinforced thermoplastics are used in the manufacturing of vehicles to reduce kerb weight which makes vehicles more fuel efficient.
These thermal & heat resistant components which are largely used in automotive, aerospace and electrical & electronic industries, are lately being amalgamated with carbon and glass fibers to form structures which increase the robustness of a product. This would indeed, give rise to a spate of new growth avenues in the years to come. According to Global Market Insights, Inc., the long fiber thermoplastics market size will surpass $3 billion by 2025.
Author Name : Mateen Dalal
The high heat (heat stabilized) glass reinforced polyamide 66 market has emerged as one of the steadily growing niche verticals of the global polymers and advanced materials industry owing to continuous product development initiatives undertaken by major specialty chemical firms. The launch of a new series of high-heat glass reinforced polyamide 66 compounds by Teknor Apex is a testament to the extensive efforts being deployed to develop advanced polyamides that would cater to wide range of applications in the near future.
U.S. High Heat (Heat Stabilized) Glass Reinforced Polyamide 66 Market Size, By End-user, 2014 – 2025 (USD Million)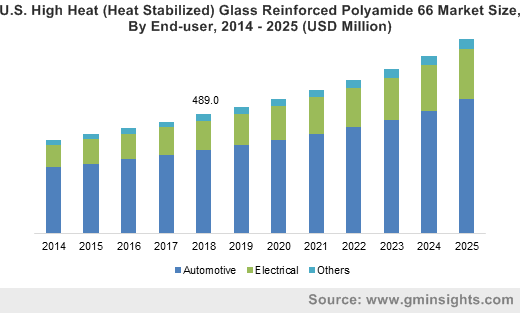 Named Creamid 240 H7.5, the new polyamides maintain high levels of critical mechanical features even after continuous service at temperatures of 240°C. It is also being said that the new product range offers the stiffness and strength of highly potent engineering polymers which is quite significant. Needless to mention, the launch of such compounds is favoring the commercial aspect of the high heat (heat stabilized) glass reinforced polyamide 66 industry. Moreover, the applications of the polyamide 66 are quite pronounced in the under-the-hood components of the automotive sector which has, in turn, fueled the product demand significantly.
Automotive sector to majorly drive the commercialization scale of high heat (heat stabilized) glass reinforced polyamide 66 industry
Amongst all the prominent application segments of high heat (heat stabilized) glass reinforced polyamide 66 market, the automotive sector has been majorly driving the demand for the polyamides in the last few years. It is being observed that almost all global automakers are undertaking metal replacement programs and are increasingly incorporating performance-boosting technologies along the likes of turbocharged engines, boosting the demand for glass reinforced polyamides.
In addition to the aforementioned factors, the demand for polyamides is gaining momentum owing to advanced transmission systems being recommended by regulators. In this context, it would be prudent to mention that these systems place stringent requirements for reduced water, chemical resistance, and heat resistance which necessitates the inclusion of glass reinforced polyamide 66 in a myriad of manufacturing processes.
Get a Sample Copy of this Report @ https://www.gminsights.com/request-sample/detail/3102
Speaking along similar lines, the product is used to manufacture several under the hood equipment such as oil filters, radiator tank parts, engines, and gears. Moreover, it has been observed that there is increasing trend of installing efficient combustion engines which subject plastic components under the hood to higher thermal loads.
Bearing this in mind, numerous high heat (heat stabilized) glass reinforced polyamide 66 market players are proactively upgrading their product lines and are focusing on development of new heat stabilization systems to increase the continuous operating temperatures of certain nylons. The Pittsburgh-based specialty chemical firm LANXESS, for instance, has recently launched its high-grade heat stabilization system's first glass-fiber-reinforced nylon 66 grade, named AKV35XTS2.
Elaborating further on the characteristics of the new product range, the new polyamides are being termed as ideal substitutes to heat-stabilized and costly specialty thermoplastics along the likes of fully and semi-aromatic PPS and nylons. In addition to this, AKV35XTS2 can be used to manufacture air intake modules with air ducts or an integrated intercooler near the turbocharger.
All in all, the launch of new heat stabilization systems and high-grade polyamides such as the aforementioned AKV35XTS2 is proving to be quite advantageous for the companies partaking in the high heat (heat stabilized) glass reinforced polyamide 66 industry. Furthermore, rising inclination of automakers to replace the conventional metal spare parts with new nylons has also benefited the growth prospects of this market sphere in the past few years. In fact, as per a research report prepared by Global Market Insights, Inc., the automotive sector is likely to register an annual growth rate of 8 percent by 2025, making it one of the fastest growing segments in the overall high heat (heat stabilized) glass reinforced polyamide 66 market.
Driven by the launch of new range of polyamides and heat stabilization systems along with increasing demand for the product from the ever-expanding global automotive sector, the remuneration portfolio of the high heat (heat stabilized) glass reinforced polyamide 66 industry is bound to exceed USD 4.6 billion by the year 2025.
Author Name : Saif Ali Bepari
The worldwide hollow fiber membranes market is slated to consolidate itself into a prominent investment ground over upcoming years owing to the robust demand for fresh as well as high-quality water across end-use industries ranging from biotechnology and pharmaceuticals to food & beverages. Hollow fiber membrane systems are known to be extremely efficient when filtering water, making them ideal for use in water purification systems, thereby making them readily commercial, propelling the hollow fiber membranes market growth further.
U.S. Hollow Fiber Membranes market, by application, 2014 – 2025 (USD Million)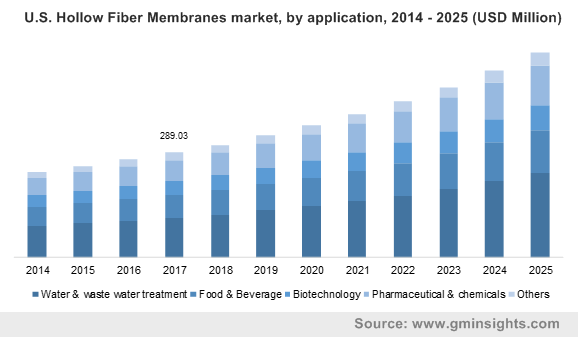 Moreover, with the effects of climate change amplifying, the most immediate & significant impact of this would be on the world's hydrologic cycle. Global warming severely impacts rainfall, in what form and where, which directly affects the availability of water supply for irrigation, drinking, generating electricity & supplying different industries. In this context, the global hollow fiber membranes industry would garner significant gains, owing to the increasing number of government initiatives that address the issue of water conservation & help enhance process efficiencies across different industrial sectors.
Global HFMs market | Impact of the waste water & water treatment industry
The global waste water as well as water treatment industry is one of the biggest and the most rapidly growing application niches for the global HFMs market. A majority of the industry demand comes from the global chemical industries as they face extremely daunting regulatory challenges on a frequent basis when treating the waste water effluents output. Over the previous two decades, massive environmental initiatives have been coming up across the United States & Europe, which have resulted in a number of stringent environmental regulations being imposed on the chemical industries' industrial emissions, thereby creating significant opportunities for the global hollow fiber membranes market.
Get a Sample Copy of this Report @ https://www.gminsights.com/request-sample/detail/3118
These regulations have made it imperative for industry players to increase their investments in cleaner technologies as well as treatment technologies that are significantly more efficient than their conventional counterparts. Moreover, the initiatives have already prompted several chemical firms to install modern effluent treatment systems that address the recently enforced regulations of the country they operate out of or the nation they conduct trade with. These factors have enabled the waste water & water treatment industry to account for a significant proportion of more than 46% of the global HFMs market share in 2017. The hollow fiber membranes industry share from the water and waste water applications would be further depicting an impressive CAGR of 9% over 2018-2025, claims a report by Global market Insights, Inc.
Global HFMs market | Impact of the Europe food & beverages industry
Water is an extremely crucial commodity for the food & beverages industry for a plethora of different operations ranging from irrigation, sanitation & cleaning to actual food preparation & processing operations like heating and cooling. Through an economic & ecologic perspective, water reuse is rapidly becoming of great importance inside the various processing operations across the food & beverages industry. Recycled water significantly contributes to reduction of costs and also alleviates the burgeoning demands that are made on the industry's water supply. World governments, while backing this initiative, have implemented several regulations to ensure that the quality of the recycled water stays at a permissible level, thereby ensuring sustained market growth.
The European food & beverages industry is known to be one of the world's largest manufacturing sectors. The food & drinks industry of Europe is a major contributor to the continent's economy, with an annual turnover of more than €1,109 billion, and ranks ahead of numerous other manufacturing industries, including the continent's booming automotive industry. Moreover, Europe is also experiencing a cultural shift where the preservation & reparation of the environment is being given significant importance with numerous governments introducing conservation initiatives & making investments in different industries that promote & contribute to the EU environment goals. These factors would be majorly responsible for expediting the Europe hollow fiber membranes market in the years to come.
Based on these aforementioned trends, it would be favorable to state that the global hollow fiber membranes industry has placed itself in an extremely lucrative position for attracting massive investments. In fact, according to Global Market Insights, Inc., hollow fiber membranes industry size is slated to surpass the USD 6,144.8 million remuneration mark by 2025.
Author Name : Akshay Kedari
Owing to considerable increase in research activities and the widening scope of biomedical applications, the polyglycerol sebacate market has been garnering commendable momentum in the recent years. Apparently, it is quite evident that the resin is being preferred over other polymers due to its cost-efficient production which can be scaled up rather easily with less complicated machinery and manufacturing processes. Moreover, the degradation kinetics and mechanical properties of polyglycerol sebacate can be customized to meet the requirements of various applications by controlling reactants concentration, curing time, curing temperature, and degree of acylation in these resins.
U.S. polyglycerol sebacate market, by application, 2014 – 2025 (USD Million)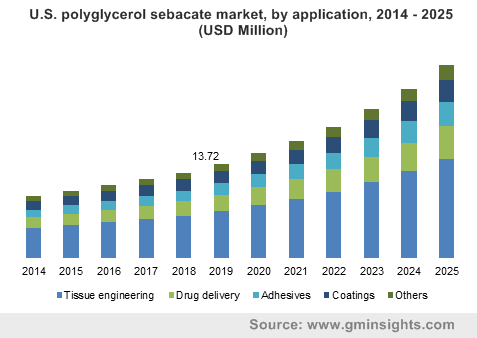 A brief overview of how continued research is assisting polyglycerol sebacate industry in expanding its reach
Owing to its advanced properties such as biodegradability and biocompatibility, polyglycerol sebacate is being widely utilized in a variety of biomedical applications in the recent years. In addition to these properties, the elastomeric and flexible nature of PGS makes it an ideal choice for deployment in biomedical applications, especially in soft tissue replacement surgeries and the engineering of soft tissues including retina, cartilage, nerve, and cardiac muscles.
Speaking in the similar context, the extensive research focused toward the development of a diagnostic biodegradable sensor that would measure biomechanical characteristics of the affected soft tissue in real time is proving to be a major breakthrough across the biomedical and other healthcare institutions. Given that the existing implantable diagnostic sensors either use materials with unreliable biocompatibility or suffer from inadequate sensing capability, the recently launched biodegradable sensor highlights a significant step toward enhanced assessment of a patient's recovery.
Get a Sample Copy of this Report @ https://www.gminsights.com/request-sample/detail/3101
Developed by researchers from Stanford University, the new biodegradable sensor is compatible with living organisms which can meet the requirements of tissue recovery procedures by making a distinction between pressure and strain stimuli. Reportedly, the researchers utilized two biodegradable elastomers: poly-octamethylene maleate citrate and polyglycerol sebacate. Here, it would be prudent to mention that the significance of polyglycerol sebacate in the production of biodegradable sensors can be comprehended by the unveiling of this new device by Stanford University.
According to a reliable estimate, about 14 million people in the U.S. alone suffer from joint, ligament, and tendon injuries each year. Many of these injuries require surgery, making the inclusion of biodegradable diagnostic sensors quite significant in improving the recovery experience of the patient. Needless to mention, the launch of such innovative products demonstrates the growth potential of the polyglycerol sebacate industry which is slated to surpass 80-million-dollar mark in terms of commercialization scale by 2025.
Speaking of the regional spectrum of the polyglycerol sebacate market, North America is anticipated to command the largest share of the industry in the next seven years. The availability of advanced medical devices, innovations in implant design, and continuous improvement in R&D efforts would fuel the North America polyglycerol sebacate market in the times to come. Not to mention, the regional industry trends are also expected to receive momentum from the gradual increase in geriatric populace and the massive rise in accident and trauma cases.
Even though polyglycerol sebacate is a comparatively newer polymer as compared to other biomaterials including chitosan, collagen, PLLA, (poly-D-lactide), and (poly-L-lactide) PLLA, the probability of polyglycerol sebacate replacing the aforementioned biomaterials is massive given the standard manufacturing procedures, regulated raw materials, and its close resemblance and performance that matches with natural tissue. Apart from huge being utilized in drug delivery systems, coatings, adhesives, and tissue engineering, polyglycerol sebacate has been finding usage in applications such as valves and scaffolds. Apparently, these newly discovered applications are bound to contribute toward expansion of the global polyglycerol sebacate industry share in the upcoming years.
Author Name : Saif Ali Bepari