Electronics and Media
Global Market Insights Inc. announces a new study based report on router and switch market. The market size is estimated to be worth USD 41.02 billion by 2022. The report is a professional and detailed qualitative market research on the current scenario of the key regional markets. It also features a comprehensive discussion about the market trends, aspects like drivers, restraints, opportunities, challenges that impact SP switching and routing device market. The boom in adoption to cloud computing solutions is likely to propel the Router and switch segment.
View a summary of the "Router And Switch Market Size, Industry Analysis Report" @ https://www.gminsights.com/industry-analysis/router-and-switch-market-size
The report covers the SP switching and routing device basics including its applications, definitions,  manufacturing methods, classifications, cost structures, and product specifications, etc. Furthermore, it offers analysis of the market conditions in the top global regions including the market growth rate, product price, profit, etc.
Key products include multiservice edge, Internet exchange, ATM switch and Ethernet service edge etc. Internet exchange router is likely to show a substantial growth and surpass USD 16 billion during the projected period. Service provider core router is expected to witness growth at a CAGR of over 2.5% in next few years owing to multiple system offerings including less power consumption, high efficiency, optimized rack space usage for improved bandwidth capacity etc. Ethernet service edge router market is forecast to hit USD 12.63 billion from 2015 to 2022. BYOD market growth is likely to impel demand with its numerous advantages including better productivity and reduced costs. BRAS (Broadband Access Aggregation) is likely to see a substantial growth owing to high demand for high speed services.
Mobile data traffic explosion is expected over the projected time frame attributed to rising smartphone usage, proliferation of wireless devices, 3G/4G and LTE networks globally.
Get a Free Sample Copy of this Report @ https://www.gminsights.com/request-sample/detail/174
North America router and switch industry is expected to be worth USD 15.5 billion at a growing CAGR of 2% during the forecast timeframe. The surge is attributed to noticeable growth in backhaul investments in the region. Asia Pacific, China in particular is projected to witness a substantial growth due to increasing demand for high-definition content and multi-screen delivery.
Key market participants are profiled in the report with comprehensive analysis of business strategies, products and services, current trends and finance metrics. Cisco Systems, Juniper Networks, Alcatel-Lucent, ZTE Corporation and Huawei Technologies are some of the major players in the router and switch market.
Author Name : Dhananjay Punekar
One of the most prominent 3D scanning market giants, FARO, has recently announced the release of the FARO FocusS 70, touted to be one of the most notable products of this organization in the laser scanner portfolio. The product is apparently quite accurate, and the short-range products are principally designed for professionals in the engineering, architecture, product design, construction, and public safety forensics sectors. FARO has been continuously improving its process portfolio and technologies to sustain its position in the competitive 3D scanning industry. Recently, Faro also introduced the next-generation FaroArm in the market, endowed with user-friendly features, superior durability and portability. The ongoing developments in 3D scanning equipment manufacturing are likely to attract more consumers, which may favorably influence 3D scanning industry share. As per business estimates, in 2016, 3D Scanning Market collected a revenue of USD 3 billion.
North America 3D scanning market size, by application, 2012-2024 (USD Million)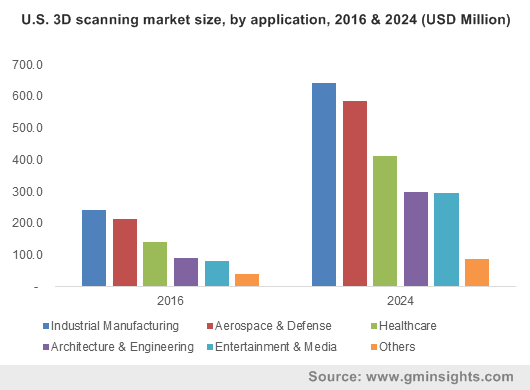 Baltic Orthoservice, a renowned medical firm, has invested in the 3D printing technology in 2012 to develop patient-specific implants such as maxillofacial reconstruction and cranial and hip joints. With this lucrative investment, Baltic Orthoservice aimed to improve the quality of medical services. The company also uses laser scanner on an ALTERA CMM to improve the quality of every 3D printed product. Laser scanners have the capability to capture all the data very accurately and precisely, which enhances the quality of the manufactured product. On that note, 3D scanning industry from laser scanners will grow at a CAGR of 14% over the period of 2017 to 2024. The key participants in 3D scanning market are 3D Digital Corp., Hexagon AB, metek, FARO Technologies, Inc., Autodesk Inc., 3D Systems, Basis Software Inc., and Creaform.
Get a Sample Copy of this Report@ https://www.gminsights.com/request-sample/detail/103
Surging developments in the healthcare sector have been fueling the demand for highly advanced equipment. With an aim to expand their geographical presence, players operating in 3D scanning market are continuously implementing new advanced features in their products. Additionally, they have also been working on checking the feasibility of the scanner, which may be capable of producing parts with different materials. Apart from material differentiation, the scanning range of the product also plays an important role in product differentiation, on the basis of which, market participants are increasingly focusing on brainstorming a range of technologically advanced products. In 2016, short-range 3D scanning market covered a share of 40%, augmented by the extensive product demand from the healthcare and automotive sectors.
Medical practitioners have been increasingly preferring the usage of this product for MRI scans, CT scans, and X-rays. 3D scanners ideally help doctors to measure the shape, body size , and skin surface area of the patient very accurately. In addition to this, low cost and ease of accessablity of the product increases its adoption rate in clinical applications, which will stimulate 3D scanning market share over the years ahead.
Regional governments have been promoting the usage of advanced 3D scanners to enhance the efficacy of the medical services. Subject to the product's capability to resolve complex theories, it has been extensively used in the medical sector. Many of the researchers have been continuously introducing new techniques to manufacture challenging 3D objects. As per the market study, 3D scanning market will collect a revenue of more than USD 10 billion by 2024 with an annual growth rate of 15% over 2017-2024.
Author Name : Sunil Hebbalkar