Electronics and Media
Rising demand for affordable and reliable communication services worldwide will be one of the key trends driving voice over internet protocol (VoIP) market growth over the forecast period. VoIP is a rapidly advancing technology that uses internet to make phone calls rather than conventional telephone systems. The cost of using a VoIP service is relatively low, especially for long-distance communication. Companies are increasingly leveraging VoIP solutions to improve their productivity and enhance mobility.
APAC VoIP Market Size, By Country, 2018 & 2025 (USD Billion)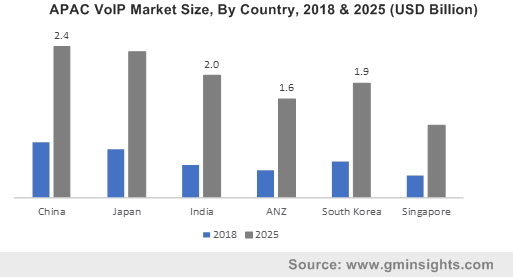 The voice over internet protocol (VoIP) market has garnered major share in developed nations owing to presence of high-speed broadband infrastructures which eliminate the need for maintaining a separate telecommunications network. In addition to making voice calls, VoIP can also conduct video conferencing calls, eventually allowing businesses to visually communicate with co-workers and clients to discuss deals, files, documents and agendas more effectively.
VoIP makes recording calls more efficient and easier, further enabling companies to integrate different communication services into a single device or software. With rapid technological advancements and recent innovations, VoIP market outlook has witnessed an immense transformation lately. For instance, in 2019, caller ID app Truecaller announced the beta-testing of its new app feature that allows users to make voice calls over IP. With such advancements, VoIP market trends are likely to expand and the industry players may garner a huge customer base, thereby augmenting business growth over the forecast period.
Voice over Internet Protocol (VoIP) market share is slated to record significant gains from the international VoIP call segment. Demand for international VoIP calling services is estimated to increase exponentially over coming years, on account of its low-cost service offering. Several affordable international calling plans are being offered by VoIP service providers that allow organizations to conduct business across borders at low calling rates. Credible reports also estimate international VoIP calls market to hold major share of over 50% by 2025.
Get a Sample Copy of this Report:@ https://www.gminsights.com/request-sample/detail/2989
VoIP providers also allow users to make calls to landline and mobile phone numbers without any restrictions. Being internet-based, the technology can effectively handle media types such as images, videos and texts along with voice. Rising technological advancements will propel VoIP industry growth. For example, VoIP service plans come with advanced features like caller ID with name, call waiting, conference calls and call forwarding among other.
An instance of initiatives that will effectively generate new growth opportunities in VoIP market include the one made by North Dakota Department of Human Services which recently awarded a $3.3 million worth call center contract to Noridian Healthcare Solutions. The grant will support North Dakota's Medicaid providers and customers by answering queries associated with Medicaid claims payment, submission of claims, and prior authorization.
Europe voice over internet protocol (VoIP) market will witness commendable growth over the coming years. Especially across Germany, the VoIP industry is recording lucrative growth on account of the region's strong telecommunication infrastructure. Consumer demand and adoption of broadband high-speed Internet services is also considerable within the nation. With rising demand for cheaper communications service and increasing use of VoIP solution, the region is forecast to be a major ground for VoIP market growth over the coming years.
Supportive government initiatives are also likely to expand Europe VoIP market size over coming years. For instance, as per Europe 2020 strategy, all Europeans are expected to own fast broadband services (over 30 Mbps) by 2020, a mission for which EU has implemented a series of regulatory measures and policies and has made around €15 billion available to Member States in the period 2014-2020.
Voice over Internet Protocol (VoIP) is an advanced communication technology that enables organizations to cost-effectively streamline different communication platforms to improve business productivity. International call centers are increasingly using VoIP to reduce cost expenditure and facilitate voice calls at affordable prices.
With growing traction in European countries and extensive use of internet-based voice communication apps worldwide, demand for VoIP solutions will increase significantly over coming years. Report from Global Market Insights, Inc., estimates voice over internet protocol (VoIP) market size to exceed USD 55 billion by 2025.
Author Name : Mateen Dalal
Innovative products being introduced by major companies is favoring the growth prospects of automotive NFC market. Due to low energy requirements, NFC technology can be embedded in cars, which is transforming the automobiles from interiors to exteriors. Automakers are also installing electronic smart key systems in their cars to modernize their vehicles that will augment automotive NFC market share.
Brazil Automotive NFC Market Revenue, By Type, 2018 & 2025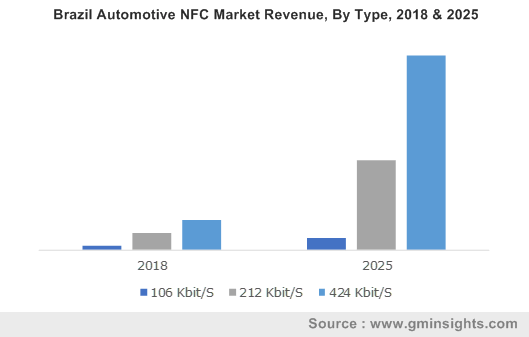 NFC technology in automotive sector offers intuitive interactions between humans and vehicles to fulfil the specific needs of drivers and enhancing driving experience. The major players in electronics and semiconductor sector are striving to come up with innovative ideas which can perform desirable tasks to satisfy certain demands of customers and increase remuneration of automotive NFC market.
Recently, one of the leading industry players, STMicroelectronics, made it to headlines as it presented automotive solutions for smart driving at the 11th edition of the Automotive World show in Tokyo, Japan. The company exhibited the leading-edge NFC technology in automobiles which can accelerate electrification and digitalization in autonomous driving, advanced driver assistance systems (ADAS), and power control for electric and hybrid electric vehicles. The solutions include Power Architecture®'s 32-bit microcontroller, SiC power MOSFET, acceleration sensors enabling road-noise cancellation, EEPROM and several others.
The companies like NXP and STMicroelectronics have developed pioneering technologies, which are gaining high traction among automakers manufacturing high-end vehicles. The luxury car manufacturers are focusing on deploying NFC technologies to enrich the driving experience of their customers. According to a report by Global Market Insights Inc., the high-end vehicles in the automotive NFC market will record a growth rate of over 31 percent over the timeframe of 2019-2025.
Get a Sample Copy of this Report:@ https://www.gminsights.com/request-sample/detail/398
With increasing modernization, the interiors of cars are also being installed with cutting-edge technologies. The interior application held more than 71 percent revenue share in the automotive NFC market in the year 2018. The strategies of some companies to progress in the technological domain is likely to contribute in augmenting the automotive NFC industry share in upcoming years.
For instance, NXP recently announced the acquisition of wireless connectivity portfolio of Marvell valued at $1.76 billion. The acquisition includes Marvell's Wi-Fi Connectivity Business Unit, Bluetooth technology portfolio and related assets to upgrade technologies in vehicle interior. The acquisition will allow the company to deliver complete, scalable processing and connectivity solutions to the customers across its focus end markets. Such acquisitions are expected to create new revenue opportunities for the market players and increase automotive NFC industry size.
The involvement of luxury car manufacturers like BMW in the development of high-end automotive technologies will contribute to optimistic automotive NFC industry outlook. The BMW AG has employed NFC technology in its latest BMW 8-series to upgrade the standards for automobile manufacturers. Its intelligent features like climate seats, convenient wireless phone charging tray, display key, fuel level indicator, service-related information, digital key etc. have set high benchmarks for its competitors.
The smart key function is widely being adopted among the automobile companies to enrich experience of customers. Another instance that can be cited here is that of Hyundai Motor Company which has introduced digital keys in its all-new 2020 Sonata to mark the North American debut of its most successful and longest standing model at the New York International Auto Show. The car has been introduced with a digital key application to promote advances in technology. It allows customers to control selected vehicle systems remotely.
The driver can also leave traditional keys at home as the app also allows secure sharing of keys with family and friends. The propagation of advanced technologies is on the rise and is boosting the growth of automotive NFC market size. Moreover, the latest debut of Hyundai in North America will propel the regional growth of automotive NFC market as well. It has been anticipated that the North America automotive NFC market will attain a CAGR of over 32 percent mainly due to the presence of strict regulatory policies regarding the ADAS system.
As can be observed from the aforementioned instances, automobile manufacturers are widely embracing trailblazing technologies to expand their market share. The strategies, like collaborations and acquisitions, are being planned and executed by the companies involved in automotive NFC industry to support the adoption of new technologies, essentially providing a favorable growth environment for automotive NFC industry.
Author Name : Anchal Solanki
Driven by the increasing need of power saving devices in heavy energy applications, GaN and SiC power semiconductor market has emerged as one of the lucrative business avenues for the players in electronics and media sector. In fact, over the last few years, semiconductor manufacturers have been observing fierce competition pertaining to the development of GaN and SiC power devices. The growing use of such devices in renewable energy generation applications will have a notable impact on the future product demand.
North America GaN and SiC power semiconductor market size, by application, 2018 & 2025 (USD Million)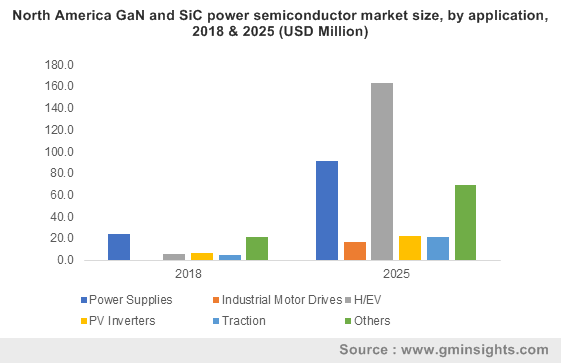 As compared to traditional silicon-based semiconductor devices, GaN and SiC semiconductor materials can be used in faster, smaller, and more reliable devices that can provide higher efficiency. During power conversion, they eliminate around 90% of the power losses. So that to take advantage of their unique capabilities, several automation companies like ABB have been incorporating GaN and SiC power semiconductor in their industry applications.
Though the GaN and Sic power semiconductor has the capability to withstand higher operational temperature, leading contributors in semiconductor market have been involved in the development of insulating substrates which can be used in electronic devices for heat dissipation. Continuous upgradation of existing technology trends in the semiconductor industry is likely to propel GaN and SiC power semiconductor market share.
Shifting focus of economies toward the deployment of renewable energy facilities to control global warming and support sustainable development will have a significant impact on the product demand. Many European, Asian, and American countries comprising Norway, Sweden, India, China, Mexico, U.S., and Germany have invested heavily in the development of renewable energy infrastructure. Moreover, these countries have also framed energy policies to become totally dependent on renewables.
Heavy dependency on inefficient coal-fired power plants and fossil fuels is one of the prominent reasons why the energy sector has been contributing to global greenhouse gas emissions. In this regard, regulatory bodies like United Nations Development Program (UNDP) have been working rigorously to bring transition across the globe through renewable energies. Continuous contribution by the governing bodies to use renewable energy technologies will strengthen GaN and SiC power semiconductor market landscape over the years ahead.
Get a Sample Copy of this Report:@ https://www.gminsights.com/request-sample/detail/3375
Solar is one of the fastest growing energy sources in the world driven by the burgeoning investment by the countries like China, India, and U.S. Decreasing manufacturing cost along with growing awareness among the people about environmental benefits are the major factors fueling solar energy market size. Since GaN and SiC power semiconductors are mainly used in the PV inverters, heavy investment in solar energy industry will indirectly support the market growth.
In the Asia Pacific region, India and China will turn out to be leading business contributors for GaN and SiC power semiconductor market. The ongoing installation of large-scale solar power projects across India and China is mainly responsible for driving the regional growth. For instance, China has the potential to have world's largest solar power plant, once the three phase Datong Solar Power plant of 3GW capacity is completed.
India is also gaining quite some traction in GaN and SiC power semiconductor industry landscape with the development of solar power plants. State governments of the provinces comprising Karnataka, Tamil Nadu, Rajasthan and Andhra Pradesh have invested rapidly in the construction of solar power stations. The four phased Bhadla industrial solar farm located in Rajasthan for example will generate 2,255 MW of electricity when it would become operational by December 2019. In another instance, to complete the Kamuthi solar facility based in Tamil Nadu, the government invested USD 679 million in 2016.
Increasing renewable energy applications across the globe will generate lucrative business opportunities ahead for companies in GaN and SiC power semiconductor market. Growing popularity of renewables across the globe and proliferating installations of photovoltaic inverters will drive market trends over the coming years. Rise in the deployment of pollution mitigating policies to endorse a clean and sustainable environment is also predicted to improve GaN and SiC power semiconductor industry outlook over the years ahead.
Author Name :Sunil Hebbalkar
The global micro data center market will witness immense growth in the years to come due to rapid technological advancements in the IT & telecom sector which has led to expansion in data center infrastructures worldwide. As online banking & shopping, satellite navigation systems, smartphones, TV & movie streaming gain traction, relocation of IT infrastructure becomes mandatory. This increases the demand for modular data center architecture that will drive the global micro data center market size.
U.S. micro data center market, by application, 2018 & 2025 (USD Million)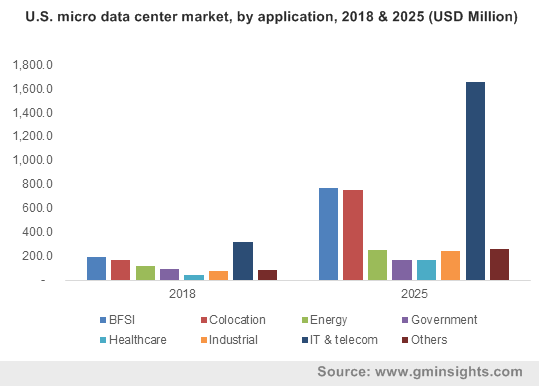 The rising need for containerized data centers for corporate offices that consistently relocate their infrastructure will fuel micro data center industry share. With rising workloads, companies are focusing more on data center expansion. However, enterprises are now wanting to make their presence felt on the cloud, leading to the requirement of portable data centers. Micro data centers have a smaller footprint that conventional data centers and look like with integrated systems. The rising requirement for portable solutions in large-scale enterprises for delivering additional IT support will drive micro data center market size.
The healthcare sector will be a major application segment of micro data center industry. Medical care centers demand efficient power systems for consistent access to patient electronic health records. The rise in the number of chronic diseases and patient admissions can sometimes though, put pressure on hospitals, emergency clinics and rehabilitation centers since conventional data center infrastructure requires a huge investment. But miniaturized, portable data centers eliminate a lot of the up-front investment and are being preferred by medical care facilities, that will drive micro data center market size from hospitals.
Get a Sample Copy of this Report:@ https://www.gminsights.com/request-sample/detail/2762
North America micro data center market will grow significantly over 2019-2025 driven by robust urbanization and digitization trends. The presence of major multinational companies planning on expanding their operational capacities in the U.S. will drive the North America industry. Most huge enterprises in the U.S. require efficient IT infrastructure for business management. The rising need of huge companies and SMBs for portable solutions will fuel the regional micro data center industry share.
Global Market Insights, Inc., estimates the North America micro data centers market size to register a CAGR of more than 23% over 2019-2025. The growth is driven by the launch of various micro facilities by important technology giants such as Schneider and IBM Corporation. The expansion of data center infrastructure market in the region will also propel North America micro data center industry share.
Prominent industry giants are consistently making investments in portable data center solutions to cater to rising demand from hospitals, IT companies, telecom firms, banking establishments, etc. For example, in March 2019, Schneider Electric had declared the launch of new solutions for micro data centers which combine APC by Schneider's physical infrastructure with Cisco's HyperFlex Edge that delivers efficient, fast deployment in edge environments.
Cisco and Schneider Electric's latest partnership on micro data centers will provide system integrators and IT global channel partners the access to new reference designs for deploying the HyperFlex Edge that can be suitably customized for particular micro data center needs. The rising demand for pre-integrated, physically secure, and remotely monitorable containerized data center solutions and increasing efforts by industry players to provide these services will drive the global micro data center market size.
Some of the other players defining the competitive landscape of micro data center include Advanced Facilities, Inc., Zellabox, Schneider Electric SE, Attom Technology, Eaton Corporation PLC, Panduit Corporation, Delta Power Solutions, Canovate Group, Dataracks, Hewlett-Packard Enterprise Company, STULZ GmbH, Huawei Technologies Co., Ltd., IBM Corporation, Dell Inc., and Vertiv Co.
Companies partaking in micro data center industry share are trying to enhance their presence by coming up with new, more efficient portable data center solutions. Delta Power Solutions has a product portfolio of the Delta InfraSuite – a highly integrated, next-gen modular datacenter solution that uses racks and integrates cooling, lightning protection, wiring, fire control, UPSs, and airflow management together.
Global Market Insights, Inc., claims the overall micro data center market size to cross USD 14.5 billion by 2025.
Author Name : Saipriya Iyer
Wireless LAN controller market is estimated to exceed USD 3 billion by 2025, owing to the increasing business need to manage widespread and intricate LAN infrastructure along with the surging acceptance of cloud-based WLAN controllers for managing network devices. Increasing Bring Your Own Device trend, which necessitates the presence of robust network security in enterprises, will drive WLAN controller market growth through 2025. The rising need for integrated connectivity and security for mobile clients also impacts WLAN controller market trends.
APAC Wireless LAN Controller Market Size, By Region, 2018 & 2025 (USD Million)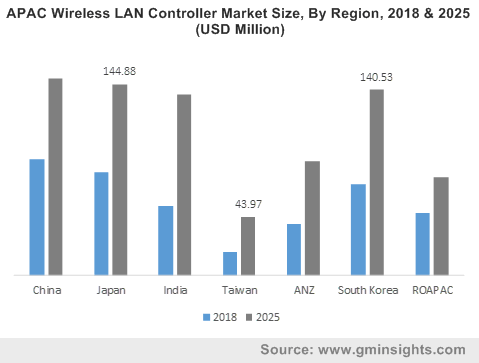 In terms of the application landscape, wireless LAN controller market is bifurcated into government and public sector, IT and telecom, healthcare, BFSI, manufacturing, transportation & logistics, retail, and others. The retail segment is anticipated to exhibit substantial growth between 2019-2025, primarily fueled by surging acceptance of latest technology by the retail sector to offer better customer experience and convenience. The constant increase in the number of retail companies across the globe will further advance WLAN controller market size. For instance, Aldi, supermarket chain with over 10,000 stores in 20 countries, has recently declared plans to open a new store in Chattanooga city, Tennessee, USA this fall.
WLAN controller market size from the BFSI segment is projected to witness modest growth in the foreseeable future, attributed to high adoption of digital platforms, workforce mobility trend, and increasing network complexity. The growing use of network devices and smartphones has burdened network administrators with complex network management tasks, resulting in the adoption of wireless LAN controllers by banking & financial institutions, for optimizing networks and boosting performance.
Get a Sample Copy of this Report:@ https://www.gminsights.com/request-sample/detail/3321
The establishment of new financial institutions and technological enhancements in Wi-Fi technology along with the fast-paced expansion of Wi-Fi market will elevate the revenue share of WLAN controller market from BFSI applications. For instance, HSBC, a renowned multinational banking and financial services company, has recently declared plans to open fifty new retail branches in the United States where it previously had no existence. Reportedly, this move is a part of British banking behemoth's plan to expand services to newer geographies with no prior foothold.
The rapid upsurge in digital data has led to the introduction of AI in BFSI market, which has positively impacted wireless LAN controller market share. Financial enterprises are leveraging artificial intelligence technology to gather, analyze, and report huge chunks of data to retrieve actionable insights regarding customers to serve their requirements better. Expanding artificial intelligence market size, owing to surging adoption across automotive, manufacturing, retail, healthcare, media & advertising, agriculture, and BFSI, would push network management requirements, thereby propelling WLAN controller market size over the future.
Rising urbanization and commercialization, especially across developing nations, will impact the industry growth. According to a report published by Our World in Data website, approximately 4 billion individuals resided in urban areas, whereas 3.4 billion individuals resided in rural regions, in 2016. Over the last 50 years, the share of people living in urban areas more than quadrupled in Nepal and Mali, and more than tripled in Nigeria and Kenya. By 2050, the global population is projected to reach 9.8 billion, and it is anticipated that the number of people living in the urban area (6.7 billion) will be double of that in the rural area (3.1 billion).
Growing urbanization and commercialization directly influence infrastructure development, healthcare, IT and Telecom, retail, manufacturing, transportation, BFSI, and various other sectors. As these sectors are the leading consumers of wireless technology, they are projected to support WLAN controller market share over the future. Expansion of the enterprise wireless local area network market is also bound to fuel WLAN controller market growth.
The increasing number of efforts by major companies present in wireless LAN controller market, to gain a competitive edge, will substantially fuel market share. Many organizations are taking huge steps towards innovation and new product development, to accelerate the shift towards cloud-enabled network services and ensure enhanced management & security of wireless LAN solutions. Global Market Insights, Inc. claims that large enterprises will accrue over 55% of wireless LAN controller market share through 2025.
Author Name : Nikita Chaurasia
The global industrial communication market has thrived successfully in the recent decade as growing adoption of these components in Industry 4.0 has effectively helped increased productivity in major industries. Labor reduction, waste reduction, repeatability, enhanced quality control, and integration with existing business systems have given companies an added advantage by lowering long-term costs, which could indirectly increase product output and revenue.
U.S. Industrial Communication Market Revenue, By Component, 2018 & 2025, (USD Million)

An industrial communication network is the backbone for any automation system architecture as it can offer powerful means of data exchange, controllability and flexibility to connect to various devices. The use of digital communication networks in industries can also lead to improved end-to-end digital signal accuracy and integrity.
Communication networks like LAN (Local Area Network) or WAN (Wide Area Network) can communicate large amounts of data via limited number of channels. Whereas industrial networking enable implementing various communication protocols between field devices, digital controllers and several automation related software tools and external systems. Therefore modern industries have demonstrated increased adoption of industrial communication networks over traditional LAN and WAN. This has led to industrial communication market size depicting a substantial increase lately.
For instance, according to renowned automation conglomerate ABB, and one of the notable players in industrial communication market, the firm's revenue increased by 5% to $7,395 million in 2018. This has been credited to the strong growth in robotics & motion, robust performance achieved from electrification products and a steady result owing to industrial automation.
Some of the trends that industrial communication market is being defined by are mentioned below:
Long-term application of industrial communication in the industrial automation sector
Growing demand for increased data processing speed will foster industrial communication market size in the automation sector. As industrial operations are becoming more complex and variable, the market has registered immense growth over recent years. Indeed, a greater number of network-based programmable controllers and mechanisms are required within modern industries to attain faster decisions and increased productivity and efficiency.
With network-based automation, companies can also attain increased saving in work force, energy, raw material, better control on product quality and enhanced plant availability and operational safety. In fact, the technology can help in raising the levels of process control & continuity with improved efficiency, eventually bringing potential production figures to the nominal plant capacity by cutting downtime, corrective maintenance and the lack of raw material supply to minimum.
With efficient real-time communication system like PROFIBUS-DP or PA, Fieldbus and more, distributed peripherals such as Input/output (I/O) modules, transducers, drives, valves and operational panels can also communicate with automation systems more accurately.
Thus, with the advent of the automated systems that are based on advanced industrial communication and technology, the automation sector will attain enhanced benefits in terms of maintenance, and increase plant productivity, further augmenting industrial communication market size.
Get a Sample Copy of this Report:@ https://www.gminsights.com/request-sample/detail/3367
S. to emerge as a pivotal revenue pocket for industrial communication market in the forthcoming years
Being a major producer of automation equipment, U.S. is anticipated to drive massive growth in industrial communication market. Citing International Trade Association (ITA) reports, the country is the leading producer of hardware components that are used in automated systems as well as a major supplier to manufacturing or production industries across the globe.
In fact, in 2015, U.S. exported nearly $10.5 billion worth of automation equipment to foreign markets, claims ITA. Sources suggest that supportive government policies and the presence of global automation players like General Electric, Honeywell, Rockwell, Emerson Electric and more will pave the way for industrialization in the region. Additionally, the increasing adoption of Industry 4.0 will boost the demand for the industrial communication technologies in the coming years, successfully proliferating U.S. industrial communication industry size.
Wireless communication technologies to enhance industrial operations
Advancements in wireless communication along with growing adoption of advanced tech-based devices will drive the industrial communication industry. The key advantage of wireless systems is that they can be installed in remote locations in an efficient and cost-effective manner. As battery-powered transmitters don't require wired infrastructure or power supply, they can be installed across areas that are far away from power wiring and wired fieldbus.
They can also be installed in sites where setting up power and cabling systems would be dangerous or too expensive. This flexibility allows use of wireless in both Greenfield projects and ongoing Brownfield projects.
Owing to the low-power nature of Wireless HART devices, users can also operate such equipment for several years without replacing the battery. Moreover, engineering, procurement, and construction contractors and plant owners can increasingly shift to wireless communication technology as it is beneficial in terms of reducing physical fixed infrastructure, managing schedule risk and cost escalation, and reducing space requirements and weight.
According to reports, adopting wireless solutions have reduced commissioning time by 50% for some contractors. The technology further helped in streamlining the design and engineering process, maintaining project schedule and improving user's ability to manage change on their project. The prominence of this technology is rather overt from the estimate that wireless charging market size is slated to cross $14 billion by 2024.
Moreover, with industry-leading process plants installing wireless infrastructure, industrial communication market size from the wireless communication protocol is estimated to grow at a CAGR of over 22% over 2019-2025.
In a nutshell, it would not be incorrect to quote that industrial communication industry is likely to come up as a highly profitable vertical of the overall electronics cosmos. As per estimates, global industrial communication market size is anticipated to exceed USD 160 billion by 2025.
Author Name :Mateen Dalal
The revenue graph of operator training simulator market is projected to foresee exponential growth owing to the continuous improvement in these products and rising emphasis on recruiting skilled workforce. Skill development helps to enhance productivity, safety, profitability, controllability, and stability of the enterprise operations. The increasing focus to reduce injuries and fatalities to maintain safe operations across various business verticals is expected to aid the market growth.
Brazil operator training simulator market, by application, 2018 & 2025 (USD Million)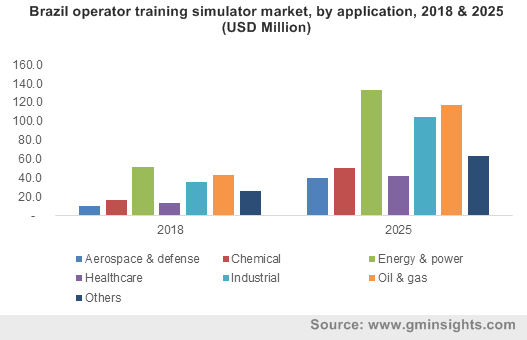 Industry professionals are training their operators to tackle life-threatening situations which has led to increased emphasis on safety of workers, optimization and efficiency of simulators – a factor that is likely to impel the operator training simulator market share in the times to come.
Operator training simulators improve decision making of the operators at critical times while increasing familiarity with the operations. Pilots are required to develop skills like decisiveness, quick thinking, confidence and situational awareness which can be enhanced by simulator trainings. Operator training simulators strengthen confidence to tackle the unfavorable situations. To underscore the significance of simulators, the recent instance of fatal aircraft crash of Ethiopian Airlines can be considered. The crash killed all 157 on board just five months after a similar crash on a Lion Air flight which killed all 189 passengers and crew.
After the accident, the Allied Pilot Association has demanded training on simulators which includes scenarios like those experienced by the pilots of Ethiopian Airlines and Lion Air and additional computer training for 737 MAX to cement the lessons of failure modes in the minds of pilots. Apparently, the deployment of advanced simulators would be crucial in building confidence among pilots, essentially boosting the growth of operator training simulator market.
Get a Sample Copy of this Report:@ https://www.gminsights.com/request-sample/detail/1285
Apart from aviation industry, the railway sector has also emerged as a major end-user to deploy operator training simulator for realistic and robust training to avoid fatalities. For instance, in the year 2018, Indian railways had announced to invest INR 350 crore in operator training simulators to train 1.5 lakh loco pilots and assistant loco pilots to bridge the gap between theoretical and practical learning. The investment is meant to make drivers learn how to navigate rail tracks, curves, signals, bridges and any other situation as if they are driving a real train.
Over 12,000 diesel and electric locomotives daily run on a 66,000-km network across the country. There are about 86,000 train drivers and the simulator training with real feel experiences will assist these drivers to run locomotives efficiently. Apparently, the Indian government's program is a testimony to the increasing prominence of governmental support to high-end simulator training across various geographies – a vital factor that will enhance the growth prospects of the operator training simulator industry.
Notably, defense academies have also been proactive in adopting operator training simulators for public safety and enhancing the overall skill-set of cops. As the police department is responsible for the safety of citizens and maintenance of peace across any country, cops face highly stressful situations on a regular basis which requires high level of patience and panic control. In this regard, simulator training has proved to be of immense help and numerous police academies are deploying these simulators on their premises.
For instance, the New Britain Police Academy has recently adopted simulator trainings to train police to manage stressful responses and make decisions under pressure. The Milo Simulator – chosen by the academy – is an advanced simulator in the state which combines driving an emergency vehicle in highly unfavorable situations such as armed encounters. The human reaction under pressure is unpredictable but this training simulator can help police officers to calmly handle stressful situations.
Operator training simulators have found usage in aviation, railways, police trainings and have applications in several other industries, including healthcare, energy, and chemicals. Operator training simulators play a vital role in training operators in manufacturing and industrial plants. The simulators enhance familiarity with the operations by creating a visual and real-time experience to cement the learnings by experiencing high-risk situations.
Retiring experienced workforce and the increasing demand for quality training of young staff will also contribute in proliferating the operator training simulator industry trends. According to a research report by Global Market Insights, Inc., the operator training simulator market is expected to surpass a remuneration portfolio of USD 20 billion by 2025.
Author Name : Anchal Solanki