ENERGY
U.S. Industrial Boiler Markethas recently witnessed Miura showcasing its range of efficient, reliable, and safe industrial boilers at the AHR Expo 2018. The company, a prominent player of the U.S. industrial boiler industry and a global leader in innovative steam boiler technology, has lately emerged as the choicest of companies chosen across the U.S. and Canada for boiler installation and maintenance. Miura's product spectrum has undoubtedly triggered a competitive storm in U.S. industrial boiler market, for the simple reason that the company is fanatically meticulous about ensuring the production of safe and reliable systems with high efficiency for its clientele, ranging from food and beverage processors, brewers and distillers, and hospitals, to metal processing firms, paper mills, and textile/carpet manufacturers. Having categorically been labelled as one of most lucrative hubs for industrial growth, the U.S. today stands nearly at the focal point as far as energy sector is concerned. Consequently, U.S. industrial boiler market, despite being a very niche segment, has emerged as one of most profitable verticals of the global boiler industry. As a matter of fact, in 2016, the U.S. industrial boiler market size was recorded at a modest USD 450 million, pertaining to the product's widespread demand across the chemical and food sectors.
   U.S. Industrial Boiler Market Size, By Application, 2016 & 2024 (USD Million)

U.S. industrial boiler market trends from the food & beverage sector
The food & beverage domain stands as one of the most remunerative end-use verticals for U.S. industrial boiler industry. Boilers, being typically used for providing thermal energy, improving efficiency, reducing fuel wastage, increasing heated water quality, prevention of fouling, balancing mineral content, and many more related functions in the F&B sector, are undeniably one of most indispensable equipment in food companies. In consequence, this has provided a major impetus to U.S. industrial boiler market size from the F&B sector. Not to mention, the U.S. food industry can indeed be enlisted among one of the most lucrative business spheres in the country, already having recorded its name in the billion-dollar space. Subject to the rapidly changing lifestyles and meal consumption habits, coupled with rising number of investments in novel food processing units that demand the installation of highly productive boilers, U.S. industrial boiler market size is indeed likely to witness a major boost over 2017-2024 from the food & beverage applications alone. Estimates claim that the F&B sector had accounted for over 10% of the installed capacity of U.S. industrial boiler industry, and may hold quite some share percentage in the ensuing years as well.
Get a Sample Copy of this Report:@ https://www.gminsights.com/request-sample/detail/832

While the food and beverage sector indeed holds pivotal importance as a profitable end-use domain for U.S. industrial boiler market as far as revenue generation is concerned, it is prudent to mention that these products are being used across other business spheres as well, such as the chemical, metals, and the paper sectors. As on today, the primary goal of most business players revolves around GHG emission reduction and environmental safety. Evidently, companies partaking in U.S. industrial boiler industry share have also been attempting to replace the fuel source in industrial boilers so as to achieve a carbon-free operational process.
An instance validating the aforementioned pointer is that Monolith Materials, a next-gen manufacturer of natural gas-based carbon black, has recently signed a deal with the Nebraska Public Power District – Nebraska's biggest electric utility, that aims to replace its current coal-fired boiler with a hydrogen-fired boiler at the Sheldon Station plant, Hallam, in Nebraska. Reportedly, the new industrial boiler will be designed to generate 125 MW electricity that would be sufficient to power around 150,000 households. The deal would indeed mark major significance in U.S. industrial boiler market, given that it would not only enhance the production capacity at the Nebraska utility, but would also help considerably reduce carbon and GHG emissions. Riding along the hallmark of the same, other companies are expected to undertake pivotal steps to replace the fuel source with one that is environment-friendly. Indeed, this would provide numerous growth opportunities for U.S. industrial boiler industry players, and would simultaneously help augment the revenue graph of this regional business sphere. Incidentally, analysts forecast the U.S. industrial boiler market size to be pegged at USD 600 million by 2024
Author Name : Saipriya Iyer
The graph of Zonal Isolation Market is expected to display a high surge over the next few years, pushed by growing number of drilling operations carried out across the offshore and onshore destinations. Technological innovations have helped the industry players explore new oil & gas wells and this has significantly contributed towards the industry growth. Increase in number of shale gas exploration along with heavy crude oil demand due to high energy requirements, will propel zonal isolation industry growth in the near future. As per Global Market Insights, Inc., "Zonal Isolation market size is forecast to touch USD 31.18 billion by 2024."
Moreover, rise in the number of drilling rigs across the globe is projected to increase the demand for exploration and production of oil & gas wells, thereby driving the industry trends over the coming timeframe. For instance, world drilling rig count improved by 74 units in July 2016 in comparison to June 2016. In fact, the U.S. rig count had numbered to 449 rigs from 32 rigs while Canada contributed nearly 31 units to 94 rigs. Developed countries like the U.S. and Canada are investing heavily in oil & gas exploration projects which is expected to drive the zonal isolation industry growth over the next few years.
U.S. Zonal Isolation Market Size, By Application, 2013-2024 (USD Million)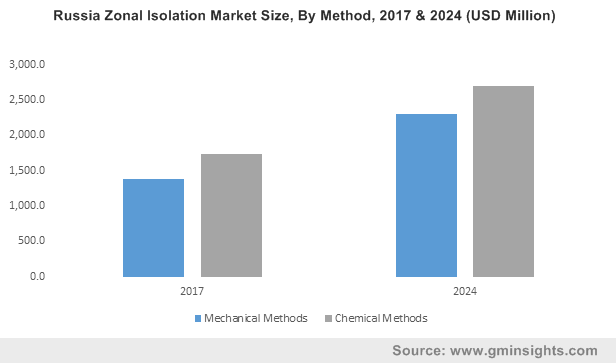 Offshore sector is a major application area, projected to offer high growth opportunities for zonal isolation industry over the coming seven years. As per the research, offshore application is expected to grow at a CAGR of 7% over the coming timeframe, driven by huge investments in the exploration and production activities carried out offshore. Moreover, zonal isolation market share in onshore sector, will experience a high growth, due to the enormous rise in onshore drilling activities.
Get a Sample Copy of this Report:@ https://www.gminsights.com/request-sample/detail/766
Below are the regional trends influencing zonal isolation industry over 2016-2024
Rise in number of shale gas exploration activities along with high requirements for oil & gas is expected to spur Europe zonal isolation market growth over the coming years. UK and Norway are expected to be the major regional revenue contributors.
Middle East & Africa zonal isolation market is projected to witness significant gains of 6.53% over 2016-2024, driven by rise in regional drilling rig count. Iran and Saudi Arabia are projected to be the major regional revenue pockets.
North America zonal isolation industry will attain maximum growth over the coming seven years, driven by rise in the number of drilling offshore activities along with the discovery of unexplored oil & gas basins/reserves. U.S. is expected to contribute substantially towards the regional share.
Zonal isolation industry will obtain optimum growth across the nations such as China, Canada, UAE, Mexico, Russia, and Brazil, driven by the increase in oil & gas exploration and production activities.
Market players will try to enhance their ROI through technological innovations, R&D investments, and strategic alliances. Key industry players include TAM International, Expro International Group Holdings Limited, Schlumberger Limited, Tendeka, FMC Technologies, Baker Hughes, Weatherford International, Halliburton Company, Superior Energy Services, C&J Energy Services Incorporation, and Oilsery.
Author Name : Dhananjay Punekar
Rising popularity of petroleum products in emerging economies is expected to stimulate Hydrogen Generation Market Size over the next few years. Hydrogen is primarily used in refining process such as hydro desulfurization to remove sulfur from refined petroleum products such as petrol, diesel, jet fuels, etc. and make them more usable. Strict norms to reduce sulfur dioxide emissions from aircraft, ships, automobiles, industrial furnaces, and railroad locomotives will drive hydrogen generation industry growth in the near future. As per Global Market Insights, Inc., "Hydrogen generation industry size is projected to surpass USD 180 billion by 2024."
Hydrogen is generated from two processes known as electrolysis and steam reforming process. Global hydrogen generation market revenue from electrolysis process is expected to grow at a rate of 5% over 2016-2024. Hydrogen generation industry size from steam reforming process is forecast to witness a high growth over the coming seven years, owing to lower natural gas costs along with its easy availability.
Germany Hydrogen Generation Market size, by application 2013-2024 (USD Billion)

Hydrogen generator finds varied applications across metal, construction, petroleum refinery, glass, propellant fuel, chemical, automobile, and semiconductor sectors. Chemical sector, which accounted for over half of hydrogen generation market share in 2015, will grow significantly over the coming timeframe. The growth can be credited to rising demand for ammonia from agricultural sector as well as its rampant use in urea production.
Hydrogen generation industry revenue in the petroleum refinery sector will grow substantially over the coming years as a result of its wide use in the hydrocracking process along with high preference for petroleum products such as diesel, gasoline, etc.
Taking into consideration the global outlook, APAC hydrogen generation industry revenue will witness a substantial growth over the coming seven years. The growth can be attributed to heavy demand for petroleum products from refineries. India and China are expected to be the key regional revenue contributors.
Europe hydrogen generation market is projected to observe a substantial growth over the next few years. Rising use of chemicals in construction and food & beverages sector will positively impact the regional growth. Germany is expected to contribute significantly towards the regional revenue share.
Get a Sample Copy of this Report:@ https://www.gminsights.com/request-sample/detail/1107
North America hydrogen generation industry will grow considerably over the coming seven years, owing to heavy demand for ammonia. In addition to this, rising preference for renewable sources of energy to curb the greenhouse emissions is expected to contribute substantially towards the regional growth over the coming years. U.S. is predicted to dominate the regional share.
MEA hydrogen generation industry will witness a high surge over the period of 2016-2024 due to growing demand for fertilizers. LATAM market is expected to observe a noticeable growth over the next few years, owing to remodeling of current deployments and large-scale expansion of refineries.
Key industry players include Messer Group GmbH, The Linde Group, Nuvera Fuel Cells Inc., Iwatani Corporation, Taiyo Nippon Sanso Corporation, Hydrogenics, Showa Denko K.K., Caloric Anlagenbau GmbH, Xebec Adsorption Inc., Praxair Technology Inc., and Air Liquide.
Read Our Press Release @ https://www.gminsights.com/pressrelease/hydrogen-generation-market
Author Name : Dhananjay Punekar
The volatility of oil prices is a crucial factor that has tremendously impacted oil storage market in recent years. Indeed, oil prices have been a debatable topic over the last half a decade. The crude prices underwent a major decline from trading at USD 109.45/barrel in 2012 to USD 52.51/barrel in 2017, resulting in a supply-demand imbalance. The supply of crude oil has surpassed its demand leading to an overabundance of the crude oil worldwide. This has resulted in a surging demand for oil storage facilities across the globe, rapidly propelling oil storage market trends.
The declining crude oil prices have also built a tough competitive scenario in the O&G market. In accordance, oil companies have been focusing toward expanding their operations to increase their supply and storage infrastructure – a move that will commendably impact global oil storage market growth. Having once been the monopoly of the Gulf countries, oil storage industry as on today has established its footprint across myriad geographies. The emerging economies, mainly the Asia Pacific in fact, have been particularly proactive across this business space. Heavy import of crude oil across this region has resulted in an upsurge in the demand for storage facilities. As per the National Bureau of Statistics, Asia held 191 barrels of crude in its petroleum reserve in the year 2015.
U.S. Oil storage Market size, by fuel, 2013 – 2025 (Million Units)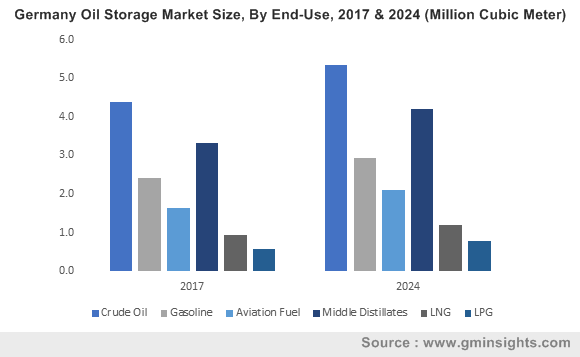 Regional governments across the APAC have also been taking initiatives to augment oil storage market outlook across the continent, taking into consideration the national economic security as these oil reserves can be used at the time of energy crisis, safeguarding the national economy. For instance, the Petroleum Ministry of India announced its decision to increase its oil storage capacity taking the advantage of the reduced crude oil prices. The Government of India has set up three strategic crude oil reserves, each of 5 MMT capacity in Mangalore, Vishakhapatnam, and Padur. Rajasthan and Odisha are also under the pipeline for this set-up. Initiatives such as the aforementioned are certain to stimulate India oil storage market share in the ensuing years, inherently leading to the growth of this vertical across the Asia Pacific.
Get a Sample Copy of this Report: @ https://www.gminsights.com/request-sample/detail/803

It is noteworthy to mention that China has been a notable contributor toward APAC oil storage market. The country has been particularly keyed up with regards to crude storage and has been adopting various means to strengthen its stance in the geographical landscape of oil storage industry. In 2016 for instance, the Chinese government announced that it would be constructing additional 441 million barrels of strategic petroleum reserves by 2020. A year later, the China Energy Investment Corporation announced that it plans to invest more than USD 83 billion in the development of shale gas across West Virginia. This testifies that the increasing focus toward the expansion of refineries and the ongoing investments toward unconventional resources are certain to impel China oil storage market size.
The competitive landscape of oil storage market is inclusive of some heavy hitters such as CST Industries, Inc., Poly Processing, Snyder Industries, Red Ewald, Inc., Synalloy (Palmer), Assmann Polyethylene Tank, ZCL Composites Inc., Zepnotek Storage Tank, Belco Manufacturing Co Inc, L.F. Manufacturing, Inc., Containment Solutions, Inc, Polymaster, Holvrieka, Tuffa Tanks, and Vopak. The coming years will witness the key players adopting strategic alliances and mergers & acquisitions as a major part of their growth strategy. Additionally, core oil companies are expected to involve themselves in the massive expansion of their supply and storage infrastructure in order to outbid their rivals. A recent such move was Suncor Energy Inc. selling its oil storage stake to Fort McKay First Nation to strengthen its bond with aboriginal groups located close to the oil sands. Powered by the rising number of capital investments toward the development of storage units from domestic and foreign companies, in tandem with the growing demand for the refurbishment of existing storage units, oil storage industry size is anticipated to cross 1.2 billion cubic meters by 2024.
Author Name : Saipriya Iyer
In spite of possessing 170 square kilometers of land in the east of Tennant creek in Australia and a large amount of money in bank account, it was not affordable for Munungurra Aboriginal Corporation members to live in their country of birth and origin. The cost of providing power to a remote place prevented them to build an economy for their community.The corporation had no water and power supply as they were not on the grid and so they had to pay for two diesel generators to provide power supply to two tiny communities named as the aboriginal community and the Torres strait islanders community.
According to Mr. Graeme Smith, chief executive of Corporation, though these two generators provided people with reliable power supply, one generator was mostly occupied or utilized by two houses from among eight houses and the corporation had to pay $601 to $701 for the diesel.
As the people of the community had no employment, they could not afford to pay for diesel. So they lived in the town, looked after their children at school, got homes in the town and just went on the dole. So the corporation decided to lease a solar power system at a price higher than $200,001 from a government funded organization named indigenous business Australia that protects & promotes the economic interests of the aboriginal community as well as Torres Strait islander community.
Within 3 months of replacing diesel generator with solar power system brought huge financial and social benefits for the community. Its expenses were reduced by more than 50% and population increased from 3 to 40. Furthermore, local jobs increased and a school was established in the region.
Mr. McInnes from Indigenous Business Australia (IBA) organization had never thought of solar power provider as an alternative for diesel generator before Mr. Smith suggested him. He then found a suitable solar energy provider named as Allgrid Energy, a solar power firm located at Queensland in Australia. Its Chief executive, Mr. Pratt suggested a battery system and a solar panel for the community.
According to Mr. Pratt sun rays hit the solar panel during daytime and generate power. The community can utilize this power during daytime and rest of the unutilized power can be stored in batteries which can be utilized by the community at night.
IBA purchased the solar system from Allgrid Energy and rented it to Munungurra Aboriginal Corporation. Inexpensive power supply due to the solar system has helped the corporation make huge capital withdrawals. It has also helped in transforming and improving the lifestyle of the community as well as increased the community size and produced new jobs.
Corporation has now got two government contracts – the first contract is to provide home repairing and maintenance services, while another contract is to manage work of dole programs & activities.
This has encouraged Mr. McInnes of IBA to replicate this experience and provide similar  facilities to more such remote communities that depend on diesel generators for power supply. This could help in reducing their expenditure on power & energy supply to a large extent
This demonstrates as to how solar power can be useful and work wonders for even remote communities like aboriginal and torees. Solar power also helps to reduce their expenditure and contributes largely towards green environment maintenance. All these factors are predicted to promote the demand for solar power in Australia and enhance the growth of Australia solar power market.
Today, there is a rampant use of coal, LPG, CNG and diesel as sources of power but tomorrow the world would be dominated by solar power which is a natural source of energy and can be abundantly derived or availed naturally.
Use of solar energy prevents exhaustion of natural resources like coal & diesel extracted from below the earth's crust. It thus prevents natural disequilibrium caused due to exhaustion of natural resources like coal resulting in natural calamities like earthquakes, tremors and floods.
As per Global Market Insights report, the global Solar tracker market size is forecast to reach USD 7.54 billion by 2023, with growth expectation of 12% CAGR from 2016 to 2023.
Related Article:
https://gminsights.wordpress.com/2016/09/09/australia-solar-energy-generation/
Author Name : Dhananjay Punekar