FOOD, NUTRITION AND ANIMAL FEED
Being one of the most diverse and essential component of numerous end-use industries, the enzymes market has witnessed unprecedented growth over the past decade. The importance of these chemical elements during the production of distinct household and industrial products, particularly for achieving desired properties, has fueled their demand. Increased consumption of food and beverage products, cosmetics, pharmaceuticals and several home care products have propelled the enzymes market revenues.
U.S. Enzymes Market, By Product, 2017 & 2024 (USD Million)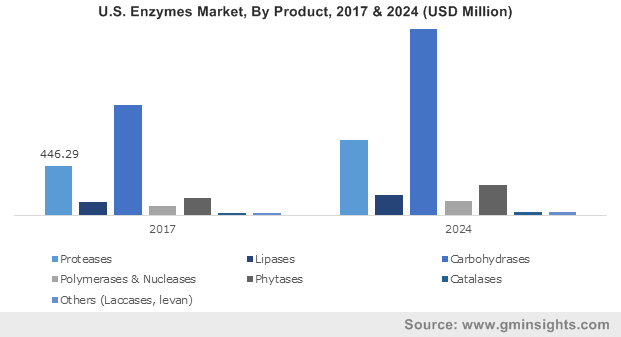 Consistent development of efficient production methods and innovative applications to cater to various unmet needs of emerging industries, such as biofuels, has endorsed the advantages of these catalysts. Rising disposable incomes around the world will certainly stimulate manufacturers to expand production capacities, inadvertently benefiting the enzymes industry.
Owing to the continuous shift in consumer and lifestyle trends, coupled with the rapidly growing population, processed and packaged food products have gained enormous momentum in recent years. Food and beverage industry has contributed significant proceeds towards the enzymes market, as more sustainable production of bakery, confectionary and several dairy products is made possible by these catalysts. Even the brewery industry represents a potentially large consumer of enzymes, which can easily be added to any prevalent brewing processes followed by producers. Subsequently, unwavering demand for popular processed food products and drinks will warrant a reliable customer base for the enzymes industry.
Unveiling the scope of the global enzymes market with respect to the food and beverage segment
Dairy
Worldwide, a broad range of dairy products are consumed by all age groups, from liquid products to cheese, butter and other solid consumables. Enzymes have found their way into the production processes of distinct cheese products such as cheddar, mozzarella and several other kinds. With dairy products being used in innumerable food recipes, the segment indicates a sustainable target for players in the enzymes industry. It was reported that more than US$45 billion worth of dairy products had been exported globally in 2017, where Germany itself had registered nearly US$4.4 worth of cheese exports in the year.
Baked food
Manufacturing baked consumables such as cookies and snacks involve notable investments in facility and equipment, making it an imperative for the producer to control the cost and the quality of products. Enzymes can help to speed up the baking process while keeping the costs low, along with enabling more sustainable production of snacks and biscuits. As reported by the Association for Packaging and Processing Technologies, the snacks segment is expected to display the fastest growth among all the packaged food segments over the coming years.
Get a Sample Copy of this Report:@ https://www.gminsights.com/request-sample/detail/743
Brewing
Enzymes, including proteases and amylases, are deployed in the brewery industry for simpler and faster production of beer and to ensure a more sustainable brewing process. Providing a more cost-friendly production method by allowing to replace malt with unmalted barley, the enzymes industry has garnered significant pull from the beer industry. In 2017 nearly 1.95 billion hectoliters of beer was produced globally, confirming the massive demand potential for the enzymes market, supported by the presence of several large producers in the U.S., Germany, China as well as the existence of hundreds of emerging players across every region.
Fruit Juices
The juice industry utilizes enzymes for enhancing the yield of fruit pulp and clarification of the juices, in addition to being a natural way of intensifying the color of the juice being produced and packed. The catalysts also allow for a shorter production period and help to retain the nutritional value, flavor, simultaneously extending the shelf-life and lowering the risk of loss due to microbial decomposition. The lucrative nature of the segment can be determined from the fact that in the U.S., almost 971 million cases of juice and juice drinks are reportedly sold each year.
All in all, with vast populations living in regions such as Asia, Europe and South America, one can surmise the tremendous future for the food and beverage industry, derived from evolving consumption habits and growing international trade. Combining this with continuous growth of other application segments, the enzymes market is projected to accrue more than US$10 billion in remunerations by 2024. Key industry participants include BASF, Novozymes, Danisco and DSM, who are perpetually looking towards advance technologies for offering more improved enzyme products.
Author Name : Pankaj Singh
Shifting consumer focus toward health and wellness benefits from vitamins consumption will surge the global vitamin E market. Increasing consciousness of adopting healthy food habits coupled with rise in spending capacity will significantly stimulate the vitamin E industry. According to Global Market Insights, Inc., "Vitamin E market size is estimated to grow at a CAGR of 3.5% over the period of 2016-2024." Vitamin E has many benefits to the human health, including regulation of blood pressure, reproduction system, and in prevention of health problems. The trend of maintaining a healthy lifestyle which includes dietary supplements along with regular diets is equally popular across the developed as well as the developing economies. In addition to this, rising disposable incomes in these regions will boom the vitamin E industry in the coming years.
UK Vitamin E Market size, by application, 2013-2024 (USD Million)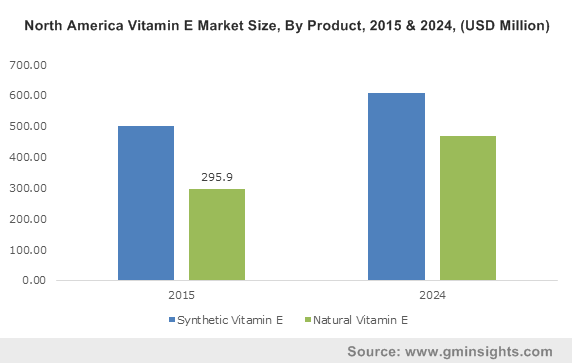 Furthermore, growing geriatric population base in U.S., Europe, and Japan has multiplied the use of medications for the cure of disorders coupled with precautionary supplements which will help to stay healthy and fit. This scenario has stimulated the need for mandatory intake of vitamin E from supplementary sources fueling the vitamin E market size.
Get a Sample Copy of this Report:@ https://www.gminsights.com/request-sample/detail/335
Based on products, vitamin E market is segmented into synthetic vitamin E and natural vitamin E. Natural vitamin E is further categorized into Tocopherol and Tocotrienols by products. Tocopherol is naturally found in fish, vegetable oils, nuts, and leafy vegetables. Tocopherols is projected to surpass USD 300 million by 2024, owing to rise in per capita income and consumers' willingness to spend more on nutrition and dietary supplements. Europe and U.S. are the largest contributors to the overall consumption, as the majority of the population is inclined towards maintaining healthy lifestyles in turn boosting the vitamin E industry.
U.S. vitamin E market is set to witness escalating gains, owing to healthy food consumption and high disposable income. Moreover, healthcare regulations are also contributing in driving the regional growth. U.S. vitamin E market generated revenue over USD 50 million in 2015 and is estimated to grow considerably in the coming seven years.
Europe vitamin E market is projected to expand significantly due to increase in consumption of dietary supplements. Moreover, rising demand for high protein diets, particularly in Russia and Germany has slated the Europe animal feed market size. Rising prescriptions and recommended health supplements from the health professionals will further complement the regional industry growth.
Cosmetics applications in the vitamin E market is witnessing high growth rate increasing at 7% over the period of 2016-2024. The willingness to pay more for the products which prevents skin ageing and assures various other skin benefits with UV protection & moisture content for healthy and youthful skin will generate huge scope for vitamin E industry share in the coming seven years. Its usage in sunscreen and other cosmetics products where vitamin E helps in reducing inflammation on the skin will escalate the industry growth over the coming timeframe.
Dietary supplements application is another lucrative segment assuring heavy gains in the vitamin E industry. Rising demand for nutritional edibles in the form of powders, liquids, tablets, pills, and capsules particularly in the western countries will spur the vitamin E market growth. Dietary supplements vitamin E demand is expected to register a CAGR of 4% over the period of 2016-2024. Reduction of migraine headaches, strengthening of the immune system, controlling blood pressure levels, and protection from flu and cold are the major benefits obtained from the consumption of these dietary supplements.
Another profitable segment in the vitamin E industry is the animal nutrition market, which was worth USD 1 billion in 2015. Growing meat export from Asia Pacific countries will generate animal nutrition demand. Rising prevalence of livestock diseases has enabled the usage of better animal nutrition in turn driving the vitamin E market. Moreover, rising cattle breeding in China, India, Russia, and Brazil will generate heavy demand for Animal feed additives market. Synthetic vitamin E is a major product used in animal feed industry.
Asia Pacific dominated the global meat production, which was projected to be over 130 million tons. China vitamin E animal nutrition market worth USD 70 million in 2015, is anticipated to surge noticeably over the coming seven years.
Presently the vitamin E industry is highly competitive with emerging markets from India and China. Moreover, many other industry participants are focusing on investigating substitute sources to improve the characteristic of vitamin E.  The vitamin E market share is consolidated with top five industry participants catering to 50% of the global demand in 2015. The major market players include COFCO Tech Bioengineering DSM, BASF, American River Nutrition, Cargill, and ADM.
Author Name : Ojaswita Kutepatil
With potentially growing interest in the improvement of digestive health through supplements, prebiotics market size has indeed observed a striking ascent in the last few years. Vital foods that have long since been a natural source for prebiotics, have now witnessed a decline in consumption, plausibly on account of the changing lifestyle habits. In consequence, this paradigm shift in meal consumption has manifested itself in the form of obesity, Alzheimer's, diabetes, cancer and myriad other diseases that are now widespread across the globe. Amidst this scenario, the importance of prebiotics that act as a type of fertilizer to the beneficial bacteria already present in the gut has been doubly stressed upon, which has indeed also had a major impact on the popularity of prebiotics industry. Prebiotics are naturally present in foods like leeks, onions, garlic, bananas, wheat grain, yogurt and biscuits. However, prebiotics are being added to an expanding array of food products that can be as varied as puddings to frozen chicken, owing to which prebiotics market has been gaining increased momentum since the last few years.
North America Prebiotics Market Size, By Ingredients, 2016 & 2024 (USD Million)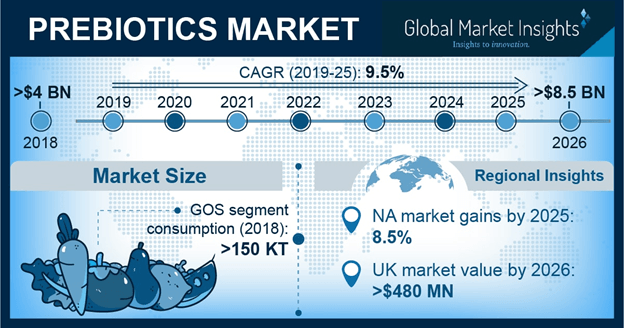 It is prudent to mention that prebiotics industry is also being propelled by the globally growing awareness about health and immunity, in tandem with – ironically, the rising demand for probiotics. These products provide improved gastrointestinal health to the host when administered in measured amounts. However, they are also very delicate and can often be rendered ineffective by stomach acids and heat even before they are digested, on account of which prebiotics are required to strengthen the functioning of probiotics. Currently, despite the probiotic industry having sustained for a longer duration, prebiotics market seems to be growing faster as prebiotics alone can contribute much as far as the improvement of gastrointestinal health and immunity is concerned, as opposed to probiotics that cannot function unaided. The fact that the gastrointestinal tract has different immunity functions as compared to the rest of the body has not been fully appreciated until recently. However, with the support of the medical community, this fact is now being emphasized that the gastrointestinal tract contains more than 80% of the antibody producing cells of the body. Consequently, prebiotics market has begun to witness unprecedented demand as consumers are paying more attention to maintain gastrointestinal health. Digestive immunity had long been considered vulnerable in infants and aging people. However, the growing health conscious population of all ages are now adopting various means of boosting digestive health thus stimulating the prebiotics industry.
Get a Sample Copy of this Report:@ https://www.gminsights.com/request-sample/detail/410
One of the most lucrative end-use domains of prebiotics market is the F&B sector. The rise in lifestyle diseases like diabetes and obesity, especially in Europe and the US has increased awareness among the regional and global populace, enabling them to have a renewed look at their diet. Subsequently, this changed outlook has augmented prebiotics market size from the sub-verticals of the F&B sector. Say for instance, subject to the increased demand of fermented meat owing to its effectiveness in improving fiber functionality, it has been forecast that prebiotic industry share from fermented meat applications will witness a CAGR of 13% over 2017-2024. Speaking along similar lines, prebiotics market has also found potential growth avenues through the animal feed sector. With the restriction of use of antibiotics and growth hormones in animal feed, use of prebiotics in the same has gained momentum as prebiotics enhance metabolism and enhance the overall health of livestock.
Gaining consumer confidence would be one of the many challenges faced by prebiotics market players. The concept of prebiotics has not become as popular as the concept of probiotics so far, and a large percentage of consumers are not only skeptical, but also refusing to compromise on appetizing products for the sake of healthy eating. However, as the digestive and immunity enhancing qualities of prebiotics are increasingly coming to light, it is estimated that the prebiotics market will witness exponential growth in the years ahead. As per estimates, prebiotics industry size will cross USD 8.5 billion by 2024, from a valuation of USD 3.5 billion in 2016.
Author Name : Paroma Bhattacharya
Increasing threats over food consumption have stimulated global food safety testing market and generated demand for effective test products that can ensure food safety. Food supply worldwide is facing a range of risks from environmental toxins, bacteria, and food allergens. Food safety testing industry size has been growing substantially, owing to the increasing threat of foodborne illness, and stringent food safety regulations. Moreover, expansion of import and export business of food supply across the globe is expected to further boost the demand for food safety testing market. According to Global Market Insights, Inc., "Food Safety Testing Market size worth USD 9 billion in 2015, is estimated to grow at a CAGR of 7% over the period of 2016-2024."  The food safety testing industry growth will also be influenced by the expansion of global processed food industry which is anticipated to surpass USD 7 trillion by 2024.
U.S. Food Safety Testing Market size, by contaminants, 2013-2024 (USD Million)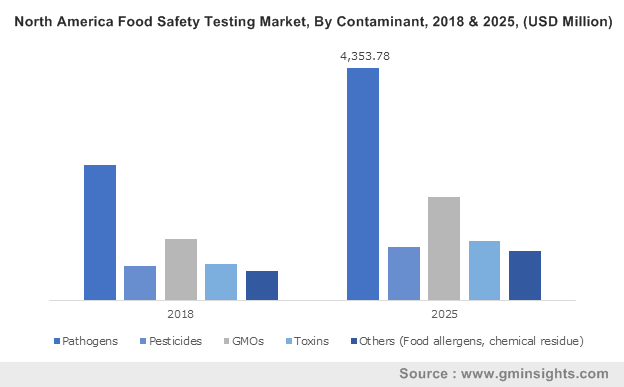 The most common source for contamination of food is pathogens. These pathogens can cause various gastrointestinal disorders such as abdominal cramps, vomiting, diarrhea and nausea leading to increase in illness and death of around 2 million people every year. Growing food epidemic has mandated the laboratory testing for Salmonella, Listeria, E. Coli, Campylobacter types of pathogens, in turn making food pathogen testing market to be a major revenue pocket accounting for 30% of the global demand. Pesticide is another type of contaminant causing health disorders. The pesticide food safety testing market worth USD 800 million in 2015, will witness substantial growth, owing to regulatory norms in using of certified and organic pesticides.
Get a Sample Copy of this Report:@ https://www.gminsights.com/request-sample/detail/824
Contaminated food is a very serious issue which may result into demise. As per WHO's statistical report in 2014, over 2.5 million people died due to diarrheal diseases. Moreover, U.S is facing an alarming rate of increase in foodborne illness resulting into nearly 5 thousand deaths and more than 325 thousand hospitalizations every year. This has generated the need to implement quality and safety checks, where consumers have the authority to trace their ready to eat meals, processed products, bakery, preserved & canned products. In this regard the EU and FDA have given conformities with consumers' rights to track food through all production and distribution stages, in turn driving the food safety testing industry. In addition, major food regulatory bodies and authorities such as Good Hygiene Practices (GHP), Good Manufacturing Practices (GMP), Hazard Analysis Critical Control Point (HACCP), and Good Agricultural Practices (GAP) are extending extensive support in ensuring food authenticity, thereby, propelling the food safety testing market growth.
The food safety testing technology market has witnessed a noticeable shift towards rapid food safety testing technology market from the time consuming traditional food safety testing industry. Increase adoption in biosensors, ELISA, rapid culture detection, and PCR-based techniques are widely adopted technologies used to examine the count, metabolites, and type of micro-organisms.
The growth in food safety testing market is also poised to benefit from increasing consumption of meat, poultry, and dairy products. Unhygienic condition while skinning and handling animals in slaughter house is the key responsible factor favoring the meat and poultry food safety testing market. Similarly, dairy products can also get easily contaminated through infected animals. Regulatory bodies such as the FSIS and HACCP are taking major steps in preventing meat & poultry product contamination and implementing adequate pasteurization of dairy products stimulating the food safety testing industry share.
Europe food safety testing market valued over USD 2.5 billion in 2015, with U.K and Germany leading the regional demand. Increasing consumer awareness and stringent food safety regulations will boost the demand for Europe food safety testing market over the coming years. Asia Pacific food safety testing industry will emerge rapidly due to rising population, growing demand for food products, and increasing stringent regulations for food safety. China being the major export trade market is anticipated to witness annual growth rate of 11% over the period of 2016-2024.
The food safety testing market is consolidated with top three players sharing 45% of the overall business space. The key industry participants include Intertek, Bureau Veritas, SGS, Det Norske Veritas, Eurofins Laboratories, Idexx Laboratories, ALS Laboratory and Bio-Rad Laboratories.
Author Name : Ojaswita Kutepatil
Rampant application of carotenoids across food & beverages, cosmetics, pharmaceuticals, and animal feed industries has fueled carotenoids market size. According to Global Market Insights, Inc., "Global carotenoids market share is projected to surpass USD 300 million by 2024." Heavy use of carotenoids in the nutraceutical industry, owing to its positive effect on immune & cardiovascular system are expected to boost the carotenoids industry trends over the coming years. Higher spending on medical & healthcare insurance services along with the growing life expectancy of aging population is further expected to stimulate the global industry size over the next few years. Carotenoids act as a main precursor for amino acids in animal feeds and possess anti-oxidative characteristics, further enhancing its demand across animal feed additives market.
U.S. Carotenoids Market size, by product, 2015 & 2024 (USD Million)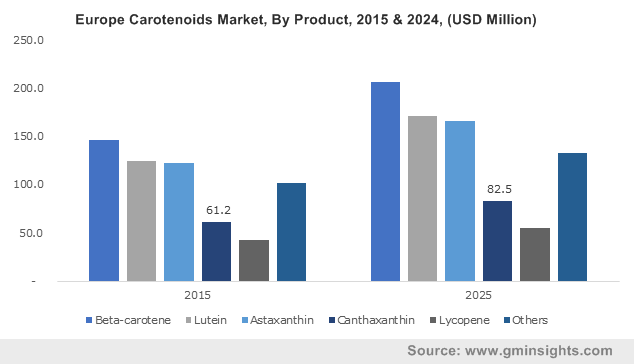 Major carotenoids products comprise lycopene, beta-carotene, astaxanthin, lutein, and canthaxanthin. Beta-carotene industry size worth USD 40 million in 2015, is forecast to register an annual growth rate of 4% over the coming seven years. Heavy product demand can be attributed to its increasing usage as an essential ingredient in diets, to avoid ailments pertaining to the eyes, heart, and skin. Canthaxanthin, which contributed towards nearly 10% of the global carotenoids market share in 2015, is projected to witness a high surge over the next few years due to rising consumer preference for bakery items, snacks, breakfast cereals, fruits, and baby ingredients. Moreover, its extensive usage across cosmetics industry due to its anti-tanning properties will further stimulate the product demand over the coming years.
Get a Sample Copy of this Report:@ https://www.gminsights.com/request-sample/detail/855
Lutein is another major carotenoid product, forecast to witness a substantial growth in the near future. The growth will primarily be driven by its high demand across pharmaceuticals, food, dietary supplements, nutraceuticals, and animal feed applications. Lycopene industry worth USD 15 million in 2015, is expected to grow considerably over the next few years due to its high application in cosmetics and pharmaceuticals sectors.
Shifting focus of consumers towards natural products has pushed growth of natural carotenoids market. Natural carotenoids industry size is expected to register a CAGR of 4% over the period of 2016-2024. The other prominent extraction of carotenoids is from the synthetic sources. Synthetic carotenoids market dominated the source landscape with a market value of USD 190 million in 2015. Low production cost and easy availability of synthetic resources will boost its industry share over the forecast timeframe.
Carotenoids market size in food & beverage sector is anticipated to grow substantially over the forecast period, owing to its large-scale application as food additives globally. Animal feed sector, which accounted for nearly 30% of the overall carotenoids market share in terms of volume, is projected to grow considerably over the coming years. The growth can be credited to its high nutrient content and improved taste. Growing consumer preference towards healthy meat appearance is expected to boost the carotenoids industry growth.
LATAM carotenoids market is expected to witness a considerable growth over 2016-2024, owing to changing lifestyles, rise in per capita income, and high consumer awareness about the benefits of product use. Argentina, Peru, Brazil, and Chile are expected to be the key growth drivers of the region.
Europe carotenoids industry will witness a substantial surge over the coming years due to the rapidly expanding food sector along with heavy product use as food coloring agent. Russia, Germany, Italy, and France are likely to be the key revenue pockets of the region.
Middle East & Africa carotenoids market is projected to witness a significant growth over the next few years, owing to rise in the aging population as well as high demand for the product across health supplements sector.
Market players will try to enhance their share by adopting business strategies such as product differentiation and high R& D investments. Key carotenoids industry players include Cyanotech Corporation, Allied Biotech Corporation, Chr. Hansen, Divis Laboratories Limited, D.D. Williamson, and Naturex Company.
Author Name : Dhananjay Punekar
Animal feed additives market, which is strongly characterized by the presence of established industry giants, has been witnessing phenomenal advancements in terms of feed quality and product diversification, over the recent years. The substantial upsurge in livestock breeding and rising global meat consumption are some of the important factors that have prompted companies to come up with new products and make considerable investments in R&D activities. Speaking along similar lines, it would be important to take note of an instance that provides a significant testimony to the aforesaid statements. PMI Nutritional Additives, a renowned animal feed additives industry player, recently made it to the headlines with the launch of Peloton, its novel yeast feed additive, which claims to maintain the rumen health and digestive efficacy of livestock. For the record, PMI's unique Peloton yeast feed additive is a thermal stable blend of the company's Fulfill feed additive and Saccharomyces cerevisiae yeast. This activated yeast has also been reported to facilitate microbial protein flow from rumen to lower gastral track, thus supporting the gut health and integrity. In effect, analysts deemed the introduction of Peloton to reinforce PMI's portfolio and further expand its research scope in launching such innovative products. Amidst a backdrop of such documented instances of product innovations & enhancements, it is quite overt for the animal feed additives industry to witness remarkable growth avenues in the ensuing years.
China Animal Feed Additives Market Size, By Product, 2016 & 2024 (USD Million)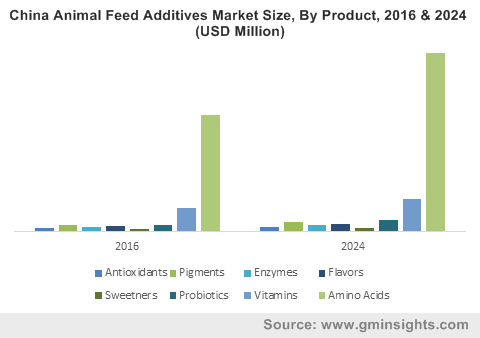 Estimates claim that there has been a subsequent surge in the demand for meat and meat products at a global level. In fact, statistical reports state that the global average meat consumption has surged to 41.90 kg per person per year, which is majorly driven by the poultry demand. As animal feed additives play a vital role in poultry diets to improve the overall integrity of lower gastrointestinal track of the livestock, the rising meat consumption is in turn working in the favor of expanding business scenarios. In fact, industry experts anticipate the animal feed additives market from the poultry application to generate a remarkable valuation of over USD 10 billion by 2024.
Speaking of the growing demand for nutritional additives from the poultry application, China is one of the most lucrative growth grounds for animal feed additives industry expansion. High livestock production and extensive animal breeding in the region has been identified as the two crucial factors fortifying the regional animal feed additives market demand. The increasing meat consumption in China has, in turn, prompted the regional industry players to incorporate additives for maintaining the quality of meat. According to reports, the meat consumption in China exceeded 50 kilo tons in 2016 and is further anticipated to surpass 60 kilo tons by 2024. With other countries, such as India, Malaysia, Thailand, and Indonesia following similar growth patterns with regard to massive livestock production, the animal feed additives market, across the Asia Pacific belt, is certain to account for above-average growth. It has been reported that in the year 2016, Asia Pacific witnessed highest feed production capacity, surpassing 350 million tons.
Get a Sample Copy of this Report:@  https://www.gminsights.com/request-sample/detail/144
It would be prudent to mention that the growing consumer demand across these continents have expanded the scope for animal feed additives market participants and have encouraged them to expand their global reach. According to research study, new product launches and M&As have been the most adopted strategy by the animal feed additives industry players. For instance, in a bid to strengthen its position in the global animal feed additives market, Coppens International recently unveiled its product breakthrough for aquatic feed additives. Elaborating further on this move, the company introduced several new algae products that replaced the use of fish oil and inorganic trace minerals in the additives. The new product range introduced by the company in the regional animal feed additives market comprised ForPlus, Bio-Mos, Bioplex, and Actigen, which are designed to strengthen gut integrity, promote good bacteria, and optimize overall fish health.
Taking into account the aforementioned trends, it is quite overt that the animal feed additives industry dynamics are majorly influenced by the rising meat consumption leading to further rise in livestock production. Moreover, given the changing food habits, it wouldn't be wrong to say that animal feed additives market size surge has been synonymous to growing appetite for protein rich food. However, this is not the only reason that is promoting the use of additives in animal feed. Industry experts also illustrates the growing concerns of disease outbreaks in livestock to be a crucial factor for incorporating additives in animal fodder. Bird flu, animal foot & mouth infections, and swine flu are some of the popular plagues that have taken the world by storm in past decade. In this scenario, proper care of animal health, while incorporating nutrition & antibiotics in animal feed, has been prevalent worldwide, in turn impacting animal healthcare market. Given the pivotal role that these additives play in boosting animal health and eliminating the toxic effect, the expansion of animal feed additives industry has been quite imperative. Indeed, there is satisfactory data that supports the growing animal feed additives market share, which according to reports, is claimed to attain a global valuation of USD 25 billion by 2024.
Author Name : Ojaswita Kutepatil
In an era of rising level of awareness and health consciousness among the global population, the aquafeed market share has recorded an unprecedented progression over the recent years. An overwhelming upsurge in the instances of lifestyle diseases such as diabetes, obesity, and other cardiovascular ailments has necessitated consumption of fish among a diverse set of populaces residing in varied geographical regions world over. This explains the escalating demand for fish since they are a rich source of omega-3 fatty acid and lean protein, which has, in turn, boosted the frequency of fish harvesting across the globe. In consequence, a marked uptick in fish intake invariably calls for their healthiness as well – a factor that would further contribute toward the global aquafeed industry share expansion in the ensuing years. The testament to the aforementioned statements is the estimate noted in a recent study undertaken by Global Market Insights, Inc., which claims that the overall aquafeed market share exceeded a valuation of around USD 80 billion in the year 2016.
Europe Aquafeed Market Size, By End-Use, 2016 & 2024, (USD Million)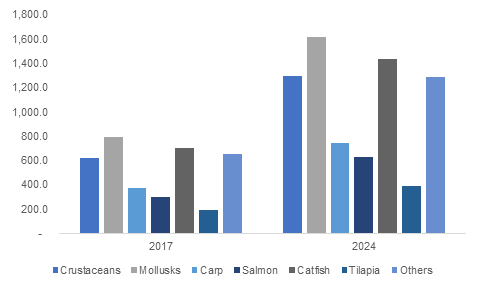 How Asia Pacific region has been making strong headways in the global aquafeed market 
Accounting for over 65 percent of the total global fish production, the Asia Pacific aquafeed market dominated the regional landscape in the year 2016. Furthermore, it would be prudent to mention that the APAC region is projected to witness massive demand for seafood in the forthcoming years owing to freshwater availability and ease of farming technology across the region. Moreover, rising disposable incomes coupled with ambient environmental conditions, inexpensive labor, and bountiful resource availability are a few factors that would stimulate the overall APAC aquafeed industry amplification in the next seven years. Following is a brief overview of how prominent Asian economies are emerging as the growth drivers of the overall APAC aquafeed market in the recent times:
India – As per the statistics published by the United Nation's Food and Agriculture Organization (FAO), India now acquires the second position globally in terms of annual fisheries and aquaculture production. The dominant standing of India in the global aquafeed industry can apparently be comprehended from the fact that the South Asian nation boasts of a coastline of about 7,517 km and a staggering 195,210 km of river and canal network which consists of 14 major rivers and 44 other medium to small rivers and streams. Needless to say, numerous aquafeed market giants have set their sights on India to fortify their presence in this highly combative business space. For instance, Cargill Inc. has recently inaugurated its first aquafeed production mill in Andhra Pradesh, India. The latest plant would reportedly triple the American conglomerate's aquafeed production capacity in the nation up to 90,000 tons per year. Apparently, the aforementioned declarations go on to demonstrate the endless growth opportunities awaiting the leading market participants in India's resurgent aquafeed industry.
Get a Sample Copy of this Report:@ https://www.gminsights.com/request-sample/detail/495
Australia – Amidst the league of preeminent countries in the region, Australia has been gradually acquiring a significant place in the APAC aquafeed industry. Over the past few years, a slew of major industry stakeholders have been investing massively to build large aquafeed production facilities in the nation. To cite an instance of the same, BioMar Australia has recently announced to construct a $56 million plant in the Tasmanian region, providing a significant boost to the local aquafeed market and the nation's burgeoning aquaculture industry. Reportedly, the facility would produce up to 110,000 tons of aquafeed products per annum. Hence, the growing interest of foremost market giants highlights an exceptionally bright picture of the overall aquafeed industry share expansion in Australia.
Concurrently, in a bid to retain their prominence in this ever-evolving and rapidly transforming business space, industry participants have been prioritizing consumer satisfaction in the past few years. Considering the aforementioned aspects, it is fairly evident that the leading market players would focus on enhancing their product quality through investments in capacity expansion plans and R&D activities, which would drive the growth potential of aquafeed industry over the estimated timespan. All in all, it is quite undeniable that the overall aquafeed market, which is expected to surpass a total consumption volume in excess of 115 million tons by 2024, would establish itself as one of most significant verticals of the swiftly progressing food, nutrition, and animal feed industry.
Author Name : Saif Ali Bepari
Owing to the extensive application spectrum across dietary supplements and functional food industries, the worldwide probiotics market is being increasingly referred to as one of the most promising business verticals around the globe. Apparently, the rising significance of functional foods can be attributed to the fact that these food additives are gradually and steadily acquiring a prominent position in the dietary profile of a sizeable number of health-conscious consumers.
U.S. Probiotic Ingredients Market Size, By Application, 2017 & 2024, (USD Million)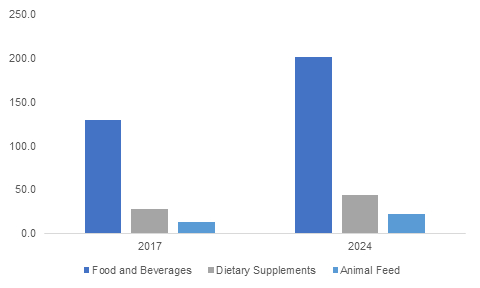 It goes without saying that this trend has, in turn, created a host of lucrative growth avenues for the leading probiotics industry participants which would eventually expand the market size of this business space. Furthermore, the growing awareness among customers pertaining to the health benefits that can be derived from the consumption of probiotic products is fueling the probiotics market progression. While interpreting the future growth prospects of the overall probiotics market space, it is quite imperative to bear in mind that the total valuation of this business arena stood at an impressive number in 2017, as per a report compiled by Global Market Insights, Inc.
Elaborating further, it is prudent to mention that the global probiotics market has been gaining traction due to a marked increase in the utilization of probiotic strains in various food applications. These probiotic strains, which predominantly include lactobacilli and bifidobacterial, actively develop resistance to bile, antimicrobial, and acid production which further assists in boosting the digestive and immune system, subsequently improving the overall human health.
Get a Sample Copy of this Report:@ https://www.gminsights.com/request-sample/detail/418
Citing an instance to highlight the rising prevalence of probiotic strains, the foremost probiotics industry giant, DuPont Danisco has recently claimed that the food products consisting of HN019, the firm's Bifidobacterium lactis strain, have been recognized as Food with Function Claims by Consumer Affairs Agency of the Government of Japan. Dietary supplements, drinkable yogurts, and other food products containing HN019 as an ingredient are said to enhance microflora and improve digestive health by addressing intestinal ailments. Moreover, HN019 is being considered as the first Bifidobacterium lactis strain that has ensured a probiotic manufacturer to establish a health claim on the product.
Apparently, the recent instances of recognizing the health benefits of probiotic products it will enable consumers to make more informed decisions, consequentially having far-reaching implications on the growth potential of probiotics market. For the record, in the U.S. alone, probiotics market size from food supplements is likely to cross USD 5 million by 2024.
To complement the aforementioned statements, the global probiotics industry has been witnessing a marked increase in research activities which has further expanded the market size of this business space. Strong clinical evidences have been apparently emerging which have offered new insights into the efficacy and effectiveness of the existing food products in probiotics industry in treating mental ailments and neurological diseases. As per reliable sources, a few researchers and doctoral candidates would present the results of pilot studies at the upcoming IPA World Congress + Probiota 2018, which would reportedly demonstrate the tolerability and safety of probiotic supplements that can be used to treat depression. Apparently, the findings received from recently conducted pilot studies indicate compelling evidence that would underline the importance of probiotic supplements, something that will eventually provide a massive boost to the efforts being put in by the major probiotics industry players to expand their business and consumer reach.
Concurrently, the rising technological innovation in medicinal industry to inculcate probiotic foods in treating bad gut bacteria, intestinal inflammation, urogenital infections, microbial balance by lowering pH level, mental illness/disorders, reducing heart disease risks, and diagnosing and treating a range of other physical and mental health complications would embellish the future growth prospects of the overall probiotics market, which is forecast to exceed a valuation of USD 3 billion by 2024.
Author Name : Saif Ali Bepari