Healthcare & Medical Devices
With the increased emphasis on customer satisfaction and operational efficiency, dental practice management software (DPMS) market stands as one of the most pivotal verticals of the healthcare industry. The business crossed a billion-dollar benchmark in 2017, with a large-scale adoption of the revolutionary tool by individual professionals as well as multi-purpose clinics. The fraternity is extensively characterized by swift innovations in technology focused on balancing the customer service aspect of dental practices and developing optimum treatment mix have.
Booking appointments and scheduling, cancellation, reminders, billing and insurance management are some fundamental patient-centric elements of DPMS, with added features like easy access to patient records and dental images that make client servicing simpler for dentists. Further, the worldwide trend towards digitization and availability of cost-effective cloud based solutions have propelled dental practice management software market share worldwide.
U.S. Dental Practice Management Software Market, By Component, 2018 & 2025 (USD Million)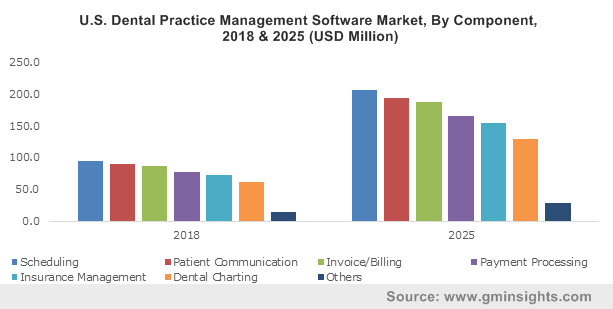 Evolving lifestyles around the world have affected the general health of people and escalated the dental problems across varied demographics. Subsequently, the growing awareness regarding oral hygiene has boosted the dental industry and immensely enhanced dental practice management software market share. A striking factor influencing the industry is the rising geriatric population which is experiencing oral disorders like gum disease, cavities, tooth decay and tooth loss more frequently.
Statistics released by the World Health Organization indicate that the global population of people with aged 60 and above will virtually double from 900 million in 2015 to nearly 2 billion in 2050. As older people are more susceptible to dental problems, the projected increase of elderly population indicates a lucrative future for the dental practice management software industry.
The development of DPMS industry is continuously being supported by huge venture capital investments and technology-friendly initiatives by governments. Recently, a prominent dental practice management platform, iDentalSoft received considerable investment through a new round of funding led by FCA Venture Partners. iDentalSoft, formed in California, is a secure cloud-based DPMS platform that assists in improving clinical efficiency, streamline workflow and optimize production. It allows fast access to patient schedules, details, treatment plans, x-rays, billing and credit card payments among other tools, displaying the tremendous utility of DPMS in reducing the administrative workload of dentists.
Get a Sample Copy of this Report:@ https://www.gminsights.com/request-sample/detail/463
Investment activities of such nature have enabled the influx of innovations in the industry fueled by the government mandates, like the Health Information Technology for Economic and Clinical Health Act (HITECH Act) introduced by the U.S. The act encourages expansion of healthcare IT infrastructure and has subsequently helped augment the dental practice management software market share in the U.S.
Being one of the most technologically advanced countries, the U.S. has been a vital base for startup companies that want to design DPMS products. Owing to the cutting-edge healthcare services provided in the country and increasing geriatric populace with dental ailments, the U.S. dominated the dental practice management software market with a share of 39%. As the software adoption rates continue to soar and the healthcare IT industry expands, U.S. dental practice management software market will showcase its dominance over 2019-2025.
Speaking of enhanced DPMS, it is necessary to consider its assistance in bearing the security aspect of a dental practice, as numerous government health agencies have specific legislations for data protection. For instance, Ontario's Personal Health Information Protection Act requires data storage facilities to be locked with limited and authorized access using ID cards. As such, the latest services in the dental practice management software industry are generally cloud-based, where a physical server is not required to be present at the practice. A cloud server enables automatic data backup and protection, and its lifetime cost is considerably lower than a complete desktop system that requires timely maintenance with essential features to be added separately.
With the mounting pressure on businesses all over to adopt secure modes of information storage due to risk of data corruption and loss, integration of cloud services in DPMS reduces the legal obligations of dental practices and the high cost that comes with it. Not to mention the incredible upsurge in the use of smartphones has permitted patients a faster and easy mode to select their choice of clinic and browse treatments, book appointments and even review the practice post-treatment. The affluence of customers on the reputation of dental practices and the speed at which they expect the services has magnified the industry's competitiveness, bolstering the cloud-based dental practice management software market share.
All in all, the rapid progression in cloud technology, convenience of smart devices in the hands of patients and the shifting customer preference towards better service quality has endlessly changed the dentistry landscape. Key market contributors like Patterson Dental, Henry Schein, Carestream Dental, Bestosys, Open Dental Supply amongst others have established their presence with prolific DPMS products. Constant evolution of software capabilities combined with the awareness pertaining to their benefits in patient-care and servicing are expected to catapult the dental practice management software market share in the years to come.
Author Name : Pankaj Singh
Touted as one of most evolving niche verticals of recent times, autoimmune disease diagnostics market has been revolutionizing the healthcare space, primarily due to the alarming prevalence rates of autoimmune diseases globally. Inclusive of rheumatoid arthritis, Type 1 diabetes, Hashimoto's thyroiditis, and the like, autoimmune diseases are self-inflicted diseases caused due to the abnormal immune response to a body part and are widely ubiquitous. As per the NIH Autoimmune Disease Coordinating Committee (ADCC), 14-22 million people in the U.S. are affected by some sort of autoimmune disease. Another study depicts 7 million people in the Europe to be suffering from autoimmune ailments. The NIH (National Institutes of Health) in fact, mentions autoimmune diseases to be one of the top 10 causes of female demise in the U.S. These statistics elicit a clear picture of the widespread occurrence of autoimmune diseases globally, which would necessitate the requirement of superior diagnostic methodologies, thereby carving out a positive growth map for autoimmune disease diagnostics market.
Germany Autoimmune Disease Market, By Product, 2013 – 2024 (USD Million)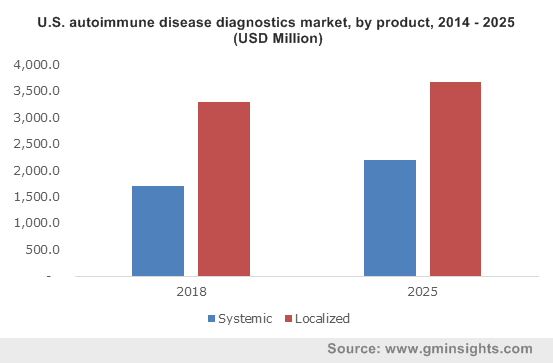 The issue has been a matter of serious concern worldwide and is being addressed by measurements taken at individual and government levels. According to an autoimmune disease diagnostics market report put together by Global Market Insights Inc., this business space is forecast to cross a revenue collection of USD 16 billion by 2024, having registered a valuation of USD 13 billion in 2016. The report chronicles some of the pivotal factors driving the growth of autoimmune disease diagnostics industry size to be the growing prevalence of these diseases across myriad geographies, rising awareness among patients, and increasing government initiatives towards reducing the frequency of such ailments. While the APAC and Europe belts have depicted considerable potential for autoimmune disease diagnostics industry growth, one of the pivotal regions that has been forecast to make a mark over the forthcoming seven years is that of the United States.
Get a Sample Copy of this Report @ https://www.gminsights.com/request-sample/detail/618
An insight into U.S. autoimmune disease diagnostics market:
The United States is touted to be one of the most lucrative regions for the growth of autoimmune disease diagnostics industry. The American Autoimmune Related Diseases Association in fact, claims close to 50 million Americans to be currently suffering from autoimmune related disorders, and has forecast that the numbers are expected to escalate over the coming seven years. In consequence, the demand for state-of-the-art and cost-effective diagnostic methods are expected to surge, thereby augmenting the revenue landscape of U.S. autoimmune disease diagnostics market.
The cost factor associated with the diagnosis of these ailments remains a major element of concern for the pivotal players of the U.S. autoimmune disease diagnostics industry. In a bid to address the rising issues of medical care spending, several initiatives have been established to carry out extensive research programs in the discipline. Organizations such as The Johns Hopkins Autoimmune Disease Research Centre and the Autoimmune Research Network (ARNet) have also been working toward the development of myriad strategies for reducing the economic strain caused due to these diseases. Furthermore, the American Autoimmune Related Diseases Association conducts numerous awareness programs to educate the masses regarding the importance of early diagnosis. Inherently augmented by various governmental efforts and the escalating prevalence of rheumatoid arthritis and systemic lupus erythematosus, U.S. autoimmune disease diagnosis industry is likely to generate substantial valuation in the ensuing years.
Addressing the issue of healthcare expenditure in autoimmune disease diagnostics industry
The frequent occurrence of these diseases has resulted in significantly mammoth medical care expenses. The treatment of autoimmune ailments is supposedly way more expensive than numerous other disorders, and is a serious concern to the overall healthcare system. For instance, the annual medical expenditure for the treatment of multiple sclerosis (a type of autoimmune disease) comes to approximately USD 2.5 billion, a cost higher than that incurred during diabetes treatment.
The issue of medical care spending for these ailments postulates the need for improved yet cost-effective diagnostic procedures – a matter of contention which is being addressed at a governmental level. Authorized bodies across various geographies have been customarily addressing this global issue, which has led to the contraption of new diagnostic methods to detect and cure such ailments, sequentially favoring autoimmune disease diagnostics market outlook. A remarkable development in the field of autoimmune disease diagnostics is the formation of the Autoimmunity Centers of Excellence (ACE) by the collaboration of NIH, non-profit organizations, and pharmaceutical companies, which conducts myriad research programs for the development of diagnostic tools.
Autoimmune disease diagnostics industry is rather fragmented and is being influenced by the ongoing trends of the diagnostics space such as developments in genetic testing, surging demand for personalized medicine, increased focus toward prevention rather than treatment, etc. Established autoimmune disease diagnostics market players, it has been observed, have been making sufficiently extensive investments in research and development activities in a bid to brainstorm contemporary methods of diagnostics, which would proportionately drive autoimmune disease diagnostics market share in more ways than one. Another trend witnessed across the competitive landscape of autoimmune disease diagnostics industry is that of new entrants setting up their bases in emerging economies rather than developed ones, to endorse the untapped potential across these geographies. Heavily influenced by the efforts of regional governments and an increasing percentage of R&D activities, autoimmune disease diagnostics market is certain to emerge as one of most opportunistic verticals of the healthcare space.
Author Name : Saipriya Iyer
Geriatric care, having endorsed itself as a prominent sector in the healthcare space lately, has led to geriatric care services market registering substantial prominence. The industry, having depicted immense potential, is anticipated to emerge as a highly viable vertical in the years ahead. This does not come as a surprise however, considering that the global geriatric populace has been exhibiting a steady rise since the last half a decade, leading to a major upsurge in the prevalence of chronic diseases and a substantial rise in the demand for care services.
U.S. geriatric services market, by service , 2017 & 2024 (USD Million)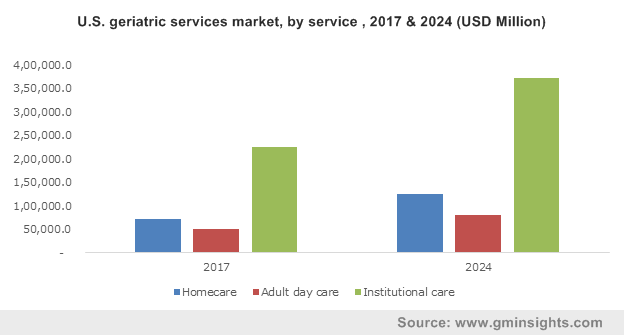 Taking into account the United Nation Statistics, the global geriatric care population which accounted for 809.4 million in 2012, is likely to rise by more than double by the end of 2050, to an approximate population of 2000 million. This increasing old age population will positively favor the geriatric care services industry landscape over the coming years.
Geriatric care service is a specialized segment of healthcare looking after the old age population in terms of their health, needs, living, and their overall quality of life. Owing to increasing old age population and growing number of care facilities like home care, day care, and institutional care services across the globe, the geriatric care services market size is quite overtly expected to increase in the coming years.
According to United Nation statistics, people aged 80 years and above, also referred to as the "oldest old" population is likely to reach 190.44 million by 2022. This age group is more prone towards respiratory, orthopedic, cardiovascular, and neurological disorders, which will further boost the demand for care services for this demography, in turn driving the geriatric care services market share. Technological advancements assisting the geriatric population who live independently is another factor boosting the industry size. Robotic technology and nurse call equipment are examples of such technological developments.
Get a Sample Copy of this Report: @ https://www.gminsights.com/request-sample/detail/433
As far as the geographical landscape is concerned, the United States is one such region that is expected to come as one of the lucrative grounds for the development of the geriatric care services market. As per a report by Global Market Insights, Inc., the U.S. geriatric care services market is anticipated to record a modest CAGR of 7.6% over 2018-2024. This growth is primarily driven by the rise in the elderly populace vulnerable to chronic diseases, in tandem with the upsurge in technological advancements that are now prevalent in geriatric care services. Not to mention, the U.S. is remnant of high healthcare spending, that would lead to the country resulting accumulating the largest market share across the globe.
Another factor that is likely to fuel the U.S. geriatric care services market is that the regional government is borderline fanatic about ensuring that its citizens are able to have access to excellent healthcare services at reasonable costs.
Speaking of the regional spectrum, it is prudent to mention another major participant of the global geriatric care services market. Germany, a crucial player of the Europe geriatric care services industry, has been pivotal in upholding its stance in the global business space. In 2017, Germany apparently emerged as the dominant player in the Europe geriatric care services market, with a valuation of around USD 73,809.2 million. The region is projected to accrue substantial returns by the end of 2024, driven by the rising demand for cost-saving insurance plans charted out for the elderly populace in the nation. That said, the country also boasts of extensive healthcare expenditure that has led to an upsurge in reimbursement policies for the elderly, further propelling the Germany care service market.
The geriatric care services industry is highly fragmented and fairly competitive. The business space is shared by the biggies as well as the new entrants. Price and quality of service provided by these players will be the major factor to sustain competition. The coming years will witness interesting developments like strategic collaborations and mergers & acquisitions in this industry that would help catapult the geriatric care services market share higher. Incidentally, the competitive spectrum of this industry comprises Senior Care Centers of America, Brookdale Senior Living, Kindred Healthcare and Genesis Healthcare Corp.
Author Name : Saipriya Iyer
Industry Insights
Global Biopsy Devices Market size was valued at $1.76 billion for 2015 and is projected to record CAGR of about 6.6% during forecast timeframe. Rising occurrence of cancer, increasing demand for minimally invasive drug procedures and enhanced expenditure on efficient investigative methods are few of the main aspects promoting industry growth.
U.S. Biopsy Devices Market Size, by Product, 2012- 2024 (USD Million)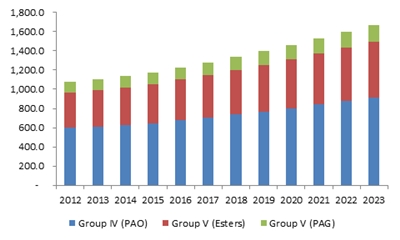 Rise in proportion of patients suffering from cancer ailment is predicted produce heavy demand for biopsy methods. Launch of new government policies aimed at enhancing compensation coverage like Obamacare Act in countries like U.S. is predicted to broaden the customer base. High rate of penetration of technically modernized devices like disposable items and vacuum assisted systems is projected to promote biopsy devices industry trends.
Increase in old age population who are at high risk of acquiring cancer ailment has led to growing occurrence of cancer ailment globally. Furthermore, rising geriatric population along with large unexplored potential avenues in nations like China, India and Japan is predicted to stimulate industry growth during forecast timeframe.
Get a Sample Copy of this Report:@  http://www.gminsights.com/request-sample/detail/731
Product Insights
Global biopsy devices industry is segmented into various products like needle based biopsy gun, biopsy forceps, biopsy needles and biopsy guidance system.
Needle based biopsy gun segment is sub-segmented into core needle segment, vacuum-assisted segment and fine needle segment.
Biopsy forceps segment is also segmented into sub-segments like hot biopsy segment and general biopsy segment. Biopsy needles segment is segmented into reusable segment and disposable segment. Biopsy guidance system is sub-segmented into robotic and manual segments. Biopsy guidance system dominated the product segment and it was followed by needle based biopsy gun segment as well as biopsy needles segment.
Biopsy guidance system segment contributed about 44% to total revenue for 2015 and the size of the segment is projected to surpass $1.2 billion by end of forecast timeframe. High costs related with robotic guidance systems added significantly to the revenue growth of the segment.
Vacuum assisted biopsy sub-segment contributed maximum revenue share to needle based guns segment. Demand for this sub-segment is increasing owing to rising preference for minimally invasive methods. Biopsy guidance system segment was led by manual sub-segment for 2015.
Disposable needles sub-segment is predicted to record high growth due to its capability to prevent infection and cross contamination.
Regional Insights
Global biopsy devices market is segmented into geographical regions like LATAM, North America, APAC, MEA and Europe.
North American industry was biggest regional industry contributing about more than 55.1% to the total industry share for 2015 and was followed by Europe and APAC.
U.S. biopsy devices market price was about $1.2 billion for 2015 with contribution more than 80.1% to the North America biopsy devices industry share.
Europe biopsy devices market share is predicted to observe moderate expansion with Germany contributing more than 28.2% for 2015.
APAC, led by India and China biopsy devices market, is projected to record highest expansion during forecast timeline and is predicted to be most profitable investment destination for business growth. In addition to this, presence of large patient pool with unfulfilled requirements along with fast growing healthcare infrastructure is predicted to stimulate regional industry expansion.
Competitive Insights
Global biopsy devices industry is oligopolistic and only few industry participants contributed more than 90.1% to the industry share for 2015. Key industry players profiled in the report include Hologic Incorporation, Devicor Medical Products Incorporation, Surgical Specialities Corporation, CareFusion Corporation, Cardinal Health Incorporation, C.R. Bard Incorporation, DTR Medical and INRAD Incorporation.
Author Name : Dhananjay Punekar
The global biodefense market is experiencing a transformational shift in dynamics in the recent times owing to extensive technological advancements in biotechnology sector. One of the prime instances of the same is the massive number research and development studies undertaken in biothreat detection devices, which are utilized to assess the threats against deliberate release of microbes and viruses. Powered by the impact of technological advancements observed across the biotech industry, along with the rising demand for vaccines and biothreat identifying agents like reagents and assays, biodefense market is anticipated to traverse alongside a profitable growth path in the upcoming years.
U.S. Biodefense Market Size, by Product, 2012 – 2024 (USD Million)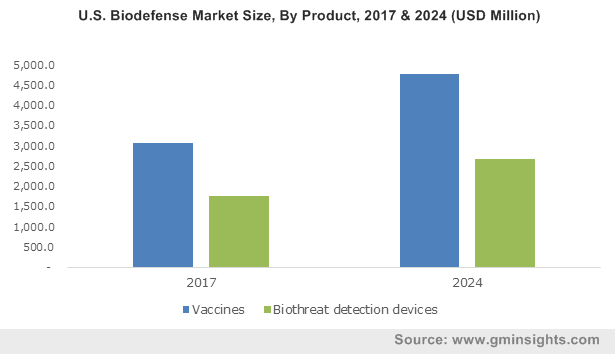 Rising awareness among governments in developed countries, about the major impact of bioterrorism attacks on economy, has a major role to play in the expansion of biodefense market. Various strategies are being implemented to safeguard the population against bioterrorism attacks. Initiatives like stocking vaccines as well as the development and production of bio-threat detection devices would also escalate the growth of biodefense market in the years to come. For example, economies like India have higher susceptibility towards agricultural bioterrorism, on the grounds of which, the government is undertaking several initiatives for protecting the nation since a major portion of the population is dependent on agriculture as their main occupation.
Notable companies across this vertical have seemingly been reinforcing their expertise by implementing several strategic initiatives like mergers and acquisitions to expand their regional presence. Securing FDA approvals for newly launched products has also contributed to enhancing the stance of these companies across the biodefense industry. A gist of the contribution by some of the prominent companies in the biodefense market has been mentioned below:
Get a Sample Copy of this Report @ https://www.gminsights.com/request-sample/detail/714
SIGA Technologies
The New York based pharmaceutical firm SIGA Technologies, Inc. has recently announced that the U.S. Food and Drug Administration (FDA) has approved the use of TPOXX (tecovirimat) in the treatment of smallpox disease. Responsible for smallpox infection, the often-deadly and highly contagious variola virus is described as among most devastating disease in the world known to humanity by the World Health Organization and is mostly spread through direct contact among people.
The FDA approved TPOXX targets and inhibits the orthopoxvirus VP37 protein's activity, along with blocking its interaction with cellular Rab9 GTPase and TIP47. Accomplishments like the aforementioned are estimated to further augment the trust factor and goodwill of the company, which in turn will help the firm enhance its position in the biodefense market.
Emergent BioSolutions
Biopharmaceutical company Emergent BioSolutions Inc. has recently developed a vaccine for anthrax which might elicit a faster immune response compared to the anthrax vaccines currently available. The multinational specialty firm has submitted an application on December 28, 2018, to the U.S. FDA for the use of its anthrax vaccine NuThrax.
As a next generation anthrax vaccine, NuThrax has been developed for post-exposure prophylaxis of disease due to confirmed or suspected Bacillus anthracis exposure. The submission is predicted to undergo review in the first half of 2019. The launch of such advanced vaccines is certain to advance the commercialization potential of the biodefense market in the years to come.
PathSensors Inc.
Biotech firm PathSensors has recently announced that it is providing a Los Angeles based robotic juice dispensers company, JuiceBot, with its biosensor technology. The proprietary cell-based biosensor technology, CANARY, delivers extremely quick detection of pathogens at unseen levels of specificity and sensitivity. The technology has been tailored to sensitively and rapidly detect biological threats in agricultural, food and building security applications. Driven by the technology's widespread application spectrum majorly inclusive of biodefense, PathSensors is on its way to establishing itself as one of the most proactive stakeholders of the biodefense market.
Analyzing the efforts undertaken by leading market players, it is evident that the biodefense market would register a significant growth rate in the upcoming years. The competitive spectrum of biodefense market is quite diverse, and comprises renowned companies such as BBI Detection, Alnylam Pharmaceuticals, Nanotherapeutics, Achaogen, Bavarian Nordic, Cleveland BioLabs, DynPort Vaccine Company, Ichor Medical Systems, Elusys Therapeutics, Dynavax Technologies, AISense and Altimmune.
Author Name :Akshay Kedari
One of the pivotal factors influencing precision medicine market size in recent times is the emerging approach for disease diagnosis & prevention that is calculated based on the genes and lifestyle of a person. Research claims that the precision medicine approach will help researchers and doctors to forecast the type of treatment that a patient would require and the kind of preventive measures that would be required for selective diseases. Considering the significant mark that this approach has made in the healthcare sector, precision medicine industry giants have been striving to exploit the potential of this technology to improve the accuracy of day-to-day healthcare. Recently for instance, The Michael J. Fox Foundation has collaborated with 23andMe and invested USD 4 million to construct a research facility for Parkinson's disease treatment using precision medicine. This collaboration will reportedly open up potential opportunities for researchers to improvise on genetic biology with excellent drug designing related to precision medicine. The prevalence of scientific partnerships such as these among the biotechnology companies and research organizations will impel
precision medicine market
share.
Japan Precision Medicine Market, By Technology, 2013 – 2024 (USD Million)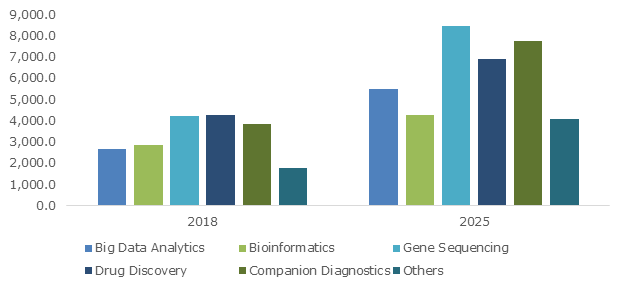 As of today, next generation sequencing (NSG) technologies have been making their mark in precision medicine industry, driven by reduced expenditure, understanding of the genetic know-how of diseases, and high throughput sequencing. The prevalence of NSG technologies may specifically have an impact on U.S. precision medicine market, given the vast expanse of the healthcare and medical research verticals across the region. Driven by the substantial adoption of NGS panels in precision medicine, U.S. accounted for the largest regional share of precision medicine market in 2016. The U.S. government has also been enforcing regulatory norms and undertaking favorable initiatives to generate awareness among the populace regarding the benefits of the precision medicine approach which would further help augment U.S. precision medicine market.
Get a Sample Copy of this Report @ https://www.gminsights.com/request-sample/detail/671
Regional governments have been going the whole hog to promote the usage of precision medicine systems via funding and private-public partnerships. In Australia for example, the government has been providing substantial funding to numerous companies and upcoming entrepreneurs to invest in precision medicine industry and the 3D printing technology. Initiatives of a similar kind undertaken by governmental bodies across numerous geographies are likely to augment the overall precision medicine market. Speaking of which, NanoString Technologies, Novartis, Intomics, Biocrates Life Sciences, Tepnel Pharma Services, Roche, Silicon Biosystems, Ferrer InCode, Novartis, LabCorp, Quest Diagnostics, and Medtronic are some of the names that have been accumulating a commendable share of precision medicine industry.
Research institutes have been giving substantial preference for precision medicine given that the technology helps diagnose children with cancer. The computational approach of precision medicine to share the patient's database across the globe will transform the healthcare sector over the coming years. In addition, precision medicine has the capability to enhance personalized healthcare through disease detection at an earlier stage and supplying sufficient information regarding the progression of disease. Speaking along the same lines, it is prudent to mention that the quality, affordability, and accessibility of healthcare systems has improved substantially due to the emergence of precision medicine. The surging adoption of this technology for care delivery, clinical outcomes, operational performance, and clinical workflows will thus propel precision medicine industry share in the forthcoming years. According to a precision medicine market research report put together by Global Market Insights, Inc., this business vertical is slated surpass a revenue collection of USD 96 billion by the end of 2024.
Author Name : Sunil Hebbalkar
The rising prevalence of infertility cases worldwide has been primarily responsible for fueling the assisted reproductive technology market growth lately. According to a report by the World Health Organization (WHO), subfertility as well as infertility affect a sizable portion of the global female population – around 10% women are inflicted with the condition. The report claims that the overall burden of infertility is very significant and has not witnessed any decline in the numbers over the previous 20-year-period.
U.S. Assisted Reproductive Technology Market, By Technology, 2017 & 2024 (USD Mn)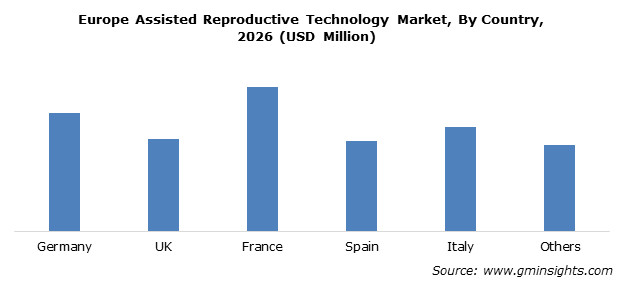 The growing awareness surrounding infertility throughout the world coupled with the wide & rapidly-growing array of innovative new techniques would help propel the global ART market. Moreover, possessing appropriate amount of understanding and knowledge regarding the rate of success of different ART technologies would also be responsible for augmenting the technology's rate of adoption in upcoming years.
Improving technological advancements & growing cases of infertility across the U.S to positively influence the regional ART market:
Ever since the first child conceived through ART was born in the U.S. in 1981, both the implementation of ART as well as the number of fertility clinics offering different & increasingly advanced ART services have steadily increased across the nation. United States Centers for Disease Control & Prevention (U.S. CDC) report, approximately 6.1 million (around 10%) women across the U.S. between the ages 15 and 44 encounter difficulties in getting or remaining pregnant owing to different factors like changing lifestyles, heredity and attempting to have children later in age.
According to a 2015 Assisted Reproductive Technology Surveillance report by the U.S. CDC, in 2015 over 182,111 ART procedures were performed across more than 464 fertility clinics in the U.S. The procedures resulted in more than 59,334 live-birth deliveries & over 71,152 children being born. The number of ART procedures being performed nationally per 1 million women within reproductive ages was over 2,832, surpassing the national rate across 13 reporting areas. Owing to these factors, the U.S. ART market is expected to grow at approximately 4% over 2018-2024.
Get a Sample Copy of this Report @ https://www.gminsights.com/request-sample/detail/506
High level adoption rate of in-vitro fertilization technology to propel the industry growth:
According to a 2015 surveillance report by the U.S. CDC, more than 99% of the ART procedures conducted across the nation were carried out through In-vitro fertilization (IVF). Indeed, IVF technology has maintained a strong foothold in the industry, having dominated the ART market in 2017. The technology is the preferred procedure among couples as it allows the egg to be fertilized outside of the body and further increases the possibility of pregnancy. Attributing to these factors, the IVF-based ART market is projected to grow by approximately 3.9% over 2018-2024.
The utilization of IVF procedures in the U.S, however, is considerably lower than the utilization rates of other developed nations; in the U.S. IVF accounts for just 1.5% of the babies being born, a substantially lower number than, for instance, Australia where IVF accounts for 4% of the babies being born, leaving the U.S market at its prime for accelerated IVF adoption. Typically costing somewhere between $12,000 to $15,000 per cycle, IVF alone accounts for more than $2.4 to $3 billion in terms of revenue, when not counting in ancillary costs, pre-cycle workups by ob/gyns and medications.
With instances of infertility witnessing a steady rise across the world and adoption of ART growing proportionally owing to rising awareness to meet the surging demands, the global ART market is anticipated to record significant growth over the ensuing years. Global Market Insights Inc., projects that the accelerated adoption of enhanced ART procedures and massive technological advancements in healthcare will help propel the overall ART market size, slated to be pegged at $32.5 billion by 2024.
Author Name : Akshay Kedari