Power and Energy
Multi Pad Drilling Market has witnessed an impressive growth, owing to development of new techniques that have led to higher efficiencies in natural gas production.  Multi pad drilling is the method that involves drilling of multiple wellbores from only one drill site. These advancements in drilling techniques has resulted into reducing overall drilling time and enhancing shale wells economics. Global multi pad drilling industry is gaining traction as this technique can save operators time as well as a large capital. According to Global Market Insights Inc., "Multi Pad Drilling Market size worth USD 90 billion in 2015, is set to register an annual growth rate of 15% over the period of 2016-2024."
Based on applications, onshore and offshore are the two types of drilling activities carried across the globe. The onshore multi pad drilling industry is anticipated to grow at an annual rate of 15% over 2016-2024. Obtainable conventional and unconventional resources are likely to offer huge untapped opportunities for projects development, which will favor the industrial expansion. Offshore multi pad drilling market will also observe high growth prospects, owing to intensive spending and resource abundance in these locations.
     U.S. Multi Pad Drilling Market size, By Pad Size, 2014 to 2024 (USD Billion)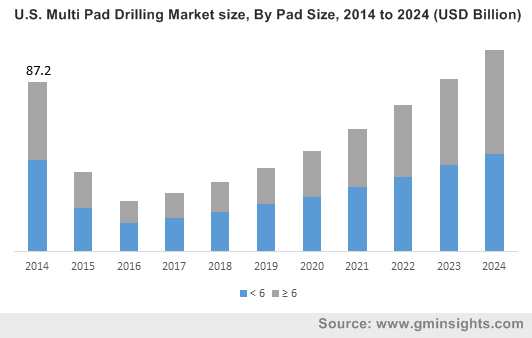 The global multi pad drilling industry comprises two pad sizes (<6 and ≥ 6 pad) based on lateral length and operability. The <6 pad size is foreseen to grow at a rate of 13% over the period of 2016-2024, while the ≥ 6 pad size is set to generate revenue over USD 90 billion by 2024. The easy operability and less supervision property will stimulate the <6 pad size market.
Get a Sample Copy of this Report @ https://www.gminsights.com/request-sample/detail/1199
Strict government regulations to reduce air toxin discharge from oil & gas production facility will augment the multi pad drilling market. The multi pad drilling technique will reduce the negative environmental impact and improve drilling efficiency. For example, 10 wells/pad walking rig is likely to save near 35.8% of the drilling cost per well, while a conventional 4 wells/pad walking rig can save about 26.4% drilling cost.
Geographically, Argentina multi pad drilling industry share is estimated to surpass USD 2 billion by 2024. The country is also emphasizing on providing subsidies to the production of natural gas at new wells by 2020.
China market is projected to record a significant growth subject to abundant access to shale gas resources.
Rising shale gas E&P activities in U.S. and heavy spending in oil & gas projects will favor the regional growth of multi pad drilling industry.
High capital expenditure on oil infrastructure in the Middle East will stimulate the industry growth in the coming years. Middle East multi pad drilling industry is set to record a CAGR of over 7% over the period of 2016-2024.
Russia multi pad drilling industry share is also witnessing a noticeable surge due to increasing offshore drilling actions. Growing undertaking of gas field development projects by Rosneft and DEA will complement the industry growth.
Companies accumulating significant share in the multi pad drilling industry include Earthstone Energy, Trinidad Drilling, Hess Corporation, ExxonMobil, Encana, Pioneer Natural Resources, Marathon Oil Corporation, Consol Energy, Cairn India, Nostra terra, ExxonMobil, Nabors, Chesapeake Energy, Devon Energy, Chevron, and Continental Resources.
Author Name :Ojaswita Kutepatil
Global Small Hydropower Market size by installed base was more than 110 GW for 2015 and is predicted to register more than 2.5% growth during the forecast period. Demand for pure and renewable source of energy has resulted in growth of the industry. The reason being that hydropower is purest form of renewable energy and does not pollute the environment by emitting hazardous pollutants like carbon dioxide. Also, small hydropower needs less reservoirs and construction activity it has negligible impact on environment. Further, the industry is rapidly growing owing to favourable government policies and government subsidies, tax benefits & incentives.
View a summary of the "Small Hydropower Market Size, Industry Analysis Report" @ https://www.gminsights.com/industry-analysis/small-hydropower-market
In 2003, Voith Siemens won a $45 million engineering & procurement deal to deploy three small-scale hydropower units with overall deployment capacity of 60MW for Mexican firm comex hidro. These power plants were developed on the reservoirs to control floods and provide irrigation in Mexico.
Statkraft penetrated Indian hydropower industry in 2004 and was a first overseas firm to make investment in hydropower sector in India. It is involved in two big hydropower projects in India amounting to total 300 MW. The firm is further exploring new investment avenues within hydropower sector by partnering with Tata Power which is India's biggest integrated power firm. Together the two firms have a license for new plant "Dugar" amounting to greater than 400MW in Indian state of Himachal Pradesh.
Global small hydropower market is segmented into key geographical regions including North America, APAC, Europe, Latin America and MEA.
APAC led the global industry with higher than 80GW deployed capacity for 2014 with Japan, India and China being key contributors for small hydropower installation. Rising demand for off grid power supply, high hydropower capacity and tax benefits were few of the drivers for sall hydropower installations in the region.
Europe was the second biggest small hydropower market in 2014. Italy led the regional industry with total installation of more than 3.1GW owing to its structured policies and high investments for industry growth.
North America small hydropower market is predicted to register CAGR of more than 2.5% during the forecast period. The region was third largest in terms of industry share in 2014. Canada and USA were dominant nations with many key small hydropower installations.
Get a Sample Copy of this Report @ https://www.gminsights.com/request-sample/detail/479
MEA small hydropower market is predicted to experience substantial expansion in future owing to rise in demand for electricity and renewable energy across nations like Egypt, Kenya and Nigeria in the region.
Key industry players profiled in the report include:
RusHydro
ALSTOM
Lanco Group
Andritz Hydro
Agder Energi AS
SIEMENS AG
BC Hydro
StatKraft
Siemens
Ontario Power Generation Incorporation
Fortum Oyj
ANDRITZ HYDRO GmbH
Voith GmbH
GE
24H – Hydro Power Limited
Derwent Hydroelectric Power Limited
Author Name : Dhananjay Punekar
Global Market Insights Inc. has announced the new study based report on power transformer market. The report forecasts the market size to be worth USD 34.64 billion by 2022. Increasing power consumption, technology advancements in developing countries and favorable government regulations are likely to boost the market growth. The cost of important raw materials like oil, steel, aluminum and copper have been volatile over the years. This fluctuation in the price of raw materials is likely to hamper the growth.
View a summary of the "Power Transformer Market Size, Industry Analysis Report" @ https://www.gminsights.com/industry-analysis/power-transformer-market-report
Power transformers are used to step down and step up the voltage. They are used to connect electrical networks having different range voltages, as they facilitate an exchange of power between these networks. Transformers find wide acceptance in a large array of applications across manifold industries including mining, chemical plants, etc.
Surge in renewable, light weight and environment friendly energy sources is expected to further the global power transformer market. 501 MVA to 800 MVA output power is projected to witness substantial growth over the anticipated period. Increasing demand for electricity in emerging economies including India, Russia, China, and Brazil is poised to fuel global market.
Moreover, rapid economic growth, and the need for reliable and uninterrupted power supply is projected to observe healthy growth rate in the near future.
100 MVA to 500 MVA output power leads dominated the product segment of the market is anticipated to exhibit growth during the estimated period owing to varied usage in distribution and transmission network for step-up and step- down application. 801 MVA to 1200 MVA output power is likely to upsurge at more than 5% over the predicted time frame.
Get a Free Sample Copy of this Report @ https://www.gminsights.com/request-sample/detail/128
Asia Pacific power transformer market size is forecast to hit USD 13 billion at a CAGR of 6.6% over the next few years. Europe is projected to reach USD 8 billion by 2022, with gains of 5.6% during the predicted period. European nations have adopted various initiatives for deploying green transformer and this is expected to positively influence the demand growth. North America region is forecast to witness surge at prominent growth rate due to growing industrialization and modernization.
The report features the landscape of fairly competitive global power transformer market with company profiles, key strategies and trends listed in the report. Top 6 key players include Alstom, ABB Ltd, Toshiba Corp, Siemens Energy, Crompton Greaves and GE. Green transformers featuring low noise levels, losses and online monitoring system are likely to open new avenues in the market.
Author Name : Dhananjay Punekar