Sustainable & Smart Technologies
The growing concerns about greenhouse gas emissions along with rapid industrialization will propel energy management system (EMS) market trends over the period of 2016 to 2024. As per the report by Global Market Insights, Inc., "Global Energy management system (EMS) industry will witness an annual growth rate of more than 13% over the coming seven years." The depleting non-renewable energy sources has threatened the environment sustainability. Governments across various countries are taking vigorous steps towards the use of renewable energy sources and are emphasizing on energy conservation, which will in turn boost the demand for energy management system.
Europe Energy Management System Market size, by component, 2013 – 2024 (USD Billion)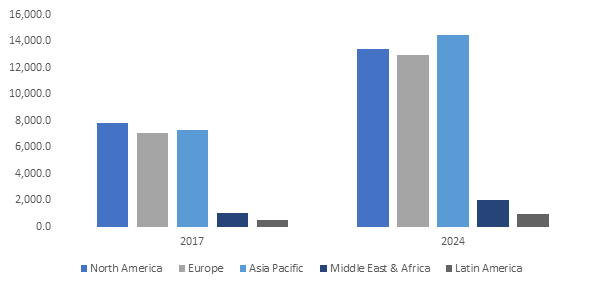 Energy management system component comprises software, hardware, control system, metering & field equipment, sensors, networking device. Sensors accounted for more than 10% of the overall energy management system market share in 2015 and is anticipated to grow noticeably over the coming years. In 2015, metering & field equipment EMS exceeded a revenue of USD 2 billion. Following usage and application of metering & field equipment will generate heavy revenue over the coming timeframe,
To measure total electricity consumption along with consumption pattern and operating cost
It balances the total supply with consumption, thereby improving total network efficiency
Furthermore, control EMS industry will surpass a revenue of USD 3 billion by 2024, mainly driven by its capability to maintain essential environment factors such as pressure, temperature, ventilation, and humidity in a cost- effective manner.
Get a Sample Copy of this Report:@https://www.gminsights.com/request-sample/detail/1115
Buildings, industries, and homes are the some of the major service segments of the energy management system market trends. Building energy management system (BEMS) market collected more than 19% of the total industry share in 2015. Some of the factors will impact positively on BEMS industry growth as mentioned below,
Increasing demand for smart buildings, owing to the rising awareness about carbon footprints
Extensive use of this system in the buildings to control, monitor, and manage energy consumption
Industrial energy management system (IEMS) market surpassed a revenue of USD 9 billion in 2015 and will grow notably over the coming years, owing to its mounting usage to monitor & analyze load fluctuation, real time consumption, and equipment performance.
Home EMS industry size will exhibit an annual growth of more than 16% over the period of 2016 to 2024. The growth can be attributed to government support in terms of financial subsidize to purchase trademark products.
Based on the regional landscape, Japan EMS market share contributed towards 20% of the global revenue in 2015 and is predicted to grow considerably over the coming timeline, due to the rising awareness about GHG emissions coupled with shifting dependency on imported fuel.
U.S. energy management system industry will exhibit a substantial growth rate of over 11% over the coming seven years, owing to government initiations towards energy conservation across this region. China EMS industry is expected to grow noticeably, surpassing a revenue of USD 2 billion by 2024. The attributing factor towards the regional market growth is surging demand for reliable electricity and escalating industrialization.
As per the study, Europe energy management system market share will surge significantly, mainly contributed by Germany, UK, and Italy. The government initiatives regarding energy efficiency will boost Germany EMS market size over the coming years. UK accounted for more than 20% of the overall regional share in 2015 and will observe substantial growth, driven by the fuel scarcity.
Brazil EMS market worth over USD 300 million in 2015 and is expected to register eye-catching growth, which can be attributed to the growing adoption of smart technologies to conserve energy.
Qatar accounted for over 5% of the total regional revenue of the Middle East energy management system industry in 2015. The growing population and rapid industrialization will affect considerably on the regional growth.
The mounting demand for reliable electricity will generate heavy opportunities for market players over the coming years. Few notable industry participants include General Electric Corp., Honeywell International Inc., Schneider Electric, Eaton Corporation, ABB, Emerson Electric, Siemens AG, and Johnson Controls.
Author Name : Sunil Hebbalkar
Increasing demand for light weight, compact, and portable products have spurred the growth for thin film battery market. Internet of things has contributed towards a great deal in regards with increasing application of thin film battery in phablets and smartphones coupled with its utilization in sensor networks. Rising standard of living with high disposable incomes will generate increased adoption for wearable devices including watches, smart fabrics, fitness trackers, and glasses and will in turn favor the thin film battery industry trends. According to Global Market Insights, Inc., "Thin Film Battery Market size worth USD 200 million in 2015, is estimated to grow at a CAGR of 25% over the period of 2016-2024." The various benefits allied with the use of thin film battery in electronics include lower cost, less weight, higher energy density, and smaller footprint.
UK Thin Film Battery Market size, by application 2013-2024 (USD Million)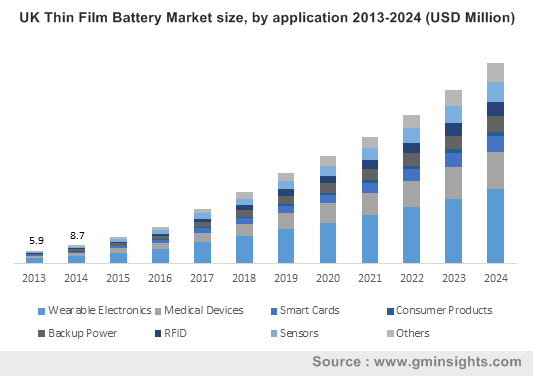 The chargeable and disposable battery are the two-major product categories of the thin film battery industry. Chargeable batteries are suitable for wireless sensors networks and have accounted for over 40% of the overall industry revenue in 2015. The other type, i.e. disposable thin film battery acts as energy source for semi-battery-assisted passive RFID, greeting cards, toys, consumer music, semi-active tags with sensors, and one-time password display type smart cards. Disposable thin film battery market is estimated to register a CAGR of 20% over the period of 2016-2024.
Get a Sample Copy of this Report:@ https://www.gminsights.com/request-sample/detail/843
The ability of thin film batteries to perform better makes its adoption more common in medical devices, wearable electronics, consumer products, smart cards, RFID, sensors, and backup power applications. Increasing number of mobile users along with rising adoption of smart cards, SIM cars, EMV cards will stimulate the thin film battery industry share. The smart card application is projected to surpass USD 130 million by 2024. These batteries also find important application in security systems, as RFID and sensors are used to monitor risks related to cyber security and financial crimes augmenting the thin film battery market outlook.
US thin film battery market worth USD 70 million in 2015, is anticipated to witness heavy gains due to increasing adoption of EVM chip card technology. By 2018, over 95% of credit cards would be enabled with EMV chip which will create huge opportunities for regional growth. Furthermore, Brazil thin film battery market will also witness promising growth, owing to increasing implementation of EVM chips to minimize payment scams.
Backup power is another lucrative area of application where thin film battery finds immense application, owing to increasing demand for uninterrupted power supply and rapid growth of wireless communication system. Thin film battery industry demand from backup power is anticipated to register a CAGR of 20% over the period of 2016-2024. Moreover, medical device applications will witness heavy gains, owing to increasing adoption of throw-away medical equipment.
Asia Pacific thin film battery industry is anticipated to witness significant growth due to heavy regional demand for wearable devices and increase in per-capita income in countries such as China, South Korea, and Japan. China thin film battery market size is estimated to surpass USD 100 million in coming seven years.
Few of the notable industry players are Excellatron Solid State LLC, STMicroelectronics, BrightVolt Inc, Imprint Energy Inc, Cymbet Corporation, Enfucell Oy, Blue Spark, and FlexEl.
Author Name : Ojaswita Kutepatil
The escalating demand for rapid query resolutions & online customer self-service are expected to propel intelligent virtual assistant (IVA) market alongside the path of progress. IVA has undoubtedly, in recent times, improved the users' online service experience as well as offered increased sales to e-commerce firms. Indeed, the product is becoming the preferred medium to gain information, make purchase decisions, and resolve issues. Companies like Microsoft and Google are adopting the technology to improve ease of access and streamline activities, and increasingly implementing the technology as well to enhance operational efficiency. For instance, ABIe, a virtual assistant developed by EIS for Allstate Insurance, efficiently helps agents to answer questions regarding business insurance policies.
Germany IVA market size, by application, 2017 & 2024 (USD Million)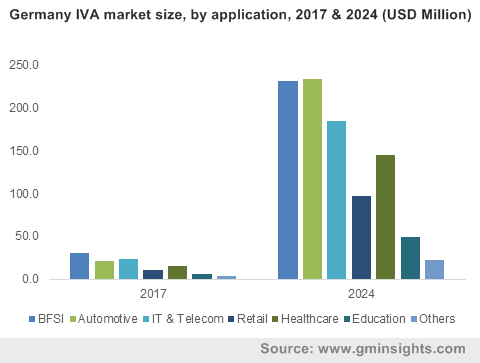 IVA is reportedly becoming more and more commonplace as consumer appetite for the product has been depicting an upsurge. According to an independent survey conducted with 1,500 consumers across Europe, 81% of the respondents said they would prefer interacting with a virtual assistant as it offers enhanced online customer experience. Close to 72% welcomed the product as a key part of every website while a similar proportion claimed that they would spend longer on a website that had one. This response can undeniably be credited to the fact that IVA can take on multiple roles on a website, such as performing various helpful tasks, answering customer queries and connecting to enterprise systems when needed. These features respond according to the marketing requirements of the customers, efficiently improving the site loyalty and experience.
In order to cater to the best plausible global clientele, companies are increasingly investing in IVA to reduce costs from fields such as email response, technical telephonic support, and assistance on call. The implementation of the technology will enable the reduction in the resolution time, call wait times and allowing call transfers when an issue escalates, thereby augmenting IVA market share. The growing deployment of IoT is also expected to supplement the IVA market growth. In fact, IoT is known to have increased the quality and quantity of data being collected by the product. IVAs responding to text or speech queries through apps and smartphones has further enhanced customer engagement, a fact that has further helped impel the IVA industry trends.
Get a Sample Copy of this Report:@ https://www.gminsights.com/request-sample/detail/1094
Speech recognition is one of the most vital technologies proliferating IVA market, as the system efficiently improves productivity, eliminating typing time, giving users additional time to focus on other work. Voice recognition software, in addition to being faster in task completion, are increasingly accurate when it comes to vocabulary. Speech recognition technology also makes invaluable contributions to businesses that offer customer services eventually reducing organizational costs. Furthermore, these systems improve interoperability owing to the adoption of IoT, further driving the IVA market size from speech recognition technology.
The Germany IVA market is expected to depict considerable growth in the years ahead, owing to the product's new-found usage in the region's thriving automotive market. Technological advancements in IVA have resulted in increased adoption of voice control and gesture control features in next-gen vehicles. IVA can now be integrated within vehicle systems such as automatic parking, lane change assist, adaptive cruise control, and other ADAS controls.
Regional automakers are constantly seeking ways to integrate the product in upcoming car segments to revolutionize driving experience. For instance, the German automotive giant, BMW has recently announced that its upcoming car segment would come with Intelligent Personal Assistant. Like Apple's Siri or Amazon Alexa, the new AI-based virtual assistant would reply to voice commands and could adjust the temperature, lighting mood and music, among other things in the car efficiently, claims the company.
North America, apart from Germany, is another region that is forecast to accumulate commendable gains by 2024, driven by the expansive technological advancements in the region. Major software companies, like, Microsoft & IBM, have also been investing in IVA, thereby enhancing the growth prospects for North America IVA market.
The competitive spectrum of intelligent virtual assistant market also comprises other players like Amazon, Google, Microsoft, Apple, Inc., Artificial Solutions, eGain Communications, IBM Corporation, Nuance Communications, and Speaktoit, Inc. These companies are known to increasingly invest in product development and innovation to bring in intelligent assistance into the mainstream. Meanwhile, several tech giant firms are adding the product to their portfolio to gain added sales. For instance, on January 7th, 2019, the world's leading television manufacturers Samsung, LG and Hisense announced that they would open their devices to Google Assistant and Amazon Alexa. As advancements in the fields of automation, machine & deep learning, conversation interfaces, and natural language processing continue to surge, IVA market share is certain to soar in the years to come.
Author Name : Mateen Dalal
Escalating industrialization & growing trend of automation will stimulate industrial machinery market growth over the coming years. Agricultural sector is significantly sharing the industrial machinery business space, driven by the ease of crop harvesting and growing demand for agricultural automation. According to the report by Global Market Insights, Inc., "Global industrial machinery market share is estimated to surpass a revenue of  USD 771 billion by 2024." Incorporation of technological features such as GPS in agricultural equipment along with economic development will propel industrial machinery industry trends. Agricultural equipment includes farm tractors, planting & fertilizing, plowing & cultivating, haying, harvesting, liquid fertilizer sprayers, and livestock machinery.
Moreover, supporting regulatory norms regarding infrastructural tax will boost construction activities across the countries such as India, South Korea, and Japan. Growing need of excavators for heavy lifting, landscaping, brush cutting, river dredging, etc. will positively influence the industrial machinery market size. Furthermore, upgrowing R&D in various segments such as automation of operations, steering systems, and data management is likely to positively impact the market.
U.S. Industrial Machinery market size, by application, 2013-2024 (USD Billion)
Food processing, semiconductor manufacturing, mining, agriculture, construction, packaging are the key application areas of the global industrial machinery market. Packaging application will surpass a revenue USD 65 billion by 2024, primarily driven by increasing demand for packaged food and beverages across the burgeoning middle-class population. Additionally, rising demand for multi-functional systems and emerging technologies such as vision sensors, EOAT (end-of-arm-tooling) design will boost industrial machinery industry size. Moreover, growing industrialization will drive construction and mining applications, with a growth rate of 4.5% over the period of 2016 to 2024.
Get a Sample Copy of this Report:@ https://www.gminsights.com/request-sample/detail/801
Furthermore, rapid urbanization, changing consumer lifestyle, and increasing disposable income will notably impact revenue generation in food processing application, which will exhibit lucrative annual growth rate of 7% over the coming seven years. Moreover, the liberalization of trades in food & agriculture, growing awareness about food brands will further drive industrial machinery market size in food processing application.
Considering global industrial machinery market, APAC region contributed majorly towards worldwide revenue in 2015. China will lead the Asia Pacific industrial machinery industry growth. The attributing factors are increasing foreign investment for local production facilities and development across consumer durables & food processing sectors.
Europe industrial machinery industry size is predicted to register a growth rate of 4.7% over the above-mentioned time, owing to the strict government regulations pertaining to emissions, noise free operations, and safety. Expanding construction equipment rental market will also positively influence the industrial machinery business share.
Market players will enhance their sale by strategic partnerships with the key suppliers to attract more customers. Heavy investment in R&D to come up with better quality products will be a major growth strategy over the coming years.   Komatsu Limited, Caterpillar Inc., Hitachi, Atlas Copco, Volvo, Terex, and Sandvik are some of the leading companies in the industrial machinery market.

Author Name : Sunil Hebbalkar
With an escalating upsurge in the demand for 3D imaging solutions, the growth graph of LiDAR market is poised to remain exponential in the forthcoming years. The application of LiDAR spans a stream of sectors such as the automobile, construction, archeology, land surveying, and river surveying industries. Perpetual advancements in automation, construction, flood modelling, cartography, navigation, meteorology etc. have also been driving the demand for LiDAR technology. The augmented use of LiDAR technology by governments for different activities, like topographical surveys, pollution modelling, flood modelling, mapping and surveillance, is expected to majorly propel LiDAR market growth ahead.
U.S. LiDAR Market Revenue, By Product, 2018 & 2025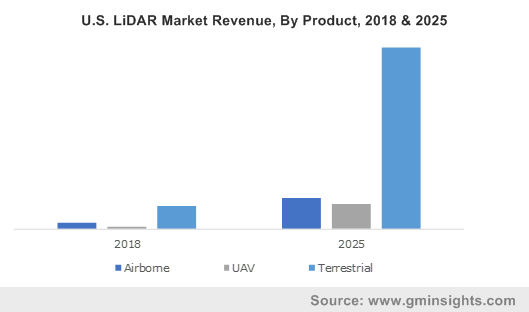 In initial times, heavy scanners were used for surveys, which called for an airplane with an entire managing team to compile the survey in question. The whole process was expensive and required a lot of manpower to complete the survey in a week. Only major government agencies could afford to conduct airborne LiDAR surveys, while the others had to rely on the data compiled by these official agencies.
Now however, with the advent of lightweight, low-cost scanners, equipped with advanced technological developments, the picture of the global LiDAR market has changed considerably. Many companies are incorporating LiDAR technology in their operations to embark on their own surveying activities. The continuous demand for LiDAR is bound to enhance its adoption, thereby fueling LiDAR market growth.
Back in day, companies struggled to procure detailed data for tropical surveys and other purposes due to scarce reliable alternatives. LiDAR however, has documented a revolution in terms of geospatial data and mapping. Currently, companies have started using LiDAR systems mounted onto a UAV for detailed and steadfast 3D mapping. Formerly, large historical sites used to take years for surveying, but now, entire cities can be mapped in 3D in a matter of minutes leveraging UAV aided with LiDAR technology. Versatility and ease of use, and the lure of accurate and visible details with effective mapping will further propel the expansion of LiDAR industry in the years ahead.
Get a Sample Copy of this Report:@ https://www.gminsights.com/request-sample/detail/421
Consumer demands have undergone a major upheaval in the last decade or so. Many leading companies – specifically automakers are seen striving to come up with something innovative by the day for expanding their consumer base. Say for instance, of late, automotive companies have been working tirelessly to manufacture efficient self-driving cars. These autonomous cars are incorporated with LiDAR technology to deliver a high-definition inch-precision map of the area where the vehicle is driving.
Specifically, automakers are known to incorporate mechanical LiDAR devices in the vehicles, given their excellent efficiency. This has also been attracting investments from many automotive companies, expediting the growth of the global mechanical LiDAR industry. As a matter of fact, the continuous spate of R&D activities to commercialize this technology in cars is expected to propel mechanical LiDAR market size, slated to record a CAGR of 32% over 2019-2025.
LiDAR technology has also found its deployment in environment applications. Airborne LiDARs are used to detect and map vegetation, deep waters and dense clouds. LiDAR is being used in oceanography to estimate general biomass and phytoplankton fluorescence in the surface layers of the ocean. LiDAR also enables scientists to determine the biodiversity of the forest helping to preserve ancient trees. This in consequence, is expected to drive LiDAR market share from environment applications, projected to register a CAGR of 32% over 2019-2025.
Boasting of numerous applications across several industries, LiDAR industry is slated to gain commendable traction across the globe. Core companies are focusing on enhancing their existing LiDAR portfolio and several other have been adopting LiDAR in their base operations as well. Driven by the escalating demand to collect highly accurate data across various project sites, LiDAR market valuation is expected to exceed USD 10 billion by 2025.
Author Name : Anchal Solanki
Having established itself as a rather prominent vertical of the technology sector, augmented reality market has witnessed phenomenal gains, in terms of remuneration over the recent years. In the field of software, this technology is already approaching mainstream awareness, primarily on account of the profound contribution of renowned tech giants like Blippar, PTC, Daqri, Upskill, Samsung Electronics Co. ltd., Magic Leap, Facebook Inc., and Apple. While the increasing popularity of Apple's flagship augmented reality technology, ARkit has already created a huge buzz in the augmented reality industry, the American conglomerate's latest breakthrough, iPhone X is an exemplar precedent depicting the signs of penetration of the business space in the territory of smartphone hardware as well. Reportedly, the advanced TrueDepth camera of the product not only include Portrait Mode and FaceID feature, but can also detect users' 3D data and dynamic expression via a unique facial recognition function, Animoji. Though the competitive terrain of augmented reality market is all inclusive of breakthrough innovations from other rivals as well, Apple, undeniably, has turned out to be one of the most active promoters of AR technology lately.
U.S. AR market size, by application, 2016 & 2024 ($Mn)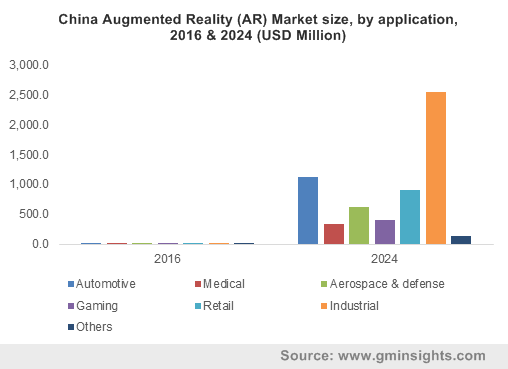 Primarily backed by the fact that AR technology has already made profound inroads in the automotive domain since the inception of 21st century, experts claim, augmented reality industry from this particular business sphere is set to gain exceptional proceeds over the coming years. Big shot automakers across the globe have been increasingly deploying this technology in a bid to bring next version vehicle manuals. Volkswagen's MARTA (Mobile Augmented Reality Technical Assistance) app that provide a thorough repair assistance to amateur mechanics can be placed as a testament to the aforementioned fact. Add to it, the race to develop self -driving vehicles that is presently heating up the automotive space, is also expected to open up new growth opportunities for augmented reality market. Though automotive giants are highly excited with the changing trend, there is a still a wave of inhibition among the consumers due to dearth of proper know-how. Experts believe, increasing integration of AR technology in automobiles would bridge the gap, gradually encouraging consumers to get accustomed with the new technology. From navigation to improving automobile control, automotive sector, as per experts' opinion, is reportedly one the most remunerative growth avenues for augmented reality industry.
Get a Sample Copy of this Report:@ https://www.gminsights.com/request-sample/detail/695
Recently, Mapbox, a reputed custom online maps provider, has made to the headlines with the announcement of its acquisition of a Minsk-based artificial intelligence unicorn, Mapdata. Among the various future projects that are claimed to get onboarded through the deal, Mapdata, reportedly, would help Mapbox develop advanced augmented reality based maps that work in sync with the front cameras of the users' devices. With increasing number of companies seeking to leverage the maximum potential of the technology across mainstream as well as off beat applications, it is certain that augmented reality market is on its way to gain substantial momentum in the years ahead.
While the underlying technology and the application expanse of augmented reality market is rapidly advancing, one of the major constraints that is somewhat acting as a deterrent in the business penetration is the privacy vulnerability concerns associated with the technology. The integration of AR technology into any platform requires disclosure of personal info, which when mishandled often lead to privacy risks. However, renowned companies partaking in augmented reality market are readily investing in research activities to come up with innovative solutions that would address the rising privacy concerns.
Considering the robust initiatives being undertaken worldwide to harness the fullest potential of this technology, augmented reality industry, though still at a nascent stage, is certain to achieve phenomenal gains over the coming seven years. Estimates by Global Market Insights, Inc. claims the overall augmented reality market size to exceed a valuation of USD 50 billion by 2024.
Author Name : Satarupa De
Over the recent years, the commercial drone/UAV market has garnered immense popularity owing to the substantial increase in civil applications of unmanned aerial vehicles. It is quite a well-known fact that the commercial utilization of unmanned aerial vehicles has been steadily rising since the early 1980s. However, a significant increase in investments and the relaxation of some regulatory norms across the globe have opened up an array of practical applications of drones across numerous business domains. This has, in consequence, acted as a pivotal factor in propelling the commercial drone/UAV market share in the recent times. In fact, as per a research report by Global Market Insights, Inc., the global commercial drone/UAV industry commanded a total valuation of over USD 2 billion in the year 2016.
U.S. Commercial Drone Market Volume Share, By Application, 2016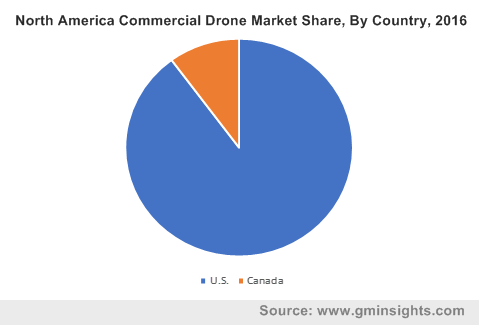 Extensive usage of UAVs in the agricultural sector to drive the commercial drone/UAV industry progression
Boasting of a vast expanse of application spectrum, commercial drone/UAV market has gained extensive popularity over the past few years. As far as the wide-scale deployment of UAVs is concerned, the agriculture sector has emerged as one of the most lucrative end use segment of commercial drone/UAV industry in the recent times. It would be prudent to mention that drones are increasingly being utilized across agricultural fields in analyzing soil, assessing the health of crop, appropriate spraying of pesticides, planting of seeds, and irrigating the field throughout the crop cycle.
In fact, the technological advancements in drones have made it easier to formulate a comprehensive 3D map for soil analysis which can aid farmers to seamlessly analyze seed planting patterns. Apparently, the aforementioned benefits of deploying drones in the agricultural sector have impelled the growth potential of commercial drone/UAV industry.
Get a Sample Copy of this Report: @ https://www.gminsights.com/request-sample/detail/115
Elaborating further, it has been observed that numerous leading commercial drone/UAV market participants have been forming robust alliances with government institutions to tap into the steadily evolving agricultural drones space. Citing an instance to highlight this trend, Parrot Drones has recently announced a share-cost initiative with the Technical Centre for Agriculture and Rural Cooperation (CTA) to use drones in the agriculture sector of the sub-Saharan African region. Reportedly, the announcement of the latest collaboration comes in the backdrop of Parrot's recent launch of its thermal imaging drone, the Parrot Bluegrass, that is particularly designed for precision agriculture. The innovative drone is equipped with both a multispectral sensor and a video camera along with a unique processing cloud platform.
For the record, CTA is a joint institution of European Union and the African, Caribbean, and Pacific Group of States which aims to enhance agricultural productivity in its member countries by precise resource management and ensuring food security. Needless to mention, the latest partnership comes on the heels of the overall commercial drone/UAV market in the African continent.
Citing yet another instance of the technological advancement in the commercial drone/UAV industry, it has been reported that scientists in the UK have successfully grown the world's first crop of barley by deploying drones. Apparently, the project was named as Hands Free Hectare, given that researchers automated agricultural machines by using drone technology and no agronomists set foot in the land utilized to grow the crop. Moreover, an autopilot drone was used to get the tractors working for seeding, harvesting, and monitoring purposes. Considering the aforementioned instances which highlight the inventive usage of drones, the prospective growth of commercial drone/UAV market undoubtedly looks promising.
With a marked increase in the number of collaborations between technology leaders, governments, and industry players, the utilization of drones is bound to witness a transformative change in the forthcoming years. Furthermore, the deployment of drones across various end use domains including Wildlife Research & Preservation, Aerial Photography, Inspection & Monitoring, Emergency Management, and Remote Sensing & Mapping has observed a substantial increase. All these factors are certain to positively influence the growth potential of commercial drone/UAV market, which is forecast to surpass a remuneration portfolio of more than USD 17 billion by 2024.
Author Name : Saif Ali Bepari