Sustainable & Smart Technologies
The commercialization potential of non-destructive testing (NDT) service market is set to witness renewed momentum owing to the evolving demands of the global industrial sector and the effect of digital transformation. These services are anticipated to reach a wider range of business verticals due to the rising number of disruptive innovations and the emergence of pathbreaking technologies such as AI and IoT.
U.S. Non-Destructive Testing (NDT) Service Market Revenue, By Method, 2018 & 2025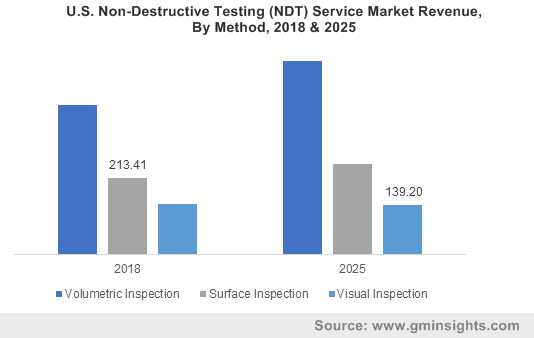 Enhancements in the ultrasonic inspection technology to boost the remuneration scale of NDT service industry
Worldwide, assets of various business verticals are aging and the number of inspection regimes has witnessed an unprecedented uptick as safeguarding these assets is turning out to be a tough task. Invariably, the demand for agile inspection equipment has been intensifying lately. In this context, it is quite imperative to state that ultrasonic inspection testing is being regarded as one of the most prominent technology types among all the NDT services. Some recent developments associated with the improvement of the NDT services – utilizing high-end technologies and research – are set to not only enhance the productivity levels but also add stealth to the ultrasonic inspection testing. Enumerated below are a few major instances that are a testimony to the significant research activities and increasing product ingenuity:
Material testing services provider Element has recently launched a new testing lab spread across 20,700 square foot in Sheffield, United Kingdom. The new lab, which would be a prominent part of the undergoing industrial revolution in the region, will be situated close to Advanced Manufacturing Innovation District of Sheffield. It would be a center for excellence for NDT and inspection research and would prove advantageous to the consumers from the oil and gas and aviation sectors. Additionally, its location would ensure that it receives access to latest technical expertise and support, essentially propelling the growth prospects of NDT services market in the region.
Manufactured for a wide range of applications spanning from a flat plate to a tiny 50 mm diameter surface, Silverwing R-Scan is a new handheld portable B-Scan inspection system which aims to improve the probability of detection and data quality of ultrasonic inspections. Introduced by Eddyfi Technologies, the new NDT solution can be used to complete tank inspections where an automated and remote crawler such as the scropion2 system cannot be deployed. The registered information sets are displayed in a cross-sectional B-scan view that assists in improving in-service flaws, reveal corrosion, increasing speed, and the inspection quality. Remarkably, the addition of such agile, advanced, and portable inspection systems to the product range of ultrasonic inspection testing providers would boost the overall geographical reach of NDT service market.
Get a Sample Copy of this Report @ https://www.gminsights.com/request-sample/detail/3201
Europe to contribute massively toward strengthening the revenue profile of the global NDT service industry
Speaking of the growth of the NDT service industry in geographical terms, Europe held more than 30 percent of the revenue share of this business vertical in the year 2018. Presence of numerous well-known companies such as Bureau Veritas, SGS, and Intertek in the region has been a crucial factor in reaching out to a large customer base. In addition to this, stringent regulatory guidelines – rolled out by European Union along with various local governments – mandating the usage of NDT services to ensure product and employee safety has assisted the industry players to reach high potential growth areas.
Elaborating further on the leading position of Europe, it has also helped that the region's aviation sector is on a roll with a clearance of a massive backlog of aircraft orders being concluded recently. To put things in perspective, prominent aircraft manufacturers such as Airbus and Boeing have a record backlog of more than 12,000 new aircraft that are to be manufactured by the year 2025, creating humongous growth opportunities for the Europe NDT service market in the forthcoming years.
Considering the humble beginnings of the NDT service industry, it is prudent to mention that drastic enhancements over the years have increased the usage of these services across numerous applications. This growth trajectory of the NDT service market is certain to continue in the coming years, as has been highlighted in the research report compiled by Global Market Insights, Inc. which claims that this business vertical would surpass a decent remuneration scale of about USD 4.5 billion by 2025.
Author Name : Saif Ali Bepari
The increasing intensity of climate change and the subsequent issue of water scarcity have led to zero liquid discharge systems market gaining substantial significance. Indeed, the system has become an integral component of numerous industrial sectors, consolidating the market into a lucrative investment ground.
U.S. Zero Liquid Discharge Systems Market Size, by End-user, 2014 – 2025 (USD Million)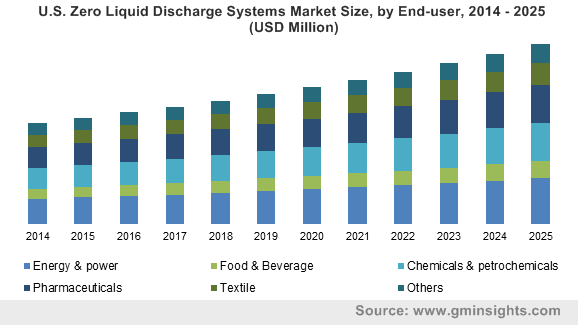 According to a research by the World Resources Institute, climate change is rampant, turning the world's hottest regions even hotter. Meanwhile, as the planet warms, clouds are moving away towards the poles from the equator, further depriving equatorial regions such as Central America, sub-Saharan Africa and the Middle East of rainwater. According to the United Nation's UN Water, the issue of water scarcity is being further exacerbated as rapidly expanding urban areas are placing heavy pressure on water resources nearby, further straining the relationship between water demand & world development.
As these challenges continue to proliferate across the globe, the zero liquid discharge (ZLD) process of water treatment is expected to witness a substantial rise in adoption rates. With more and more enterprises looking to purify & recycle wastewater to dampen their impact on the environment, ZLD systems industry is expected to garner commendable traction ahead..
Role of Europe's environment protection directives on ZLD systems market
In 2018, the European Commission proposed new rules to promote and facilitate water reuse across the European Union for agricultural irrigation. These steps were introduced with the sole purpose of alleviating the pressure of water demands on natural water sources.
The Numbers: According to a recent infographic posted by the European Commission, the challenge currently grips approximately 11% of the European population, severely impacting over 17% of the European Union's territory.
Get a Sample Copy of this Report @ https://www.gminsights.com/request-sample/detail/1961
Moreover, the challenge of water scarcity is no longer confined to a select number of regions across Europe and has started to rapidly become a major concern across the EU. In fact, water scarcity & stress is slated to affect approximately 50% of Europe's river basins by 2030.
The Potential: The European Commission has identified that the EU needs to manage its water resources in a more efficient manner and an effective way to achieve that efficiency is to treat recycled water from ZLD systems as an alternative water supply source. In 2018, the Europe ZLD systems market raised over $1.5 billion in revenues, having treated more than 40,000 million m3 of waste water, however, the continent only reuses 964 million m3 of the treated wastewater.
The potential for additional uptake is quite massive, as the region could reuse more than six times the volume of recycled water that is used currently, presenting a substantial opportunity for the growth of the regional ZLD systems market.
Impact of APAC's developing economies on ZLD systems market
The Asia Pacific is home to a majority of the earth's population & houses two of the world's fastest growing economies; China & India. Apart from these two countries, the region is also home a number of developing nations.
According to a report by China Water Risk (CWR), the adoption of ZLD systems in China is being fueled by the unlikeliest of factors – the nation's thermal power air pollution reduction process, which produces complex and extremely hard to treat wastewater as a byproduct. Moreover, unless a power plant is air cooled, water is by far the most prominently used cooling solution in China, which accounts for approximately 70% to 80% of wastewater volumes.
Driven by such copious availability of waste water, ZLD systems are gaining considerable traction across many industrial sectors across the nation, providing further growth opportunities for the regional ZLD systems market players.
According a report by Global Market Insights, Inc., propelled by severe environmental challenges and the ongoing economic development of several nations like India and China, the global ZLD systems market is projected to surpass the $9 billion renumeration mark by 2025.
Author Name : Akshay Kedari
The growth graph of wearable artificial intelligence market has remained exponential since the last few years, primarily driven by the explosive demand for AI across a spate of verticals. Wearables have been a part of the mainstream for a while now, however, they have registered increased prominence in recent times, driven by the rapid advancements in AI technology.
U.S. Wearable AI Market Share, By Product, 2018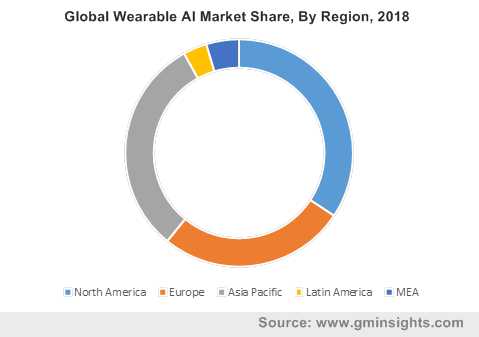 An extremely convincing litmus test of the potential held by wearable AI is the fact that it is gaining significant traction in the impenetrable healthcare industry. According to the Brookings Institution, this potential stems from wearable AI devices' innate ability to record medical data in a substantially reliable manner than their non-AI predecessors, allowing medical professionals to use the data to diagnose & treat diseases in their early stages. Despite being at a somewhat nascent stage, wearable AI industry seems to have garnered massive mainstream popularity.
How have Apple's innovations helped add momentum to the global wearable AI market?
Apple holds a pivotal position in the global wearables space, having pioneered its first Apple Watch back in 2015. According to The Yale Tribune, however, while the Apple Watch was not a complete failure, it did fail in living up to expectations and did not make a significant impact on the industry.
The Rise: According to the Harvard Business School, Apple's reputation surrounding the smartwatch changed when the company started to show significant potential in the field of wearables in 2017 with the release of Apple Watch Series 3. The launch elevated Apple to a leading position in the wearable AI industry, a business vertical expansively characterized by the presence of other smartwatch enterprises.
Get a Sample Copy of this Report @ https://www.gminsights.com/request-sample/detail/3245
The Accolades: Apple smartwatches boasted of being not only the world's most popular smartwatches but also the most popular 'watches' worldwide. Their shipments surpassed Swiss watch exports, reaching the 8 million mark during the fourth quarter (Q4) of 2017 against Swiss watches' 6.8 million.
The Potential: Apple has been instrumental in helping the wearable AI market foray in the lucrative healthcare industry, given that the company's new smartwatches are aimed at incorporating an FDA approved electrocardiograph. The EKG will be able to monitor the wearer's heart's electrical activity and look for signs of arrhythmia, thereby bringing considerable growth prospects for wearable AI market in the coming years.
Impact of expanding AR/VR gaming industry on wearable AI market
The gaming industry is quickly becoming a major business space, holding an edge over mainstream avenues of entertainment. According to the Association for UK Interactive Entertainment, global video game audience is estimated to range between 2.2 billion to 2.6 billion people.
The Potential: According to Fortune, fueled by the release of an array of highly anticipated videogames in 2018, the gaming industry recorded its largest sales over the previous seven years. In 2018, apparently consumers spent an overall $43 billion on video games – an increase of 18% against the 2017 numbers.
AR/VR: The gaming industry has always been a pioneer in incorporating latest technologies in video games to enhance a game's entertainment quotient. The advancements in augmented reality (AR) or virtual reality (VR) have thus facilitated a substantial opportunity for wearable AI market players.
The Projection: VR games facilitate a highly immersive gaming experience that, through more advancements, is expected to interact with all of the user's sensory inputs, actually tricking the mind into thinking that the experience is quite real. Driven by such advancements in AR/VR, the wearable AI market size from gaming applications, is projected to record a CAGR of 35% over 2019-2025.
On account of the expanding smartwatch industry and the exponentially flourishing gaming space, AI-based wearables are expected to command substantial attention in the years to come. According Global Market Insights, Inc., wearable AI market size is slated to surpass the $180 billion renumeration mark by 2025.
Author Name : Akshay Kedari
The exponential growth graph depicted by the global threat intelligence market in the recent years can undoubtedly be credited to the massive surge in the number of connected endpoints. Presently, there are more than 3 billion end-users across the world that are connected to the Internet, while connected-devices are anticipated to surpass the 50 billion mark by year 2020. Having understood the dependency of these endpoints on the Internet to be able to interact with each other, cybercriminals have been exploiting the reliance to obtain an unauthorized access to the connected endpoint devices to undertake numerous malicious activities.
U.S. Threat Intelligence Market Revenue, By Component, 2018 & 2025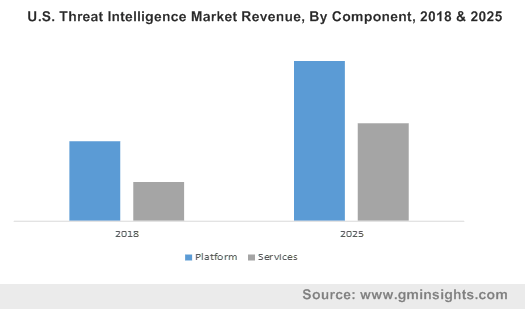 Threat intelligence market | Impact of rising mobile cyberattacks
The global threat intelligence market is expected to amass substantial returns from mobile-based solutions, due to the exponential rate at which cases of mobile cyberattacks & mobile frauds are growing. According to a 2018 report by ThreatMetrix, the first two quarters of 2018 witnessed the cases of mobile attacks across the globe reach the 150 million mark with attack rates growing 24% year-over-year. While the growing penetration of mobile devices has undoubtedly been a crucial factor in the rise of digital commerce, the trend has also proved to be extremely conducive for numerous malicious entities to carry out fraudulent activities.
Moreover, other growing trends such as Choose Your Own Device (CYOD) & Bring Your Own Device (BYOD) being adopted across a number of enterprises, while facilitating greater convenience, are creating more vulnerabilities in the organization networks. Fueled by these trends the global threat intelligence market share from mobile-based solutions will grow at a CAGR of more than 18% over 2019-2025.
Get a Sample Copy of this Report @ https://www.gminsights.com/request-sample/detail/3151
Threat intelligence market | Impact of the growing healthcare cyberattacks
As the global healthcare sector goes through a digital transformation, wherein it is adopting new technologies to enhance the level of patient care & medical treatments while continuing to facilitate patients with life-critical services, the vulnerabilities that are being created or exposed by this transformation phase are being treated as opportunities by criminal & malicious entities for their own personal gain. According to the Center for Internet Security, these threats range anywhere between malwares, that are designed to compromise the privacy of the patients & the integrity of the systems, to Distributed Denial of Service (DDoS) attacks, that are designed to hamper a facility's ability of providing proper patient care. While these issues plague other industrial & infrastructural sectors as well, the ramifications of a cyberattack on a healthcare facility go far beyond financial losses & privacy breaches.
According to the Southern Medical Association, as cyberattacks continue to proliferate, the global healthcare industry remains a primary target. In fact, 2017 witnessed the most successful data breaches in history, bringing legal consequences & detrimental financial losses to the victims and costing organizations more than $5 billion in accumulated financial losses & estimated total payouts. As healthcare organizations store a copious amount of information associated with their patients, cyberattacks, aiming to gain access to these data reserves, would be continuing to occur in the sector, generating significant opportunities for the threat intelligence market contenders. Indeed, the global threat intelligence market is projected to witness a CAGR of 13% over 2019-2025 from the healthcare industry.
Threat intelligence market | Impact of increasing cyberattacks on Government Institutions
As with other sectors, the world's government institutions are also making their transition to the digital world, leaving their conventional pen & paper practices behind for higher operating efficiencies. This trend has provided cyber-criminals an ideal opportunity, wherein they target specific government institutions for their own financial or idealistic gains. One recent instance of this is the cyberattack that targeted the local government of Atlanta, USA. According to the American Bar Association, the entire city of Atlanta was trapped in a hostage situation, wherein the city's digital infrastructure was taken over by a powerful ransomware.
The criminals disabled internet access, encrypted the files stored on the system and demanded an upfront Bitcoin payment in exchange for the decryption key that restored access to these files. According to federal authorities, the ransomware attack caused losses of more than $30 million and could cost taxpayers & the city more than $17 million to completely recover from the damages caused.
Attributing to these three determinants, it is unmistakably clear, that the global threat intelligence market would be witnessing tremendous growth in the years to come. In fact, according to a report by Global Market Insights, Inc., the overall threat intelligence market size is slated to surpass the $13 billion renumeration mark by 2025.
Author Name : Akshay Kedari
The surging adoption of advanced technologies along with rising globalization trend will propel the process orchestration market growth in the years to come. Businesses nowadays are primarily focusing on reducing production cost, improving operational functioning, gaining enhanced competitive skills and delivering improved customer satisfaction to clients, functions that can be fulfilled by means of adopting process orchestration. The technology effectively helps design, implement, integrate and monitor customer process applications and integration scenarios more quickly and flexibly, helping businesses innovate faster and respond to changing business demands more efficiently.
Latin America Process Orchestration Market Revenue, By Professional Service, 2018 & 2025 (USD Million)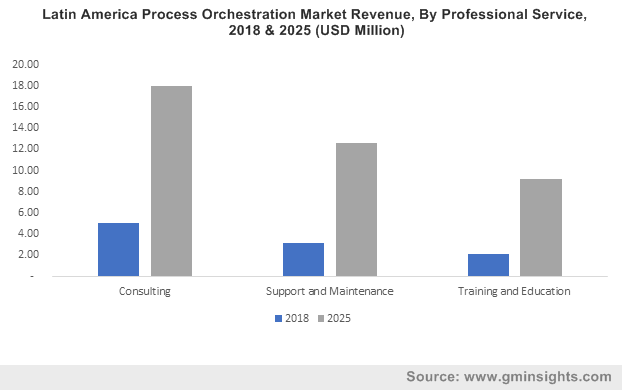 Speculating the technique's profound benefits, companies are now investing in developing innovative solutions for transforming their businesses and to deliver unique customer satisfaction. For instance, in 2018, around 55% of the start-ups adopted digital business strategy, while around 85% intend to invest in digital transformation in the future. Moreover, major sectors include energy & utilities, retail, manufacturing, healthcare, IT & telecom are also adopting process orchestration solutions for improving business efficiency, that would quite overtly expedite the industry growth over 2019-2025.
With the increasing adoption of advanced technologies such as AI and machine learning, the demand for process orchestration solutions to efficiently manage, integrate, and optimize computer systems and cloud architectures to further help serve and retain customers has only been surging. The deployment of the cloud has also been of concern to numerous businesses as their data and information is located in off-premises servers, making the adoption of process orchestration vital for managing cloud-based application and services.
Get a Sample Copy of this Report @ https://www.gminsights.com/request-sample/detail/3143
Speaking along similar lines, it is prudent to mention that the process orchestration market has been depicting quite some growth from the deployment of the cloud. Cloud-based process orchestration services help in simplifying deployment and centralizing automation processes, making it easier for expanding and transforming processes at a lower cost and at a faster speed. Given the cloud's off-premise feature, orchestration brings dependency management, high availability, failure recovery, scaling and numerous other tasks and attributes all into a single process, significantly reducing staff effort. The rapid growth and adoption of cloud solutions across SMEs are thus contributing majorly to the expansion of cloud-based process orchestration industry.
Enumerating the application landscape of the process orchestration market, the retail & consumer goods sector is anticipated to emerge as a pivotal avenue for this industry. With increasing market competition and rapidly evolving consumer needs, it has become vital for the retail sector to improve its service offerings. Process orchestration solutions will enable such businesses to transform their operations and enhance customer reach, and will also help in automating manual processes, minimizing operating costs, improving customer shopping experience and identifying new revenue streams in the highly competitive sector. This in consequence would majorly accelerate process orchestration market share from retail & consumer goods applications, slated to depict a CAGR of 14% over 2019-2025.
Speaking of the regional terrain, it comes as no surprise that the Asia Pacific region is primed to evolve as a highly competitive ground in the years to come. The key factors contributing to market demand across the continent include rapid globalization, increasing demand for industrial automation and strategic government initiatives targeted towards the manufacturing sector. The growing awareness regarding process orchestration benefits, such as the elimination of process redundancy and enhanced business planning, will act as a driving factor for APAC process orchestration industry. Powered by the increasing use of IT infrastructure and resources to gain cost optimization, APAC process orchestration industry share will register the fastest growth rate of 18% over 2019-2025.
Proliferation in the retail sector coupled with the integration of advanced technologies, such as AI and machine learning will contribute to the growing adoption of process orchestration. Businesses are continuously launching newer products in the market to meet the growing customer requirements, further driving market growth. The growing demand for cloud technologies is also contributing to the process orchestration industry growth. According to Global Market Insights, Inc., the process orchestration market size will exceed $9 billion by 2025.
Author Name : Mateen Dalal
The SD-WAN market has lately been growing at a significant pace, characterized by the robust adoption of these solutions across a spate of industry verticals, given their ability to help organizations regarding their legacy infrastructure maintenance. The traditional infrastructure of WAN is known to rely extensively on costly hardware appliances for providing connectivity in remote locations. However, organizations have now been able to reduce those expenses by deploying SD-WAN solutions. Moreover, the solutions also assist enterprises in directly connecting remote users and devices to the cloud and ensuring secure connections.
North America SD-WAN Market Revenue, By Application, 2018 & 2025 (USD Million)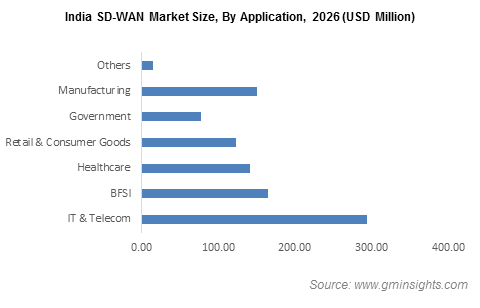 SD-WAN solutions also provide the companies with improved network visibility, and help in reducing network complexities of managing dynamic workloads. By utilizing SD-WAN solutions, organizations can benefit from cost reduction and secure connections, which in turn will propel the commercialization landscape of SD-WAN market in the years to come.
The penetration of smart IoT devices in varied industry verticals, including retail and consumer goods, telecom, manufacturing, and healthcare has substantially increased security risks and network complexities. SD-WAN solutions play a vital role in this context, given that they help improve network visibility for the management of connected devices for reducing security risks, and address the complexities of the IoT infrastructure. The prevailing AI-enabled SD-WAN solutions would also boost the demand for SD-WAN as machine learning algorithms are broadly utilized for WAN optimization. This would further enable network administrators to analyze WAN traffic and re-route the same, automatically, for the selected connection. The capability of SD-WAN has thus proved useful across a spate of verticals, expanding the application scope of the global SD-WAN industry, a gist of which is given below:
BFSI
In the recent times, some of the biggest banks across the global industrial cosmos have cropped up as leading financial organizations which provide a wide range of services to international markets, and control billions of dollars in assets and cash. Financial service firms have been relentlessly working to capture new market opportunities, implement innovative strategies, develop customized services, and identify new business niches.
Get a Sample Copy of this Report @ https://www.gminsights.com/request-sample/detail/2214
This sector, in the years to come, is anticipated  will become even more complex with further diversification, deregulation, consolidation and globalization of the financial industry. Irrefutably, this complexity in the BSFI industry can be effectively addressed only by deploying SD-WAN solutions, which will augment the SD-WAN market share from BFSI applications in the coming years. Of late, the modern banking industry is also remnant of extensive diversification, as is observed by the penetration of some select banks in the domains of core investments, security underwriting, insurance, and portfolio management. With banks and other financial institutions widening their service portfolios, working to evolve as vital entities in the global business landscape, SD-WAN industry size from BFSI applications is expected to surge massively, given the humongous demand for these solutions to reduce complexity and costs.
Manufacturing
The manufacturing sector is anticipated to emerge as one of the most profitable application avenues for the global SD-WAN market. Undeniably, this growth can be credited to the surging popularity of IoT platforms deployed in manufacturing industries. With more and more smart devices and sensors being incorporated in manufacturing facilities, companies are, quite overtly, demanding accurate solutions that are able to deliver exceptional network visibility for end-point management.
Driven by the fact that SD-WAN solutions help manufacturers prioritize network traffic and simplify network management, in a bid to make sure that crucial applications obtain access to the required connection, the manufacturing sector is touted to majorly contribute toward the expansion of SD-WAN industry. As the deployment of more and more communication technologies and IoT devices in the manufacturing industry increases, the demand for SD-WAN solutions will naturally depict an upsurge, propelling SD-WAN industry size from manufacturing applications. As a matter of fact, Global market Insights, Inc., claims that software-defined wide area network market share from manufacturing applications will depict the highest CAGR of more than 60% over 2019-2025.
Retail and Consumer Goods
Retail enterprises using SD-WAN are naturally equipped with the capability to supplement and expand their backbone connectivity, with more options available in a particular location, ranging from broadband to LTE. Along with making the process of adding bandwidth in a site easier, SD-WAN manages conditioning and prioritization of traffic, for improving application performance even further – a major parameter of concern in the retail industry that has been undergoing an extensive digital transformation of sorts.
In the 2017 Cloud and Network Benchmark of Nemertes Research, which involved 625 organizations, it was stated that over 50% of more successful retailers have started deploying SD-WAN, in contrast to the 10% among the less successful ones. As retailers intend to eliminate unnecessary capacity and functionality expenditure, they have been demanding WAN solutions that can accurately leverage NFV and SDN to run on generic hardware and deal with flexible deployment of capacity and functionality. This would substantially augment the requirement of SD-WAN solutions in the retail sector, that secures service continuity via myriad techniques – right from traffic replication spanning multiple paths to sub-second traffic cutover from a failing to a healthy link, thereby propelling SD-WAN marker share from the retail and consumer goods sector.
Endorsed by a mammoth application terrain, the global SD-WAN market is expected to traverse alongside a highly lucrative remuneration graph in the ensuing years. As per estimates, the valuation of the overall SD-WAN market would cross a colossal US$17 billion by 2025.
Author Name : Saurav Kumar