Uncategorized
The latest scoop making headlines in the Europe ADAS market is that of Italian super sports automaker, Maserati launching an upgraded version of its Ghibli sedan incorporated with new advanced driver assistance systems. Maserati's initiative is clearly remnant of the developments underlining advanced driver assistance system (ADAS) market, that is currently moving ahead at a significant pace. Having recognized the extensive benefits of ADAS systems, numerous automakers have been working toward deploying this feature in their latest automobile brands. This paradigm shift toward implementing safety systems in vehicles on account of the increasing number of road accidents is certain to stimulate ADAS market trends.
U.S. Advanced Driver Assistance System (ADAS) Market, By Sensor, 2016 & 2024, (Thousand Units)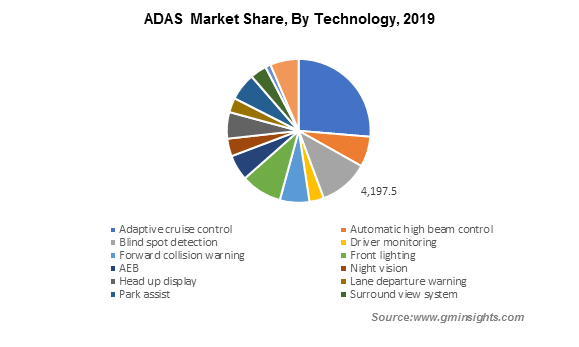 In the face of potentially hazardous driving scenarios, autonomous systems have been taking increasing precedence in recent times. Consequently, major players in advanced driver assistance system industry are focusing on the development of advanced automated ADAS systems. In order to retain a control over driving, these systems are embedded with features like emergency braking, lane keeping, automatic parking, and adaptive cruise control. The incorporation of additional features such as machine learning and ADAS vision have even enabled vehicles to adapt themselves to adverse climatic conditions. In this respect, a brief outline of the contribution made by ADAS market firms in launching diverse live-saving technologies is enumerated in the paragraphs below.
Jaguar Land Rover + Waymo
In order to expand the scope of smart transportation globally and consolidate their stance across myriad geographies, ADAS market players have been establishing partnerships with reputed technology providers. Recently, Jaguar Land Rover collaborated with Waymo to develop the first premium self-driving EV in the world for Waymo's driverless transportation service. Waymo is also expected to work with Jaguar for designing the firm's self-driving Jaguar I-Pace vehicles. This integrated partnership is a pivotal instance demonstrating the impact of lucrative liaisons in ADAS market.
Get a Sample Copy of this Report @ https://www.gminsights.com/request-sample/detail/2461
Tata Motors + Wabco
The Indian OEM Tata Motors has scarcely extended its partnership with the pioneering technology provider, Wabco, having already deployed the latter's ADAS facility in its vehicles. Tata has also conveniently implemented a collision mitigation system (CMS) and a lane departure warning system (LDWS) for its Signa and Prima trucks. The move apparently, is targeted toward the minimization of road accidents and the provision of occupant safety. Having already been a strong player in the India automotive industry, Tata, through this partnership, will further strengthen its position in the regional ADAS market as well.
Sinotruk + Wabco
In 2018, one of the prominent China-based heavy-duty truck manufacturers, Sinotruk Limited, extended its cooperation agreement with WABCO Holdings Inc., that supplies advanced technology for enhancing efficiency, connectivity, and safety of commercial vehicles. The deal is anticipated to substantially improve WABCO's capability in innovative technologies such as ADAS, AMT, EBS, and ECAS. Incidentally, this agreement has so far, spanned almost three decades, and stands as a classic evidence to the fact that long-term business deals across the automotive sector are certain to propel advanced driver assistance system market size over the years ahead.
Groupe PSA + Harman
Although ADAS is one of the benchmark features introduced in automotive industry, it has been found that the system is massively prone to cyber-attacks. Therefore, numerous ADAS market giants have been continuously working on LIDAR and Radar sensors to control cybersecurity threats. Tech companies are playing their part in eliminating security issues as well and have been found developing advanced solutions to improve security measures in ADAS systems.
In this regard, recently, Groupe PSA collaborated with Harman International to design a cyber security strategy for protecting connected and next-generation autonomous vehicles. The collaboration is a vivid indicator of the fact that the growing concerns regarding cyberattacks and protection capabilities of ADAS integrated vehicles will play a pivotal role in augmenting advanced driver assistance system market outlook.
The rapidly shifting trends toward the adoption of technologically advanced vehicles are thus likely to fuel ADAS industry share in the ensuing years. As the demand for such vehicles continues to increase along with changing consumer preferences, companies in ADAS market will be looking forward to launching advanced safety solutions. In accordance with the same, strategic collaborations, joint ventures, and R&D program are expected to become highly commonplace in ADAS industry soon enough. Driven by a supportive regulatory spectrum and the robust requirement of technically developed automotive parts, advanced driver assistance system market size is forecast to increase at a CAGR of 13% over 2017-2024.
Author Name : Sunil Hebbalkar
Election Commission of India in partnership with Social Media company Facebook has set up an initiative to run a voter registration drive across five states- Uttar Pradesh, Punjab, Uttarakhand, Goa, and Manipur with an aim to encourage the youth in these regions to participate in the coming elections.
As per the program, the users with age group 18 years and above will be notified with a reminder of 'register your vote'. Once the registration button is clicked, the user will be redirected to the National Voters' Services portal from where they can complete the registration process to participate in the upcoming poll.
Punjab, Manipur, Uttar Pradesh & Uttarakhand, and Goa users are scheduled to receive their voter registration notification on 6th, 7th, 8th, and 9th October respectively.
The recently launched Facebook page of the office of CEO Uttarakhand is also circulating election related information to the youngsters.
Approximately 155 million Indian population are Facebook users with a major portion shared by the youngsters. The idea of youth participation in democratic exercise like elections via Facebook as a medium is by all means an interesting development.
Source: http://www.news18.com/news/tech/election-commission-of-india-partners-with-facebook-to-register-voters-1298951.html
Author Name : Shikha Sinha