Uncategorized
Key business growth strategies such as mergers & acquisitions, joint ventures, and product innovations are expected to  strongly leverage ABS market development. For instance, INEOS Styrolution, a world leader in the styrenics sector, completed the purchase of K-Resin ® SBC business from Daelim and Chevron Phillips Chemical earlier this year after receiving all the necessary approvals from the regulatory authorities. This acquisition deal will help the firm focus on raising the production of specialty styrenics products across the globe as per the consumer requirements and thus enhance its global presence. Business players make strategic collaborations or partnerships for developing high quality products with the help of technical knowhow, positively impacting the market trends. According to Global Market Insights, Inc., "Acrylonitrile Butadiene Styrene (ABS) industry value, which was estimated at USD 22.3 billion in 2015, is forecast to hit USD 38 billion by 2024."
China Acrylonitrile Butadiene Styrene (ABS) Market Share, By Application, 2015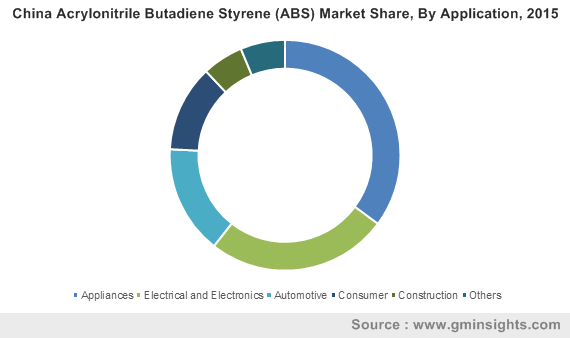 Favorable product features such as high durability, lightweight, heat resistance, design flexibility, and corrosion & chemical resistance will create a profitable roadmap for Acrylonitrile Butadiene Styrene (ABS) market. High product preference can be attributed to its fabrication ease and cost-effective nature as compared to other products. Low steel utilization across the manufacturing business, subject to the rising need for improving the visual appearance as well as aesthetic value of the manufactured items will benefit Acrylonitrile Butadiene Styrene (ABS) industry.
Considering the topographical trends, U.S. ABS market is anticipated to surpass a targeted revenue margin of USD 3 billion by 2024, owing to escalated product popularity across automotive and consumer goods sectors.  Asia Pacific industry, which accounted for more than 68% of the global ABS industry share in 2015, is projected to observe a huge surge over the next few years. High product demand for household appliances and construction sectors will boost the profit. The construction sector in APAC, worth USD 1550 billion in 2015, is slated to grow at a rate of 5% over 2016-2024. India and China are likely to be major regional revenue contributors.
Get a Sample Copy of this Report @ https://www.gminsights.com/request-sample/detail/734
Europe ABS industry is set to record a CAGR of 6% over the coming seven years, driven by high product usage in air conditioners, car exteriors & interiors, fax machines, vacuum cleaners, kitchen appliances, and refrigerator door liners. Germany is expected to be the key regional growth driver.
Consumer goods, electrical & electronics, construction, automotive, and appliances are the key sectors across which Acrylonitrile Butadiene Styrene is widely used. ABS industry size in electrical & electronics sector is expected to grow at a CAGR of more than 3.5% over 2016-2024, driven by wide product use in televisions, computers, printers, computer accessories, and business machines as a result of its electrical insulating and corrosion & heat resisting properties.
Automotive applications are projected to register notable gains of 4% over the coming seven years. The ability of the product to reduce the vehicle weight and lower fuel emissions is expected to spur its demand. Strict legislations to reduce environmental pollution and enhance fuel efficiency in automobiles will further soar ABS market revenue. For instance, stringent rules in Europe and North America have forced the manufacturers to reduce the vehicle weight up to 440 kg, resulting in lowered carbon emissions along with an increase in fuel efficiency.
Appliances sector, which accounted for 31% of the ABS market revenue in 2015, is expected to grow considerably over the years to come. Rising end-user expenditure on household appliances along with the product's ability to retain the appliance structure at both high and low temperatures will favorably influence the growth. The household appliances sector is projected to hit USD 11.9 billion by 2020 and will support ABS industry expansion.
ABS market share in the construction sector is projected to experience a lucrative growth over the coming years, driven by high product utilization in fittings, plastic sheets, and pipes. High spending on the construction activities due to rise in the disposable income of the consumers along with government support for improving the infrastructure facility will further steer the income.
Global ABS market share is highly consolidated, with top four participants sharing more than 60% of the overall business space in 2015. Chi Mei Corporation, Formosa Plastic Corporation, INEOS Styrolution, SABIC, LG Chemicals Limited, Kumho Petrochemical Company Limited, Asahi Kasei Corporation, Sinopec Limited, Styron, Elix Polymers, Entec Polymers LLC, Mitsui Chemicals, and Ravago Manufacturing Americas are few of the key players of ABS industry.
Author Name : Dhananjay Punekar
Breakthroughs in osteology which has resulted in development of cost-effective equipment coupled with rise in sports injuries will impel orthopedic devices market growth. The new inventions in 3D printing technology and robot assisted surgeries will also generate lucrative avenues for the orthopedic devices industry in the years to come. The geriatric population base which is highly susceptible to bone diseases such as arthritis, osteoporosis, etc. will substantially drive the demand for these devices. As per the WHO, the worldwide population above 60 years of age will reach 2 billion by 2050. With this escalating trend, the orthopedic devices market is certain to witness a strong growth chart ahead. Global Market Insights, Inc. projects the orthopedic devices industry to surpass USD 53 billion by 2024.
Europe Orthopedic Devices Market Size, By Product, 2013-2024 (USD Million)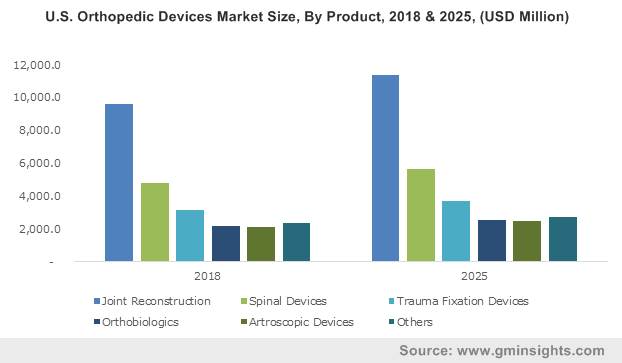 Rising preference for minimally invasive surgical procedures and massive usage of novel biodegradable implants for medical treatment will contribute substantially towards orthopedic devices market share in future. Obesity, sedentary lifestyle, irregular diet, and high consumption of alcohol will further add to the growing popularity of the orthopedic devices. The orthopedic devices industry is foreseen to witness remarkable growth in developing nations as compared to developed nations, owing to large-scale acceptance of the devices in the emerging economies plus market saturation in developed economies.
Taking into consideration the regional trends, UK orthopedic devices industry, which contributed more than 15% of Europe industry revenue in 2016, will exhibit an appreciable surge over the next few years. Rising frequency of bone disorders among the increasing elderly population is predicted to spur the revenue.
Get a Sample Copy of this Report @ https://www.gminsights.com/request-sample/detail/1501
U.S. Orthopedic devices market, which was estimated at USD 20 billion in 2016, is forecast to exceed USD 25 billion by 2024. Enhanced healthcare amenities along with burgeoning demand for orthopedic services due to high incidence of ailments such as osteoporosis, musculoskeletal disorders, and osteoarthritis will accelerate the business growth.
Mexico orthopedic devices industry, worth USD 300 million in 2016, is projected to expand remarkably over the next few years subject to escalating rate of road accidents and increase in the number of the bone disorders. High research in the field of arthroscopic equipment and orthobiologics is expected to drive Germany orthopedic devices industry development which contributed over 20% to the Europe industry share in 2016.
Brazil orthopedic devices market, which accumulated a revenue of USD 750 million in 2016, is anticipated to experience a bulging growth over the coming years. Rise in the disposable income and high investments in orthopedic care activities will make the environment of the region more business & entrepreneur friendly, thereby fostering the industry expansion.
Orthopedic devices industry in China is forecast to grow significantly at a CAGR of 12% over 2017-2024, driven by swift economic development and high patient consciousness about novel orthopedic services. Japan orthopedic devices industry, which accounted for more than 40% of the APAC industry revenue in 2016, is projected to hit USD 2 billion by 2024. Acceptance of modern technologies coupled with rise in the occurrence of spinal cord disorders are few of the factors predicted to contribute prominently towards the regional revenue.
Arthroscopic devices, Joint Reconstruction, Orthobiologics, Trauma Fixation Devices, and Spinal Devices are few of the major orthopedic devices. Joint reconstruction devices, which accounted for more than 40% of orthopedic devices industry revenue in 2016, is set to grow at a rate of 3% over the coming seven years. Increase in the number of road and sports injuries will boost the product demand.
Orthopedic devices market revenue from orthobiologics is predicted to surpass USD 4 billion by 2024, driven by its immense usage as substitutes and bone grafts. Spinal devices are projected to observe a notable gains of 3.5% during the period from 2017 to 2024, owing to high occurrence of degenerative disc disorders among the aging people plus product innovation for treating disorders of spine.
Trauma fixation devices are likely to collect a revenue of USD 7 billion by 2024, subject to its high need in developing regions and product differentiation in the comparatively matured markets of developed regions.
Market players are trying to implement major business growth strategies such as product development, joint ventures, and strategic alliances to retain their position in the industry. Stryker Corporation, Medtronic, Zimmer Biomet, Smith & Nephew Plc, MicroPort Scientific Corporation, NuVasive Incorporation, DJO Global, ConforMIS, The DePuy Synthes Companies, Globus Medical, and The Medacta Group are the major participants of orthopedic devices industry.
Author Name :Dhananjay Punekar
Election Commission of India in partnership with Social Media company Facebook has set up an initiative to run a voter registration drive across five states- Uttar Pradesh, Punjab, Uttarakhand, Goa, and Manipur with an aim to encourage the youth in these regions to participate in the coming elections.
As per the program, the users with age group 18 years and above will be notified with a reminder of 'register your vote'. Once the registration button is clicked, the user will be redirected to the National Voters' Services portal from where they can complete the registration process to participate in the upcoming poll.
Punjab, Manipur, Uttar Pradesh & Uttarakhand, and Goa users are scheduled to receive their voter registration notification on 6th, 7th, 8th, and 9th October respectively.
The recently launched Facebook page of the office of CEO Uttarakhand is also circulating election related information to the youngsters.
Approximately 155 million Indian population are Facebook users with a major portion shared by the youngsters. The idea of youth participation in democratic exercise like elections via Facebook as a medium is by all means an interesting development.
Source: http://www.news18.com/news/tech/election-commission-of-india-partners-with-facebook-to-register-voters-1298951.html
Author Name : Shikha Sinha