Uncategorized
In an era where harmful emission reduction is being continuously propagated, the vacuum pump market trend is set to undergo a consequential transformation in the years to come. The changed merchandizing spectrum of the business space is aptly validated through a recent instance, when Leybold GmbH, a part of the Swedish Industry Group, Atlas Copco, unveiled its latest VARODRY vacuum pump series. This newly launched dry vacuum pump range that has been brought forth by the giant at this year's ACHEMA, is claimed to be incorporated with an emission free ventilation. Allegedly, since this vacuum pump is absolutely oil-free and dry, it avoids any type of oil adulteration and particle emission, making it an absolute choice for industrial applications. Leybold's initiative sheds a positive light on the sustainability trend and the up-to-the-minute developments that vacuum pumps market is presently characterized by.
Germany Vacuum Pump Market size, by end-user, 2014 – 2025 (USD Million)

This new vacuum range has already garnered rave reviews in the business space on grounds of its compact design and highly reliable performance with low capital investment and operating cost. Given the fact that it neither requires compressed air nor cooling water for its operation, handling the pump is quite easy. The pump is claimed to ensure uninterrupted operations without system downtimes. Undoubtedly, the product launch has remarkably strengthened Leybold's stance in the vacuum pump market.
Yet another instance depicting the efforts undertaken by major companies to increase the efficacy and performance level of vacuum pumps, Edwards Group Limited recently released its latest single stage rotary vane vacuum pumps, the nES EX series. According to the UK based firm, this enhanced version of rotary vane technology is specifically designed to operate in environments that are potentially explosive in nature. Apparently, this articulately designed nES EX 40-630 series is likely to amass a huge popularity in the market especially from chemical processing sector. The product which is claimed to offer safer and cleaner real-world operations is another breakthrough model underlining the innovation and development opportunities underlining the vacuum pumps market landscape.
Get a Sample Copy of this Report @ https://www.gminsights.com/request-sample/detail/2667
It is prudent to mention that the profitability quotient of vacuum pump industry is extensively influenced by the robust growth of chemical processing and manufacturing sectors. Estimates suggest, global chemical industry would nearly record a valuation of USD 5.5 trillion by 2025. Chemical processing verticals like oleochemical, petrochemicals demand highly advanced vacuum technology, as these sectors are mainly characterized by challenging operating environment. Mostly what has been observed from past five years trends, chemical companies mainly deploy dry vacuum pumps that can be utilized for a broad range of processes. Some of the chemical giants are also inclining toward vacuum pumps that not only ensure flexibility, reliability, and efficacy, but also feature minimum maintenance and set up. Ergo, it can be said that chemical processing sector would prove to be a viable growth avenue for vacuum pump industry in the years ahead, in terms of new opportunities and product innovations.
Geographically, Asia Pacific exhibits a strong contendership in the global landscape becoming one of the top-notch investment spots for industry players. The extensive proliferation of chemical processing sector in this belt can be a cited as a major factor propelling the regional demand. In fact, estimates suggest, APAC procured nearly 50% of the global vacuum pump industry share in 2017, with China and India at the helm. Reportedly, India is estimated to record a CAGR of 7% over 2018-2025, while China vacuum pump market is forecast to surpass USD 2 billion by 2025.
While a vast application spectrum and favorable geographical opportunities underline this business space, lack of proper technical knowhow about how to run the pumps which often leads to machine damage is one of the major challenges in the vacuum pump market growth. However, in a bid to combat these challenges, modern day manufacturers are organizing myriad training programs for the operators to ensure a longer product lifecycle. With increasing investments by manufacturers in these initiatives and approaches, vacuum pump industry undoubtedly would be one of the most opportunistic business spheres to watch unfold. Speaking of the commercialization potential of the entire business space, Global Market Insights, Inc., forecasts overall vacuum pump market to exceed a valuation of USD 6.5 billion by 2025.
Author Name : Satarupa De
Riding on the hallmark of durability and reliability, CM's latest Lodestar chain hoist is claimed to be a breakthrough in electric hoist market. Recently launched, this iconic product by Columbus McKinnon Corporation reportedly integrated Lodestar's flagship industry acing design with Magnetek's enhanced featured premier VFDs. Endorsed with Magnetek's advanced IMPULSE® G+ Mini drive, Lodestar VS electric chain hoist apparently harnesses the power of intelligent lifting with an absolute state-of-the-art Hoist Interface Technology, CM HI-Tech™.
U.S. Electric Hoist Market Size, By Type, 2014 – 2025 (USD Million)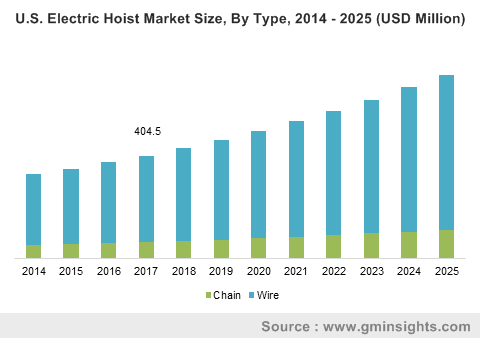 If reports are to be relied on, this is one of the easiest computer interfaces ever utilized in electric hoist market and is certainly the fundamental factor driving CM's pronounced stance in the competitive landscape. Allegedly, CM HI-Tech™ allows operators to quickly adjust the hoist performance and speed, in a bid to ensure a sync between the precision load control and application required. The product has already become a subject of focus among the investors, despite the fact that the business space is ablaze with numerous other innovations by eminent companies. Driven by such an innovative product landscape, electric hoist industry garnered a revenue of USD 1.9 billion in 2017.
The competitive spectrum of global electric hoist industry boasts of a portfolio of renowned biggies including the likes of Ingersoll-Rand plc, Beta Max Hoist, KITO Group, SWF Krantechnik GmbH, ABUS Kransysteme GmbH, Hitachi Industrial Equipment Systems Co., Ltd, and Konecranes Oyj. Having already substantiated their stance in the lucrative business sphere, it is expected that in the years to come, they would further brainstorm innovative solutions that would bring appreciable monetary returns in the marketplace. In this regard, it is prudent to mention that electric hoist market players pertaining to the rising demand for technological integration, have been bending over backwards on strategic alliances and subsequent product differentiation.
Get a Sample Copy of this Report@ https://www.gminsights.com/request-sample/detail/2638
A recent precedent underlining the aforementioned declaration is KITO Corporation's acquisition of all shares of Erikkila, the Finnish lifting equipment manufacturer, under its fully owned subsidiary, Kito Europe. Reportedly, the Japan based electric hoist industry firm has procured Erikkila's crane production business in a bid to consolidate its position in Europe market, via Erikkila's extensive European sales network. Experts' believe, Erikilla's lightweight modular cranes in its extensive product range in all likeliness, would enhance Kito's already established portfolio in electric hoist market.
Regionally, the Asia Pacific belt reigned as a supreme power in global electric hoist market in yesteryear, primarily on account of the robust automotive expansion in this region. While the marketplace is characterized by an extensive application array, automotive applications have emerged to be a profitable investment spot for companies, given the fact that these hoists have made cargo handling more efficient and reliable. Not to mention, the profitability quotient of electric hoist industry undeniably relies on the changing trends of automotive sector.
Statistics indicate that the Asia Pacific turf houses numerous light weight vehicle producers with Japan, China, and Korea at the helm covering almost 42% (37 million units) of the global auto production market. Thriving on yesteryear statistics, China alone produced nearly 4.2 million commercial vehicles and 24.8 million passenger cars – estimates depicting China's pronounced growth prospects in APAC electric hoist market. For the record, APAC electric hoist industry is slated to enter the billion dollar frontier by 2025, with a projected CAGR of 7.5% over 2018-2025.
All in all, it would be apt to mention that electric hoist market growth is highly ancillary to product advancements. Not to mention, skilled operators and qualified maintenance staffs would further have a substantially impact on the profitability quotient. With changing technologies and newer breakthroughs in lifting ecosystem, electric hoist is slated to exceed a valuation of USD 3.4 billion by 2025.
Author Name : Satarupa De
Election Commission of India in partnership with Social Media company Facebook has set up an initiative to run a voter registration drive across five states- Uttar Pradesh, Punjab, Uttarakhand, Goa, and Manipur with an aim to encourage the youth in these regions to participate in the coming elections.
As per the program, the users with age group 18 years and above will be notified with a reminder of 'register your vote'. Once the registration button is clicked, the user will be redirected to the National Voters' Services portal from where they can complete the registration process to participate in the upcoming poll.
Punjab, Manipur, Uttar Pradesh & Uttarakhand, and Goa users are scheduled to receive their voter registration notification on 6th, 7th, 8th, and 9th October respectively.
The recently launched Facebook page of the office of CEO Uttarakhand is also circulating election related information to the youngsters.
Approximately 155 million Indian population are Facebook users with a major portion shared by the youngsters. The idea of youth participation in democratic exercise like elections via Facebook as a medium is by all means an interesting development.
Source: http://www.news18.com/news/tech/election-commission-of-india-partners-with-facebook-to-register-voters-1298951.html
Author Name : Shikha Sinha