Progress in the constructional sector on account of the rapid industrialization in emerging nations is allowing a remarkable expansion of Kaolin Market. Some of the value-added characteristics of kaolin such as opacity, non-abrasive texture, chemical inertness, make it the most preferred choice for a widespread spectrum of industrial applications such as ceramic, paper, finger glass, and rubber. Growing consumer focus on superior aesthetics result in increasing demand for ceramic tiles, which in a way is providing lucrative business opportunities to kaolin industry. Furthermore, as the mineral improves reinforcement properties and durability of the base material, the market demand is huge from paper packaging sector. As per a report by Global Market Insights, Inc., "Global kaolin market having held USD 4.5 billion in 2015, is projected to exceed a revenue of USD 6.5 billion by 2024, with a projected CAGR of 4% over 2016-2024."
 U.S. Kaolin Market size, by application, 2013-2024 (USD Million)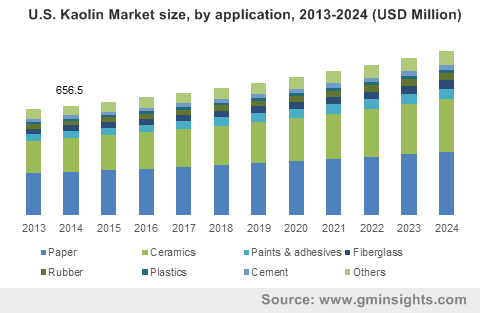 Geographically, growth of Asia Pacific kaolin market is forecast to outpace the global landscape, with the highest annual growth rate of 4.5% over the period of 2016-2024. Driven by China, Japan, and India, the regional market dominated the overall share in 2015. Promising constructional industry growth in this region is acting as a major growth enhancer for the market.
Additionally, growing automotive manufacturing base and increasing sales in Malaysia, China, Indonesia is leaving an influential impact on the dynamics of kaolin industry.Paper applications accounted for a major chunk of the overall industry share in 2015. Increasing product demand for paper filling and coating to improve the brightness, gloss, smoothness opacity of the texture, is complementing the industry growth. Kaolin market share from paper sector is projected to experience an upswing in its growth chart with an estimated CAGR of 3.5% over 2016-2024.
Get a Sample Copy of this Report @ https://www.gminsights.com/request-sample/detail/1148
Ceramic applications also consume a considerable portion of kaolin industry and is slated to record maximum growth at an annual rate of more than 4.5% in the coming six years. Gain in the overall market can be supported by the rising demand for ceramic tiles in construction industry for flooring and wall applications. For instance, global ceramic tiles industry is estimated to grow significantly at a CAGR of 9% over 2015-2024. This lucrative growth path is expected to provide tremendous business space to kaolin market. Furthermore, growing scope of application in non-conventional sectors as well such as rubber, pharmaceuticals, and plastic manufacturing will allow further penetration of kaolin market, by opening new business opportunities.
Considering the market coverage, North America driven by U.S. has a strong hold over the global industry. In 2015, it covered almost 20% of overall kaolin industry share. Growing economy of U.S has played a pivotal role in positively influencing the construction industry. In addition to this, a change in residential renovation trends have resulted in an increasing demand for ceramic tiles, which in a way is equally leaving an impact on the regional kaolin industry growth.
Prominent players of the market are involved in strategic mergers and acquisitions in order to sustain in the competitive market. In 2015, global kaolin market was highly concentrated with top five companies covering 40% of the overall market. Some of the key players of the market include Imerys SA, Daleco Resources, BASF SE, Kaolin AD, I-Minerals Inc., and LB Minerals Ltd.
Author Name :Satarupa De