ABS Market
Key business growth strategies such as mergers & acquisitions, joint ventures, and product innovations are expected to  strongly leverage ABS market development. For instance, INEOS Styrolution, a world leader in the styrenics sector, completed the purchase of K-Resin ® SBC business from Daelim and Chevron Phillips Chemical earlier this year after receiving all the necessary approvals from the regulatory authorities. This acquisition deal will help the firm focus on raising the production of specialty styrenics products across the globe as per the consumer requirements and thus enhance its global presence. Business players make strategic collaborations or partnerships for developing high quality products with the help of technical knowhow, positively impacting the market trends. According to Global Market Insights, Inc., "Acrylonitrile Butadiene Styrene (ABS) industry value, which was estimated at USD 22.3 billion in 2015, is forecast to hit USD 38 billion by 2024."
China Acrylonitrile Butadiene Styrene (ABS) Market Share, By Application, 2015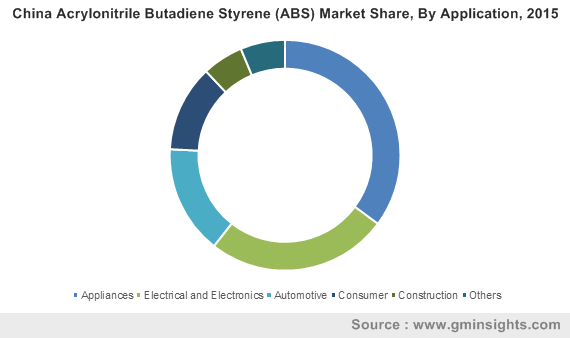 Favorable product features such as high durability, lightweight, heat resistance, design flexibility, and corrosion & chemical resistance will create a profitable roadmap for Acrylonitrile Butadiene Styrene (ABS) market. High product preference can be attributed to its fabrication ease and cost-effective nature as compared to other products. Low steel utilization across the manufacturing business, subject to the rising need for improving the visual appearance as well as aesthetic value of the manufactured items will benefit Acrylonitrile Butadiene Styrene (ABS) industry.
Considering the topographical trends, U.S. ABS market is anticipated to surpass a targeted revenue margin of USD 3 billion by 2024, owing to escalated product popularity across automotive and consumer goods sectors.  Asia Pacific industry, which accounted for more than 68% of the global ABS industry share in 2015, is projected to observe a huge surge over the next few years. High product demand for household appliances and construction sectors will boost the profit. The construction sector in APAC, worth USD 1550 billion in 2015, is slated to grow at a rate of 5% over 2016-2024. India and China are likely to be major regional revenue contributors.
Get a Sample Copy of this Report @ https://www.gminsights.com/request-sample/detail/734
Europe ABS industry is set to record a CAGR of 6% over the coming seven years, driven by high product usage in air conditioners, car exteriors & interiors, fax machines, vacuum cleaners, kitchen appliances, and refrigerator door liners. Germany is expected to be the key regional growth driver.
Consumer goods, electrical & electronics, construction, automotive, and appliances are the key sectors across which Acrylonitrile Butadiene Styrene is widely used. ABS industry size in electrical & electronics sector is expected to grow at a CAGR of more than 3.5% over 2016-2024, driven by wide product use in televisions, computers, printers, computer accessories, and business machines as a result of its electrical insulating and corrosion & heat resisting properties.
Automotive applications are projected to register notable gains of 4% over the coming seven years. The ability of the product to reduce the vehicle weight and lower fuel emissions is expected to spur its demand. Strict legislations to reduce environmental pollution and enhance fuel efficiency in automobiles will further soar ABS market revenue. For instance, stringent rules in Europe and North America have forced the manufacturers to reduce the vehicle weight up to 440 kg, resulting in lowered carbon emissions along with an increase in fuel efficiency.
Appliances sector, which accounted for 31% of the ABS market revenue in 2015, is expected to grow considerably over the years to come. Rising end-user expenditure on household appliances along with the product's ability to retain the appliance structure at both high and low temperatures will favorably influence the growth. The household appliances sector is projected to hit USD 11.9 billion by 2020 and will support ABS industry expansion.
ABS market share in the construction sector is projected to experience a lucrative growth over the coming years, driven by high product utilization in fittings, plastic sheets, and pipes. High spending on the construction activities due to rise in the disposable income of the consumers along with government support for improving the infrastructure facility will further steer the income.
Global ABS market share is highly consolidated, with top four participants sharing more than 60% of the overall business space in 2015. Chi Mei Corporation, Formosa Plastic Corporation, INEOS Styrolution, SABIC, LG Chemicals Limited, Kumho Petrochemical Company Limited, Asahi Kasei Corporation, Sinopec Limited, Styron, Elix Polymers, Entec Polymers LLC, Mitsui Chemicals, and Ravago Manufacturing Americas are few of the key players of ABS industry.
Author Name : Dhananjay Punekar
Plating on Plastics (POP) industry has generated a decent momentum over the past few years with automotive industry taking a major share credit. Plastics play an important role in vehicle design, topping the vehicle differentiation criteria, an obvious reason for OEMs to contribute heavily towards the POP market share. Moreover, the aesthetic appeal of the vehicles is notably influencing the buying probability of the automobiles, which has further led to augmented POP industry trends. Plating on plastics further imparts the vehicles with corrosion and wear resistant properties, which will expand its application area in the automotive sector.
U.S. Plating on Plastic Market Size, By Application, 2017 & 2024, (Million Square Meters)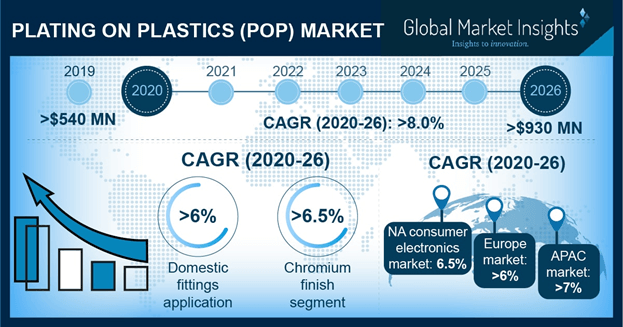 The expanding polymer industry and its growing use in automobile sector will also generate heavy growth opportunities for the POP market players. Polymers which account for almost 15-20% of the overall car weight, play a vital role in determining the vehicle efficiency, making the manufacturers to deploy high-performance and lightweight polymers in the vehicles. The extensive deployment of substrates such as ABS, PET, PEI, and PBT is certain to augment the commercialization potential of POP market.
Get a Sample Copy of this Report:@ https://www.gminsights.com/request-sample/detail/366
In addition to this, the growing emphasis on curtailing the carbon emissions via automobiles will also expand the POP industry outlook over the coming years. Light-weight vehicles are appraised to perform better in terms of efficiency and lesser carbon emissions, which will increase the adoption of POP by the manufacturers. As per estimates, automotive applications accounted for a considerable proportion of the overall POP industry share in 2017. Driven by the rising fuel prices, automotive manufacturers have now come to produce fuel efficient vehicles with reduced weight on account of lightweight composites. This has, in consequence, led to a massive transformation in POP industry outlook from the automotive sector, with the increasing use of plastic plating not only by the OEMs, but also to a decent extent by the aftermarket. As per estimates, plating on plastics (POP) market share from automotive applications is likely to register a CAGR of 6.5% over 2018-2024.
Asia Pacific is slated to emerge as a prominent region participating in the plating on plastics market growth. Expanding automotive industry in APAC and favorable regional regulations will draw the attention of the manufacturers to extend their regional base in APAC countries. China, Thailand, Malaysia, and Indonesia are likely to emerge as a pivotal growth grounds for the APAC POP industry. Estimates claim that Asia Pacific plating on plastics market size if likely to be valued at USD 230 million by 2024, driven by the rapidly growing automotive industry, rising disposable incomes, and the extraordinarily high demand for commercial and passenger vehicles among the masses.
Plating on plastics (POP) industry is on the verge of a major drift, based on the regulations imposed regarding the use of chrome based plating. The major industry players such as Dow Electronic Materials, Enthone, etc. are taking measures towards developing alternatives to offer plating solutions optimizing the aesthetic appeal and corrosion resistance of the vehicles. For instance, Dow Electronic Materials has developed ECOPOSIT™ CF-800 chromium-free etch, abiding by the regulatory norms set by REACH.
POP industry is poised to see interesting developments over the coming years, as it forays into the specialty chemicals market. The market players are likely to enter into strategic collaborations with the specialty chemicals manufacturers to reduce the raw material cost and enable backward integration process. The market is highly fragmented with Bolta Werke, SRG Global, Sarrel Group, and Xinpoint accounting for the top players. An intense competition is on the cards over the coming years, with chemical and process providers sharing the POP business space.
Author Name : Shikha Sinha