Access & Control System
The global smart elevator market share is on the rise lately owing to the product's growing adoption in emerging markets like India and China, coupled with growth in the construction and infra sectors worldwide. Smart elevators are estimated to make big strides in the global elevator market owing to the new wave of technology and advancements that are transforming the global landscape.
UK smart elevator market, by application, 2018 & 2025 (USD Million)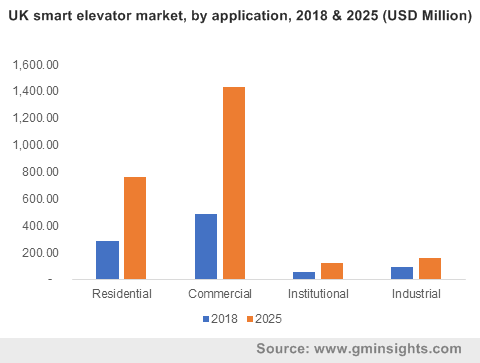 Enumerated below is an insightful summary of the top technological trends which are likely to offer impetus to smart elevators industry share.
1) Internet-connected elevators
The future of elevators is connectivity, which is expected to play a huge role in product demand over the coming years. With several smart elevator manufacturers already considering its implementation, it won't take long for internet-connected smart elevators to become common. A smart elevator company that is currently exploring this possibility is Otis Elevators. The company has initiated development of smart elevators that are capable of communicating with passengers, service staff, building managers, and others for enhancing performance and passenger experience.
Otis is also looking to develop technologies that can enable passengers to summon elevators through their phone. The implementation of connectivity and smart features is a major ongoing trend which is estimated to overcome problems concerned with efficiency, repair schedules, as well as waiting and traveling time. The burgeoning demand for the integration of such technologies within residential and commercial spaces will pump up smart elevator market share in the ensuing years.
2) IoT driven elevators technology
Technologies like IoT are reshaping the surroundings and helping countless businesses perform better. Smart elevators companies have also started recognizing the potential of these disruptive technologies and are beginning to embrace them. A smart elevator market analysis reveals that IoT seems to have majorly influenced the industry dynamics lately. Case in point, smart elevator company Schindler recently entered a partnership with Spanish telecom giant Telefónica to enhance its cloud-based digital offerings with Telefónica's IoT connectivity services.
Such provisions will offer greater convenience, interactivity, and personalized services to smart elevator passengers. Also, the extraordinary pace at which high-rise buildings are mushrooming across the globe offers numerous growth opportunities to the technology providers in the IoT domain. The surging adoption of IoT in smart construction and connected buildings will fuel the smart elevator market share over the forthcoming years.
Get a Sample Copy of this Report:@ https://www.gminsights.com/request-sample/detail/1593
3) Multi-directional elevators
With rapid urbanization, the population in cities will continue to rise, generating a high demand for residential establishments, which can be sufficed by building more high-rise and economical buildings. While the conventional elevator technology obstructs this possibility, the implementation of rope-free and multidirectional elevators seems a viable option.
German elevators giant Thyssenkrupp's latest innovation Multi is a ropeless multidirectional elevator, which can move up and down a shaft as well as move horizontally. The technology is estimated to bring considerable change to the elevator industry owing to its numerous benefits including more space, less wait time, and fewer restrictions due to elevator shaft height. Successful implementation of this technology could offer new opportunities for the smart elevators industry in the future.
4) Maintenance using augmented reality
Regular servicing and maintenance of a residential or commercial elevator system can fix small problems before they get big enough and end up costing a fortune. The elevator technology is evolving rapidly, triggering the next level of technically advanced maintenance technology. An ideal example in this context is of ThyssenKrupp which has equipped repair engineers with HoloLens, Microsoft's augmented reality technology.
HoloLens allows repair engineers to effectively communicate with coworkers back in office, by sharing schematics through the display, for accelerating servicing and repair. Such a technology will create a massive shift in the smart elevators industry, giving builders the confidence to invest in technologically advanced elevators that are compatible with such services and facilitate seamless functioning of a building.
The smart elevators market analysis based on the aforementioned trends sheds light on the possibility that this industry will embrace modernizations owing to constant innovation in information technology and other tech sectors. Numerous other trends in the world of technology and elevators overtly indicate a lucrative phase for the business space.
Furthermore, the construction of technically advanced structures and green buildings would spark a technological revolution, thereby boosting the smart elevator market share in the future. According to a smart elevator industry analysis by Global Market Insights, Inc., this market is anticipated to be worth more than $25 billion by 2025.
Author Name :Krithika Krishnan
The overwhelming expansion of the electronic security market across the globe has been unprecedented. The indispensability of deploying electronic security systems in commercial and residential areas has become increasingly pronounced in the recent past owing to the increased number of terror incidents, break-ins, property thefts, mishaps in public transportation setups, smuggling of contraband, growing social unrest, and industrial disasters among others. The electronic security market stands to reap substantial benefits in the upcoming times as the advancement in technology, expanding geographical reach, emergence of new business models, earnest government interventions, smart city phenomenon, and accelerated growth of real estate sector among other driving factors, will accentuate the market-specific consumption and will, in turn, steer the electronic security market to achieve greater heights of revenue growth.
China electronic security market size, by technology, 2016 & 2024 (USD Million)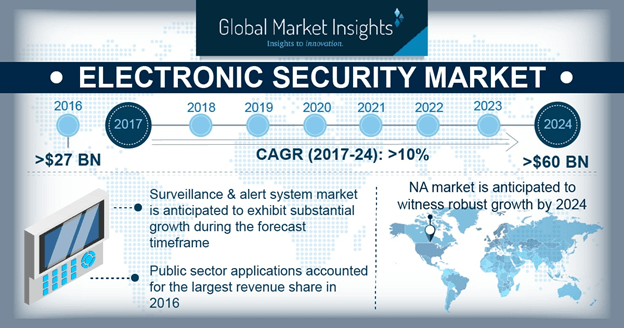 The increasing complexity and sophistication of security threats to public, private and governmental spaces have forced the electronic security providers to come up with innovative, viable and sustainable solutions. For instance, new electronic security industry players like Zicom are making a bold effort to become industry leaders by launching excellent products that minimize the input and maintenance costs of the security infrastructure deployed to secure financial assets of its customers. The growing governmental legislations across the world shall gradually make the safety and security solutions mandatory across all sectors. For instance, a few states in India have made it a compulsion for all the private establishments to install CCTV surveillance on their premises. These initiatives with regards to securing the infrastructure by both the private and competitive entities are overt to enhance the profitability quotient of electronic security industry. According to Global Market Insight Inc., the global electronic security market size was estimated to be approximately $27 billion in 2016.
According to a few trusted reports, the total cost of reported stolen property in the U.S. constituted to $12.42 billion in 2016. The two decades of 1995-2015 witnessed close to 2,500 incidents of theft of radioactive materials and trafficking, according to a report by The International Atomic Energy Agency (IAEA). The electronic security market has been gearing up to tackle the growing concerns of security and safety across all domains. The upcoming electronic security firms seem to be aware of the need to become proactive rather than being reactive to the perceived threats and probable incidents leading to loss of human life and weakening of financial assets. A prominent example that can be noted here is of e-surveillance technology. The cost of maintaining an ATM e-surveillance for a bank in India amounts to Rs. 40,000. Reportedly, the e-surveillance technology used by Zicom reduced the bank's safety and security cost by 90%.
Get a Sample Copy of this Report:@ https://www.gminsights.com/request-sample/detail/2132
The electronic security market portfolio includes access and control systems, intrusion and detection systems, surveillance and alert systems, anti-terrorist and inspection equipment, mass notifications systems and anti-theft systems. In addition to innovation, the latest trend of integrating advanced sensors, wearable devices, smart cards with existing systems and integration of hardware and software with the Internet of Things has demonstrated to assist the electronic security market to make strong headway in the near future.
The electronic security industry has been highly competitive with reputed firms such as IBM Corporation, Bosch Security Systems, Thales Group, Siemens AG, Lockheed Martin Corporation, Axis Communications, Auto Clear LLC, Hitachi Ltd, G4S PLC, OSI Systems, Inc., to name a few. The upcoming electronic security providers like Zicom and Gemalto, which collaborate with banks and governments across various regions of the world are forming a strong framework to disrupt the electronic security market in a positive way. The mergers and acquisitions, technological advancement, alliances and growing collaboration of private sector with the governmental agencies will fuel the sustained growth of the electronic security industry.
Speaking of the regional growth distribution of electronic security market, the North America electronic security market is set to expand at a commendable pace owing to its security infrastructure, awareness related to safety and the growing spending by the governments of U.S and Canada. The Asia Pacific region will continue to grow as the economic surge, uptick in industrialization and increasing awareness contribute to the soaring electronic security industry demand.
A detailed report published by Global Market Insights, Inc., estimates the growth of electronic security market at over 10% CAGR over the timeframe of 2017-2024.
Author Name : Saif Ali Bepari