Acetate
Increased product demand from pharmaceutical and textile industries will drive bleached linter cellulose market growth in the forecast years. Bleach linter cellulose is a high viscosity substance made primarily from cotton linters. Compared to wood cellulose, cotton linters offer significant advantages like higher purity, higher brightness, and a lower content of hemi-celluloses. These characteristics make purified linters cellulose an ideal raw material for manufacturing high-quality products like tissue, gazes, high-quality paper for bank notes, nitrocellulose and cellulose ethers.
U.S. Bleach Linter Cellulose Market size, By Application, 2014-2025 (USD Million)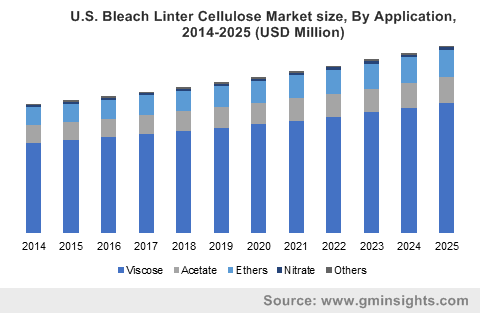 Increasing investments and rapid technological advancements are likely to expand bleached linter cellulose market size over the forecast period. For instance, in 2019, the GRETE project that aims to improve the existing wood-to-textile value chains by developing breakthroughs and increase production of man-made cellulose fibers in Europe was granted EUR 2.6 million by the Bio-based Industries Joint Undertaking (BBI JU). Swiftly growing food industry across developing nations is also anticipated to foster industry trends.
Based on application, it would be apt to state that cellulose ether will accrue a significant proportion od bleached linter cellulose market share over the coming years. Cellulose ethers are often used as viscosifiers, suspending agents, thickeners, binders, protective colloids, film formers, and stabilizers in industries like food, drilling, textile, building, ceramics, detergent, and cosmetics.
Increasing use of cellulose ethers like carboxymethylcellulose (CMC) and methylcellulose (MC) will drive industry outlook. For example, in the construction industry, CMC is used in cement and other building material compositions owing to its hydrophilic and stabilizing properties.
Get a Sample Copy of this Report:@ https://www.gminsights.com/request-sample/detail/3858
Supportive government strategies and investments in the construction sector will positively supplement cellulose ether segment in the coming years. For instance, according to European Construction Sector Observatory (ECSO) 2018, the UK government plans to deliver 400,000 affordable housing units by 2020-2021, financed through a new EUR 2.7 billion Housing Infrastructure Fund.
Growing demand for personal care and pharmaceutical products is likely to drive bleached linter cellulose market growth by 2025. In personal care industry, bleached linter cellulose is used to thicken and stabilize cosmetics and improve their moisturizing effects. Cellulose ether, pertaining to its characteristics like high glass transition temperatures, limited crystallinity, high chemical & photochemical stability, solubility, hydrogen bonding capability, and low toxicity is used widely in the pharmaceutical sector. Colored cellulose ether products can also be decolorized or bleached to attain an increased whiteness.
Growing use of cellulose ether in various medicinal drug formulations will accelerate product demand. For instance, methyl cellulose (MC) can be used for thickening, suspending, and achieving emulsion stability of liquid pharmaceuticals, and for film coating materials of low viscosity aqueous solution.
Ethyl cellulose (EC) can be used as the binder of tablets, as film coating material, or as the matrix material for developing various types of matrix sustained-release tablets. With growing application of cellulose ether and ethyl cellulose, bleached linter cellulose market will witness commendable proceeds from the personal care and pharmaceutical sector over the coming years.
Asia-Pacific bleached linter cellulose market is anticipated to record gains of over 3.5% in the forecast period. Availability of low cost raw materials in countries like India and China will supplement industry growth. In addition, surging demand from end-user industries like textile, food, pharmaceutical and personal care due to improving socio-economic trends will expand market size.
According to IBEF, India's pharmaceutical industry is expected to reach US $55 billion by 2020. Whereas the country's textiles industry is estimated to reach US$ 250 billion in 2019. With rapid proliferation in such key sectors, the Asia-Pacific bleached linter cellulose market is estimated to witness new growth opportunities over the forecast period.
Bleach linter cellulose is high viscosity cellulose made from cotton linters. Being non-toxic, odorless in nature and easy-absorbent, bleach linter cellulose can effectively be used in industries like food, ceramics, detergent, and cosmetics. Rising product penetration in the textile, personal care and pharmaceutical industries will majorly drive global bleached linter cellulose market growth. Global Market Insights, Inc., estimates bleached linter cellulose market size to reach US $1.3 billion by 2025.
Author Name : Mateen Dalal
The robust expansion of pivotal end-use domains such as packaging and construction will undoubtedly steer oxo alcohols market along a profitable growth path. With the demand for plasticizers observing an increase in the construction, consumer goods, and automotive sectors, oxo alcohols industry size is certain to increase in the ensuing years, given that these hydrogenated aldehydes are primarily used to manufacture plasticizers such as dibutyl phthalate and diiso-octyl phthalate. Despite the fact that this business sphere is essentially not a niche vertical, the product is extensively demanded from numerous end-use domains, thereby providing a slew of avenues for the growth of oxo alcohols industry. Pertaining to its widespread requirement, in tandem with the vast expanse of its deployment spectrum, oxo alcohols market size was pegged at USD 14.5 billion in 2016.
U.S. Oxo Alcohols Market Size, By Application, 2016 & 2024 (USD Million)

An insight into oxo alcohols market trends from plasticizers
As per estimates, global plasticizers industry size was valued at a massive 7.5 million tons in 2016 and is likely to depict an upward growth potential in the years ahead. This comes as no surprise, given how massively plasticizers are deployed in the polymer industry. When added to polymers, plasticizers apparently decrease the molecular attraction between polymeric chains, making them much more durable and flexible. With the increasing demand for polymer products such as PVC (polyvinyl chloride) products, ester-based plastics, plasticizer-based concrete, and more from the wiring, cabling, and flooring sectors, it would be profitable for investors to pour in their coffers in oxo alcohols market in the coming years.
Get a Sample Copy of this Report:@  https://www.gminsights.com/request-sample/detail/2224
The plastic industry has been on a robust incline since the last decade, subject to the widespread product demand across a plethora of applications, which has been claimed to be a principal driving force behind the transformative oxo alcohols market outlook. In 2015, plastic production surpassed 322 million metric tons globally, 58 million metric tons out of which was manufactured in Europe alone. Driven by the profound deployment of plastics in the automotive, consumer goods, construction, packaging, and aerospace domains, plastic industry growth is slated to depict an extensive ascent in the years to come. By extension, oxo alcohols market size is also anticipated to exhibit a substantially huge growth rate, pertaining the fact that they are used massively for producing plasticizers, further deployed in plastic and polymer manufacturing. In fact, a report put together by Global Market Insights, Inc., states that oxo alcohols industry size from plasticizers will exceed a valuation of USD 8.5 billion by 2024.
The commercial production of oxo alcohols involves intermediaries such as ethylene, propylene, and acetylene that are used to manufacture plasticizers, acetates, ether, and solvents. It is prudent to mention however, that these raw materials are essentially obtained from petrochemical based feedstock, indicating that any fluctuations in crude oil price and volume trends may have a direct influence on the revenue graph of oxo alcohols market. Companies partaking in oxo alcohols industry share have been focusing on improving their production capacity in order to combat the demand-supply gap. In consequence, oxo alcohols market, in recent years, has been ablaze with a slew of M&As, partnerships, and expansion deals. With companies shifting their base toward the South East Asian topographies for the reasons of lower production cost, in conjunction with the increasing product demand from the ever-growing automotive, packaging, and construction arenas, oxo alcohols market is certain to traverse a profitable growth map in the forthcoming years.
Author Name : Saipriya Iyer