Acetic Acid Market
A strong vertical of polymers & advanced materials business space, vinyl acetate monomer market stands to gain much over the ensuing years on virtue of its extensive end-use spectrum. This clear colorless liquid rather acts as chemical building block in resins and polymers manufacturing. With resins, polyvinyl acetate in particular, being abundantly utilized across a plethora of mainstream sectors for its bonding properties, the meteoric rise of vinyl acetate monomer market is sure to continue. In fact, estimates depict, overall business share from polyvinyl acetate applications is forecast to record USD 2.5 million by 2024. Armed with an intent to call their bets in the profitable landscape, a bulk of vinyl acetate monomer industry players therefore have been tending to hike the price of acetyl intermediates.
U.S. VAM Market Size, by Application, 2013 – 2024 (USD Million)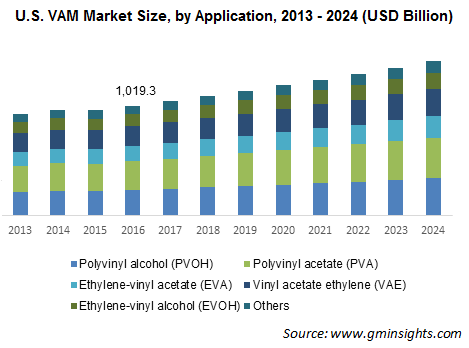 Quoting a recent case, Celanese Corporation CE, the Fortune 500 nominated specialty materials manufacturer has recently made to the front page with its update on acetyl intermediates' price increase. As per reliable reports, the U.S. based vinyl acetate monomer market giant increased the price of VAM and acetic acid by almost USD 150/MT in Turkey, MEA, South America and Mexico, effective from April 1st, this year. While in U.S., and Canada the price is set to witness a hike by 5 cents per lb., in Europe, it has increased by €100/MT, cite sources. Celanese's appropriate pricing actions also come as a response to the volatile raw material price trends of vinyl acetate monomer industry. Additionally, it also depicts the company's scrupulous effort toward reducing the overall operational cost via strategic pricing initiatives and productivity actions.
Get a Sample Copy of this Report @ https://www.gminsights.com/request-sample/detail/2474
Speaking of the strategic landscape, some of the big shots present in the business space are also trying to expand their product capacity in a bid to win a competitive advantage. Say for instance, INEOS Oxide, one of the globally acclaimed vinyl acetate monomer market players has recently announced its plan of developing a new VAM project in Europe. Through the company is still in phase of looking for the preferred location of the project, sources familiar to the matter stated that INEOS's Antwerp and Hull sites hold a greater chance. This is probably due to the fact that both these aforementioned regions are privileged with well positioning and ample feedstock supplies that would prove to be beneficial for Europe vinyl acetate monomer market share.
Citing another similar kind of instance across the Asian turf, leading chemical giant Wacker Chemie AG toward the end of last year, further expanded its vinyl acetate production facilities in China. The Munich-headquartered firm, reportedly also aims to open new factories in South Korea to meet the increasing demand for the product globally. With robust industrialization across China and India, and favorable government compliance to bring FDI for construction domain, APAC vinyl acetate monomer market trends is likely to witness a plethora of opportunities over the ensuing years. As per estimates, APAC market is slated to carve a y-o-y growth of 5.2% over 2017-2024.
It is imperative to mention that one of the pivotal factors that has proved to be deterring for the industry growth is the product related health jeopardy. It has been observed that inhalation of VAM often leads to serious health issues like respiratory tract irritation, eye irritation etc. In a bid to respond to these heath challenges, a number of renowned regulatory bodies such as EPA, OSHA, and FDA, are mandating stringent environmental norms with regards to its deployment. While the strict regulatory groundwork may seem to have been accepted as a consistent practice in the changing phase of vinyl acetate monomer market, volatile raw materials price trend is another factor imposing restrictions to its bulk production. Despite these restraining factors, vinyl acetate monomer market is slated to emerge as one of the lucrative verticals in the chemical space, aptly influenced by its widespread application spectrum. In terms of commercialization, global vinyl acetate monomer industry size is forecast to exceed USD 10 million by 2024.
Author Name : Satarupa De
The global acetic acid market is witnessing a major upswing with the growing utilization trend of this acid as a raw material to produce purified terephthalic acid (PTA) and vinyl acetate monomer (VAM). Acetic acid is used as an intermediate in formulating polyester, coatings, greases, and sealants which are widely used in textiles, automotive, packaging, paints & coatings, and electronic industries. The overall acetic acid market is certain to generate lucrative avenues, owing to its rising application scope in aforementioned industries. A report on Acetic Acid Market  predicts the industry to register an annual growth rate of 8.7% over 2017-2024 and generate revenue over USD 16 billion by 2024.
Europe Acetic Acid Market size, by application, 2013 – 2024 (USD Million)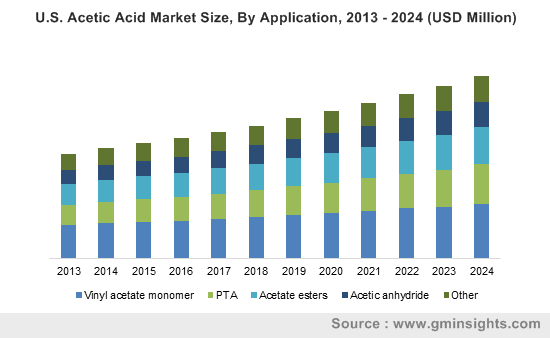 The expansion of the global chemical industry has almost doubled in terms of value over the last decade and was recorded around USD 5 trillion in 2013. This has strongly influenced the growth of acetic acid market as this acid finds its major application in the production of purified terephthalic acid, acetate esters, vinyl acetate monomer, and acetic anhydride. In terms of volume purified terephthalic acid contributed to more than 25% of the global acetic acid industry share in 2016. PTA is further used in the production of polyester films, polyester fiber, and polyethylene terephthalate (PET) resin. Vinyl acetate monomer is another major application segment which finds wide application in making of polymers and resins used in paints, films, adhesives, and textiles.
Get a Sample Copy of this Report@ https://www.gminsights.com/request-sample/detail/1594
North America, led by US acetic acid industry, recorded a consumption of over 1900 kilotons in 2016. The pharmaceutical industry holds a strong foot in North America with the presence of major manufacturers such as Johnson & Johnson, Novartis, Roche Holding AG, and Gilead Sciences. This factor has led to increasing demand for medical devices and saline bottles which are made from polyethylene terephthalate (PET. The regional acetic acid market will witness a profitable growth over the years ahead, owing to its profound usage as raw material in the production of PTA.
Acetic acid industry is quite consolidated and is likely to witness an increasingly growing trend of mergers and acquisitions. In 2011, the acetic acid product division of Sterling Chemicals was acquired by Eastman in order to support its growth strategy for the plasticizers and acetic acid product-line.
The manufacturers are aggressively involved in research and development activities to develop bio-based pathways for the complete replacement of fossil based raw materials. Bio-based acetic acid can be manufactured from fermenting sugar, ethanol, and corn starch. The product synthesis with bio-base material is gaining a wide acceptance among the consumers. Wacker Chemie, a well-known chemical company has recently established its bio-based acetic acid plant in Germany having an annual capacity of 500 tons. Bio-based acetic acid on grounds of addressing the hazardous environmental effects is poised to bring a paradigm shift in the global acetic acid industry landscape. Some of the major participants in this space include Saudi International Petrochemicals, DuPont, Celanese Corporation, Mitsubishi Chemical Holdings Corporation, Jiangsu Sopo (Group) Co., Ltd., Sinopec, Wacker Chemie, and British Petroleum (BP).
Author Name : Ojaswita Kutepatil