Acrylic
The proliferation of positive growth trends in the global automotive paints and coatings market has been rather evident from the recent acquisition of the Germany-based automotive coatings manufacturer Hemmelrath by U.S.-based global supplier of paints and coatings – PPG Industries. Hemmelrath is renowned for manufacturing coatings for automotive OEMS and supplies coating materials to automotive plants across the world with 7 million vehicles being coated with Hemmelrath products every year. Both PPG and Hemmelrath are looking to expand their operations with this acquisition that has been making the headlines recently.
U.S. Automotive Paints & Coatings Market, By Vehicle, 2018 & 2025, (USD Million)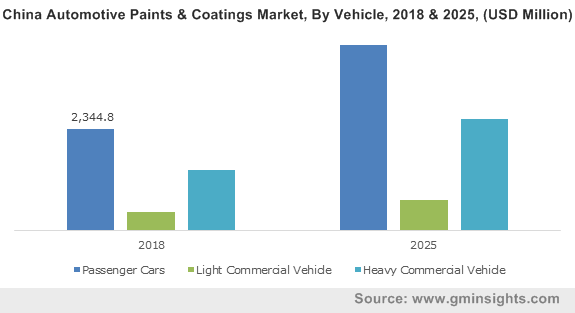 PPG Industries, one of the most recognized names in the automotive paints and coatings market, also recently announced that it is working on devising a new technology to coat a car's touchscreen infotainment systems that would reduce smudges and fingerprints. The new PPG coating is seemingly at par with what the latest smartphones like iPhone X use on their screens to remain smudge free and easy to clean. The difference is that the PPG coating is sprayed over the screen surface or the piano black interior finish of the vehicles rather than a coating film being applied. According to PPG, all major car makers will be using such smudge-resistant coatings in the near future.
On the other hand, Hemmelrath has been making further in-roads into the automotive paints and coatings market with plans to invest in expanding its subsidiaries in the U.S. and China. Hemmelrath produces waterborne primers in the USA and China but only in its own plants. However, the company is looking to be able to manufacture the entire range of products in these important automotive regions besides expanding in to the manufacturing of clearcoats, basecoats and primer-less systems.
Get a Sample Copy of this Report @ https://www.gminsights.com/request-sample/detail/3243
Since 2015 Hemmelrath has been producing its products at the Changchun site in China and has made the necessary preparations in 2018 for a much bigger production facility in north-east of China which is twice the size of Hemmelrath's main production plant in Klingenberg in Germany. Hemmelrath is also expanding its Duncan, South Carolina production facility with the aim of supplying customers in the NAFTA region. A production facility for primerless systems, basecoats and clearcoats is being built in Duncan besides expansion of laboratories, warehousing space and construction of an in-house application center. The move has been planned to make further expansion possible in parallel with customers' requirements indicating Hemmelrath's projection for consolidating its stance in the automotive paints and coatings market.
Robust innovation in coatings technologies is yet another driving factor for the automotive paints and coatings market. Rising awareness about the eco-friendliness of various materials has been a transformative factor for several industries and the automotive paints and coatings market has been no exception. Automobile coatings producers and their suppliers have become increasingly versatile innovators in order to stay competitive in a fast-evolving market. Paints have now transformed from being solvent borne to water borne to low volatile organic compounds (VOC). As market leaders move to waterborne and other solutions, the use of new complex molecules that can make thinner coatings, last longer, and need lower temperature to apply at lesser cost has also become more popular. Besides, waterborne, low VOC coatings have been found to be much more productive as they offer better color reproduction and color consistency.
The automobiles themselves are evolving, moving from being driven by fossil fuels to being powered by electricity, thus leading to a change in their paint and coating requirements. For instance, batteries and motors are the two most critical elements in EVs and the batteries have to be efficient for heat dissipation, cooling, longer battery and motor life. Coatings also play a significant part in ensuring that the batteries are able to insulate heat and withstand corrosion. Also, with the advent of autonomous vehicle, the automotive industry will be in the need of new types of paints and coatings that do not interfere with LIDARs or sensors but protect these sensitive devices just as well.
With paints and coatings industry giants like PPG, BASF, AkzoNobel, Nerolac, Axalta, 3M etc. gearing up to be competitive in an evolving automotive market landscape, the automotive paints and coatings market is expected to surpass $27.5 billion 2025.
Author Name : Paroma Bhattacharya
This entry was posted in Automotive & Transportation and tagged Acrylic, Aftermarket, Automotive Coatings Market, Automotive Paints & Coatings Market, Automotive Paints & Coatings Market Share, Automotive Paints & Coatings Market Size, Automotive Paints Market, Basecoat, Clearcoat, Electrocoat, Epoxy, Heavy Commercial Vehicles, Light Commercial vehicles, Matte, Metallic, OEM, Passenger Cars, Polyurethane, Powder, Primer, Solid, Solvent borne, UV Cured, Waterborne.
The rapid expansion of the aerospace, automobiles, industrial and medical sectors worldwide has reinforced the metal bonding adhesives market, with rising demand for efficient materials used in production, repair and maintenance of different products. Properties like thermal conductivity, dimensional stability and resistance to chemicals, vibration and abrasion have propagated the benefits of these composites. Continuous efforts by adhesive producers to develop new and improved products has fueled the growth of the metal bonding adhesives industry. These composites are commonly being used while manufacturing medical and pharmaceutical equipment, since they have to face difficult conditions and need to be highly reliable. Increasing demand for these equipment is thus certain to boost the global metal bonding adhesives market revenue.
U.S. Metal Bonding Adhesives Market Size, By End-user, 2014 – 2025 (USD Million)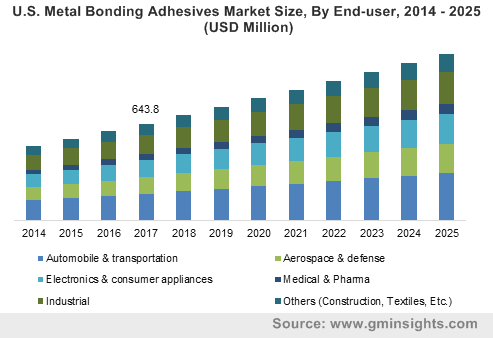 Technically, surgical instruments, imaging equipment, implantable devices are some applications in the medical segment that require the use of specific adhesive composites. Manufacturing medical devices that are reusable also pose challenges for engineers in terms of selecting the appropriate materials and adhesives. The metal bonding adhesives industry has allowed manufacturers to deliver instruments that are more reliable, durable and can withstand different conditions, invariably enhancing their performance. Needle bonding and assembling syringes are two key application areas for these composites, to provide products that can survive high withdrawal forces. The instruments are used everywhere from laboratories, ER and health clinics to surgeries in operating theaters.
It was estimated that in 2016, the global syringes industry size exceeded USD 10.56 billion and could grow beyond USD 16.90 billion by 2021, indicating lucrative prospects for the metal bonding adhesives market over the coming years. The utilization of these composites can be anticipated to surge from the increased deployment of other medical devices and instruments over the forecast timespan, as the expenditure on healthcare services rises. WHO has predicted that the proportion of geriatric population will go up to nearly 22% by 2050 as compared to 12% in 2015. A major chunk of this population will be living in developed economies and would lead to increasing occurrence of chronic diseases such as cancer, diabetes, heart disorders as well as orthopedic ailments.
Get a Sample Copy of this Report:@ https://www.gminsights.com/request-sample/detail/1290
With more cases of chronic diseases reported around the world, the healthcare system in all the regions will undergo immense proliferation and generate a need for more surgical instruments like knives and scalpels. Shifting trends in the medical segment will further alter the demand for these products, including inpatient and outpatient services. Outpatient surgeries are projected to witness about 11% growth rate up to 2022, indicating a consistent need for reliable precision instruments and the significance of the metal bonding adhesives market. Development of additional healthcare services such as biomaterial storage banks will also support the metal bonding adhesives industry growth, as cryogenic equipment also require these composites for withstanding extreme low temperatures.
A crucial strategy adopted by prominent industry participants for ensuring they hold a substantial market share is to develop and bring to market new products that satisfy various industrial needs and standards. For instance, Lord, which is a major player in the metal bonding adhesives market, recently unveiled two new products called, Lord 852 / 25GB and Lord Fusor 2001/2003 NG, at a renowned trade fair. The first product was introduced as an acrylic-based adhesive ideal for both composites and metal application, with the company claiming it to have the best performance among its entire portfolio. The Lord Fusor 2001/2003 NG is based on polyurethane and though it exhibits the same open time as most PU adhesives, though it is mainly designed for use in automobiles. To elaborate, the product reduces handling time to 45 minutes from the usual 2 hours 30 minutes, providing 25% more productivity.
Other leading companies in the metal bonding adhesives industry, including DowDuPont Inc., 3M Company, BASF SE, Evonik Industries, Arkema Group and Permabond LLC would also be looking to bring advanced products for their customers in the automotive, medical and industry segments. Owing to the extensive dependability by various end-user domains, the metal bonding adhesive market is estimated to grow with an appreciable CAGR from 2018 to 2025 globally.
Author Name : Pankaj Singh
This entry was posted in Bulk & Specialty Chemicals and tagged Acrylic, Aerospace & Defense, Automobile & transportation, Electronics & Consumer Appliances, Epoxy, Global Metal Bonding Adhesives Market, Industrial Assembly, Medical & Pharma, Metal Bonding Adhesives Market, Metal Bonding Adhesives Market Size, Polyurethane, Resin Type.
The robust growth of the global automotive sector is certain to emerge as one of the driving forces of industrial liquid coatings market in the years to come. Industrial liquid coatings, equipped with resistance to corrosion, acids, UV rays, oils and other type of impurities that can deteriorate metals and hinder the performance of equipment, are deployed in automobiles, transportation equipment, electronics appliances, wood and non-wood furniture, metal building products, and metal containers. Indeed, OEMs have emerged one of the most remunerative application arenas for these coatings.
China Industrial Liquid Coatings Market Size, By Application, 2014 – 2025 (USD Billion)

An insight into the two basic types of resins used in the manufacturing of coatings:
Polyester
Polyester is one of the most widely used resins for industrial coatings. Polyester encompasses a superior chemical bond and is ideally temperature resistance to most materials. That said, the resin is also endowed with some other properties – polyester is known to abrasion resistant and provides prolonged corrosion protection. Both the aforementioned characteristics make polyester-based coatings ideal to be used in the marine sector and various other industrial applications, thereby augmenting the commercial landscape of polyester-based industrial liquid coatings market.
Polyester-based industrial liquid coatings industry size was valued at $8 billion in 2017 and is projected to grow at an appreciable pace over 2018-2025. Apart from its excellent properties, a pivotal reason for this industry to depict growth is that polyester coatings have the benefit of being cost efficient compared to other available coatings.
Get a Sample Copy of this Report:@ https://www.gminsights.com/request-sample/detail/2872
Epoxy
Epoxy is another type of resin that is very widely used in coating production. The principal factors responsible for the deployment of epoxy are its excellent properties – the material is tough, enables quick drying, has a protective nature, and is endowed with other mechanical properties as well. Driven by its highly favorable characteristics and its subsequent benefits in coatings, epoxy manufacturing is generally undertaken on a large scale. As per the AMEC Environment and Infrastructure UK (AMEC) reports, a total of 259,000 tons of epoxy resin was manufactured in 2013, in plants located in Germany, Spain, Netherlands, Poland, and Switzerland.
In 2017, epoxy resin accounted for a commendable 30% of the industrial liquid coatings market share and is anticipated to depict a positive growth graph in the ensuing years. Reportedly, epoxy-based industrial liquid coatings are applied on the inside of cans as a protective coating that prevents corrosion and prolongs the shelf-life of the can and stored food. Additionally, it also serves well in terms of lending an aesthetic look to the can. Similar coatings are also used in the construction of wind turbine blades and metal structures. Owing to the fact that epoxy based coatings are relatively easier to apply as opposed to conventional heat cured powder coatings, they are used across a plethora of applications, thereby impelling epoxy-based industrial liquid coatings market share.
Speaking of epoxy, it is prudent to mention that the resin is widely popular in Europe. According to the AMEC Environment and Infrastructure UK (AMEC), Germany is one of the largest markets for epoxy resins in Europe, and had accounted for sales of sold approximately 88,000 tons of epoxy resin in 2013. This represents an appreciable 35% of all European sales. The UK accounted for the second largest volume of some 11% the same year, while Italy and France both witnessed for around 10% of total epoxy sales. It is thus rather overt that Europe industrial liquid coatings market, that held around $10 billion in 2017, will register a commendable growth rate owing to the surging epoxy production in the region.
One of the vital factors that may possibly restrain the growth of industrial liquid coatings market is the  adverse impact on human health caused due to the release of fumes from volatile organic compounds (VOC). As per the United States Environmental Protection Agency's Total Exposure Assessment Methodology (TEAM) study, people exposed to VOCs experience conjunctival irritation, throat and nose discomfort, allergic skin reaction, headache, nausea, fatigue and dizziness. However, regulatory bodies, in this regard, have enforced certain norms that mandate companies to use less VOC-emitting products. In accordance, bio-based industrial coatings have emerged as the latest trends, adding a new growth dimension to the overall industrial liquid coatings market.
Author Name : Mateen Dalal
This entry was posted in Bulk & Specialty Chemicals and tagged Acrylic, Agriculture & Heavy Equipment, E-Coats, Epoxy, General Industry, Global Industrial Liquid Coatings Market, Industrial Liquid Coatings Industry, Industrial Liquid Coatings Market, Industrial Liquid Coatings Market Overview, Industrial Liquid Coatings Market Segments, Industrial Liquid Coatings Market Size, Liquid Primers, Liquid Top Coats, Metal Conditioners, Metal Structures, Oil & Gas Pipelines, Polyester, Polyurethane, Resin, Water & Waste Water Pipelines.