Activity Monitoring
Fitbit's recent partnership with tech behemoth Google to innovate and transform the future of digital health industry, has led to enhanced health outcomes for people around the globe. As a part of the companies' partnership, Fitbit will use Google's new open-source tool – Cloud Healthcare API, designed to connect healthcare providers with patient data. Additionally, combining the Fitbit data with Cloud Healthcare API will provide clinicians with a more comprehensive view of the patient profile & data, in turn piloting more personalized care. Analysts deem that the partnership between the two has set a novel benchmark for other prominent players to invest in this business sphere, which is likely to influence digital health market trends in the ensuing years.
U.S. Digital Health Market, By Technology, 2013 – 2024 (USD Billion)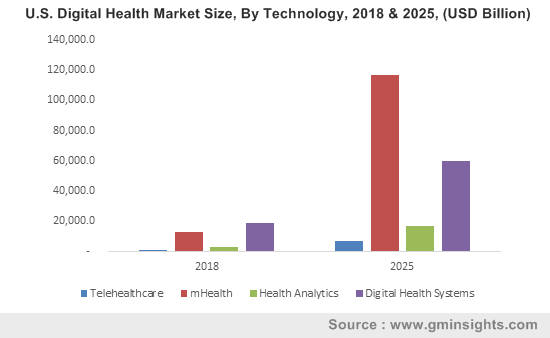 The above-mentioned instance provides evidence that digital health industry has significantly progressed from its first wave of nascent medical applications and is now focusing on bringing advanced technology to make healthcare more efficient and personalized. It is rather overt that healthcare being one of the most dynamically advancing verticals of recent times, has witnessed a plethora of technological interventions that are currently at the pinnacle of success. On these grounds, major companies including Apple, IBM, iHealth Lab, and Cisco Systems have set their eyes on this business sphere, transforming global digital health industry into a dynamic growth ground.
Enumerating yet another vital instance in this space, the Australia digital health industry player Global Health has joined a new initiative to connect sports communities on a global level. The initiative will reportedly allow the athletes to take their medical records with them wherever they plan to move between countries & clubs. Apparently, Global Health has partnered with the Jobs4Sport digital platform, which currently connects agents, rugby union players, coaches and clubs and further plans to expand its reach into basketball, rugby league, AFL, cricket, netball, football, and hockey. According to sources, the players will be provided with their e-medical records via a Lifecard app from Global Health. The company expects to integrate the platform with Google Fit and Apple Health by the end of 2018.
Get a Sample Copy of this Report:@ https://www.gminsights.com/request-sample/detail/833
Analyst deem that currently there is great deal of focus on patient centricity within the healthcare industry. Most industry stakeholders believe that exciting opportunities in digital health market are bound to arrive with notable advancements in the mHealth technology. A classic example of the same is that of the Mount Washington Pediatric Hospital in Baltimore that is using telehealth platforms and heath devices to monitor health and connect with patients. The hospital will be leveraging these platforms to help young patients manage weight & lifestyle management problems.
Quite overtly, mHealth interventions developed for point of care diagnostics, disease tracking, and remote monitoring have significantly supported healthcare professionals & patients in improving the provision of care. In fact, a survey report states that younger consumers between the age of 18 to 34 are more (around 74%) inclined toward adopting mHealth technology in their lives. Thriving on these trends, digital health market size from the proliferation of the mHealth technology is anticipated to witness remarkable growth prospects in the following years. A presumption validating the same is that of Global Market Insights, Inc., claiming the worldwide mHealth market size to surpass USD 60 billion by 2023, growing at an outstanding annual rate of 30% over 2016-2023.
The developments in the healthcare cosmos are remnant of the fact that digital health market has, quite coherently, come a long way since its inception. The growing emphasis on reducing healthcare costs, while improving operational efficiencies have in turned offered companies ample opportunities to disrupt the digital health industry space. Recently, thirteen countries including Australia, India, Singapore, and Canada seemingly collaborated to launch a global digital health partnership that will create a common platform for sharing knowledge. This has quite vividly set the stage for the global industry landscape to traverse along a remunerative growth path. All in all, with extensive focus on re-designing patient experience, digital health market is expected to take a deeper dive in terms of revenue, growing at a double-digit CAGR of 26% over the forthcoming six years.
Author Name : Ojaswita Kutepatil