Adhesives & Sealants
With a major surge witnessed in the construction industry, the global silanes market is also expected to witness significant growth trends as silane finds wide application in the construction industry for its favorable adhesion and noise insulation properties. Apart from its use in construction, silane also acts as a good medium for improving performance of paints and coating by imparting crosslinking abilities for coatings to adhere to a wide variety of substrates.
U.S. silanes market size, by application, 2013 – 2024 (USD Million)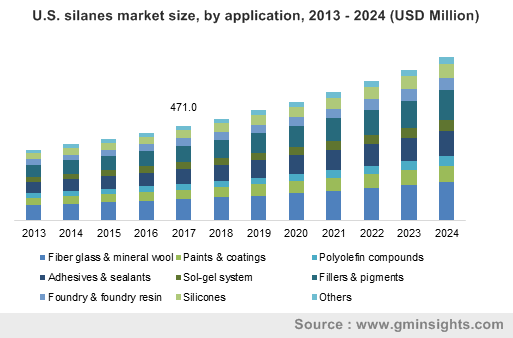 Such properties are desirable not only in the construction industry but also in automotive, paints and coatings, packaging etc. which has provided silanes industry with a wide expansion scope. Moreover, silanes are used as a precursor to elemental silicon which in turn has found widespread application in the electronics industry as the chief element in semiconductors. The myriad applications of silane in industries that are rapidly expanding have helped propel the silanes market, which is expected to surpass $3.9 billion by 2024 in terms of valuation.
According to a report compiled to predict the dominating trend for global construction by 2030, it was noted that U.S., China and India would be the leading countries that world impart a major boost to the global construction industry. It is anticipated that by 2030 the global construction output will grow almost by 85% and generate almost $15.5 trillion in terms of revenue with the three leading countries accounting for 57% of the total growth. The U.S. construction market is expected to expand faster than the China construction market with an annual growth rate of 5% and the former will overtake the latter within the next 15 years.
Get a Sample Copy of this Report @ https://www.gminsights.com/request-sample/detail/1266
Meanwhile construction rates in India will eventually overtake that of Japan and by 2021 become the third largest construction market in the world. In fact, the Indian construction market is anticipated to grow almost twice as fast as China with the urban Indian population estimated to reach 165 million by 2030, Delhi becoming the world's second largest city with 10.4 million people. By 2030, Indonesian construction industry is also expected to overtake that of Japan and in Latin America, Mexico will overtake Brazil.
With such positive growth statistics, predictable that silanes market will witness significant expansion over 2018-2024. Silane is extensively used in the promotion of fiberglass and mineral wool adhesion, materials that are widely used in the construction industry. Mineral wool is used to promote acoustic insulation in the residential and commercial buildings as well as for thermal insulation which helps in energy conservation. Therefore, the silane market is growing with the heavy demand created in the construction industry.
Speaking of energy conservation and increasing energy efficiency in buildings, various government initiatives have been launched that ensure that builders adhere to the strict rules of constructing buildings that are help in the conservation of energy and bringing down the carbon footprint of buildings. For instance, the Indian Ministry of Power recently launched the ECO Niwas Samhita that is essentially a code for energy conservation in construction of residential buildings. The move has been undertaken keeping in mind the significantly expanding building sector and the fact that in the coming 10 to 15 years, residential buildings will create the highest demand for energy. With the code being implemented with an intension of saving up to 125 billion units of electricity per annum by 2030, it is imperative that materials like silane will be used extensively to achieve such energy efficient construction ends, clearly adding a major boost to the silanes industry.
Silane also finds application in the manufacturing of solar cells and considering the booming solar energy industry in North America and Europe, it is anticipated that the silane market will register major growth trends through the deployment of increased solar power application in the two regions. Notably, the global solar photovoltaic capacity, which was 5 GW in 2005, has increased to 306.5 GW in 2016 with Germany alone having installed 41.3 GW of solar PV. In 2016, the solar PV market in the U.S. has been estimated to have worth $4.7 billion with solar technologies being heavily funded and the Solar Investment Tax Credit adding to the incentives of investing in solar power expansion.
With solar power being one of the most intensively used form of renewable energy, silanes market will garner momentum on account of the product being a constituent of solar PV and amass significant growth in terms of revenue over 2018-2024.
Author Name : Paroma Bhattacharya
The global epoxidized soybean oil (ESBO) market, in the years to come, is estimated to register significant growth prospects, attributed to the product's vast end user landscape. Epoxidized soybean oil is commonly used as a plasticizer and heat stabilizer in several food contact materials, particularly in vinyl chloride or PVC films and gaskets. Currently, the product's immense popularity can be primarily credited to the enforcement of stringent regulations against the use of phthalate stabilizers.
U.S. Epoxidized Soybean Oil Market Size, By End-Use, 2017 & 2024, (Kilo Tons)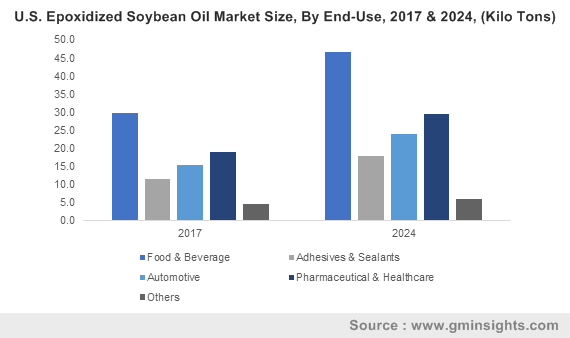 Speaking of which, phthalates are a group of synthetic chemicals that are extensively used in several consumer products that include medical devices, building materials, packaging and children's toys and childcare products made from polyvinyl chloride (PVC). Lately, the chemical has been identified as a developmental and reproductive toxicant. Moreover, the US EPA classified DEHP and BBP as possible human carcinogens respectively. Epoxidized soya bean oil serves as the perfect alternative against phthalates in order to build plasticizers and heat stabilizers, thereby propelling ESBO market size.
The rapid emergence of biocompatible lubricants due to stringent regulations applicable to mineral-oil-based lubricants and their non-biodegradable toxic wastes may also impact the epoxidized soybean market positively. Before hitting the market, vegetable lubricants made from vegetable oil are required to overcome some poor performance characteristics like thermal and oxidative instabilities. This helps demonstrate the improved performance of epoxidized soybean oil in certain high-temperature lubricant applications.
Get a Sample Copy of this Report:@ https://www.gminsights.com/request-sample/detail/1723
The problems associated with vegetable oils like poor oxidization and low-temperature properties can be enhanced by attributing functional groups at the sites of unsaturation occurred due to chemical modifications. In several countries, about 40 percent of a lubricant can be lost to the environment and with rising petrol prices, development of new industrial products from soybean seem economically feasible. Although soybean oil shows superior lubricity, vegetable-oil-based lubricants possess a weaker oxidative stability and flow under low temperatures but by attaching some functional groups at the site of unsaturation these problems can be resolved. The fact that vegetable-oil properties can be improved for lubrication through functionalization methods will drive the epoxidized soybean oil market in the years to come, as they are deployed as industrial lubricants.
The epoxidized soybean oil market may witness significant growth in Europe, driven by highly developed countries such as France and Germany, that boast of an expanding regional food and beverage industry. Incidentally, in 2017 the Committee for Social-Economic Analysis backed a proposal by the European Chemicals Agency and Denmark to limit the use of four phthalates namely BBP, DEHP, DBP and DIBP in articles comprising plasticized materials. In 2018, The European Environmental Bureau and CHEM Trust sent a letter to EU Member State representatives on the REACH Committee bringing to attention that the restriction excludes the use of phthalates in food contact materials even though maximum exposure to DEHP comes from food.
The restriction of phthalates from FCMs is likely to encourage the use of epoxidized soybean oils for creating gaskets of glass jars and on food and beverage can coatings, that would eventually augment the epoxidized soybean oil market.
The transesterification of epoxidized soybean oil often helps in preparing epoxidized methyl esters Transesterification is achieved within 10 minutes at 50 degree Celsius without losing epoxide function. Epoxidized methyl esters characterize a renewable substrate that is readily turned into fuels, surfactants, additives and other industrial products. Therefore, the transesterification process can increase the availability of epoxidized methyl esters and endorse the development of new bio-based products, impelling the growth of epoxidized soybean oil industry.
The epoxidized soybean oil market is indeed slated to record commendable gains attributed to the product usage as a raw material for various applications including polyol replacements, functional fluids, fuel additives, and agricultural and pharmaceutical molecules. Owing to its high molecular weight, the product can resist volatilization, extraction, and migration and act as a polymeric plasticizer. Driven by its widespread demand credited to its highly beneficial characteristics, the global epoxidized soybean market is anticipated to exceed $650 million by the year 2024.
Author Name : Krithika Krishnan
The robustly increasing demand for automobiles across the globe has been favorably influencing automotive collision repair market, owing to the surging need to repair vehicles after accidents and other mishaps, that lead to severe damage on the vehicle body. Taking into account the escalating requirement of vehicle repair and maintenance, most of the OEM's have been making investments in paint shops and vehicle body centers, not to mention, even standard collision certification programs for local body shops. For instance, the Germany based automotive behemoth Mercedes Benz has recently opened a vehicle body and paint center in India in order to improve its after-sales outreach.
U.S. Automotive Collision Repair Market, By End Use, 2017 & 2024, (USD Billion)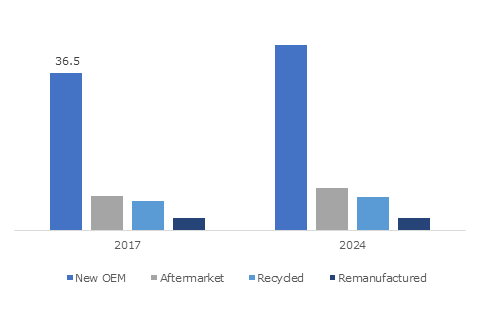 Facilities such as the aforementioned are technically specialized for maintenance and accidental repairs, which further help retain consumer faith in brands. The unprecedented involvement of automotive giants in the development of service offerings to expand their consumer pool is thus likely to augment automotive collision repair industry share.
In order to provide efficient repairing services to customers, automakers have implemented standardized certification programs for independent repair shops and dealerships. For instance, General Motors, one of the most prominent automotive behemoths, has recently announced that it intends to introduce a collision certification program for its dealerships and independent repair shops by 2018. This move was brought about by a plethora of factors, one of them being the surging use of lightweight materials for vehicles incorporated with electronic safety equipment leading to an increasing need to calibrate the vehicle body after accidents. Thus, in order to provide effective repair, GM has introduced a scanning tool to identify the defects in the vehicle's safety systems and powertrain.
Get a Sample Copy of this Report @ https://www.gminsights.com/request-sample/detail/108
Eventually, initiatives similar to those of GM are expected to increase automotive collision repair market share from the aftermarket. According to estimates in fact, automotive collision repair industry size from aftermarket is predicted to register the a commendable CAGR among any of the end-users of the market.
Considering the increasing number of independent repair shops, automotive collision repair market behemoths are focusing on manufacturing innovative products to generate more revenue. Recently, in the 2017 SEMA show, the automotive aftermarket division of 3M launched a rather unique vehicle painting process – a spray cup system that provides improved efficiency, advanced performance, and cleanliness while reworking. With this product, 3M further validates the fact that the rising innovation in paints and coatings technology is likely to boost automotive collision repair industry trends in the years ahead. For the record, automotive collision repair industry size from paints and coatings registered a CAGR of 2.5% over 2018-2024.
Speaking along similar lines, other companies partaking in automotive collision repair industry share such as Honeywell International Inc., Faurecia, Bosch, Continental Corporation, ZF Friedrichshafen AG, Denso Corporation, and Federal-Mogul Holdings Corporation have also been bringing about appreciative changes in their product range. In the long run, the combined efforts of these giants is likely to bring about a major change in the dynamics of automotive collision repair industry.
It is prudent to note than the growing trends of digitization and automation have also brought about a transformation in automotive collision repair market outlook. In order to sustain their presence across this business sphere, independent vehicle reworks have been inking partnerships with digital marketing services. For instance, a collision repair and auto body paint provider, City Auto Body has recently declared a partnership with a small business marketing and search engine optimization firm, BizIQ to strengthen its reputation across real-time and digital channels.
In order to adhere to the demands of customization and simplicity required in vehicle refurbishment, automotive collision repair market giants have been increasingly adopting high-end technological advancements. Recently, one of the leading giants in paints and coatings industry, AkzoNobel, has developed a real-time digital tool for repairing automotive bodies, which can save considerable time and money. The increasing number of innovations in repairing facilities is thus likely to stimulate automotive collision repair industry size, which will generate a revenue of more than USD 275 billion by the end of 2024.
Author Name : Saipriya Iyer