Advanced Polymer Composites Market Report
Advanced Polymer Composites Market graph will display an upward swing, driven by its extensive use in the aviation sector subject to exceptional product features such as abrasion resistance and robustness. Polymer composites are used to manufacture aircraft components, owing to which they find applications in commercial and passenger aviation sectors. They are also used to manufacture wind blades that are utilized in wind energy production. In fact, overall power generating capacity of wind blades, which was 3,00,000 MW, is likely to hit 7,50,000 MW by 2024. The escalating usage of composites to manufacture wind blades and the mounting wind energy requirement will further boost the growth of advanced polymer composites market. According to Global Market Insights, Inc.," Advanced Polymer Composites Industry revenue will probably surpass USD  16 billion by 2024, growing at a CAGR of 7% over 2016-2024."
Taking into consideration the regional trends, North America advanced polymer composites industry, which collected a revenue of USD 3 billion in 2015, is anticipated to positively influence the business space. Massive demand for automobiles plus the growing preference for power generation via wind blades will drive the industry growth. Flourishing aerospace sector in the U.S. will contribute massively towards the regional revenue.
U.S. Advanced Polymer Composites Market Size, By Application, 2013 – 2024 (USD Million)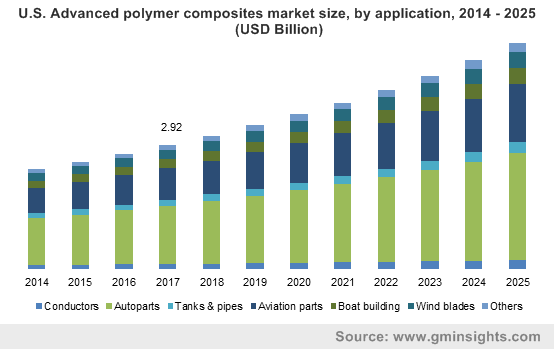 Asia Pacific advanced polymer composites market share is predicted to expand strikingly, during the period of 2016 to 2024. Rise in the aircraft sales and growing number of construction activities are expected to raise the industry revenue. India and China are likely to make hefty contributions towards the regional share.
Get a Sample Copy of this Report @ https://www.gminsights.com/request-sample/detail/1175
Advanced polymer composites also find extensive applications in boat building, auto parts, tanks & pipes, conductors, and aviation parts. Advanced polymer composites industry share from the auto parts sector is slated to grow at an annual rate of 7% over 2016-2024. Increase in automobile production and subsequent sales will push the growth.
Advanced polymer composites market size in aviation parts sector, which accumulated a revenue of USD 3.5 billion in 2015, will witness a significant surge in the years ahead. High product preference across the aerospace industry will profit the business.
Fibers and resins are the major industry products. Fiber based advanced polymer composites industry, which dominated the product landscape in 2015, is expected to grow substantially over the years to come. The growth can be attributed to its extensive application across the marine, aerospace and automotive sectors. Resins based advanced polymer composites market, which was estimated at USD 3 billion in 2015, will observe a notable growth in future. These products find wide applications in boat building, metal bonding, aviation parts, and carbon & electrical materials.
Market participants will try to establish their global presence through hefty R& D investments, new product launches, and strategic alliances. Cytec Industries Incorporated, Kemrock Industries and Exports Limited, BASF SE, SGL Carbon SE, Arkema S.A, 3B-Fibreglass sprl, Toray Industries Incorporation, Koninklijke Ten Cate NV, Mitsubishi Rayon Company Limited, Owens Corning Company, Cristex Limited, Solvay S.A, TPI Composites Incorporation, and Hexcel Corporation are the major players of advanced polymer composites industry.
Author Name :Dhananjay Punekar