Aerospace & Defense
Rapid industrialization and technology developments transforming the global manufacturing sector have enabled smart factory market to emerge as a highly lucrative investment avenue over the forthcoming years. Several advancements in the field of automation, communications and computing power have turned intelligent manufacturing facilities into a feasible reality. Today, several manufacturers are looking to bring more efficiencies in production process while gaining the ability to supply a wider range of products to consumers, driving the expansion of smart factory industry.
U.S. smart factory market, by application, 2018 & 2025 (USD Million)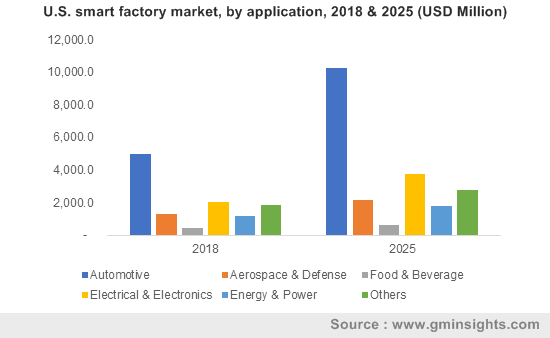 Manufacturers require their production lines and operational processes to be integrated as well as flexible to adapt and enable quick configuration changes to lessen lead times. This helps them to retain a competitive edge in a constantly evolving segment. Smart factories have the ability to address these needs without compromising on quality and safety, positioning the industry in a favorable spot to experience business growth. Not only is building smarter facilities by investing in Internet of Things (IoT) is a massive undertaking, it is also a key component in promoting efficient scalability in the era of Industry 4.0.
Factories that leverage smart manufacturing technology offer a number of benefits to manufacturers including increased productivity, enhanced efficiency and long-term cost savings. Growing awareness of modern manufacturing technologies owing to these advantages will reinforce global smart factory market share. Although high initial investment in smart factories are keeping small to medium sized enterprises at bay, expected rise in affordability of the technologies in the next few years would open up the landscape for these businesses, fueling the adoption of solutions offered by smart factory industry players.
Get a Sample Copy of this Report:@ https://www.gminsights.com/request-sample/detail/1436
The automotive industry is expected to emerge as a prominent growth avenue for the smart factory market over the forecast timeframe. In 2016, multinational automobile company Audi unveiled its Smart Factory 2035 vision in which it envisioned a facility without any assembly lines, instead deploying intelligent, flexible and modern production stations.
Last year, the company had already implemented the proposed vision to manufacture electric motors, wherein vehicle assembly takes place at a production station with automobile components being transported between stations by driverless systems that are controlled by smart IT control systems.
Through this production method, Audi estimates that the factory can produce approximately 400 electric drives with just 100 employees. Audi's initiative offers a proof of the benefits in establishing a smart factory. Several key industry players are expected to follow suit and make investments in their own visions regarding advanced manufacturing plants, significantly boosting smart factory market outlook.
The global food & beverage segment will certainly emerge as a major revenue contributor for smart factory industry due to consistent demand for packaged and frozen food products. A large global population base, that is estimated to hit 9 billion by 2050, tightening regulatory demands around food safety & quality and environmental concerns, as the food & beverage sector consumes 5% of the world's energy, are putting immense pressure on profit margins of producers.
Food and beverage product manufacturers are increasingly looking towards new ways to build flexibility into the inventory management and production process. Adoption of data integration, automation, analytics, energy sourcing and simulation could help companies in transforming their existing factories into intelligent manufacturing facilities to better handle these challenges without severely impacting company margins.
In terms of the regional spectrum, Europe is expected to retain its position as a lucrative market player over the projected period. In fact, Europe accounted for over $25 billion of the global smart factory market share in 2018. The region is home to a number of global automotive firms and according to the European Automobile Manufacturers Association, Europe automobile sector brings in over €90.3 billion in the form of trade surplus. Moreover, the industry is the biggest private investor for R&D in Europe, investing approximately €54 billion annually.
With growing adoption of automation technologies in the food & beverage and automotive sectors, smart factories will undoubtedly become a common trend among large and medium enterprises in the imminent future. Global Market Insights, Inc., has estimated that global smart factory market share will exceed $155 billion in annual remunerations by 2025.
Author Name : Akshay Kedari
As organizations embark on their digital transformation journey, the global digital twin market size is showing a consistent increase in consort with advancements in the Internet of Things, cloud, machine learning, artificial intelligence, and Industry 4.0 technologies. Digital twin market trends are primarily driven by the technology's ability to dramatically enhance product performance while mitigating the risk and cost of new product introduction. Additionally, this newfangled technology can boost product realization time by eliminating some of the most time-consuming aspects of real-world product development.
Germany Digital Twin Market Revenue, By Application, 2018 & 2025 (USD Million)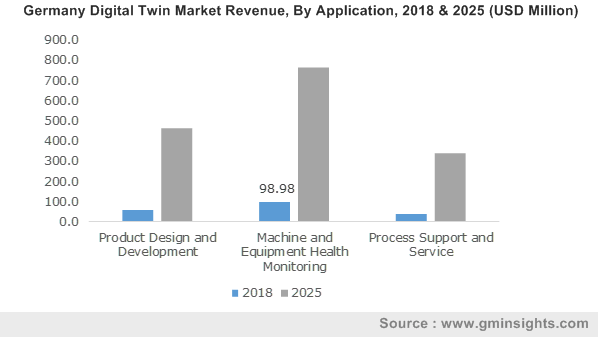 With the rapid proliferation of the Internet of things, a slew of opportunities are knocking the doors of leading players operating in the digital twin market space. Moreover, with digital twins, it is possible that the data which is transferred between blocks can be highly protected and made universally transparent through the blockchain paradigm, thus inspiring global digital transformation. Speaking of the future outlook of this industry, digital twin market statistics by Global Market Insights, Inc.. indicate that the industry valuation is projected to exceed USD 20 billion by 2025.
The fields of application for digital twins are diverse and not confined to a specific domain or industry. Having said that, digital twin market analysis reports claim that automotive, manufacturing, energy & utility, healthcare, aerospace and defense, infrastructure, retail, and consumer goods are the leading end-users of this unconventional technology.
A brief overview of the latest digital twin market trends:
In a bid to create solutions for a better future, the healthcare market has lately become a leading contributor to the digital twin industry revenue. The increasing use of machine learning in medicine and augmented and virtual reality in healthcare market for streamlining hospital processes & operations, augmenting customer experience, and generating real-time analytics, has fueled the demand for digital twins in the healthcare domain. For instance, efficient data entry and location of assets can speed up the patient admittance procedure and save significant waiting time.
With the advent of Internet of things, there has been a rapid increase in smart construction and connected spaces. Digital twins are these days deployed in connected buildings to stimulate building settings based on historical data to detect changes in the design of the building, as well as locate rooms that are wasting power or are rarely used. As smart construction becomes more popular across global economies with growing disposable incomes, the digital twin industry size is slated to rise significantly.
Get a Sample Copy of this Report:@ https://www.gminsights.com/request-sample/detail/2196
3 Biggest business challenges digital twin can overcome:
Accurate inventory to avoid overstocking:
The global inventory management software market space has lately been brainstorming the possibilities of digital twin to reduce cost and revenue leakages, for gargantuan warehouses and supermarkets, where managing optimum inventory level is the biggest challenge. Digital twin market analysis suggests that the availability of real-time consumption data can lead to a quicker replenishment of supplies and avert over-inventorying, which can cause product spoilage. Hence, the fast-paced adoption of digital twin in the inventory market offers lucrative growth opportunities for the digital twin industry.
Addressing the shortcomings of aerospace fleet management:
Some of the biggest challenges in fleet management in the aerospace industry are poor data integrity, slow turnaround time, aging systems, high maintenance costs, and antiquated manual processes. The utilization of digital twin is poised to bring about a paradigm shift in the traditional approaches, by filling the gap amid the physical and the digital worlds. This innovative technology can offer predictive and prescriptive analytics which can reduce unplanned downtime for engines and cut maintenance, repair & overhaul costs, thereby enhancing fleet performance.
Amplifying testing & product development capabilities:
Digital twins can potentially help industries in reducing product development and testing expenses. Companies depending heavily on destructive testing for developing products can use the virtual replica of the real-world scenario for significant portion of the product testing. Say for example, automotive industry can employ digital twin for crash testing prototype vehicles. Likewise, enterprises creating giant models and prototypes for feasibility analysis can save money with digital twins during product development. Digital twin market is slated to advance at a rapid pace in the coming years, given the above backdrop.
Currently, the term digital twin looks like a future concept surrounded by a lot of marketing hype from some top-notch technology companies like Amazon, Microsoft, IBM, and the like. But, considering the unparalleled growth of the digital twin market share in recent years, it can be alleged that this disruptive technology will ensue a broad and deep impact on a plethora of industries in 2019 and beyond.
Author Name : Nikita Chaurasia
The global industrial communication market has thrived successfully in the recent decade as growing adoption of these components in Industry 4.0 has effectively helped increased productivity in major industries. Labor reduction, waste reduction, repeatability, enhanced quality control, and integration with existing business systems have given companies an added advantage by lowering long-term costs, which could indirectly increase product output and revenue.
U.S. Industrial Communication Market Revenue, By Component, 2018 & 2025, (USD Million)

An industrial communication network is the backbone for any automation system architecture as it can offer powerful means of data exchange, controllability and flexibility to connect to various devices. The use of digital communication networks in industries can also lead to improved end-to-end digital signal accuracy and integrity.
Communication networks like LAN (Local Area Network) or WAN (Wide Area Network) can communicate large amounts of data via limited number of channels. Whereas industrial networking enable implementing various communication protocols between field devices, digital controllers and several automation related software tools and external systems. Therefore modern industries have demonstrated increased adoption of industrial communication networks over traditional LAN and WAN. This has led to industrial communication market size depicting a substantial increase lately.
For instance, according to renowned automation conglomerate ABB, and one of the notable players in industrial communication market, the firm's revenue increased by 5% to $7,395 million in 2018. This has been credited to the strong growth in robotics & motion, robust performance achieved from electrification products and a steady result owing to industrial automation.
Some of the trends that industrial communication market is being defined by are mentioned below:
Long-term application of industrial communication in the industrial automation sector
Growing demand for increased data processing speed will foster industrial communication market size in the automation sector. As industrial operations are becoming more complex and variable, the market has registered immense growth over recent years. Indeed, a greater number of network-based programmable controllers and mechanisms are required within modern industries to attain faster decisions and increased productivity and efficiency.
With network-based automation, companies can also attain increased saving in work force, energy, raw material, better control on product quality and enhanced plant availability and operational safety. In fact, the technology can help in raising the levels of process control & continuity with improved efficiency, eventually bringing potential production figures to the nominal plant capacity by cutting downtime, corrective maintenance and the lack of raw material supply to minimum.
With efficient real-time communication system like PROFIBUS-DP or PA, Fieldbus and more, distributed peripherals such as Input/output (I/O) modules, transducers, drives, valves and operational panels can also communicate with automation systems more accurately.
Thus, with the advent of the automated systems that are based on advanced industrial communication and technology, the automation sector will attain enhanced benefits in terms of maintenance, and increase plant productivity, further augmenting industrial communication market size.
Get a Sample Copy of this Report:@ https://www.gminsights.com/request-sample/detail/3367
S. to emerge as a pivotal revenue pocket for industrial communication market in the forthcoming years
Being a major producer of automation equipment, U.S. is anticipated to drive massive growth in industrial communication market. Citing International Trade Association (ITA) reports, the country is the leading producer of hardware components that are used in automated systems as well as a major supplier to manufacturing or production industries across the globe.
In fact, in 2015, U.S. exported nearly $10.5 billion worth of automation equipment to foreign markets, claims ITA. Sources suggest that supportive government policies and the presence of global automation players like General Electric, Honeywell, Rockwell, Emerson Electric and more will pave the way for industrialization in the region. Additionally, the increasing adoption of Industry 4.0 will boost the demand for the industrial communication technologies in the coming years, successfully proliferating U.S. industrial communication industry size.
Wireless communication technologies to enhance industrial operations
Advancements in wireless communication along with growing adoption of advanced tech-based devices will drive the industrial communication industry. The key advantage of wireless systems is that they can be installed in remote locations in an efficient and cost-effective manner. As battery-powered transmitters don't require wired infrastructure or power supply, they can be installed across areas that are far away from power wiring and wired fieldbus.
They can also be installed in sites where setting up power and cabling systems would be dangerous or too expensive. This flexibility allows use of wireless in both Greenfield projects and ongoing Brownfield projects.
Owing to the low-power nature of Wireless HART devices, users can also operate such equipment for several years without replacing the battery. Moreover, engineering, procurement, and construction contractors and plant owners can increasingly shift to wireless communication technology as it is beneficial in terms of reducing physical fixed infrastructure, managing schedule risk and cost escalation, and reducing space requirements and weight.
According to reports, adopting wireless solutions have reduced commissioning time by 50% for some contractors. The technology further helped in streamlining the design and engineering process, maintaining project schedule and improving user's ability to manage change on their project. The prominence of this technology is rather overt from the estimate that wireless charging market size is slated to cross $14 billion by 2024.
Moreover, with industry-leading process plants installing wireless infrastructure, industrial communication market size from the wireless communication protocol is estimated to grow at a CAGR of over 22% over 2019-2025.
In a nutshell, it would not be incorrect to quote that industrial communication industry is likely to come up as a highly profitable vertical of the overall electronics cosmos. As per estimates, global industrial communication market size is anticipated to exceed USD 160 billion by 2025.
Author Name :Mateen Dalal
The revenue graph of operator training simulator market is projected to foresee exponential growth owing to the continuous improvement in these products and rising emphasis on recruiting skilled workforce. Skill development helps to enhance productivity, safety, profitability, controllability, and stability of the enterprise operations. The increasing focus to reduce injuries and fatalities to maintain safe operations across various business verticals is expected to aid the market growth.
Brazil operator training simulator market, by application, 2018 & 2025 (USD Million)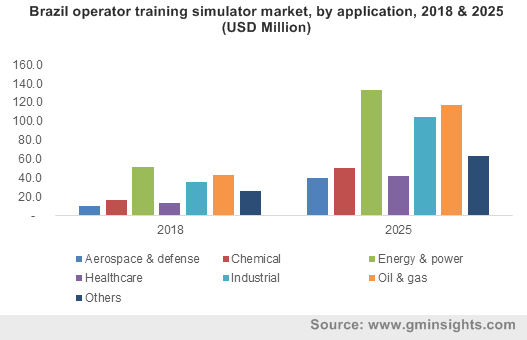 Industry professionals are training their operators to tackle life-threatening situations which has led to increased emphasis on safety of workers, optimization and efficiency of simulators – a factor that is likely to impel the operator training simulator market share in the times to come.
Operator training simulators improve decision making of the operators at critical times while increasing familiarity with the operations. Pilots are required to develop skills like decisiveness, quick thinking, confidence and situational awareness which can be enhanced by simulator trainings. Operator training simulators strengthen confidence to tackle the unfavorable situations. To underscore the significance of simulators, the recent instance of fatal aircraft crash of Ethiopian Airlines can be considered. The crash killed all 157 on board just five months after a similar crash on a Lion Air flight which killed all 189 passengers and crew.
After the accident, the Allied Pilot Association has demanded training on simulators which includes scenarios like those experienced by the pilots of Ethiopian Airlines and Lion Air and additional computer training for 737 MAX to cement the lessons of failure modes in the minds of pilots. Apparently, the deployment of advanced simulators would be crucial in building confidence among pilots, essentially boosting the growth of operator training simulator market.
Get a Sample Copy of this Report:@ https://www.gminsights.com/request-sample/detail/1285
Apart from aviation industry, the railway sector has also emerged as a major end-user to deploy operator training simulator for realistic and robust training to avoid fatalities. For instance, in the year 2018, Indian railways had announced to invest INR 350 crore in operator training simulators to train 1.5 lakh loco pilots and assistant loco pilots to bridge the gap between theoretical and practical learning. The investment is meant to make drivers learn how to navigate rail tracks, curves, signals, bridges and any other situation as if they are driving a real train.
Over 12,000 diesel and electric locomotives daily run on a 66,000-km network across the country. There are about 86,000 train drivers and the simulator training with real feel experiences will assist these drivers to run locomotives efficiently. Apparently, the Indian government's program is a testimony to the increasing prominence of governmental support to high-end simulator training across various geographies – a vital factor that will enhance the growth prospects of the operator training simulator industry.
Notably, defense academies have also been proactive in adopting operator training simulators for public safety and enhancing the overall skill-set of cops. As the police department is responsible for the safety of citizens and maintenance of peace across any country, cops face highly stressful situations on a regular basis which requires high level of patience and panic control. In this regard, simulator training has proved to be of immense help and numerous police academies are deploying these simulators on their premises.
For instance, the New Britain Police Academy has recently adopted simulator trainings to train police to manage stressful responses and make decisions under pressure. The Milo Simulator – chosen by the academy – is an advanced simulator in the state which combines driving an emergency vehicle in highly unfavorable situations such as armed encounters. The human reaction under pressure is unpredictable but this training simulator can help police officers to calmly handle stressful situations.
Operator training simulators have found usage in aviation, railways, police trainings and have applications in several other industries, including healthcare, energy, and chemicals. Operator training simulators play a vital role in training operators in manufacturing and industrial plants. The simulators enhance familiarity with the operations by creating a visual and real-time experience to cement the learnings by experiencing high-risk situations.
Retiring experienced workforce and the increasing demand for quality training of young staff will also contribute in proliferating the operator training simulator industry trends. According to a research report by Global Market Insights, Inc., the operator training simulator market is expected to surpass a remuneration portfolio of USD 20 billion by 2025.
Author Name : Anchal Solanki
The rising demand for enhanced storage memory in consumer electronics for extensive data management is likely to drive semiconductor memory market growth in the years to come. Lately, the demand for advanced semiconductor memory has travelled beyond the realm of the traditional personal computer. The requirement of electronic systems including digital consumer electronics, mobile communications, networking, automotive electronics, and industrial/medical electronics has seemingly surged in recent years, subsequently increasing the need for semiconductors.
China semiconductor memory market, by type, 2017 & 2024 (USD Million)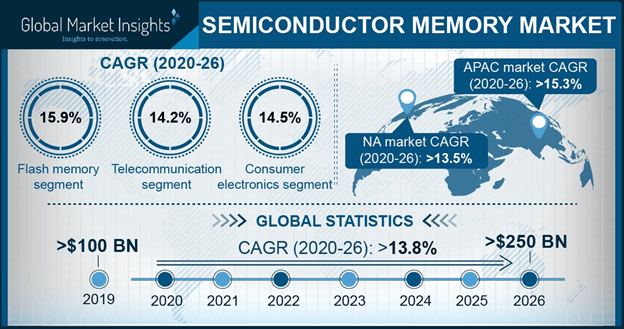 As a matter of fact, all digital consumer electronic products incorporate highly advanced semiconductor memory devices to enable and enhance system storage and performance. Semiconductors are consequently growing in importance as they offer industries with new manufacturing opportunities to develop highly efficient products for customers. The need for high-speed interconnects continues to accelerate and is driving the architecture of next-gen memory technologies. As a result, memory devices and architectures are changing rapidly to satisfy the demand for higher performance electronics, further driving the semiconductor memory market growth.
Android smartphones to offer remarkable growth opportunities to the semiconductor memory market players
Smartphones have reportedly become the preferred computing device for a variety of applications. Reports suggest that over 70% of the world's population is anticipated to use smartphones by 2020, while over a billion Android devices will be used by the same year. For several Android smartphones, varying the flash storage drastically improves the device's overall performance, typically between 100% to 300% across applications.
Storage performance on mobile devices will enhance the end-user experience in the years to come, as its impact is expected to grow owing to emerging wireless technologies that offer much higher network throughput as well as the advent of faster networks and I/O interconnects. This considerably validates the fact that the rising number of smartphones is expected to help drive the remuneration potential of the semiconductor memory market.
Get a Sample Copy of this Report @ https://www.gminsights.com/request-sample/detail/2548
Will India emerge to be a potential investment ground for stakeholder over 2018-2024?
The India semiconductor memory market is anticipated to procure substantial proceeds by the end of the projected timeframe owing to the rising proportion of smartphone users and emerging consumer electronic companies. The region has a steady growth infrastructure and develops emerging embedded technology that offers both hardware and firmware solutions.
The country also depicts considerable growth prospects for the automotive, agriculture, pharmaceutical, IT, construction and defense sectors. The growing adoption of IoT in these sectors will further enhance the demand for semiconductor memory, thereby impelling the regional industry trends. Emerging smartphone applications and the escalating demand for storage memory will also foster industries to develop enhanced memory solutions, expediting the India semiconductor memory industry share.
Some of the key players in the semiconductor memory market include Samsung Electronics, Nvidia, On Semiconductor, Micron Technology, Inc., etc. Manufacturers are focused on product development by investing in R&D activities & engineering capabilities to cater to the needs of mobile industry customers. To stabilize the component pricing, companies are reportedly developing strategies to maintain the average prices of ROM and RAM products. Manufacturers in the semiconductor memory market are also likely to face challenges in the future owing to the emergence of replacements such as MRAM, ReRAM and phase change memory.
As semiconductor memory technology rapidly evolves to meet the ever-growing needs of the electronics industry, it is likely to experience high demand from end-use industries including electronics and automotive. Increased demand and the rapid evolution of smartphones and PCs across the globe will continue to impact the product requirement, on the grounds of which manufacturers will constantly seek ways to expand their production facilities and know-how. This could considerably impact the remuneration portfolio of the overall semiconductor memory market, slated to cross a mammoth USD 730 billion by 2024.
Author Name : Mateen Dalal
One of the most swiftly progressing verticals of the global smart technologies space, light field market has come a long way since its inception owing to pathbreaking inventions to capture the 3D and 4D light fields. The gradually rising popularity of light field cameras across several business verticals such as industrial, healthcare, retail, entertainment and media, and automotive has certainly propelled the product demand in the recent years. As light field cameras are equipped with thousands of micro lenses between the main lens and the sensor, it lets the user shoot first and focus later which ensures an improved image resolution. Numerous companies appear proactive in adopting light field technology and are developing high-grade products – a factor that would widen the horizon of light field industry in the years ahead.
Japan light field market, by application, 2017 & 2024 (USD Million)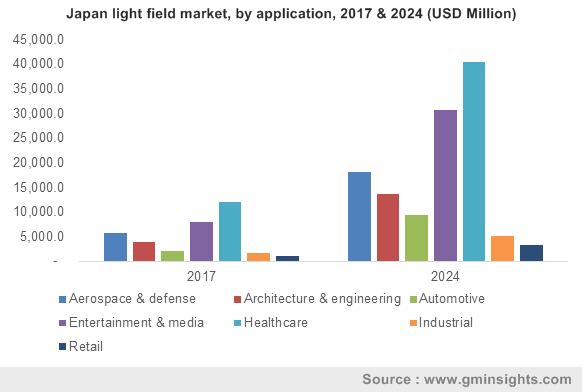 Adoption of light field technology in the entertainment and media sector is altering the contours of the overall industry
One of the major factors that has provided a significant impetus to the light field industry progression is the rapidly expanding entertainment and media application of this technology. In fact, as per a research report prepared by Global Market Insights, Inc., the entertainment and media application apportioned more than 25 percent of the total revenue share of the industry in 2017 – impressive statistics that signify the extensive future growth of this application. This technology is being increasingly incorporated in numerous entertainment medias including amusement parks, theaters, gaming, museums, and apps, predominantly through virtual reality (VR) headsets. Apparently, the light field technology has seemingly demonstrated a new level of how convincing VR experiences can be.
A recent instance lending credibility to the claims of using light field technology effectively in VR is of Google, who has been experimenting with this technology over the last few years. In 2018, the search engine giant released a free application, named 'Welcome to Light Fields', mainly to exhibit the potential of this technology. Notably, the application has been made available on Steam VR for Windows, Oculus Rift, and HTC Vive VR headsets.
Get a Sample Copy of this Report:@ https://www.gminsights.com/request-sample/detail/2664
Speaking along similar lines, it has also been recently reported that Google acquired Silicon Valley-based imaging startup Lytro, which is best known for developing the world's first light field camera and has numerous patents to its name in VR-related imaging technology. With this acquisition, it is being speculated that the company might be looking to strengthen either its VR gaming initiatives or its camera offering in Pixel phones, which is quite unsurprising as prominent players operating in gaming sector are improving customer experience by integrating VR into games. Considering the impact of the top of the line acquisitions and innovative products being unveiled by major tech magnates like Google, the entertainment and media application of the light field industry is undoubtedly set to escalate at an exceptional pace in the ensuing years.
Latin America to emerge as a major revenue pocket for light field industry
Anticipated to register an annual growth rate of more than 16 percent over the forecast timeframe, Latin America has gradually emerged as a lucrative investment avenue for potential stakeholders. The rapidly expanding retail sector in Latin American nations has compelled the major retailers to adopt and leverage new technologies to gain competitive advantage. In this regard, it would be prudent to mention that the proliferation of AR and VR technologies has been assisting the retail sector to improve customer experience and brand engagement ratio.
The brick-and-mortar retail outlets are launching interactive experience devices such as mixed reality headsets to enhance the shopping experience, essentially fueling the growth potential of Latin America light field industry. In addition to the retail sector, the light field technology is being increasingly utilized across other business verticals such as automotive and hospitality, which would, in turn, strengthen the product demand in the times to come.
With light field technology being increasingly used in imaging solution processes along the likes of layout & animation, image construction, 3D scanning, 3D rendering, and 3D mapping and modeling, it remains to be seen how this technology impacts the future of mixed-reality products. However, it is quite imperative to mention that the growth trajectory of light field market appears highly-promising owing to the technology's potential to drastically change the product portfolio of several business verticals. For the record, the commercialization scale of the global light field industry is slated to surpass USD 1.5 billion by 2024.
Author Name : Saif Ali Bepari
With increasing need for cost-effective production of automobiles and consumer electronics, the electronic manufacturing services (EMS) market has gained enormous momentum over the last twenty years. Consistent rise in the consumption of mobile phones, portable electronics and connected devices overall has helped the growth of several small EMS players to meet the global demand. Vast opportunities in the aerospace, industrial and medical devices segment have also boosted the electronic manufacturing services industry. More recently, the communication and consumer electronics segment have driven EMS providers to pursue key expansion strategies and technological developments.
U.S. EMS market, by application, 2017 & 2024 (USD Billion)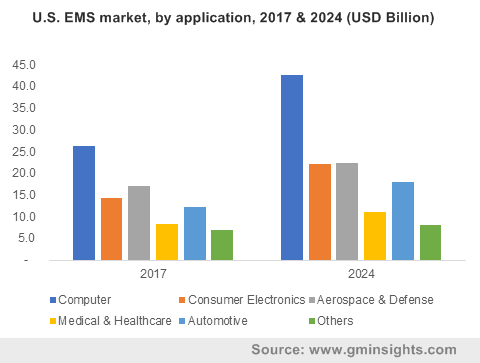 Boasting revenues of more than USD 450 billion in 2017, the global electronic manufacturing services market will eventually witness increased returns from the aforementioned sectors. EMS providers have enhanced manufacturing facilities and expertise, also offering additional services like testing and logistics to help OEMs and major consumer brands achieve better profit margins, lesser time-to-market and flexibility. Labor costs in developing economies, especially in the Asia-Pacific (APAC) region are considerably low, reinforcing the electronic manufacturing services industry expansion in countries like China, India and most South East Asian nations.
With EMS companies taking care of the frugalities involved in product manufacturing, OEMs like Apple, Intel, Dell and Sony are able to concentrate their resources more towards research and development, as well as marketing campaigns. Consequently, the APAC electronic manufacturing services market has grown tremendously owing to continuous introduction of new products by OEMs, particularly smartphones. As mobile technologies are evolving at a rapid pace and becoming cheaper, smartphones are expected to constitute almost 48% of the global consumer electronics segment by the end of 2018, and it is a well established fact that most of these devices are manufactured by EMS providers in Asia.
Get a Sample Copy of this Report:@ https://www.gminsights.com/request-sample/detail/2971
Elaborating further, Taiwanese company Foxconn, which is the world's largest EMS provider, manufactures smartphones for Apple, computer equipment for Dell, Intel, HP and Microsoft, along with electronic devices for Sony, Google and Amazon. The company has set an example in the electronic manufacturing services industry for adopting innovative business models and creating a global presence. It had recorded a 50% growth in earnings during December 2017, mainly driven by the shipment of Apple's flagship smartphone model, iPhone X. Simultaneously the APAC electronic manufacturing services market experienced accelerated growth due to increased production of smartphones launched by Chinese OEMs, such as Xiaomi.
The massive growth potential for consumer electronics in APAC can be surmised from Foxconn's recent announcement according to which it is planning to expand its semi-conductor production operations in China. Demand for these small equipment is rising exponentially and an expansion effort by a major EMS provider indicates the same, signaling growth prospects for upcoming EMS firms who wish to penetrate the segment. Foxconn is also demonstrating the trend among companies in the electronic manufacturing services industry shifting from a single key income source to producing more diverse consumer electronic products.
Almost 50% of Foxconn's revenue comes from Apple, which is a huge dependency on a single entity for a manufacturer of this magnitude. Keeping this in mind, the company earlier this year decided to join forces with camera maker RED Digital Cinema to produce affordable and professional quality film cameras with 8K resolution. It is also in the process of building manufacturing facilities in China and U.S. to make large-screen display panels. It is predicted that globally, nearly 2 million televisions with 8K display would be shipped by 2020 itself, and with a number of EMS players located in the region, the segment will generate additional remunerations for the APAC electronic manufacturing services market.
All in all, with unprecedented growth in the demand for consumer electronics over the next few years, the electronic manufacturing services market will witness tremendous inflow of capital for expanding production capacities. Constant innovations, for instance EMS company New Kinpo Group's AI-powered manufacturing robots and autonomous manufacturing capabilities, will further attract OEMs towards Asian companies. Key players dominating the global EMS market share include Foxconn, Integrated Microelectronics, Inc., Benchmark Electronics, API Technologies Corp., Celestica, Inc., New Kinpo Group, Venture Corporation and Sanmina Corporation.
Author Name :Pankaj Singh

Rapid industrialization and increased demand for electronic components has propelled the automated optical inspection (AOI) system market expansion, with rise in consumption of automotive and consumer electronics. AOI systems have gained immense momentum for fast and accurate inspection of electronics assembly lines to facilitate the production of only the highest quality PCBs and surface-mount devices. Constant innovations in smartphone technologies and automotive electronics has reinforced the need for lowering time and cost of production, necessitating the involvement of the AOI system industry. Estimated to have recorded earnings of more than US$500 million in 2017, the global AOI system market will experience an accelerated growth rate from augmented industrial automation.
U.S. automated optical inspection (AOI) system market, by end-use, 2017 & 2024 (USD Million)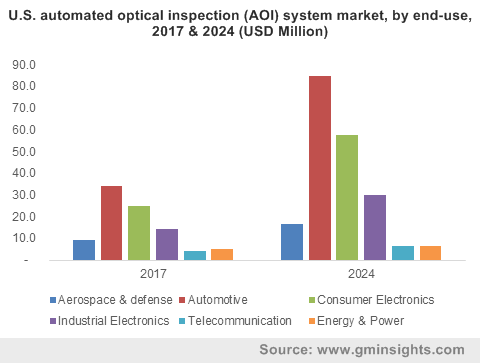 Automation has been a trending process among manufacturers around the world, and more factories are expected to be completely automated in the near future with advancements in communication and robotics. As the field of electronics production get more competitive, achieving the balance between manufacturing speed and quality through automation is considered to be a major factor for success. The AOI system industry is crucial in providing powerful solutions to help manufacturers monitor processes and greatly improve their overall quality. AOI systems can now be integrated with robots, pneumatics and other process components to offer precision quality control.
Increasing focus on consumer protection and the need for reducing the costs involved in 100% inspection process will further bolster the AOI system market. 100% inspection is critical for segments where a human life could be put at risk, for instance medical devices, portable electronics and automobiles. A while back, certain smartphone product launched by Samsung was under scrutiny due to exploding batteries which endangered the users while being charged or operated. It was found out that the leading cause of explosions was improper assembly of batteries, stressing the importance of inspection in automation. Experts believe the company could have avoided this fiasco by adopting quality inspection systems, such as AOI, for inspecting all batteries and not just samples.
Get a Sample Copy of this Report:@ https://www.gminsights.com/request-sample/detail/2969
Speaking further on the significance of the AOI system market, electronic components are becoming smaller in size, making it difficult to perform accurate and fast checks manually. PCBs for different applications require hundreds of parts to be soldiered or mounted on them in a short period of time, needing AOI systems to inspect each and every part, either in pre-manufacturing stages or post-production. Many global industries are adopting fully-automated manufacturing processes for not only PCB production but also cars and consumer electronics. Subsequently, the AOI system industry will witness robust demand over the coming years.
To elaborate, Volkswagen recently announced that it would be construction its electric vehicle manufacturing facility near Shanghai, China, where fully-electric SUVs and other e-vehicles will be made. The company said the new facility will consist mainly of robots, around 1,400 of them, and will be operational by 2020. The expected 300,000 per year capacity of the factory represents extremely high
levels of automation that will be implemented and signifies a key application area for the AOI system market. Government rules and international standards regarding vehicle quality and safety have boosted the demand for advanced AOI systems, as they can match the complexity and speed of automated manufacturing.
Over the years, AOI systems have been optimized to collect data and provide feedback so that the manufacturing process can be improved, and any suitable adjustments are made. When used during the assembly or soldering process, AOI helps to inspect the quality of the product as it is being made, which considerably lowers the need for post-production inspections. The AOI system industry can benefit from the tremendous development in optical sensors and miniaturization of inspection cameras. The enormous opportunities for the implementation of AOI can be surmised from industry estimates which peg the global process automation segment to be valued at nearly USD 50.3 billion by 2020.
As more companies look towards AOI for ensuring a fast, reliable and cost-efficient quality control in manufacturing and process automation, the AOI system market is anticipated to register a 12% CAGR between 2018 and 2024. Viscom AG, Cyberoptics Corporation, AOI Systems, Nordson, ASC International, Omron Corporation and Kurtz Ersa, are some key players outlining the AOI industry dynamics. Compliance with evolving engineering standards and demand for higher quality of products will drive innovations in AOI technology.
Author Name :Pankaj Singh