Aerospace & Defense
The rising demand for enhanced storage memory in consumer electronics for extensive data management is likely to drive semiconductor memory market growth in the years to come. Lately, the demand for advanced semiconductor memory has travelled beyond the realm of the traditional personal computer. The requirement of electronic systems including digital consumer electronics, mobile communications, networking, automotive electronics, and industrial/medical electronics has seemingly surged in recent years, subsequently increasing the need for semiconductors.
China semiconductor memory market, by type, 2017 & 2024 (USD Million)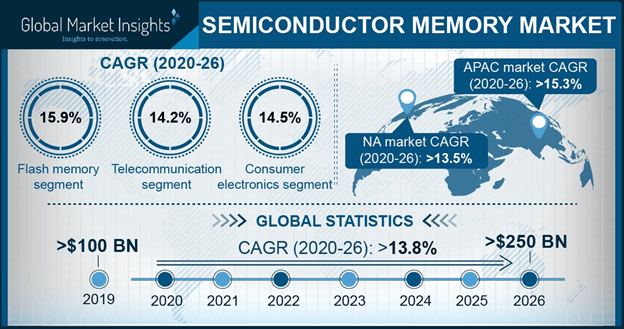 As a matter of fact, all digital consumer electronic products incorporate highly advanced semiconductor memory devices to enable and enhance system storage and performance. Semiconductors are consequently growing in importance as they offer industries with new manufacturing opportunities to develop highly efficient products for customers. The need for high-speed interconnects continues to accelerate and is driving the architecture of next-gen memory technologies. As a result, memory devices and architectures are changing rapidly to satisfy the demand for higher performance electronics, further driving the semiconductor memory market growth.
Android smartphones to offer remarkable growth opportunities to the semiconductor memory market players
Smartphones have reportedly become the preferred computing device for a variety of applications. Reports suggest that over 70% of the world's population is anticipated to use smartphones by 2020, while over a billion Android devices will be used by the same year. For several Android smartphones, varying the flash storage drastically improves the device's overall performance, typically between 100% to 300% across applications.
Storage performance on mobile devices will enhance the end-user experience in the years to come, as its impact is expected to grow owing to emerging wireless technologies that offer much higher network throughput as well as the advent of faster networks and I/O interconnects. This considerably validates the fact that the rising number of smartphones is expected to help drive the remuneration potential of the semiconductor memory market.
Get a Sample Copy of this Report @ https://www.gminsights.com/request-sample/detail/2548
Will India emerge to be a potential investment ground for stakeholder over 2018-2024?
The India semiconductor memory market is anticipated to procure substantial proceeds by the end of the projected timeframe owing to the rising proportion of smartphone users and emerging consumer electronic companies. The region has a steady growth infrastructure and develops emerging embedded technology that offers both hardware and firmware solutions.
The country also depicts considerable growth prospects for the automotive, agriculture, pharmaceutical, IT, construction and defense sectors. The growing adoption of IoT in these sectors will further enhance the demand for semiconductor memory, thereby impelling the regional industry trends. Emerging smartphone applications and the escalating demand for storage memory will also foster industries to develop enhanced memory solutions, expediting the India semiconductor memory industry share.
Some of the key players in the semiconductor memory market include Samsung Electronics, Nvidia, On Semiconductor, Micron Technology, Inc., etc. Manufacturers are focused on product development by investing in R&D activities & engineering capabilities to cater to the needs of mobile industry customers. To stabilize the component pricing, companies are reportedly developing strategies to maintain the average prices of ROM and RAM products. Manufacturers in the semiconductor memory market are also likely to face challenges in the future owing to the emergence of replacements such as MRAM, ReRAM and phase change memory.
As semiconductor memory technology rapidly evolves to meet the ever-growing needs of the electronics industry, it is likely to experience high demand from end-use industries including electronics and automotive. Increased demand and the rapid evolution of smartphones and PCs across the globe will continue to impact the product requirement, on the grounds of which manufacturers will constantly seek ways to expand their production facilities and know-how. This could considerably impact the remuneration portfolio of the overall semiconductor memory market, slated to cross a mammoth USD 730 billion by 2024.
Author Name : Mateen Dalal
One of the most swiftly progressing verticals of the global smart technologies space, light field market has come a long way since its inception owing to pathbreaking inventions to capture the 3D and 4D light fields. The gradually rising popularity of light field cameras across several business verticals such as industrial, healthcare, retail, entertainment and media, and automotive has certainly propelled the product demand in the recent years. As light field cameras are equipped with thousands of micro lenses between the main lens and the sensor, it lets the user shoot first and focus later which ensures an improved image resolution. Numerous companies appear proactive in adopting light field technology and are developing high-grade products – a factor that would widen the horizon of light field industry in the years ahead.
Japan light field market, by application, 2017 & 2024 (USD Million)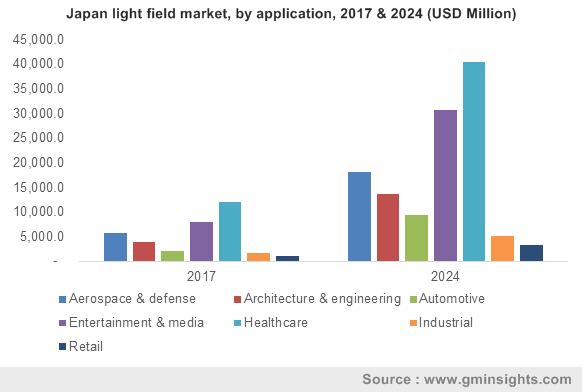 Adoption of light field technology in the entertainment and media sector is altering the contours of the overall industry
One of the major factors that has provided a significant impetus to the light field industry progression is the rapidly expanding entertainment and media application of this technology. In fact, as per a research report prepared by Global Market Insights, Inc., the entertainment and media application apportioned more than 25 percent of the total revenue share of the industry in 2017 – impressive statistics that signify the extensive future growth of this application. This technology is being increasingly incorporated in numerous entertainment medias including amusement parks, theaters, gaming, museums, and apps, predominantly through virtual reality (VR) headsets. Apparently, the light field technology has seemingly demonstrated a new level of how convincing VR experiences can be.
A recent instance lending credibility to the claims of using light field technology effectively in VR is of Google, who has been experimenting with this technology over the last few years. In 2018, the search engine giant released a free application, named 'Welcome to Light Fields', mainly to exhibit the potential of this technology. Notably, the application has been made available on Steam VR for Windows, Oculus Rift, and HTC Vive VR headsets.
Get a Sample Copy of this Report:@ https://www.gminsights.com/request-sample/detail/2664
Speaking along similar lines, it has also been recently reported that Google acquired Silicon Valley-based imaging startup Lytro, which is best known for developing the world's first light field camera and has numerous patents to its name in VR-related imaging technology. With this acquisition, it is being speculated that the company might be looking to strengthen either its VR gaming initiatives or its camera offering in Pixel phones, which is quite unsurprising as prominent players operating in gaming sector are improving customer experience by integrating VR into games. Considering the impact of the top of the line acquisitions and innovative products being unveiled by major tech magnates like Google, the entertainment and media application of the light field industry is undoubtedly set to escalate at an exceptional pace in the ensuing years.
Latin America to emerge as a major revenue pocket for light field industry
Anticipated to register an annual growth rate of more than 16 percent over the forecast timeframe, Latin America has gradually emerged as a lucrative investment avenue for potential stakeholders. The rapidly expanding retail sector in Latin American nations has compelled the major retailers to adopt and leverage new technologies to gain competitive advantage. In this regard, it would be prudent to mention that the proliferation of AR and VR technologies has been assisting the retail sector to improve customer experience and brand engagement ratio.
The brick-and-mortar retail outlets are launching interactive experience devices such as mixed reality headsets to enhance the shopping experience, essentially fueling the growth potential of Latin America light field industry. In addition to the retail sector, the light field technology is being increasingly utilized across other business verticals such as automotive and hospitality, which would, in turn, strengthen the product demand in the times to come.
With light field technology being increasingly used in imaging solution processes along the likes of layout & animation, image construction, 3D scanning, 3D rendering, and 3D mapping and modeling, it remains to be seen how this technology impacts the future of mixed-reality products. However, it is quite imperative to mention that the growth trajectory of light field market appears highly-promising owing to the technology's potential to drastically change the product portfolio of several business verticals. For the record, the commercialization scale of the global light field industry is slated to surpass USD 1.5 billion by 2024.
Author Name : Saif Ali Bepari
With increasing need for cost-effective production of automobiles and consumer electronics, the electronic manufacturing services (EMS) market has gained enormous momentum over the last twenty years. Consistent rise in the consumption of mobile phones, portable electronics and connected devices overall has helped the growth of several small EMS players to meet the global demand. Vast opportunities in the aerospace, industrial and medical devices segment have also boosted the electronic manufacturing services industry. More recently, the communication and consumer electronics segment have driven EMS providers to pursue key expansion strategies and technological developments.
U.S. EMS market, by application, 2017 & 2024 (USD Billion)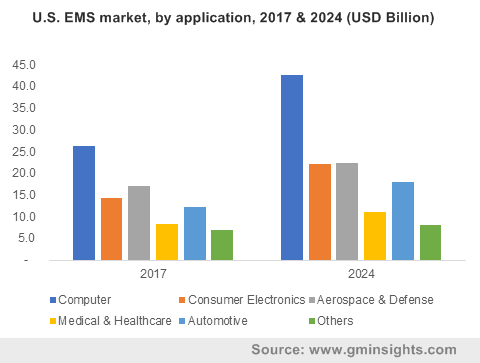 Boasting revenues of more than USD 450 billion in 2017, the global electronic manufacturing services market will eventually witness increased returns from the aforementioned sectors. EMS providers have enhanced manufacturing facilities and expertise, also offering additional services like testing and logistics to help OEMs and major consumer brands achieve better profit margins, lesser time-to-market and flexibility. Labor costs in developing economies, especially in the Asia-Pacific (APAC) region are considerably low, reinforcing the electronic manufacturing services industry expansion in countries like China, India and most South East Asian nations.
With EMS companies taking care of the frugalities involved in product manufacturing, OEMs like Apple, Intel, Dell and Sony are able to concentrate their resources more towards research and development, as well as marketing campaigns. Consequently, the APAC electronic manufacturing services market has grown tremendously owing to continuous introduction of new products by OEMs, particularly smartphones. As mobile technologies are evolving at a rapid pace and becoming cheaper, smartphones are expected to constitute almost 48% of the global consumer electronics segment by the end of 2018, and it is a well established fact that most of these devices are manufactured by EMS providers in Asia.
Get a Sample Copy of this Report:@ https://www.gminsights.com/request-sample/detail/2971
Elaborating further, Taiwanese company Foxconn, which is the world's largest EMS provider, manufactures smartphones for Apple, computer equipment for Dell, Intel, HP and Microsoft, along with electronic devices for Sony, Google and Amazon. The company has set an example in the electronic manufacturing services industry for adopting innovative business models and creating a global presence. It had recorded a 50% growth in earnings during December 2017, mainly driven by the shipment of Apple's flagship smartphone model, iPhone X. Simultaneously the APAC electronic manufacturing services market experienced accelerated growth due to increased production of smartphones launched by Chinese OEMs, such as Xiaomi.
The massive growth potential for consumer electronics in APAC can be surmised from Foxconn's recent announcement according to which it is planning to expand its semi-conductor production operations in China. Demand for these small equipment is rising exponentially and an expansion effort by a major EMS provider indicates the same, signaling growth prospects for upcoming EMS firms who wish to penetrate the segment. Foxconn is also demonstrating the trend among companies in the electronic manufacturing services industry shifting from a single key income source to producing more diverse consumer electronic products.
Almost 50% of Foxconn's revenue comes from Apple, which is a huge dependency on a single entity for a manufacturer of this magnitude. Keeping this in mind, the company earlier this year decided to join forces with camera maker RED Digital Cinema to produce affordable and professional quality film cameras with 8K resolution. It is also in the process of building manufacturing facilities in China and U.S. to make large-screen display panels. It is predicted that globally, nearly 2 million televisions with 8K display would be shipped by 2020 itself, and with a number of EMS players located in the region, the segment will generate additional remunerations for the APAC electronic manufacturing services market.
All in all, with unprecedented growth in the demand for consumer electronics over the next few years, the electronic manufacturing services market will witness tremendous inflow of capital for expanding production capacities. Constant innovations, for instance EMS company New Kinpo Group's AI-powered manufacturing robots and autonomous manufacturing capabilities, will further attract OEMs towards Asian companies. Key players dominating the global EMS market share include Foxconn, Integrated Microelectronics, Inc., Benchmark Electronics, API Technologies Corp., Celestica, Inc., New Kinpo Group, Venture Corporation and Sanmina Corporation.
Author Name :Pankaj Singh

Rapid industrialization and increased demand for electronic components has propelled the automated optical inspection (AOI) system market expansion, with rise in consumption of automotive and consumer electronics. AOI systems have gained immense momentum for fast and accurate inspection of electronics assembly lines to facilitate the production of only the highest quality PCBs and surface-mount devices. Constant innovations in smartphone technologies and automotive electronics has reinforced the need for lowering time and cost of production, necessitating the involvement of the AOI system industry. Estimated to have recorded earnings of more than US$500 million in 2017, the global AOI system market will experience an accelerated growth rate from augmented industrial automation.
U.S. automated optical inspection (AOI) system market, by end-use, 2017 & 2024 (USD Million)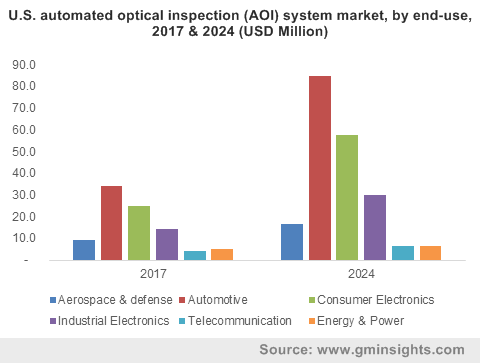 Automation has been a trending process among manufacturers around the world, and more factories are expected to be completely automated in the near future with advancements in communication and robotics. As the field of electronics production get more competitive, achieving the balance between manufacturing speed and quality through automation is considered to be a major factor for success. The AOI system industry is crucial in providing powerful solutions to help manufacturers monitor processes and greatly improve their overall quality. AOI systems can now be integrated with robots, pneumatics and other process components to offer precision quality control.
Increasing focus on consumer protection and the need for reducing the costs involved in 100% inspection process will further bolster the AOI system market. 100% inspection is critical for segments where a human life could be put at risk, for instance medical devices, portable electronics and automobiles. A while back, certain smartphone product launched by Samsung was under scrutiny due to exploding batteries which endangered the users while being charged or operated. It was found out that the leading cause of explosions was improper assembly of batteries, stressing the importance of inspection in automation. Experts believe the company could have avoided this fiasco by adopting quality inspection systems, such as AOI, for inspecting all batteries and not just samples.
Get a Sample Copy of this Report:@ https://www.gminsights.com/request-sample/detail/2969
Speaking further on the significance of the AOI system market, electronic components are becoming smaller in size, making it difficult to perform accurate and fast checks manually. PCBs for different applications require hundreds of parts to be soldiered or mounted on them in a short period of time, needing AOI systems to inspect each and every part, either in pre-manufacturing stages or post-production. Many global industries are adopting fully-automated manufacturing processes for not only PCB production but also cars and consumer electronics. Subsequently, the AOI system industry will witness robust demand over the coming years.
To elaborate, Volkswagen recently announced that it would be construction its electric vehicle manufacturing facility near Shanghai, China, where fully-electric SUVs and other e-vehicles will be made. The company said the new facility will consist mainly of robots, around 1,400 of them, and will be operational by 2020. The expected 300,000 per year capacity of the factory represents extremely high
levels of automation that will be implemented and signifies a key application area for the AOI system market. Government rules and international standards regarding vehicle quality and safety have boosted the demand for advanced AOI systems, as they can match the complexity and speed of automated manufacturing.
Over the years, AOI systems have been optimized to collect data and provide feedback so that the manufacturing process can be improved, and any suitable adjustments are made. When used during the assembly or soldering process, AOI helps to inspect the quality of the product as it is being made, which considerably lowers the need for post-production inspections. The AOI system industry can benefit from the tremendous development in optical sensors and miniaturization of inspection cameras. The enormous opportunities for the implementation of AOI can be surmised from industry estimates which peg the global process automation segment to be valued at nearly USD 50.3 billion by 2020.
As more companies look towards AOI for ensuring a fast, reliable and cost-efficient quality control in manufacturing and process automation, the AOI system market is anticipated to register a 12% CAGR between 2018 and 2024. Viscom AG, Cyberoptics Corporation, AOI Systems, Nordson, ASC International, Omron Corporation and Kurtz Ersa, are some key players outlining the AOI industry dynamics. Compliance with evolving engineering standards and demand for higher quality of products will drive innovations in AOI technology.
Author Name :Pankaj Singh
Driven by the rapidly surging deployment of IR LEDs across a plethora of application verticals, the global infrared (IR) LED market has emerged one of the most transformative business spheres over the last few years. Companies forming a part of the automotive, consumer electronics, medical equipment, and myriad other industrial sectors are increasingly using IR assisted products. The use of IR LED helps to maintain working stability, accuracy, improve security, and reliability. The emerging technology trends such as automated driving assistance system, IoT, augmented reality, and artificial intelligence have also had a positive influence on the product demand.
Japan infrared LED market size, by application, 2017 & 2024 (USD Million)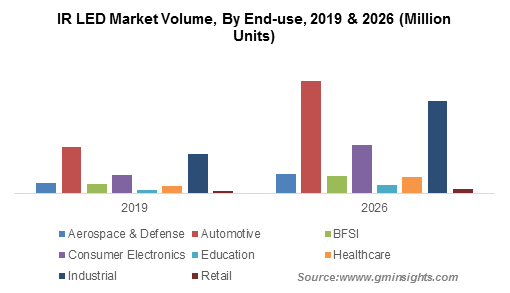 In most of the countries, in order to control the chances of accidents, automakers have been developing connected cars in which IR LEDs have been used prominently. It is thus rather overt that the advent of technically advanced features in every end-use sector will stimulate the infrared (IR) LED industry share. In line with the surging use of sensors in the various products, equipment, and vehicular systems, giants in infrared LED market have been investing in the enhancement of their product ranges.
A summary of the IR LED market trends from the automotive and consumer electronics sectors has been outlined below:
Automotive:
In the last few years, the automotive industry has witnessed a remarkable transformation with the advent of electric vehicles, connected cars, and self-driving cars. In addition, the growing concern among the automakers about the safety of occupants and the driver has encouraged them to bring new sensor assisted technologies such as excellent night vision, parking assistance, and blind spot detection. One of the renowned German automakers, Mercedes has implemented the Night View Assist system in its newly launched vehicle models that have full-LED headlamps incorporated with anti-dazzle infrared technology. The deployment of such IR LED technologies helps drivers bypass animals and pedestrians at night.
In addition, the company has also deployed a thermal imaging and IR camera which could enhance the chances of spotting the objects ahead of the vehicle effectively. The use of IR technologies and innovative features in the recently developed automobiles for improving the safety, driving efficacy, and comfort is poised to propel infrared LED industry share. For the record, in 2017, the automotive sector accounted for 30% share of the infrared LED industry.
Speaking more about innovations, it is prudent to mention that in order to gain competitive benefits, many companies are striving to launch new products in the automotive industry that could have a significant influence on IR LED industry outlook. For instance, recently, in January 2018, the Taiwan based company, Innolux Corporation has launched the first active matrix (AM) based Mini LED technology that has been used in automotive backlight panels. In addition, they are planning to develop a free shaped LCD for improving the appearance and design of future concept vehicles.
Get a Sample Copy of this Report:@ https://www.gminsights.com/request-sample/detail/437
Consumer electronics:
With the deployment of next-generation technologies such as IoT, AR, and AI, consumer electronics sector has emerged as one of the revenue generating business areas lately. In this regard, the giants in the infrared LED market have already increased their focus on research and development activities. Currently the leading smartphone makers and security system providers are innovating a new range of sensor technologies for deploying the same in smartphones and security cameras. As on today, for attracting more customers, smartphone makers are adopting new product designs like the multiple camera setup where they are extensively using sensors and LEDs. Recently, Nokia has unveiled its plan to develop a new smartphone having five rear cameras that could be incorporated with IR focusing apparatus, five lenses, and LED flash.
In another instance, a multinational lighting manufacturer, Osram is planning to invest 1 billion euros to expand an LED chip factory across Malaysia, the products of which will be used in phones, laptops, drones, fitness watches, security cameras, and automobiles. Moreover, Osram has been continuously involved in the invention of infrared LED chip for optimizing the effectiveness of security cameras. The Increasing requirement of CCTV cameras across the Asia Pacific region will further generate lucrative opportunities for the players in the infrared LED industry.
The extensive deployment of technology across the automotive and consumer electronics industries will have a favorable influence on the infrared LED market. The involvement of many industries in digitalization for improving work efficiency, product performance, and consumer comfort also will fuel the product demand over the years ahead. In line with the shifting trends toward digitalization, infrared (IR) LED market will generate a revenue of more than USD 1 billion by the end of 2024.
Author Name :Sunil Hebbalkar
Of late, Graphene Market has been gaining remarkable traction, owing to the extensive use of graphene for power storage and composites. The scientific community has been researching on the viability of graphene for aerospace applications in a strategic collaboration with the European Space Agency (ESA), with an aim to test the potential of graphene in zero gravity conditions. The success of this research is slated to create new avenues for the players in graphene industry. As per statistics, graphene market held a revenue of USD 20 million in 2016.
U.S. Graphene Market size, by End-user, 2013 – 2024 (USD Million)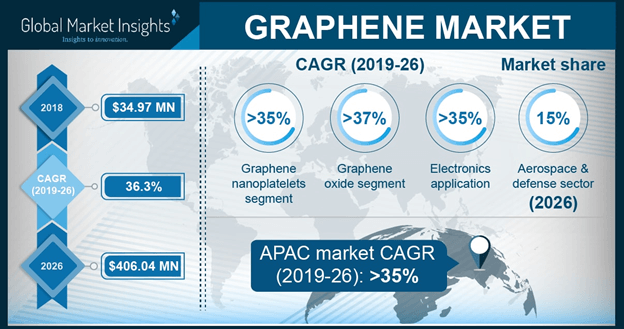 Analyzing the ongoing and future trends of graphene market, Graphenea has decided to expand their graphene oxide (GO) pilot plant with a production capacity of 1 ton per annum. They are also working on the customization of GO to integrate it into different polymer ranges. This strategy will help the company move forward toward the production of graphene based composite materials, strengthening its position in graphene market. On these grounds, it would be noteworthy to mention that graphene market from graphene oxide is slated to cover 40% of the overall share by 2024, and will grow at a CAGR of more than 35% over 2017-2024. Major participants in graphene industry are Graphenea, Grafoid Inc., Applied Graphene Material, Graphene Frontiers, LLC, XG Sciences, Inc., Advanced Graphene Products, Angstron Materials, Inc., AMO Gmbh, ACS Materials LLC, Xiamen Knano Graphene Tech. Corporation Ltd., Applied Nanotech, Inc., Thomas Swan & Company Ltd., Nanjing XFNANO Materials Tech Co., Ltd., Haydale Limited, and Graphene Laboratories, Inc.
Get a Sample Copy of this Report@ https://www.gminsights.com/request-sample/detail/233
Graphene market outlook across the healthcare sector
Apart from being utilized in composite materials, graphene finds application in healthcare sector. Graphene oxide is extensively used in various dental care products, owing to its capability to resist antimicrobial agents. Growing awareness among people about their dental health will influence graphene market share noticeably. As per a market study, graphene market from healthcare sector will exceed a revenue collection of USD 20 million by 2024, owing to the requirement of the product for tissue engineering, drug delivery systems, and cancer treatment.
Diabetes monitoring and therapy involves the utilization of wearable and handy graphene based electrochemical devices. These devices are apparently painless, non-invasive, and offer stress-free monitoring, which helps diabetic patients to avoid expensive, lengthy, and painful diabetic therapies. Increasing prevalence of diabetic patients across the globe is slated to fuel the product demand, due to cost effectiveness. In addition to this, for next generation cancer therapies, researchers are planning to undertake extensive studies on graphene based medicines to detect the effectiveness of the therapy on cancer cells.
Graphene market trends across the automotive sector
Automakers have been giving preference to graphene material for manufacturing luxurious cars, owing to the fact that the usage of graphene decreases the overall vehicle weight. Graphene itself is lightweight as compared to the other materials, and its utilization will improve the fuel efficiency and speed of the car enormously.  Recently at the Auto show held at Geneva, Pininfarina has unveiled electric car operated with graphene based battery. On that note, automotive sector covered 20% of graphene industry share in 2016 and will register a CAGR of more than 34% over the coming seven years.
Pertaining to quicker charging time and longer driving ranges, graphene battery is expected to witness huge demand for the automotive application in the future. The rapid growth of Graphene Battery Market stands as a testimony to the development of graphene industry, which, according to Global Market Insights, Inc., will record an annual growth rate of 35% over 2017-2024.
Author Name : Sunil Hebbalkar