Aftermarket
Shifting consumer preference towards safer vehicles is driving automotive airbags market size in the last few years, with numerous prominent automakers adopting new crash avoidance measures and tools. Increasing passenger vehicle production along with rising disposable income across developed and emerging nations has accelerated the product demand.
U.S. Automotive Airbags Market, By Position, 2018 & 2025, (USD Million)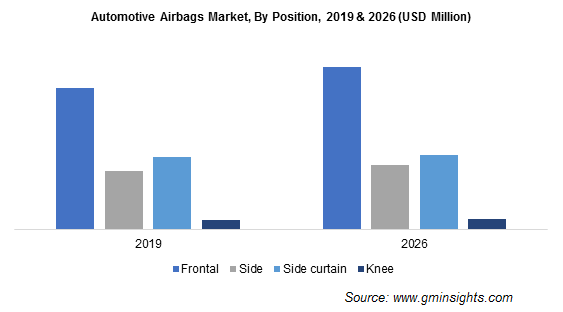 Regulatory organizations such as National Automobile Dealers Association are launching safety awareness campaigns, particularly regarding the live-saving capabilities of airbags. With respect to the deployment types, the frontal segment of the worldwide automotive airbags market is registering a robust growth rate over the past few years and is expected to sustain the momentum in the forecast years.
As driver and front seat passengers are more vulnerable in case of any crash or accident, the frontal airbags are deployed as a standard feature in majority of the vehicles. Moreover, the development of innovative products with electronic control unit (ECU) to improve the efficiency of these airbags is proving beneficial for automotive airbags industry share.
Get a Sample Copy of this Report:@ https://www.gminsights.com/request-sample/detail/3283
In terms of geographical expansion, the Asia Pacific region is emerging as a major growth avenue for the prominent players operating in automotive airbags industry. Over the past few years, emerging economies such as India and China are rolling out stringent regulations with respect to safety systems for vehicle occupants. These regulations apparently encompass a whole new set of safety norms which would drastically improve the existing measures to reduce the number of road fatalities.
Speaking in the similar context, it is prudent to mention that the Indian Road Transport Ministry has recently mandated the installation of airbags in all types of cars from July 1, 2019. Although a directive instructing the vehicle manufacturers to incorporate frontal airbags is in place since 2017, the new regulation makes the installation mandatory. Moreover, various other mandatory fitments are being prescribed to address the issue of over speeding and the consequences of the same. Needless to mention, all these developments are benefiting the in India industry trends as the new safety norms and regulations come into effective in the times to come.
Even though the growth prospects of automotive airbags industry appear highly promising, there exist a few major challenges that may hinder the pace of product penetration across some prominent geographies. It is quite a well-known fact that faulty airbags can cause grave injuries to the driver and the passengers sitting close to the airbags before it deploys.
This has been a serious concern with the first generation of frontal airbags, which get deployed with greater amount of force. In fact, the recent instance of the recall of Takata airbags by leading automotive firms affirms the need to revamp the way new-age airbags are manufactured as they would then be able to provide optimal level of protection in an event of a crash.
Elaborating further on the defective Takata airbags, it is being estimated that around 41.6 million vehicles equipped with 56 million faulty airbags are under recall since 2015. Recently, two of the foremost automakers, BMW and Ford, have recalled around 360,000 and 149,650 vehicles respectively on a global scale to replace the Takata airbags. Moreover, in addition to these recalls, there have been instances where the deployment of counterfeit airbags in vehicles has led to fatal accidents – a factor that has dampened the overall automotive airbags market outlook.
However, despite the challenges posed by counterfeit and defective products, the companies which are globally known as the top airbag manufacturers are being provided with a robust regulatory framework across various nations. These guidelines would certainly assist the automotive airbags market players to eliminate the shortcomings in the manufacturing procedures, which would help in increasing the pace of the product demand in the times to come. In fact, as per report estimates, the overall commercialization portfolio of the automotive airbags industry is slated to surpass USD 85 billion by 2025.
Author Name : Saif Ali Bepari
The escalating efforts to promote passenger safety owing to rising number of road accidents will drive automotive seat belts market trends. For decades, seat belts have been one of the most effective safety precautions used in the automotive industry. In fact, a National Highway Traffic Safety Administration (NHTSA) study claims that, between 1960 and 2012, seat belts have helped save more than 329,715 lives compared to all other vehicle safety technologies including airbags, electronic stability control and energy-absorbing steering.
U.S. Automotive Seat Belts Market, By Type, 2018 & 2025, (USD Million)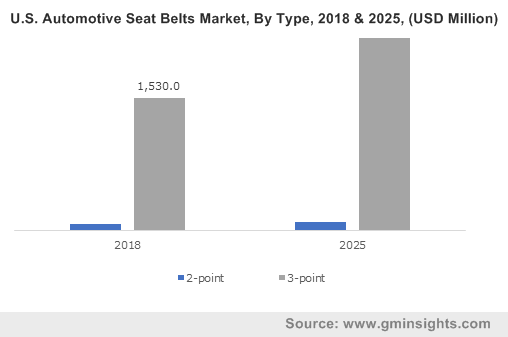 However, despite potential benefits, passengers are still seen avoiding the use of seat belts which has indirectly led to increasing trends in road accidents. For instance, in 2009, road crashes were reported to kill over 33,000 people and injure another 2.2 million, in which about 53% of drivers and passengers were seen not wearing seat belts. Fatalities caused by drowsy driving have also increased dramatically in the past couple of years.
Meanwhile, unbuckled passengers are reported to be more likely of being ejected through the front, rear or side windows, resulting in fatal repercussion. Factors such as these have underlined the sheer importance of seat belts in the current automotive industry and indirectly added impetus to automotive seat belts industry outlook.
Reportedly, to avoid such accidents in the first place, automakers are implementing enhanced seat belt reminder systems in their vehicles that continuously alert drivers and passengers to use seat belts following vehicle startup. Studies also suggest that lap/shoulder seat belts could significantly reduce the risk of fatal injury to front-seat occupants by 45% and the risk of moderate-to-critical injury by 50%.
Get a Sample Copy of this Report:@ https://www.gminsights.com/request-sample/detail/1944
Additionally, primary seat belt enforcement laws and heavy penalties for seat belt law violation are also likely to supplement automotive seat belts market growth. For instance, based on reliable reports, penalty amounts have increased on an average from $39 to $70 in the U.S. while seat belt use has increased by an average of about 9.1% in the country. In addition to stern fines, in 2019, officials in New York have also pushed a bill mandating the use of seat belt in rear passenger seats, cite news reports.
Advancements in seat belt technology coupled with growing investments by OEMs to develop advanced sensor-based seat belts will drive automotive seat belts market growth. Technologies like seat belt tensioners and load limiters have significantly helped improve the seat belt effectiveness whilst lowering impact on travelling passengers. Seat belt reminder (SBR) systems that come with audiovisual aids have also proven to be extremely effective in increasing product traction. In fact, a declining trend in unbelted driving has been recorded while unbelted drivers have reduced by 80% in vehicles with advanced SBR systems.
Meanwhile, automakers are seen promoting the use of seat belts by means of new safety features in last couple of years. For instance, U.S. automaker Chevrolet has recently introduced its 'Buckle to Drive' feature, anticipated to come as standard on all 2020 Chevy Traverse, Malibu, and Colorado vehicles, that will actively help prevent teens from driving until they fasten their seat belts. Initiatives such as these are anticipated to foster product use, in turn boosting the automotive seat belts industry size.
Rising cases of road fatalities and surging passenger vehicle sales are expected to foster APAC automotive seat belts market growth. According to reliable reports, in India, a whopping 75% of passenger vehicle drivers do not use seat belts, causing around 15 deaths per day. While the Ministry of Road Transport and Highway report cite that, in 2016, a total of 5,638 people died on road due to non-usage of seat belts. With stringent government regulation and introduction of advanced seat belt reminding technologies, the regional automotive seat belts industry is slated to record significant growth over the forecast period.
Meanwhile, surging passenger vehicle sales in the country will raise the automotive seat belts market growth to new levels. For instance, according to the Society of Indian Automobile Manufacturers (SIAM), the sale of passenger vehicles (PV) rose by 2.70% in April-March 2019 whereas PV sales are projected to grow by 3-5% in FY20. Furthermore, introduction of new vehicle segments equipped with advanced safety features will boost product penetration.
The demand for automotive seat belts is gaining momentum due to rising awareness regarding passenger safety along with new government regulations to minimize road fatalities. The development of advanced seat belt reminding technologies will propel market share. Reports from Global Market Insights, Inc., suggest that the automotive seat belts market size might surpass USD 10 billion by 2025.
Author Name : Mateen Dalal
Escalating demand for passenger and military helicopters, along with rising defense spending worldwide is anticipated to drive helicopter blades market outlook. Rotor blades are vital parts for any helicopter as they can significantly impact crucial flight parameters like cruise speed, climb rate, and payload capacity. Well-designed, high-performance rotor blades can offer improved controllability, especially during operations like rescue missions, air medical services, executive endeavors and more.
U.S. Helicopter Blades Market, By Blade Location, 2018 & 2025, (USD Million)
Rising production of short-range passenger helicopters coupled with growing demand for air taxi services worldwide will propel helicopter blades industry share. For instance, in 2019, the Airbus-backed on-demand helicopter service Voom announced plans to add more locations to its app-based air taxi service.
Moreover, increasing deployment of helicopter hailing services will offer commendable growth proceeds to the helicopter maintenance & repair sector. In 2019, leading military, corporate and regional aircraft maintenance firm, First Aviation Services Inc. announced acquisition of renowned helicopter rotor blade repair company Aviation Blade Services, Inc. to expand its market reach. Driven by such initiatives, helicopter blades market is slated to garner significant revenues over the forecast period.
Based on material, carbon fiber reinforced plastic (CFRP) segment is estimated to account for a considerable share in helicopter blades market in the future. Demands for CFRP can be attributed to its key characteristics like lower weight, higher stiffness, and superior strength to weight ratio. Manufacturers are also increasingly developing carbon-fiber blades to minimize production cost and improve operational margins.
Get a Sample Copy of this Report:@ https://www.gminsights.com/request-sample/detail/3046
For instance, in 2018, rotor-blade maker Van Horn Aviation exhibited its FAA-certified composite main and tail rotor blades, made from carbon-fiber skins & spars, foam cores, and replaceable abrasion strips for the Bell 206L Long Ranger helicopter, claiming service life of the composite blades to be two to four times more than their metal counterparts.
Rising technological advancements in the blade manufacturing industry and growing adoption of carbon-fiber reinforced plastic will further bolster helicopter blades industry size. In 2019, a joint venture program between Thermwood and Bell developed the world's largest 3D printed autoclave tool for helicopters which are estimated to produce helicopter blade molds that meet Bell's tooling requirements.
Helicopter blades market may to accrue significant returns from the military sector. Increase in defense spending and rising military budget worldwide will positively influence industry trends. Rise in number of advanced combat helicopters orders is expected to supplement market share. According to credible reports, around 500 helicopters are expected to be delivered to eastern European countries by 2030, creating opportunities for U.S. manufacturers. While, in 2019, the German government released its tender for military helicopter which includes procurement of 45-60 choppers by 2023 and beyond.
The Russian Federation has also motivated many nations to increase military spending on defense helicopters. In 2019, the Russian defense ministry awarded 46 contracts worth over $16 billion to local industry, included orders for 98 Mil Mi-28NM attack helicopters that are anticipated to be completed in 2021. Investments such as these in the military sector will in turn augment helicopter blade market size over 2019-2025.
North America helicopter blade market is anticipated to add impetus to the global revenue share, primarily due to the presence of key helicopter manufacturers like Boeing Rotorcraft Systems, Lockheed Martin and more. Increasing prominence of app-based, on-demand helicopter hailing services will supplement regional market growth.
Rising defense budget across the region will positively influence industry share. For instance, the Pentagon FY 2020 budget proposes allocation of $790 million for R&D in Future Vertical Lift (FVL) military helicopters. The budget also includes nearly $1.7 billion for 73 U.S. Army UH-60M Black Hawk helicopters by Sikorsky.
Development of advanced manufacturing processes along with rising helicopter production worldwide will drive helicopter blades market growth. Use of FAA certified helicopter blades will ensure enhanced safety and reliability to operators. The development of 3D printed blade technologies will also enhance the market outlook.
Moreover, long-term contracts with helicopter manufacturers and increasing investment in R&D to develop advanced combat helicopters will improve industry share. According to Global Market Insights, Inc., helicopter blades market size is estimated to surpass US $685 million by 2025.
Author Name : Mateen Dalal
With automakers looking to offer a wide range of vehicle models to cater to varying customer demands,  global automotive logistics market is projected to experience substantial business growth over the forthcoming years. Apparently, a single car series model from a premium German vehicle brand can be available in approximately 1,017 possible variations. The unprecedented level of complexity, driven by product variety and the immense pressure exerted on industry players due to tough international competition makes it considerably difficult for automakers to ensure efficient logistics operations.
U.S. Automotive Logistics Market, By Vehicle, 2018 & 2025, (USD Billion)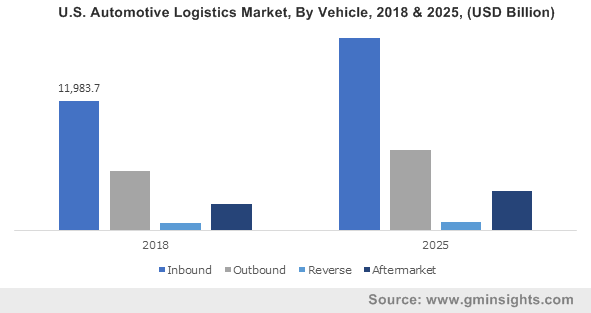 Supplying auto parts to global customers entail some of the prominent factors endorsing the importance of automotive logistics industry. It is also the reason why automobile manufacturers today maintain vehicle assembly plants across the world. Instead of manufacturing and shipping entire vehicles to regional markets overseas, automakers prefer to manufacture and ship vehicle components to local manufacturing facilities and then assemble the components into a vehicle. This practice delivers substantial savings on import duties, reinforcing global automotive logistics market share.
The benefits offered by automotive logistics service providers, while enabling automakers in creating an international footprint, also frees resources up to focus on any new opportunities and challenges. Subsequently, automotive logistics industry has become a major influence on domestic and international automotive sector, supporting the development of many small and medium enterprises.
Automobile and auto parts shipping services are typically hired by private owners, being a convenient means to transport customers' vehicle from one place to another. The entire process involves loading the vehicle on a dedicated truck and shipping it to its destination. In extreme cases vehicles can also be shipped on freight carriers or cargo planes, a prominent example being the UK's supercar season, annual phenomenon wherein wealthy individuals, especially from Gulf regions, ship their supercars to the UK for vacationing and exhibitions. Apart from licensing and custom fees, shipping a car using cargo planes costs approximately £20,000 per vehicle per trip.
Get a Sample Copy of this Report:@ https://www.gminsights.com/request-sample/detail/3286
Growing intensity of vehicle production would be further providing a sizable boost to the automotive logistics market. According to a 2019 report by Volkswagen, deliveries by VW Commercial Vehicles division in 2018 amounted to approximately 500,000 vehicles, an increase on the numbers from the preceding year. The positive growth which leading companies like VW are experiencing, even in a slowing market landscape, would be providing further growth opportunities to the automotive logistics industry players.
Asia Pacific is projected to emerge as one of the dominant customer base for auto parts, with the anticipated demand being credited to the domestic auto manufacturing sector and a strong presence of global automobile manufacturers. India, specifically, is estimated to contribute substantial revenues to automotive logistics market over the forecast timeframe. The Society of Indian Automobile Manufacturers stated that passenger vehicle sales increased by 2.70% over March-April 2019 in India. The nation's commercial vehicles segment also recorded a 17.55% growth in the quarter, as compared to the same period the previous year.
Japan will be a key market for domestic automotive logistics services and the country's contribution is being attributed to well-established automobile manufacturers such as Toyota, Nissan and Honda that call Japan their home. Toyota, for instance, has its parts and logistics division network spanning across 38 countries, with over 177 dedicated sites that are operated by more than 79 overseas business entities and subsidiaries. Such vast networks are exactly why Japanese automakers enjoy a strong presence in different countries and will drive the expansion of the regional automotive logistics industry.
Owing to a gradual increase in automobile production and the robust development of automotive sector in APAC, global automotive logistics industry is slated to record tremendous revenues in the imminent future. Key industry participants expected to lead the growth include DHL International, CEVA Logistics, SNCF Group, XPO Logistics and Imperial Logistics. Global Market Insights, Inc. has predicted that automotive logistics market size will exceed an annual valuation of $170 billion by 2025.
Author Name : Akshay Kedari
The aircraft refueling hose market is registering significant growth in recent times owing to exponential rise in deployment of aircraft fleets worldwide. Increased tourism and spending on business travel has also propelled the aviation sector in the past couple of years.
U.S. Aircraft Refueling Hose Market, By Application, 2018 & 2025, (USD Million)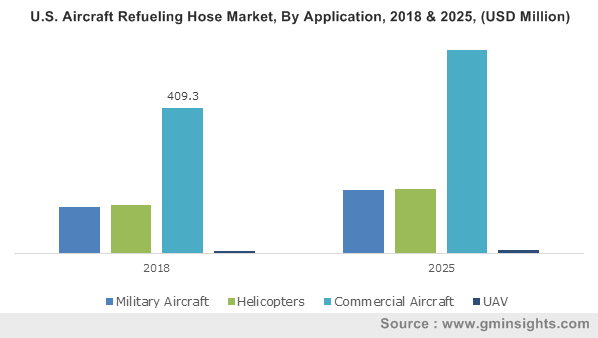 The International Air Transport Association (IATA) claims that the number of trips per person is forecast to increase by 4% – 8% annually for many emerging countries, and is projected to be as high as 10% – 11% per year in India and China. These growing trends necessitate radical infrastructural developments and the need for efficient refueling equipment like aircraft hose.
Aircraft hoses are made with utmost precision whilst keeping in mind the critical nature of their application. They can easily conduct refueling operations on land as well as in air – features that have considerably enhanced its significance in recent years.
Investment in defense infrastructure has offered immense impetus to aircraft refueling hose market. For instance, the U.S. Air Force 2020 budget anticipates an approximate US$165.6 billion investment, a 6% increase from the FY 2019 request, which involves continuing the procurement of F-35As and KC-46As, and initiating the refresh of the F-15 fleet with a new variant. These investments will most likely drive the global aircraft refueling hose industry share.
Get a Sample Copy of this Report:@ https://www.gminsights.com/request-sample/detail/3344
Expansion in commercial airline fleets along with a high-rise demand for lighter airplanes will boost aircraft refueling hose market share. Exponential increase air passenger traffic will positively influence product demand. For instance, IATA claims that, with present trends in air transport, it is likely that passenger numbers will double to 8.2 billion by 2037.
Aircraft major Boeing recently projected that the worldwide need for new airplanes will grow rapidly between 2018 and 2037, during which about 42,730 new airplanes deliveries are expected with a market value of $6.3 trillion. This growth will be increasingly witnessed across Asian countries like China and India and will drive the regional industry. In fact, Boeing claims that China alone is expected to order 6,810 new airplanes worth over $1.025 trillion over the aforementioned period.
Rising efforts by domestic airlines to increase their flight network by adding new, advanced aircrafts will drive the industry share. Expanding aircraft fleets helps to increase the size of the airline's network and will eventually help to boost aircraft refueling hose market trends.
North America aircraft refueling hose market will generate substantial proceeds by 2025 on account of rising demand for military aircrafts along with a considerable increase in defense budget. In a bid to attain improved system performance and efficiency, eminent industry players are developing lightweight and technologically advanced refueling hoses. Global Market Insights, Inc., claims that North America aircraft fueling hose industry size will depict a CAGR of 3% over 2019-2025.
In recent times, new highly advanced aerial refueling tankers are being deployed to conduct refueling operations in air, further contributing toward enhancing operational efficiency and reducing flight downtime. For instance, in 2019, the U.S. Air Force started accepting the first few production copies of Boeing's military aerial refueling aircraft, KC-46. Official reports claim that the Air Force will accept 19 additional KC-46s by the end of August 2019 that would help drive the regional industry share.
The U.S. Navy plans to finalize its MQ-25 drone program by 2019 with an aim to craft drones that could fly off an aircraft carrier and refuel other aircraft mid-flight. Proliferating trends pertaining to drone development and deployment will propel North America aircraft refueling hose market size.
Helicopters are gaining traction in aircraft refueling hose market owing to increasing use of helicopter in-flight refueling (HIFR) systems. In the past decade, the worldwide fleet of civil helicopters has grown by 37.38% to reach 30,895 aircraft, claims the General Aviation Manufacturers Association (GAMA). Increased helicopter usage in O&G industry for getting to offshore oil rigs and conducting rescue operations in remote locations will drive aircraft fueling hose industry size from helicopters .
The global aircraft refueling hose market is driven by rapid deployment of commercial and military aircraft fleets in the aviation sector. Increasing number of air passengers and rising defense budget will augment business growth. Reports from Global Market Insights, Inc., estimate aircraft refueling hose market size to reach USD 2.5 billion by 2025.
Author Name : Mateen Dalal
The global automotive EVAP systems market is estimated to register a commendable growth rate over the ensuing years, on account of the growing air pollution levels worldwide. Air quality is deteriorating day by day posing a huge risk to the environment, human health, and food security. Fuel evaporative emissions undeniably, are a significant contributor to global air pollution levels. The gasoline in the fuel tank gradually evaporates over time, contaminating the air with VOCs (Volatile Organic Compounds).
U.S. Automotive Evaporative Emission Control System Market, By Vehicle, 2018 & 2025, (USD Million)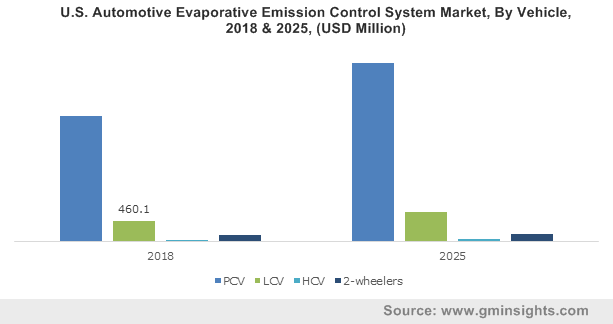 According to the Environmental Protection Agency, there are enough cases of such emissions to contribute to air pollution and pose a risk to environmental and human life. The fuel injected in a car consists of over 150 chemicals including toluene, benzenes and even lead, which can cause headaches, breathing issues, and in worst cases result in death. Hence, it is vital for carmakers to install EVAP systems in their models to control fuel evaporation, which would help expand the global automotive EVAP systems market size.
The need for manufacturers to equip their cars with EVAP systems is further encouraged by the imposition of stringent emission control mandates by governments throughout the world. For instance, Euro 5/6 regulations continue the Euro 4 limit of two grams of evaporative emissions each day. Regulation in the United States limits evaporative emissions to 0.5 grams each day over a three-day diurnal temperature profile.
Even though state regulations don't usually exceed federal regulations, the California Air Resources Board (CARB) permits the imposition of more stringent emission standards. Meanwhile, Japan has jointly developed emission standard by two ministries – The Ministry of Environment and The Ministry of Land, Infrastructure, and Transport. Emission limits in the country are almost similar to Euro 4 standards of two grams of emissions daily.
Get a Sample Copy of this Report @ https://www.gminsights.com/request-sample/detail/3222
It comes as no surprise therefore, that the global automotive EVAP systems industry is heavily governed by regulations. Indeed, according to Global Market Insights, Inc., OEMs presently dominate the global automotive EVAP systems market due to the rising product installations in an effort to conform to government regulations like CARB and Test Procedures to monitor vehicle performance.
One of the most significant reasons for driving the demand for EVAP systems around the world is the increasing rate of passenger vehicle production. In the year 2017, over 80 million passenger cars were produced worldwide, out of which Europe accounted for an appreciable share. Developing nations like India witnessed a significant rise in production from over 3.95 million units in 2017 to nearly 4 million units in 2018.
Recently, Mercedes-Benz Cars announced an investment of over $250 million euros in a passenger car plant in the Moscow region. Through the new plant, Daimler aims to meet the high demand for Mercedes-Benz E-Class SUVs and Sedans in the region. Owing to rising production, automotive EVAP systems market size is expected to witness an upsurge from passenger cars. Rising installation of EVAP systems in passenger cars to enhance fuel economy and reduce fuel losses will drive product demand.
In terms of regional growth, the Latin America market held considerable revenue share owing to rising concerns pertaining to fuel evaporation paired with the imposition of supportive international policies to control air pollution. According to an assessment released by UN Environment and the Climate and Clean Air Coalition, poor air quality and climate change are taking a toll on vulnerable population and environment within the Americas, leading to premature deaths, ecosystem damage, and crop yield losses.
Brazil, which is the fourth largest vehicle market in the world differs from larger economies in terms of policies to promote vehicle-efficiencies. However, the government in these nations and other key vehicle markets in Latin America are working to adopt international best practices regarding emission control to the local economic and policy context. Successful implementation of regulatory practices would further augment the Latin America automotive EVAP systems market share in the coming years.
Key factors such as increasing vehicular emissions, rising awareness regarding poor air quality along with a rise in vehicle manufacturing and supportive government regulations will continue to induce considerable possibilities for industry expansion in the coming years. For the record, the global market is also estimated to surpass a valuation of $65 billion by 2025, according to a research report by Global Market Insights, Inc.
Author Name : Krithika Krishnan