Agriculture
Owing to the rising deployment of LPWA technologies, including LTE-M, NB-IoT, and LoRa, low power wide area network (LPWAN) market share is witnessing an increased traction in the recent years. Interestingly, LPWAN networks have emerged as popular choice among enterprises to support various IoT use cases and solutions for business sectors such as agriculture, manufacturing, logistics, and healthcare, among others. Enumerated below are three major factors that are shaping the growth prospects of LPWAN market.
Europe Low Power Wide Area Network (LPWAN) Market Share, By Platform, 2018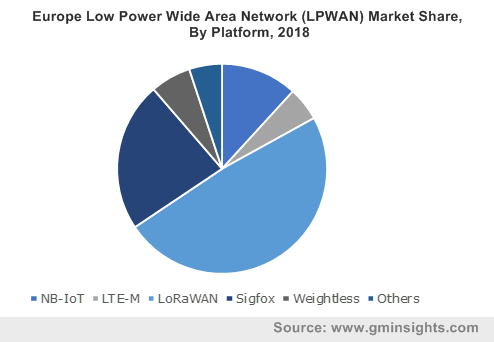 Increasing investment by telecom operators in laying NB-IoT and LoRaWAN networks across various cities is benefiting the overall LPWAN industry size
In 2018, the British telecom operator Vodafone announced NB-IoT network expansions in Spain and Germany, with ambitious plans to double the size of its NB-IoT footprint in Europe by the end of this year.
The NB-IoT network of Vodafone was deployed across Madrid and Valencia in 2017 in a number of verticals such as retail, electricity, agriculture, waste management, and smart city services. This technology has now been expanded to all localities in the cities of Seville, Malaga, Bilbao, and Barcelona, covering a population of about 25,000.
In 2016, South Korea's national telecommunications operator SK Telecom joined hands with semiconductors manufacturer Semtech Corporation to roll out LPWAN network across the nation. Additionally, the operator had also declared that it plans to provide 100,000 LoRa devices free of cost to its customers as part of its 'Partner Hub Program'.
This program has apparently played a vital role in scaling the development and deployment of LoRa devices (based on IoT solutions) and has been of immense significance for expanding the South Korea LPWAN industry size.
Digital Catapult, the UK's foremost agency for adoption of digital technologies, announced in 2016 that it is working closely with British telecom firm BT and a few educational institutes to boost the IoT network in London. To that effect, the company launched Digital Catapult Things Connected which will provide about 50 LoRaWAN base stations situated across London – an effort to establish the UK's largest IoT LoRaWAN network.
Needless to mention, this network and support program will provide an opportunity to digital start-ups and small and medium-scale enterprises to use IoT and drive innovation across London.
Apart from massive expansion programs and large-scale investment, the use of licensed spectrum enables the telecom operators to provide customers with the same levels of security as its LTE network. This makes it immune to disruptive and alternative technologies, essentially opening up numerous business opportunities for LPWAN market players.
Get a Sample Copy of this Report:@ https://www.gminsights.com/request-sample/detail/674
The rise in industrial IoT connections is favoring the growth prospects of LPWAN industry
Besides the rising volume of investment by telecom operators, the increasing prominence of industrial IoT market in various business verticals – especially the manufacturing sector – has invariably led to an escalation in the demand for LPWA technologies. This momentum is expected to remain consistent in the upcoming years as the industrial IoT connections are slated to increase by about five times by 2025.
In fact, the German wing of PwC released its findings last year of what the firm expects of the impact to be created by industrial IoT in the German manufacturing sector. Apparently, these findings note that about 90 percent of the respondents are investing in digital factories and a lot of these companies expect a 12 percent efficiency gains over the next five years owing to industrial IoT. Unsurprisingly, these statistics present an optimistic picture of the adoption of industrial IoT solutions, which will consequentially assist the regional LPWAN industry in reaching out to a new base of customers in the times to come.
The advent of 5G technology and its impact on LPWAN market share
One of the major factors fueling the commercialization prospects of LPWAN industry is the steady increase in the volume of investment pertaining to 5G technology. In this context, it is important to take note of the fact that the mobile IoT technologies, such as LTE-M and NB-IoT, offer a cost-effective wide area coverage while ensuring the success of 5G network deployment.
The 5G technology would enable major telecom firms across the globe to provide high connectivity to support numerous IoT use cases. Taking this factor into account, various telecom firms including Orange, Vodafone, and Airtel are deploying licensed cellular LPWAN as a prominent component of their 5G development strategies.
In a nutshell, the increasing volume of investment by telecom firms in expanding the NB-IoT and LoRaWAN networks, the advent of 5G technology and its development, and the rise in industrial IoT connections has been fueling LPWAN market share. As per a research report by Global Market Insights, Inc., LPWAN industry size is slated to exceed USD 65 billion by 2025.
Author Name : Saif Ali Bepari
The rising concerns pertaining to vehicular emissions are expected to boost the global battery electric vehicle market over the forthcoming years. In 2018, carbon emissions were at an all-time high, with the automotive industry being a major contributor. Emissions from cars and trucks using fossil fuels continue to grow at an alarming rate in all parts of the world. A common factor among both developed and developing economies on these grounds has been the continuous rise in the use of oil in the transport sector.
Brazil Battery Electric Vehicles Market, By Vehicle, 2018 & 2025, (USD Million)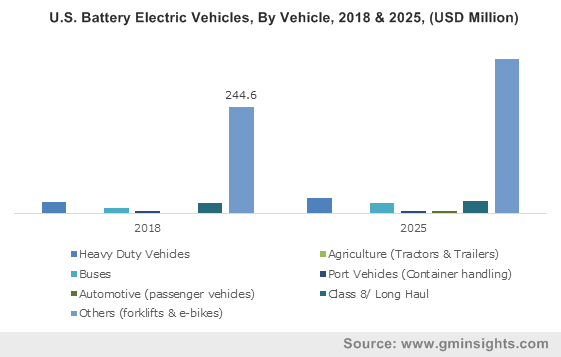 According to the latest forecasts, the level of CO2 in the atmosphere is projected to witness an average rise of 2.75 parts per million over 2019. If the world needs to meet the temperature goals of the Paris agreement, global emissions need to plummet by 2020. Unlike conventional vehicles though, battery powered vehicles don't require fuels and hence don't release much CO2. The growing number of issues related to vehicular emissions paired with the increasing need to reduce the effects of greenhouse gases will thus propel battery electric vehicles industry share in the future.
Over the last few years, electric vehicles have nearly gone mainstream, at least in the key global markets. Now having accomplished a small but significant share of the passenger-car market, the EV industry has been eying the public transit sector. Companies are now manufacturing battery-electric buses and selling them to cities interested in reducing their carbon footprint. Major manufacturers active in the electric-bus business comprise Canada-based New Flyer, China's BYD and the US-based startup Proterra.
Recently, Austin became the fifth Texas city to invest in the Proterra battery-electric buses. A complete all-electric fleet is the main goal of the city's transit agency Capital Metro, that purchased 40 buses along with 4 Proterra-charging systems of 60 kilowatts. Through no tailpipe emission, battery electric buses can help the agency meet its sustainability goals efficiently. The increasing adoption of such vehicles for public transportation will further proliferate the global battery electric vehicle market.
Get a Sample Copy of this Report @ https://www.gminsights.com/request-sample/detail/3181
Recently, Daimler Trucks North America claimed that battery electric vehicles will pave the way for zero-emission commercial transportation. According to the European Federation for Transport and Environment, emissions from heavy-duty vehicles such as trucks and busses grew by 36% between 1990 and 2010 and has continued to grow ever since. By the year 2030, trucks and buses will release around 15% of overall effort sharing or non-ETS emissions. Unless additional measures are taken, heavy-duty vehicle emissions could rise to contributing 40% of overall road transport emission by 2030. This presents BEV industry contenders with a viable growth opportunity, to manufacture batteries for heavy duty vehicles.
Recently, Germany-based Daimler announced the production of Freightliners, the company's heavy-duty battery electric vehicles, from its manufacturing plant in Portland. According to Global Market Insights, the BEV market share from heavy-duty vehicles segment will exhibit a CAGR of 9% over 2019-2025. The adoption of battery electric heavy-duty vehicles in a bid to reduce emission from commercial transportation will thus propel the global BEV market in the coming years.
The adoption of battery-operated passenger cars, buses or trucks will be further supported by the imposition of stringent vehicular emission standards across the world. For instance, the European Parliament recently agreed to new CO2 emission standards for newly purchased cars and vans with an objective to witness 37.5% reduction in emission from new cars and 31% lower emissions from new vans by the end of 2030.
Such regulatory initiatives along with the increasing need to prevent the severity of global warming would accelerate the adoption of BEVs in the future. For the record, the global battery electric vehicle market is anticipated to surpass $425 billion by 2025, according to a research report by Global Market Insights, Inc.
Author Name : Krithika Krishnan
The increasing importance for geospatial technologies for visualizing and analyzing geospatial data has stimulated mobile mapping industry trends. The advent of new technologies such as Lidar, AI, and IoT has also significantly transformed mobile mapping technology over the last few years. With more innovations across this technology, it has become easier and effective to carry various tedious projects like urban development, rail-road creation, and power plant construction across inaccessible areas. Thus, the increasing use of this technology to survey numerous mobile platforms is poised to propel mobile mapping industry share.
U.S. Mobile Mapping Market Revenue, By Component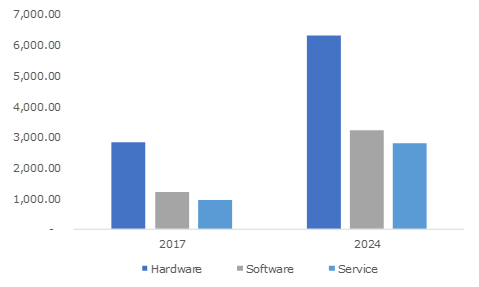 The involvement of companies in novel product development activities for high efficiency and productivity will have a notable impact on the business over the years ahead. In the last few years, companies have come up with a diverse set of products that can deliver remarkable benefits to users and asset owners. Validating the aforementioned fact, in February 2018, the California based software development company, Trimble developed a next-generation mobile mapping system, which has been designed with multi-camera imaging, mobile lidar system, and field software. This newly launched Trimble MX-9 mobile mapping technology has the capability to capture 360-degree immersive geo-referenced imagery with the help of already installed laser scanning sensors, GNSS technology, and spherical camera. The improved accessibility of such newly developed mobile mapping devices via smartphones and tablets will augment the growth of mobile mapping market.
Speaking more about the recent advancements, it is prudent to mention that 3D mobile mapping is also one of the latest developments in geospatial technologies that helps users to record, measure, visualize, and understand environments. The advent of 3D mobile mapping has overcome the limitations of conventional mobile mapping systems and helps to carry out a detailed visualization of climatic conditions. In 2018, a German company which develops software and hardware to navigate, map, and digitize the indoors, NavVis made it to the headlines for generating a fully integrated product for indoor mapping aided with six cameras. NavVis has developed this product in accordance with customers' request to have sophisticated and more versatile systems. This product is likely to prove beneficial for the end-users like construction product manufacturers, construction companies, and AEC (architecture-engineering-construction) professionals to generate high-quality data owing to its capability to capture immersive imagery.
Get a Sample Copy of this Report:@ https://www.gminsights.com/request-sample/detail/2652
The increasing importance for geospatial technologies has also been encouraging the players in the mobile mapping market to carry out vigorous research and development activities for capturing more business space. For instance, the Italy based SITECO Infomatia SRL has been proactive in developing varieties of products from road-scanners to pave-scanners. In 2018, it has launched software assisted mobile mapping devices. The integration of software and LiDAR system has helped the company to enhance the performance of mobile mapping platform. The widespread availability of multi-scanners and high-performance mobile mapping platforms is slated to propel the industry growth over the years ahead.
In addition to higher performance, cost-effectiveness is also one of the major factors promoting mobile mapping market size. As of now, Google is one of the leading contributors of navigation applications, but due to rise in subscription amounts for accessing its Google Maps, other contributors in mobile mapping market have been able to race ahead with the launch of low-cost navigation features. For instance, a few days before, a digital mapping company, TomTom has started offering free software development kits to Android and iOS users to access maps and traffic information for free. Such initiatives will help IoT companies and autonomous vehicle manufacturers to load the traffic and routing data free of cost.
The advancement in consumer electronics and shifting trends toward the deployment of autonomous vehicles for the betterment of the environment will have a positive influence on the mobile mapping industry share. As of now, most of the automotive companies have been involved in the development of highly modernized infotainment systems for improving the driving experience that is likely to enhance the product demand. In accordance with the expanding end-use sectors, the strategies adopted by the key player will help them to strengthen their business position over the years ahead. Reportedly, driven by new product launches, mobile mapping market will generate a revenue more than USD 40 billion by the end of 2024.
Author Name : Sunil Hebbalkar
With the increased popularity of the attractive fragrance of citrus fruits, especially oranges in personal care products, dipentene market has registered considerable expansion lately. Dipentene or limonene is the colorless liquid hydrocarbon that adds the distinct citric flavor and fragrance in many processed foods, beverages and cosmetic formulations of hygiene and personal care products. Owing to the versatile characteristics of limonene, dipentene market is expected to cater to a widespread range of applications – indeed, the product even finds deployment as an alternative to mainstream pesticides.
U.S. Dipentene Market Size, By End-user, 2013 – 2024 (USD Million)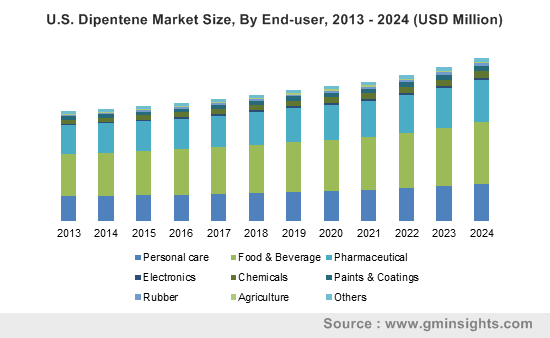 Limonene market has also been expanding rapidly on the grounds of the fact that the product is an alternate solvent to replace petroleum-based ones in several industrial applications such as paints and coatings where VOC emission and low biodegradability of solvents has become a major cause of concern for the wellbeing of the planet.
Global cosmetics and personal care industry statistics clearly point out that the said industry has been earning record revenue as beauty and self-care to preserve a youthful appearance is becoming one of the chief concerns for consumers all over the world. International beauty product companies that offer superior quality products as compared to local products have gained a commendable portion of the cosmetics and personal care industry in emerging nations as income levels of such nations continue to rise. Since limonene is expansively used in beauty products to add a freshening citrus odor, dipentene market is expected to garner major profits in Asia Pacific where the cosmetic market size is projected to surpass USD 126 billion by 2020 and where multinational companies are rapidly establishing a significant foothold. In fact, Asia Pacific has been forecast to be the fastest growing region in the limonene market over 2018-2024.
Get a Sample Copy of this Report:@ https://www.gminsights.com/request-sample/detail/2526
It will be prudent to mention here that dipentene, due to its colorless constitution and fresh, natural fragrance is used in various health care and cosmetic products like suntan products, bath products, cleansers, aftershave lotions, bubble baths, eye shadows, haircare products, lipsticks, perfumes, moisturizers and shampoos.
Rising levels of income is playing a subtler role in the growth of the limonene market as with more disposable income, consumers are opting for more effective ingredients in their products rather than cheaper ones. Manufacturers are therefore touting their products for greater efficiency rather than competitively pricing them which is adding to the enhanced inflow of revenue into the dipentene market. Diversification of distribution channels for cosmetic brands such as online shopping, vending machines, television infomercials, spas and home shopping are adding impetus to cosmetics market and consequently boosting growth of limonene industry.
Dipentene market will diversify its growth avenues beyond the cosmetic industry as research has found that chemicals obtained from orange peel could be utilized as a means of breaking the modern world's reliance on crude oil by being the building blocks in products ranging from plastics to paracetamol. Due to various adverse environmental effects, global industries had been trying to cut down on their dependence on the chemicals and materials that are obtained from fossil fuels, which are rapidly diminishing. As the world is increasing its focus on the development of renewable chemicals from an assortment of sustainable resources such as sugarcane and fatty acids in the production of biofuels, essential oils obtained from waste citrus peels have rapidly come to the forefront as a source that is being investigated with real zest as limonene shares many similarities with the chemicals obtained from fossil fuels.
Though limonene has been recognized as an important component of a bio-based chemical industry it will take the limonene industry considerable time to become a fully commercial means of plastics or polymer production. Issues hindering limonene market include the lack of reliable and greener supply of limonene. As research and development programs exert appreciable focus in bringing petroleum alternatives to the market, it is expected that dipentene industry will massively profit from such endeavors.
Author Name : Paroma Bhattacharya
Growing emphasis on consumer satisfaction and safety has proliferated the testing, inspection, and certification (TIC) services market as governments worldwide have implemented stringent quality regulations on almost every industry vertical. Whether it is construction, automobile, energy, healthcare or other segments, continuous advancement in products and components have necessitated upgraded testing and certification requirements. Improvements in management, product quality, manufacturing processes, supply chains and service value have become imperative for the growth of any business, imposing a need for the TIC services market. Existence of recognized certifications such as ISO:9001 or ISO/TS 16949 make it easier for customers to search for companies that provide excellent product quality, better customer service and new, innovative solutions. The global TIC services market valuation in 2017 stood at over USD 150 billion, driven by the obligation of companies towards meeting specific product requirements and to comply with international quality standards.
U.S. Testing, Inspection, and Certification (TIC) Services Market Revenue, By Service, 2017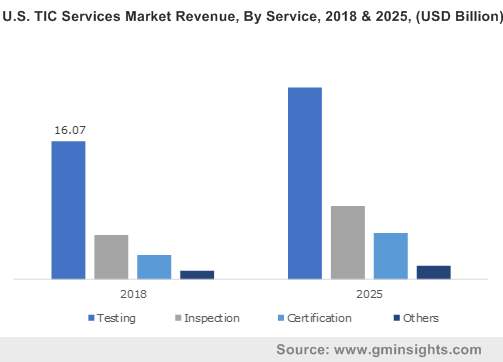 Besides helping to control the quality, effective testing and inspection processes aid in minimizing rejections, reduce manufacturing costs and identify reasons for a defective output. The transportation segment, in general, constitutes a major part of the global manufacturing industry where thousands of components or auto parts go through daily quality checks. As governments and international agencies are constantly raising the weight, material and other standards of automobile components to enhance the safety and efficiency of vehicles, the TIC services industry is subsequently gaining massive popularity. OEMs as well as small auto component vendors are striving to achieve high level of quality and get certified, to get documented and provide validity to their proficiencies and expertise. Frequent inspection and evaluation of manufacturing processes by in-house or third party services to maintain a grip on the quality level will continually boost the TIC services market.
Get a Sample Copy of this Report:@ https://www.gminsights.com/request-sample/detail/2318
As per estimates, the EU alone produced over 17 million passenger cars and 2.6 million commercial vehicles in 2017. With strict regulations in place to enhance the fuel efficiency of future vehicles and reduce carbon emissions, the TIC services market will experience tremendous growth from testing and inspection of advanced auto components and manufacturing processes. New processes need to be sufficiently tested before implementation and vigorously inspected for any faults or defects to ensure product uniformity. Globally, an emerging product line in the automotive sector is connected and self-driving cars, which presents a challenging task for the TIC services industry. Chipmakers and testing companies are helping to develop these products by adhering to ideal temperature, voltage, electromagnetic interference and several other standards put down for an efficient autonomous system. Automotive standards like ISO 26262 have been introduced related to the safety of electrical and electronic systems within vehicles, warranting adequate testing and inspection to be done on advanced automotive chips.
The TIC services industry is rapidly witnessing demand from the healthcare and life sciences segment, with test and inspection reports of pharmaceutical equipment being critical in assessing whether the international standards are met. TIC companies are trying their best to evolve with technological developments and remain up-to-date with new regulations pertaining to safety and quality. Products, apparatus and supply chains are subject to quality testing activities regularly, as pharmaceutical companies are responsible for providing vital therapeutic solutions. Even other parties involved in the supply chain must go through intense inspection by assigned representatives to be eligible to acquire critical certifications. Citing an instance that signifies the importance of the TIC services market, Swiss WorldCargo recently received IATA's Center for Independent Validators (CEIV) Pharma certification, which encompasses not only the airline but also the entire organization.
To elaborate, a CEIV Pharma certification indicates that the lifesaving pharmaceutical products are being handled in compliance with the best global standards of safety, security and efficiency by the certified party. With this certification, Swiss WorldCargo has attained a milestone which only a small number of airlines have been able to earn, recognizing them as globally consistent in exhibiting high quality standards while handling pharmaceutical products. Further, U.S. based Nu-Med Plus Inc. has established a quality management program and trained its employees regarding quality standards in an effort to gain ISO 13485 certification. The certification is essential for the company before it files for the approval of its new nitric oxide delivery devices with the FDA and demonstrates the significance of the TIC services market in forming the image of a top-quality healthcare product or service provider.
Overall, the TIC services industry will undergo remarkable transformation due to incessant developments in the life sciences field, resulting from the existence of rigorous certification eligibilities in healthcare and mandates that demand high quality control. Slated to record a 6% CAGR from 2018 to 2024, the TIC services market is highly dispersed with key players like Intertek, SGS SA, Bureau Veritas, DEKRA, TUV SUD, Apave and Eurofins being the major participants.
Author Name : Pankaj Singh