Agriculture
On-going research activities along with supportive regulations across the globe will revolutionize digital genome market. The growing implementation of this technology in the field of personalized medical care for efficient disease management will noticeably favor digital genome industry share. According to the Global Market Insights, "Worldwide digital genome market was worth USD 20 billion in 2015 and will exhibit a CAGR of about 9.5% over the coming years of 2016 to 2024."
The prominent applications of digital genome industry are microbiology, reproductive & genetic, research & development, transportation, and livestock & agriculture sectors. Microbiology application segment accounted for more than 22% of the revenue share in 2015 and will surpass a revenue collection of USD 10 billion by 2024. The growing demand for microbes across clinical, biological, and industrial sectors should drive the revenue. Research & development dominated the application landscape in 2015 and will contribute a revenue of more than USD 23 billion by 2024. The growth can be attributed to heavy investments by private and public sector firms in research activities.
Germany Digital Genome Market size, by product, 2012-2024 (USD Million)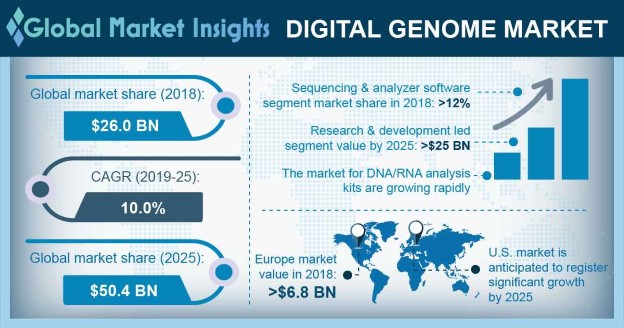 Sequencing and analysis software, one of the product bifurcations of digital genome market, will register an annual growth rate of 9.8% over the period of 2016 to 2024, owing to the increasing efforts to upgrade software packages. High investments in life science research will favor sequencing and analyzer instrument industry, which covered more than 40% of the global digital genome market contribution in 2015. Sample prep instruments, sequencing chip, and RNA or DNA analysis kits are the other notable products in digital genome industry.
Get a Sample Copy of this Report @ https://www.gminsights.com/request-sample/detail/1219
China digital genome market size will grow at an annual growth rate of more than 10% over the period of 2016 to 2024. The growth can be attributed to the supportive governmental activities in the favor of human genetic development. Moreover, the strategic partnerships between the biobanks and research institutes will influence the industry share noticeably.
U.S. digital genome market covered over 80% of the North America regional share in 2015 and will generate significant revenue over the coming seven years, owing to the genome sequencing technological enhancements along with availability of advanced healthcare infrastructure.
Brazil digital genome market is anticipated to record a considerable growth rate over the coming timeframe. The supportive rules and regulations regarding genetic and clinical testing will augment the business growth.
Russia digital genome market collected a revenue of around USD 290 million in 2015 and will exhibit lucrative growth over the coming years of 2016 to 2024, primarily driven by the fierce competition prevalent in the region. The Genome Russia project launched by St. Petersburg State University in Russia, aims to collect and scrutinize genome sequences from different regions across the country, which is also expected to generate a noticeable revenue over the coming seven years.
Collaborations, acquisitions, and novel product innovations are the business growth strategies of industry giants. The corporations operating in digital genome market are Becton Dickinson, Agilent Technologies, Qiagen, Thermo Fisher Scientific, Illumina, Pacific Biosciences, Perkin Elmer, Sigma-Aldrich, BioMarin Pharmaceutical, Fluidigm Corporation, Bio-Reference Laboratories, AVEO Oncology, and Agios.
Author Name :Sunil Hebbalkar
The global calcium nitrate market share is touted to soar high in the coming years primarily propelled by the increasing prominence of wastewater treatment across the globe coupled with growing healthcare & pollution control initiatives. As per estimations by the United Nations, the amount of wastewater generated yearly is about 1,500 km3, which is six times more than the water that exists in all the rivers across the world. Over the past decade, due to the rise in industrial pollution optimum management of wastewater has emerged as a major challenge for governments worldwide. According to the World Health Organization, unsafe or insufficient water, hygiene, and sanitation issues cause approximately 3.1% of all global deaths, and 3.7% of DALYs (Disability Adjusted Life Years) globally.
U.S. calcium nitrate market size, by grade, 2014 – 2025 (USD Million)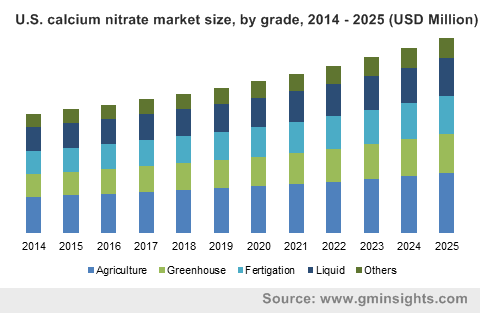 Calcium nitrate is extensively used in wastewater treatment facilities to minimize foul odors by up to 90 percent, by stopping the wastewater from becoming septic. The constant increase in clean water demand amid possible threats of biological contaminates has also been lending positive momentum to calcium nitrate market growth. Of late, the product apparently has also gained recognition in the solar power sector – it is used as molten salt in solar towers. As the energy sector expands further with renewable alternatives and solar power projects are anticipated to grow in number, the revenue graph of calcium nitrate market is anticipated to depict exponential growth.
Some of the key organizations having a significant foothold of the calcium nitrate market are Airedale Chemical, Vardhaman Fertilizers & Seeds Pvt. Ltd., Agrium Inc., Yara International ASA, Rural Liquid Fertilisers, Haifa Chemicals Ltd, and GFS Chemicals, Inc. These organizations, as is observed, have been working to expand their manufacturing capacities, geographical reach, and have also been introducing new business units, particularly across developing economies, such as the ones in the Asia Pacific where labor and property costs are economical. Citing an example of industrial expansion, in 2017, Haifa Chemicals Limited launched its new business subsidiary in Colombia called the Haifa Colombia SAS. The new facility reportedly provides plant nutrition solutions to distributors in the local periphery, helping the firm in establishing itself in the Colombia market.
Get a Sample Copy of this Report @ https://www.gminsights.com/request-sample/detail/848
A brief outline of the calcium nitrate market in accordance with the application spectrum has been outlined below:
Fertilizers
Calcium nitrate market size from fertilizers has been exponentially surging over the last few years due to increasing consumer efforts pertaining to improving yield quality and boosting profitability from agricultural trade. Some of the major contenders of the calcium nitrate fertilizer market have been constantly reinventing & innovating their crop nutrition portfolios to deliver increased crop yield and improved crop quality with minimum environmental impact.
Citing an instance, Yara, a fertilizer behemoth, is renown to offer an extensive collection of cutting-edge calcium nitrate based fertilizing solutions, called YaraLiva. The YaraLiva calcium nitrates employ quick-acting nitrate-N, in conjunction with strength-developing calcium, and the unconventional collaboration of these two nutrients fuels longer growth. Trees and plants treated with calcium nitrate fertilizers become naturally healthy and are less sensitive to growth stress. Acting proactively through sprout to harvest, these fertilizers enhance the appearance, strength, stature, glow, and size of the tuber, fruit, lettuce, seed, vegetable, or leaf being cultivated. In consequence, with calcium nitrate fertilizers, farmers can harvest high-value, healthy, and highly saleable produce. Considering the soaring demand for food worldwide, the requirement of these fertilizers is only bound to increase, which would help augment calcium nitrate market share from fertilizers in the years ahead.
Wastewater treatment chemicals
Wastewater plays host to a number of undesirable substances, some of which can prove to be extremely harmful if left untreated. Water has to be treated with appropriate processes & chemicals to remove solid suspended particles and avoid penetration of disease-causing virus, bacteria, and protozoa. The bacteria in untreated wastewater can undergo a chemical reaction to generate active sulphides, post which hydrogen molecules bond with these sulphides to create malodourous H2S gas, imparting an unbearable stench to wastewater.
When used in a treatment plant, calcium nitrate provides an alternate oxygen source that disrupts the development of H₂S gas. Reduced concentrations of H₂S entail less foul odor, lower corrosion of assets, and increased compliance of WHS (Work Health and Safety) regulations. Amidst growing water safety concerns, the rising implementation of calcium nitrate across water treatment facilities worldwide is projected to substantially elevate the industry growth in the coming years.
With the surging utilization of calcium nitrate across a plethora of applications in government, industrial, and agricultural sectors, it goes without saying that the commercialization graph of calcium nitrate industry will depict a commendable incline over the coming years. As per estimates, the overall calcium nitrate market size is projected to cross USD 12.6 billion by 2025.
Author Name :Nikita Chaurasia
A slew of advancements in geospatial technology has been instrumental in adding impetus to aerial imaging market lately, to such as extent that government organizations to commercial businesses, have now found ways to utilize the technology to their own advantage. Hurricane Harvey is one of the most iconic examples that demonstrates the progress of aerial imaging industry. The prompt intervention of EagleView Technologies had then restored some relief to the hurricane affected victims, while simultaneously increasing the popularity of aerial imaging.
Aerial Imaging Market Size, By Application, 2017 – 2024 (USD Million)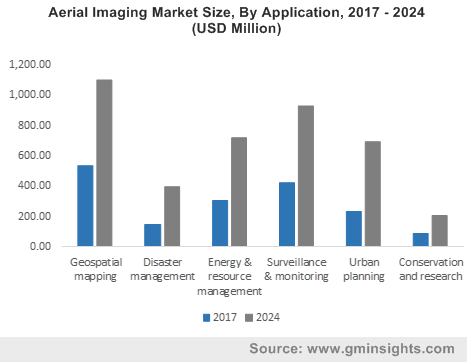 Elaborating further, when Harvey flooded Texas and Louisiana with 27 trillion gallons of water in 2017, it turned out to be one of the most devastating natural disasters in the US history. Besides, it also happened to be one of the most expensive catastrophes which cost approximately $190 billion. Amidst a scenario where thousands of people were displaced from their homes and thousands of others did not know if they had any home left to go back to, the Henrietta based aerial imaging company EagleView Technologies presented a possible means of relief to the victims of the destruction Harvey left in its wake. The company launched a website that depicted aerial views of the streets ravaged by the hurricane. Users could enter a street name and view before and after images to access the extent of damage. EagleView Technologies has so far collected almost 350 million images of over 90% of the most populated areas of the U.S. on behalf of clients which comprise local and state governments as well as insurance companies, that may benefit the hurricane victims.
Get a Sample Copy of this Report @ https://www.gminsights.com/request-sample/detail/105
However, aerial imaging industry is not limited to amassing millions of pictures alone. The vertical is now focusing on collecting images and teaching machines to look at images and generate a report if something of crucial importance is being reflected in those images. For instance, when an electric utility company requires aerial imaging, they do not just want thousands of images of power lines, what they want is to discern which poles are damaged or have broken conductors and need to be repaired. Machine learning facilitates this process by analyzing each image and producing a report for the repair crew with the location of the problem spots. Information collecting companies that are mainstream end-users of aerial imaging market are heavily dependent on this technology to access damage of personal and public property after natural catastrophes. Since it is not possible to send out claim adjustors to every place right after the disaster despite the crucial importance to assess damages as quickly as possible, aerial imaging market has received a considerable boost from the insurance industry.
As such implications clearly point out, disaster survey and management is expected to become one of the most lucrative growth avenues for the aerial imaging industry. In fact, aerial imaging market size from disaster management is expected to register a CAGR of 16% over 2018-2024. Most governments have regulations dictating the pilot of an aerial imaging vehicle to be in the visible range of the vehicle. But as climate change has increased the incidence of natural disasters, such restrictions are being slowly lifted. Advancement of technology is also ensuring that human pilots can be replaced with self-flying drones. This not only decreases the chance of harming human life while they are out in disaster zones but also helps in better assessment as machines can be taught to fly straight and maintain constant altitude. The advent of advanced technology will thus play a pivotal role in aerial imaging market expansion.
Recently Airbus Aerial and DroneBase announced a partnership that will deliver a multi-source data service solution for aerial imaging from a single provider. Such an initiative will enable companies to use a single service provider for all their data and imagery insights. With an international leader and pioneer in aerospace industry like Airbus and DroneBase which has 100,000 commercial missions flown in over 70 countries making a significant investment, other investors are also expected to join in the battle. As the contributions by prominent contenders strengthens the case for this vertical, aerial imaging industry size is expected to cross USD 4 billion by 2024.
Author Name : Paroma Bhattacharya