Agrochemical
Sodium bicarbonate market has recorded increasing returns over the recent years due to expansive use of the compound in manufacturing, food & beverages, agrochemical and various other industries. In the manufacturing sector a massive demand for sodium bicarbonate has been created due to its use as a soft abrasive blasting medium. Expanding demand for convenience foods has created a steady growth scope for sodium bicarbonate industry as well, reshaping the market outlook rapidly.
U.S. Sodium Bicarbonate Market Size, By End-User, 2013 – 2024 (USD Million)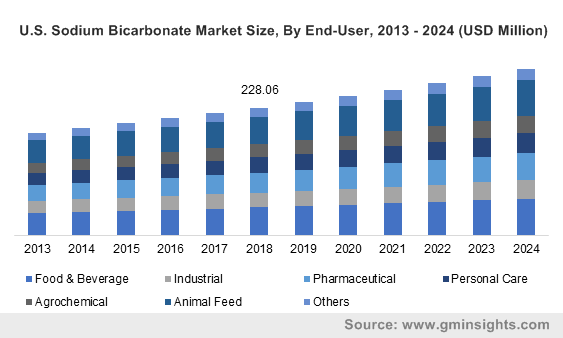 The expanding manufacturing sector has significantly supplemented sodium bicarbonate market trends. According to most recent data, manufacturers have been noted to contribute $2.38 trillion to the U.S. economy in the fourth quarter of 2018. Manufacturers in the U.S. perform 64 percent of all private-sector research and development in the country, bringing forth more innovation than any other sector. R&D in the manufacturing sector has risen from $132.5 billion in 2000 to $252.0 billion in 2017. Such actions not only have profound economic implications but are also slated to help the expansion of sodium bicarbonate market as increased manufacturing activities necessitate the use of the compound for abrasive blasting as well as for cleaning and maintenance of machinery.
Iron and steel manufacturing is one such sector that will contribute considerably in augmenting sodium bicarbonate market size. Granulated soda ash is a high-quality product which is used in the steel sector to eliminate Sulphur from iron ore, smoothen blast furnace operations, and give fluidity to slag during the manufacturing of iron and steel.
Get a Sample Copy of this Report:@ https://www.gminsights.com/request-sample/detail/2386
According to the European Steel Association, steel consumption was up 1.3% in 2017 to 159 million tons. Indexed steel use in automotive was up by 3.7%, in construction by 4.8%, in mechanical engineering by 6% and by nearly 7% in tubes. The figures represent a steady growth in consumption of steel. Similar growth patterns are expected to be witnessed by steel manufacturing sector which will also proliferate Europe sodium bicarbonate market share in the coming years. According to a research report compiled by Global Market Insights, Inc., Europe sodium bicarbonate market revenue is expected to exceed $400 million by 2024.
The food industry is yet another major consumer that has added impetus to sodium bicarbonate market growth. Sodium bicarbonate is used as a leavening agent in most baked goods that include quick breads, cookies, cakes, rolls etc. Evolving lifestyles across the globe have left less time for cooking which in turn has added a significant stimulus to the demand for ready mix cakes.
In 2015, $27.46 billion was collected from the retail sale of bread and baked goods in the U.S. Considering the fact that the U.S. is one of the largest consumers of baked products, this trend is expected to hold true in the coming years and lead to significant growth in the sodium bicarbonate market. In fact, food and beverage sector is expected to contribute more than $450 million to sodium bicarbonate industry over the forecast timeline.
Notable participants of the sodium bicarbonate industry are undertaking efforts that will expand their footprint in the market. For instance, Tata Chemicals Europe (TCE) is building the first industrial-scale Carbon Capture and Utilization (CCU) Demonstration Plant in the UK, which will decrease its carbon emissions while ensuring a secure and maintainable supply of carbon dioxide. It is the first one of its kind large-scale CCU project in the UK and also marks itself as world's first in trapping and refining carbon dioxide from power generation facility emission gases to be utilized as a key raw material to produce high purity sodium bicarbonate. TCE already exports 60% of its sodium bicarbonate to more than 60 countries throughout the globe. Many other companies are also toiling to penetrate sodium bicarbonate market by expanding their business globally.
Another effort to reinforce foundation in sodium bicarbonate industry has been depicted by CIECH Group. CIECH has started a number of initiatives aimed at increasing the efficiency of production in the soda business. The company has invested approximately PLN 40 million in the plant in Inowrocław which will increase its production capacity by 50,000 tons of soda ash per year and reduce the cost of production of baking soda or sodium bicarbonate. Businesses are also implementing collaborations, acquisitions, market flotations etc. as a part of their growth strategies to increase their revenue share in sodium bicarbonate industry.
Various companies are toiling to gain substantial revenues in sodium bicarbonate market as the compound is a high margin product targeted that can target various industrial segments. The growth of contributing sectors like iron and steel, food and beverage, glass etc. will also push the revenue graph of sodium bicarbonate industry. Sodium bicarbonate market size is expected to reach $2 billion by 2024.
Author Name : Anchal Solanki
In a world consumed with the concern of reducing waste and bring down greenhouse gases emission, chitosan market has gained major prominence in the last couple of decades since the compound has proven to be one of the most ecofriendly biopolymers. Recently a group of bioengineers from University of Nottingham in UK have joined a counterpart team in Nile University, Egypt to develop a substitute for conventional plastic carry bags using chitosan. The biodegradable alternative will be designed to be greener than more conventional polythene derived from fossil fuels and can also be used to extend the shelf life of foodstuffs.
U.S. chitosan market size, by end-user, 2013 – 2024 (USD Million)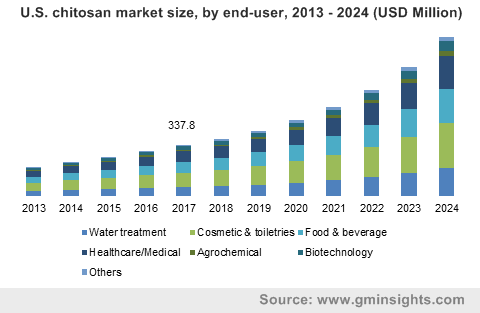 Apparently, developing nations like Egypt have a major problem when it comes to disposal of plastic bags and reduction of water contamination. The use of bioplastics is not feasible in the African nation where most plants are grown for food and cotton. Chitosan, the man-made polymer derived shrimp shell, has emerged as viable solution for the production of a biopolymer nanocomposite material that can replace polyethene. The success of chitosan in Egypt can lead to British manufacturers opting for it as well which is eventually expected to lend a major boost to the chitosan market over 2018-2024.
Chitosan is already a very recognized material in waste water treatment industry as well as food packaging industry. Research has demonstrated that the biopolymer chitosan can be used as a coagulating agent for organic compounds, toxic heavy metals and for adsorption of dyes and minor concentrations of phenols in various industrial wastewaters. Absorption in waste water treatment has been attracting scientific focus as it is a high efficiency, low cost method and absorbents are easily available. Driven by industrialization and urbanization, water pollution has become a major threat on Planet Earth. Chitosan industry has forged a remarkable growth avenue for itself as it has proved to be one of the most effective compounds for the removal of heavy metals or metalloids through adsorption.
Get a Sample Copy of this Report @ https://www.gminsights.com/request-sample/detail/760
Chitosan market has also etched out a growth path through the development of edible alternatives in food packaging. Researchers are therefore developing packaging alternatives made of chitosan as an option that has the potential to replace plastic in the food and animal feed industries. As per the Australian Marine Debris Initiative Database, plastics constitute one of the biggest pollutants in the Australian waterways, with up to 130,000 tones winding up in the ocean each year. Researchers at the National University of Singapore have succeeded in developing an ecofriendly food packaging material that is chemical additives free by fortifying natural chitosan composite film with seed extract from grapefruit. This innovative food packaging material can impede fungal growth resulting in doubling the shelf life of perishable food. As such packaging options come to achieve mainstream acceptance, chitosan market is bound to register a growth influx over the ensuing years.
The production procedure for chitin and chitosan involves use of hydrogen peroxide and high temperatures besides the use of aggressive agents, concentrated solutions of acids and sodium hydroxide. Large volumes of industrial wastewater containing acid and alkali are produced during the chemical treatment of chitin and chitosan. However, the compounds are used across a wide array of industries that include medicine, agriculture, cosmetics and food processing. Considering such applications and the relative eco friendliness of chitosan, extensive research and development is being conducted in the chitosan market to create a product that is not as harmful to the environment.
Recently a research endeavor has succeeded in obtaining low-molecular-weight, water-soluble chitin and chitosan that relies on electron-beam plasma degradation of chitosan in a specialized plasma chemical reactor. The new technique not only has the advantage of being environmentally friendly but also reduces the time needed to produce water-soluble chitosan from several days to minutes. As more investments related to chitosan find their niche in R&D programs, it is imperative that the chitosan market will register a massive growth rate over 2018-2024.
Author Name :Paroma Bhattacharya