Agrochemicals
Endowed with a wide application spectrum, the growth prospects of the global phosphate esters market have been witnessing an upsurge in the recent years. The wide range of structures and links of phosphate esters that can be developed to adapt to specific applications and functional properties have in turn resulted into wide range of commercially valuable products. With the globally flourishing agricultural and construction industries, the demand for phosphate esters as a raw material in surfactants, agrochemicals, lubricants, fire retardants, and plasticizers have significantly favored this business sphere.
U.S. phosphate esters market size, by application, 2014 – 2025 (USD Million)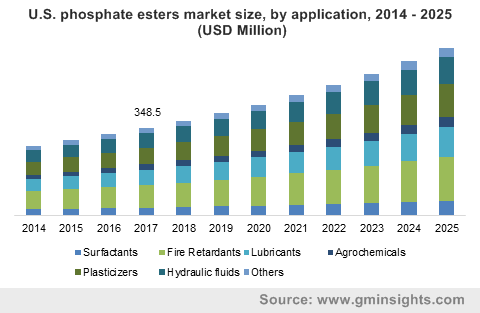 Elaborating further, it is prudent to mention that the emerging move away from the low molecular weight orthophthalate PVC plasticisers is set to have a significant impact on this industry expansion. The tightening of regulations coupled with the rapid emphasize on product development activity for alternatives that offer better properties have in turn impelled several companies to go the whole hog and take advantage of this situation.
Unveiling the application landscape of the global phosphate esters industry
Speaking of the application spectrum, estimates claim that the fire-retardant segment accounted for more than 20% of the overall phosphate ester market share in 2017. The rapidly growing population and construction sector are the most pivotal factor driving this application segment. The demand for phosphate esters as multifunctional additives for metal working fluids has also favored the segment growth.
Besides the fire-retardant application, two prominently emerging application segments of the global phosphate esters industry are the hydraulic fluids and agrochemicals. Reliable reports claim that the trend of fusion prototype and miniaturization in industrial and consumer goods segment will positively impact the demand for phosphate esters in the ensuing years. Phosphate ester hydraulic fluids are widely used in steel mill equipment, flight deck elevators, and aircraft catapult systems and including control fluid for steam turbines and hydraulic doors on blast furnaces. Consistent demand for these applications have significantly uplifted the growth of the hydraulic fluid segment, which according to reports will surpass a remuneration portfolio of USD 500 million by 2025.
Get a Sample Copy of this Report @ https://www.gminsights.com/request-sample/detail/3028
The agrochemical application segment is further likely to gain traction, given the rising demand for nitrogen and phosphate based fertilizers. In the recent years, aromatic phosphate esters are witnessing remarkable demand as adjuvants in compositions for agrochemical use in combination with at least one surfactant and agrochemical. Another prominent factor that has strongly propel the agrochemical application segment is the increasing consolidation of the agrochemical industry players.
Recently for instance, Eastman Chemical Company signed a deal with a global specialty chemicals leader Clariant to develop and distribute Eastman Chemical's Tamisolve NxG solvent – a low toxic and highly effective solvent used in the agrochemical industry. both the companies are expected to leverage their expertise and utilize their individual strengthen in developing more sustainable, efficient, and innovative agrochemicals for farmers worldwide. If industry analysts are to be believed, such deals in extension, will deliver significant business benefits to the global phosphate esters industry players.
BASF SE, Lanxess AG, Israel Chemical Ltd, Solvay S.A., Lakeland Laboratories Ltd., Ashland Inc., Daihachi chemical company, Akzo Nobel N.V., and Elementis PLC are some of the other prominent companies operating the global phosphate ester market.
North America to merge as a major revenue pocket
In terms of volume, with U.S. at its foray, North America phosphate ester market is anticipated to register a CAGR of 7.5% over 2017-2025. The massive investment in research and development in industrial equipment and manufacturing components, particularly in the U.S., is poised to accelerate the regional industry expansion in the ensuing years. The overall use of non-halogenated phosphorus esters in myriad industrial applications is also expected to favor the product demand. Estimates claim that this surge in demand has mainly triggered the regional business for triaryl phosphate ester, which is alone forecast to exceed USD 350 million by 2025. The data also significantly goes on to validate that North America phosphate ester market is all set to experience a growing investment interest from potential stakeholders in the coming years.
All in all, thriving of the cusp of expanding application and regional landscape, the global phosphate esters industry is expected to continue on a lucrative roadmap in the years ahead. A presumption bearing testimony to the same id of Global Market Insights, Inc., that claims the overall phosphate esters market to exceed a valuation of USD 3 billion by 2025.
Author Name : Ojaswita Kutepatil
The global industrial solvents market is anticipated to make promising gains in the forthcoming years, on account of burgeoning demand for printing inks, paints & coatings, and cosmetics products across the globe. In addition to this, industrial solvents are also widely used in the pharmaceutical sector, impelling the industry share. For instance, pet shampoos utilize solvents to dissolve a medicinal drug for topical treatment, provide moisture, and soften animal hair & skin.
U.S. Oxygenated Solvents Market Size, By Application, 2017 & 2024, (Kilo Tons)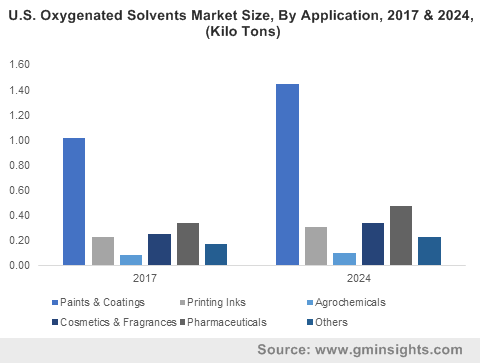 Industrial solvents are often used to dissolve ingredients and empower various solutions & manufacturing processes. They offer additional value in cosmetics, paints & coatings, adhesives, and lubricants because of their high solvency rate. For instance, Isopropyl alcohol is a multi-use solvent, which is often used as disinfectant in homes, and as an industrial solvent to dissolve substances, such as resins and oils, in production processes across various industries. The growth in manufacturing sector coupled with favorable regulatory outlook, especially in emerging economies, would positively favor industrial solvents market growth in the ensuing years.
The paragraphs below explore the growth prospects of the industrial solvents market with respect to the application landscape:
Paints & Coatings
The global paints & coatings market is anticipated to witness an upswing in terms of revenue in the approaching years, due to rising adoption across the building and construction sector. The paints & coatings industry is one of the biggest consumers of industrial solvents, attributable to the capability of solvents to disperse or dissolve the components in paint formation, to create paints of the desired consistency and eliminate globs or clumps. Apart from the construction sector, paints and coatings are widely used in the automobile industry. For instance, glycol ether esters are at times added to certain spray paints to avoid drying up in mid-air. The slow-paced evaporation of this powerful solvent group enables cars and other vehicles to get a smooth and flawless paint application for an appealing and durable finish.
Get a Sample Copy of this Report:@ https://www.gminsights.com/request-sample/detail/2706
In addition to the factors mentioned above, it is important to note that no single solvent has the capability of dissolving all of the film-forming ingredients employed in contemporary coatings. The application of optimal thinners and reducers is usually needed, which consists of blends of various solvents, wherein each can dissolve one or more ingredients within a given coating formula. This has been leading to increased product usage per application, thereby considerably contributing towards industrial solvents market growth.
Printing Inks
Numerous printing inks, used worldwide to print everything from books to food packs and labels, rely heavily on industrial solvents for accurate application to attain the vivid colors. In printing inks applications, solvents are implemented to regulate viscosity and permit flow without harming printing rollers. As with paints and coatings, solvents advance drying for contemporary fast-paced printing presses.
Printing inks applications have leveraged the potential of industrial solvents in a number of ways. For instance, the use of smudge-resistant ink in newspapers means no more finger staining and illegible print. Speaking of computer printer inks, they dry really very fast and are highly smudge resistant. Thus, the wide application spectrum of printing inks and brisk advancements in ink technology will create a powerful launch pad for industrial solvents market to reach new heights.
Cosmetic and Fragrances
The cosmetic industry relies heavily on industrial solvents to dissolve ingredients and increase the efficiency of products. Industrial solvents are widely used in lotions, shaving creams, face creams, and talcum powders to maintain the consistency of the product. For instance, Ethanol is hugely preferred by perfume companies as their solvent of choice due to its low odor. Indeed, the low boiling point of ethanol allows the solvent to evaporate rapidly and does not let it remain on the skin.
Likewise, acetone or Ethyl acetate is an important ingredient of nail paints and is especially looked upon for its fast-drying potential. Besides, it also finds applications in nail paint removal products, owing to its high solvency characteristic which enables the nail paint to be removed easily from the nail. Amidst this backdrop, it is prudent to mention that industrial solvents market share will soar high in the years to come, because of abundant product demand from cosmetic and fragrances applications.
Having realized the immense potential of the industrial solvents market, prominent companies such as Shell, Arkema, Honeywell, BASF, and Total have made considerable investments in R&D programs and product innovation to serve the evolving consumer demand better. Powered by the rapid expansion of the paints & coatings applications in tandem with growing infrastructure industry, the industrial solvents market is projected to attain commendable gains in the approaching years.
Author Name : Nikita Chaurasia