Air compressor market pdf
The exponential growth graph of oil-free air compressor market can be aptly demonstrated by the recent launch of the ZR 90-160 VSD+ oil free air compressor. Introduced by one of the leaders in air compressor industry, Atlas Copco, this latest oil-free rotary screw air compressor is being touted for its excellent energy efficiency which reportedly facilitates faster return on investment with 35% energy savings. As users of air compressors are growing increasingly intolerant of contaminations in their system, the ZR 90-160 VSD+ has been declared to be ideal for the automotive, food and beverage, textile, electronics and pharmaceutical industries.
U.S. Oil-free Air Compressor Market Size, By Application, 2013 – 2024 (USD Billion)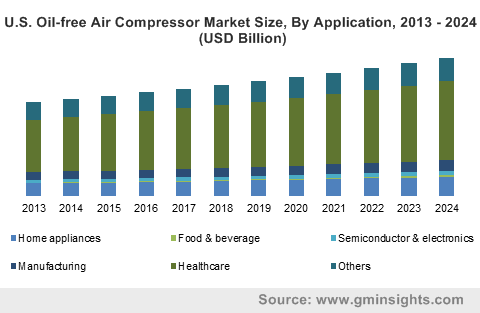 Incidentally, the ZR 90-160 VSD+ is equipped with Atlas Copco's advanced variable speed drive technology and is housed in a compact sound proof enclosure. But the truly commendable feature of the ZR 90-160 VSD+ lies in its design and sealing that ensures physical separation between the oil and air circuits and keeps the compressed air chamber completely oil free. Atlas Copco has thus set a pivotal benchmark in oil-free air compressor industry with this launch, claim experts.
Most companies prefer not to have oil contaminate products and procedures. A 100 hp oil filled air compressor with 2 ppm carryover, will introduce over 4 gallons of lubricant into a compressed air system if it runs for 8000 hours or approximately one year. The lubricant will eventually start to show in the product and no business can afford to lose money on product recalls and lost reputation. In this regard, oil-free air compressor industry has registered a significant rise in shares as many food and beverage producers have shifted toward using these air compressors to streamline manufacturing processes while ensuring product quality.
Get a Sample Copy of this Report @ https://www.gminsights.com/request-sample/detail/460
Compressed air finds a wide variety of usage in the food and beverages industry such as cleaning containers prior to product filling, automated product sorting, blow molding of containers, washing packaging machines to maintain sanitary conditions and vacuum sealing of products. However, air quality is of supreme significance and in this respect oil-free air compressors help to ensure that oil contamination is the last thing food manufacturers have to bother about.
Most oil-free air compressor market leaders bring products to the market that are compliant with industry standards and meet customer quality expectations. Food manufacturers look for oil free air compressors with Class 0 certification to adhere to guidelines such as the ones outlined in the UK Code. Indeed, there have been many instances where food factory owners have used oil filled air compressors and have had to replace contaminated piping, filtration, dryers, receivers and compressors all the while, paying a tremendous price in terms of production interruption and product recall. On these grounds, it would be fair to state that oil-free air compressor market has much to gain from the food and beverages industry.
Another sector that prioritizes air quality is the pharmaceutical and healthcare industry. For instance, in the dental profession and processes, compressed air is quite widely used, the quality of which is supposed to be devoid of any kind of contamination in order to ensure utmost patient and equipment safety. The British Dental Association (BDA) states that oil-free air compressors are relatively cleaner, more effective and provide better quality of air to patients. Apart from the lower risk of contamination presented by oil free air compressors, these are also much lighter than the oil filled variants and can be placed in a wider variety of areas while being equally efficient in creating air flow and pressure as their oil filled counterparts. While the maintenance of oil free air compressors is greater, the air quality they ensure for patients and the staff is commendable and outweighs the advantages of using oil filled compressors. This has consequently lent an edge to oil-free air compressor market size from dentistry applications.
The pace of oil-free air compressor industry will be somewhat slow, as the equipment are much more expensive than more commonly used oil lubricated air compressors. Owing to the environmental benefits, compact design and superior mechanism – factors contributing to the higher cost, oil free air compressors will eventually register wider demand. As per estimates, oil-free air compressor market size is anticipated to surpass $14 billion by 2024.
Author Name :Paroma Bhattacharya
The demand for air compressors is expected to spur considerably over the coming years, partly due to its essential application across cold storage facilities. Technological advancements have led to the development of energy-efficient air compressors that offer reduced maintenance costs and have a lower impact on the environment.
Availability of compressors that come with multiple configurations and provide a varied range of supply pressures is aiding product demand. While the advent of high-capacity, portable air compressors that offer better performance and versatility could fuel new revenue proceeds in the industry.
According to a study led by Global Market Insights, Inc., the air compressor market is estimated to surpass US$107.56 billion by 2026.
The manufacturing sector is anticipated to amass a noteworthy share to this growth owing to rising demand for heavy-duty compressors that offer higher air pressure capacity for running diverse industrial applications. For the record, centrifugal air compressors are mostly used across such industrial operations. The product is renowned for its high air power output and pressure capacities. Notably, on the other hand, oil & gas, energy, construction and mining are some other areas where air compressors are gaining prominence.
Get a Sample Copy of this Report @ https://www.gminsights.com/request-sample/detail/377
However, heavy duty models of air compressors are usually expensive owing to their bulky nature, manufacturing & operational complexities and higher efficiencies. Nevertheless, with increasing investments aimed at driving new construction and mining activities, the adoption rate of such air compressors could spur considerably over time.
The food and beverage sector is also garnering a major share in the air compressor market. Growing consumer inclination towards packaged and perishable food products has led to the demand for efficient refrigerant compressors.
These systems are mostly installed across cold storage facilities and warehouses for maintaining and preserving various food products. Development of new food processing plants and warehouses to increase storage capacity may augment product demand. While estimates suggest that the food & beverage segment make accrue maximum gains of over 6% CAGR over the projected period.
According to regional share, Latin America air compressor market is expected to register a 3.4% CAGR between 2020 to 2026. Factors like easy availability of low cost labor, raw materials, and abundance of land have motivated manufacturing industries to expand their business capacity.
For the record, air compressors are widely used in the region across manufacturing processes like industrial good & machinery manufacturing. Supportive government initiatives to augment expansion of industrial hubs and manufacturing plants are likely to favor product penetration across LATAM.
Meanwhile, on a global scale, the demand for air compressors is expected to proliferate on account of surging infrastructural development activities and growing construction of green buildings. According to reports, countries like China, Indonesia, Vietnam and Thailand are undertaking AC manufacturing line conversion projects for supporting the Montreal Protocol. Initiatives such as these may favor the growth of global air compressor market size over 2026.
Author Name : Mateen Dalal