Aircraft Refueling Hose Market
The aircraft refueling hose market is registering significant growth in recent times owing to exponential rise in deployment of aircraft fleets worldwide. Increased tourism and spending on business travel has also propelled the aviation sector in the past couple of years.
U.S. Aircraft Refueling Hose Market, By Application, 2018 & 2025, (USD Million)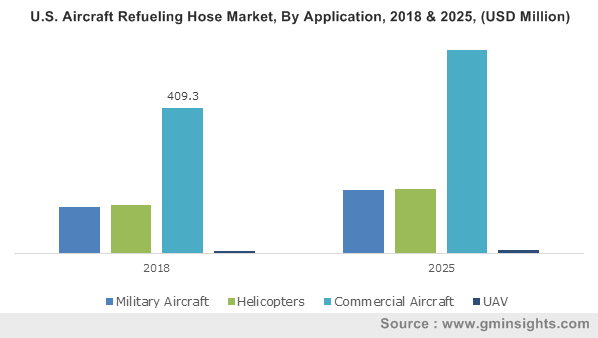 The International Air Transport Association (IATA) claims that the number of trips per person is forecast to increase by 4% – 8% annually for many emerging countries, and is projected to be as high as 10% – 11% per year in India and China. These growing trends necessitate radical infrastructural developments and the need for efficient refueling equipment like aircraft hose.
Aircraft hoses are made with utmost precision whilst keeping in mind the critical nature of their application. They can easily conduct refueling operations on land as well as in air – features that have considerably enhanced its significance in recent years.
Investment in defense infrastructure has offered immense impetus to aircraft refueling hose market. For instance, the U.S. Air Force 2020 budget anticipates an approximate US$165.6 billion investment, a 6% increase from the FY 2019 request, which involves continuing the procurement of F-35As and KC-46As, and initiating the refresh of the F-15 fleet with a new variant. These investments will most likely drive the global aircraft refueling hose industry share.
Get a Sample Copy of this Report:@ https://www.gminsights.com/request-sample/detail/3344
Expansion in commercial airline fleets along with a high-rise demand for lighter airplanes will boost aircraft refueling hose market share. Exponential increase air passenger traffic will positively influence product demand. For instance, IATA claims that, with present trends in air transport, it is likely that passenger numbers will double to 8.2 billion by 2037.
Aircraft major Boeing recently projected that the worldwide need for new airplanes will grow rapidly between 2018 and 2037, during which about 42,730 new airplanes deliveries are expected with a market value of $6.3 trillion. This growth will be increasingly witnessed across Asian countries like China and India and will drive the regional industry. In fact, Boeing claims that China alone is expected to order 6,810 new airplanes worth over $1.025 trillion over the aforementioned period.
Rising efforts by domestic airlines to increase their flight network by adding new, advanced aircrafts will drive the industry share. Expanding aircraft fleets helps to increase the size of the airline's network and will eventually help to boost aircraft refueling hose market trends.
North America aircraft refueling hose market will generate substantial proceeds by 2025 on account of rising demand for military aircrafts along with a considerable increase in defense budget. In a bid to attain improved system performance and efficiency, eminent industry players are developing lightweight and technologically advanced refueling hoses. Global Market Insights, Inc., claims that North America aircraft fueling hose industry size will depict a CAGR of 3% over 2019-2025.
In recent times, new highly advanced aerial refueling tankers are being deployed to conduct refueling operations in air, further contributing toward enhancing operational efficiency and reducing flight downtime. For instance, in 2019, the U.S. Air Force started accepting the first few production copies of Boeing's military aerial refueling aircraft, KC-46. Official reports claim that the Air Force will accept 19 additional KC-46s by the end of August 2019 that would help drive the regional industry share.
The U.S. Navy plans to finalize its MQ-25 drone program by 2019 with an aim to craft drones that could fly off an aircraft carrier and refuel other aircraft mid-flight. Proliferating trends pertaining to drone development and deployment will propel North America aircraft refueling hose market size.
Helicopters are gaining traction in aircraft refueling hose market owing to increasing use of helicopter in-flight refueling (HIFR) systems. In the past decade, the worldwide fleet of civil helicopters has grown by 37.38% to reach 30,895 aircraft, claims the General Aviation Manufacturers Association (GAMA). Increased helicopter usage in O&G industry for getting to offshore oil rigs and conducting rescue operations in remote locations will drive aircraft fueling hose industry size from helicopters .
The global aircraft refueling hose market is driven by rapid deployment of commercial and military aircraft fleets in the aviation sector. Increasing number of air passengers and rising defense budget will augment business growth. Reports from Global Market Insights, Inc., estimate aircraft refueling hose market size to reach USD 2.5 billion by 2025.
Author Name : Mateen Dalal