Airways
With automakers looking to offer a wide range of vehicle models to cater to varying customer demands,  global automotive logistics market is projected to experience substantial business growth over the forthcoming years. Apparently, a single car series model from a premium German vehicle brand can be available in approximately 1,017 possible variations. The unprecedented level of complexity, driven by product variety and the immense pressure exerted on industry players due to tough international competition makes it considerably difficult for automakers to ensure efficient logistics operations.
U.S. Automotive Logistics Market, By Vehicle, 2018 & 2025, (USD Billion)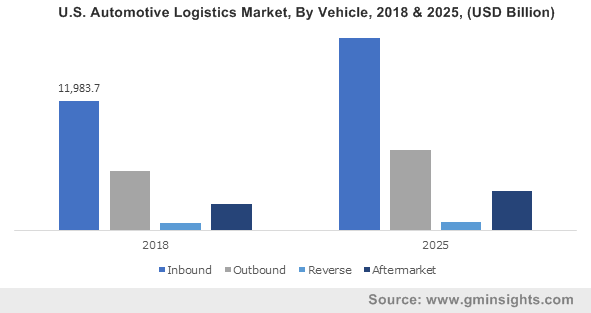 Supplying auto parts to global customers entail some of the prominent factors endorsing the importance of automotive logistics industry. It is also the reason why automobile manufacturers today maintain vehicle assembly plants across the world. Instead of manufacturing and shipping entire vehicles to regional markets overseas, automakers prefer to manufacture and ship vehicle components to local manufacturing facilities and then assemble the components into a vehicle. This practice delivers substantial savings on import duties, reinforcing global automotive logistics market share.
The benefits offered by automotive logistics service providers, while enabling automakers in creating an international footprint, also frees resources up to focus on any new opportunities and challenges. Subsequently, automotive logistics industry has become a major influence on domestic and international automotive sector, supporting the development of many small and medium enterprises.
Automobile and auto parts shipping services are typically hired by private owners, being a convenient means to transport customers' vehicle from one place to another. The entire process involves loading the vehicle on a dedicated truck and shipping it to its destination. In extreme cases vehicles can also be shipped on freight carriers or cargo planes, a prominent example being the UK's supercar season, annual phenomenon wherein wealthy individuals, especially from Gulf regions, ship their supercars to the UK for vacationing and exhibitions. Apart from licensing and custom fees, shipping a car using cargo planes costs approximately £20,000 per vehicle per trip.
Get a Sample Copy of this Report:@ https://www.gminsights.com/request-sample/detail/3286
Growing intensity of vehicle production would be further providing a sizable boost to the automotive logistics market. According to a 2019 report by Volkswagen, deliveries by VW Commercial Vehicles division in 2018 amounted to approximately 500,000 vehicles, an increase on the numbers from the preceding year. The positive growth which leading companies like VW are experiencing, even in a slowing market landscape, would be providing further growth opportunities to the automotive logistics industry players.
Asia Pacific is projected to emerge as one of the dominant customer base for auto parts, with the anticipated demand being credited to the domestic auto manufacturing sector and a strong presence of global automobile manufacturers. India, specifically, is estimated to contribute substantial revenues to automotive logistics market over the forecast timeframe. The Society of Indian Automobile Manufacturers stated that passenger vehicle sales increased by 2.70% over March-April 2019 in India. The nation's commercial vehicles segment also recorded a 17.55% growth in the quarter, as compared to the same period the previous year.
Japan will be a key market for domestic automotive logistics services and the country's contribution is being attributed to well-established automobile manufacturers such as Toyota, Nissan and Honda that call Japan their home. Toyota, for instance, has its parts and logistics division network spanning across 38 countries, with over 177 dedicated sites that are operated by more than 79 overseas business entities and subsidiaries. Such vast networks are exactly why Japanese automakers enjoy a strong presence in different countries and will drive the expansion of the regional automotive logistics industry.
Owing to a gradual increase in automobile production and the robust development of automotive sector in APAC, global automotive logistics industry is slated to record tremendous revenues in the imminent future. Key industry participants expected to lead the growth include DHL International, CEVA Logistics, SNCF Group, XPO Logistics and Imperial Logistics. Global Market Insights, Inc. has predicted that automotive logistics market size will exceed an annual valuation of $170 billion by 2025.
Author Name : Akshay Kedari
With the robust penetration of smart technologies in the transit space, smart transportation market has been progressing at a prodigious pace in the recent years. The growth can be aptly credited to the efforts of the automotive industry players that have been striving to bring in innovative products to the masses. However, the governmental bureaucracy is also to be accredited with some appreciation, given that these authorized bodies have been extensively adopting smart technologies to solve traffic problems, in addition to providing substantial financial support for modernizing transportation.
Smart Transportation Market Size, By Mode of Transportation, 2017 & 2024 (USD Million)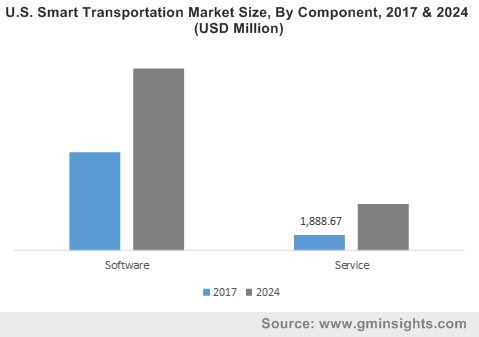 Urban planners along with technology experts are focusing on building smart cities that will use automated transportation, smart grids, artificial intelligence and digital sensors. Such cities are expected to become a hub for the expansion of the smart transportation industry. Furthermore, the advent of the Internet of Things (IoT) and artificial intelligence (AI) will also be playing a major role in popularizing smart transport, extending its reach across the masses. Indeed, it is being speculated that smart transportation market will emerge as one of most revolutionizing business spaces of the 21st century.
How China is contributing toward smart transportation market share
China, the biggest automotive market across the globe, has been highly proactive in improvising its automobiles, thereby emerging as a pivotal contributor in smart transportation market. The nation has seemingly deployed intelligent transportation systems such as traffic signal control systems, variable message signs, car navigation, speed cameras and automatic number plate recognition. This is being done primarily to update transportation systems and resolve various social issues that are often indirectly related to poor transportation. In fact, one of the most iconic instances demonstrating China's proactiveness in smart transportation industry is the construction of an intelligent highway equipped with battery chargers, solar panels and mapping sensors all along the 1.08 km stretch.
Get a Sample Copy of this Report @ https://www.gminsights.com/request-sample/detail/2512
China also aims at ensuring that at least 10% of all automobiles across the country are electric vehicles. This would warrant that smart highway projects such as the aforementioned are always on the run, thereby providing an added growth avenue for smart transportation industry. The Intelligent Transport System Association of China has recently even declared an investment of USD 30 billion in the intelligent transport industry by 2020 that would help construct electronic charging systems and encourage green transport system.
Dubai: Revolutionizing the dynamics of MEA smart transportation industry
Dubai has recently joined the trend of smart city development. Apparently, under the umbrella of the Dubai Plan 2021, the government is aiming at transforming infrastructure, designing ambitious projects and providing citizens with enhanced benefits. The regional smart transportation market has witnessed increased investment under the Dubai Plan, as transportation is being viewed as a key pillar to the development of a smart city.
The Roads and Transport Authority of Dubai has implemented unique smart car rentals that can be collected by tech-savvy commuters on an hourly basis and returned to kiosks located close to metro stations. Apparently, estimates claim that 40% of slow traffic movement in Dubai is caused by drivers looking for a parking spot. On these grounds, intelligent parking systems are being developed that will guide drivers to find parking spots near their destination. Safety of bus commuters is also being developed by the installation of a system of buses that will assess the physical condition of the driver and identify signs of exhaustion or illness. It has been estimated that IoT technologies can amplify Dubai's potential value to reach $5 billion by 2019.
Smart technology, ideally, is still a long time away from reaching market maturation. Besides, even regulatory systems have much progress to make with regards to helping existing roads adapt to the new smart mode of travel. However, smart transit systems offer ubiquitous connectivity, remote sensors, dynamic traffic signals and vehicular communications – commendable social and economic benefits that are certain to aid smart transportation industry emerge as a mainstream vertical.
Experts point out that between 2035 and 2045, the advent of autonomous vehicles can save around 585,000 lives while reducing commuting time by 250 million hours per year on a global basis. Also, machine directed vehicles are likely to stray from distractions and will contribute towards improving highway safety. According to certain statistics, autonomous vehicle technology is expected to add $7 trillion to the global economy by 2050 when they will come to constitute more than half the new vehicles sold worldwide.
In the forthcoming years, vehicle ownership is likely to be displaced with the rapid proliferation of Mobility-as-a-Service technology. Smart transportation market is expected to witness an altogether new scenario of ride-hailing services and pilotless vehicle options, revolutionizing the automotive & transportation space in its entirety. As per estimates, smart transportation industry size is anticipated to increase commendably in the ensuing years, with a target valuation of USD 130 billion by 2024.
Author Name : Paroma Bhattacharya
The robust proliferation of the Internet of things, big data, analytics, and mobile technology has positively impacted the growth of ITS market since the last half a decade or so. The automotive industry in particular, which is expanding at an unprecedented pace, has come up to be a technologically revolutionized industry sphere. With the growing number of vehicles, there has been an immense demand for road safety and traffic management to enhance user travel experience. This rising demand to improve transport efficiency has undeniably influenced the expansion of the global
intelligent transport system market
.
Asia Pacific Intelligent Transportation System (ITS) Market Revenue, By Country, 2018 & 2025 (USD Billion)

Traffic management has been a major challenge due to the growing number of vehicles and multimodal transport. The demand for safety, operational performance and transport efficiency is thus majorly driving the demand for ITS market. Moreover, rising environmental concerns as a result of pollutant emission and depleting fuel resources is also fueling the growth of ITS market to enable congestion free transport.
The system improves the transport efficiency by offering features like traffic prediction, traveler information, advisory services, analytics and decision support, ticketing and fare collection, roadside sensors, global positioning systems, and radio frequency tags. ITS services enable vehicles to share positions and data with each other as well as with the network and road infrastructures. On these grounds, ITS is being adopted worldwide to build improved transport strategies, thereby marching towards 'smart transportation'.
Get a Sample Copy of this Report @ https://www.gminsights.com/request-sample/detail/178
Developed economies North America and Europe have apparently made it compulsory for the vehicles to use ESC (Electronic Stability Control) in public as well as private transport. Indeed, the extensive traffic movement on roadways has led to a spurt in the demand for innovative traffic management methodologies.
Another major factor propelling the adoption of ITS is the extensive rise in the number of road accidents globally. As per the 2017 Road Safety Annual Report of the International Transport Forum, road fatalities in the U.S. surged by 6.3% between 2010-2016, that has been a matter of concern for the regional government agencies. The U.S. DOT (Department of Transport) as a matter of fact, has started a Federal ITS program that supports the manufacturing of intelligent vehicles and endorses the implementation of intelligent infrastructure. The growing adoption of ITS and the presence of favorable government norms and promotional activities will thus drive the growth of the U.S. ITS market over the coming years.
Speaking of the regional terrain though, it comes as no surprise that the Asia Pacific is one of the leading markets for the expansion of the ITS industry, given the widespread scope of the automotive sector in the region. According to Global Market Insights, Inc., APAC is anticipated to account for the second largest share of the overall ITS market by 2025, driven by the fact that the pivotal regional economies such as India, Japan, and China have been making hefty investments in megacities and have also been modernizing their transportation networks for facilitating enhanced trade exchanges.
The APAC is also remnant of major government initiatives that are being undertaken for to combat the rising air pollution levels, which would further add momentum to the growth of the APAC ITS market.
The robust implementation of the intelligent transport system in the automotive as well as other transportation sectors such as airways, railways, and maritime, will positively impact the commercialization graph of the overall ITS industry. The system is not just a software solution, but is indeed a much wider concept. The data collected by the deployment of ITS can be a major asset for the transportation industry, enabling manufacturers to get a detailed insight about their vehicle performance in various environments. Armed with a vision that targets 'smart transport', ITS market is all set to experience a remarkable rise in the coming years.
Author Name :Saipriya Iyer