Alcohols
The global industrial solvents market is anticipated to make promising gains in the forthcoming years, on account of burgeoning demand for printing inks, paints & coatings, and cosmetics products across the globe. In addition to this, industrial solvents are also widely used in the pharmaceutical sector, impelling the industry share. For instance, pet shampoos utilize solvents to dissolve a medicinal drug for topical treatment, provide moisture, and soften animal hair & skin.
U.S. Oxygenated Solvents Market Size, By Application, 2017 & 2024, (Kilo Tons)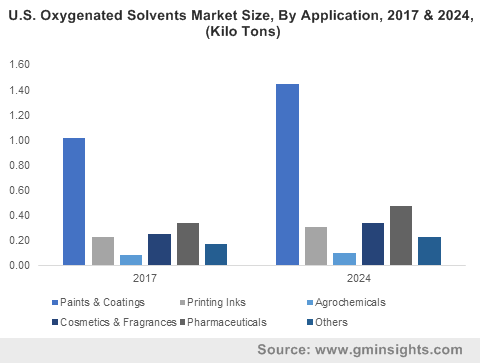 Industrial solvents are often used to dissolve ingredients and empower various solutions & manufacturing processes. They offer additional value in cosmetics, paints & coatings, adhesives, and lubricants because of their high solvency rate. For instance, Isopropyl alcohol is a multi-use solvent, which is often used as disinfectant in homes, and as an industrial solvent to dissolve substances, such as resins and oils, in production processes across various industries. The growth in manufacturing sector coupled with favorable regulatory outlook, especially in emerging economies, would positively favor industrial solvents market growth in the ensuing years.
The paragraphs below explore the growth prospects of the industrial solvents market with respect to the application landscape:
Paints & Coatings
The global paints & coatings market is anticipated to witness an upswing in terms of revenue in the approaching years, due to rising adoption across the building and construction sector. The paints & coatings industry is one of the biggest consumers of industrial solvents, attributable to the capability of solvents to disperse or dissolve the components in paint formation, to create paints of the desired consistency and eliminate globs or clumps. Apart from the construction sector, paints and coatings are widely used in the automobile industry. For instance, glycol ether esters are at times added to certain spray paints to avoid drying up in mid-air. The slow-paced evaporation of this powerful solvent group enables cars and other vehicles to get a smooth and flawless paint application for an appealing and durable finish.
Get a Sample Copy of this Report:@ https://www.gminsights.com/request-sample/detail/2706
In addition to the factors mentioned above, it is important to note that no single solvent has the capability of dissolving all of the film-forming ingredients employed in contemporary coatings. The application of optimal thinners and reducers is usually needed, which consists of blends of various solvents, wherein each can dissolve one or more ingredients within a given coating formula. This has been leading to increased product usage per application, thereby considerably contributing towards industrial solvents market growth.
Printing Inks
Numerous printing inks, used worldwide to print everything from books to food packs and labels, rely heavily on industrial solvents for accurate application to attain the vivid colors. In printing inks applications, solvents are implemented to regulate viscosity and permit flow without harming printing rollers. As with paints and coatings, solvents advance drying for contemporary fast-paced printing presses.
Printing inks applications have leveraged the potential of industrial solvents in a number of ways. For instance, the use of smudge-resistant ink in newspapers means no more finger staining and illegible print. Speaking of computer printer inks, they dry really very fast and are highly smudge resistant. Thus, the wide application spectrum of printing inks and brisk advancements in ink technology will create a powerful launch pad for industrial solvents market to reach new heights.
Cosmetic and Fragrances
The cosmetic industry relies heavily on industrial solvents to dissolve ingredients and increase the efficiency of products. Industrial solvents are widely used in lotions, shaving creams, face creams, and talcum powders to maintain the consistency of the product. For instance, Ethanol is hugely preferred by perfume companies as their solvent of choice due to its low odor. Indeed, the low boiling point of ethanol allows the solvent to evaporate rapidly and does not let it remain on the skin.
Likewise, acetone or Ethyl acetate is an important ingredient of nail paints and is especially looked upon for its fast-drying potential. Besides, it also finds applications in nail paint removal products, owing to its high solvency characteristic which enables the nail paint to be removed easily from the nail. Amidst this backdrop, it is prudent to mention that industrial solvents market share will soar high in the years to come, because of abundant product demand from cosmetic and fragrances applications.
Having realized the immense potential of the industrial solvents market, prominent companies such as Shell, Arkema, Honeywell, BASF, and Total have made considerable investments in R&D programs and product innovation to serve the evolving consumer demand better. Powered by the rapid expansion of the paints & coatings applications in tandem with growing infrastructure industry, the industrial solvents market is projected to attain commendable gains in the approaching years.
Author Name : Nikita Chaurasia
Driven by the escalating demand recorded on a global scale for cosmetics and perfumes, fragrance ingredients market is anticipated to make remarkable progress over 2018-2024. It is to be noted that one of the factors that has greatly influenced the direction of the modern fragrance industry is stringently meeting consumer demand which in turn has also extended its influence on the fragrance ingredients market. Formulators are apparently reinventing perfumes for personal products to create new scents that will attract and satisfy a much wider and diverse segment of consumers all over the globe. The fragrance industry encompasses key players across the skin care, makeup, hair care and bath products manufacturing sectors that set the shape, trend, concept and strategies for this business sphere, thereby influencing fragrance ingredients industry.
U.S. Synthetic Fragrance Ingredients Market Size, By Product, 2017 & 2024, (Kilo Tons)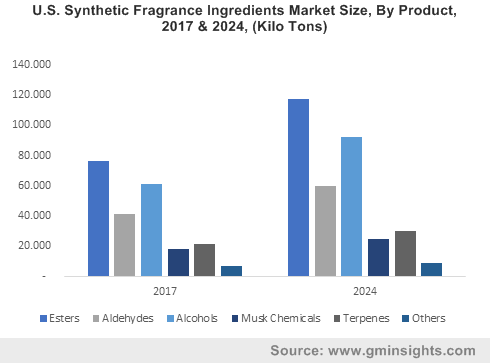 While fragrance ingredients are prominently used across a plethora of end-use sectors, such as soaps & detergents and toiletries, the beauty & personal care domain is likely to emerge as the principal growth avenue for the fragrance ingredients industry. As per Global Market Insights, Inc., fragrance ingredients market size is estimated to cross 1.5 million tons by volume by 2024. With increasing disposable incomes in the emerging economies as well as the recovering economies in the developed nations, a considerable boost in consumer spending on personal care products has been observed. New innovations are also on the radar, as besides women's fragrances increasing demand for men's toiletries and cosmetics in the last few years has acted as a catalyst for experimentation and expansion in the fragrance ingredients market, increasing sales stability.
Considered a conventional element in the cosmetics industry, fragrances have thrived as an industry that has been largely driven by beauty trends and prevalent fashion. The use of perfumes which was once considered a non-essential luxury has come to be considered a must-have personal grooming product as competition in the fragrances industry has become steeper and perfumes have carved a place of their own in the personal care products segment. Though the use of perfumes has become common and an everyday affair, the fragrances ingredients industry has received a boost from use of the ingredients in mass produced products as well as in luxury products that bring special and personalized products to the market and still considered a luxury item meant for connoisseurs. Fragrance ingredients market size from fine fragrances & perfumes is thus set to grow at a remarkable pace in the years ahead, driven by ever-changing consumer demands.
Get a Sample Copy of this Report:@ https://www.gminsights.com/request-sample/detail/2649
E-commerce and globalization have added an extra edge to the fragrance ingredients market as countries with emerging economies have consumers reaching out to buy famed North American and European products helping to expand their demand and reach. Increasing disposable incomes among such consumers have encouraged them to use more personal care products as well as cosmetics which has again indirectly added momentum to fragrance ingredients industry. In the developed nations while the recovering economy is indicating a positive trajectory for perfume and consequentially fragrances ingredients industry, fragrance companies are trying to offset higher costs by introducing eco-friendly products and well-priced gift sets.
Innovations are also changing the face of the perfume industry. For instance, the application of perfumes is not being limited to the neck and wrists. Instead perfumes are being created that can be applied to the hair as long hair is very good at retaining fragrances. More mists, oils and shampoos are being produced that can help hair strands to retain a favorable fragrance. New methods of marketing are also expanding scope for the perfume industry. For example, several new services are being offered that lets the customers try on different perfumes for a month and then decide their favorite or use personality quizzes to match a perfume to the user.  As the consumer base for perfumes and fragrant products continue to expand, it is apparent that the fragrance ingredients market will continue to grow substantially.
Innovation in the perfume industry has been extended to merchandising solutions such as Paperscent, a device that dispenses perfume samples on paper in department stores thus making the test bottle redundant. With consumers demanding more varied scents to be made available and to be used in products, the fragrance ingredients industry is expected to traverse alongside a profitable growth trajectory over 2018-2024.
Author Name : Paroma Bhattacharya
The rising demand for cosmetics pertaining to the ongoing trend of image consciousness has brought a major change in cosmetics preservative market dynamics. Being a mixture of various peptides, oils, carbohydrates and water, cosmetics can prove to be a convenient breeding ground for bacteria and fungi which if left unabetted can necessarily alter the formulation of the product, generating the need for preservatives. Skincare, hair care, make-up, perfumes, toiletries, deodorants, and oral cosmetics are infused with preservatives to not only maintain the original quality but also to extend their shelf lives, thereby propelling cosmetics preservative industry.
U.S. Synthetic Cosmetics Preservative Market Size, By Product, 2017 & 2024, (Kilo Tons)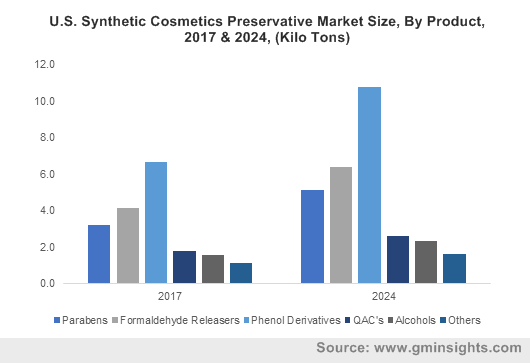 The United States is estimated to have the world's largest cosmetics industry, though numerous other geographies, especially the economies in developed countries are now catching up with the likes of the U.S. One of the principal reasons for emerging economies to attain a substantial share of cosmetics preservative market is the rising disposable incomes of consumers across these regions.
Changing trends in the beauty industry are also boosting cosmetic sales which in turn is adding momentum to the cosmetics preservative market. The cosmetics industry has greatly benefitted from social media channels such as Instagram and YouTube that have been highly influential in closing the gap between cosmetic brands and consumers and creating demand for beauty products. The effect of social media on cosmetics preservative industry trends is possibly the most evident in the success of reality TV personality Kylie Jenner who built a $900 million cosmetics empire by leveraging her 112 million followership on Instagram.
Beauty tutorials on YouTube that make beauty with the use of cosmetics easy to achieve for everyone have lent a significant to cosmetics sales as particular beauty products can be now highlighted for the specific merits that they can add to one's beauty regime. Independent content creators and beauty vloggers have been estimated to generate 97.4% of conversations regarding beauty products and have been much more effective in selling products than conventional advertising and promotions. With the rising expansion of the cosmetics industry, cosmetics preservative market is gaining major traction as well.
Get a Sample Copy of this Report:@ https://www.gminsights.com/request-sample/detail/1279
Another factor driving the cosmetics preservative industry growth is the millennial generation who are attuned to rediscovering products that have been around for quite sometime but have somewhat lost their demand. One example is the Double Wear foundation by Estée Lauder that had been launched three decades ago but has recently witnessed a double-digit growth rate as the younger generation has rediscovered its usability. The generation is also driven by the trend of presenting oneself to be as appealing as possible on social media, aiding the sales of skin care products like masks.
SMBs with lesser capital have been attempting to make it big in cosmetics preservative industry through tie ups with vloggers and other influencers who can boost sales for their products. The independent brand Becca Cosmetics proved such a point in 2015 when it partnered with YouTube beauty personality Jaclyn Hill to create Champagne Pop, a $38 highlighter. All 25,000 units of the shimmery powder were sold within 20 minutes on Sephora.com. In 2016, Estée Lauder acquired Becca in a deal reportedly worth US$200 million. With social media and millennial trends diversifying the scope for the beauty industry, the cosmetics preservative industry is certain to accrue commendable returns ahead.
With the use of cosmetics becoming more widespread, awareness about the negative effects of continual use of synthetic products and preservatives used in cosmetics is also becoming more apparent. A growing trend in the cosmetics industry therefore, is the use of more natural preservatives. Regulatory bodies like the Food and Drug Administration of the U.S. are looking closer at the ingredients used in cosmetics in a bid to monitor cosmetic ingredients that are claimed to have drug like properties. The enforcement of stringent regulations are expected to aid manufacturers to come up with natural preservatives that are would augment the revenue graph of cosmetics preservative market in the years to come.
Author Name : Paroma Bhattacharya