Aluminum Pigments Market Growth
The commercialization potential of Aluminum Pigments Market is quite evident from the growing number of strategic partnerships outlining the competitive terrain. Recently, Nexeo Solutions Inc., a giant in the chemicals & plastic distribution industry has entered into a corporate partnership with Silberline Manufacturing Company Inc., a global supplier of high quality aluminum pigments. As per market experts, this strategic move is expected to strengthen the business position of both the firms in the overall aluminum pigments industry with a better value chain and an expanded product portfolio.  Such strategic acquisitions and expansions are quite common in aluminum pigments market to address the increasing product demand from varied end use industries like automotive, construction, and paints & coatings.
U.S. Aluminum Pigments Market size, by end-user, 2013 – 2024 (USD Million)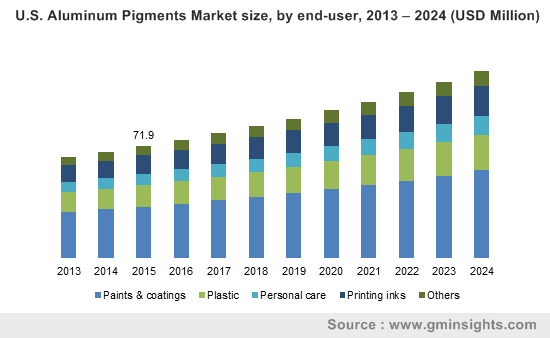 The latest trend of aesthetically designed customized vehicles with lustrous paints is expected to stimulate aluminum pigments market valuation, which is forecast to exceed USD 580 million by 2024, with a projected CAGR of 6.5% over 2016-2024. In the automotive paints and protective coatings, aluminum pigments are primarily used to improve the appearance of the vehicle.  As per statistics, overall paints & coatings is one of the prominent end-use application of aluminum pigments market and accounted for more than 40% of the overall industry share.
Other than the automotive industry, plastic is another prominent end-use segment further catalyzing the growth of aluminum pigment industry. As per the estimates, aluminum pigments market share from plastic applications is projected to record an annual growth rate of 6% over 2017-2024.
Get a Sample Copy of this Report@ https://www.gminsights.com/request-sample/detail/1663
Speaking of the geographical trends, Asia Pacific is one lucrative belt where the aluminum pigments market demand is notably high from automotive applications. Asia Pacific aluminum pigments industry having had a revenue of USD 120 million in 2016, is slated to collect substantial revenue with an annual growth rate of above 7% over the coming seven years. The attributing factor toward the regional growth is the surging use of the printing inks for the advertisements and magazines.
Aluminum pigments are widely used in printing inks to give metallic effect to labels, leather, films, packaging materials, and brochures. The use of leafing grade products gives printing inks a lustrous and brilliant effect. These grades also increase the brightness and impart a glossy finish to the surface, thereby making it applicable to the cosmetics industry. The personal care application segment within aluminum pigments market is anticipated one of the fast-growing segment at a CAGR of 6.5% over 2017-2024. Rising demand for personal care and cosmetics products, particularly in Asia Pacific has fueled aluminum pigment market demand.
On account of the escalating cosmetic sector expansion, North America is further estimated to witness a substantial growth trend in the coming time frame.  Global Market Insights, Inc. projects North America aluminum pigments industry to surpass a valuation of USD 130 million by 2024.
In 2016, the industry space was quite consolidated with the top four participants – Altana, Carl Schlenk, Silberline, and Carlfors Brukhaving, having shared more than 30% of the overall business fraternity. The other prominent names in this industry include Toyal America, Inc., Alba Aluminiu, Zhangqiu Metallic Pigment Co., Ltd., Metaflake Ltd., and Sun Chemical.
Author Name : Ojaswita Kutepatil