Aluminum
With continuous developments in the offshore oil and gas sector along with groundbreaking subsea cable technologies, submarine power cable market is poised to witness a remarkable growth over the coming years. Today, several power suppliers and governments are shifting their preferences toward renewable energy sources like offshore wind power and even oil & gas companies are adopting new procedures to improve efficiency, reduce costs, and exploit new fields. Growing number of renewable energy projects and escalating penetration across other submarine applications will offer considerable boost to submarine power cable industry outlook.
Submarine Power Cable Market Size, By Voltage, 2019 & 2025 (USD Million)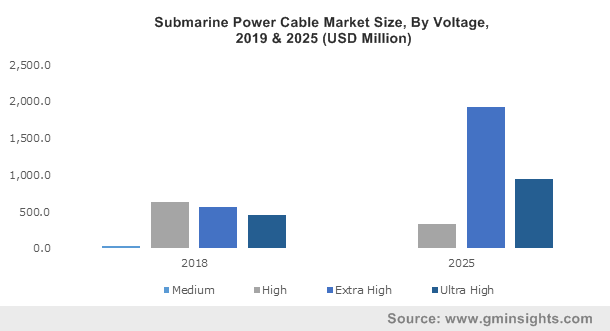 Expanding number of offshore wind farms and electrification of offshore oil and gas platforms has led to augmented research activities and tremendous progress has been made in quality of power cables. With the advent of subsea cables, it becomes extremely easy to connect oil platforms to mainland power grids. It also enables timely monitoring and surveillance to reinforce the business development and management of almost all activities in the ocean. Booming energy sector worldwide will immensely propel the revenue graph of submarine power cable industry from the demand of advanced and more reliable subsea cables.
A submarine power cable had been deployed recently between Montenegro and Italy under an investment of EUR 1.15 billion that will allow Montenegro to develop as an energy hub for the Balkan countries. The project has already fetched more than EUR 600 million for local businesses in Montenegro. Such developments would create abundant opportunities for oil & gas companies and other suppliers, attracting significant investments in the energy sector, for renewable sources and digitization. The surge in installation of submarine electrical cables to supply power and emergence of more advanced techniques will thrust global submarine power cable market share.
Get a Sample Copy of this Report:@ https://www.gminsights.com/request-sample/detail/3396
Over the past decade, novel technologies are being utilized to perform better maintenance and repair of underwater cables for reducing the overall cost of operations in the offshore energy segment. Oil companies are extensively using high-speed fiber networks to vastly enhance their remote field operations, improve field safety records and to take full advantage of real-time information. Operators are rapidly gaining installation expertise in ultra-deep waters and are aiming to advance the array of energy and telecom cables for offshore production. Increasing adoption of such products will considerably influence submarine power cable industry outlook.
LS Cable & System, a Korea-based industrial corporation and cable manufacturer, has inked an agreement in July 2019 worth $100 million worth with Orsted, a state energy firm from Denmark, to build a submarine power grid in Taiwan. The Taiwanese government is planning to invest nearly $23 billion to increase the volume of renewable energy generated in the country, from existing 5% to 20% by 2025. Growing number of submarine power grid projects will substantially impact submarine power cable industry trends.
In terms of geographical trends, European and North American electricity providers are shifting preferences towards integrating more offshore renewable energy sources such as wind and tidal wave installations. Submarine cables will allow the utility companies to transfer larger power flows over great distances with reduced rate of power loss. Deployment of subsea cables to strengthen conventional energy grids could also enhance the connection rate between nearby European offshore wind projects and the U.K. mainland electricity grid network.
The EuroAsia submarine High Voltage Direct Current (HVDC) cable is one of the largest submarine power cable lines in the world which connects the Greek, Cypriot, and Israeli power grids with 2000 MW power capacity. These kind of project will open up substantial prospects for submarine power cable suppliers in the ensuing years. Prominent reports inform that in 2018, Europe submarine power cable market had generated a revenue of more than USD 2.5 billion.
Owing to widespread implementation of pioneering energy transfer technologies, there would be promising growth prospects for offshore wind farms over the forecast period and subsequent need for power transmission. Eminent players offering reliable subsea cable products include Sumitomo Electric, LS Cable & Systems, Nexans, KEI Industries, Prysmian, Furukawa, TF Kable, Ningbo Orient wires, Sumitomo Electric, ABB, Intertek Group, and Hengtong Marine Cable Systems. Global Market Insights, Inc. has projected that global submarine power cable market size will surpass USD 3 billion in annual valuation by 2025.
Author Name : Deeksha Pant
Powered by the rapidly expanding automotive industry across myriad geographies, automotive brake caliper market has indeed gained tremendous popularity in recent times. The automotive sector is also rife with a plethora of highly unique innovations that have undeniably had an impact on this business sphere. Indeed, given the pivotal significance of braking systems, technological advancements form the crux of automotive brake caliper industry. Recently for example, Brembo unveiled an aesthetically revolutionary brake caliper at the 2018 NY Auto Show. Apparently, this product helped achieve substantial weight savings – around 400 g per wheel. Brembo's product launch is indicative of the fact that automotive brake caliper market will continue to be characterized by highly innovative solutions that would optimize performance and improve aesthetics.
U.S. Automotive Brake Caliper Market, By Vehicle, 2016 & 2024, (Million Units)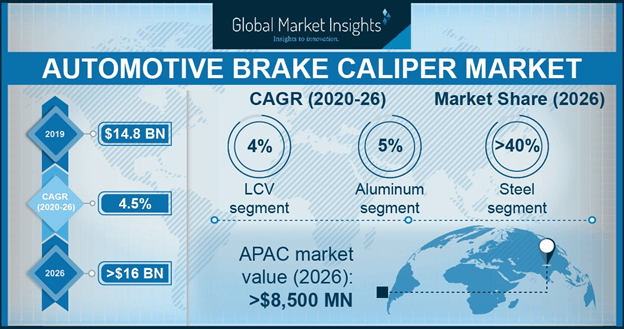 The automotive industry has registered an extremely appreciable CAGR in the Asia Pacific region since the last decade or so. This growth can be essentially credited to the rise of the middle-class populace with increasing disposable incomes and a growing inclination toward leading a more comfortable lifestyle. Due to the presence of affordable and efficient production facilities and increased rate of automobile production, Asia Pacific automotive brake caliper market is poised to grow by 3% over 2017-2024. China, India, Japan, and South Korea are projected to be the major contributors toward this regional market, powered by the enhanced automotive manufacturing technologies now prevalent across these economies.
Speaking along similar lines, the increasing demand for automobiles among the middle-class consumers has led to a significant requirement of passenger carrying vehicles. For instance, in 2017 alone, 73.46 million units of PCVs were sold – a marked increase of 1.08 million units. Driven by the increased consumer spending and the subsequent rise in vehicle production, automotive brake caliper market size from PCVs is expected to increase by 3% over 2017-2024.
Get a Sample Copy of this Report @ https://www.gminsights.com/request-sample/detail/2336
While PCVs take the cake in terms of popularity, it is prudent to mention that two-wheelers are also being increasingly preferred lately, especially in the emerging economies. Two wheelers offer a means of cost effective transportation and are the preferred choice not only in congested cities but also in remote locations. This would perpetually augment automotive brake caliper industry outlook in the ensuing years.
Stringent safety and environmental policies have encouraged technological advancements in the automotive brake caliper market of late. For instance, the French auto manufacturer Bugatti has brought forth a unique innovation in automotive brake caliper industry with the use of 3D printing to print titanium brake calipers. Incidentally, 3D printing of brake calipers helps in reducing the overall weight of the vehicle while maintaining torsional stiffness – a highly sought-after parameter in the automotive industry today. Traditional aluminum alloy brake calipers on Bugatti vehicles weigh 4.9 kg each, however, 3D printing of brake calipers makes each caliper weigh just 2.9 kg, which goes a long way in reducing overall vehicle weight and meeting environmental regulations.
Though 3D printing of brake calipers has not yet become a mainstream procedure owing to the time-consuming nature of the process, the concept has gained sufficient traction. Other methodologies for the reduction of caliper mass, improved styling and performance maintenance are also being researched currently to reduce particulates and carbon emission in the atmosphere.
The emergence of electric vehicles and hybrids is expected to add a new vertical to automotive brake caliper industry, as these vehicles will invariably use a whole new braking system that has little resemblance with the conventional braking system. With the introduction of the Tesla Model 3, electric passenger cars are poised to become the dominant trend for the future. It is rather overt that such cars are being designed to have only one paddle for moving or stopping the vehicle. While the brake system will not be made entirely obsolete, it is certain to undergo some highly innovative changes, that would certainly have an influence on automotive brake caliper market outlook.
Research & development programs are rampant across the automotive industry of late and are likely to majorly transform automotive brake caliper market trends. With the robust growth of automated technologies and the increasing requirement for better mobility, automakers are leaving no stone unturned to bring forth newer and enhanced brake systems. In consequence, this would have a commendable impact on automotive brake caliper market size, anticipated to cross $25 billion by 2024.
Author Name : Paroma Bhattacharya