Ambulatory Surgical Centers.
Trauma fixation devices industry is expected to witness significant demand over the forecast timeline owing to innovative and more effective technological developments that help improve overall patient care. These devices have witnessed revolutionary changes in terms of user friendliness and ease of operation in recent years. Enhanced devices such as bioresorbable implants, eluting implants as well as nano-coated devices will considerably drive the adoption of vital trauma fixation devices among hospitals and surgical centers.
U.S. trauma fixation devices market, by product, 2018 & 2025 (USD Million)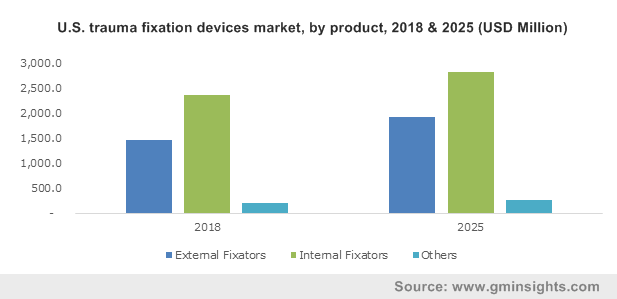 Rising prevalence of road accidents is anticipated to strengthen trauma fixation devices industry outlook, as most of these incidents can lead to significant health repercussions. Road traffic crashes have become one of the leading causes for death and disability worldwide and the World Health Organization (WHO) reports that over 1.25 million people die annually due to these accidents. Increasing number of mishaps involving vehicles and pedestrians which lead to traumatic injuries will play a key role in the growth of surgical procedures and emergency care units.
Trauma fixation devices are used for complex technical procedures and handling the latest products in the industry requires excellent precision and accuracy. The lack of trained professionals to operate advanced devices and perform vital operations will slightly hamper the adoption of fixation devices but will encourage companies to develop more efficient and easy to implant products. Majority of the underdeveloped and developing economies are lacking in crucial healthcare infrastructure and access to medical devices, offering notable revenue prospects to expand trauma fixation devices market size.
Get a Sample Copy of this Report:@ https://www.gminsights.com/request-sample/detail/3745
Fractures in adults are extremely challenging to treat and can often lead to complications as well as need for re-surgery. Although plate fixation is a reliable fracture fixation method, its increasing infection rate has resulted inclination of practitioners towards external hybrid fixation methods, which have proven to produce favorable results. Novel products, such as Depuy Synthes' Synthes hybrid fixator, are external fixators that form a structure to stabilize distal or proximal tibial fractures. External hybrid trauma fixation devices industry will certainly generate substantial remunerations in the years to come.
Growing instances of sports injuries on account of increased focus of people towards sports and other physical activities will inadvertently drive the consumption of medical devices. Increasing number of career options in the sports industry will augment the frequency of traumatic injuries, which will further influence the need for trauma fixation devices. In United States alone, close to 30 million children and teens engage in some form of physical activity, out of which over 3.5 million kids suffer from injuries, and roughly 77% of these involve lower leg, ankle or foot. Undoubtedly, rising occurrence of injuries from sports activities will fuel trauma fixation devices industry trends in the region.
Increased frequency of arthritis among the middle-aged and elderly population is another factor that will impact the deployment of trauma fixation devices. Evidently, arthritis has become one of the major causes of disability among adults all over the world. Statistically, close to 54 million U.S. adults have doctor-diagnosed arthritis. Within a period of 10 years since its detection, over 50% patients in developed countries globally fail to maintain a full-time job. Significant incidence of arthritis worldwide will create a demand for effective fixation procedures, which in turn will foster North America trauma fixation devices market size.
The advent of nanotechnology has unlocked fresh new possibilities and unexplored areas in the field of trauma fixation devices. The use of silver nanoparticles for coating of implantable devices to inhibit the growth of infection-causing bacteria is perhaps a pioneering applications nanotechnology in medicine. The smaller size of the compound enhances the solubility due to an increased surface area, which is an important property of nanotech devices. Growing concerns regarding infections caused by implantable fixation devices and advancements in the combining nanotechnology with healthcare will impact trauma fixation devices market share in a constructive manner.
With considerable efforts towards innovating more safe products, trauma fixation device makers will exhibit remarkable progress over forecast timeframe. Introduction of bio-absorbable implants will enormously transform the concept of trauma fixation. Major players including Stryker, Wright Medical Group, Zimmer Biomet and Johnson & Johnson have displayed strong dominance over the industry. Reports estimate that global trauma fixation devices market share will surpass USD 9.5 billion by 2025.
Author Name : Hrishikesh Kadam
Inhalation anesthesia market is poised to attain substantial growth in the coming years owing to the increasing number of surgical procedures and prevalence of chronic diseases. Advancements in anesthesia products, surgical techniques and availability of novel drugs are mainly responsible for the progress of day care surgeries. With the emerging demand for surgical products and the widespread application of various equipment, inhalation anesthesia industry has positively established its presence across the globe and will witness positive growth trends over the forecast period.
The product terrain of inhalation anesthesia market includes Sevoflurane, Desflurane, Xenon, and Isoflurane which are widely used during clinical surgeries. Among these, Sevoflurane is known as general anesthetic and is broadly adopted as an agent for inhalational inductions. Sevoflurane is extensively useful in children and adults for both induction and maintenance purpose, since it exhibits low reactivity with other drugs and minimal cardiovascular and respiratory side effects. In 2018 Sevoflurane segment in inhalation anesthesia market had recorded more than USD 950 million in revenues and is likely to register further growth in upcoming years.
U.S. Inhalation Anesthesia Market, By Product, 2018 & 2025 (USD Million)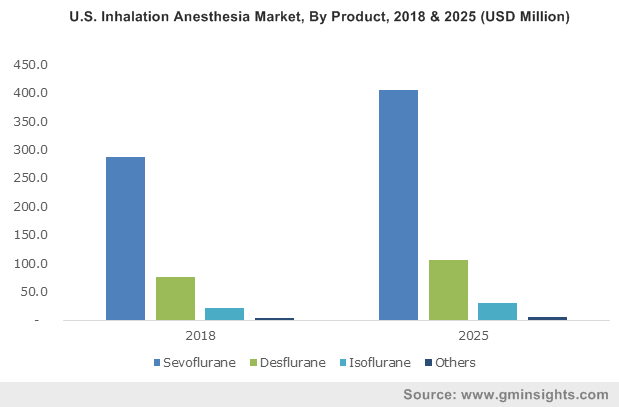 Isoflurane is considered to be one of the most advantageous options for neurosurgical patients due to its ability to reinforce muscle relaxant activity and support the expansion of systemic vessels. Moreover, scarce economic resources and rise in the growth of advanced surgeries due to the ever-surging patient population has massively advanced the concept of minimal invasive surgeries. This has allowed more advanced surgical procedures to be performed on day care basis to ensure safer, faster and cost-effective patient turnover, offering lucrative prospects for global inhalation anesthesia market.
Speaking about the rising need for of ambulatory surgeries, the dramatically increase has resulted from the consistent improvements in anesthesia techniques with reduced side effects. Furthermore, suitable discharge criteria and minimal invasive surgical techniques have also influenced the rate of occurrence of ambulatory surgeries. In the present scenario, ambulatory surgical centers (ASCs) are becoming the prominent choice for patients as well as physicians because of their ability to perform complex surgeries in a very short period of time, inherently propelling inhalation anesthesia industry size.
Get a Sample Copy of this Report:@ https://www.gminsights.com/request-sample/detail/704
Sandoz, a Novartis division, had reportedly launched Desflurane liquid for inhalation in 2018, making it the first generic version of Suprane in the U.S. It is used as an inhalation agent for outpatient and inpatient surgeries in pediatric patients. Driven by the exceptional efforts of healthcare companies and increasing number of surgical procedures, there has been a remarkable demand for anesthetics, reinforcing inhalation anesthesia industry outlook. Presence of suitable guidelines for preparing pediatric anesthesia environments will further support the adoption of novel inhalation anesthetic products safe for infants and children.
Over the past few years, the health services sector has expanded at a significant rate on account of an increase in demand for modern healthcare facilities, high-grade medical infrastructure and improved health consciousness among people. This has helped key players to direct their efforts towards expanding their geographical reach, grow their physician networks and build R&D capabilities, which will fuel inhalation anesthesia market size. Joint ventures, partnerships and collaborative arrangements are taking place within the healthcare sector, providing ample opportunities to various pharma companies to establish their presence in the market.
Some of the prominent industry players that are commendably driving the penetration of inhalation anesthetic products include Hikma Pharmaceuticals, Novartis, Jiangsu Hengrui Medicine, Halocarbon Products, and Fresenius Kabi. Augmented research activities driven by a continuously expanding consumer base will underscore the competitive landscape. Reports estimate that by 2025, global inhalation anesthesia market share will surpass annual revenues of USD 1.9 billion.
Author Name : Deeksha Pant